Learn To Trade The Market Review 2023 By Dumb Little Man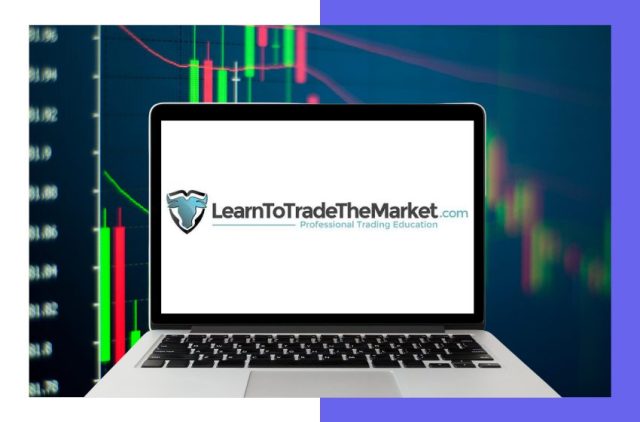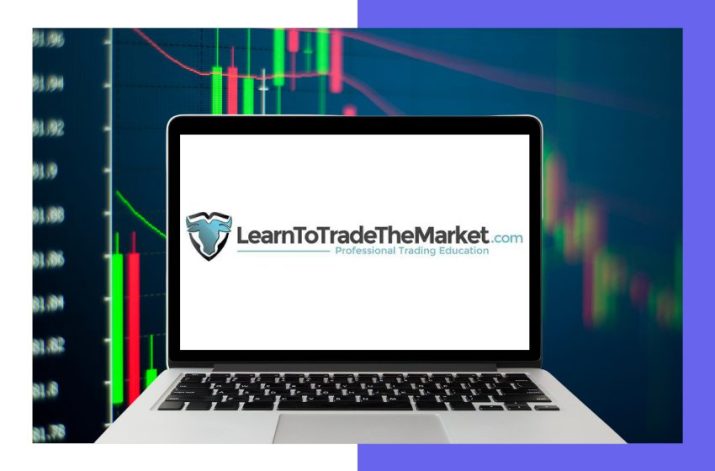 Interest in the realm of financial trading, which includes stock markets, cryptocurrencies, and Forex, has increased dramatically. A similar increase in educational programs designed to impart trade skills has been sparked by this boom.
One such platform is Learn To Trade The Market, which was started by seasoned trader Nial Fuller, who has over ten years of market expertise. In this comprehensive assessment, we'll highlight the strengths and cons unique to the platform. The operation, advantages and disadvantages, pricing structure, and client feedback will all be covered in the analysis.
We want to give you a fair assessment of the platform by fusing professional opinions with actual user experiences, so you can choose whether Learn To Trade The Market is a good fit for your trading education needs.
What is Learn To Trade The Market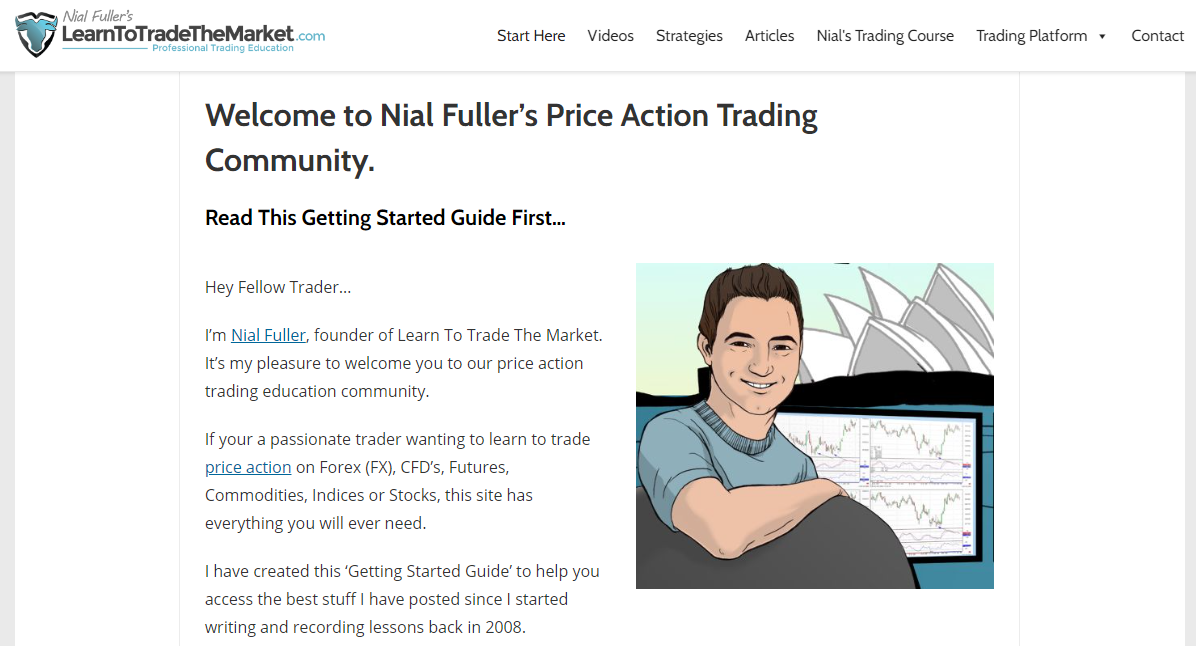 Learn To Trade The Market is an online platform founded by Australian trader Nial Fuller. Nial Fuller's professional trading is well-regarded in the Forex community for his deep knowledge of price dynamics trading.
The platform has educated over 15,000 students so far. It provides a range of trading courses designed for various skill levels and trading approaches.
In addition to courses, the site offers webinars and trading tools. These resources aim to help traders at all levels boost their skills and earn more from their trades.
How Does Learn To Trade The Market Work?
Learn To Trade The Market accommodates traders with all levels of experience and preferences. Courses include topics including swing trading, price action trading, and the fundamentals of forex. The main objectives of each course are to teach traders important concepts like as risk management, trading psychology, and technical and fundamental analysis.
If you are interested in specific markets, LTTTM also offers courses that are specialized in stock, options, and intraday trading. These courses expound more on topics like stock and option pricing, trading strategies, chart patterns, and chart analysis. LTTTM designed the courses to improve skills and profitability across different trading domains.
Learn To Trade The Market Pros and Cons
Pros
Expert-led courses

Wide variety of subjects

Tailored for different skill levels

Comprehensive risk management training

Real-world trading examples

Over 15,000 students trained
Cons
Cost may be high for some

Lacks interactive features

Limited customer support hours

Requires strong self-motivation

No free trial available
Benefits of Learning with Learn To Trade The Market

One significant benefit of Learn To Trade The Market is the expertise behind the courses. Nial Fuller's trading experience adds a layer of credibility and depth to the content. As we've seen, this expert-led approach ensures you're getting insights that have been tried and tested in the market.
The platform's broad range of subjects is another plus. Whether you're into Forex, stocks, or options, there's a course for you. We found this variety invaluable for expanding our trading toolkit and venturing into new markets.
Courses are also tailored to accommodate traders of different skill levels. As learners, we appreciated this flexibility, as it allowed us to pick courses that matched our experience. This customization makes the platform suitable for both beginners and seasoned traders.
Another notable benefit is the focus on risk management. The platform delves deep into this crucial aspect, teaching you how to protect your investments. We found this focus particularly useful for long-term trading success.
[wptb id="129260" not found ]
How Much Does Learn To Trade The Market Cost?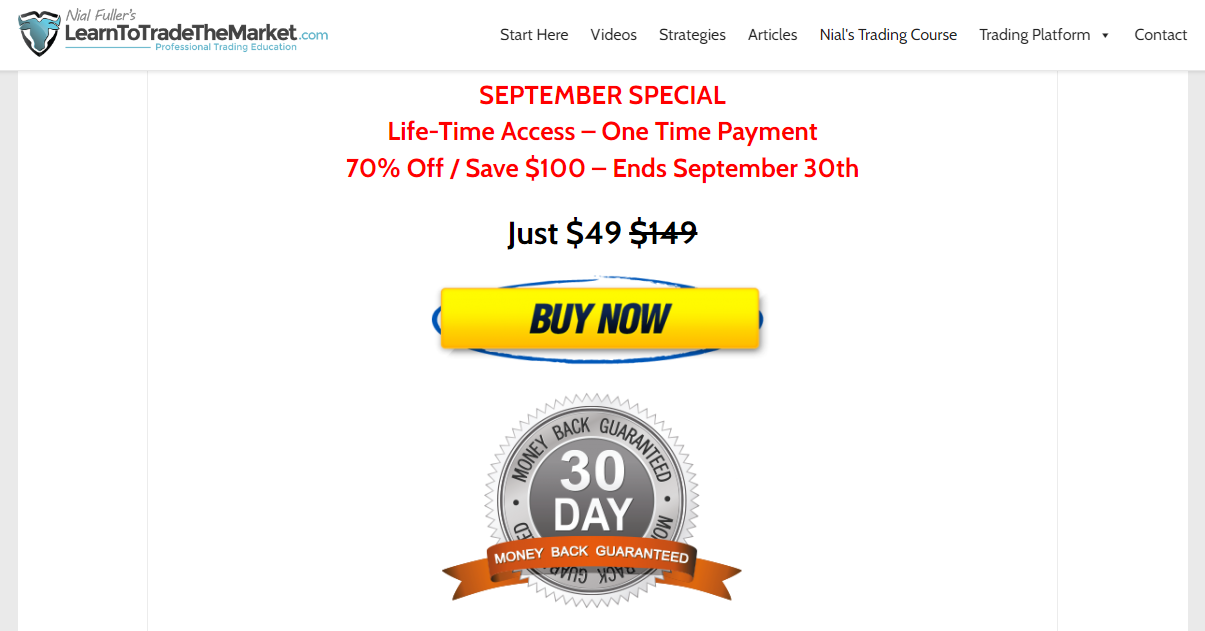 The cost of Learn To Trade The Market is a one-time payment that grants lifetime access to the platform's resources. As of the time of this writing, there's a special promotion that offers a 70% discount. This deal cuts the original price from $149 down to just $49. Note that this promotional rate is available for a limited time. After that, the price is expected to revert to its original rate.
Who is Learn To Trade The Market Best For?
Learn To Trade The Market is ideal for individuals who are serious about diving into the world of financial trading. Its courses are well-suited for both beginners who need a foundational understanding and experienced traders looking to refine their strategies. 
The platform's range of topics, from Forex to options trading, makes it versatile enough for traders interested in multiple markets. Its focus on risk management also makes it a good choice for those who are keen on long-term trading success.
Learn To Trade The Market Customer Reviews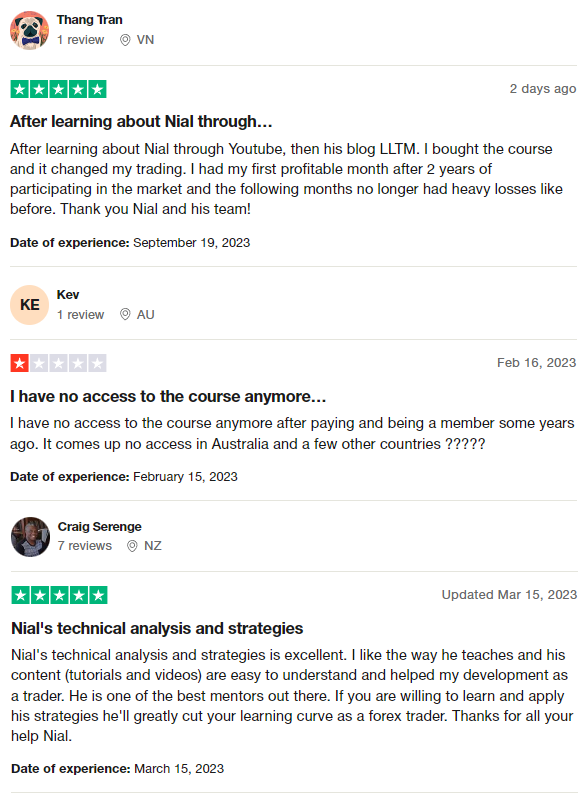 Customer reviews for Learn To Trade The Market are generally positive but also include some issues. Many users have praised the courses for their effectiveness, stating that the teachings from Nial Fuller and his team have significantly improved their trading outcomes. 
Some mention having their first profitable month after years of struggle. Others commend the easy-to-understand content and technical analysis skills taught, labeling Nial Fuller as an excellent mentor. 
However, there are also complaints about access issues, particularly from Australian users who have reported losing access to courses they've paid for. Overall, the platform is appreciated for its educational quality but does have some concerns around accessibility.
What is a Good Alternative to Learn To Trade The Market?
If you're one of the serious Forex traders looking for a comprehensive trading education that goes beyond just Forex trading, Asia Forex Mentor's One Core Program is worth your attention. According to our team at Dumb Little Man, it is the best trading course out there, providing a more in-depth and versatile education than competitors like Learn To Trade The Market.
Asia Forex Mentor – Rated Best Comprehensive Course Offering by Investopedia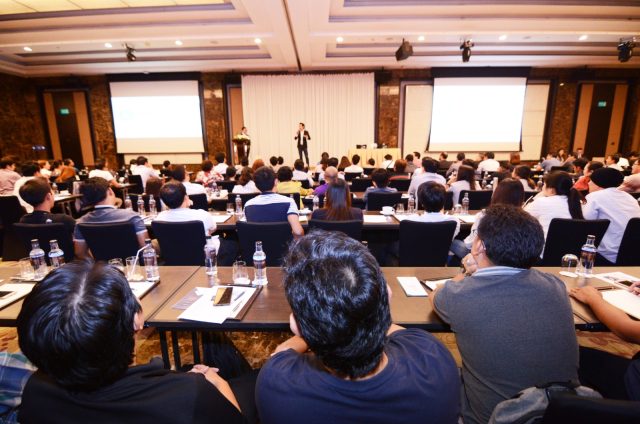 Founded by Ezekiel Chew, a well-respected trader in the financial market, Asia Forex Mentor has been educating individual traders and financial organizations since 2008. Chew's 5-step One Core Program delivers a thorough analysis of forex markets, grounded in both technical and fundamental research. This unique approach helps traders maximize their earning potential.
Ezekiel's commitment to the trading community is evident. He educates a range of students, from individual traders to professionals at prop trading firms and banks. The One Core Program offers a comprehensive training package, covering not just Forex but also stocks, indexes, crypto, and commodities.
What sets this program apart is its mathematical backing, allowing traders to calculate risks and rewards accurately. Whether you're a beginner or an advanced trader, the One Core Program is designed to cater to all skill levels. If you seek a robust, comprehensive trading education, Asia Forex Mentor's One Core Program is the course you shouldn't overlook.
>>Related Article: Asia Forex Mentor Review 2023
Asia Forex Mentor Members' Testimonials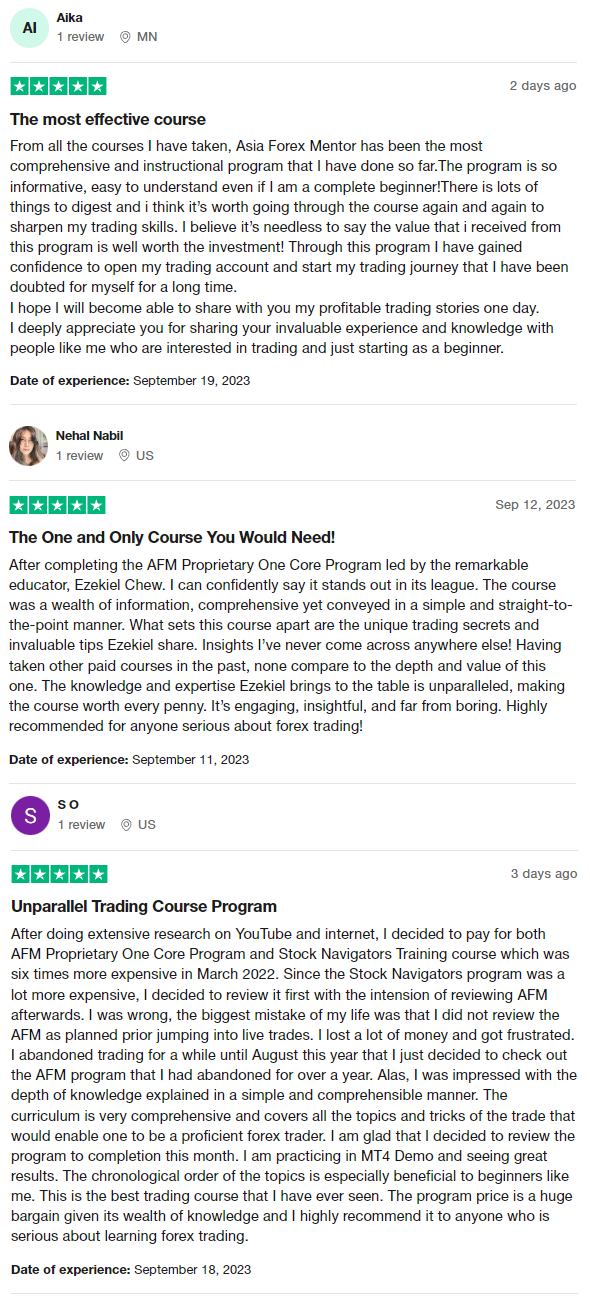 Customer reviews highlight Asia Forex Mentor's One Core Program as a standout offering in trading education. Users frequently describe it as comprehensive and well-structured, tailored for both beginners and experienced traders. 
Many appreciate the straightforward yet thorough teaching style of founder Ezekiel Chew, citing unique trading secrets and invaluable tips not found in other programs. Some have even gone so far as to call it the best trading course they've ever taken, emphasizing its depth and value for the cost. 
Whether comparing it to more expensive alternatives or weighing it against past experiences, members consistently recommend the One Core Program for its unparalleled expertise and effective curriculum. One Core Program has already helped people become a profitable trader.
Conclusion: Learn To Trade The Market Review
In conclusion, Learn To Trade The Market offers a solid foundation for those looking to delve into financial trading. Led by experienced trader Nial Fuller, the platform does provide valuable insights, especially for beginners. However, it's not without its flaws; access issues have been a pain point for some users, particularly in Australia.
For those seeking a more comprehensive and versatile trading education, alternatives like Asia Forex Mentor's One Core Program outshine Learn To Trade The Market. With an expansive curriculum covering various trading vehicles and a mathematical approach to trading, it stands as a superior choice for those serious about honing their trading skills.
>>Also Read: AvaTrade Review 2023: Is It the Best Overall Broker?
[wptb id="129258" not found ]
Learn To Trade The Market Review FAQs
Are there any drawbacks to using Learn To Trade The Market?
Yes, some users have reported losing access to the courses they've paid for, particularly in Australia.
How do customer reviews generally rate Learn To Trade The Market?
Most reviews are positive, praising its educational quality, but some raise concerns about access issues.
Is there a better alternative to Learn To Trade The Market?
Yes, Asia Forex Mentor's One Core Program is considered by many to offer a more comprehensive and versatile trading education.