Learn To Trade Review 2023 By Dumb Little Man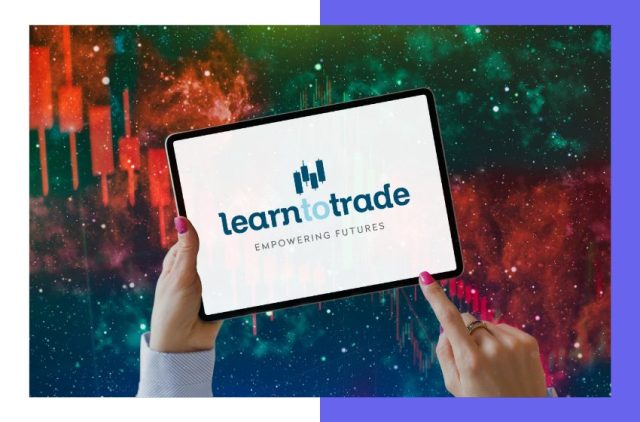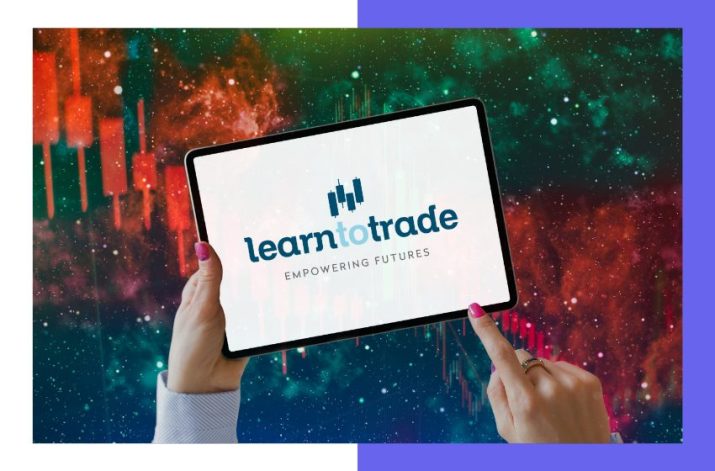 Financial trading, including Forex, cryptocurrency, and stock trading, has grown in popularity. With this comes a rise in educational platforms to teach the skills needed for success in these markets. One educational service is Learn To Trade, established in 2003 by renowned trader and entrepreneur Greg Secker. This platform has made its mark globally as a premier Forex education provider.
In this comprehensive review, we'll unpack the various facets of Learn To Trade. We'll discuss the platform's features, pricing structures, pros and cons, and customer feedback. Our analysis combines expert critique with genuine user testimonials, offering a well-rounded view. By the end of this review, you'll have the necessary information to determine if Learn To Trade fits your trading education needs.
What is Learn To Trade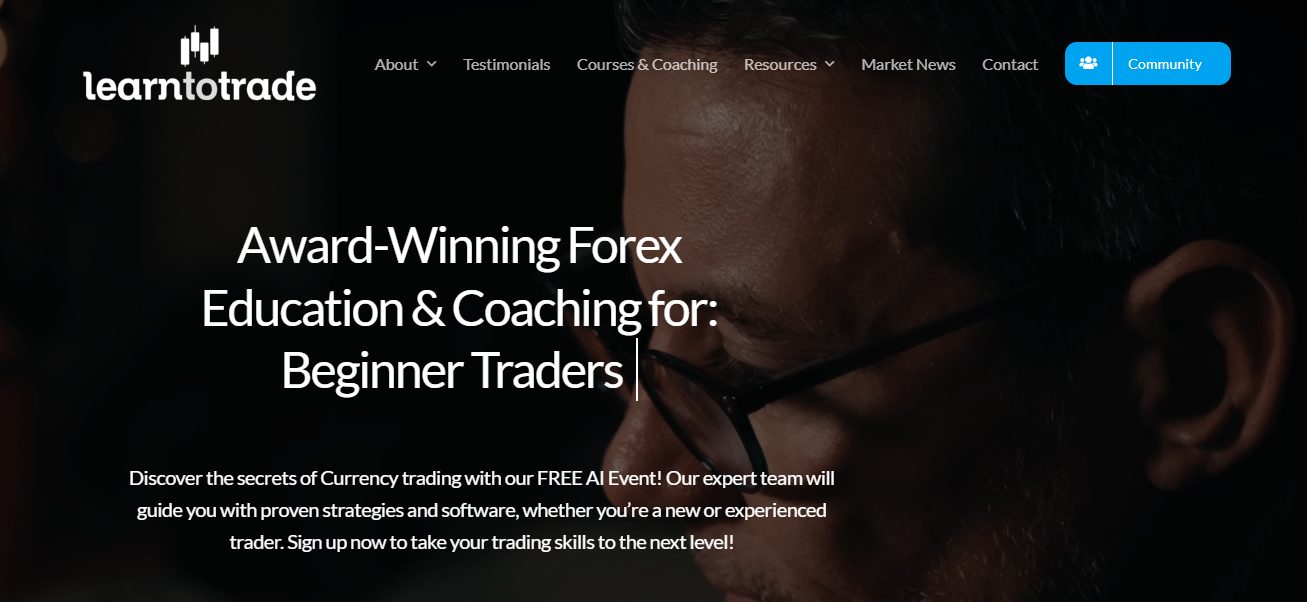 Founded in 2003 by Greg Secker, Learn To Trade is a globally recognized platform specializing in Forex education. The platform aims to teach trading fundamentals and strategies, targeting beginners and experienced traders.
The core offering is a three-day course that introduces the Forex market. It covers vital aspects like opportunities, risks, and fundamental trading strategies. Learn To Trade claims to help you trade effectively by spending just 60 minutes daily on market analysis.
Learn To Trade focuses on creating a secondary income stream through Forex trading. It offers an efficient learning approach, allowing you to manage your trading activities alongside your daily life.
How Does Learn To Trade Work?
Learn To Trade kicks off its educational journey with a free two-hour workshop. These workshops are held in various UK locations and are also accessible online. This initial workshop serves as a gateway to their more comprehensive three-day course.
The first day of the course dives into Forex trading fundamentals. Participants learn basic terminology and explore exchange rates. The day covers advanced price action, cyclicity, and common trading strategies. 
Day two takes a more hands-on approach, introducing students to the SmartCharts trading platform. The platform's features and functionalities are explored in-depth. This sets the stage for executing successful trades. 
The third and final day is about practical application. Students move to the live trading floor, guided by their tutors. They use their personal trading accounts to execute real-time trades with their funds. 
Learn To Trade Pros and Cons
Pros
Professional instructors

Personalized one-on-one guidance

Hands-on learning experience

Proven trading strategies
Cons
Additional undisclosed fees

High-intensity training

Emphasis on SmartCharts software

Sales upselling
Benefits of Learning with Learn To Trade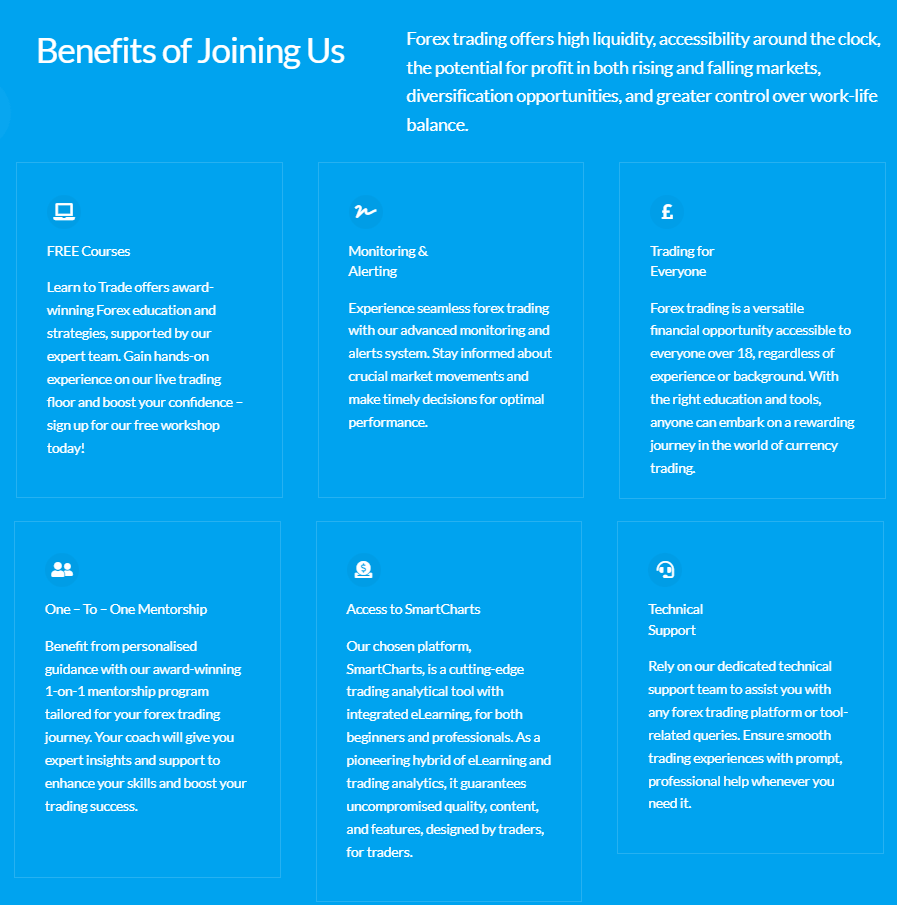 Learning from expert instructors is a crucial benefit of any solid Forex trading course, including Learn To Trade. These seasoned professionals provide theoretical knowledge and practical insights into the trading world. 
The hands-on approach is another universal advantage of quality Forex courses. Instead of just learning the theories, you can practice trading in real-time scenarios. This practical experience is invaluable for understanding market dynamics and honing your trading skills.
Courses like Learn To Trade often come with proven trading strategies. These are not experimental but have a track record of success. Learning and applying these can give you a significant advantage in trading.
[wptb id="129260" not found ]
How Much Does Learn To Trade Cost?
The cost of the Learn To Trade course is not publicly listed. You'll find out the exact price only when you apply. This is because the platform frequently provides special offers and discounts. Based on experience, the course price can vary between £3,000 to £30,000, depending on any active discounts.
Who is Learn To Trade Best For?
Learn To Trade is best suited for individuals looking to delve into the Forex market, whether they are beginners or have some trading experience. 
Its comprehensive courses offer both fundamental knowledge and hands-on trading skills. The platform is also a good fit for those interested in trading as a secondary income stream and can dedicate about 60 minutes daily to market analysis.
Learn To Trade Customer Reviews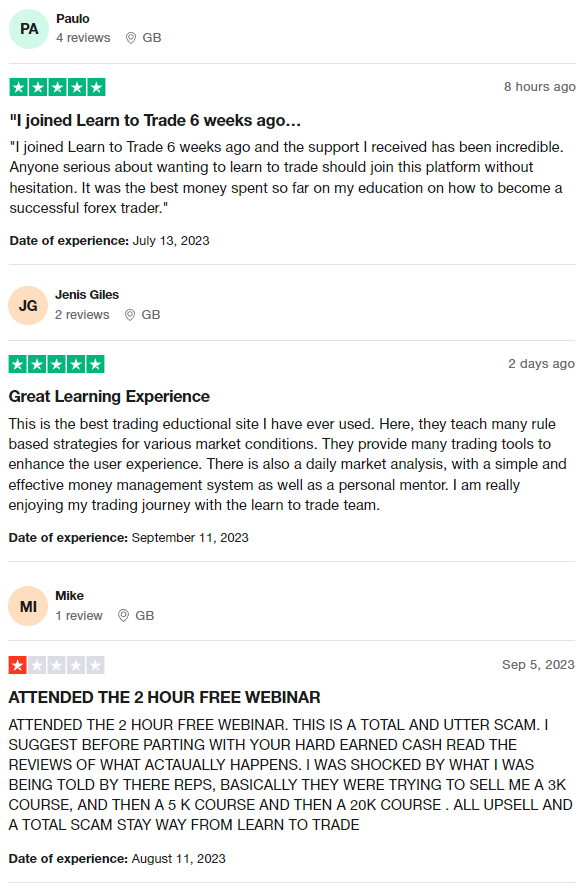 Customer reviews of Learn To Trade are mixed. On the one hand, many users appreciate the robust educational content and mentors' support. They feel the platform offers valuable rule-based strategies and trading tools, making it a worthwhile investment in their trading education. 
On the other hand, some reviewers criticize the platform for aggressive upselling tactics, labeling it a scam. They warn potential customers to be cautious, especially given the lack of transparent pricing.
What is a Good Alternative to Learn To Trade?
If you want to become a successful Forex trader, Asia Forex Mentor's One Core Program is a standout option. From our experience at Dumb Little Man, we can say that it offers a broader scope compared to Learn To Trade. Tailored for both beginners and seasoned traders, this program truly excels in delivering a top-tier trading education.
Ezekiel Chew, a seasoned trader with a wealth of real-world experience, leads the program. Since 2008, Ezekiel has been sharing his unique 5-step program that blends both technical and fundamental analysis of markets. His insights enable traders to maximize their potential profits significantly.
Asia Forex Mentor – Rated Best Comprehensive Course Offering by Investopedia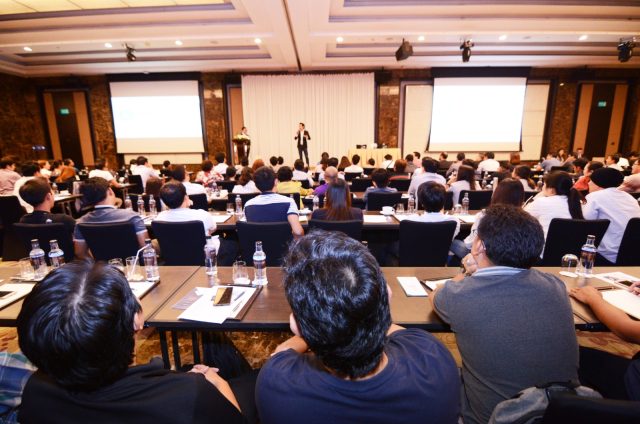 Its broad reach in the trading community sets the One Core Program apart. Ezekiel doesn't just educate individual traders; professionals in prop trading companies, fund management firms, and banks also seek his expertise.
The course content is thorough and includes training sessions via videos, mentorship, and real-life examples. Unlike many Forex-specific programs, the One Core Program extends its coverage to include other trading vehicles like stocks, crypto, and commodities. The system can work for it if it has a chart.
An exceptional feature of this course is its mathematical probability backing, which is rare in the trading education landscape. This allows traders to assess risks and rewards more accurately, providing a unique edge.
So, whether you're a complete beginner or an experienced trader, the One Core Program offers something valuable for everyone. Asia Forex Mentor will help you to become a consistent and profitable trader across trading platforms.
>>Related Article: Asia Forex Mentor Review 2023
Asia Forex Mentor Members' Testimonials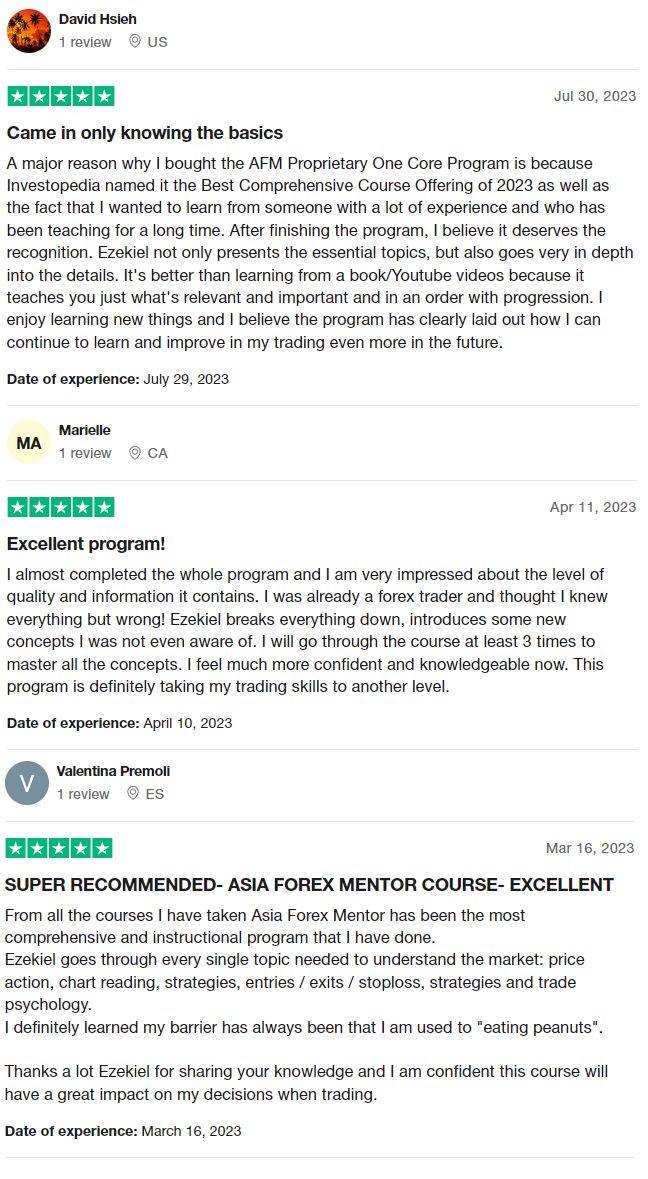 Member testimonials for Asia Forex Mentor's One Core Program are overwhelmingly positive, highlighting the program's comprehensive and high-quality content. Users appreciate that the course goes beyond the basics to offer in-depth insights into trading, making it more effective than learning from books or YouTube videos. 
Even experienced traders have found new, valuable concepts introduced in the course that they weren't previously aware of. Many mention that they plan to revisit the course multiple times to master all the concepts thoroughly. Users also acknowledge the substantial impact the program has had on their trading decisions, adding to their confidence and skill level. 
Overall, the program receives praise for its structured, thorough approach and ability to enhance trading knowledge at all levels.
Conclusion: Learn To Trade Review
Based on our overall experience, Learn To Trade has the potential to offer the education that aspiring traders need. However, we also noted several drawbacks that could turn off potential students, such as their undisclosed pricing structure, upselling approach, and high-intensity training. Such drawbacks could potentially ward off students who want to take the course. But if you are seeking a more transparent and comprehensive trading education, we highly recommend Asia Forex Mentor.
>>Also Read: AvaTrade Review 2023: Is It the Best Overall Broker?
[wptb id="129258" not found ]
Learn To Trade Review FAQs
Who is the course best suited for?
The course is designed for those new to Forex trading, but it also includes advanced strategies that could benefit more experienced traders.
Are there any downsides to Learn To Trade?
Yes, the program has been criticized for its upselling techniques, steep learning curve, and lack of a clear pricing structure.
Is there a better alternative to Learn To Trade?
Asia Forex Mentor's One Core Program is often cited as a more comprehensive and transparent alternative, covering more than just Forex trading.