Learn Swahili: The Easiest Methods To Accelerate Your Learning Process [2023]!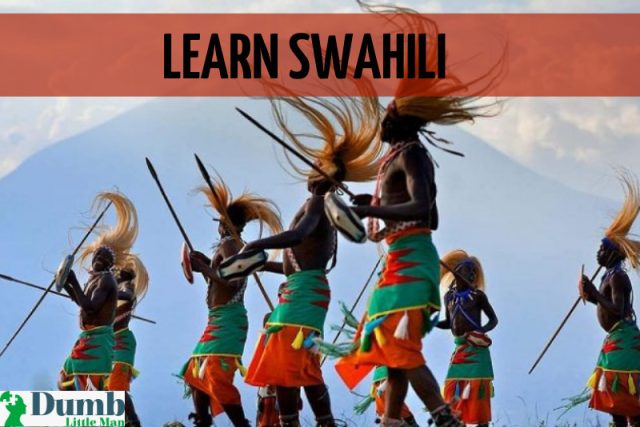 East Africa is home to a large variety of countries where the beautiful Swahili language is widely spoken. It is the official language in both Tanzania and Kenya and is the mother tongue for 10% of individuals in southeast Africa. Swahili is a charming language. It opens a metaphorical door for many career and trade opportunities with countries that are abundant in natural resources such as oil.
To give you a thorough analysis of the most useful resources to help you start learning Swahili, we have compiled a list of Swahili lessons and materials that help make the language learning process feel more enjoyable. With the right resources, you will become increasingly familiar with Swahili culture, and thus become more confident in your ability to communicate with native speakers in their local language.
About the Swahili language
Niger-Congo is one of the four continental language families prevalent in many African countries. Belonging to this family are the Bantu languages, and Swahili is known as the largest spoken Bantu Language. The grammatical structure is characteristically Bantu and there exist several words originating from the Bantu-speaking communities in Africa.
The plural of the Arabic word 'Sāhil' is the word for the Swahili language. Due to contact with Arab traders, there are several words of Arabic origin. Their vocabulary also includes words of German and English origin due to trade. As such, although Swahili is written in Latin and Arabic script, it is easy for those who speak the English language to learn.
Kenyan Swahili and Tanzanian Swahili are not quite the same thing. There are differences in accents and the expression of phrases. However, they are similar enough that many people do consider them to be almost the same.
How Difficult is it to Learn to Speak Swahili?
Swahili is a relatively easy language to learn in comparison to learning French or other such romance languages. The pronunciation rules are fairly simple as it is a phonetic language, meaning that it is pronounced exactly how it is written. This makes for many language learners, learning Swahili is more straightforward.
Useful Tips for Language Learning
Define Your Objectives
If your objective is to traverse the East African coast with relative confidence in your ability to speak and listen to Swahili, then certain courses would be more beneficial than others. Swahili words can be easily recognised by those who have had enough practice.
How Much Time You Are Willing to Dedicate to Learn Languages
For those who want to learn Swahili at a quicker rate, it would be prudent to spend more time and effort into finding suitable Swahili courses. This will help you swiftly master the art of reading, writing, listening to, and speaking Swahili like a native speaker.
Understand Your Learning Style
To learn your target language, you need to choose materials that are specifically tailored to your learning style. This makes learning individual words and gaining valuable speaking practice more effective.
Resources
Attempting to find Swahili resources can be a complex process. Despite being a widely spoken language across East Africa, Swahili isn't as well-known as other languages German.
To help you get a good grasp on sentence structure, and new vocabulary, we've compiled a list of both paid and free Swahili lessons and resources that are likely to suit your learning style.
Online Swahili Classes And Language Exchanges
Online Classes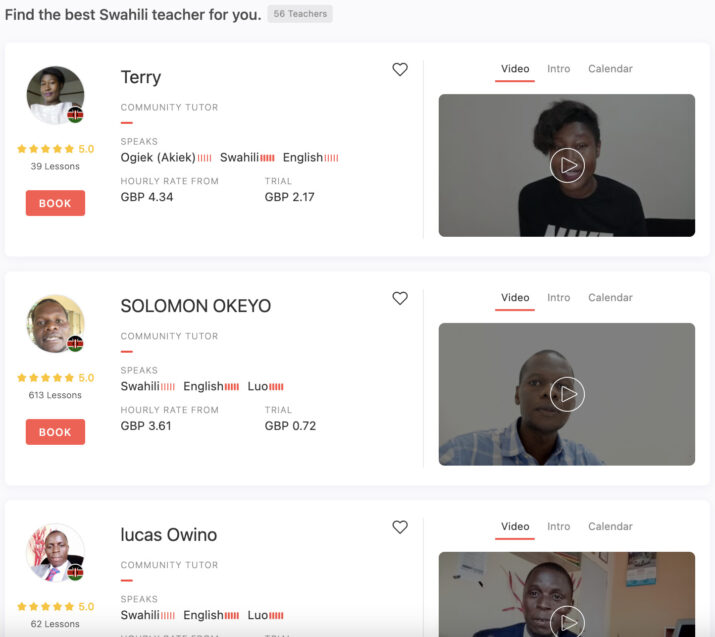 Users are given a selection of choices between professional teachers and community tutors to help them learn Swahili. There are tutors native to East Africa who have taught hundreds of lessons to students who now have a sufficient understanding of Swahili grammar and pronunciation to classify it as a second language that they can speak proficiently.
CLICK HERE TO READ MORE ABOUT ITALKI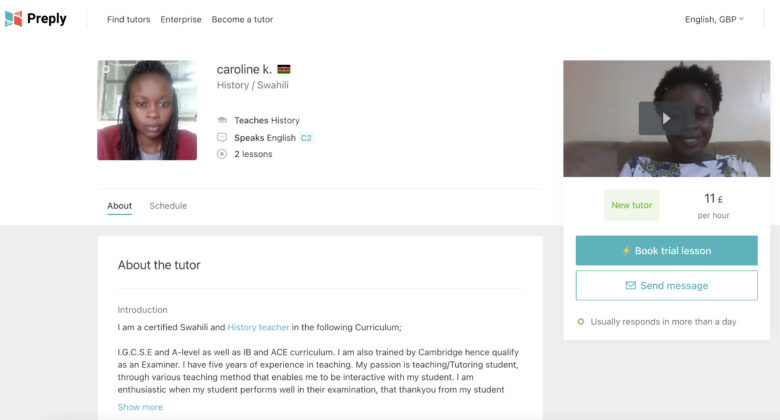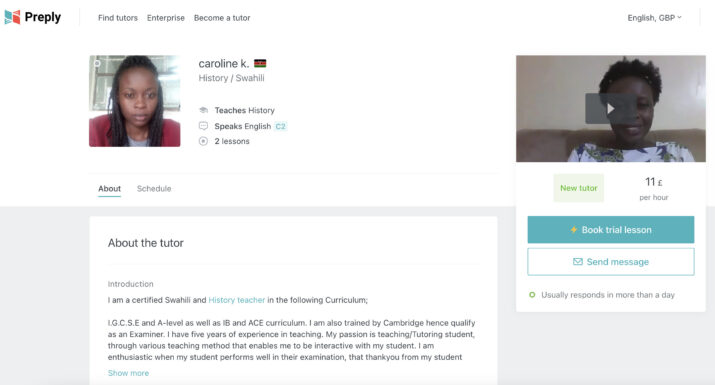 Through Preply, you can hire tutors who offer Swahili lessons and courses on the history of countries in East Africa and Swahili culture. Whilst there are more tutors available for other languages such as German, the tutors who are proficient in Swahili have in-depth knowledge of the language and its history.
CLICK HERE TO READ MORE ABOUT PREPLY
Verbling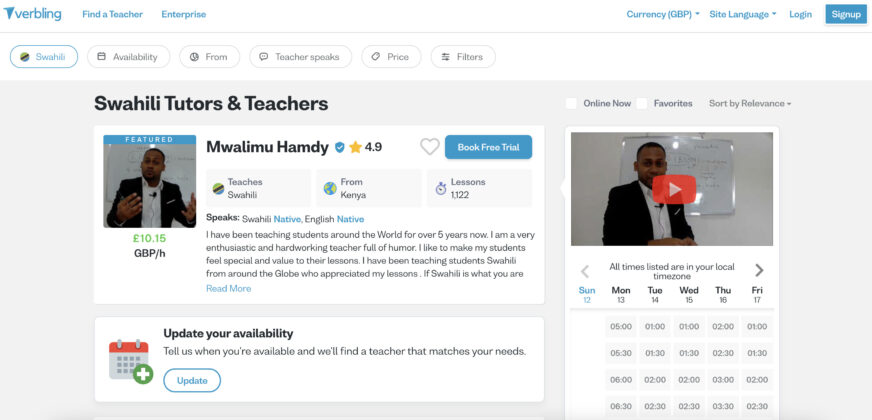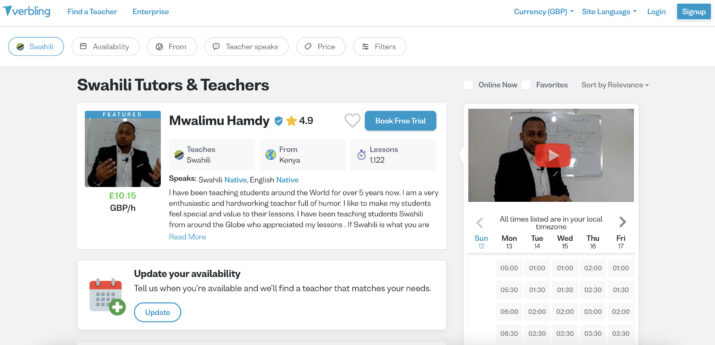 There are a few tutors who teach Swahili and other languages through Verbling. With their Swahili lessons, you can master it as a second language and travel through East Africa being able to converse with locals.
CLICK HERE TO READ MORE ABOUT VERBLING
Verbal Planet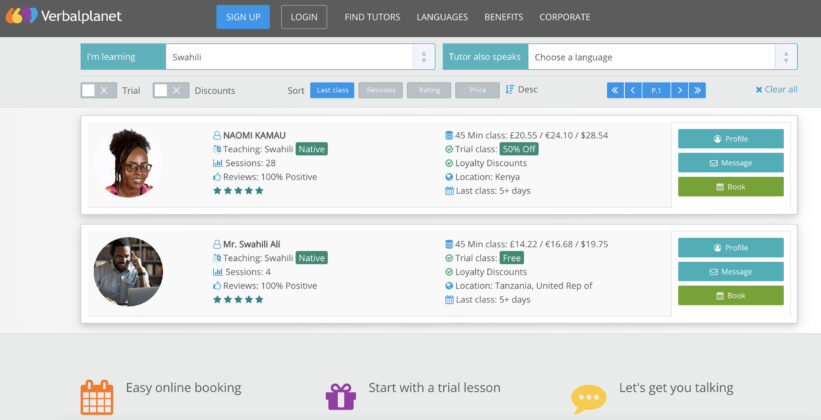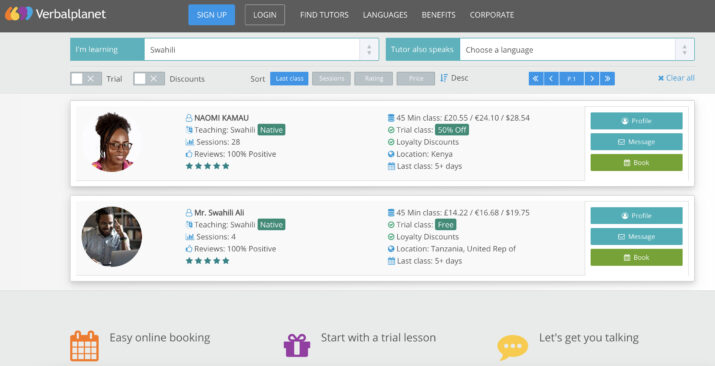 The Swahili tutors in Verbal Planet offer a free lesson to help you better understand their teaching styles and to see whether it would be beneficial to form a partnership with them. When it comes to learning enough Swahili to classify it as a second language, a good tutor would make a world of difference.
CLICK HERE TO READ MORE ABOUT VERBAL PLANET
AmazingTalker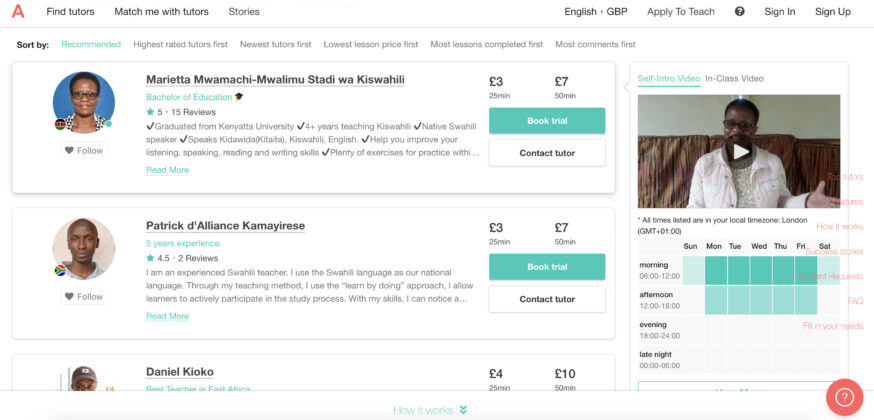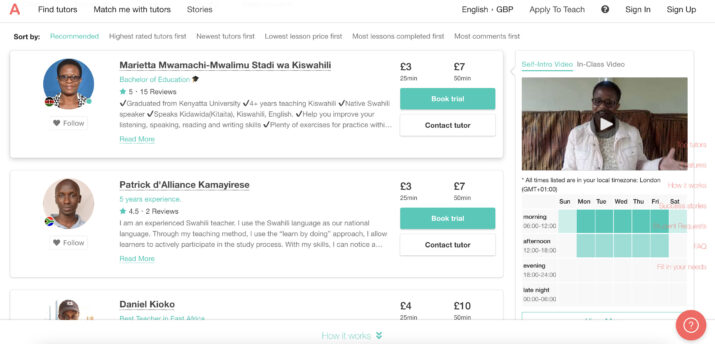 Some tutors are native to East Africa and can also speak other languages like English to help you communicate in lessons more efficiently. Through frequent practise with native speakers, you can significantly improve your Swahili pronunciation and understanding of Swahili grammar as well as useful terms and phrases.
CLICK HERE TO READ MORE ABOUT AMAZINGTALKER
Justlearn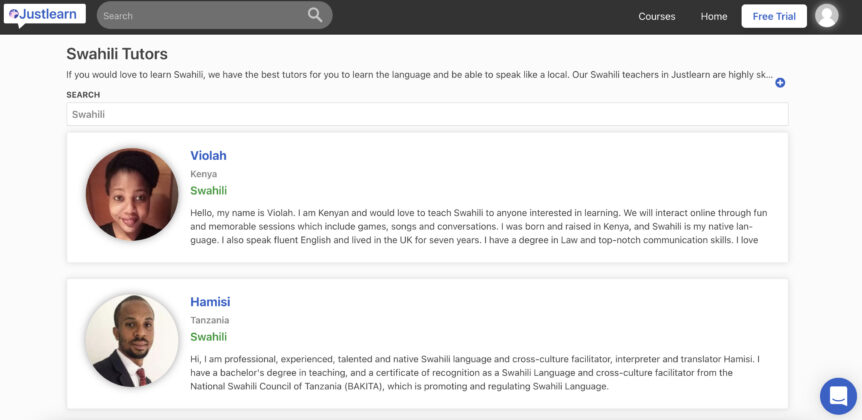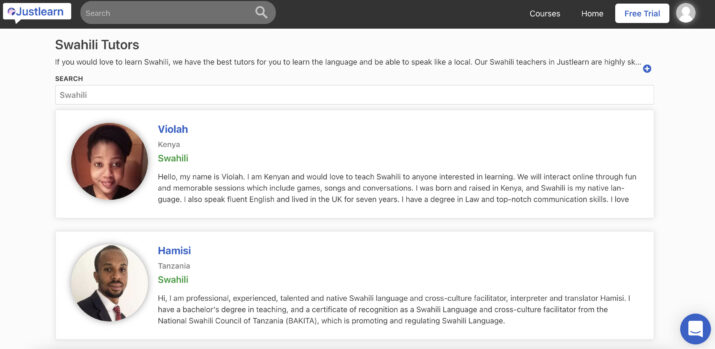 With personalised lessons that are tailored exactly to your objectives and learning style, you can quickly learn Swahili as a second language. Through the right Justlearn tutor, you can master new words and phrases in a small amount of time.
CLICK HERE TO READ MORE ABOUT JUSTLEARN
Apprentus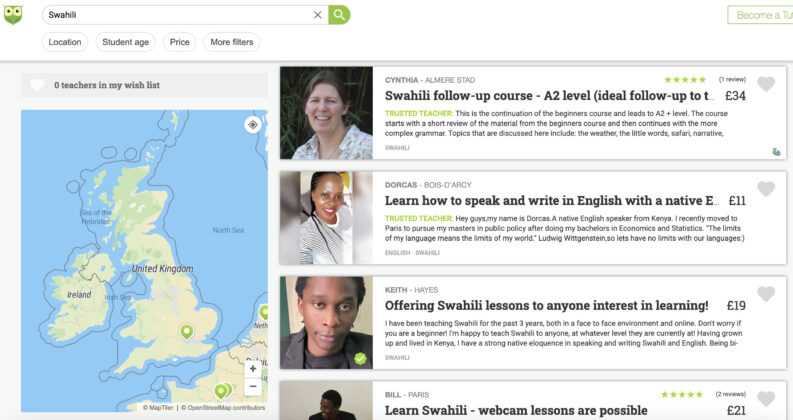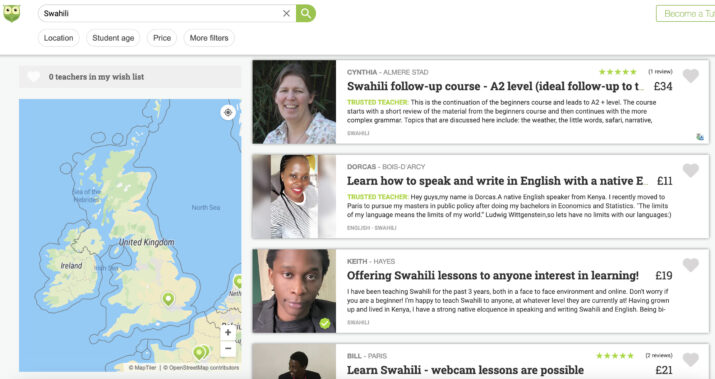 With trusted teachers who are brilliant Swahili teachers, Apprentus can be an ideal platform for hiring your language teacher. In comparison to languages such as German or English, Swahili words and phrases are easier to pronounce.
CLICK HERE TO READ MORE ABOUT APPRENTUS
FirstTutors: Languages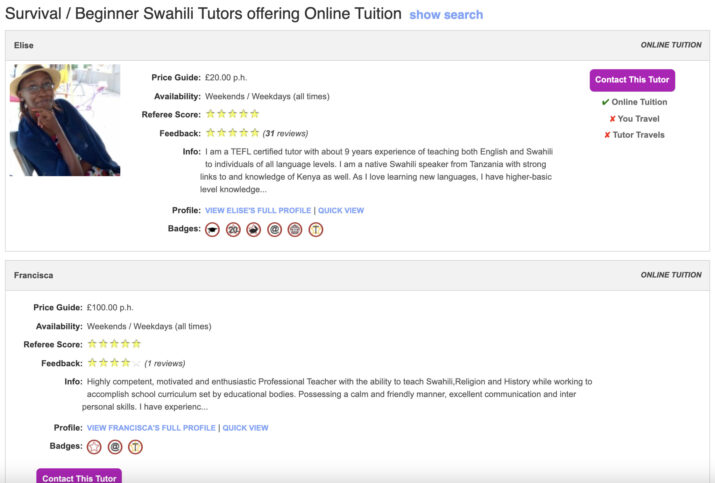 FirstTutors: Languages is a great platform for finding talented and experienced Swahili tutors. Whilst there aren't as many tutors for Swahili as in other languages, the majority of their teachers are highly qualified and proven to be able to teach to a high standard (as evidenced by reviews).
CLICK HERE TO READ MORE ABOUT FIRSTTUTORS
Wyzant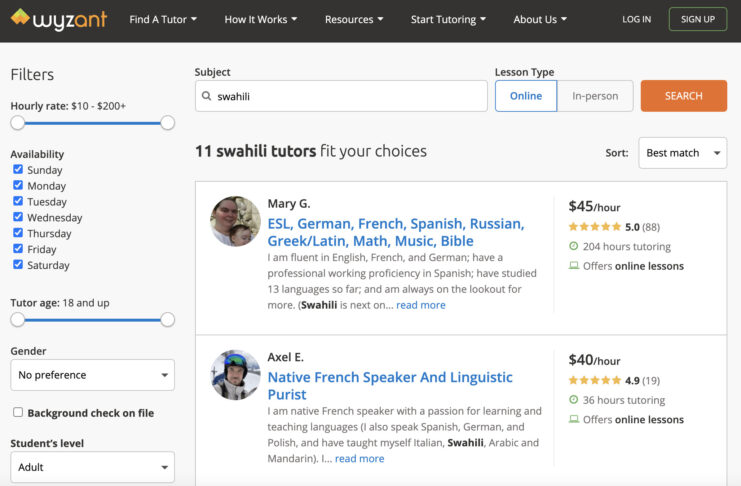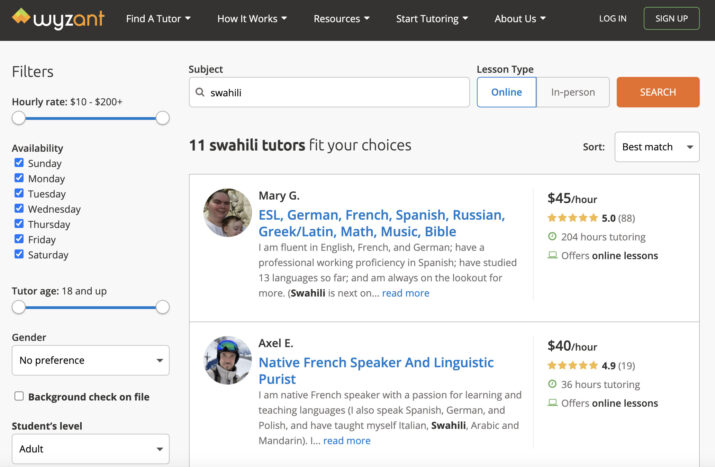 Wyzant is a US platform for learning a variety of different topics. Some tutors have already taught hundreds of successful lessons and their reviews can attest to their teaching quality. However, when searching for Swahili tutors native to East Africa, their results also included tutors who specialise in unrelated topics, thus making it more irritating to use.
CLICK HERE TO READ MORE ABOUT WYZANT
Community Feedback
HiNative
Receiving high-quality feedback through HiNative is standard. Users can post questions related to language learning and even answer questions depending on their proficiency.
WordReference forum, Reddit, and LangCorrect
Reddit is home to a few useful communities such as 'Learn Swahili' to help you connect with other learners. It contains several communities that make up for the lack of content in the WordReference forum and LangCorrect.
Language Exchanges
Speaky, Tandem, and HelloTalk
These language exchanges are incredibly useful when helping you to connect with native Swahili speakers who can help answer your questions and provide insightful advice.
MeetUp
MeetUp allows you to arrange direct communication with Swahili speakers from all over the world.
Swahili Language Courses: Online, App-based & Audio
Top Recommendations
Mango Languages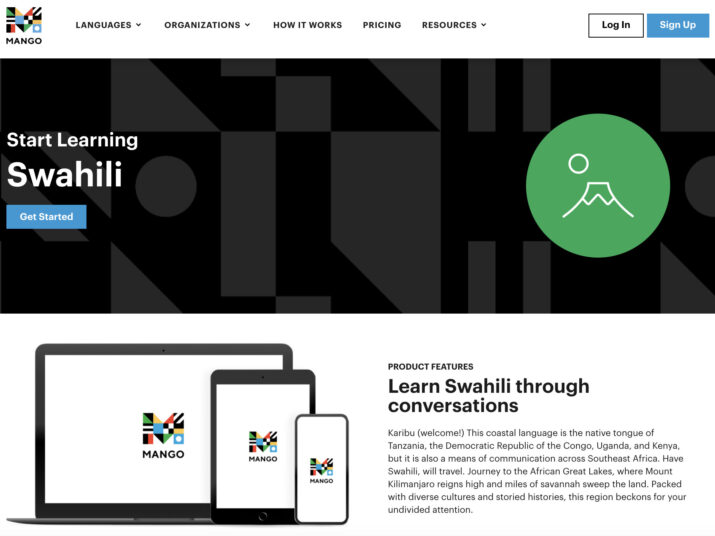 The Swahili course offered by Mango Languages is divided into 4 units that cover different topics. This course is designed to improve your understanding of Swahili culture through lessons that help you reach conversational and grammar goals.
CLICK HERE TO READ MORE ABOUT MANGO LANGUAGES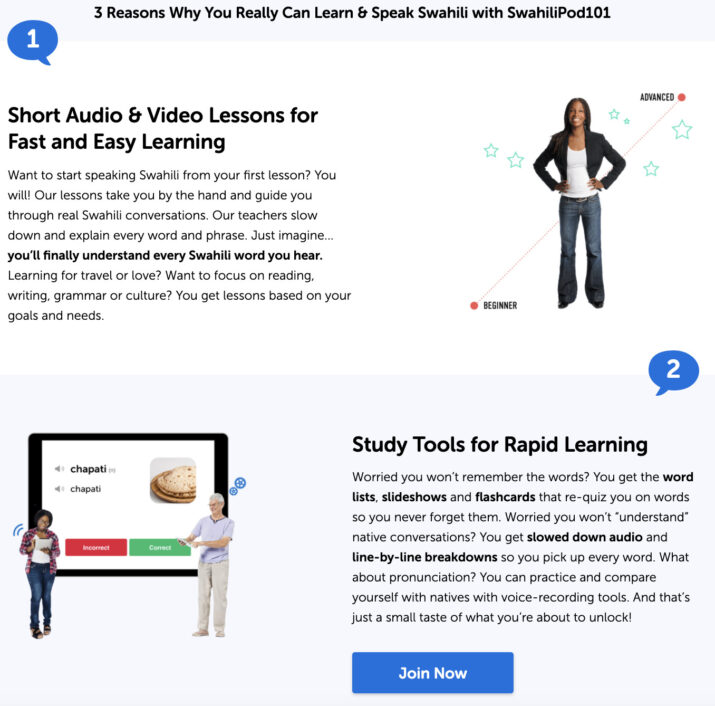 SwahiliPod101 is already in our recommendations for one of the best language learning courses to help you learn Swahili. However, they also publish high-quality content (with English subtitles) through their YouTube channel that you could use to understand to help improve both your language skills and your knowledge of Swahili culture.
CLICK HERE TO READ MORE ABOUT SWAHILIPOD101
Language Transfer

There are 110 audio lessons of varying lengths available with this detailed audio course. Each word is pronounced articulately and the host speaks in a way that makes the content easy to understand. The audio files are brilliant as supplementary materials and it is entirely free and downloadable.
CLICK HERE TO READ MORE ABOUT LANGUAGE TRANSFER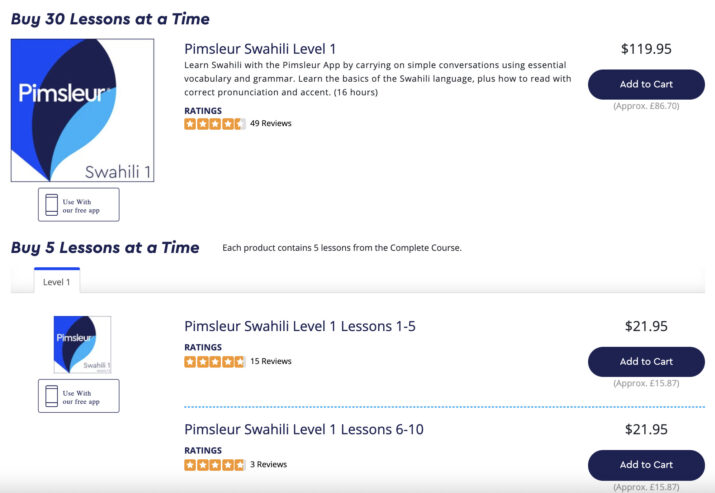 Using their unique and proven Pimsleur method for language learning, their audio-based Swahili lessons are detailed and carefully enunciated by the host. For an English speaker, there are clear explanations and translations across all of their lessons and you can easily build your grammar and vocabulary whilst going about your day normally.
CLICK HERE TO READ MORE ABOUT PIMSLEUR
Entertaining Courses Like Duolingo
Ling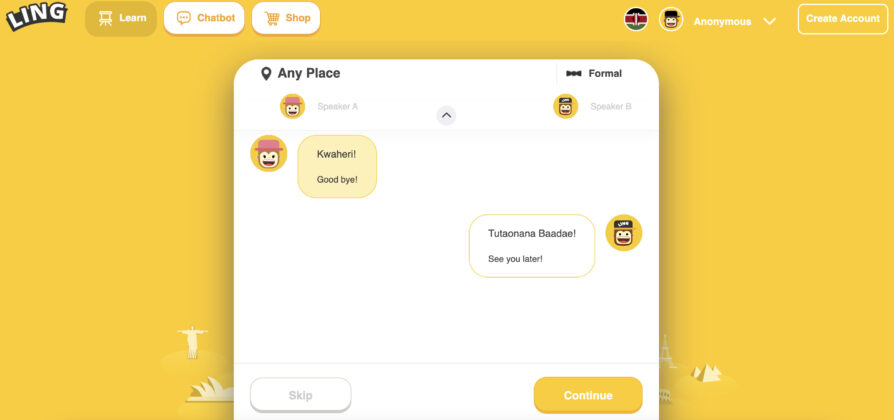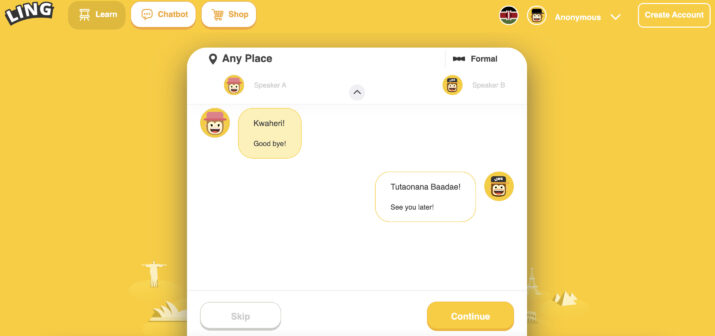 The Ling app is very engaging and contains good quality native speaker audio. Users will be introduced to simple phrases that can be heard both at a normal pace and a slower pace. Some exercises make language learning more enjoyable.
Since certain terms are based on, for example, a German or Arabic word, those who are fluent in those languages may find it easier to learn the vocabulary.
CLICK HERE TO READ MORE ABOUT LING
Unofficial Memrise Courses
There exist several unofficial Memrise courses that teach Swahili for several proficiency levels. The courses are oftentimes not related; hence they all vary in terms of duration and quality. However, a few notable courses for beginners are 'Basic Swahili', 'Swahili For Beginners', and 'Conversational Swahili'.
More Courses
Swahili Dar Language School
This language school features several videos that are thorough in helping their viewers learn the more complicated aspects of Swahili. For example, negative sentences and subject prefixes for intermediate-level learners.
OPLingo
This course has 135 audio files of natural and smooth-flowing conversations in Swahili. The course includes a reading tool that translates each term directly and it clearly shows the number of words introduced in each lesson.
Glossika
Glossika has an audio-based program suitable for all proficiencies. They help learners become more confident in speaking Swahili. Furthermore, they also use complete sentences to teach vocabulary and grammar. However, the quality of the audio files isn't as high-quality as those of other courses.
Global Language Online Support System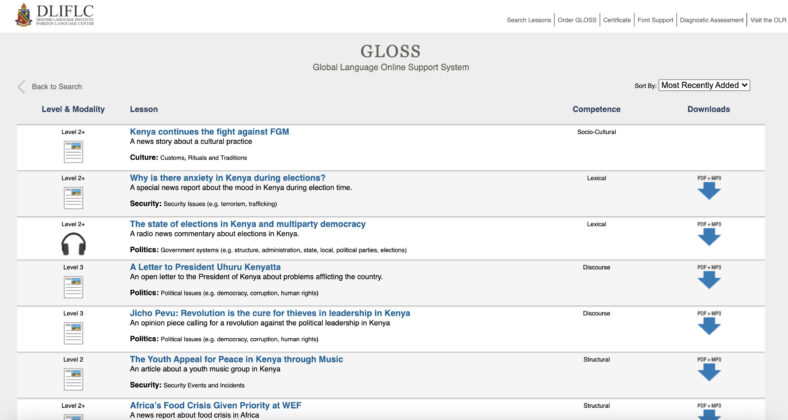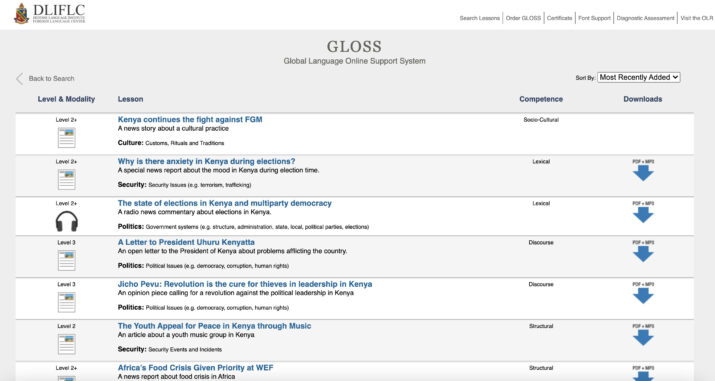 This course is highly suitable as supplementary material. They have several lessons that can help learners become more knowledgeable about Swahili culture and current events.
CLICK HERE TO READ MORE ABOUT GLOBAL LANGUAGE ONLINE SUPPORT SYSTEM
Dino Lingo
For younger students who are keen to learn Swahili, Dino Lingo has hundreds of enjoyable exercises and lessons for kids. They feature printable materials, songs, and even stories to help engage young minds.
S L & C Swahili Language & Culture
Whilst this course doesn't feature the most appealing UI, it does have great content. The course isn't compatible with any modern OS; however, they do have a downloadable file that you can instead use to learn Swahili.
Learn Swahili
Learn Swahili boasts that 10-15 per day of practice would help you to reach fluency in around 2-4 months. To help you achieve this, their app contains a memorisation tool, standard lessons, materials on Swahili culture, and more.
Kiswahili Web at UPenn
The app for this course can be rather unpleasant to work through due to the outdated styling and lack of consideration for the user experience. However, they do have exercises that can be effective at helping you to learn Swahili at a slow and steady pace.
Udemy
There are a few Swahili courses available through Udemy. There are quite a few that have been rated 4 stars and above, however, before making a purchase it would be prudent to understand whether the course would suit your objectives and learning style.
Courses That Are Best Avoided
Instant Immersion, Bluebird Languages, and Living Language
There are several reasons why these courses are best avoided. They tend to be outdated, unstructured, and the content lower-quality in comparison to other courses
Amazon, Spotify, and Deezer
There are courses available on these platforms where the audio files aren't as high-quality and the content of each file is repetitive.
17 Minute Languages, Transparent Language, and Cudoo
These courses are not fun to complete and there aren't any good explanations for grammar rules or word structure.
Swahili Phrasebooks, Vocabulary Builders, And Swahili Word Games
Learning simple phrases like 'Habari' (hello) or 'kwa heri' (goodbye) is a simple task. However, the process of learning becomes much simpler through the use of phrasebooks and word games. Below we'll introduce brilliant apps for vocabulary building.
Top Recommendations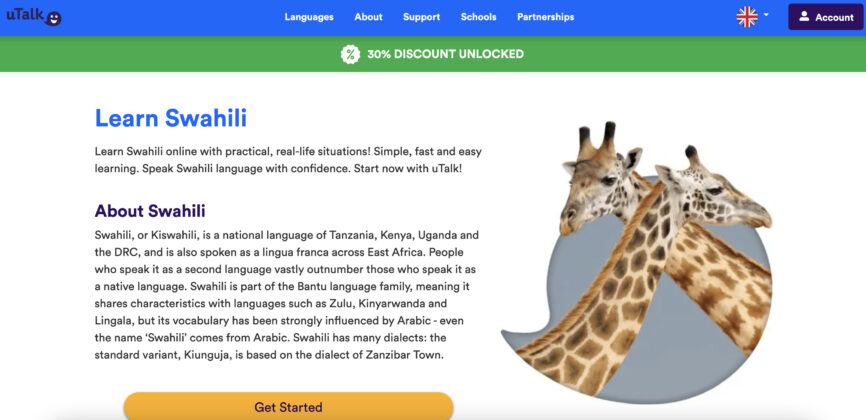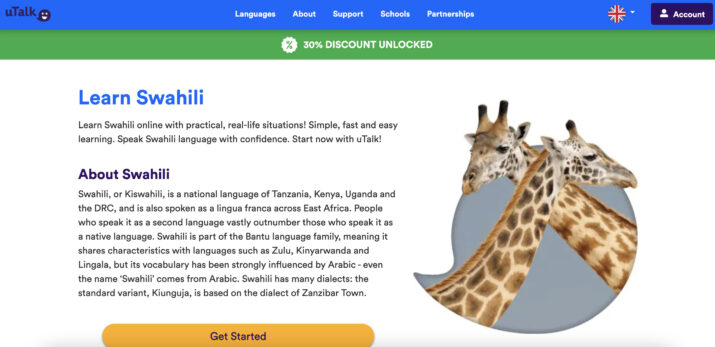 uTalk covers more than 2,500 expressions through more than 60 different categories. This resource is highly suitable for those who are thoroughly invested in memorising Swahili words and how to speak, write, and listen to Swahili fluently.
CLICK HERE TO READ MORE ABOUT UTALK
Vocly and Simply Learn
These apps have been developed by the same individual. They both feature high-quality content and are
Personalized Flashcard Sets
Anki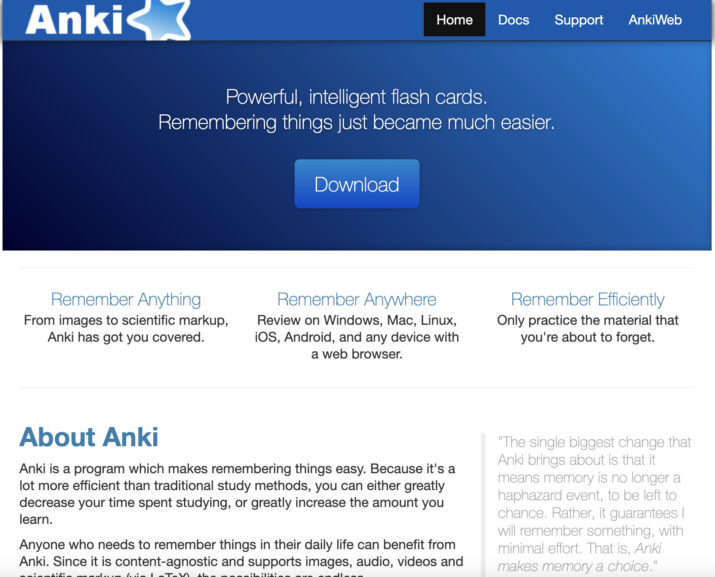 Anki is a well-established flashcard app that contains several resources for learning Swahili. It is highly suitable as supplementary material and you can also create your own flashcards to practice and improve your comprehension of Swahili.
CLICK HERE TO READ MORE ABOUT ANKI
Brainscape
This app is similar to Anki in the way that it allows you to create personalised flashcards and view flashcards created by other individuals. However, an advantage is that Brainscape does seem to have a more pleasant user interface.
Readlang
For those who choose to browse the internet or read in Swahili, Readlang can help you to read and translate terms and expressions quickly. It also gives you the option of conveniently learning several terms in context using flashcards.
More Vocabulary Apps And Games
Learn Swahili Free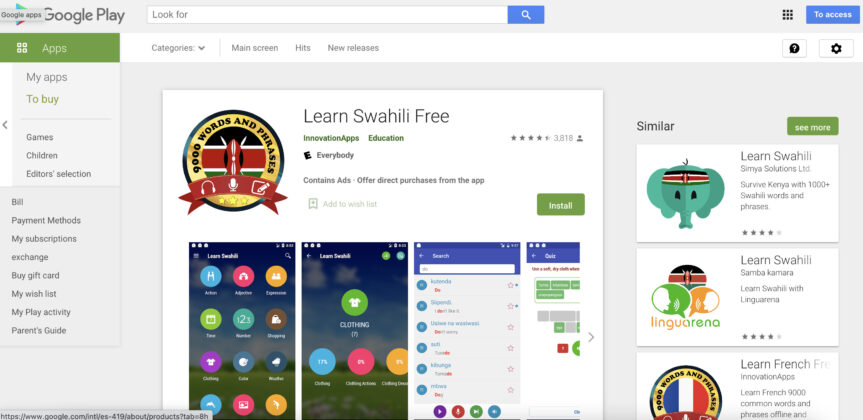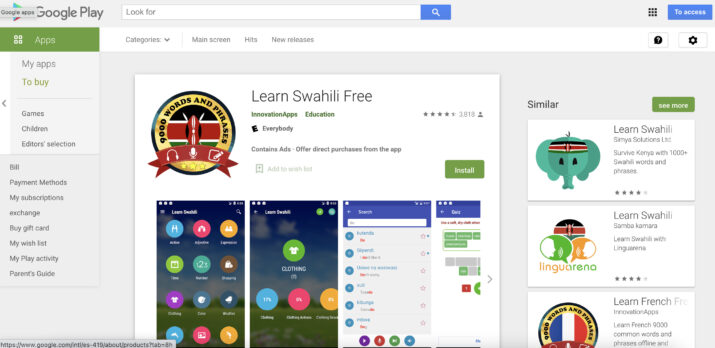 To get a good grasp of Swahili words and phrases, Learn Swahili Free is a powerful resource. Users have the option of recording their take on some of the 9,000 terms and expressions available.
Internet Polyglot

Through Internet Polyglot, each Swahili word is accompanied by clear audio clips of both Swahili and English. Sentences to accompany the English translations are also included alongside relevant pictures to help put the word into context.
CLICK HERE TO READ MORE ABOUT INTERNET POLYGLOT
Daily Swahili
With this app, beginners and intermediate-level learners can learn commonly used proverbs and expressions daily. We recommend that this is used as supplementary material or alongside other apps such as Forvo (Here's our review on this app).
Digital Dialects
This platform features several games to do with numbers, food, and animals. It also features simple vocabulary that is suitable for complete beginners. The user interface does seem to appeal largely to young children; however, the content is still useful.
Swahili Bubble Bath
Swahili Bubble Bath is a unique resource for those who wish to reinforce their knowledge. The game invites you to pop each bubble and listen to how it is spoken. There are 63 categories and each one contains 10 terms and expressions.
Kiswahili.net
This resource contains lists to help you build your vocabulary quickly and efficiently. For several terms they've also included moving pictures that make memorising feel more enjoyable.
PBS
PBS contains several terms and phrases in various categories. Users can listen to how words are spoken and the categories include topics such as transport and food and drink.
LingoHut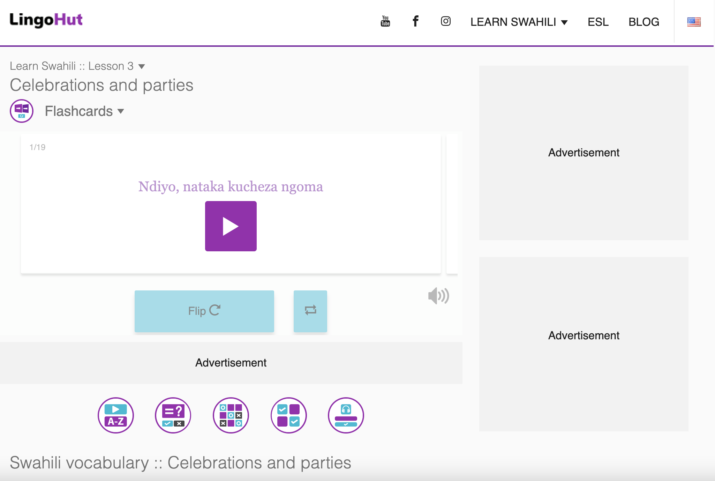 With 125 free Swahili lessons, LingoHut is ideal for those who want to learn useful phrases and play games to help you build your vocabulary and learn how to speak like a native speaker of the Swahili language.
CLICK HERE TO READ MORE ABOUT LINGOHUT
Lingua Boost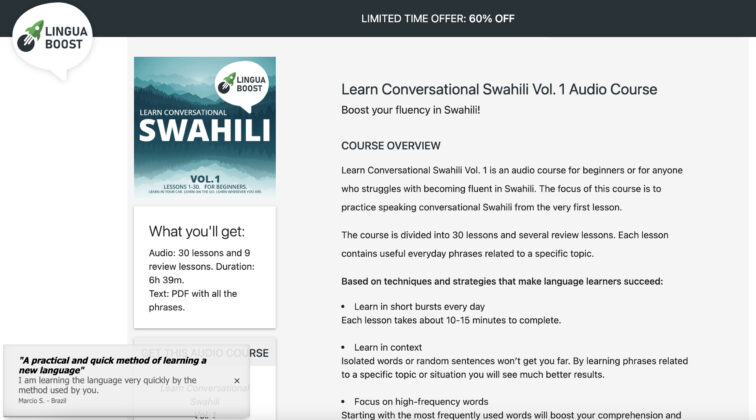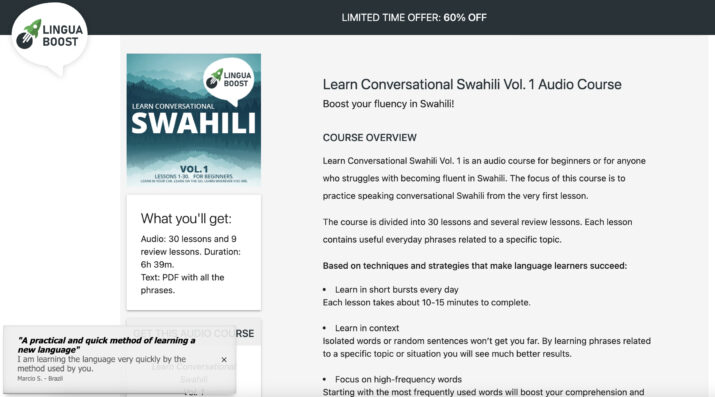 Lingua Boost features 2 audio courses for learning conversational Swahili. These resources are highly suitable for beginners due to the short lessons and the focus on learning frequently used words.
CLICK HERE TO READ MORE ABOUT LINGUA BOOST
Swahili Classes for Foreigners
This resource is rather outdated, both in terms of UX and UI. Many of their posts have already been removed, however, their existing posts are still useful.
Be Careful of Using these Apps
Learn Swahili app
The Learn Swahili app is (at the time of writing) full of errors and difficult to use. Whilst it does have helpful content, it is not as pleasant to use in comparison to other apps.
Word lists to use with caution
There are quite a few lists that are best avoided. For example, MyLanguages and Polymath have been reviewed to be error-ridden and unusable by many individuals. Other applications such as Polymath and ilovelanguages can also contain quite a few inaccuracies.
Online Swahili Grammar Guides And Exercises
Verbix, 2Seeds Swahili, and LinguaShop.com
Through these guides, students have the opportunity to learn vocabulary and grammar in context to help make the content more memorable.
Swahili Pronunciation Guides
Kiko, Forvo, and Vocabulearn's 4-disc Swahili/English Level 1 course
We have found that these pronunciation guides are of fantastic quality in their methods of helping you to learn how to pronounce difficult words. However, Vocabulearn may be best used as supplementary material.
Swahili Textbooks And Reference Books
Simplified Swahili
This highly rated book contains several exercises, expressions, and vocabulary to help beginners reach a more proficient level in Swahili. It teaches Swahili words in such a way that it becomes easy to remember in comparison to other languages.
Swahili: A Complete Course for Beginners
As in the name, this complete course for beginners will not only be effective for learning Swahili words and expressions, but it will also contain notes on Swahili culture. It is known that the language is made up of around 35% Arabic, hence those who speak Arabic may find it easier to learn terms based on an Arabic word.
Swahili Made Easy: A Beginner's Guide
Swahili Made Easy: A Beginner's Guide may be difficult to read due to the blocks of text across the entire book. Furthermore, due to frequent typos, makes learning through this book feel less motivating.
Learn Swahili Quickly and Easily
Learn Swahili Quickly and Easily is a relatively well-known book for learning Swahili and there are audio files available for purchase. Their method of teaching is effective largely due to their gentle introduction to how Swahili works and their inclusion of new concepts that help immerse their readers into the content. However, there's no in-depth introduction to grammar, which can make it difficult for certain learners.
Swahili Grammar and Workbook
This book covers grammar rules and language structure thoroughly. For those who may find it difficult to learn grammar, Swahili Grammar and Workbook works at a comfortable pace for many readers and the exercises are also well-regarded.
Free scanned books
These books are generally more out-of-date and so can be quite difficult to read through for beginner or intermediate-level learners. These resources are by the Foreign Service Institute and there are 3 courses available with both eBooks and audio files.
YouTube Channels
Zero to Hero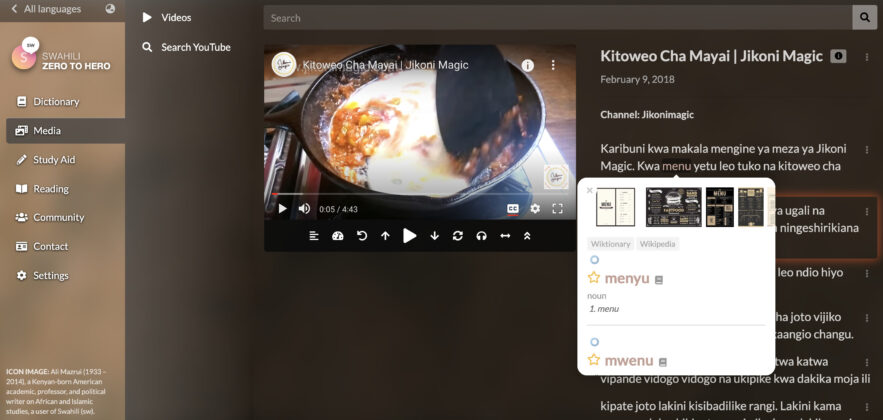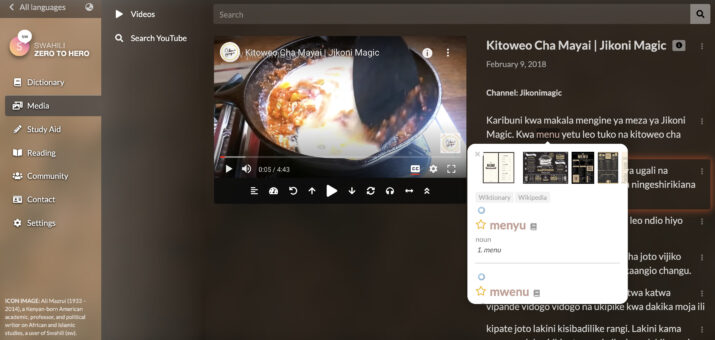 Zero to Hero is a platform that contains YouTube videos that are suitable for learning about Swahili culture and language. Whilst they also have content for other languages, their Swahili videos and translations are very easy to learn from.
Each spoken phrase is directly translated and each term also has direct translations. Users may notice that certain terms are based on an Arabic word for those who are proficient in Arabic. There are also words based on other languages such as German and English.
CLICK HERE TO READ MORE ABOUT ZERO TO HERO
SwahiliPod101 is already in our recommendations for one of the best language learning courses to help you learn Swahili. However, they also publish high quality content through their YouTube channel that you could use to understand to help improve both your language skills and your knowledge of Swahili culture.
Learn Swahili Easily, Easy Swahili, and Swahili101
These YouTube channels are all useful for beginners and lower-intermediate level learners. They teach basic vocabulary and phrases that are useful for everyday conversation.
Swahili Centre and Swahili Stadia
Swahili Centre and Swahili Stadia both publish good quality content for upper-beginner and intermediate-level learners. They both feature great lessons for learning how the language is structured.
Education World, Swahili AniBooks by BookBox, and Swahili Fairy Tales
These channels are brilliant for helping you learn more terms and expressions through engaging videos. The latter two are highly suitable for young learners.
Swahili Podcasts
Kenyan Plug and Africa & Beyond
These podcasts cover a range of topics that help you understand more about Swahili history and politics. They are more advantageous for intermediate or advanced-level learners.
SBS Swahili and NHK World Kiswahili
These podcasts are frequently updated and cover interesting news stories that are sure to help learners become more proficient in Swahili.
Swahili Fiction Books And Plays
Mantra Lingua
Mantra Lingua contains a small array of colourful books in Swahili. With all books priced at £9.50, you can directly select which story best suits your preference. Whilst learning from books may not suit everyone's style, however, a good Swahili book can make a world of difference in the speed at which you learn and how much enjoyment you feel during the language learning process.
African Storybook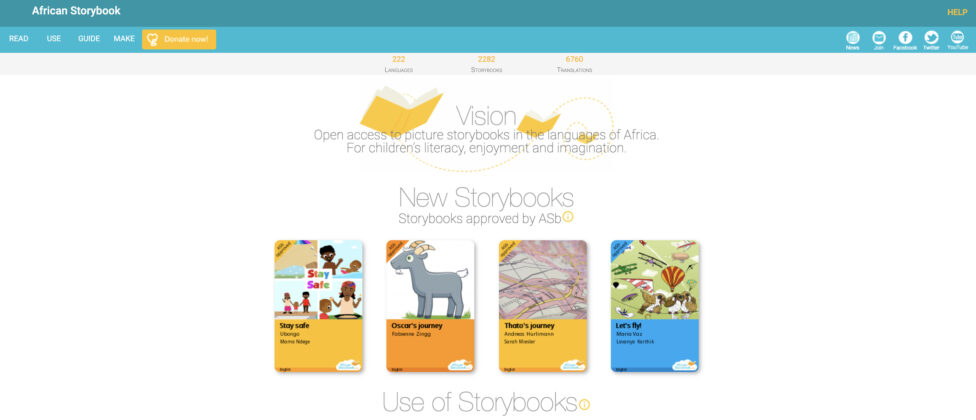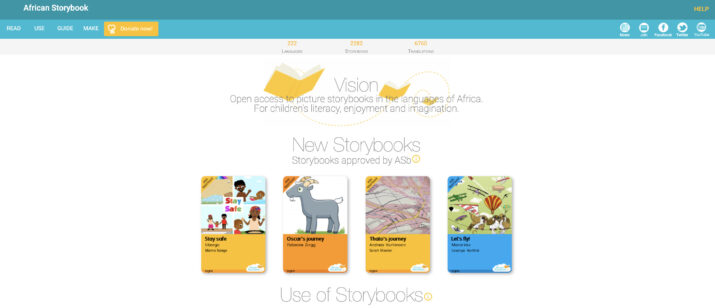 What is better than free Swahili lessons? Accessible and free Swahili books. With hundreds of storybooks to learn from, mastering Swahili seems like it'll be a breeze with the help of African Storybook.
CLICK HERE TO READ MORE ABOUT AFRICAN STORYBOOK
Manga Method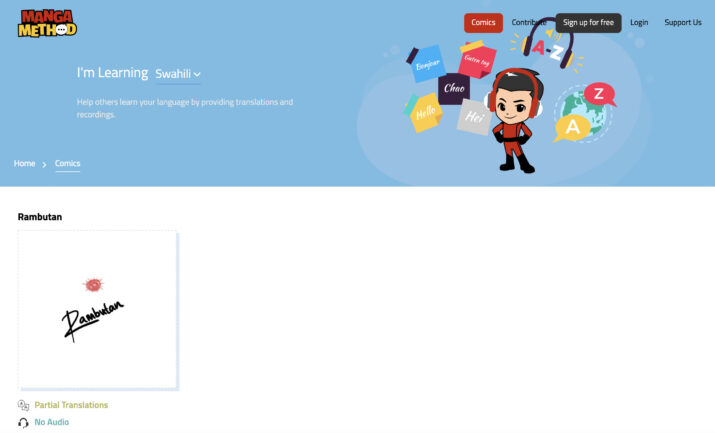 Manga Method uses a relatively unique method of teaching languages. They have a large library of comics and manga translated into different languages. This helps learners to immediately see the translations for interesting and memorable terms and phrases. Unfortunately, unlike for languages such as German, Manga Method has only partially translated one comic into Swahili at the time of writing.
CLICK HERE TO READ MORE ABOUT MANGA METHOD
Ken Walibora
With more than 40 books under his name, Ken Walibora is a well-established author. For beginners, it may be a good decision to begin reading his highly rated book titled Siku njema.
Kibali
Kibali features a highly educated woman amid a divorce against her traditional husband. The contents are thought-provoking and insightful, though they may be more suitable for intermediate or advanced-level learners.
Shetani Msalabani
Shetani Msalabani is a complex book that best benefits those of either upper-intermediate or advanced-level Swahili. It uses traditional storytelling, and the contents portray the deeper layers of society and corruption.
Swahili Movies
Swahiliflix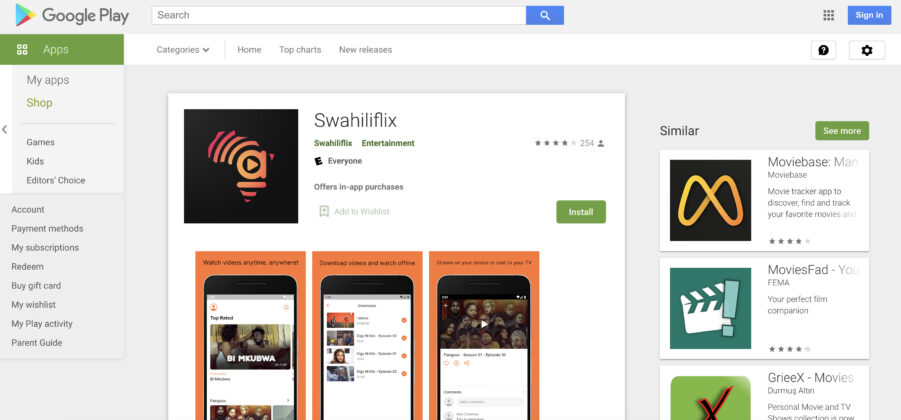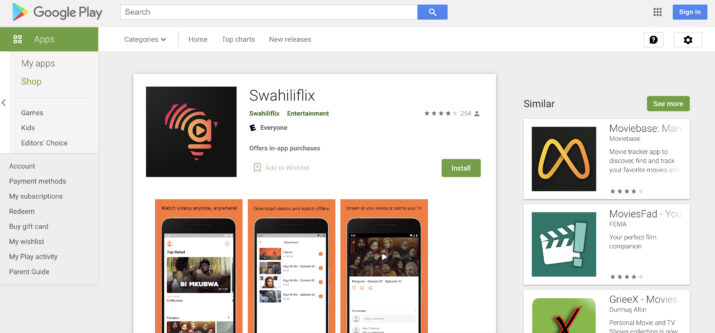 This platform allows you to browse and view several Swahili movies that help you to thoroughly immerse yourself in the culture. In comparison to free Swahili lessons, this resource may have content that better suits those with a visual learning style.
Kati Kati
An example of an intriguing movie with complex themes is Kati Kati. Watching this movie can help you become more familiar with the language through being introduced to new Swahili terms and phrases.
Pili
With a heavy plot and brilliant actors, this movie can help you become more immersed in the darker aspects of living standards for Swahili people.
40 Sticks and other movies
There are mixed feelings regarding 40 Sticks. On one hand, some people like this film due to the content and others dislike it due to the quality. For those who are more reluctant to watch due to the quality, you can instead watch mainstream movies such as Black Panther in Swahili.
News, Music, And Other Resources For Learning Swahili
Playlists
There is a large array of playlists that you may wish to consider listening to improve your proficiency. Playlists such as Swahili Ballads and Swahili Hits 2018–2020 can help you feel more in-tuned with Swahili culture. The playlist Kiswahili Muziki also contains 121 songs that may help you learn more terms.
News sites
There are several news sites that intermediate and advanced-level learners may benefit from reading through. Some of which include the Voice of America, Deutsche Welle, and BBC News | Swahili.
Online Swahili-English dictionaries
Bab.la and iTranslate both have dictionaries that can be useful for helping you learn Swahili. AfricanLanguages as well as Tatoeba also have translations that are high-quality and easy to read.
Conclusion
When it comes to learning Swahili, there are quite a few resources for you to choose from to reach your desired proficiency. Certain resources even help to build your comprehension of Swahili culture as well as language. Regardless of your reason, this article should have a resource to suit your objectives and unique learning style.
F.A.Q.
How To Learn Swahili?
Through using a variety of resources and spending time learning complex vocabulary and grammar, it should be a straightforward learning process.
Why Learn Swahili?
Studying Swahili can make travelling through Sub-Saharan Africa (more specifically East Africa) an enriching and unforgettable experience.
Swahili is used as a lingua franca in East Africa. In countries such as the Democratic Republic of the Congo, Mozambique, and Rwanda, Swahili is recognised as a national language. It is also often the case that many Kenyans speak the Swahili language as a second language.
How Hard Is It To Learn Swahili?
Babbel ranks Swahili as the 9th easiest language to learn as an English speaker. In comparison to many other languages, it's also considered by many linguists as one that is less difficult for those with English proficiency. This is due to having a logical grammatical structure and each word is pronounced exactly how it is written.
CLICK HERE TO GET BABBEL AT A DISCOUNTED PRICE
Like this Article? Subscribe to Our Feed!
Passionate in tech, software and gadgets. I enjoy reviewing and comparing products & services, uncovering new trends and digging up little known products that deserve an audience.