19 Most Essential Korean Podcast Resources For All Levels In 2023!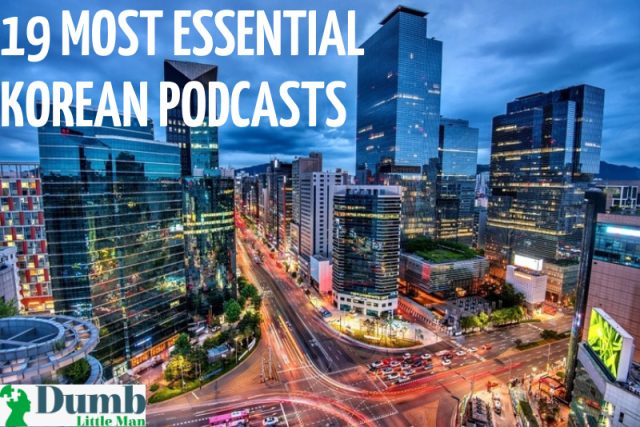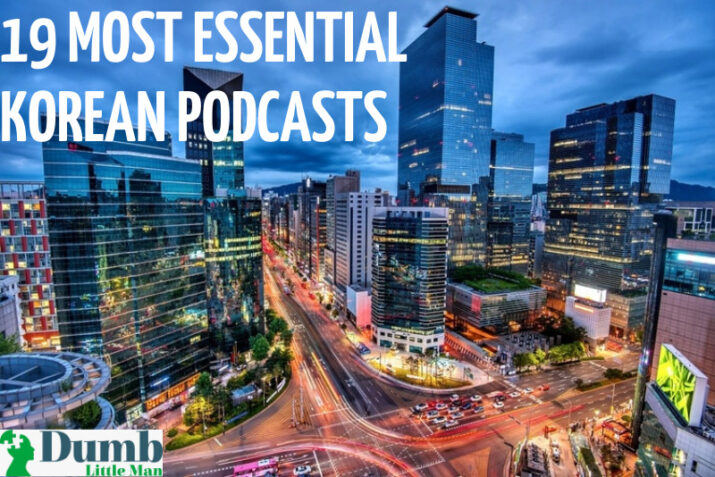 Learning a new language can be a challenging task. However, it becomes even more difficult when the language is as complicated as Korean. But don't worry, because there are many different podcasts out there that you can listen to and make the whole journey much easier.
If learning Korean is on your to-do list, here is a list of the best podcasts out there that can help improve your Korean. Let's take a closer look at the various options available to help you understand Korean culture.
Best Korean Podcasts Resources
1) Talk To Me In Korean – Core Korean Grammar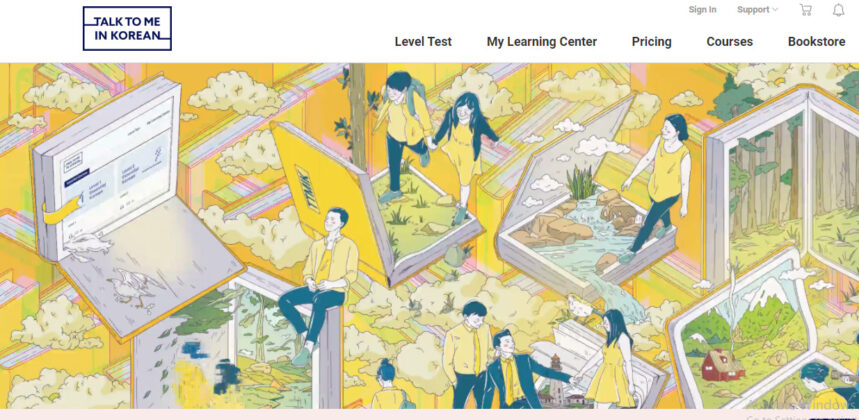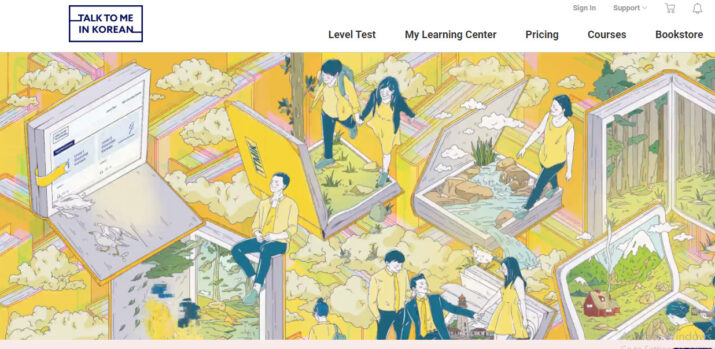 Image from talktomeinkorean.com
Summary
Talk To Me In Korean or most commonly known as TTMIK is an online platform where you can learn a language without any hassle whatsoever. It is one of the most effective Korean podcasts for beginners and intermediates.
With their entertaining online courses, you can learn Korean anywhere, at any time – offers a wide range of courses for people learning Korean. Several avid users advise that you learn and practice regularly for 10 minutes, and soon, you will be able to have brief conversations.
This is one of the few Korean podcasts which is based on the website's free bite-sized courses and grammar textbooks. Furthermore, the crew continues to create new content, ensuring that you will always receive new and relevant episodes. It can be your most efficient way to learn Korean without any hassle.
Sample dialogue videos, comprehension exams, and, most importantly, downloadable and printable lecture notes are all available on their website. All of them, together with everything else they have to offer, will surely help you learn Korean quickly. This podcast offers you all of the study materials you will need to master this language in only a few weeks!
CLICK HERE TO READ MORE ABOUT TALK TO ME IN KOREAN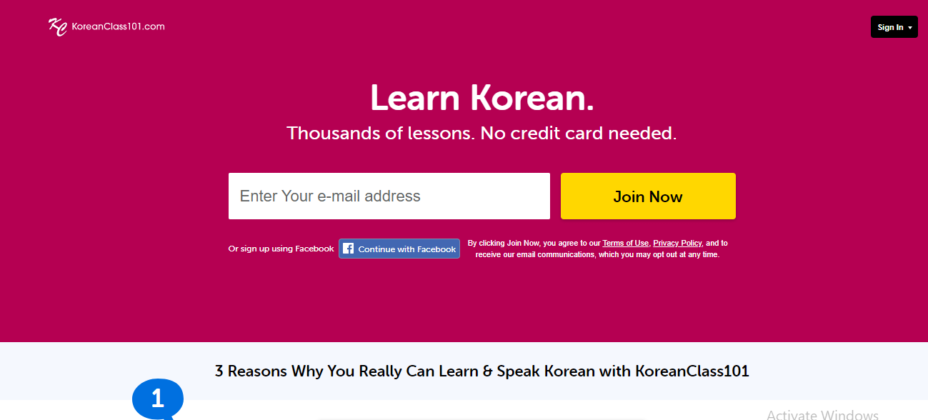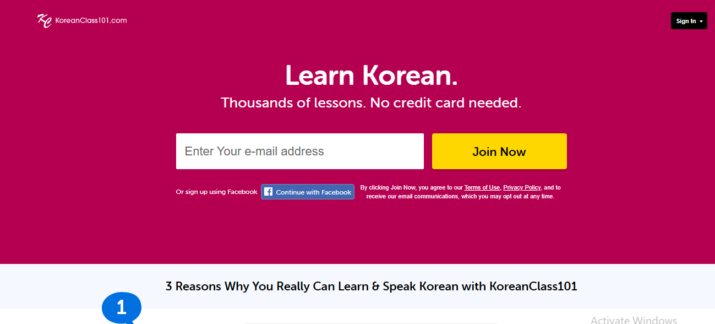 Image from koreanclass101.com
Summary
Another group dedicated to creating information for Korean language learners is KoreanClass101. The program includes talks on Korean culture, pronunciation, and learning advice from a Korean teacher.
For beginners to advanced learners, there are many podcast-style dialogues, as well as lesson notes, tests, flashcards, word lists, phrases, slideshows, and translations that will help in learning.
Since all of these Korean learning materials are available with Koreanclass101, you can polish your language learning skills quickly.
This is one of the few podcasts that provide a free series on Spotify if you want to work on survival phrases.
Taking everything into consideration, Koreanclass101 is undoubtedly one of the best Korean podcasts to get you started.
CLICK HERE TO READ MORE ABOUT KOREANCLASS101
3) Sponge Mind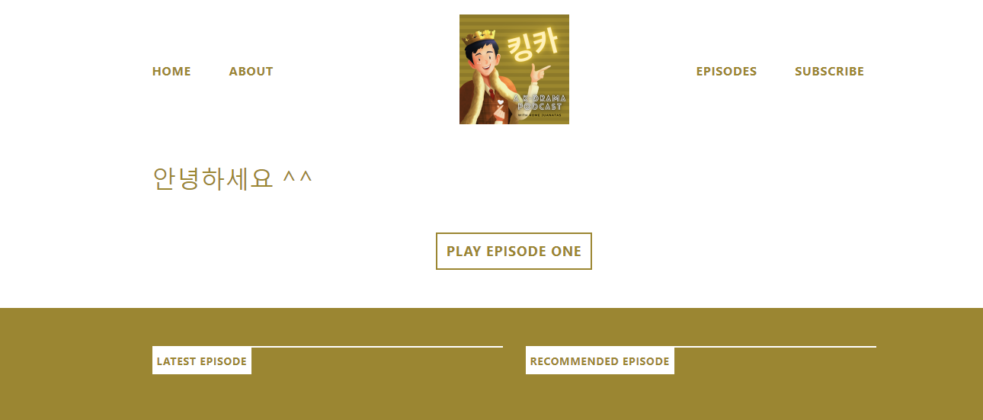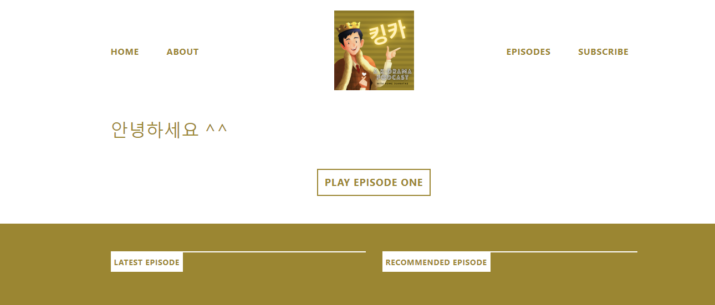 Image from soundcloud.com
Summary
Jeremy and Jonson are the hosts of SpongeMind, a bilingual podcast that features Korean and English content. This Korean language podcast is great for anyone wanting to learn the words and phrases quickly.
There are many series that cater to different learning levels, and one of these is Sponge Loop, which features Korean stories. Each episode has a variety of themes, so it's great for intermediates and advanced learners.
Moreover, each episode of Sponge Mind is recorded twice, with the Korean individuals talking about the same topic in both English and Korean. Listening to podcasts that taught you Korean grammar like this was never easier!
CLICK HERE TO READ MORE ABOUT SPONGE MIND
4) Real-life Korean Conversations For Beginner‪s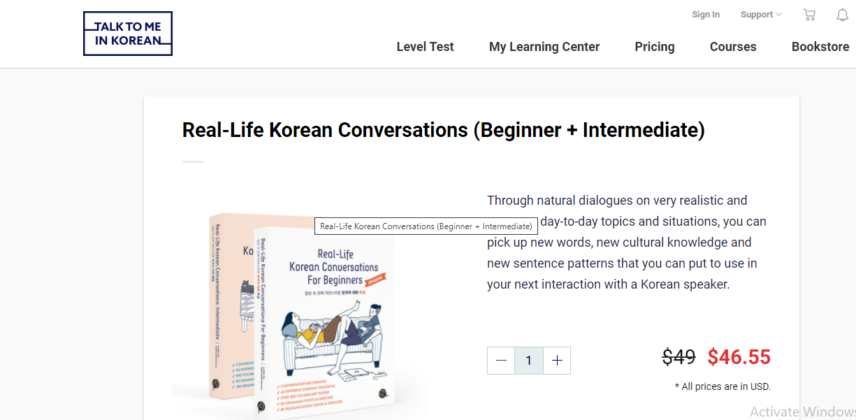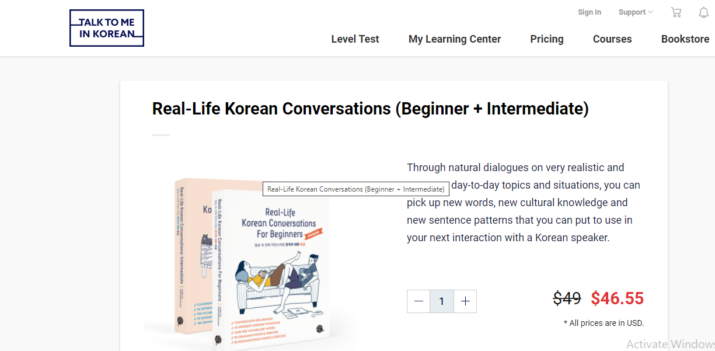 Image from talktomeinkorean.com
Summary
Real-life Conversations is one of the most popular Korean podcasts to study the local language of South Korea. The conversation with native Korean speakers is deconstructed and explained in English at the end of each episode.
Each of these is two minutes long and includes translations to help with grammar. This podcast is a branch of TTMIK and is accessible on Spotify and Apple Podcasts. With each episode, you will only get better at speaking Korean words and understand the culture.
Additionally, this free podcast will help you understand conversations between native Korean folk.
CLICK HERE TO READ MORE ABOUT REAL-LIFE KOREAN CONVERSATIONS FOR BEGINNERS
5) Essential Korean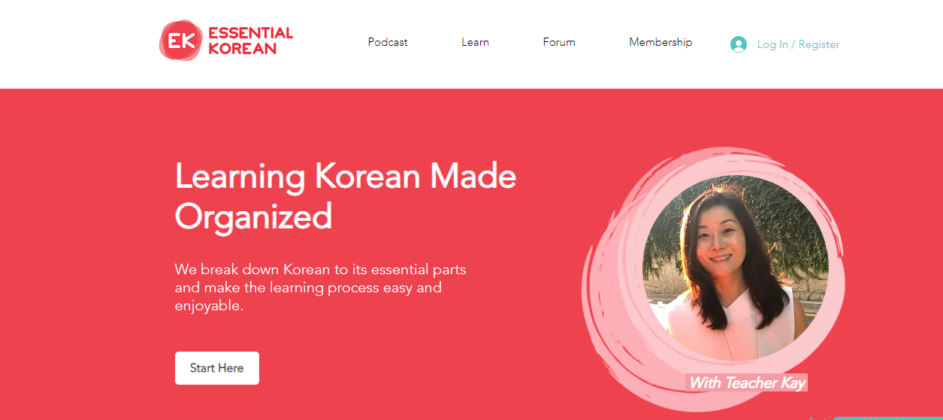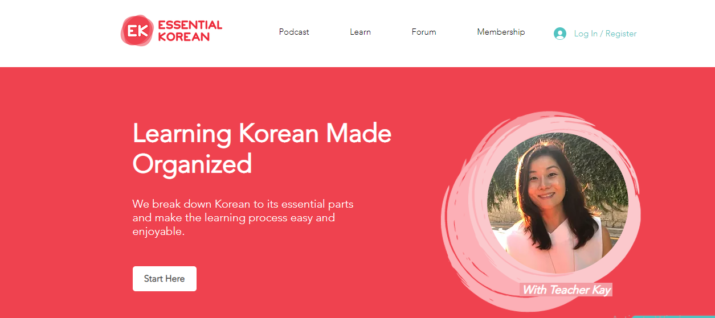 Image from essentialkorean.com
Summary
This platform provides high-quality courses to help you learn the Korean language. Host Kay is a certified Korean native speaker who helps you practice speaking in different situations. It is one of the best Korean podcasts since it doesn't have any high-level grammar requirements.
This Korean podcast aims at developing conversation skills and delving into the language's intricacies. All episodes include grammar with real-life examples, all of which you can listen to. Learners can also save them for whenever they feel is time to polish their Korean listening skills.
CLICK HERE TO READ MORE ABOUT ESSENTIAL KOREAN
6) Hangugeo Con Angduck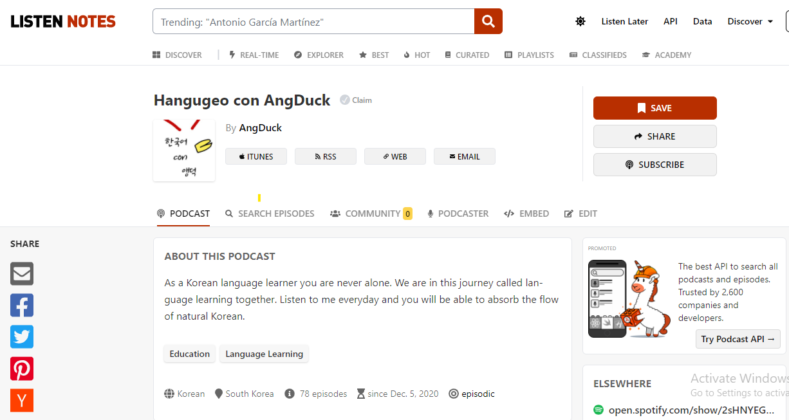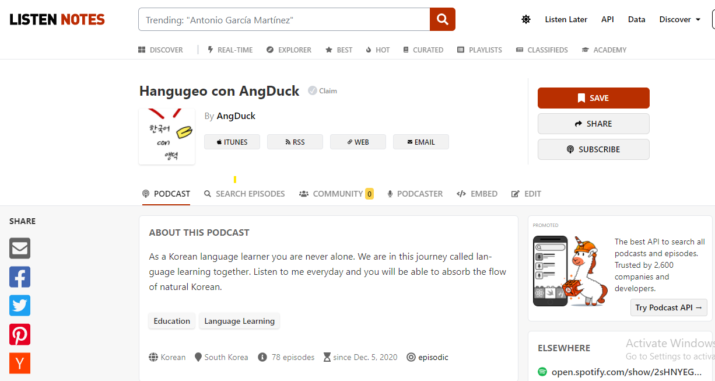 Image from listennotes.com
Summary
Korean language students are never on their own. All learners share this path, whether they are beginners, intermediate, or advanced.
The presenter on this podcast immerses you in Korean with interesting subjects. She discusses Korean customs, as well as contrasts of various literature that can help improve your listening skills. The best part is that you can listen to these lessons whenever you want.
However, there may be a lack of video support that would be beneficial for learners in most cases.
CLICK HERE TO READ MORE ABOUT HANGUGEO CON ANGDUCK
7) Intermediate Korean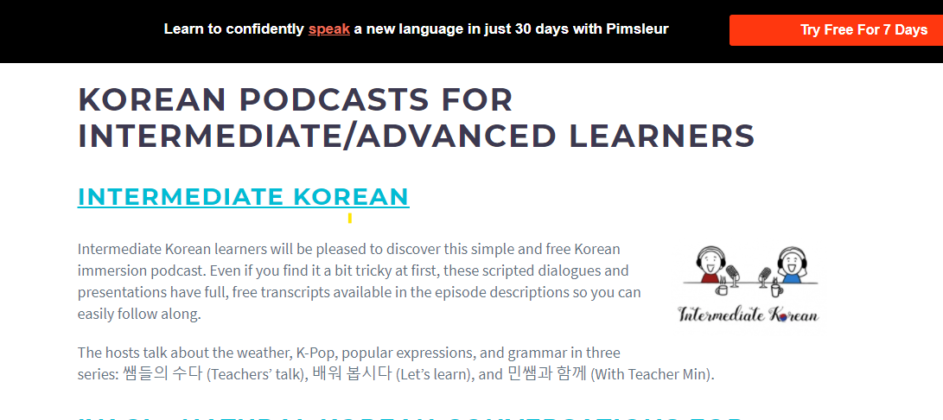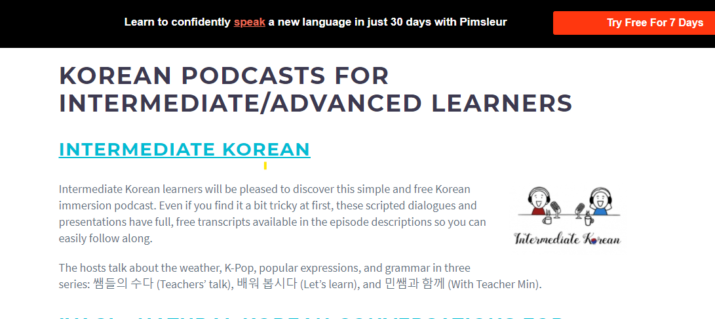 Image from alllanguageresources.com
Summary
This platform is your best way to learn and understand the local language of South Korean speakers. The free lectures also have transcripts accessible in the episode summaries. With enough practice, you might even understand the song lyrics of your favorite K-pop star!
Teachers' talk, Let's learn, and With Teacher Min are three programs in which the hosts discuss topics like k pop. Thanks to these resources, you can work on your Korean listening practice and the overall language as well.
All of these exercises will help you work on the basic terms and can help improve your listening skills in the Korean language and culture.
CLICK HERE TO READ MORE ABOUT INTERMEDIATE KOREAN
8) Iyagi – Natural Korean Conversations For Learner‪s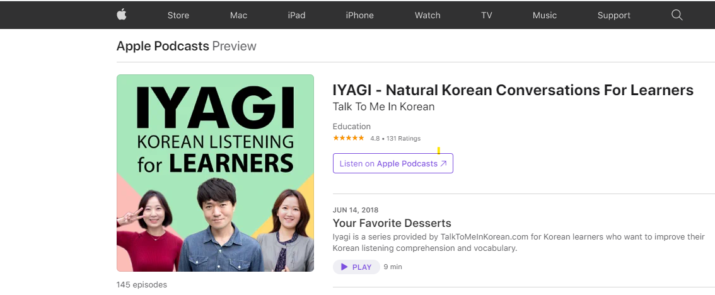 Image from podcasts.apple.com
Summary
Intermediate learners may enhance their listening comprehension with IYAGI. This Korean podcast app, produced by the same people that brought you Talk To Me In Korean, was terminated in 2018. The episodes' material is still highly relevant and beneficial for improving one's listening, speaking, and language abilities.
This is one of the most useful podcasts to learn the local language of Korea. You may listen to and follow along with genuine discussions between native speakers. It is available on Spotify for the learners' perusal and is available for download.
Each episode has different speakers, allowing you to listen to a variety of discussions, speeches, and ways of speaking of the daily life of native Koreans. They discuss the world, parties, daily life, work, news, education, travel, and hobbies, to mention a few.
CLICK HERE TO READ MORE ABOUT IYAGI
9) Hangugeo Con Angduck For Beginner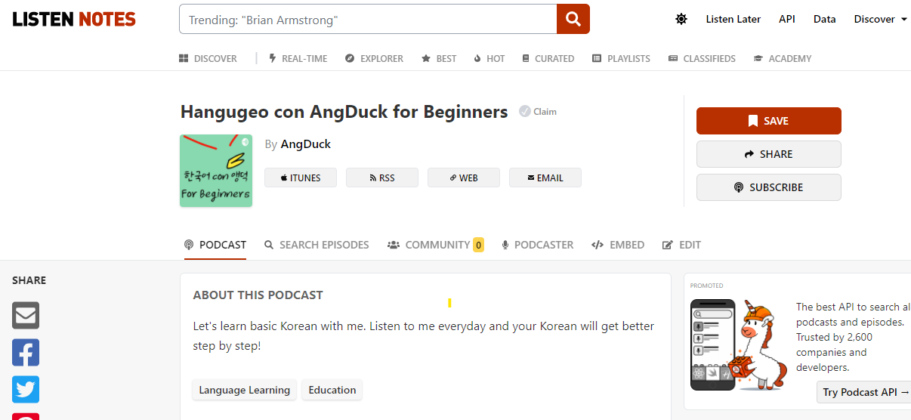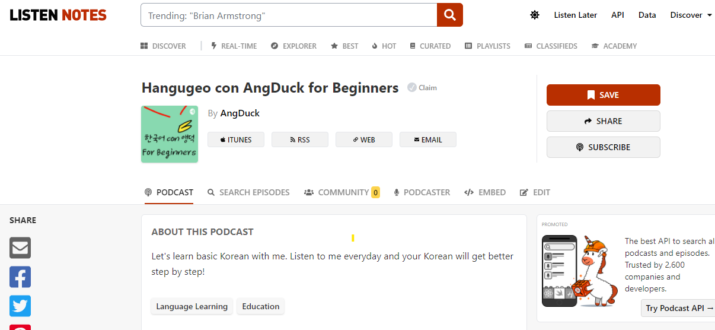 Image from listennotes.com
Summary
Hangugeo Con Angduck has developed another popular Korean podcast app consisting of mini-stories, all in Korean, with the goal of assisting all learners in absorbing the normal rhythm of Korean. It is definitely the best when it comes to Korean podcasts for beginners and promotes the best in you while speaking Korean.
For absolute novices, the lessons in this podcast might be difficult to absorb, but upper-level and intermediate students will acquire, learn and recall key terminologies, such as movie categories, daily routines, news, music, and international cuisine.
These episodes are shorter in length and less difficult than Hangugeo Con AngDuck. You can go on to the previously mentioned intermediate podcast if you consider them to be too simple. The beginning podcast already has 28 episodes, each lasting around 5 minutes.
Listening to podcasts is really simple to include into your regular learning regimen!
CLICK HERE TO READ MORE ABOUT HANGUGEO CON ANGDUCK FOR BEGINNER
10) Twinkling Korean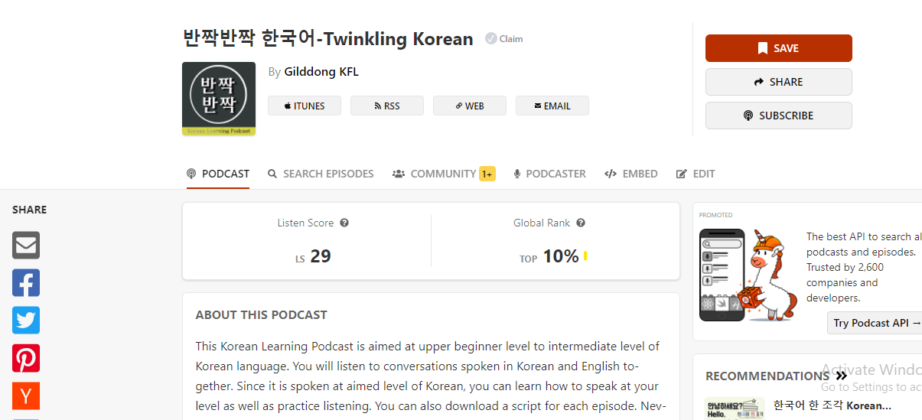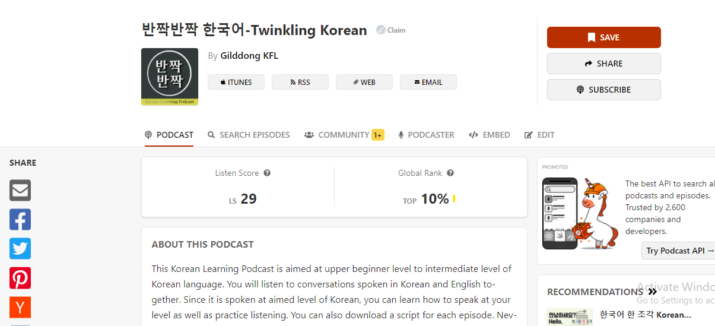 Image from listennotes.com
Summary
A bilingual discussion between a Korean and an English speaker is occasionally included on the Twinkling Korean podcast app. They switch back and forth between the two. Twinkling Korean contains about 100 episodes, so even if it has been canceled, you still have a lot to work on because it is fully in Korean.
The audio is not working on a number of platforms and websites, but it does on the Apple Podcasts app. Along the process, a rundown of the vocabulary and grammar norms is provided. It may appear perplexing at first, and getting used to it will take some time.
However, after you get the knack of it, you will discover that you like the lessons and that your vocabulary expands as well. There may be numerous wild discussions about medicinal treatments, but there will also be plenty of useful phrases for you to learn.
CLICK HERE TO READ MORE ABOUT TWINKLING KOREAN
11) Podbbang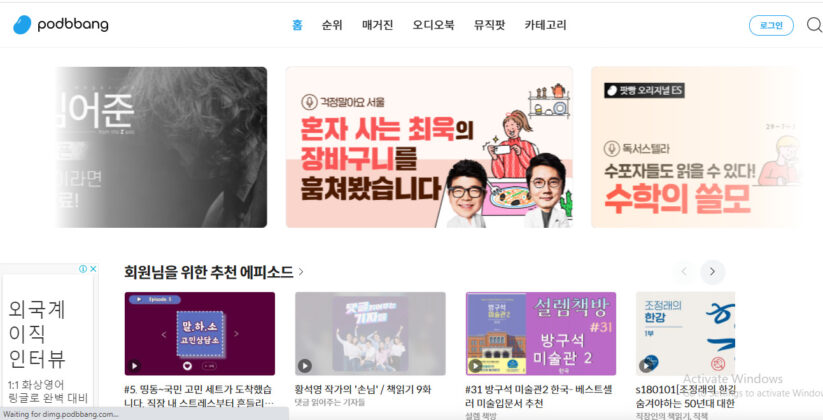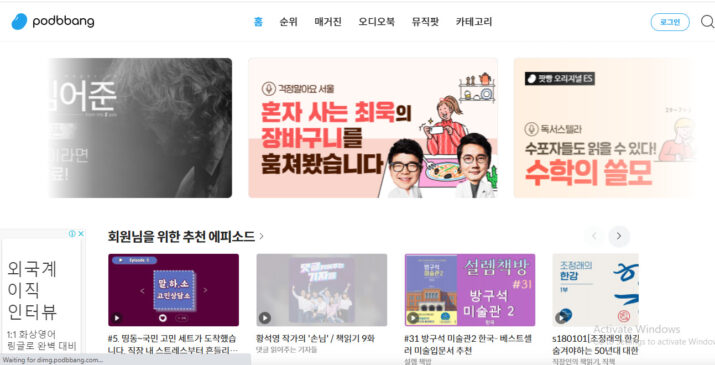 Image from podbbang.com
Summary
Podbbang is a podcast gateway service that is available both online and on mobile devices. The firm offers 5,000 Korean learning podcasts that customers can search by rating and topic as an audio media network.
On Podbbang, the most popular podcasts are generally presented by celebrities or influencers. You do not have to create an account to download or listen to podcasts/radio display recordings.
Users of the Podbbang app may download and listen to episodes without using up their mobile data. Listening practice is convenient since it can be done on the go.
CLICK HERE TO READ MORE ABOUT PODBBANG
12) 뭐말영 (뭐라도 말해보자 영어로) / Sse (Speak Something In Korean And English)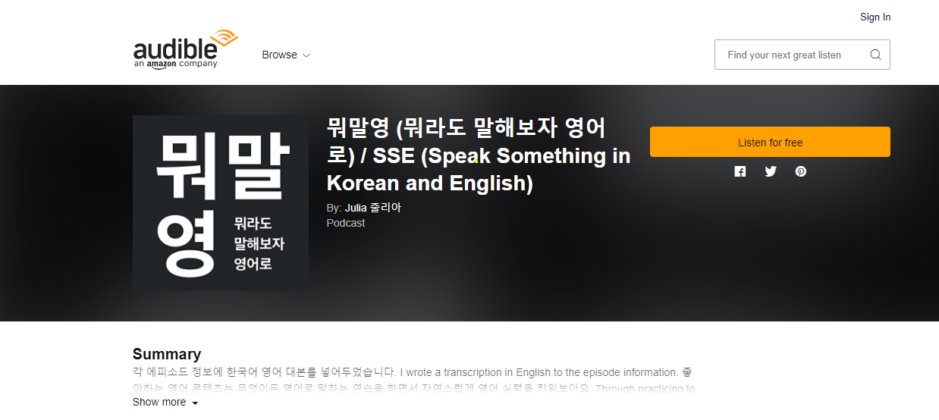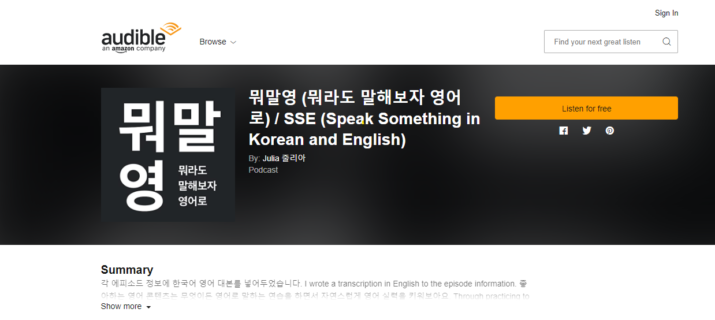 Image from audible.com
Summary
Korean podcasts usually don't cater to the beginner community. But if you're an intermediate or advanced learner, this podcast can definitely help you to listen and make links between English and Korean. Since this channel is bilingual, you can listen to many different stories.
Even though some translations may be a little off, the podcast gives an overall beneficial experience. Other than that, every episode also comes along with translations for easier learning. But still, you should keep in mind that this podcast doesn't come with video assistance.
CLICK HERE TO READ MORE ABOUT 뭐말영 (뭐라도 말해보자 영어로) / Sse
13) Korean Storytelling By Coco Mom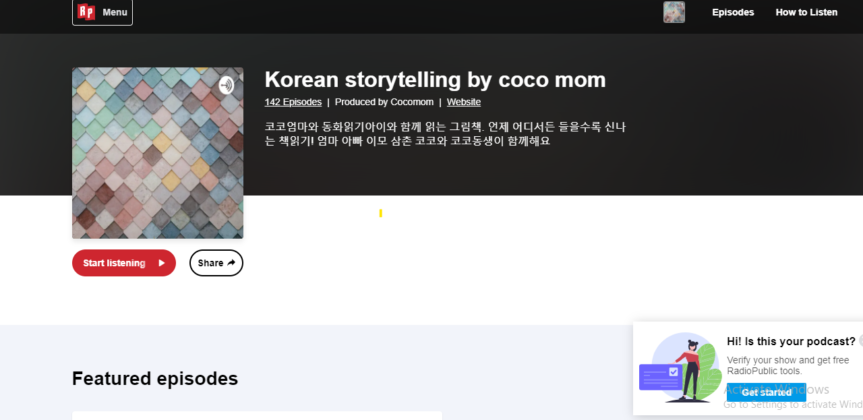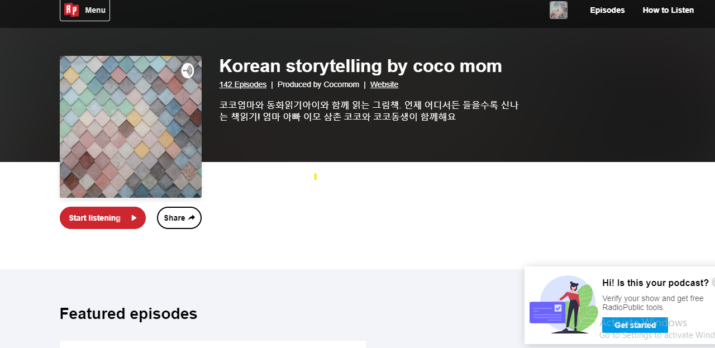 Image from radiopublic.com
Summary
This is one of the few podcasts that give you a comfortable learning experience alongside a deep understanding of Korean. You have to listen to the host, who is a Korean mother reading stories for her children. On top of that, the kids also get in on the act, helping her translate some words into English.
Each of these video lessons is about 10 minutes long, which means you get access to short and interactive Korean. In order to aid learning, the video lessons also have pictures and texts.
CLICK HERE TO READ MORE ABOUT KOREAN STORYTELLING BY COCO MOM
14) Talk To Me In 100% Korean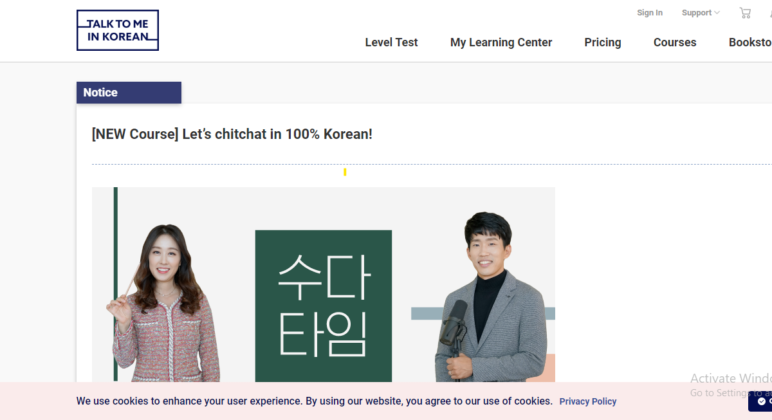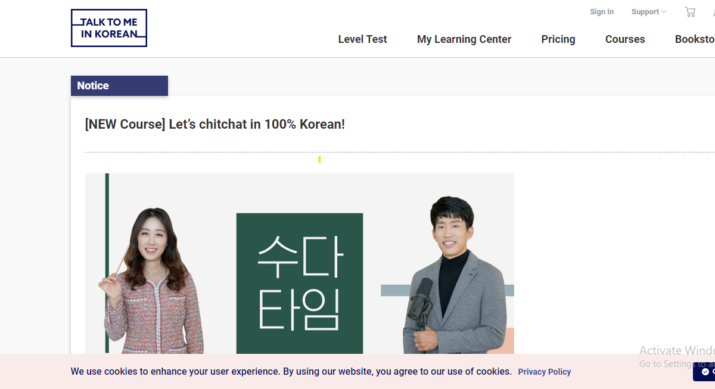 Image from talktomeinkorean.com
Summary
Talk To Me in Korean and Iyagi creators are returning with a new podcast for proficient students.
TTMIK pair Kyeong-Eun and Hyunwoo converse in 100 percent Korean on a variety of themes in Talk To Me In 100% Korean. The webpage has summaries and interpretations of the talks.
Unless you are already satisfied with your Korean, you should definitely listen to this podcast. Moreover, this podcast is for anyone who wants to master genuine spoken Korean and enhance their listening comprehension and vocabulary.
CLICK HERE TO READ MORE ABOUT TALK TO ME IN 100% KOREAN
15) Korean Newyorker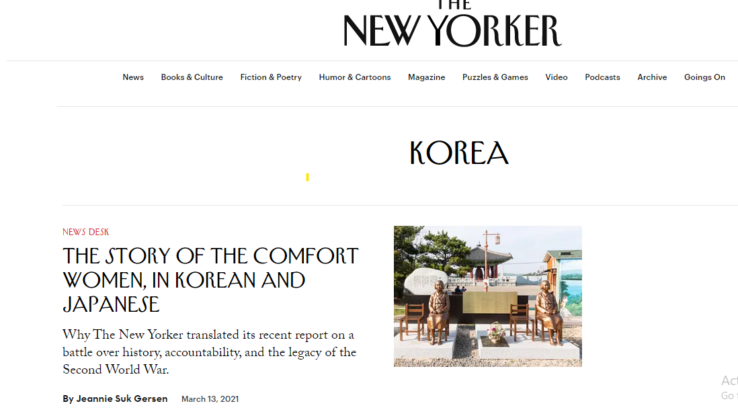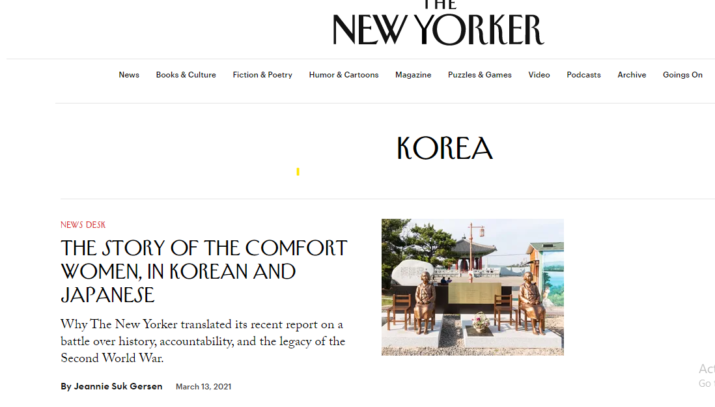 Image from newyorker.com
Summary
Sophie, a native of Seoul, is now a licensed Korean and French instructor in New York. She immerses you in Korean with five-minute segments that reinforce regularly used terms while also introducing some new ones. Keep an eye out! It will also assist you in improving your pronunciation and vocabulary.
She frequently discusses teaching language skills, her personal connections, and parenting a bilingual child. The hostess will also document her travels in episodes that will resemble a journal, primarily in Korean with translation.
CLICK HERE TO READ MORE ABOUT KOREAN NEWYORKER
16) Kingka Podcast – K-drama And Language Learning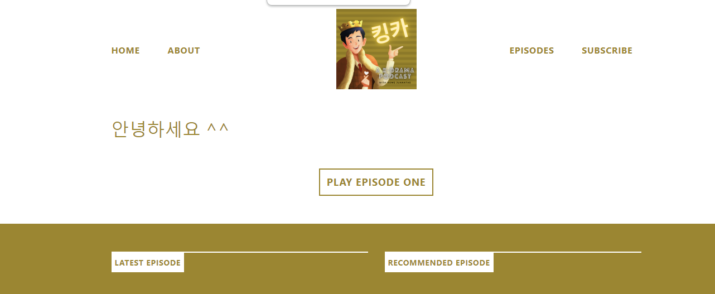 Image from kingkapodcast.transistor.fm
Summary
Kingka podcast is available on Spotify, which means that it solely relies on audio to help you learn Korean. It does so through the utilization of many different lessons and Korean stories that you can listen to any time and any place.
They help keep you engaged and ensure that every individual can learn at their own pace. But just like every other Korean podcast on Spotify, this one also lacks video support.
CLICK HERE TO READ MORE ABOUT KINGKA PODCAST
17) Let's Learn Korean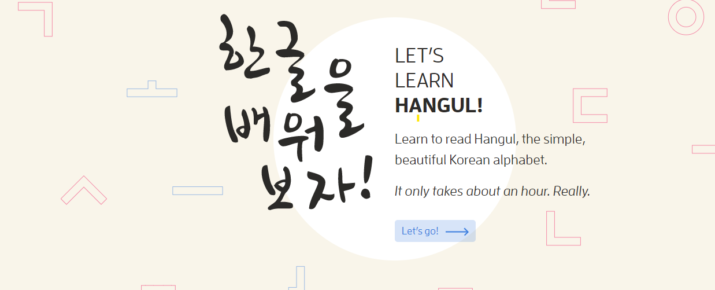 Image from letslearnhangul.com
Summary
This huge collection of Korean audio podcasts, created by the Korean Broadcasting System (KBS) World, will get you on track with your South Korean studies with well-organized courses.
The lessons are progressive and precisely what you would expect from an old-school Korean audio guide. Each one contains an analysis with transcripts and conversations to help you comprehend the terms.
You may always go to the main KBS World website to listen to radio programs when you have finished training with their podcasts. There is no better method to study Korean than to listen to real-life audio.
CLICK HERE TO READ MORE ABOUT LET'S LEARN KOREAN
18) Korean Champ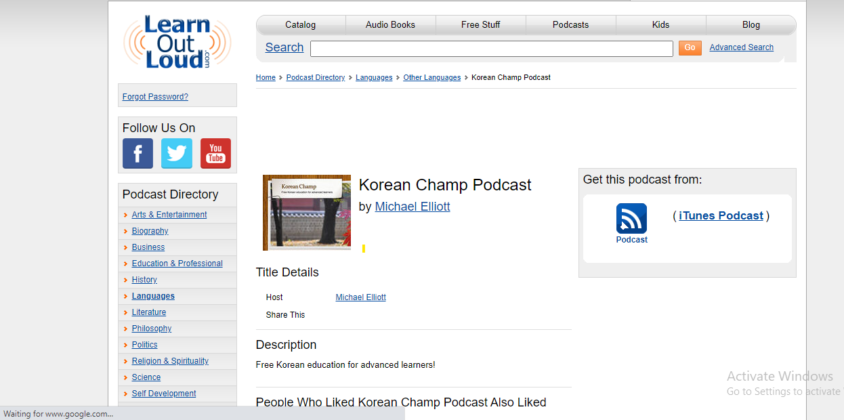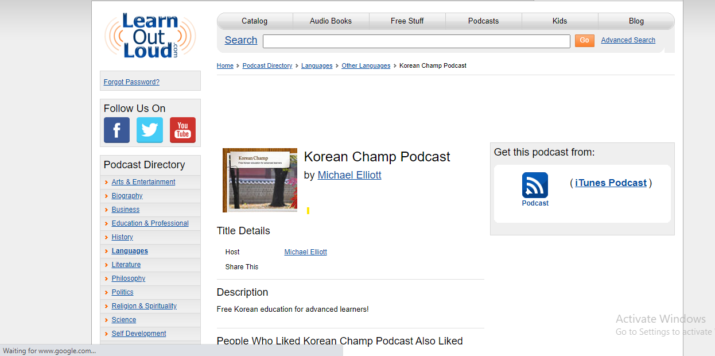 Image from learnoutloud.com
Summary
These podcasts, which are completely free to download, will allow you to interact in Korean – resembling a native speaker of Korea.
Even though other podcasts emphasize educating you how to speak properly and formally, Korean Champ shows you how locals actually speak Korean, encompassing casual conversation, slang, and even some amusing tales about the language.
The lessons of Korean Champ are lengthy enough to give a plethora of information while remaining brief to be easily consumed. To make it easier to comprehend the courses, go to the Korean Champ website and download all of the supporting textual resources and transcripts.
You will get a chance to work your way through Korean prepositions, easy phrases, and topics such as instruments and so much more. It is one of the most perfect Korean podcasts for advanced students!
CLICK HERE TO READ MORE ABOUT KOREAN CHAMP
19) Learn Korean with David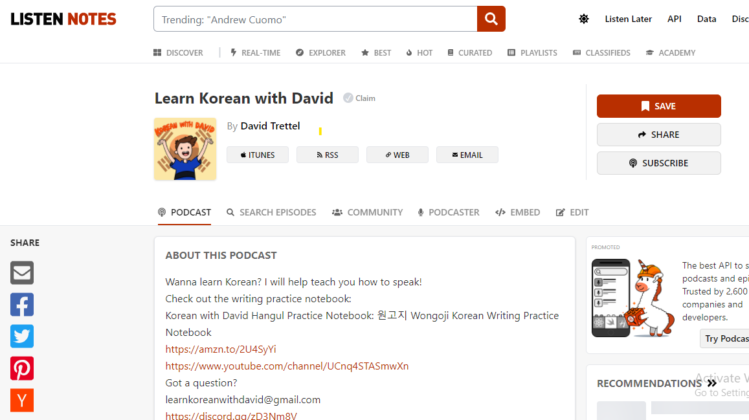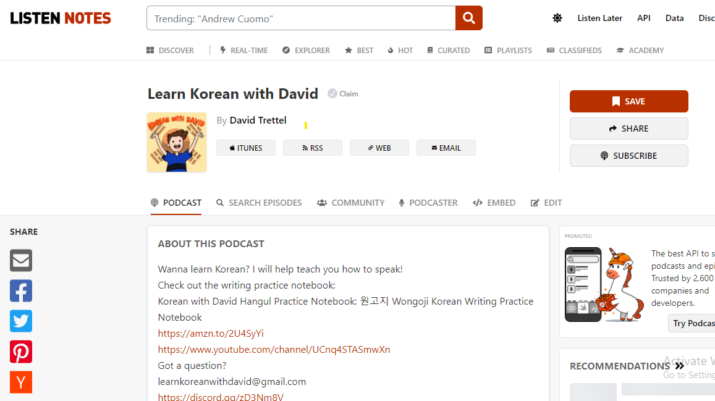 Image from listennotes.com
Summary
Learn Korean with David is a podcast chock-full of valuable episodes on a variety of topics. The initial few episodes cover fundamental Korean phrases such as "hi," "goodbye," and "thank you" and everyday Korean vocabulary. You, as a beginner in studying Korean, will discover subjects concerning the language itself, as well as certain cultural factors.
On Spotify, this is one of the most beginner-friendly Korean podcasts. They work on the basic stuff in the lessons before moving on to more frequent words and themes such as retail, vacations, and finance. The episodes are around 8 minutes long, and David is also returning for a second season.
When conversing with locals and native speakers of Korea, these are quite beneficial. It will assist you in understanding Korean and allowing you to communicate successfully in the language.
CLICK HERE TO READ MORE ABOUT LEARN KOREAN WITH DAVID
Conclusion
For all the beginners out there, you might be wondering which of these Korean podcasts is the best. Anyone that has tried these Korean platforms will know that there is simply nothing better than Koreanclass101. Thanks to its dialogue learning and advice to improve your speaking skills, you should definitely give it a try.
No matter which Korean podcast you choose, just make sure you have a fun time learning this fascinating language!