Just2Trade Review 2023 with Rankings By Dumb Little Man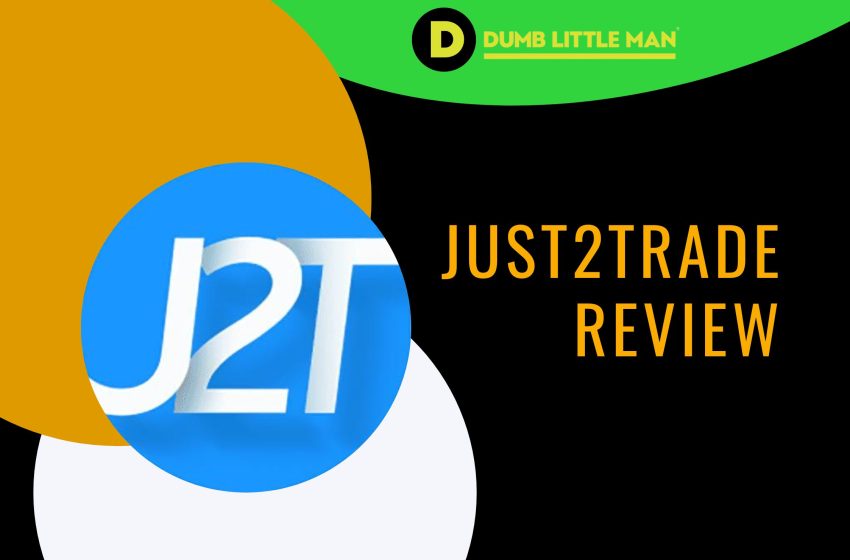 Evaluation Criteria
We are all aware of how important brokers are in the trading market. Your trading prospects on the global market can be made or broken by the broker you choose. Hence, it's crucial to assess a broker using a variety of criteria before choosing one. You'll be able to determine whether one matches your expectations after going through this evaluation process.
Our goal is to provide traders with the knowledge they need to choose a broker wisely - with regard to topics like charges, commission costs, spreads, and withdrawal fees, among others. Our evaluation standards are specifically based on:
Convenience - When it comes to convenience we consider different aspects of convenience. This includes how instinctive the experience is with a potential broker. Also, we consider how fast traders get feedback as well as results.
Profitability - Trading is characterized by profits and losses. As a client seeks to join trading through a broker, they need to understand the trading profits and losses. By understanding the floating and fixed spreads, one is able to gauge the trading profits and losses.
Reliability - The reliability of a trading company is essential and needs to be a priority when selecting a trading broker. Our team analyzes the broker's security measures to secure the user details. The other thing we consider is the possibility of downtime during trading as it would cause massive losses.
Broker's Competency - We evaluate the competency of a trading broker using its level of trustworthiness, analytical skills, up-to-date financial news, and clear understanding of the market signals. Also, we check its competency based on customer-related resources such as learning materials and customer care services.
Affordability - With the economic situation globally, the question of affordability is always a priority when choosing a trading broker. Our experts scrutinizes the outlined spread and commission fees. We also check on any hidden fees and applicable additional fees.
Just2Trade Review
Every trader choosing a trading brokerage firm deeply examines the experience of the trading broker to ensure their investment is safe. The other thing to consider is to include the range of products, pricing, transparency, and customer care services. The most important of all is the trader's reputation. The reputation of a trading company can be well displayed on its review page.
From this page, a new client can see the experiences of other previous clients. Before settling for a broker, you have to ensure it has all the features and tools that will assist you in smoothly navigating through the trading market. One of the trading sites with potential is Just2Trade.
The Just2Trade Online Ltd is a brokerage firm that operates a subsidiary of Finam Holdings. It is a Russian company that offers financial services since 2006 and its among the top brokerage companies in Russia. It is under the regulation of the Cyprus Securities and Exchange Company (CySEC) and the Federal Commission on Securities (FCSM) of Russia. Using Finam's high rating eased its entry into the market as well as its success. In this article, we will look into its bonuses and promotions, account types, security measures, platform features, customer service, and more!
What is Just2Trade?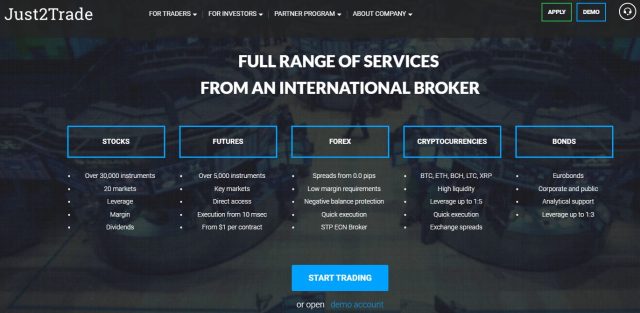 Just2Trade is a forex trading company in the financial sector that opened its doors in 2006. It is a subsidiary of a top Russian financial company, Finam. It has over the years evolved to become the leading forex broker. Its success can be attributed not only to Finams high ratings but also to its world-class innovative technologies, a variety of financial services, and ideal trading conditions.
The forex trading company provides its clients with direct access to key world currency and stock markets. It has a wide array of investment options for its clients that include; brokerage services, investment advisory services, portfolio management services, foreign exchange services investment research, and financial analysis services. These services are offered by a team of talented and professional people to ensure the customers' satisfaction.
Regulation of a trading company instills confidence in traders as they are sure their money is safe. So as to ensure your money is safe, Just2Trade Brokerage Company is under the regulation of the Cyprus Securities and Exchange Company (CySEC) and the Federal Commission on Securities (FCSM) of Russia. It is also subject to the legal framework and oversight by the European Securities and Markets Authority (ESMA).
Safety and Security of Just2Trade?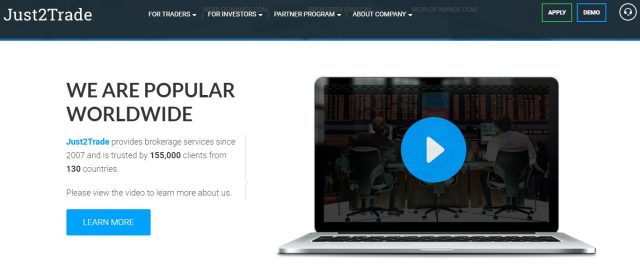 Just2Trade is a brokerage firm operating under the legal framework of the Markets Authority ESMA. It is also a member of the Investor Compensation Fund. Just2Trade Brokerage Company is under the regulation of the Cyprus Securities and Exchange Company (CySEC) in compliance with license number 281/15 dated 9/25/2015 and it operates under the registration number HE341520.
This only means that the trader's deposit is insured – it's safe. It also means that the company prevents money laundering. It gives the company the right to request documents that prove the legality of the deposits the client seeks to make. In the event of a dispute, the resolution is conducted by a disinterested party.
Sign Up Bonus of Just2Trade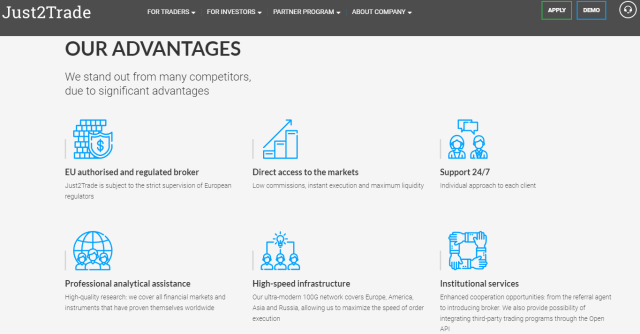 The sign-up bonus is a way to welcome new clients onto the brokerage platform. The new customer gets some dollars into their trading account. The sign-up bonus cannot be withdrawn or transferred until it has met all the outlined regulations.
The Just2Trade brokerage platform does not have a sign-up bonus. instead, it runs bonus campaigns for a top-up bonus. This bonus can be as high as $2,000 depending on the amount deposited in your professional trading account.
Minimum Deposit of Just2Trade
Just2Trade offers different trading accounts to its customers so as to accommodate different kinds of customers. The accounts use currencies such as USD, RUB, and EUR. The minimum expected deposit depends on the account.
For instance, the Forex and CFD Standard and MT5 Global account have a minimum deposit of $100, while the other has a minimum required deposit of $100,000. We can comfortably say that the minimum expected deposit for Just2Trade ranges between $100 to $100,000 depending on the trading account of the user.
Account Types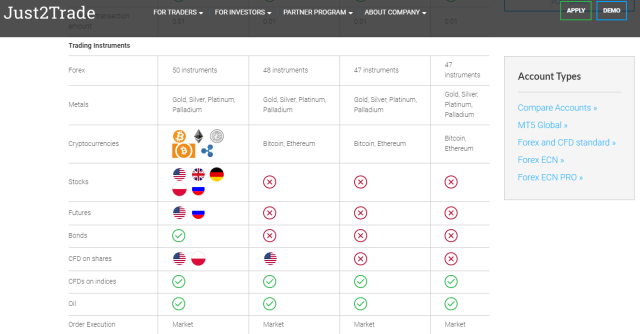 The just2Tradetrading broker offers its customer a wide variety of account types. The move is aimed at serving the interest of different customers located globally. The accounts use different currencies such as USD, EUR, and RUB.
To understand these trading account types better below is an overview description of each account;
#1. Forex and CFD Standard
It is one of the account types that's designed to serve the needs of beginners. It has special features such as negative balance protection and it does not have a brokerage fee.
It also has a minimum required deposit of $100.
#2. Forex ECN
This account has features suitable for an experienced trader. It has a maximum execution speed. It has zero spreads that create comfortable trading conditions.
It attracts a brokerage fee of up to $3 per lot. It does not have negative balance protection.
#3. Forex ECN Pro
The account is made for active traders who are highly experienced traders. It has a minimum required deposit of $100,000. The common trading services features include; a high-speed execution speed, access to detailed statistics, and individual approach to clients. This trading platform is suitable for high volume traders
#4. MT5 Global
The account is for professional traders under the MT5 platform. It attracts a brokerage fee of $2 per lot. Position hedging is not allowed. It has trading instruments suitable for active traders. The trading platform comfortably accommodates high volume traders.
It has a minimum required deposit of $100. It is compatible with mobile platforms
#5. Forex Demo Account
For any beginner trader who wants to enter the financial markets without any financial risk this is the ideal account for them. The account also is ideal for professional traders who need to hone their trading strategies.
Just2Trade Customer Reviews
From the reviews below, the performance of Just2Trade can be rated as average. One of the clients is very happy and contended with the fast withdrawal of winnings. The trader further appreciates the wide variety of trading tools to explore and use on the platform. Lastly, the trader is happy about the spread terming them as acceptable.
On the other hand, one of the traders on the platform complains of losing half of the initial investments. The trader further blames Just2Trade for lying to investors by making empty promises. The promises made to the trader include guidance and risk management that were not delivered – resulting in a huge loss.
To neutralize the above negative comment, another trader praises Just2Trade for helping the trader understand some complicated issues that are related to trading. This is a rather positive comment hence I can conclude the review on the site is neutral.
Just2Trade Spreads, Fees, and Commissions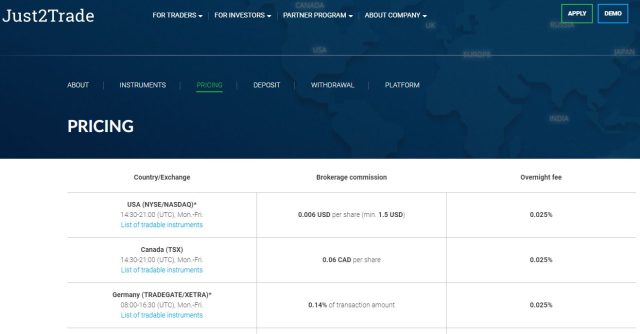 The trading fees are an important part of any exchange and asset trading. Before diving into fees, let us understand the function of brokerage companies. A brokerage company acts as an intermediary between persons who lack access to trading securities as well as other assets and directly makes the exchange.
The brokerage performs the sale and purchase on the client's behalf. The brokerage provides the client with a full range of services that includes the opening and maintenance of a trading account, access to exchange platforms, and consultation services.
This cause the brokerage to charge a fee for the above-named services. The brokerage fee at Just2Trades is a percentage of the transactional amount. It can also be a percentage of the turnover of funds within a specified period of time. It requires indicating the minimum cost. The brokerage fee can also be based on the extra services rendered.
The spreads in Just2Trade are gained depending on the minimum amount. It varies depending on the account type. The ECN accounts and MT5 accounts have spread minimum values of $0 and they do charge withdrawal commissions while Forex And CDF Standard have a spread minimum of $5 and do not charge withdrawal commissions. Just2Trade has an average commission of $1.25.
Deposit and Withdrawal
Just2Trade offers a wide array of withdrawal options. A client can withdraw the funds via bank transfers, payment systems, or e-wallets. The currency conversion is performed at internal rates of the payment systems. The payment system sets the withdrawal rates and not the broker.
Some payment systems have imposed minimum withdrawal amounts per transaction. It ranges from 50 USD(EUR) by Neteller, 20 USD/30 EUR/1500 RUB for Currency Transfer, and for Just2Trade bank 20 USD/30 EUR/ 1500 RUB.
The withdrawal timeline is dependent on the payment system. a bank transfer may take 2-3 days and in some instances 7 days. Bitcoin and Ethereum depend on how fast the transaction can be added to the blockchain. It will only take 1-2 days to withdraw with QIWI e-wallet and WebMoney. Just2Trade supports the withdrawal of three currencies; USD, EUR, and RUB.
Latin Americans can withdraw via Astropay in their local currencies such as BRI, COP, MXN, PEN, and CLP among others. The withdrawal into third-party is not allowed by Just2Trade as outlined in the withdrawal rules. You can make deposits to your Just2Trade account using different methods such as MasterCard Debit or Credit Cards, and Electronic means. They include Paysafecard, Union Pay, Neteller, Skrill, and Cashu.
How To Open a Just2Trade Account – Step-by-Step Guide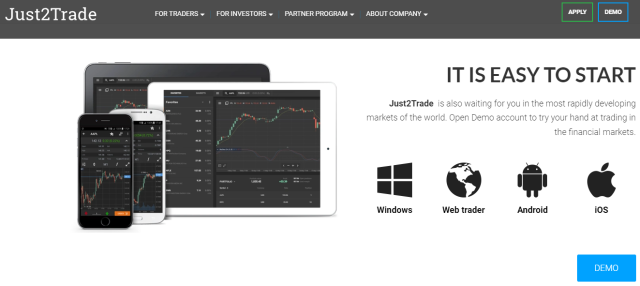 Just2Trade offers its clients different trading accounts to suit different clients' needs. With the option of using different currencies such as USD, EUR, and RUB the platform is accommodating.
It also allows clients to work with stocks, bonds, and futures for traders using an MT5 account. Other accounts include Forex and CFD Standard account, the ECN accounts, and the Forex Demo Account.
To begin trading one needs to choose the convenient currency to use for the options provided. Secondly, understand your needs and which account best suits your trading needs. Having done that, open the Just2Trade website and begging your registration by entering your personal details – Your first name, second name, email, and phone number. Follow the prompts to the end to complete your registration.
Just2Trade Affiliate Program
The Just2Trade brokerage company has affiliate programs made up of three cooperation options. One of the main benefits is that affiliate reward is unlimited. In order to resolve arising issues quickly, a personal manager has been assigned to each partner.
The affiliate programs options include;
Cost Per Acquisition (CPA)
The participants get rewards for each registration and deposit to the account made by an attracted trader. They get rewards of $6 for each registration and up to $300 for making a deposit into the account.
A partner who becomes an introducing broker gets rewarded for every trade executed by its client. The income under this program is unlimited.
It is an all-inclusive cooperation model that sees the partner profit from registrations, the deposit of funds into the account, and the client's trading volumes.
Just2Trade Customer Support

Customer support takes the needs of the clients very seriously. The professional and dedicated customer care team offers customers the support they need around the clock excluding holidays. They value customer satisfaction hence ensuring fast responses to traders to their technical queries, trading queries, and payment queries.
In order to serve their customers in the best way possible, the customer care team at Just2Trade offers its services in seven (7) different languages. This makes all their customers feel valued and appreciated.
A team of personal managers is also available to answer queries from the customers. This leaves the client feeling appreciated and valued if a manager would take the time to listen and act on their queries. The customer care team can be reached via Online calls, Online chats, and email.
Advantages and Disadvantages of Just2Trade Customer Support
Advantages
Disadvantages

The support service serves the traders around the clock
The specialist on the line responds to trading questions promptly
Customer support is provided in seven different languages
Besides the customer support team, the personal manager also answers questions from clients

One cannot contact the administration directly
There is a process to reach the financial department
Just2Trade Vs Other Brokers
Below are some common comparisons of Just2trade with other brokerage companies.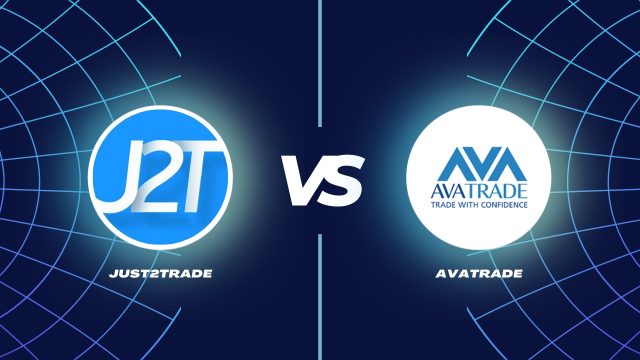 Just2Trade and Avatrade have quite a number of similarities. They include both brokers allowing clients to open real and demo accounts. They also do not offer deposit bonuses, monthly interest payments, or Trust management.
Avatrade outdoes the Just2Trade when it comes to trading platforms since it supports MT4, MobileTrading, Zulu Trader, Mirror Trader, AvaTrader, and AVA Option while Just2Trade only supports MT4, MT5 CQG, and ROX.
Avatrade has a minimum deposit of $100 compared to Just2Trade which is $200. Just2Trade has an upper hand in order execution since it supports both market execution and instant execution, unlike Avatrade which only supports instant execution. Generally considering all factors, it is clear that Avatrade is ahead of Just2Trade.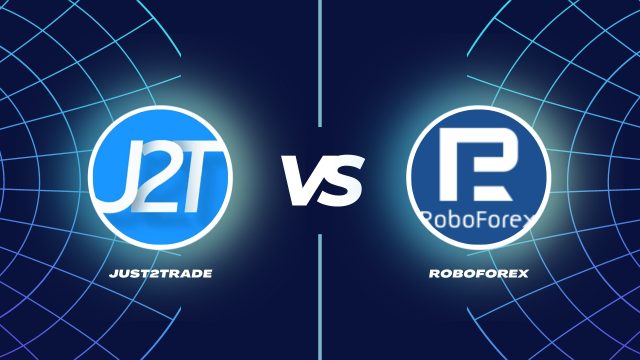 The shared trading platform between Just2Trade and RoboForex is MT4 and MT5. The RoboForex has other trading platforms such as cTrader, Stocks trader, R mobile trader, and R Web trader.
Similarly, Juts2Trade has other platforms such as CQG, and ROX. When it comes to the minimum deposit, Just2Trade has a leverage of between 1:1 to 1:500 while RoboForex has a lower amount of $10 compared to just2Trade which has a $200. RoboFores has leverage ranges between 1:1 to 1:2000.
Just2Trade has a call/stop-out margin set at 100%/50% while Roboforex is at 60%/40%. They are similar in order execution – market execution and instant execution. They both allow clients to open real and demo accounts. They also do not offer deposit bonuses, monthly interest payments, or Trust management. Comparing these factors and customer ratings, RoboForex outdoes Just2Trade.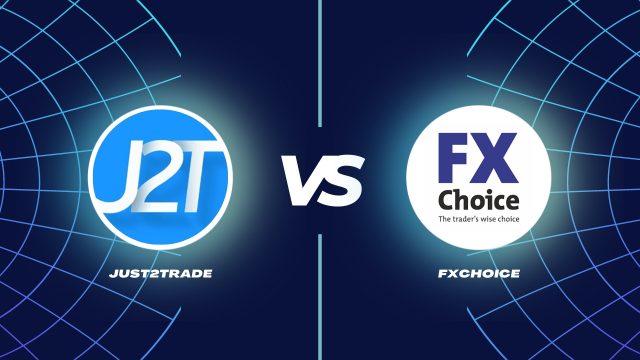 Just2trade and FXchoice share two common trading platforms – MT4 and MT5. Just2Trade further supports CQG and ROX while FXChoice supports web terminals. This gives Just2Trade the advantage compared to FXChoice. FXChoice has a lower minimum deposit of $10 compared to the $200 by Just2Trade.
Their similarities are seen in that they both allow clients to open real and demo accounts. They also do not offer deposit bonuses, monthly interest payments, or Trust management. The other difference is the market execution where Just2trade supports both market execution and instant execution while FXChoice only supports market execution.
FXChoice offers a leveraged margin of between 1:1 to 1:1000 while Just2Trade offers a leverage of 1:1 to 1:500.
Conclusion: Just2Trade Review
Just2Trade Online Ltd is a regulated broker that has been in the market for the last 14 years offering trading services. It is certified and controlled by SySEC and is also a member of the Investor Compensation Fund (ICF) which guarantees trading and deposit security. It grants its clients a direct market to ensure the clients get low fees and high liquidity.
All experienced traders under the Just2Trade platform have direct access to the global exchange. The "A Book" scheme guarantees traders steady executions and alleviates trader and broker conflict. Just2Trade has some interesting facts that a new trader would find fascinating. First, just2Trade Brokerage Company is used in 80 different countries and serves over 155,000 customers.
Secondly, Just2Trade lets its clients open a single MMA which gives active traders direct access to global exchanges and all the over-the-counter markets. Lastly, the brokerage company uses a 100G network that covers Europe, the USA, Russia, and Asia. This accelerates market execution.
Just2Trade can be described as an optimal broker for novice traders wishing to enter the forex market. This is because the Just2Trade investment holding company has put in place a full-fledged education center. This provides beginners with an opportunity to learn the basics of trading and participate in practical courses to sharpen their skills.
Experienced traders who need to increase their knowledge and learn risk management, as well as new trading analysis and trading tools, can attend seminars with trading gurus that are organized by Just2Trade.
Just2Trade Review FAQs
Is Just2Trade good for beginners?
Yes, Just2Trade is the ideal brokerage company for beginners. It gives beginners a chance to learn the trading basics through its fully-fledged education center which gives them knowledge of different trading instruments.
The beginners can also take part in a practical course that will sharpen their trading skills and learn technical analysis tools. They also get a free newsletter with analytics reviews and forecast to support trading success.
Is Just2Trade regulated?
Yes. It is under the regulation of the Cyprus Securities and Exchange Company (CySEC) in compliance with license number 281/15 dated 9/25/2015 and the Federal Commission on Securities (FCSM) of Russia.
It is also a member of the Investor Compensation Fund (ICF) which insures your deposit. Just2Trade operates under the registration number HE341520.
What is the minimum deposit for Just2Trade?
On average the minimum deposit for Just2trade is $200. Diving deeper into the different trading accounts under Just2Trade the amount may vary.
The Forex and CFD account allows an amount of $100. It is the lowest in Just2Trade. We have two with an amount of $200 and one for high volume traders with an amount of $100,000.
Like this Article? Subscribe to Our Feed!
Wilbert is an avid researcher and is deeply passionate about finance and health. When he's not working, he writes research and review articles by doing a thorough analysis on the products based on personal experience, user reviews and feedbacks from forums, quora, reddit, trustpilot amongst others.