How To Learn Chinese In 5 Mins? Fantastic Tips For 2023!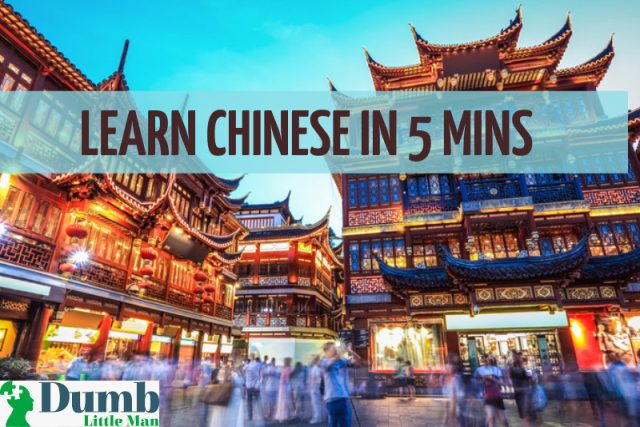 The Chinese language is widely regarded as one of the most difficult languages to learn. It is the official language of China and the most spoken language in the world. The language and cultural heritage are huge.

Image from Facebook
Some people might think, it's very difficult to learn it but simple conversations are the best method to practice this language every day and learn amazing words! It takes a long commitment to learn and understand it.
If you strive to fluently speak Mandarin Chinese and don't have much time to spend in a single day, here is some good news: you can learn Chinese spending just a few minutes. Would you like to know how? Keep reading this article.
Learn Chinese In 5 Minutes
In 5 minutes, you can't become fluent in a language and if you tell someone you've learned Chinese in 5 minutes, they're going to laugh at you or think you have gone crazy. No one can master a language in such a short time. Even, people are not able to learn it by studying for months. You only can learn some words.
That said, let's just give it a chance. Say you had just 5 minutes per day to learn a language – what would you do? In fact, in just five minutes per day, you can grasp a lot about Chinese.
You can start to comprehend the basics of Chinese and have a decent chance of becoming a native speaker with a continuous education!

Image from NairaLand
There are various free services that you can utilize just a few minutes at a time to improve your Chinese. They are amazing since without them you can do something substantial. When utilized consistently, you will see a lot of progress.
Develop a learning plan
Before starting, get yourself a learning strategy. If you're starting from nothing and you are a total beginner, organize your learning strategies according to your capacities.
By practicing in something you already enjoy you will actually improve your performance (i.e. speaking) and motivation to keep learning.
Vitally important for a minimum of 5 minutes a day for exercises is to train for 5 minutes a day. If you are new to this and want to start from the beginning, follow the instructions, and begin with pronunciation.
Grammar and Pronunciation
Do not forget to focus on pronunciation in addition to meaning when learning new words.
Chinese is a tonal language, unlike English. The same character or word may therefore have a range of distinct meanings depending on the tone with which it is spoken. Fortunately, in Mandarin, there are just four tones (neutral, rising, falling, and falling) all in English.
While grammar is seldom regarded as pleasant or simple, Chinese grammar is mainly quite plain.
You can also study Chinese grammar online, free of charge, without a large effort.
The quickest approach to learn how to pronounce Chinese words is using a system called "Pinyin," which translates Chinese words into English (as close as it can). This method is somewhat narrow, but you still have to learn certain specific sounds that only Chinese has.
Learn phrases and sounds
Fortunately, the internet is packed with many free materials and series that you may use to acquire the most basic phrases in China. For example, learn to say hello, learn to say yes or no, or even try to say some longer phrases with these resources.
One is the 3-minute series Learn Chinese by ChineseClass101.
In this course, you will find films that range from asking for a price to welcome or seek aid on the street. The films are hosted by an educated Native speaker, therefore it is easy to comprehend them even if they explain hard grammar or pronunciation standards. Moreover, you will find brief exercises at the end of every video to use your abilities.
Learn Common Characters
You need to understand some basic nouns, words, verbs, and other things before you can try to write a sentence. Studies have shown, however, that you may get quite far with only 100 characters. There is therefore no easy way around – you just have to keep them in mind.
Use an App
Fluent U
Let's say you like to watch movies and listen to audio lessons or are obsessive about Chinese drama, then you will find FluentU interesting.
FluentU takes real-world time videos and converts them into individualized language learning sessions.

Image from EuroLinguiste
You can get a wide choice of learning material for every level and interest.
It is available for Android as well as iOS or you can check their website too.
CLICK HERE TO READ MORE ABOUT FLUENT U
Hello Chinese
HelloChinese is a great app for beginner-level students. It began as essentially a Chinese Duolingo clone, developed before Duolingo published its Chinese course.

Image from HelloChinese
Although HelloChinese may have just started off, it has become a superb platform that includes reading, writing, listening, speaking, and grammar. Lessons are divided into short pieces of bit. The fact that it is available as an app makes it even easier to discover times to study during the day.
They also have a Premium version, which you might not want, although it is useful.
CLICK HERE TO READ MORE ABOUT HELLO CHINESE
ChinesePod
ChinesePod is one of the most recommended resources for Chinese study, and it's one of the best. There is no better tool to improve listening understanding.
The course is extensive and covers many subjects and seven degrees of difficulty. The hosts explain everything in a very straightforward and easy way.
The lesson library is not new and has been actually around for more than ten years. That means many lessons are frequently added.

Image from ChinesePod
The price is competitive with other resources and offers plenty of value.
The Premium Plan offers several important expanding exercises that are more than merely listening.
Each lesson uses a suitable amount of English to Chinese. As you reach higher levels, they are fully taught in Chinese.
The hosts are awesome. They give the lessons a lot of individuality. You will love the courses and the lessons.
CLICK HERE TO READ MORE ABOUT CHINESEPOD
Duolingo
Some students who use Duolingo have a mixed opinion of Duolingo, the daily lessons are not very long and are a means to know Chinese week in and week out. It is a good approach to practice and become familiar with certain fundamental Chinese phrases.
Flashcards
Most serious language learners like to emphasize the value of using Spaced Repetition System flashcards. It's the process of reviewing vocabulary in between break periods. For example, first, you'd review every new word you learned. You'd make a pile of words you missed, a pile of words you got right but struggled with, and a pile of words that you found easy.

Image from Twinkl.com
These are simple flashcards that you can use in an application where the frequency of a word displayed varies depending on how hard it is to find. So, if a word is shown and you get it wrong, It's a sign that you are not learning enough and you'll see it sooner again. Also, if you see it less and less often, it's a sign that you have learned it.
Reading
Practicing Chinese reading is a little less flexible than studying flashcards. It takes less time. You love to work for at least five minutes in a brief piece.
Learning is fantastic since you receive more exposure to the Chinese language. These include characters, new vocabulary, sentence patterns, etc (besides Mandarin). You will love the reading material on their web.
There are some wonderful platforms you may use for reading Chinese, however, for the absolute novice, these would be a bit too hard.
Youtube
You may use Youtube to learn Chinese within five minutes a day.
YouTubers from across the world like to produce and post films on this platform every day. There are many creators from China. These content creators are native speakers and have posted hundreds of videos on how to acquire Chinese. The videos posted are an amazing way to learn Chinese.
These videos include short, timely videos that can be found to watch and learn from.
Conclusion
You will be able to get great success with these tips and resources regardless of how busy you are or what level you have already achieved.
Start testing resources, develop a study strategy for learning Chinese in 5 minutes, and start your language learning journey! You can have a conversation with native speakers to know your abilities. If you still don't know what to do, we recommend you try ChinesePod.
ChinesePod is a wonderful website to get started. It is a great website for good reason learning.
The free Basic pricing is perfect for folks who merely want to listen to other things.
The Premium subscription is a more full offering, but it is still not enough to be the only resource that you use.
Besides ChinesePod, there are other means of learning that you can consider using. Hope these tips help you in learning Chinese.
Like this Article? Subscribe to Our Feed!
Passionate in tech, software and gadgets. I enjoy reviewing and comparing products & services, uncovering new trends and digging up little known products that deserve an audience.