Golden Pickaxe EA Review 2023 By Dumb Little Man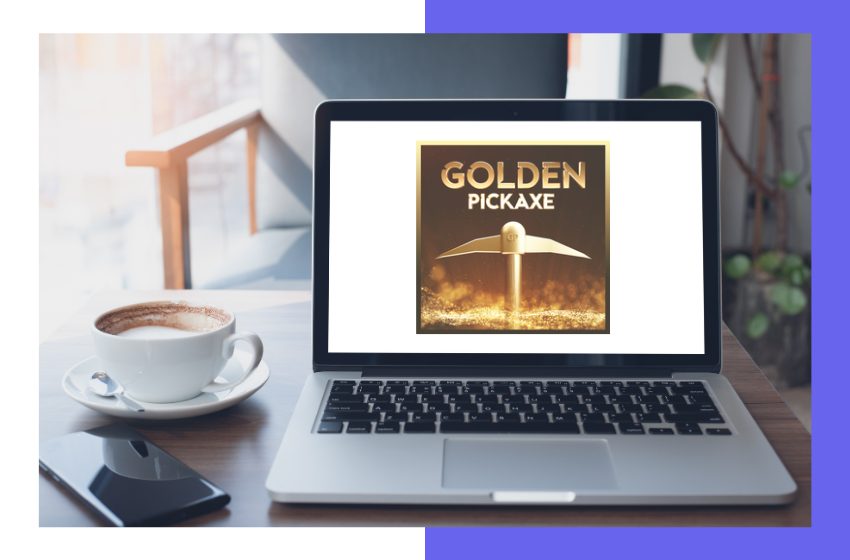 Golden Pickaxe EA Review
Forex, which stands for Foreign Exchange, has seen a significant rise in traders. As the trading world evolved, so did the tools and methods employed by traders to optimize their trades.
One such evolution is the introduction of Forex trading robots. These robots are software that automatically execute trades without manual intervention, based on pre-set conditions and algorithms. They are handy for traders who can't monitor the markets 24/7.
Among the myriad of such robots in the market, the Golden Pickaxe EA stands out. It's an automated forex strategy that operates seamlessly on MetaTrader 4 and MetaTrader 5 platforms.
Our team of Forex experts at Dumb Little Man has delved deep into the workings of the Golden Pickaxe EA. We'll cover everything from its features, what users have to say, the pros and cons, the cost, and even a step-by-step guide on setting it up for your trading needs. We aim to highlight not just the positive aspects but also its limitations and flaws.
Evaluation Criteria
Before delving into trading bot reviews, Dumb Little Man's seasoned team rigorously tests each bot they review. This esteemed group is made up of retail traders, financial consultants, and trading specialists who together deliver a balanced and in-depth analysis. Their assessment is based on specific benchmarks that include:
Features specific to trading
User-friendliness
Dependability and performance
Security and safeguarding of funds
Potential for profit on the platform
Cost-effectiveness of the services
In analyzing Golden Pickaxe EA against these metrics, it's clear that this trading bot emerges as a notable choice for automated trading. It accommodates various trading needs and consistently provides users with both reliability and user-friendly interaction.
What is Golden Pickaxe EA?

Golden Pickaxe EA is a tool designed for the MetaTrader 4 (MT4) and MetaTrader 5 (MT5) trading platforms. Created by Valeriia Mishchenko, a seasoned trader and skilled MQL developer, it's a Forex Expert Advisor that assists users in making profitable trades. This tool can help traders make money with fewer risks involved.
Mishchenko has spent years perfecting the Golden Pickaxe EA, embedding it with cutting-edge features that make it stand out in the Forex trading world. It's both a product of overnight work and the result of diligent effort to produce an efficient trading tool.
How Does Golden Pickaxe EA Work?
Golden Pickaxe EA is not your typical trading system. At its core, it employs a grid trading approach known as mean-reversion, which takes advantage of market prices' natural ebb and flow. Its incorporation of machine learning technology makes it incredibly potent, allowing it to spot trades in the Gold market with a higher profit potential.
Our team at Dumb Little Man observed that the Golden Pickaxe EA is adept at seizing fundamental market gaps or inefficiencies, giving it a distinct advantage over regular market conditions. It comes equipped with five predefined set files.
Think of these as five distinct strategies tailored for trading Gold. While it offers a default option called "XAU Balanced Vol," traders can also opt for other settings such as "XAU Risky Vol," "XAU Risky," "XAU Balanced," or "XAU Classic" based on their risk appetite and trading style.
A crucial point to note: to get the best out of the Golden Pickaxe EA, one must attach it to a single XAUUSD M1 chart. Additionally, it's best to run it on a VPS continuously for uninterrupted performance.
What are the Features of Golden Pickaxe EA?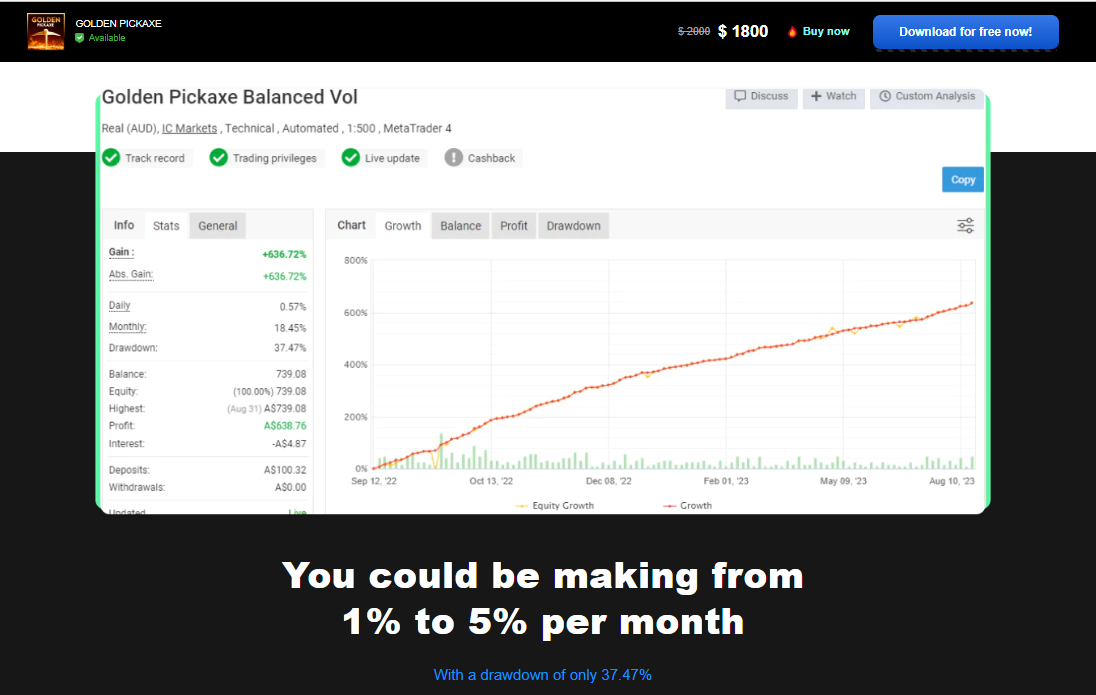 Pre-Set Files: Straight from the start, Golden Pickaxe EA impresses with its user-friendly approach. After analyzing extensive data, it comes equipped with five pre-set files, curated and optimized by the developer.
Chart Preference: Golden Pickaxe EA operates on 1-minute charts, emphasizing the need for a reliable broker. With XAU/USD typically having a wider spread compared to pairs like EUR/USD, the choice of broker is crucial.
Customizable Settings: The Golden Pickaxe EA isn't a rigid tool. For those experienced in trading, its settings can be fully adjusted, allowing experimentation on different currency pairs and timeframes.
News Filter and Stat Panel: Among its intriguing features, it boasts a news filter and a statistics panel, which includes a self-diagnostic system and a neural network forecast indicator. For these to function accurately, users must ensure the EA has access to the necessary news list website and time server.
Golden Pickaxe EA Pros and Cons
Pros
Comes with a lifetime license
Provides free software updates
Offers five unique trading sets
Offers remote desktop configuration
Has verified trading results
Includes easy installation videos
Cons
XAU/USD might experience wide spreads
Need to factor in VPS additional costs
Technical glitches can impact the EA's performance
Benefits of Trading with Golden Pickaxe EA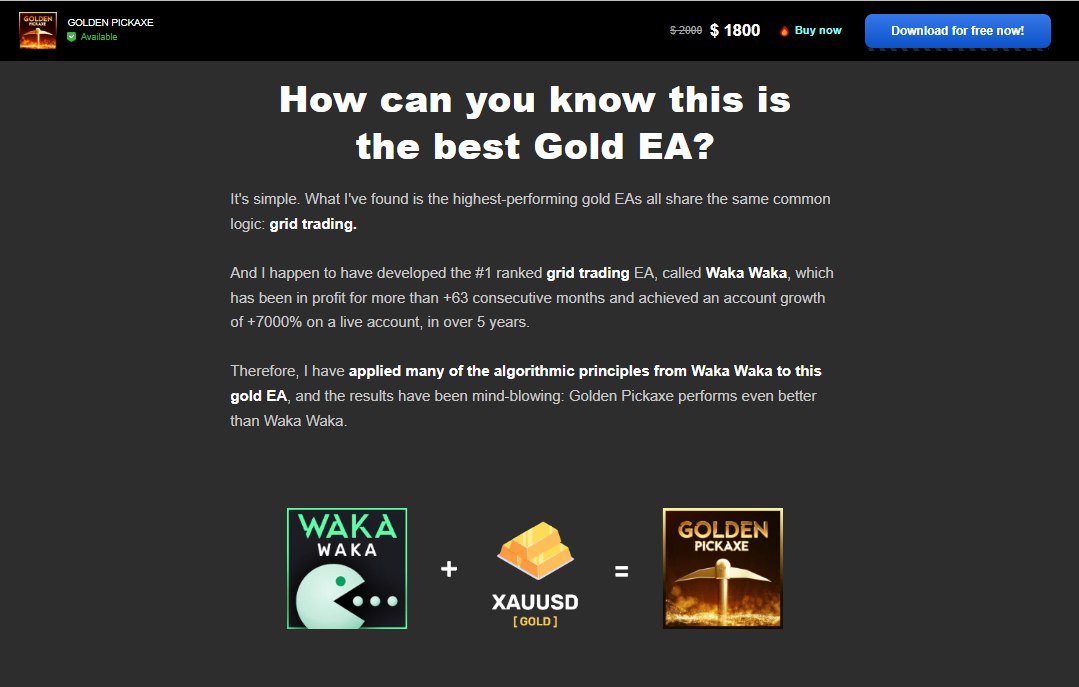 Hassle-free Setup: One of the standout aspects of Golden Pickaxe EA is its user-friendliness. Including easy-to-follow installation videos ensure that even those new to trading can get started without any hitches.
Diverse Trading Strategies: The flexibility to choose from five distinct trading sets is a significant advantage. This range means traders can select a strategy that aligns with their comfort level and risk appetite.
Continuous Support: Trading can be daunting, especially when technical glitches arise. Thankfully, with Golden Pickaxe EA, users are not left in the dark. Direct support from its developer, Valeriia, ensures that any issues or queries are promptly addressed.
Verified Performance: In the world of trading, results speak volumes. Golden Pickaxe EA's verified trading results offer an assurance of its capabilities, allowing traders to invest more confidently.
Ease of Customization: The tool's customizable settings mean experienced traders aren't confined to default strategies. They can experiment and tweak settings to align with their unique trading perspectives.
Golden Pickaxe EA Customer Reviews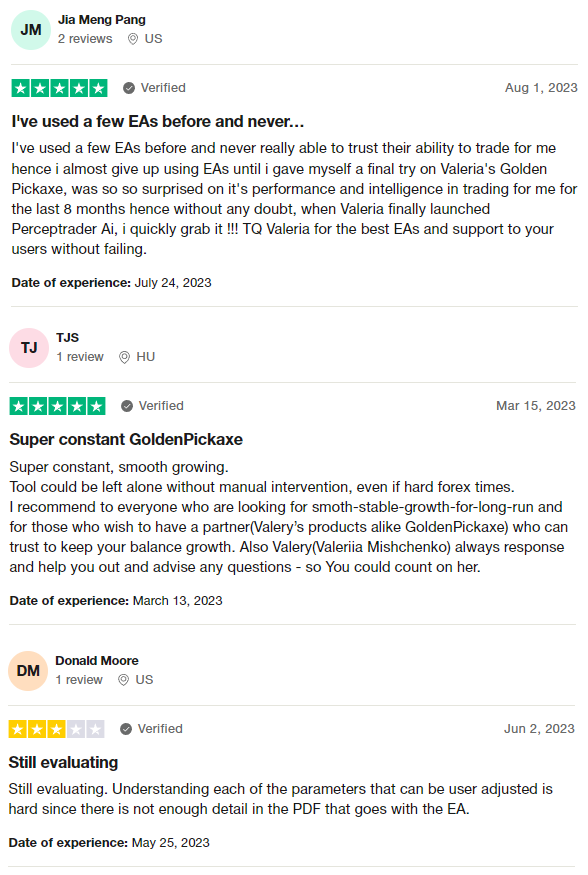 Customers have had varied experiences with Golden Pickaxe EA. Many praise its consistent performance, noting its stability even during challenging forex conditions.
They appreciate that the tool can operate autonomously without manual interference, making it reliable for long-term growth. Valeriia Mishchenko, the developer, has been highlighted for her responsive support, ensuring users feel guided and valued.
However, some feedback suggests a desire for more comprehensive documentation, particularly concerning the adjustable parameters provided by the EA.
How Much Does Golden Pickaxe EA Cost?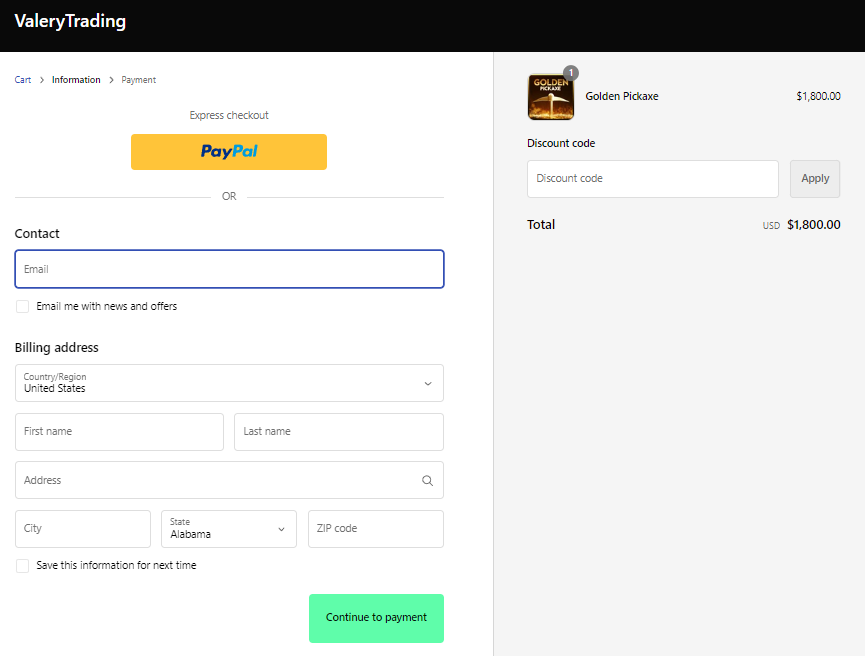 The regular price of the Golden Pickaxe EA is set at $2000. However, there's currently a promotional offer, reducing the cost to just $1800. If you're considering investing in this forex tool, now might be an opportune time to take advantage of the discounted rate.
Setting Up Golden Pickaxe EA
To begin using Golden Pickaxe EA, you'll need a Forex brokerage. This broker provides the essential trading platform where you'll integrate the Golden Pickaxe EA.
If you're unsure about which broker to choose, we suggest AvaTrade. It stands out as one of the top Forex brokers, especially for automated trading like with Forex robots.
Once you've registered with your chosen broker, download their trading platform onto your computer.
A Virtual Private Server (VPS) ensures your trading continues seamlessly, even if your computer is switched off. It runs 24/7, making it a vital tool for uninterrupted trading.
For consistent and dependable VPS service, we recommend ForexVPS.net. It's a favorite among traders and ensures smooth trading operations.
Once you've set up your trading platform and VPS, install the Golden Pickaxe EA on your trading platform by following the manual.
Who is Golden Pickaxe EA Best For?
After extensively testing Golden Pickaxe EA, we believe it's best suited for traders who favor automated solutions. This includes both beginners and intermediate traders, thanks to its user-friendly resources and responsive developer support.
Its customizable settings also cater to those who are risk-averse, ensuring they trade within their comfort zones. Furthermore, its 24/7 operation is ideal for individuals with time constraints, aiming for consistent and steady forex gains.
Choose Asia Forex Mentor for Your Forex Trading Success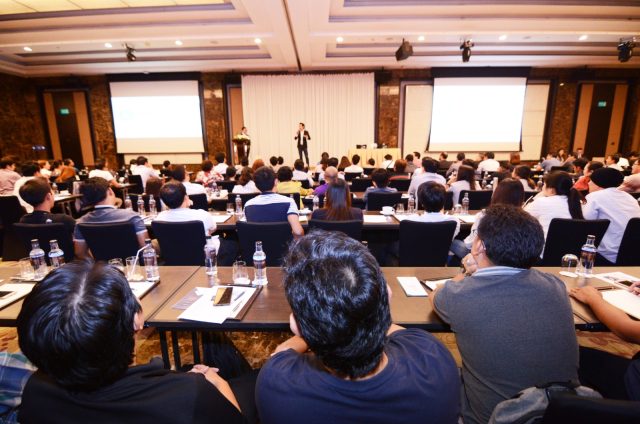 Before diving into the world of Forex trading robots like Golden Pickaxe EA, it's crucial to arm yourself with comprehensive knowledge about Forex trading.
These robots, though automated, come packed with intricate features and configurations. Without a clear understanding of trading dynamics, investors can inadvertently make decisions that prove expensive.
That's where the significance of a reliable Forex trading course comes into play. And on that front, the experts at Dumb Little Man highly recommend Asia Forex Mentor.
Asia Forex Mentor is your trading course and your ticket to Forex trading success. If you're passionate about carving a lucrative path in forex, stock, or crypto trading, this course stands unparalleled.
The brains behind it, Ezekiel Chew, isn't merely an educator but a force to reckon with in the trading world. As a linchpin behind numerous trading institutions and banks, his expertise is undeniable.
And it's not just about his institutional contributions; Ezekiel's personal trading accomplishments, notably his consistent six-figure trades, distinguish him in a class of his own.
When you choose Asia Forex Mentor, you're not just opting for a course; you're aligning with a legacy of trading excellence.
Why Learn with Asia Forex Mentor?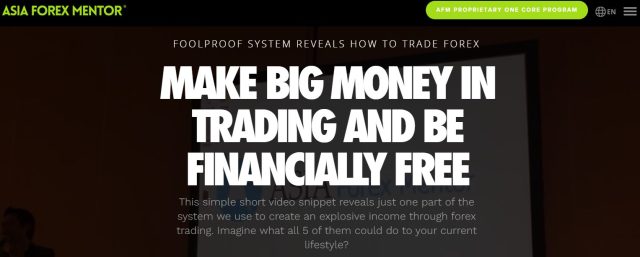 When considering a platform to learn trading, the credibility and recognition of the institution play an essential role. Asia Forex Mentor stands out in this aspect with multiple commendations to its name. Here's why you should trust Asia Forex Mentor for your trading education:
Top Comprehensive Course: Asia Forex Mentor's One Core Program was labeled as the "Best Comprehensive Course Offering" by Investopedia, a premier name in the financial content sector. Such an endorsement reflects the breadth and depth of the course material.
Best for All Levels: Benzinga, another trusted name in the financial and business space, recently named the Asia Forex Mentor One Core Program as the best forex trading course, particularly for beginners. Highlighting its suitability for everyone, from novice to expert, Benzinga emphasized its status as the "Best for Beginner to Advanced Forex Trading Program."
Top Mentor Recognition: The accolades don't stop at courses alone. BestOnlineForexBroker.com recognized Asia Forex Mentor as the "Best Forex Mentor of 2021." Their endorsement suggests that learners can expect "massive gains from forex" with the guidance provided by this platform.
Excellence in Trading Strategies: On evaluating multiple forex trading courses, several top forex traders and platforms singled out Asia Forex Mentor for its superior trading strategies and system, reinforcing its position as an industry leader.
>> Also Read: Asia Forex Mentor Review By Dumb Little Man
Conclusion: Golden Pickaxe EA Review
The team at Dumb Little Man has spent considerable time exploring and assessing the Golden Pickaxe EA. It stands out for its range of features, particularly the five distinct trading systems and the ability to fine-tune settings to individual preferences. This makes it adaptable to various trading strategies and risk tolerances.
On the flip side, potential users should be aware of certain cons, such as the occasional high spreads on XAU/USD and the need for a continuous VPS.
In a world of numerous Forex trading bots, Golden Pickaxe EA distinguishes itself with its machine-learning technology and consistent performance.
However, as with all trading tools, it's essential for users to be equipped with comprehensive trading knowledge to maximize their potential.
Golden Pickaxe EA Review FAQs
What are the main features of Golden Pickaxe EA?
It offers five distinct trading systems and customizable settings and utilizes machine learning technology for trading.
Is a VPS required for Golden Pickaxe EA?
Yes, a VPS is recommended to ensure the EA runs continuously.
Is prior trading knowledge essential?
Yes, to maximize the bot's potential, users should possess a comprehensive understanding of trading.
Like this Article? Subscribe to Our Feed!
John is an avid researcher and is deeply passionate about health and finance. When he's not working, he writes research and review articles by doing a thorough analysis on the products based on personal experience, user reviews and feedbacks from forums, quora, reddit, trustpilot amongst others.