FXOpen Review 2023 with Rankings By Dumb Little Man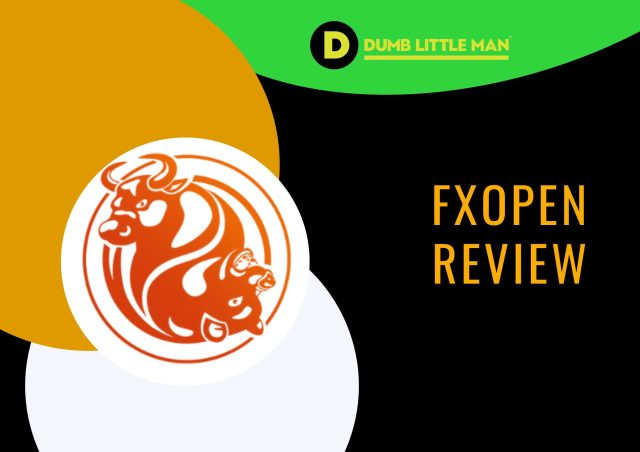 Evaluation Criteria
We all know that brokers play a vital role in asset trading. Selecting a broker can make or break your trading chances in the global market. Therefore, evaluating a broker through various lenses before settling on one is important. Through this evaluation process, you'll be able to decide which one meets the standards you're looking for.
With traders busy focusing on the trading marketplace and benchmarking brokers, Dumblittleman provides them with an extensive assessment of the various brokers available. We aim to give traders the necessary information to help them make sound decisions when selecting a broker. Our experts utilize over 70 lenses covering aspects like charges, commission fees, spreads, and withdrawal fees, among others. Our evaluation criteria are based explicitly on:
Convenience: Our team considers various aspects of convenience, such as how intuitive the experience is with a broker and how quickly traders get results and feedback.
Profitability: One needs to understand the profits and losses that come with trading. We look into various aspects, such as fixed and floating spreads.
Reliability: Our experts assess how secure the broker's platforms are and whether they have control over user data. The team also investigates whether there is any risk of downtime and interruptions while trading.
Broker's competency: We take into account factors like analytical skills, trustworthiness, and understanding of the market signals. Additionally, we consider other aspects for a hassle-free experience for traders, such as the availability of resources like customer service support and educational materials.
Affordability: Our team scrutinizes various brokers in terms of hidden charges, spreads, additional charges, and commission fees.
After a thorough assessment and considering the above creterion factors, FXOpen satisfied Dumblittleman that it is a reliable and reputable broker offering favorable trading conditions to both novice and professional traders.
FXOpen Review
In trading, all traders look for similar things; to have an ample experience in forex markets. To accomplish this, you need to ensure your trading is secure, the fees are low, and you have access to a portfolio of assets. This is why every trader wants a reputable and reliable multi asset broker to take their investments to the next level. Of course, choosing a broker is not as easy as it may seem. You need a broker with the right tools and features to help you navigate the trading marketplace. For a start in this field, check out FXOpen.
FXOpen is a respectable and honest company based in Cairo and was established in 2003. This broker is known to provide its traders with extensive market services in around 100 countries. FXOpen is among the first brokers to allow its customers to carry out trading via the electronic communication network. It is clear that this broker offers a variety of features to its traders, but let's take a detailed review of FXOpen and help you decide if it's suitable for your trading activities. We will look into its account types, platform features, bonuses and promotions, customer service, security measures, and more!
What is FXOpen?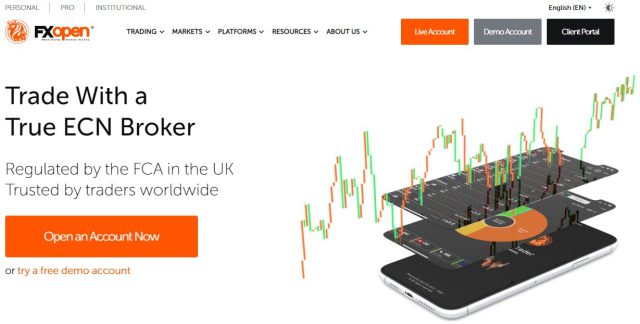 FXOpen is an institutional and forex broker that offers trading services online. It began its dealing services in 2005 and later became among the leaders in the forex industry. The broker is known to stand out from the pack because of its top-notch service through innovative technologies, ideal trading conditions, and a variety of financial services.
With FXOpen, you can diversify your investments. The broker allows you to trade in over nine indices, commodities (such as gold, silver, and crude oil), cryptocurrencies (such as Ripple, Ethereum, and Bitcoin), US shares, and Currencies minor, exotic, and major currency pairs. You can also trade on EFTs.
FXOpen offers its traders good trading platforms. These platforms include MetaTrader 5, TradingView, plus MetaTrader 4 (MT4), and TickTrader. The platforms assist traders in analyzing market trends, which in turn helps them make better decisions for their trading account. What makes FXOpen reliable is that it is regulated by bodies such as the Financial Conduct Authority (FCA) and the Cyprus Securities and Exchange Commission (CySEC).
Safety and Security of FXOpen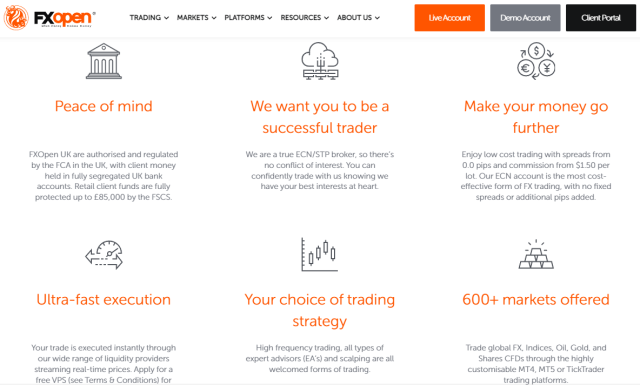 Trading is an increasingly popular form of investment that involves risk and reward. Safety and security are a must for any broker; this is especially true of FXOpen. The broker offers multiple regulatory certifications and approvals from government institutions in several countries, including registration as a retail foreign exchange market dealer with the Commodity Futures Trading Commission and Membership with the National Futures Association. All this is a sign that traders can conduct their business in an environment where their investments are protected.
In addition, FXOpen platforms employ industry-standard encryption technology to protect their client's trading accounts, combined with multi-factor authentication for verifying user identity. Advanced fraud detection systems have been implemented on the platform to prevent malicious activities from happening, ensuring your money is safe at all times.
Finally, to give you even more peace of mind, negative balance protection is put in place. So if your trading account experiences losses greater than its balance, you won't be held accountable. With all these measures in place, it's no wonder that FXOpen has such a stellar reputation when it comes to trading safely and securely!
Sign Up Bonus of FXOpen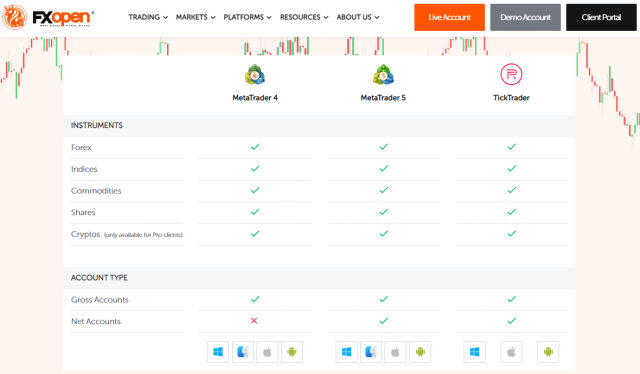 Sign up bonus of FXOpen is perfect for first-time traders looking to begin trading as FXOpen offers a no-deposit sign-up bonus which is a welcome bonus of $10/R145 ZAR. This bonus is only eligible for new customers who open a real STP account with the company. This amount cannot be withdrawn or transferred until after the total trading volume of executed transactions has reached one lot; the account can be credited with the bonus.
In addition, traders will have to reach an overall volume of 2 lots before they can withdraw their profits. Sign up bonus of FXOpen provides an ideal launching point for any novice trader looking to become financially free while daring enough to take on the volatile world of stock and ECN trading to meet their financial goals.
Minimum Deposit of FXOpen
FXOpen offers several deposit preferences in various trading account currencies such as EUR, USD, and GBP. Primarily, this broker processes its payments within an hour, but delays may occur depending on your preferred payment agent. It is important to note that some payment agents have their minimum deposit, which varies from that of FXOpen. For example, the minimum deposit for local bank transfers through debit and credit cards for some payment agents is $10. For those whose payment agents are Skrill, Neteller, Trustly, and WebMoney, the minimum deposit is $50.
Additionally, the minimum deposit varies according to the account type. FXOpen has five trading accounts: the demo account, micro account, STP account, ECN account, and crypto account. The minimum deposit obligation for the micro account is $1, while that of the ECN account is $100. Both STP and Crypto accounts have a deposit requirement of $10. Note that there's no deposit requirement for the demo account.
Account Types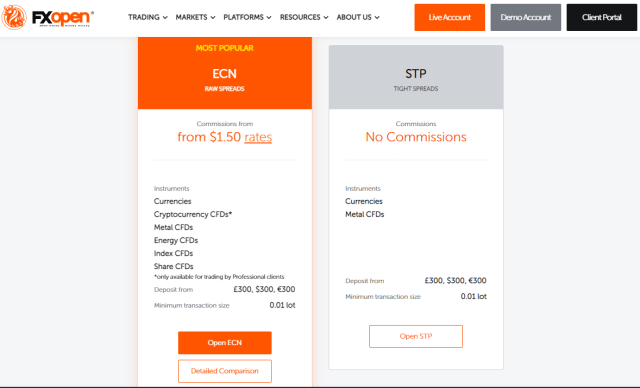 This broker offers five different accounts to choose from. Each type of trading account provides features customized for different sets of needs and strategies that traders may want to pursue. The accounts include:
#1. Demo Account
If you're looking to dip your toes into FXOpen's offerings, signing up for a Demo account is your best bet. Registration takes less than two minutes, after which you can access up to a staggering sum of $1,000,000 in virtual funds to trade without worrying about risk. The demo account offers real-time data, where traders can practice, hone their skills and come up with a trading strategy without investing real money. These accounts are appealing to new traders. They allow them to make mistakes while learning the ropes of the forex market without fear of financial repercussions.
Demo accounts have various features, such as tailored educational resources and powerful analytical tools. Note that the ECN or STP demo server will stay active as long as you continue logging in each month too! When you gain confidence and know what type of trades work best for you, upgrading your demo account to a live one is just as easy. It requires little more than the initial registration process.
#2. Micro Account
FXOpen is a popular online broker offering its customers micro accounts with many attractive features such as commission-free trading, tight floating spreads, and access to 28 currency pairs and commodities such as gold and silver. The micro account also offers the MT4 trading platform, which provides a wide range of tools and applications to help you successfully trade on the financial markets.
Furthermore, this account requires a minimum opening deposit of just $1, which is ideal for those starting in forex trading. Along with it is an even smaller minimum transaction size of 0.01 micro lots. All in all, FXOpen's micro account is an excellent choice for aspiring traders who want to start their journey without prohibitive costs or conditions.
#3. STP Account
FXOpen has an STP account option that is ideal for traders who want competitive spreads, commission-free trading, and the ability to use scalping and HFT strategies. Furthermore, these benefits come from using a single MT4 trading platform with a comparatively low minimum transaction size of 0.01 lots.
Starting off is also made easier by the minimum deposit requirement of $10, which gives you access to 50 currency pairs on your STP account and gold and silver. In other words, if you're looking to take advantage of tight floating spreads and commission-free trades while still having plenty of variety in trading, then FXOpen's STP account may be right for you.
#4. ECN Account
FXOpen offers ECN accounts to traders of all skill levels; they provide access to various forex pairs, cryptos, stocks, and commodities. ECN stands for Electronic Communications Network, allowing clients to access interbank liquidity pools and transaction fees under 0.1 pip with a minimum lot size of 0.01. On ECN accounts, clients have no commission fee levied; they can take advantage of scalping and high-frequency trading strategies without any restrictions.
ECN accounts also require a minimum deposit of $100 and offer support for the ever-so-popular MT4 platform, the newest versions of TickTrade MT5, and platforms for convenient mobile trading. FXOpen also allows their ECN account users access over 50 currency pairs, 25 crypto CFDs, commodities shares, and indices to create a diverse portfolio easily accessible from one platform!
#5. Crypto Account
Crypto traders should consider FXOpen for their cryptocurrency trading needs, as it offers an array of benefits designed to support their success. Specifically, the FXOpen crypto account offers tight spreads from 0.1 pips in major currency pairs, a commission fee of 0.5%, 43 crypto pairs, and a minimum deposit of just $10.
Crypto traders who choose the crypto account can also access the popular MetaTrader 4 (MT4) trading platform. They benefit from a minimum transaction size of 0.01 lot, allowing them to take even the most minor positions without issue. With phenomenal customer service and lightning-fast order execution, FXOpen crypto account is sure to please the crypto trader looking for many options when placing trades!
FXOpen Customer Reviews
The majority of opinions online about FXOpen are at an average level. According to the top-rated customer reviews, one of the FXOpen trader is not happy with its services. The user says they cannot access their account through the MT5 app. For some reason, the trader believes that the broker disabled the app's services. In this review, the trader says that FXOpen used to be good, but it has drastically changed. He considers the broker as not being reliable.
Another user goes ahead and applauds FXOpen for its good services. This trader has been making investments through FXOpen for over a decade. He gives the broker a thumbs up for its tight spreads on ECN trading services. Additionally, he terms the broker as being flexible in terms of payments and that he can take advantage of some FXOpen services.
The last trader says his experience with this broker has not been good. He claims that the broker did something to him, but with clear explanations from customer service, he understood everything. Overall, there are mixed opinions about FXOpen. Some consider it reliable, while others still dispute this fact. Therefore, traders must exercise caution when dealing with FXOpen and assess their services before investing any money in the platform.
FXOpen Spreads, Fees, and Commissions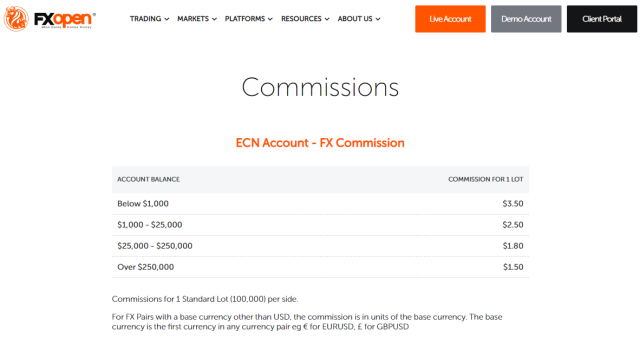 FXOpen offers traders a wide range of spreads, fees and commission models varying from account type to instrument. Investors using FXOpen's ECN account will pay a commission fee per lot traded, while STP account holders do not have such separate charges. All costs are embedded into the spreads, and commission rates depend on the account balance.
High-volume investors may enjoy discounts on FXOpen's commission charges that reduce when an account balance exceeds $250,000. FXOpen might charge a rate of 0.005%, 0.0025%, or 0.0018% depending on the customer's balance thresholds but no less than 0.005% when trading commodity CFDs.
Other fees include overnight swap charges for trades held open for more than one trading day. FXOpen also imposes a monthly inactivity fee after six months of no activity and another $50 charge to reactivate an account if it has been closed. FXOpen ensures customers full transparency regarding their trading fees and charged commissions to attain the best possible returns with maximum savings.
Deposit and Withdrawal
FXOpen makes it easy for traders to get started when trading with them. Deposit a range of currencies – USD, EUR or GBP – and the money is usually processed within one hour. Some payment methods might come with fees, and other payments have their minimum deposit requirements.
For example, for wire transfers, there is no maximum deposit limit; for cards, it's 15,000 (GBP, USD or EUR), while 10,000-20,000 is the limit for e-wallets. Premium features like virtual prepaid cards offer added convenience for new clients looking to make a deposit. Withdrawals are typically quicker – bank wire transfers take 1-3 business days, and card payments 2-5 working days.
The minimum withdrawal amount for a bank wire transfer is 50 GBP/USD/EUR or 10 for other payment methods; the maximum limit for card withdrawals is 15,000 GBP/USD/EUR. Overall making deposits and withdrawals through FXOpen looks to be an efficient process.
How To Open a FXOpen Account – Step by Step Guide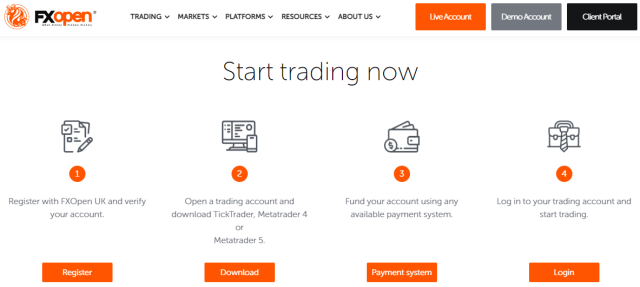 Whether you are an experienced institutional trader or just starting forex trading, it is important to understand how to open an FXOpen account. Opening an FXOpen account is easy, and you can complete the process in just a few simple steps. Gather all your information, such as your name, address and bank account details.
Once everything is laid out and ready to go, head to the website for FXOpen and click on their sign-up page. Here you'll be guided through the registration process, including entering your username and other contact information. Choose an account type based on what kind of trading you want to do.
After registering with FXOpen, they will send a confirmation link to your e-mail address. You are asked to verify your identity by providing basic documents such as a utility bill or passport. Once this has been completed, you're ready to start trading! With these few simple steps, opening an FXOpen account has been made much simpler!
FXOpen Affiliate Program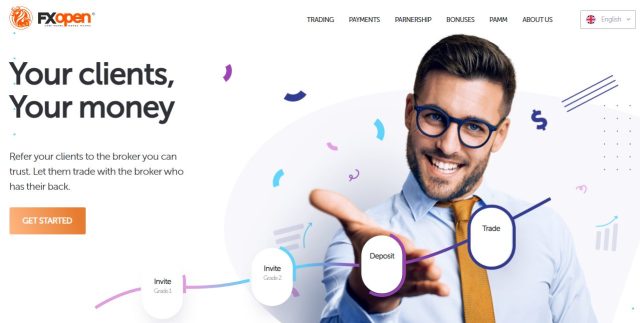 FXOpen is quickly becoming one of the most popular Forex trading platforms, and it's easy to see why. FXOpen offers a comprehensive Affiliate Program that makes it simple for anyone to take advantage of their services and promote FXOpen to their social media followers or website visitors.
FXOpen rewards affiliates for bringing in new traders who deposit funds in FXOpen accounts; this commission-based program is incredibly lucrative and provides a great income stream for those ready to go above and beyond in promoting FXOpen. All affiliates are also provided access to FXOpen's experienced support team and detailed reports about customer performance, making it easier than ever to track progress over time.
FXOpen's Affiliate Program is one of the most attractive affiliate programs. Not only that, but FXOpen has an excellent customer support and a wide range of resources to help affiliates promote FXOpen services and increase their earnings. With its user-friendly policies and comprehensive features, FXOpen's Affiliate Program is worth taking a closer look at for anyone wanting to earn commissions in the Forex market.
FXOpen Customer Support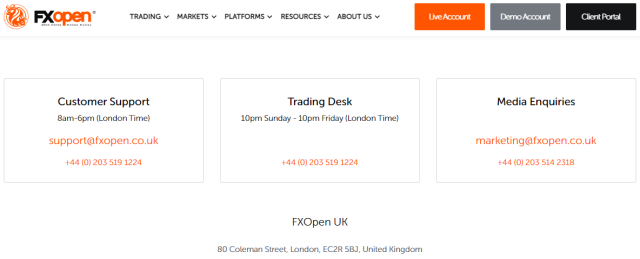 FXOpen offers unparalleled customer support to their traders, with a 24-hour chat desk on weekdays and e-mail or ticket requests processed from 7:00 am to 4:00 pm GMT. FXOpen takes customer satisfaction seriously, and traders can count on them for timely and pertinent resolution of all their payments, trading desks, or technical support queries.
For more specific issues, e-mail requests and tickets can be filed between 7 am and 4 pm (GMT). These tickets can cover a variety of matters, from payment processing to trading desk inquiries or technical support, making FXOpen flexible and efficient at meeting customer demands.
FXOpen has been noted for its reliable solutions and detailed knowledge base that always provides updated online manuals with comprehensive guidance. FXOpen puts out a great effort to make its customers feel secure in trading with them, and providing quality support is an integral part of the FXOpen mission.
Advantages and Disadvantages of FXOpen Customer Support
Advantages
Disadvantages

Online chat support
Social media chat engagement
Phone support
Multilingual support

The finance service and technical support only work within business hours
There's no call-back system
FXOpen Vs Other Brokers
To ensure a broker's reliability, it is important to compare them with other brokers. So that you can be able to pick from the best trading platforms.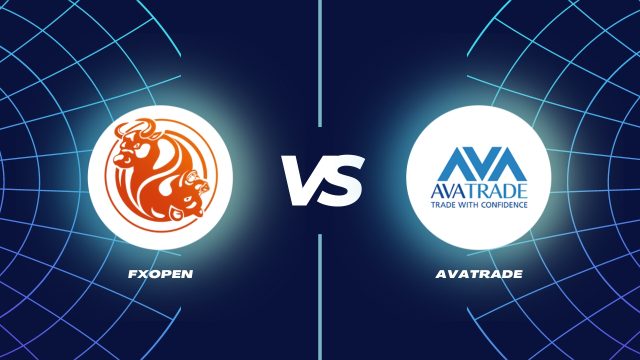 In terms of commodities to trade in, Avatrade outdoes FXOpen. Avatrade offers various commodities, including cocoa, sugar, coffee, natural gas, wheat, gold, silver, copper, corn, cotton, gasoline, oil, platinum, soybeans, and palladium. FXOpen offers commodities such as gold, oil, gasoline, and silver.
When it comes to stock exchanges, FXOpen engages in Japan Exchange Group, Dow Jones, Australian Securities Exchange, CAC 40 Index France, Euronext, New York Stock Exchange, Hong Kong Stock Exchange, FTSE UK Index, S&P 500 and DAX GER 40 Index. On the other hand, Avatrade engages in Taiwan Stock Exchange, Toronto Stock Exchange, SIX Swiss Exchange, Shanghai Stock Exchange, Nasdaq, London Stock Exchange, Korean Stock Exchange, Japan Stock Exchange, IBEX 35, Hang Seng, Borsa Italiana, Euronext, and Australian Security Exchange.
Regarding CDFs trading, on FXOpen, one can trade in indices, cryptocurrencies, currency pairs, and commodities that have tight spreads. Avatrade CDFs trading is offered in majority financial markets where rates are between 1:400. The leverage amount in FXOpen is 1:30 to 1:500. It varies depending on the chosen trading entity, while the leverage amount for Avatrade is 1:400. With a rating of 4.9 and evidence from our detailed analysis, it is clear that Avatrade outperforms FXOpen in many sectors.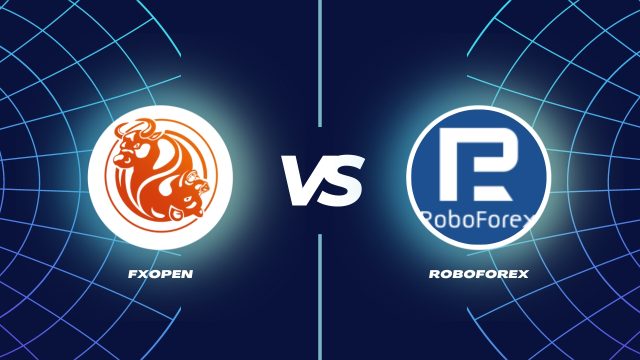 Both brokers offer forex trading, but they have some variations. With FXOpen, you can trade on emerging, minor and major forex pairs with a leverage level of 1:30. RoboForex forex trading has very high levels of leverage. The spreads on this type of trading also vary. For example, in FXOpen, the GBPUSD spreads are 0.2, while in RoboForex, the spreads are 2.
RoboForex trades on crypto coins, but they are held against the EUR and USD. FXOpen trades on 40+ crypto coins with a leverage level of up to 1:2. The spreads for both brokers in crypto trading are variable. Additionally, both brokers do not offer crypto lending, crypto staking, and crypto mining.
Regarding account types, RoboForex accounts include an STP account, ECN account, MAM account, and LAMM account. FXOpen accounts include STP, ECN,  and PAMM accounts. Both brokers do not have DMA and Demat accounts. From this comparison, it is clear that RoboForex is way ahead of FXOpen.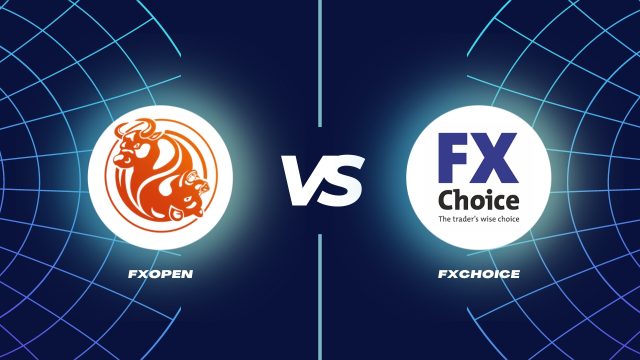 Both brokers have a copy trading platform. In FXChoice, they have ZuluTrade as their partner to assist them in offering copy trading services to all their account holders. For FXOpen copy trading, novice traders can copy and follow the strategies and positions of other traders. Additionally, both brokers are engaged in social trading.
Forex trading in FXChoice involves trading on over 30 forex pairs, including the EUR and USD. FXOpen offers emerging, minor and major forex pairs with a leverage of up to 1:30. FXChoice has the MT5 and MT4 forex apps available in both Google and Apple play stores. These apps offer graphs, charts, built-in support, and instant trading services. FXOpen has not established forex apps yet.
Both brokers are regulated by well known bodies. The Financial Service Commission regulates FXChoice, while the Financial Conduct Authority, Cyprus Securities and Exchange Commission and the Australian Securities and Investment Commission regulate FXOpen. FXChoice has a rating of 4.4, while the FXOpen rating is 3.7. With this rating and using our standard criteria, FXChoice outdoes FXOpen.
Choose Asia Forex Mentor for Your Forex Trading Success
If you have a keen interest in establishing a successful career in forex trading and aspire to achieve substantial financial gains, Asia Forex Mentor stands as the optimal choice for the best forex, stock, and crypto trading course. Ezekiel Chew, renowned as the visionary behind trading institutions and banks, is the driving force behind Asia Forex Mentor. On a personal note, Ezekiel consistently achieves seven-figure trades, a distinction that truly sets him apart from other educators in the field. Here are the compelling reasons that underpin our recommendation:

Comprehensive Curriculum: Asia Forex Mentor offers an all-encompassing educational program that covers stock, crypto, and forex trading. This well-structured curriculum equips aspiring traders with the knowledge and skills necessary to excel in these diverse markets.

Proven Track Record: The credibility of Asia Forex Mentor is firmly established through its impressive track record of producing consistently profitable traders across various market sectors. This achievement serves as a testament to the effectiveness of their training methodologies and mentorship.

Expert Mentors: At Asia Forex Mentor, students benefit from the guidance and insights of experienced mentors who have demonstrated remarkable success in stock, crypto, and forex trading. These mentors provide personalized support, enabling students to navigate the intricacies of each market with confidence.

Supportive Community: Joining Asia Forex Mentor brings access to a supportive community of like-minded traders pursuing success in the stock, crypto, and forex markets. This community fosters collaboration, idea-sharing, and peer learning, enhancing the overall learning experience.

Emphasis on Discipline and Psychology: Success in trading necessitates a strong mindset and disciplined approach. Asia Forex Mentor provides crucial psychological training to help traders manage emotions, handle stress, and make rational decisions during trading.

Constant Updates and Resources: The financial markets are dynamic, and Asia Forex Mentor ensures that students remain up-to-date with the latest trends, strategies, and market insights. Continuous access to valuable resources keeps traders ahead of the curve.

Success Stories: Asia Forex Mentor takes pride in a multitude of success stories where students have transformed their trading careers and achieved financial independence through their comprehensive forex, stock, and crypto trading education.

In summary, Asia Forex Mentor emerges as the premier choice for those seeking the best forex, stock, and crypto trading course to carve a rewarding career and achieve financial prosperity. Through its comprehensive curriculum, experienced mentors, practical approach, and supportive community, Asia Forex Mentor provides the necessary tools and guidance to mold aspiring traders into accomplished professionals across diverse financial markets.
Conclusion: FXOpen Review
FXOpen is a reliable broker for both beginners and experienced traders due to its competitive spreads, commissions, fees, deposit and withdrawal options, and excellent customer support. It also offers many features like copy trading and social trading, making it easy for novice traders to start Forex trading.
Through the FXOpen Affiliate Program, getting involved in marketing their services can be very rewarding. Ultimately FXOpen stands out from other brokers by providing a great balance of quality service at competitive prices while also offering excellent customer support.
Ultimately it's up to the individual trader to decide which broker best suits their needs. We hope this FXOpen review has given you all the necessary information you need to choose between brokers and determine if FXOpen is right for you!
FXOpen Review FAQs
Is FXOpen safe or a scam?
FXOpen is a legitimate broker regulated by the FCA in the UK, CySEC in Cyprus, and IFSC in Belize. It is also affiliated with numerous industry bodies, such as the Financial Commission (FinaCom) and MiFID II. FXOpen provides a secure trading environment to its clients and holds client funds in segregated accounts.
Is FXOpen a regulated broker?
Yes. FXOpen holds licenses with three major regulatory bodies – the Financial Conduct Authority (FCA) in the UK, Cyprus Securities & Exchange Commission (CySEC) in Cyprus, and the Australian Securities & Investment Commission (ASIC) in Australia. All these regulators have a sterling reputation for being trusted, unbiased watchdogs that constantly vet brokers to protect investors from fraud.
Is FXOpen an ECN broker?
The answer is yes, indeed. FXOpen is a multi-asset internet trading provider, and it fully meets the criteria of an "ECN broker," which stands for "Electronic Communication Network." This means it is a particular brokerage company that facilitates trades between different entities, such as traders and market makers.