Forex Diamond EA Review 2023 By Dumb Little Man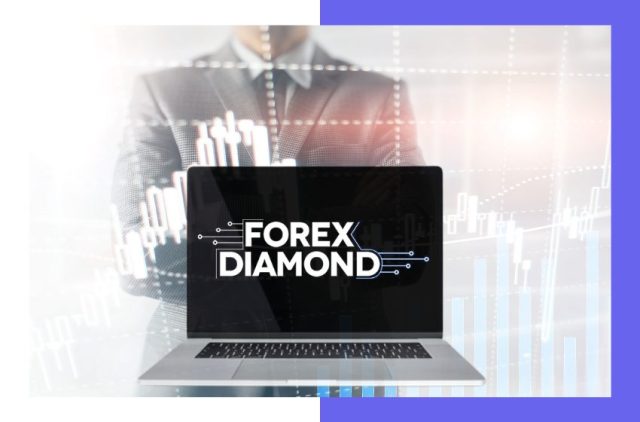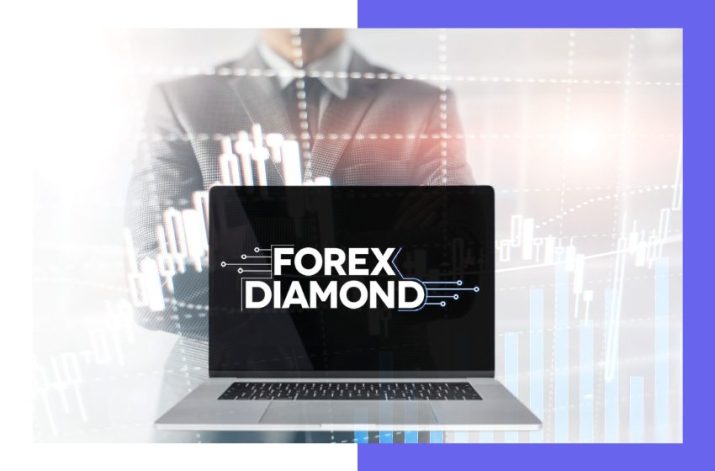 Forex Diamond EA Review
In the dynamic world of Forex trading, the desire for more efficient and automated methods has led to the development of Forex trading robots. These are computer programs designed to take on the heavy lifting of trading, allowing traders to rest while the software scans the market for potential opportunities.
One such notable robot is the Forex Diamond EA. This powerful robot stands out as it combines both trend and countertrend strategies to pinpoint trades with high potential. What's especially commendable is its adaptive nature; Forex Diamond EA can adjust itself with the ever-changing market conditions, often delivering stable profits in the process.
Here at Dumb Little Man, we have a dedicated team of Forex experts who strive to bring you transparent and unbiased reviews. This article is a comprehensive review of the Forex Diamond EA. As you read on, you'll uncover insights about its features and delve into the pros, cons, pricing, and the setup process.
Moreover, our experts have also pinpointed any drawbacks or flaws in the Forex Diamond EA, ensuring you have all the necessary information to make an informed choice when it comes to selecting the right trading bot for your needs.
What is Forex Diamond EA?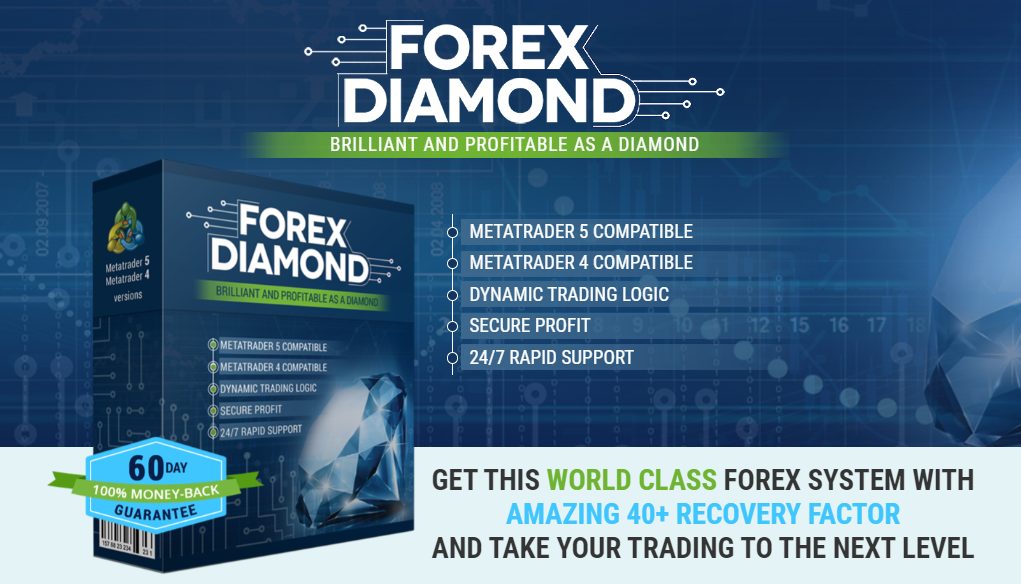 Forex Diamond EA is a Forex robot made for currency traders who value speed, accuracy, and dependable results. Compatible with the Metatrader 4 and MetaTrader 5 platforms, it harnesses the power of smart technology and intricate algorithms to scrutinize the market and make profitable trades.
What sets Forex Diamond apart is its ability to use both trend-following and countertrend approaches at the same time, offering a holistic view when analyzing market conditions and deciding on trades.
Additionally, it is adept at evolving based on market shifts, which often leads to consistent earnings. Its emphasis on safeguarding investments and its user-friendly design has made it a favorite among many in the trading community.
How Does Forex Diamond EA Work?
When Dumb Little Man's team tried out the Forex Diamond software, they discovered how it operates on a unique blend of methods. Primarily, it deploys the Trend-Retrace Signal Strategy, proving most effective with the EUR/USD and GBP/USD pairs on the M15 timeframe.
Diving deeper, the Forex Diamond EA integrates three distinct trading systems into a single, streamlined automated Forex tool. Each of these three systems functions autonomously within the robot. Notably, the foremost system is rooted in tracking and capitalizing on trend retracements.
The standout feature that caught our team's attention is the tool's lightning-fast trade execution. It's fine-tuned for dynamic trading parameters, ensuring that the system remains speedy, accurate, and trusty in its operations. Powering this efficiency are the Market Domination Algorithms. Furthermore, the EA incorporates a scalping strategy, capitalizing on trades with minimal spreads.
Importantly, volatile market scenarios don't faze the Forex Diamond EA. It swiftly recalibrates its trading parameters, maximizing potential profits even in tumultuous market conditions.
[wptb id="129196" not found ]
What are the Features of Forex Diamond EA?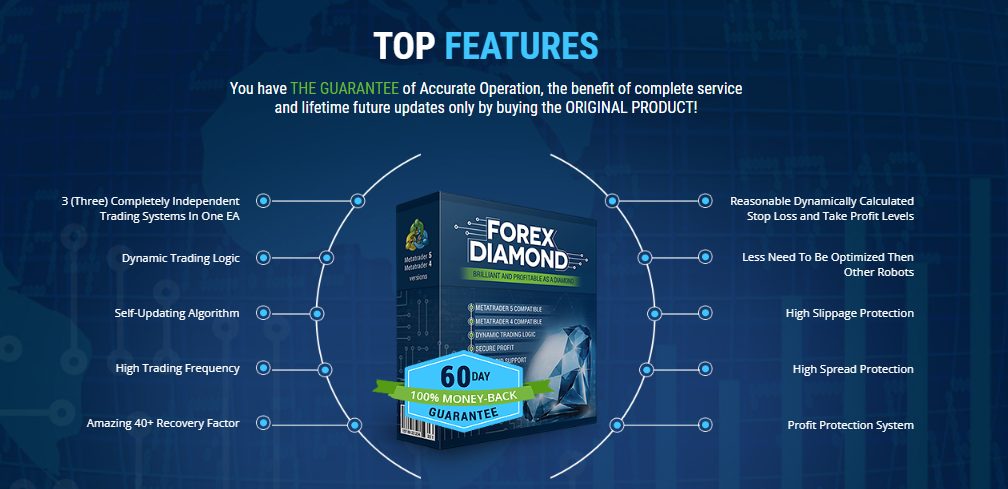 Three-in-One Trading Systems: Forex Diamond EA merges three distinct trading systems into one comprehensive automated forex tool:

Trend-Retracing System: This system capitalizes on following and benefiting from trend retracements.
Trending Market Reversal System: It is designed to detect and act upon the reversal of trending markets.
Counter Trend Scalping Strategy: As the name suggests, this strategy works counter to the trend and emphasizes short-term trades.

Dynamic Trading Logic: The Forex Diamond EA's logic adjusts to the ever-evolving market conditions. This adaptability allows the bot to operate efficiently in both trending and ranging markets, setting it apart from many bots that work only under very specific conditions.
High Spread and Slippage Filters: The EA incorporates a maximum filter to fend off trades during high spreads and slippages. Although a common feature in many EAs, it ensures traders steer clear of unstable markets.
Semi-Automated Mode Option: While Forex Diamond EA is a fully automatic trading robot, users can opt for a semi-automated mode. In this setup, the bot alerts the trader of potential trading signals, giving them the choice to act on them or wait for another opportunity.
Customizable Settings: The developer grants users full access to the EA's settings. When attaching the robot to the trading platform charts, users can tweak settings through the input window. While default settings, already optimized, are available, traders should always ensure that the lot or risk size aligns with their personal risk tolerance.
[wptb id="129197" not found ]
Forex Diamond EA Pros and Cons
Pros
Supports multiple currency pairs
Compatible with MT4 and MT5
Offers a variety of packages
Settings can be customized
Backtesting data is available
Includes lifetime updates
Verified trading results are shared
Cons
Only a few backtests provided
Risks of potentially high drawdowns
Benefits of Trading with Forex Diamond EA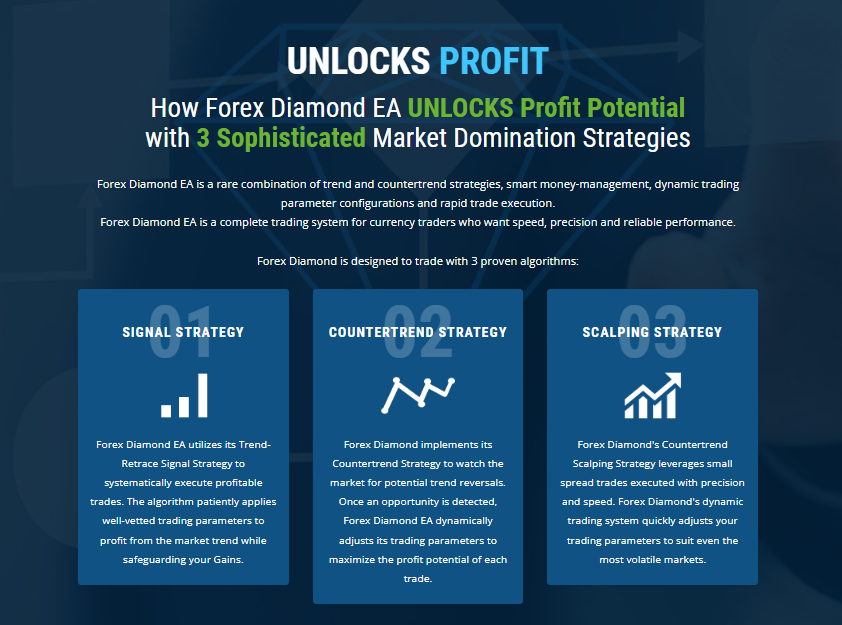 Diverse Trading Systems: One of the primary advantages of using Forex Diamond EA is its incorporation of three distinct trading strategies. This means that rather than relying on a singular approach, the bot uses a combination of methods, enhancing its adaptability and potential profitability.
Dynamic Market Adaptability: In the unpredictable realm of forex trading, market conditions can shift rapidly. The dynamic trading logic of Forex Diamond EA ensures it remains efficient in both trending and sideways markets. It doesn't just work under a strict set of conditions, making it more versatile than many other tools.
Customization Options: Being able to tailor settings is crucial for any seasoned trader. With Forex Diamond EA, users have the flexibility to adjust settings according to their trading preferences and risk tolerance.
Protection against Volatile Markets: The inclusion of high spread and slippage filters can be a significant asset, especially when the market becomes volatile. This feature helps in avoiding trades that could lead to significant losses.
Semi-Automated Mode: For traders who like to have a more hands-on approach, the option for a semi-automated mode provides an ideal balance. While the bot scans for opportunities, traders get the final say on whether to act on a particular signal.
Transparent Results and Backtesting Data: Trust is paramount in trading. The availability of verified results and backtesting data provides traders with a clearer understanding of the bot's potential and past performance.
[wptb id="129198" not found ]
How Much Does Forex Diamond EA Cost?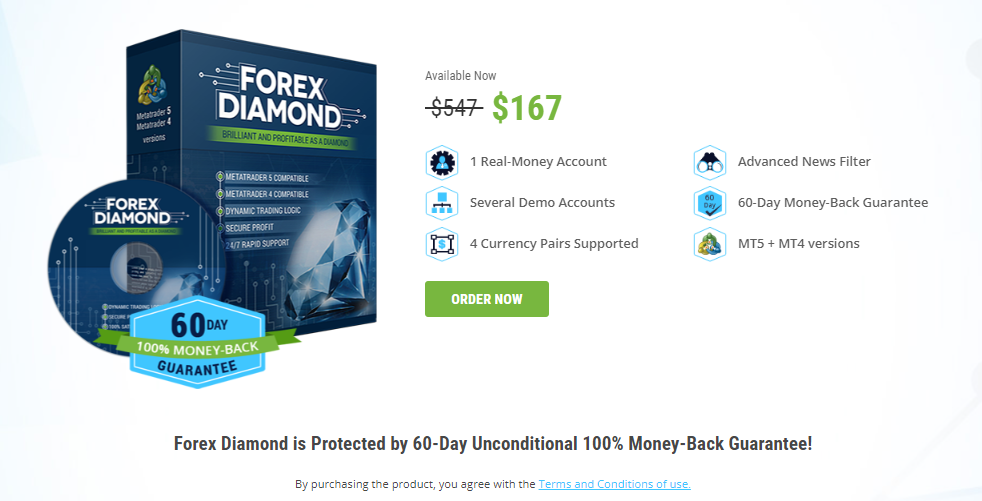 Currently, the regular price for the Forex Diamond EA is $547. However, if you're looking to purchase it now, there's good news. The price has been temporarily reduced to just $167. This discount offers potential buyers a significant savings opportunity, making it a great time to consider adding this tool to your forex trading arsenal.
Setting Up Forex Diamond EA
Start by navigating to the member area of the Forex Diamond EA website.
Locate and download the file named "ForexDiamond_Installer.exe" that corresponds with your preferred version.
Double-click on the downloaded file to begin the installation process.
When prompted to specify the installation location, select the folder where you have your MetaTrader 4 or 5 terminal installed.
Follow the on-screen prompts to finalize the installation.
Once the installation is complete, ensure you restart your MetaTrader platform.
After restarting, you'll find the Forex Diamond EA readily available on your MetaTrader platform, all set for trading.
Who is Forex Diamond EA Best For?
After rigorously testing Forex Diamond EA, Dumb Little Man's team found that Forex Diamond EA is particularly well-suited for traders seeking a robust, automated system that adjusts to market volatility. Its combined strategies and rapid trade execution make it ideal for those who prioritize speed, precision, and adaptability in their forex trading endeavors.
[wptb id="129199" not found ]
Choose Asia Forex Mentor for Your Forex Trading Success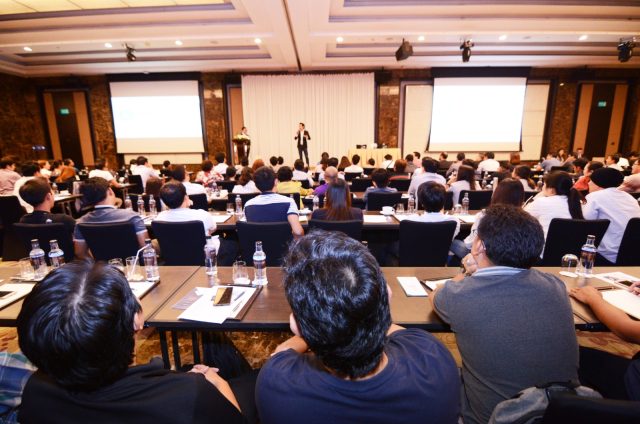 Before delving into any Forex trading robot, like Forex Diamond EA, it's imperative to have a solid grasp of Forex trading. These robots, while efficient, come packed with intricate features which, if misunderstood, can lead to significant financial mishaps.
Particularly for newcomers to trading, comprehension is key to avoid pricey missteps. For those seeking a top-tier education in this domain, the experts at Dumb Little Man highly recommend the Asia Forex Mentor as the premier trading course.
Why Learn with Asia Forex Mentor?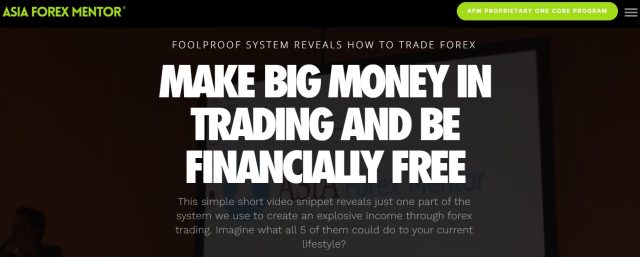 So, why should you opt for Asia Forex Mentor for a triumphant stride in Forex trading? Spearheaded by Ezekiel Chew, a powerhouse in the trading realm, Asia Forex Mentor's credibility is further accentuated by his consistent six-figure trades – a rarity that truly distinguishes him in the educational sphere.
Notably, Asia Forex Mentor's One Core Program has been recognized by Investopedia, a leading name in financial content, as being remarkably exhaustive. Investopedia celebrated it as the "Best Comprehensive Course Offering", underscoring its depth and breadth.
Recognizing its utility for learners across all stages, Benzinga, a trusted name for financial and business insights, labeled Asia Forex Mentor One Core Program as the best forex trading course for beginners. Beyond that, it championed the program as the "Best for Beginner to Advanced Forex Trading."
When it comes to verifiable success, the academy's alumni are a testament. With a legacy of churning out traders who consistently hit profitability, the efficacy of their teaching techniques is unquestionable.
>> Also Read: Asia Forex Mentor Review By Dumb Little Man
Conclusion: Forex Diamond EA Review
After thorough examination and hands-on experience with Forex Diamond EA, Dumb Little Man's team has recognized its undeniable strengths. The robot's adaptability to market changes, combined with its quick trade execution and dynamic parameter settings, positions it at the forefront of automated trading tools.
However, like any software, it's not devoid of cons. For beginners, its array of features can be a bit overwhelming, necessitating a learning curve for optimum usage.
[wptb id="129200" not found ]
Forex Diamond EA Review FAQs
Is Forex Diamond EA suitable for beginners?
While it offers powerful features for seasoned traders, beginners might find it a bit intricate and may require some time to get acquainted.
How does Forex Diamond EA adapt to market changes?
It uses sophisticated algorithms to adjust its trading parameters swiftly, ensuring profitability even during market volatility.
What's a notable feature of Forex Diamond EA?
Its rapid trade execution combined with trend and countertrend strategies ensures that it identifies high-probability trading opportunities effectively.
[wptb id="128895" not found ]