E-Commerce SEO Guide That You Need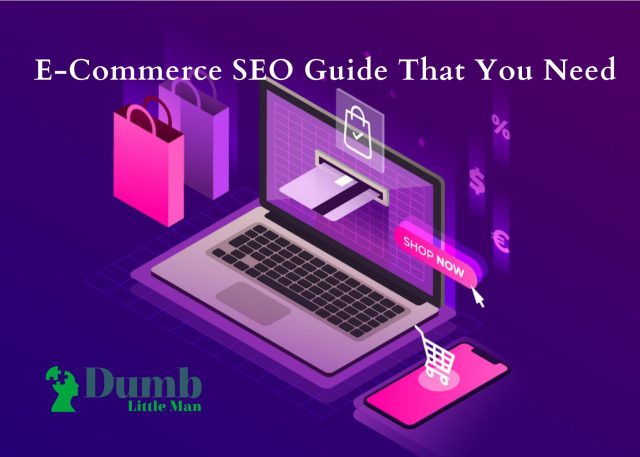 Considering how many people are on the internet, it is inevitable that SEO is becoming more and more relevant for various industries. And e-commerce is no exception.
What do you do when wanting to check where to find a particular item? Right, look on the internet. Especially now that international shipping exists, you can even buy things that are miles away.
Of course, advertising and social media marketing tactics can help promote your business. But, if you're an online store owner, you need a website to help you know your customers, their habits, and preferences. And to let others know about your store's website, you should employ some Search Engine Optimization tactics as well.
But First, What Is E-commerce SEO?
Simply put, e-commerce SEO refers to the practice of increasing your online store's visibility to rank higher on search engines. So that people can find your store when searching for items you sell, the higher you rank, the better.
Unlike other forms of advertisements, SEO is considerably less expensive. Not to mention, ad blockers or ad blindness might make paid search less effective, so you'll want to optimize for search engines.
E-commerce SEO requires more than just adding keywords, producing blog articles, and acquiring links. You need to comprehend how search engines function and what they reward. To do so, you should understand e-commerce SEO, take Google's standards into account, determine buyer intent, and strategically execute it.
Why does SEO matter for E-commerce?
As mentioned above, e-commerce SEO is vital because it allows your potential customers to find your store when looking for various items online. When people perform searches on Google, they often want to see options, comparisons, tips, and other information. And this information helps them decide which store to choose.
So appearing on Search Engine Results Pages (SERPs), especially closer to the top, will help you have access to interested customers. In other words, you need to use e-commerce SEO to make your products or services findable.
The great thing about SEO is that it allows you to reach your target audience without having to pay for advertisements. And once they are on your site, you can entertain your potential customers with high-quality products, engaging text, and compelling CTAs.

However, something you should remember about SEO is that you should optimize your website both for visitors and search engine bots.
So let's look at some methods you can use to accomplish that goal.
⫸ Developing an SEO strategy for E-commerce business
Performing e-commerce SEO, yourself may seem like a huge endeavor, especially if your store's website already has many products. And yes, in the case of SEO, the results are not apparent at first. However, you can speed up the process by developing a solid strategy!
⫸ Know Which Pages to Prioritize
Learn which pages on your website get the most traffic and start your optimization process with them. ​​Furthermore, if you want visitors to concentrate on a specific or flagship product, prioritize it.
⫸ Create A Workflow
SEO has many specific requirements, such as picking keywords, including meta data (meta titles, descriptions), and even correctly naming your images. Also, your website should be structured to make the navigation between different pages intuitive, logical, and fast.
⫸ Research The Competition
Check out the websites of your top competitors and what SEO tactics they are utilizing. Take that information and think of ways that will make your website better. The goal of your e-commerce SEO strategy should be to surpass your competition.
⫸ Don't Forget CRO
And lastly, you should include Conversion Rate Optimization (CRO) with the SEO you're doing for your website. Why? Because they are the two stages consumers often go through to purchase products. People need to be able to find your website to convert your offers. And the same is true for CRO. No matter the amount of visitors your site gets (thanks to SEO), they won't bring sales without optimization for conversions.
E-commerce SEO best practices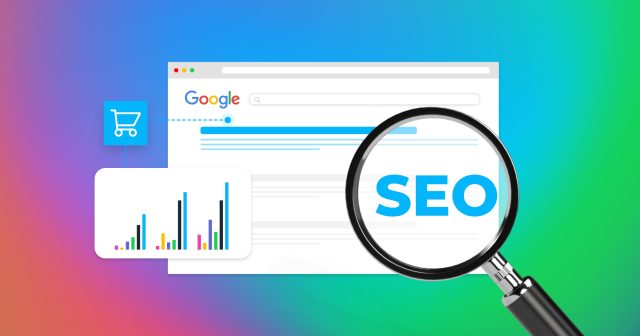 E-commerce SEO is a complex sector to master, and with so many online retail sites, it's not an easy task to stand out. So now that you know the strategy let's look at some of the e-commerce SEOs' best practices.
Applying some of this practice will help you have a positive start in your challenge of building up your website's SEO ranking. And it will increase your possibilities of gaining organic leads and clients.
1. Keyword Research
Ah, keywords, your best friend when you are doing SEO. Ranking high for certain keywords is essential to get your website noticed. However, when choosing keywords, you should also take into account buyer intent, of which there are two main types.
Informational keyword intent is the type of information that a searcher is looking for (like how to do something). In comparison, Commercial Keyword Intent refers to the keywords people use when they are actively looking to make a purchase.
2. Product Page Optimization
I briefly mentioned this above, but for product page optimization, you should concentrate on three things: product descriptions, images, and reviews.
Your descriptions should include relevant keywords and engaging content, as well as calls to action (CTAs). The images should be high-quality, and of course, having testimonials and reviews is also beneficial.
3. URL Structure
A readable, simple URL is always beneficial for user experience and makes it easier for search engine bots to crawl through the site.
When writing your URL, make sure to include 1-2 keywords, and avoid using numbers or stop words like "the" and "of."
4. Link Building
Link Building is considered a ranking factor for SEO. Google sees high-quality links as a sign of trustworthiness. Backlinks also have an impact on how well your site ranks for specific keywords.
For internal linking, you can write blogs about your products and link to their product pages. As for external linking to gain backlinks that link back to your website, there are a few ways. You can write guest posts, ask bloggers to write a review about your products or even ask journalists to feature them on product roundups.
Conclusion
E-commerce SEO improves your website's exposure, attracts new visitors and customers, and helps you build a loyal following. It may seem like a lot, but although it is a slow process, it will certainly pay off in the long run. Just keep in mind the strategy and optimize the pages that get the most traffic first.
As you get used to it with time, you will start to get the hang of it. But if you want to concentrate on your business, you can hire some help from digital marketing agencies. Not to mention, looking at how professionals work on the SEO for your site also has another benefit. You can gain new ideas on what product lines you should expand to increase your profit!