10 Best Small Kitchen Decorating Ideas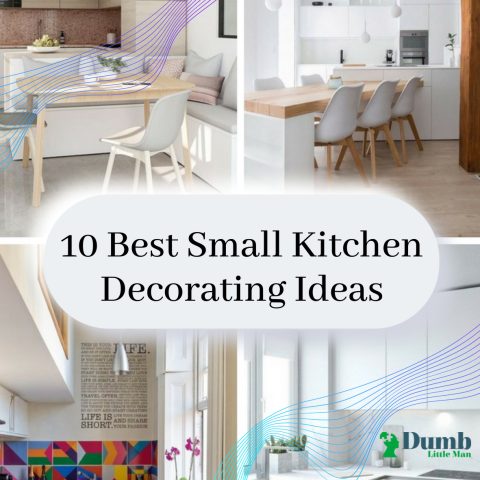 A place where you spend most of your time in the Kitchen. You cook meals, make tea, eat and laugh with your family and partner. It becomes an integral part of your daily routine and of course your home. Whether you are living in some posh apartment in the hub of the city or in the suburb of the country, you want to make your kitchen as beautiful and aesthetic as possible.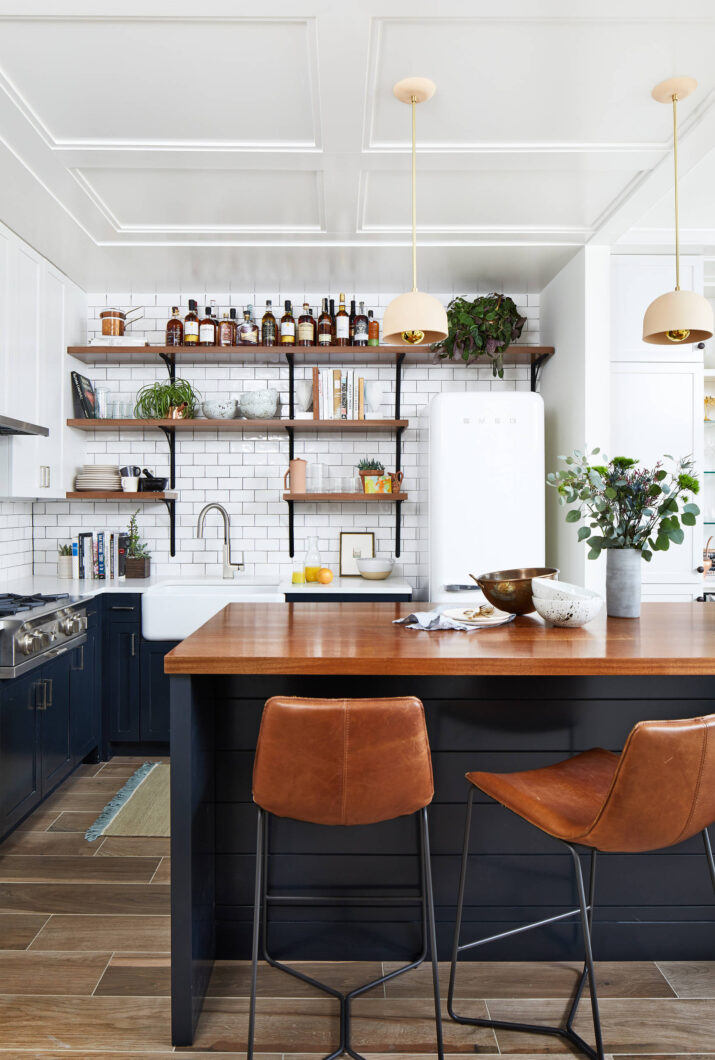 Can you Decorate Your Small Kitchen Just Like a Big Kitchen?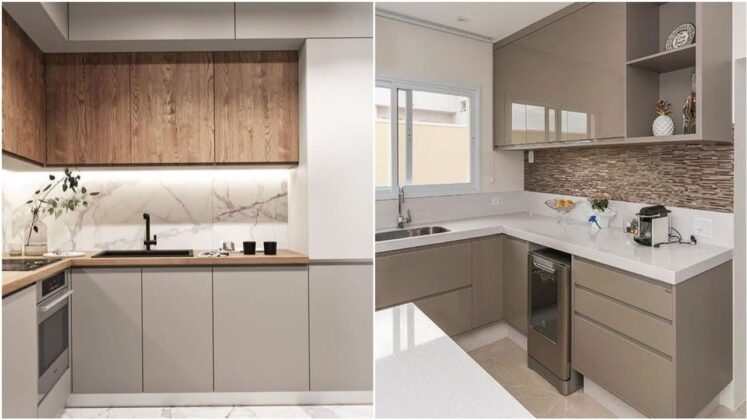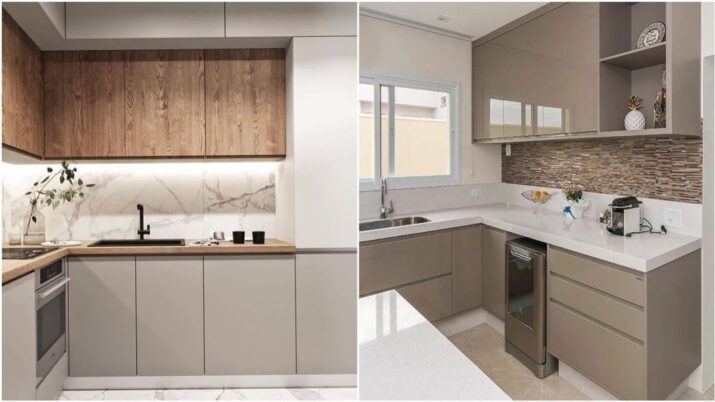 You must decorate your kitchen, as a good kitchen décor can make your meals memorable and aesthetic. If you have a small kitchen and think that you might not be able to decorate it as you can decorate a big kitchen…
Then you are absolutely wrong.
Yes, you can decorate your small kitchen the way you like.
However, it is obvious that the décor options will be limited, and it cannot be decorated as a big kitchen.
Your kitchen is just small in the area, however, the cooking space design will be the same.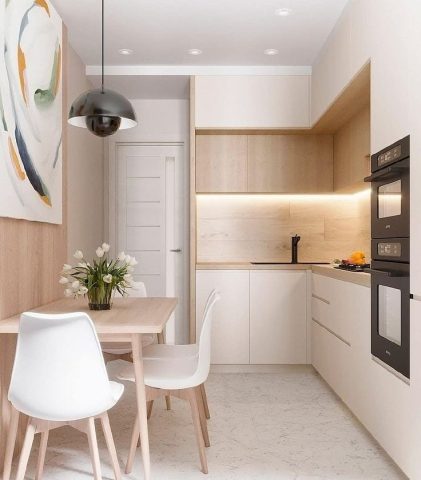 Do With Things That Add more Vibe to Make a Cozy Kitchen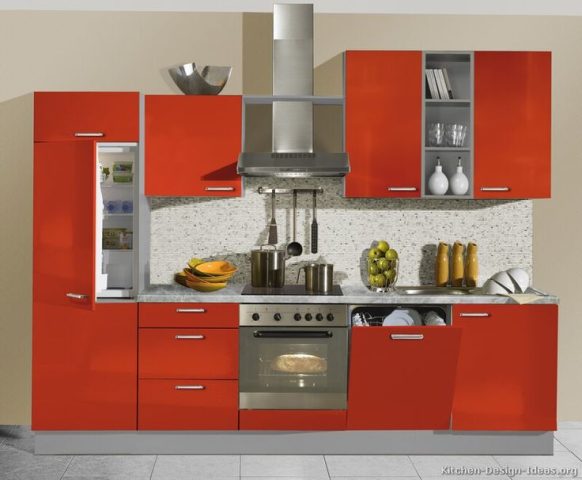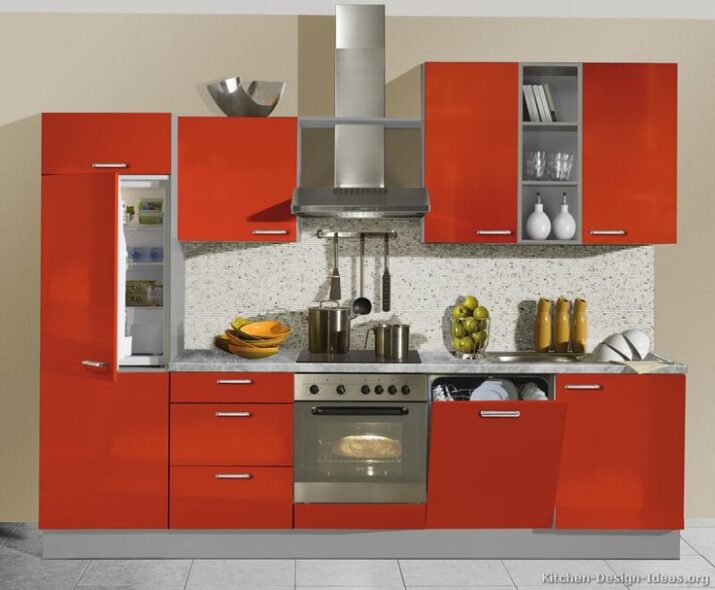 There are unlimited decorating ideas for tiny and small kitchens that you can fully utilize.
While shopping for the re-designing and sparkling your kitchen, always go for the things that seem to add the more vibrant color, unique and aesthetic look, and much space to your kitchen.
Any accessory, colors, paintings, vases, and decorative pieces that can make it look spacious. Good lighting also plays an important role.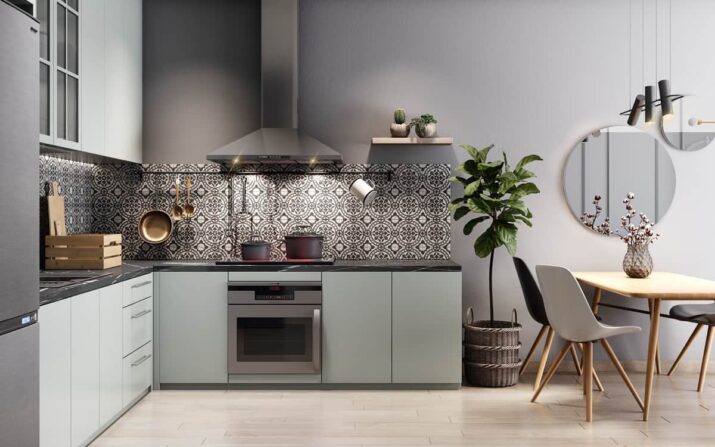 Create the Small Space as You Like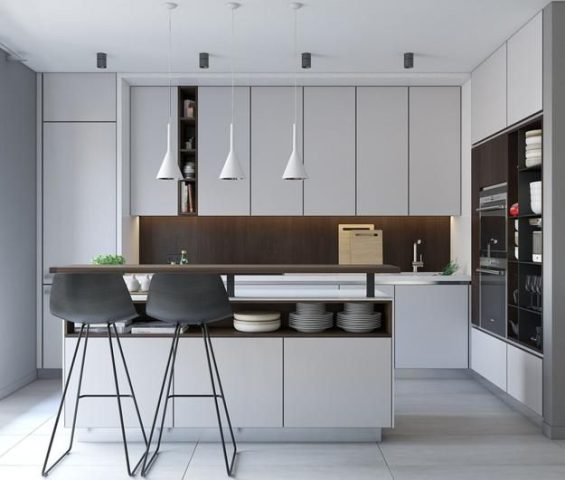 Create a small space and kitchen island that you would love to be in with your friends and family.
Read along to know about the amazing small kitchen decorating ideas. Ideas that suit your personal style and add a traditional, vibrant, and modern look to your small kitchen without compromising the look of your home.
We have covered a wide range of options that you can go with, and make your small kitchen bigger.
Ideas for Decorating Small Kitchen Island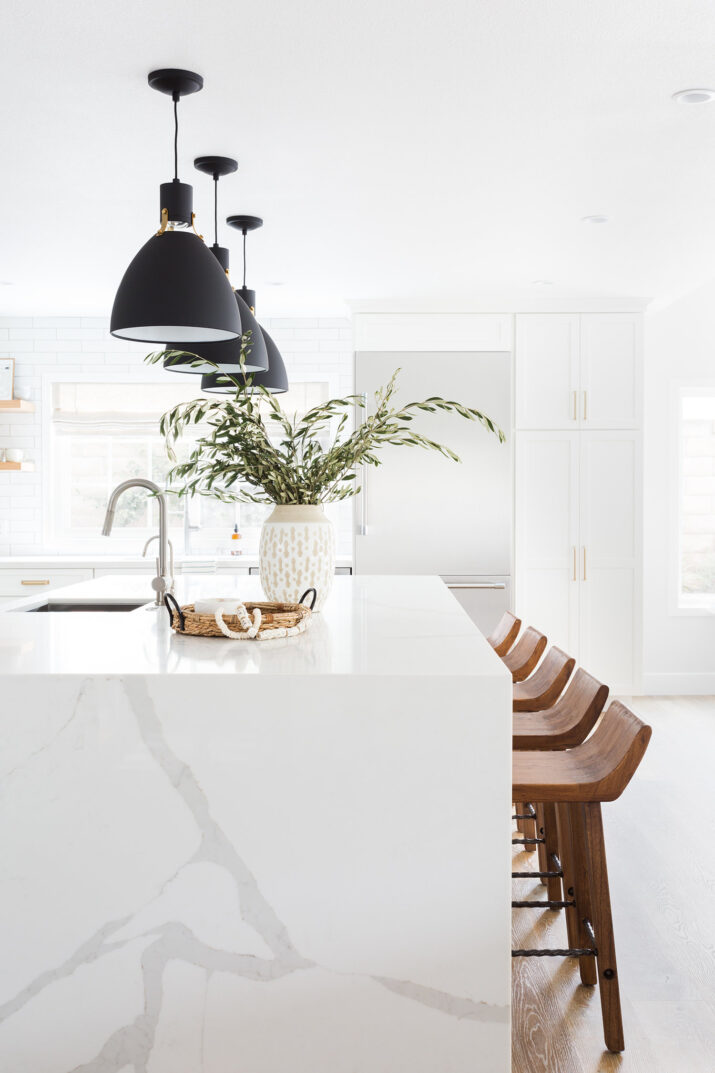 These tips and ideas will be budget-friendly, cheap decorative DIYs that you can easily do on your own. You can be your own interior designer. The things that most fascinate the outsider about someone's kitchen are the smart storage solutions, organized shelves, and stunning designs that can get hold of any eye. Everyone wants a spacious kitchen but not everyone has the space for it. However, you can make the space you want for your kitchen if you are being creative and intelligent with your ideas.
Striking Contrasts Are Always the Best Option
For the kitchen Island, when you add two many vibrant and bold colors, it can seem to make your kitchen even smaller.
And that is the least thing you want, right?
So, avoid mixing and using way too many colors for your small kitchen.
Try to Use the Same Color
Always try to use the same color for the ceiling, walls, cabinets and you can mix a few colors with it to make a good contrast. Creating a blend of colors is not a bad option either.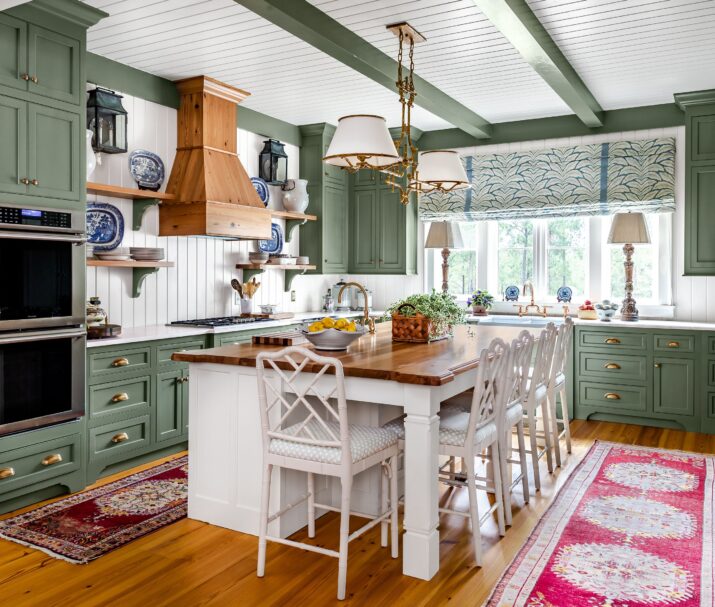 How You Can Create Contrast?
The contrast can also be created by installing pendant lamps on the ceiling, putting vases, rugs, and carpets in the kitchen to enhance the look of the small kitchen.
If you like flowers and paintings, they can also be used to create a perfect contrast.
What do you think?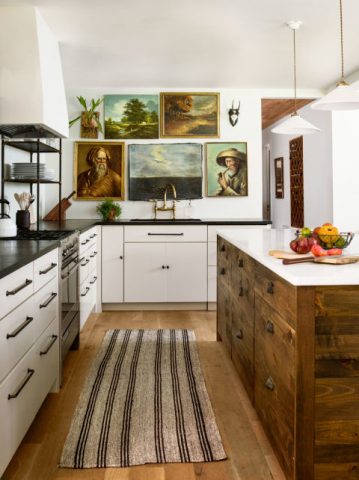 Find Ideas on the Internet
There are many striking contract ideas that you can find on the internet. It is a pool of finding and locating amazing things, only if you know how to actually find them.
You will absolutely find something that suits your taste, and make your kitchen décor simply beautiful. A lot of Instagram accounts are available from where you can get unique kitchen ideas.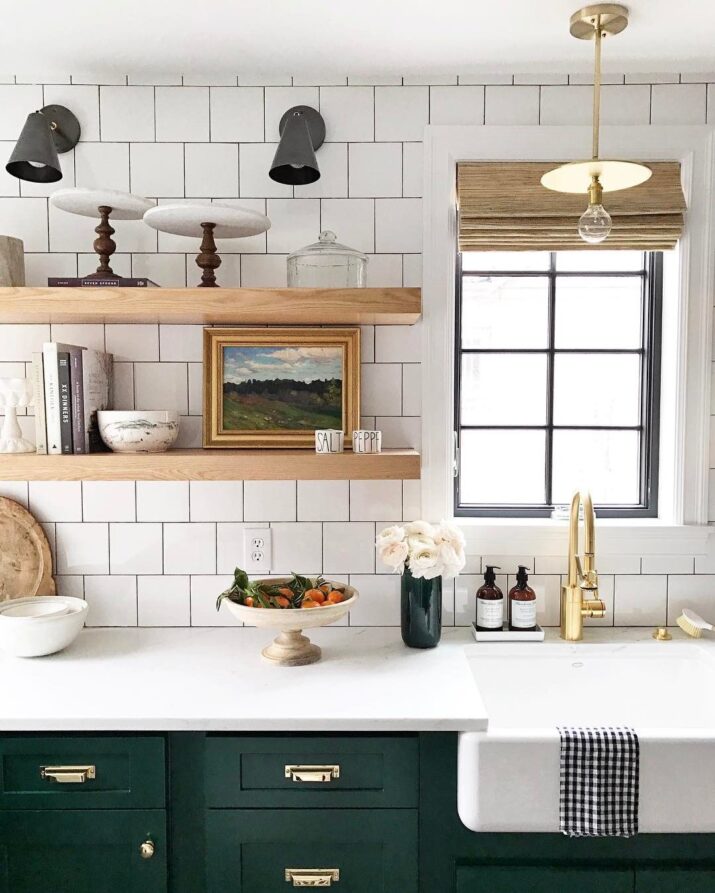 Avoid Putting Cutting Boards on the Open Shelves, Rather Hang Them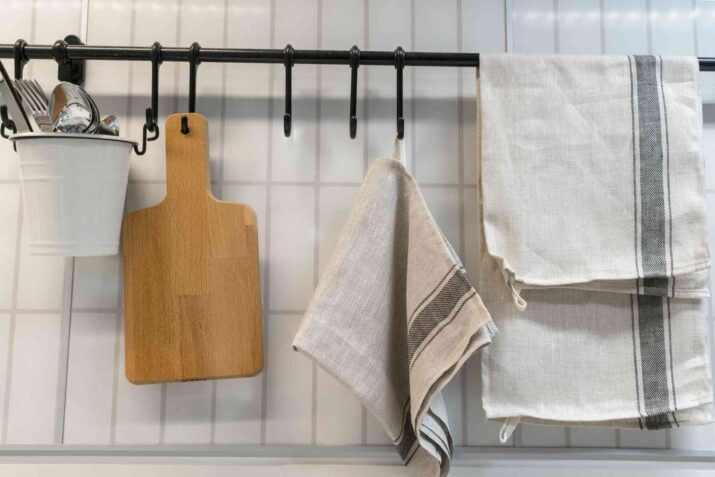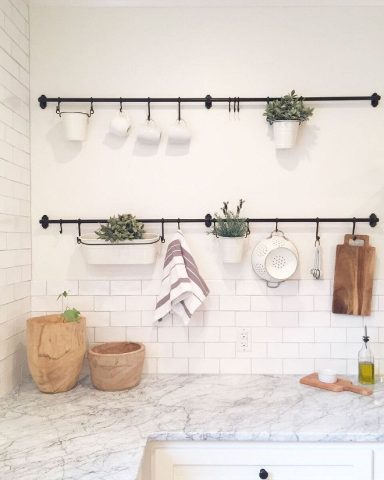 Cutting boards can take a lot of your tiny kitchen's space if you just put them on the open shelves unorganized.
You Need Organized Look
For a perfectly organized small kitchen look, you gotta hang your cutting boards on the wall or open shelves. When someone enters your kitchen, it should be organized, clean and neat.
You can install various sizes of hangers that can perfectly fit your cutting boards.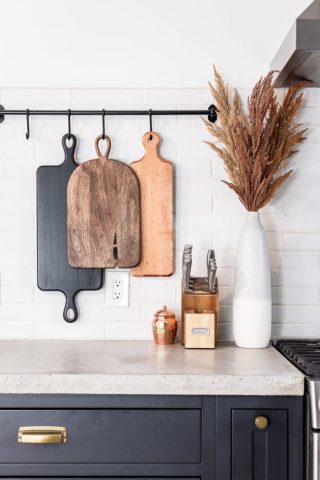 Use Wooden Shelves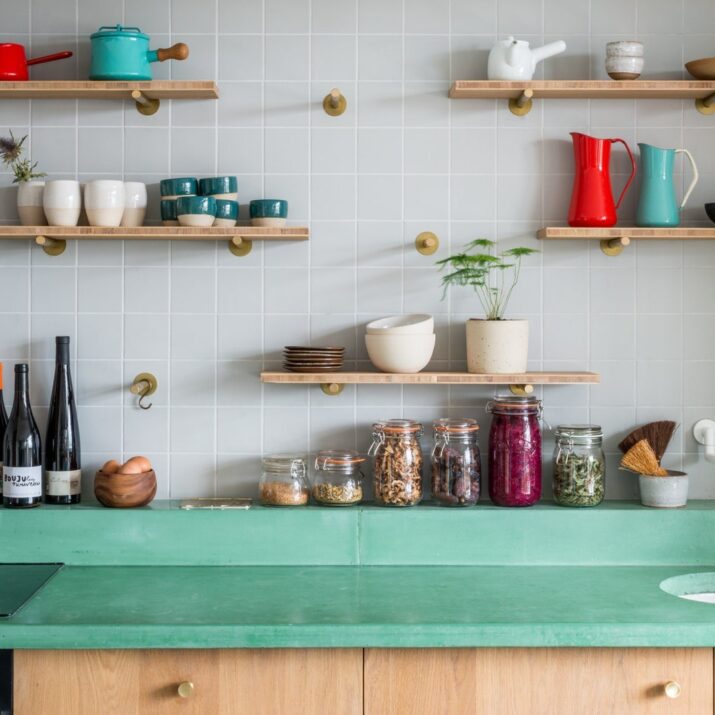 Many wooden shelves are available in the market, which you can install on the wall and then place some utensils on them with cutting boards hanging underneath them. You can also get the one your like made by the expert.
Do you like any wooden shelves that you have seen in your sister's kitchen?
Share its picture with us.
What You Can Store in the Additional Storage?
On the wooden shelves, you can store any sort of un-utilized stuff, such as cookbooks, cookware.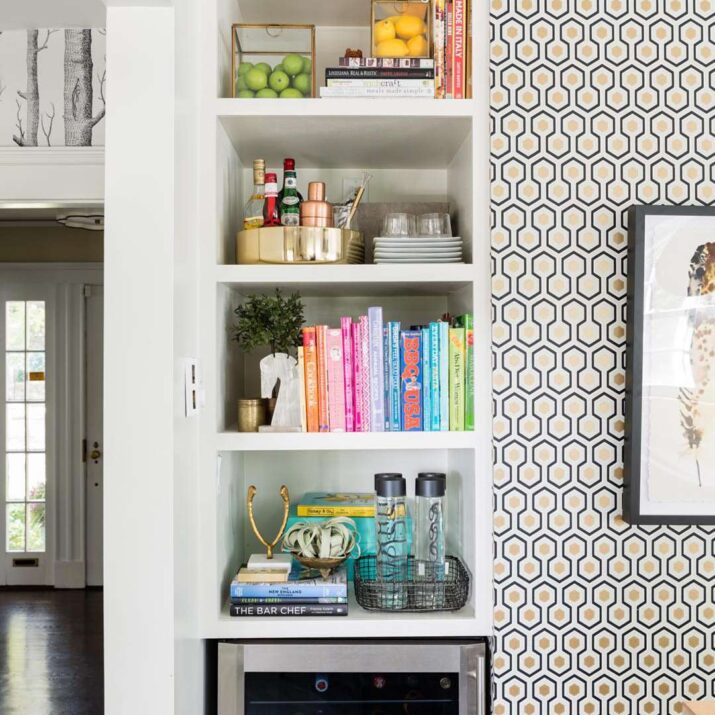 Do You Have Any Wooden Shelves Installed in Your Kitchen?
If yes, share with us a picture of it. Where did you get the idea for the wooden shelf? Did you get it custom-made for yourself, or you bought it from the store?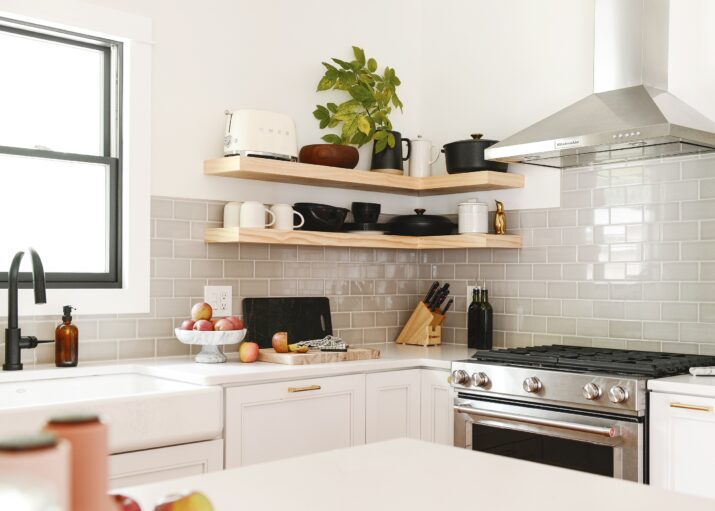 Hide Items in the Cabinets and Storage
Kitchen utensils take a hell of space in your kitchen.
Yes, you have read it right.
Platters, store linens, seasonal items, and cooking pans are the most used pieces in the kitchen. They are the core ingredients of your kitchen, and without them what is kitchen about.
Why so?
You need them every time you cook something.  So, they must be easily approachable and quick to find.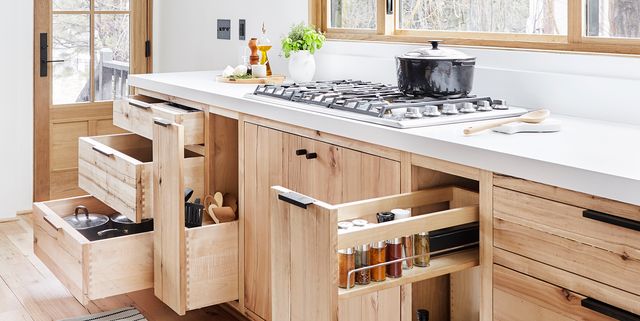 Have a Designated Spot on Counter Space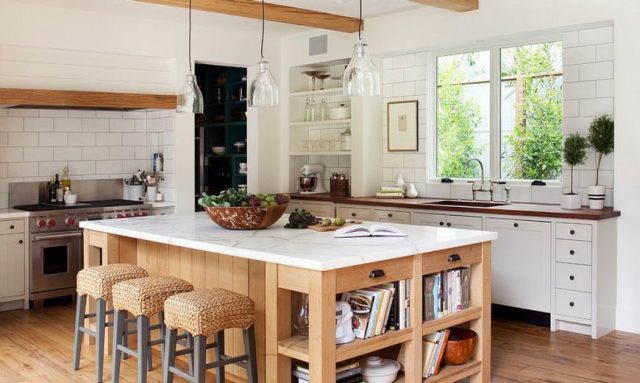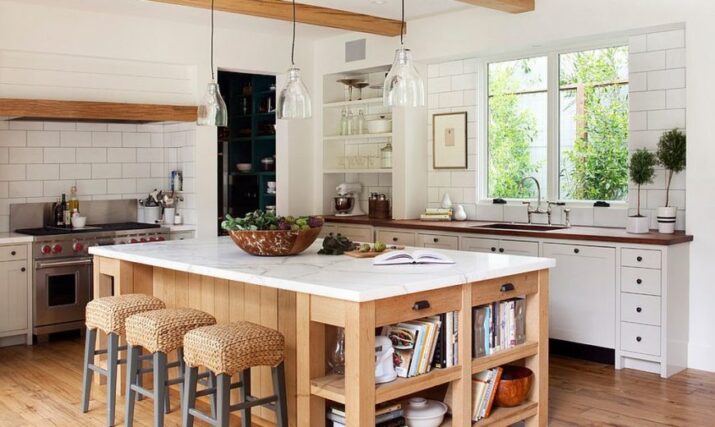 However, you cannot just place them on the shelves wherever you want. There should be a designated spot and cabinets for each and everything. Hiding the kitchen items in the cabinets and storage can free up a lot of space in your tiny kitchen. It will give a cleaner and spacious look. You can create different storage for a variety of items and products. Designated points and places make everything look cleaner, organized, and easy to find whenever possible.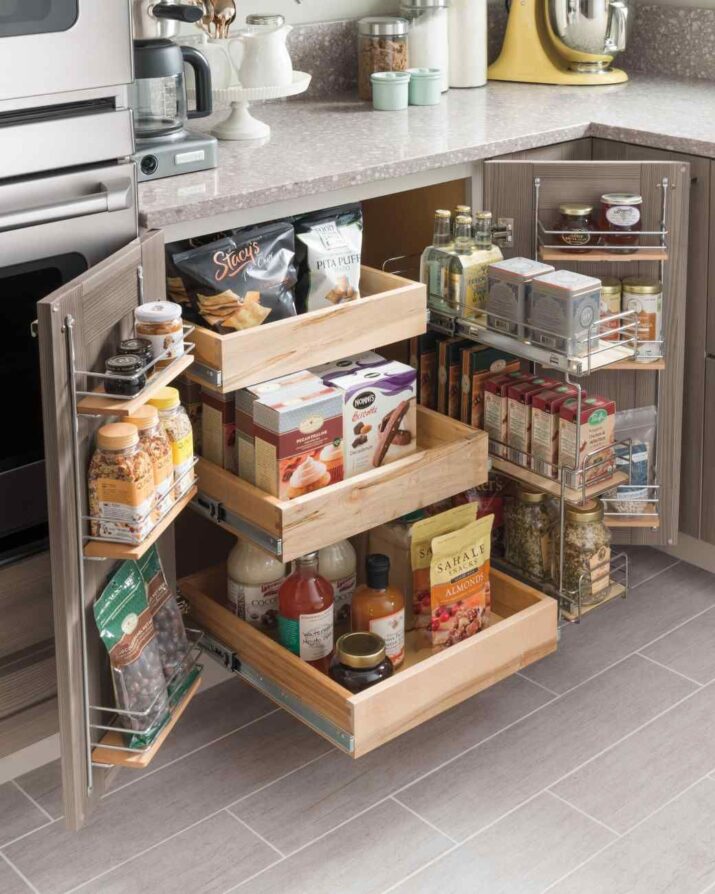 Have Specified Cabinets for Everything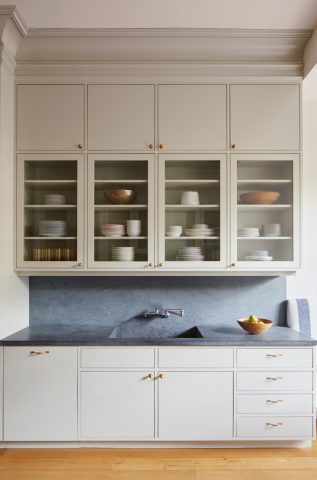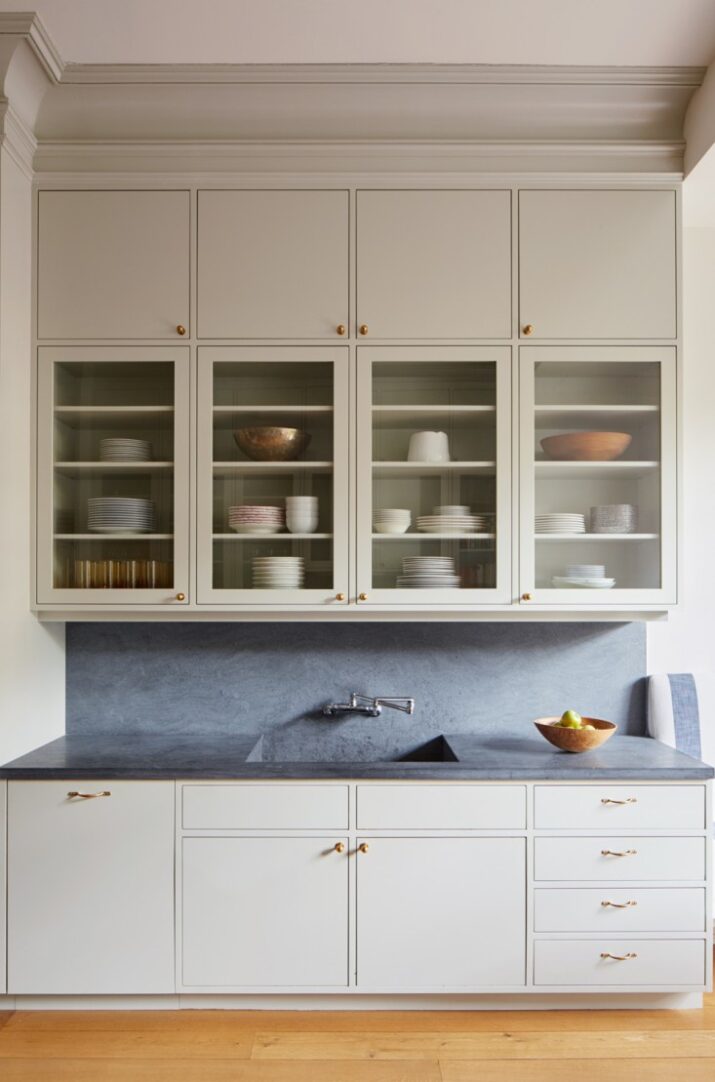 You can have a specific cabinet for all your washed utensils and cooking pans, and where you can also place them for drying. You can have a separate drawer for tissues, papers, and napkins and one for forks and knives. Hiding items play a huge role in decorating a kitchen. Specific cabinets help you in a way that everything will be organized and easy to find whenever you need them. You won't have to put yourself in the trouble of finding anything when in hurry.
Cabinets Should be Easy-to-Reach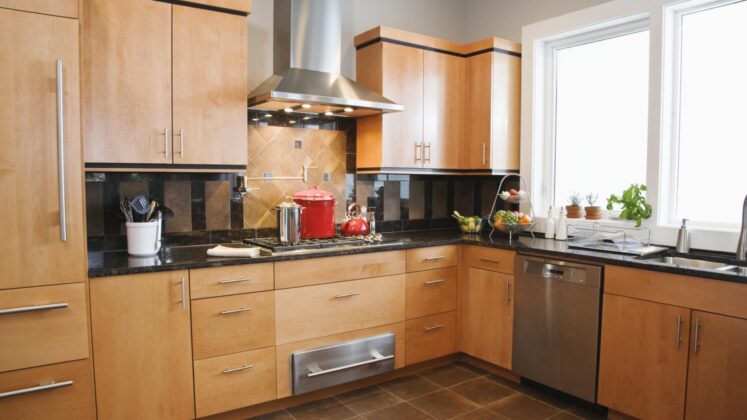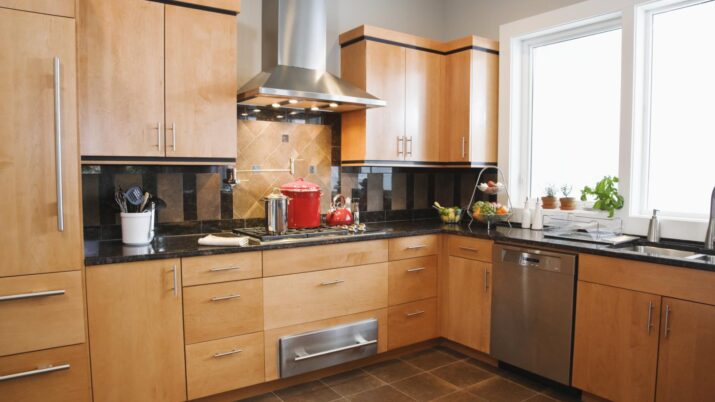 One thing that I would like to mention is your cabinets should be easy to reach as you need your most-used pieces for cooking, baking, and eating.
Vertical shelves are also a good option for organizing glasses, jars, and bowls.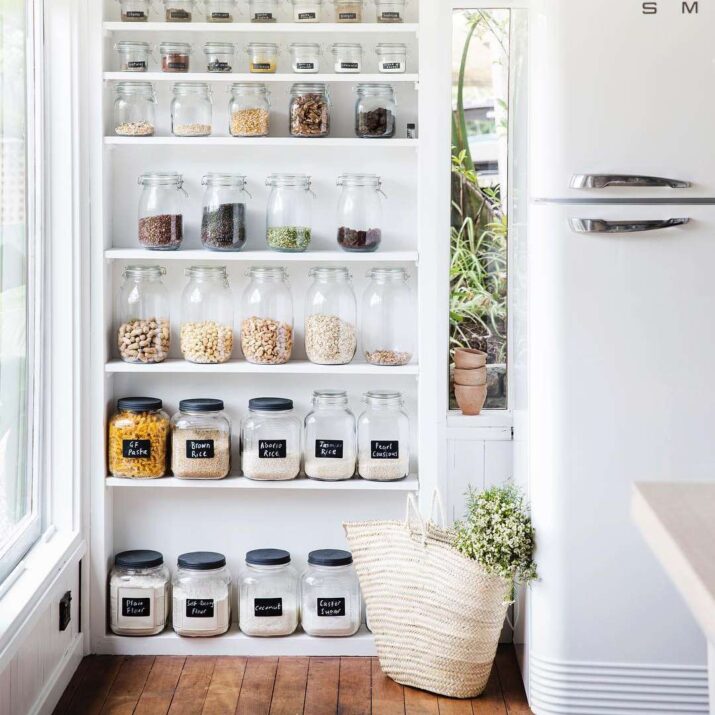 Hang Pans From the Ceiling Instead of Placing them on the Kitchen Shelves
Yes, you have heard it right. Pans and other cooking utensils take a lot of space on the shelves. And when you have a small kitchen, you have to make it look spacious with fewer things possible. If your cupboards get flooded with utensils, and now you can hang the extra utensils and cooking pans from the ceiling.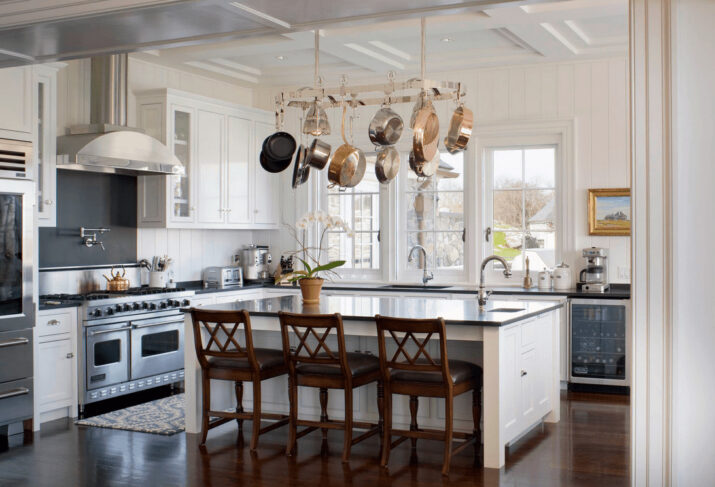 Use Brass Rods or Copper-pipe to Hang Utensils
You can use a brass rod or copper-pipe shelving and can hang mugs, cooking pans, utensils with the rod.
Your brass rods look classic and unique in the kitchen as you won't have ever seen a rod in everyone's kitchen.
Just think for a while, have you ever seen pans hanging from the ceiling?
No, right!
Everyone Will Notice it
The first thing that anyone will notice in your kitchen is the hanging stuff on the ceiling.
You can put vases and decoration pieces on the shelves.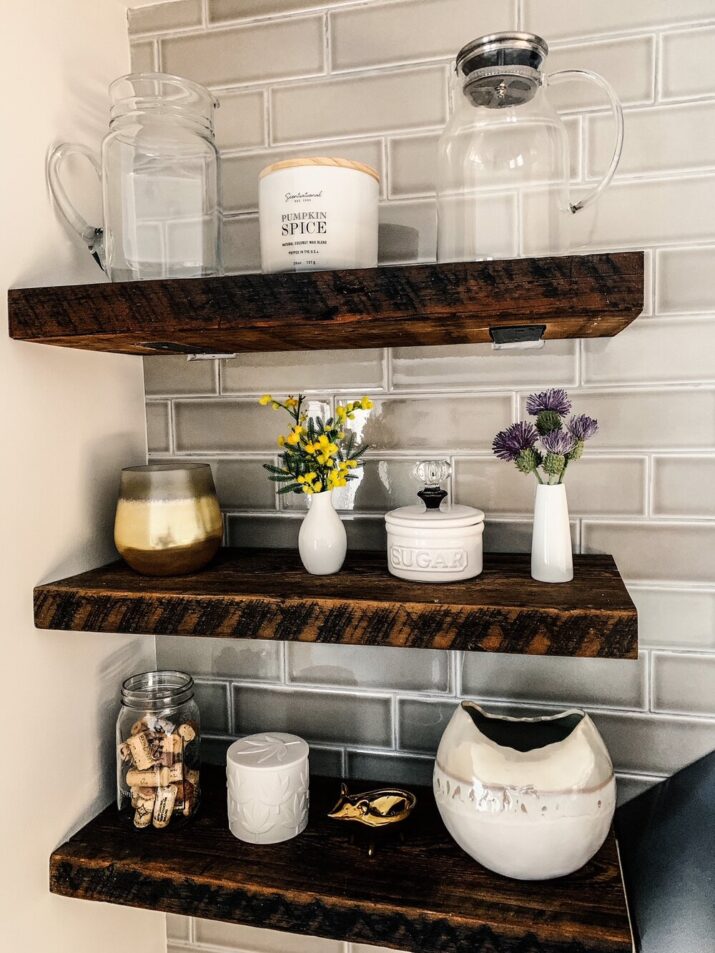 Go For Glass Doors For your Kitchen Entrance
Glass doors make the space look spacious and bigger, and as everything else in your kitchen is perfectly organized, you will not feel uncomfortable if a guest comes into your house and has a tour around.
They will find glass doors fashionable and antique.
Go For Open Shelves and Use Wallpaper for Ceilings
While there are many shelves options that you can go with, open shelves are one of them. You can go for open shelves instead of cabinets for storing utensils, glasses, pans and eating plates.
You can go with wallpapered ceilings, and decorate your kitchen.
Repurpose your old Furniture, Instead of Getting New
Space is the major concern and issue when it comes to storing utensils, plates, dishes, and pans in the kitchen. You can either get a new cupboard made, which we will not recommend to you at all.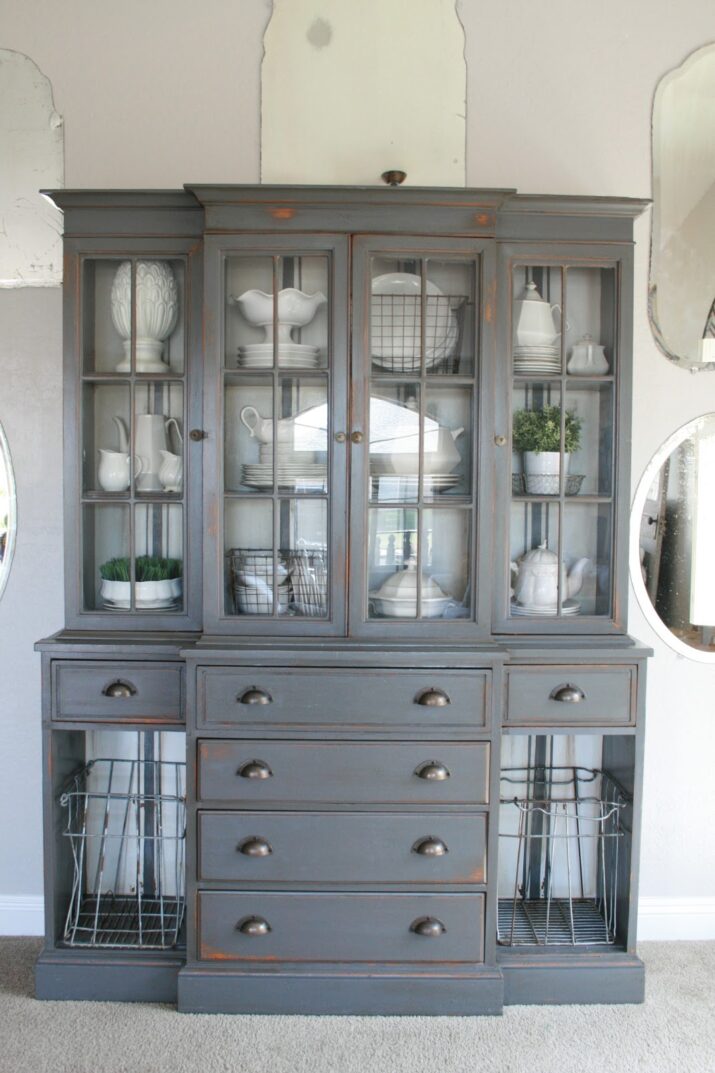 Store Serve-ware in the Old Furniture
Repurposing the old furniture is a good option. When you do not have enough space left, if you have a dresser or armoire, use them to store plates, dishes, and glasses. All the server that is only used for guests or get together, you can place them in the armoire. It will give a classic kitchen vibe to your kitchen.
You can repurpose anything if you think about it.
Create Flow and Aesthetics With Colors
Colors play a huge role in making your kitchen look bigger and more spacious. And choosing the right shades and blends of color is a big deal. Firstly, look at the current color combination that you have painted your kitchen with. Have a closer look, and see whether they make a flow or not.
If they are not making any flow, and you are on a budget as well, just change one wall color and the paint is more matching. For example, if your ceiling and walls are all white, you can leave the ceiling as white and paint two walls of the kitchen light green.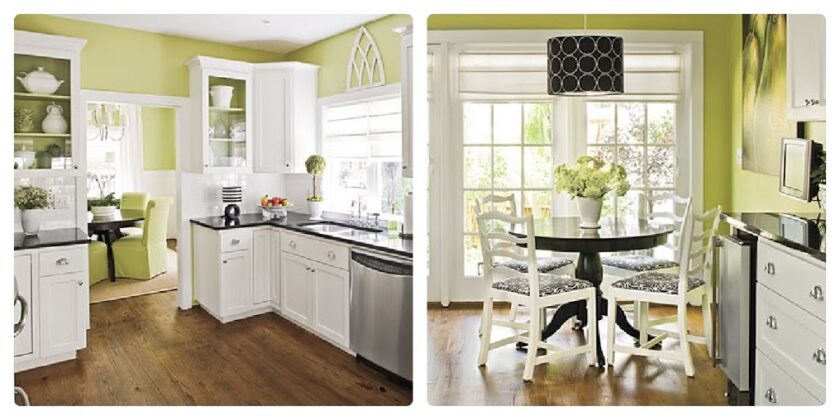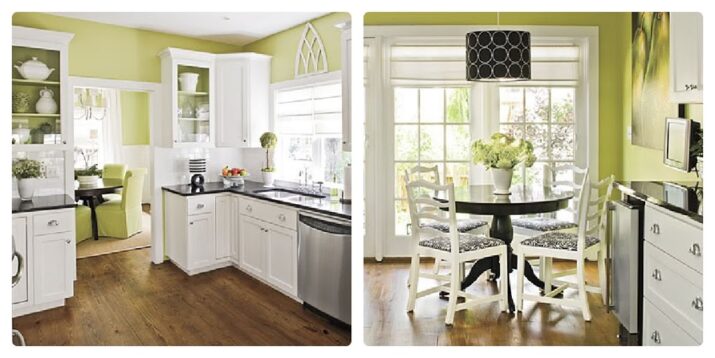 Paint The Ceiling of Your Kitchen
Yes, painting the ceiling always adds a decorative element in your kitchen. You have to blend all the shades to see how they are creating a flow.
Options you can Opt for
There are many options you can opt for such as; changing the color of ceiling, painting each wall with different shades, or matching them with the furniture of the kitchen or dining area.
You can also go with tons of different shades of wallpaper. If you don't like the wallpaper on the entire wall, you can just use it on top of the extra space left in the kitchen.
Just be Creative with Décor
Just be as creative as possible when it comes to decorating the kitchen space.
Make a Colorful Corner in Your Kitchen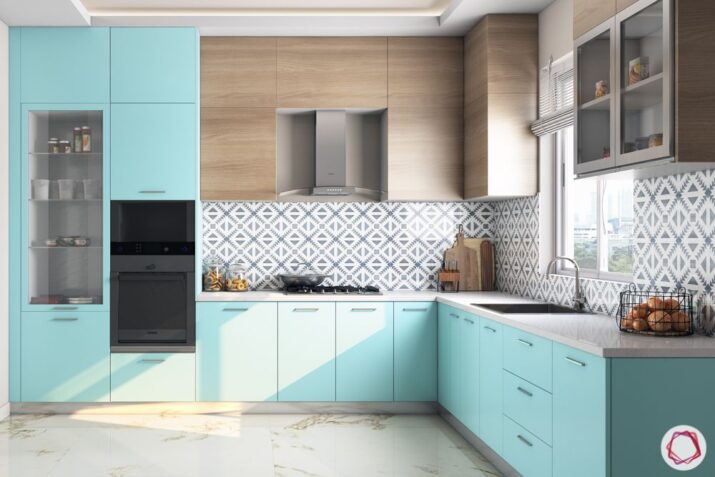 Colorful corners are always attractive, and most catchy to the eyes. The people who are visiting you, or you are having some sort of get-together, your kitchen is the most visited place where people are coming for glasses, and eating stuff.
Having a colorful, different shade corner, where you have some paintings, sketches hanged makes the kitchen more vibrant and unique.
You can choose a corner, that you can decorate with a different color than that of your entire kitchen, and make it look stand out. This tiny corner can be used for eating as well, if you put a table and chairs as well. You can design the corner with your favorite artwork and decorative pieces. You can either get them printed or framed.
How would you like your colorful corner to be like?
Do you have any more ideas to make your kitchen colorful and attractive for anyone walking into your house?
Be a Minimalist But a bit Maximalist When it Comes to the Decor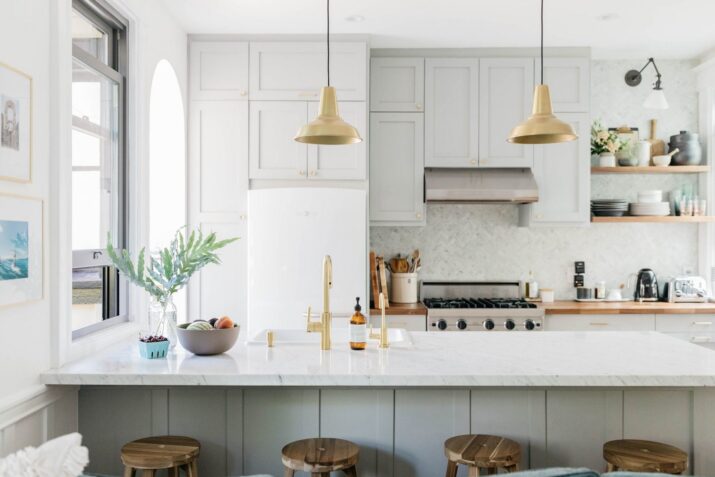 You might be wondering what this sentence means.
When you have a small kitchen, it is very important to be as minimalistic with things as possible as you can be.
You should not be buying an excess number of items and utensils for your kitchen than the required one. More utensils can become difficult to accommodate in such a tiny space, and while you want to make your kitchen spacious, the last thing you want is to hoarder stuff.
But, when it comes to decorating the extra space, be as maximalist as you can be with the décor and designing the kitchen and think of creative ideas for an aesthetic, special look.
Things You Can Decorate Your Kitchen Island with
Floral Designs Paints that an Interior Designer Can Suggest
You can paint your walls with printed sheets and floral designs, as they add a classic vibe to the kitchen. You can paint the entire wall with the same paint and design or you can choose different designs for the wall space. Choosing the right shade, and color, and design is very important when it comes to decorating your tiny space. Just make sure that there is no wall space or empty point left in your kitchen.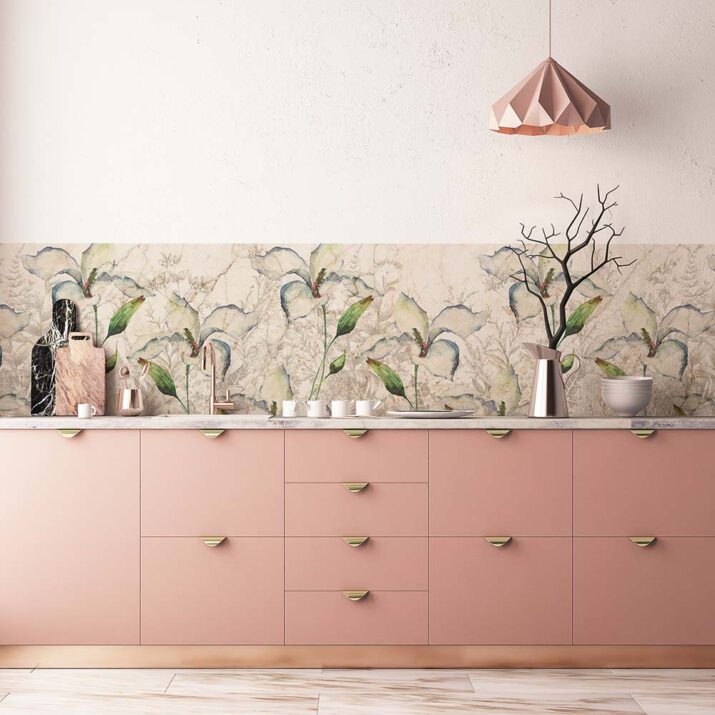 Get a Mirror for a small space and a blank wall
If you do not have many windows in your kitchen, install a  small mirror on the wall of your own style. It can reflect light coming into your open space.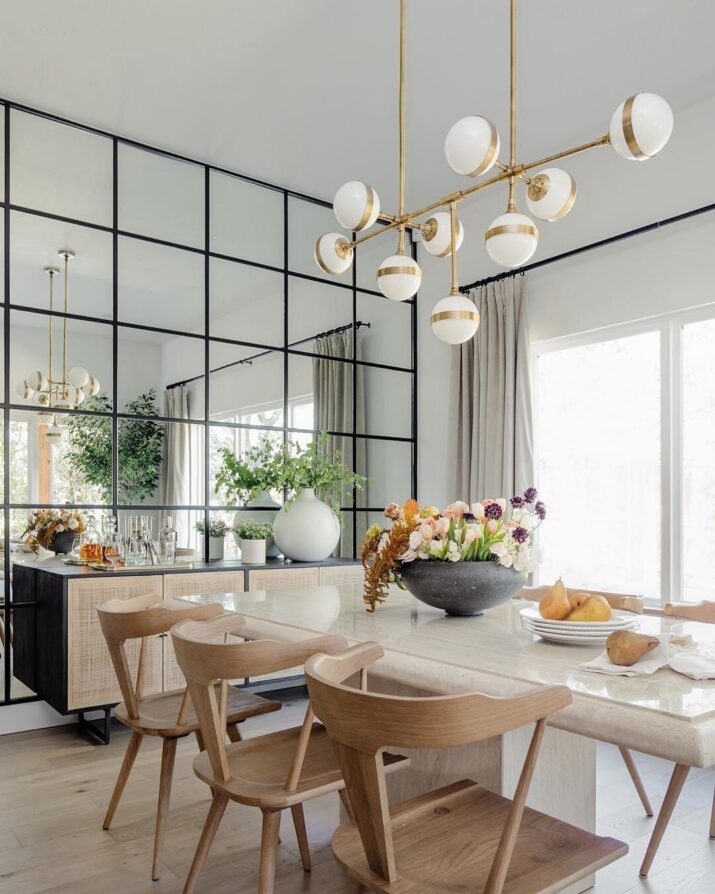 Lamps
Pendant lamps are always a good option for a maximalist look of the kitchen space.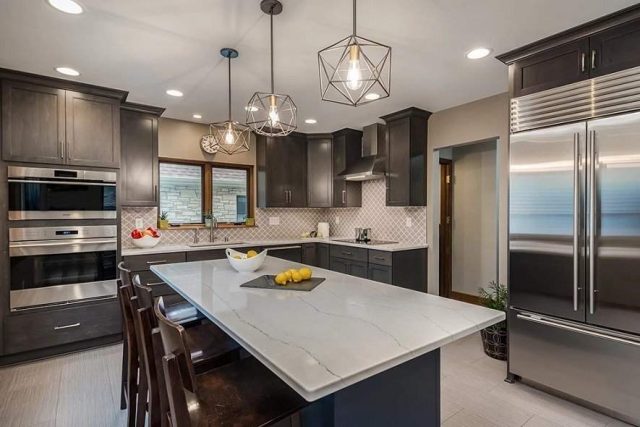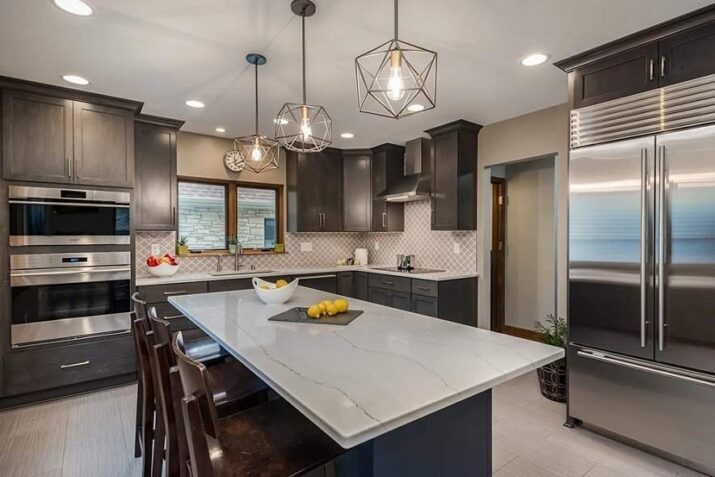 Rugs
Rugs are also a good option for small spaces that you can get for your kitchen.
You can get different sizes of rugs for floor space.
One you can place in front of your stove or kitchen sink space, and one you can put it in any floor space in front of the fridge. You can also choose popping rugs, that can make the color of your kitchen more prominent. If you have dull colors of the walls and surroundings, you can go with bright and vibrant designs and colors of rugs and mats.
Your doormats' and rugs' color must be different and prominent from the color of walls and paint that you have used. This way, they will stand out, and make your kitchen look spacious.
You can shop online or find in the local market for unique rugs and doormats.
You can get one for the counter space as well. Rugs can cover your counter space in the kitchen.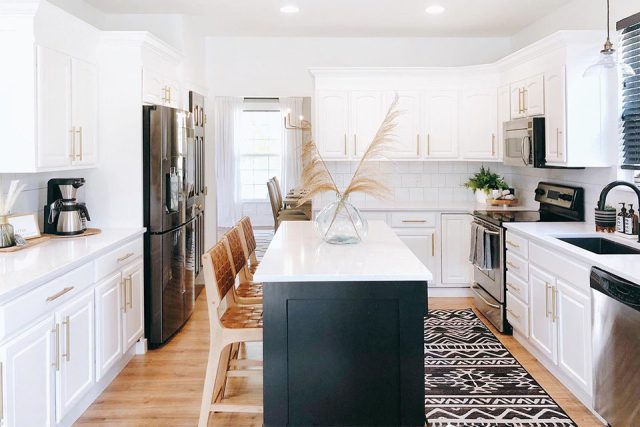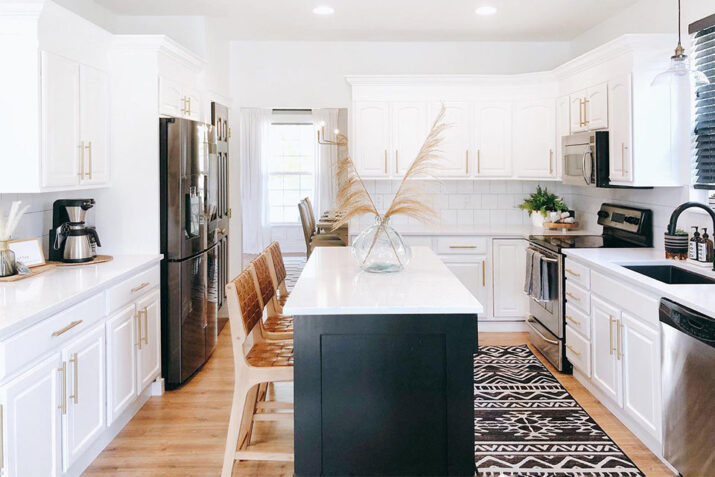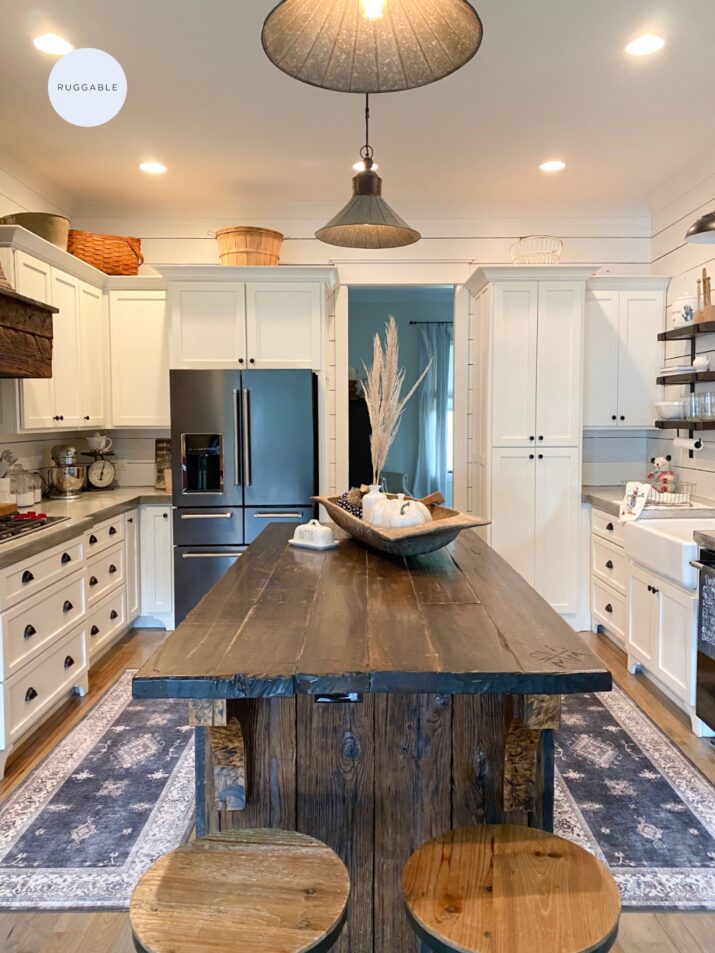 Paintings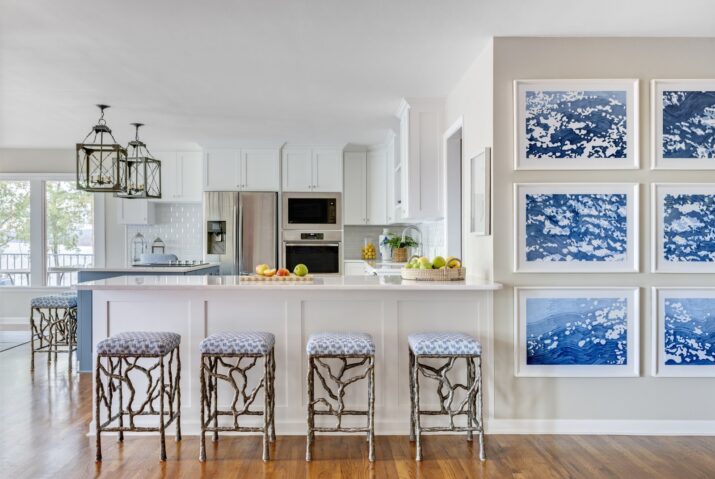 Who doesn't love paintings?
Of course, we all do.
Which is your favorite piece of Art?
You can decorate your kitchen space with any kind of painting you like. If you find any blank wall, put a painting there to call your space a modern kitchen.
It could be something that your child drew, or painted.
It could be abstract art that you painted last year.
Anything possible piece of art that you could think of to use for this small space.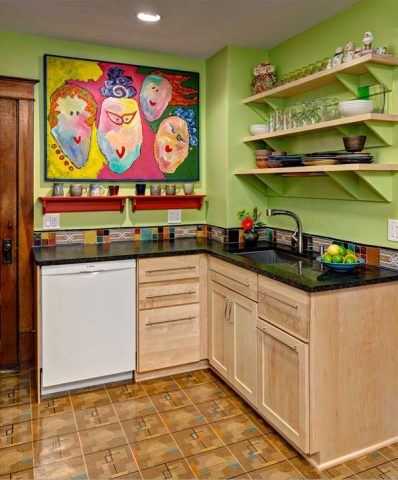 Fill your kitchen space with these things, and make it more cozy and lively.
Create a Tiny Nook For Dining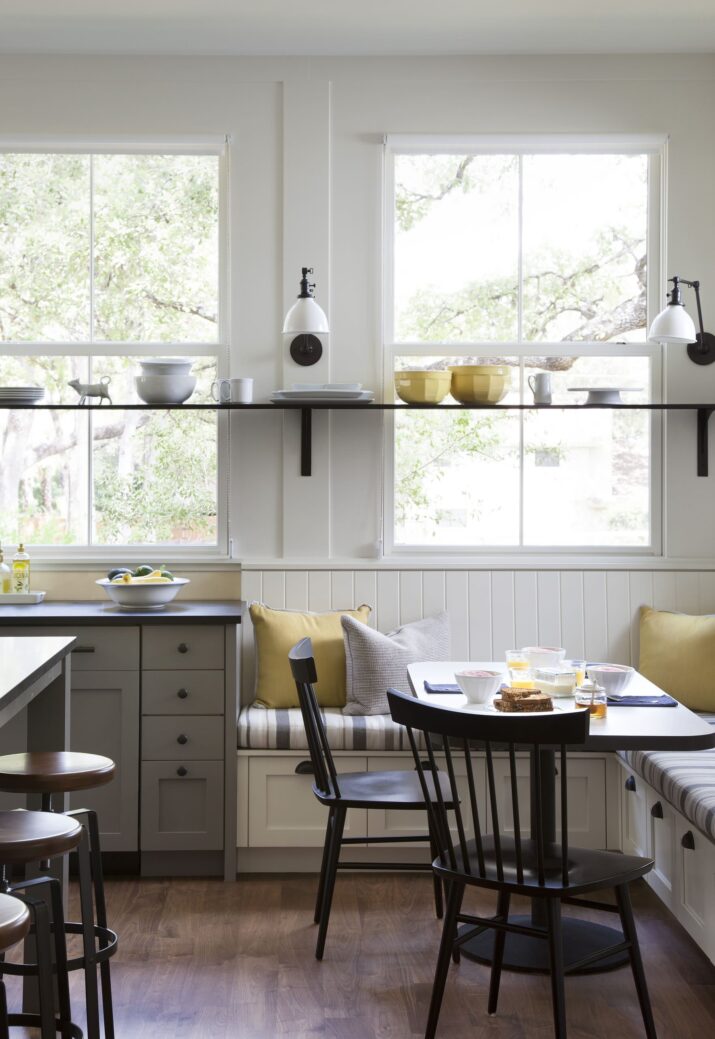 A tiny dining area and nook where you can eat, sit and have a chit-chat with your family, friends are considered a must by most people in the kitchen space.
And if you are one of those people, create a tiny nook for it.
It can be close to the windows, where you can easily get a sneak peek of the outside world.
You can look into your garden as well and get the natural light. Well, forget about it, if you have one wall kitchen.
Place Table
You can place a table and a comfortable six-seat sofa in that space.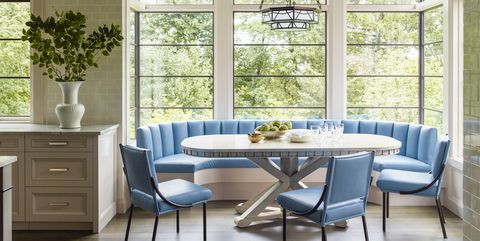 No Chairs
For a tiny nook, chairs are not recommended as they take up a huge space.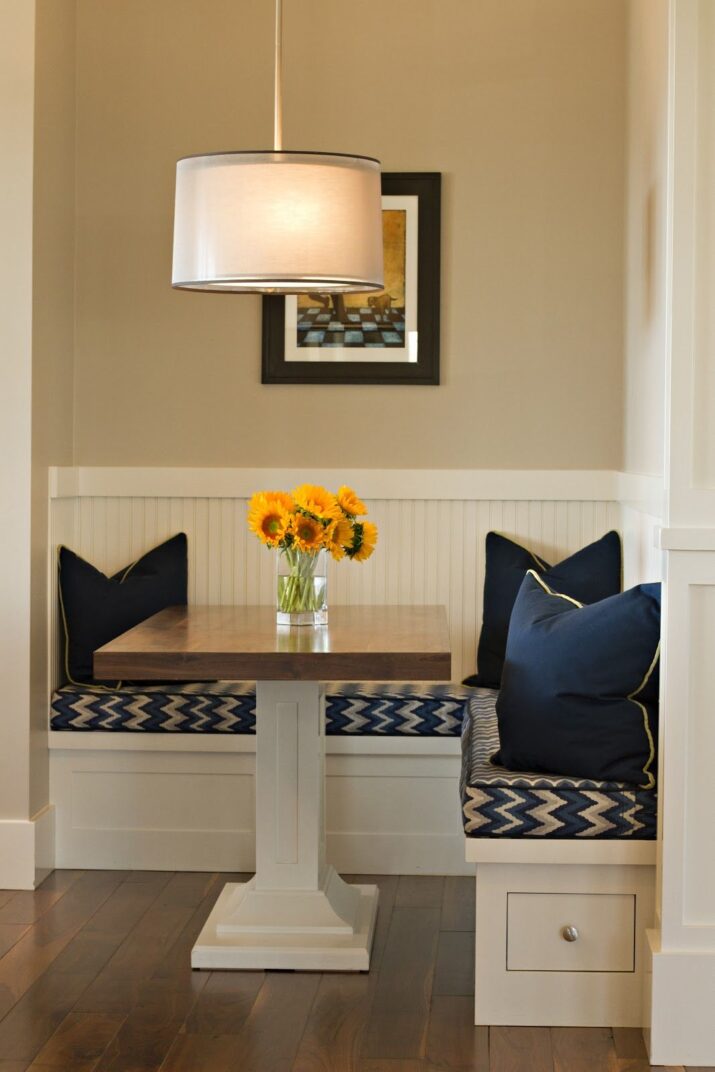 Other Decorative Options
We have just covered 5 small kitchen decorating ideas for you in detail.
However, there are numerous ideas, tips, and tricks for the decor of a tiny kitchen space.
Read along.
Such as;
Rolling out vibrant rugs in the middle of the kitchen space.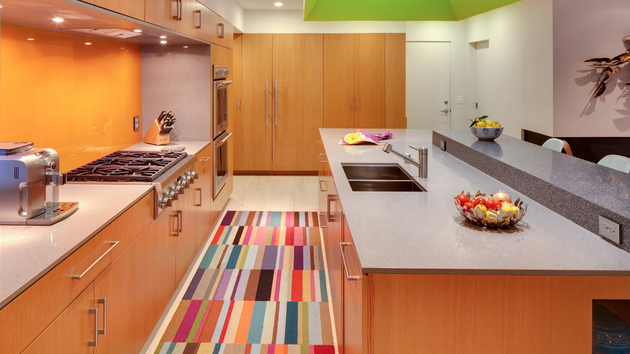 Storing ingredients and spices in matching jars.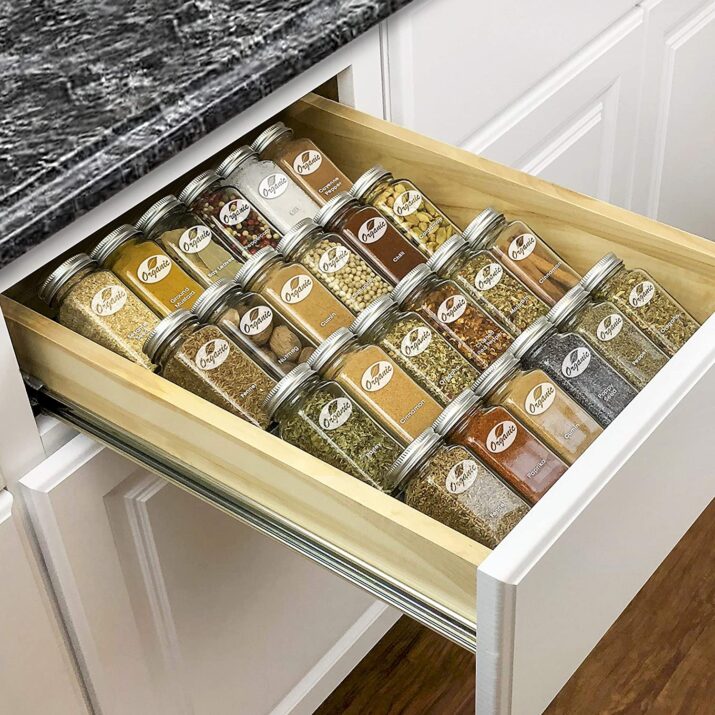 Ranging Wire racks for more space in the kitchen.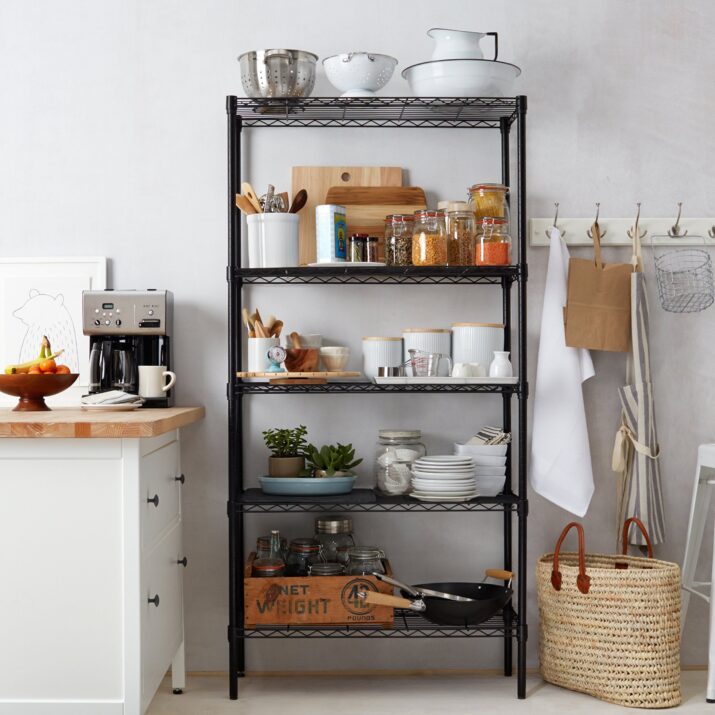 Get glass cupboards to showcase beautiful pots, and dishes.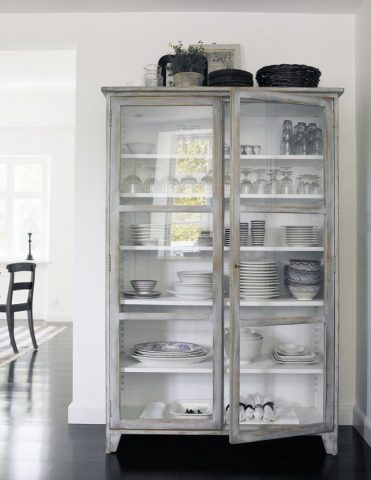 Paint cupboards to level up the vibe of your tiny space. You can also use white cabinets.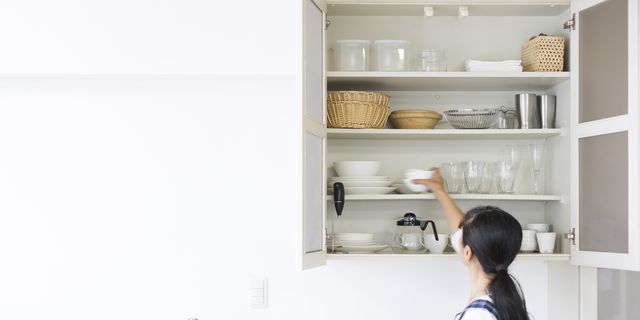 You can install pendant lights the same as you have bought for your living space.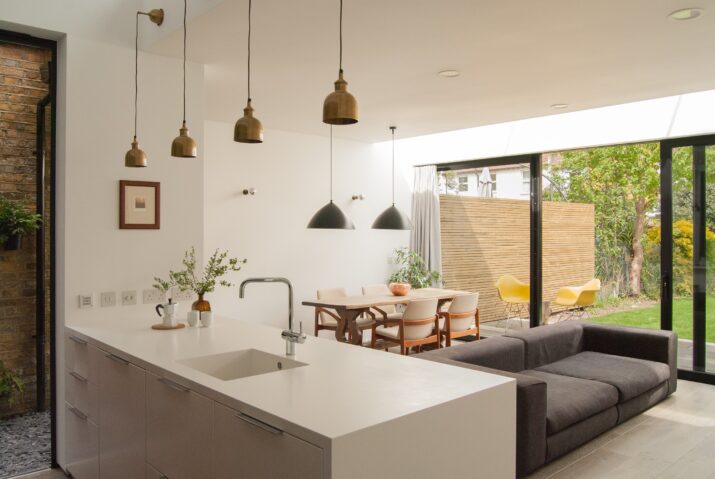 There are some more ideas for the kitchen island.
You can use them while setting your kitchen.
Plenty of other options are easily available on the internet.
Browse them for a perfect kitchen look!
Conclusion
The kitchen is an integral part of any home. When you have a large kitchen, you can do anything with the space.
But when it comes to a tiny space, one has to think a lot to decorate it.
However, you can decorate, and paint your small kitchen the way you want. You just have to be vigilant of certain things so that they do not take all the vibe of the kitchen. You will get a lot of DIYs ideas, unique and creative styles, and designs for your kitchen if you start looking up.
You can ask your partner or family members, how they would like the kitchen to be. That will also be helpful.
FAQs
We are answering some of the questions that might pop into your head while reading this piece of write-up.
Q1. What is the size of a small kitchen?
If the size of your kitchen space is less than 70 square feet, then it is a small kitchen.
A small and tiny kitchen is less than 70 square feet, and a kitchen bigger than this is called a big kitchen.
Q2. What is the size of a regular kitchen?
The size of a regular kitchen is somewhat greater than 100 square feet.
Q3. What are the advantages of having a small kitchen?
There are many pros of having a small kitchen.
You have to clean less space, and it will take you less time to clean it, thus saving your time.
As you have limited utensils in a small kitchen, you do not have to wash a lot of pans and dishes. You can save money on buying utensils.
Q4. How much will be spent on decorating a small kitchen?
Decorating a small kitchen does not cost a hell of money. You just have to be quite creative with your ideas and be specific about the things you want for your kitchen.
For example, DIYs are cheap, thus saving you bucks. You will get a lot of DIYs ideas once you start looking up them on the internet. YouTube is full of splendid, easy DIYs ideas where people decorate their entire house, and you can see some for your kitchen.
If you are on a budget, decorating a small kitchen can cost you even less than $150 depending on the stuff you want to buy.
We have compiled some of the best decorating ideas for small kitchens. So, if you are planning to decorate or renovate your small kitchen and make it look more classic, unique, and spacious, you must be following these tips and tricks. Hope these small kitchen decorating ideas and tricks will be helpful to you in the future.
Like this Article? Subscribe to Our Feed!