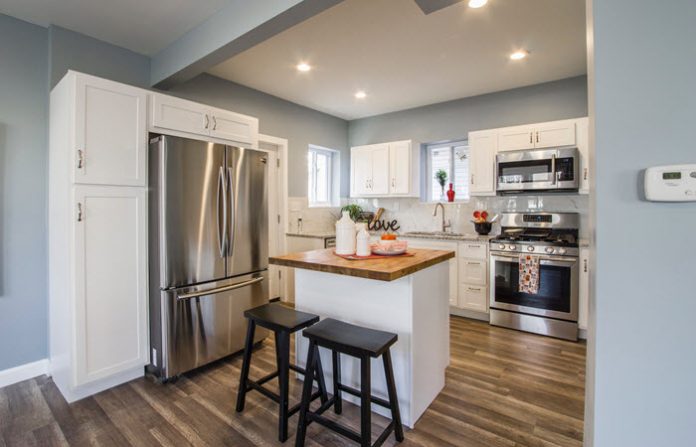 I remember someone saying, "Home is where the heart is, and mine is always in the kitchen."
I agree with this statement.
The kitchen is not only a place to eat and dine, but it is much more than that. We spend so much of our time in the kitchen — be it preparing brunches on a weekend or hosting a Thanksgiving dinner.
Shouldn't we take some time out to make our kitchen look more lively and vibrant?
Even if you have a small kitchen, that's still possible. Below is a quick guide on decorating small kitchens.
1
Select a color for the kitchen that gives it a good vibe
If you are giving your kitchen a makeover, then go for a color that gives your kitchen a nice change.
People generally like to go for all white and sleek kitchen which is an excellent idea. It'll allow you to add colorful elements and make it look great.
If you are not fond of white, then you can go for grey, beige or even a combination of light green and white. It'll give a nice touch to your kitchen.
2
Add some fun elements in your kitchen
If you feel that your kitchen looks quite simple, then you can add a vase with artificial flowers or even real ones. You can also select a horizontal cabinet to display your beautiful crockery sets.
Add some lamps and colorful posters to make it look interesting. I am a fridge magnet hoarder and love to decorate my fridge with them. You can also select beautiful trays to keep some bottles on the counter, such as for ketchup and mayo.
Invest in little, colorful things that occupy less space but add color to the kitchen.
3
Declutter by organizing shelves and cabinets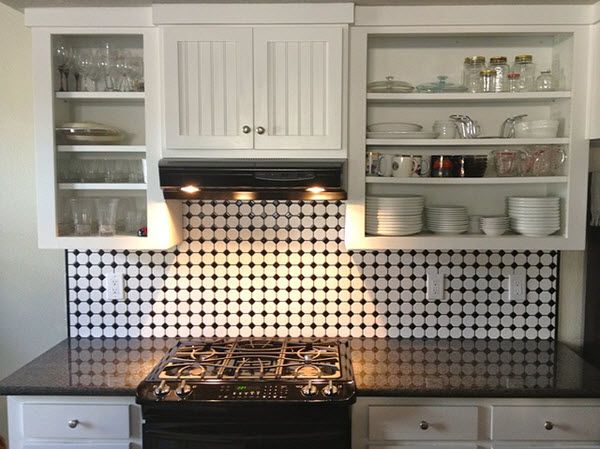 You can make your kitchen area look clean by organizing everything in cabinets and shelves.
Go for open wooden shelves to keep the things that you use most often in cute and small bottles. Other than shelves, you can also search for open vertical cabinets on an unused wall to arrange some crockeries.
If you are struggling with space, then you can get hooks fixed at the sides of the cabinets and hang the pans on it.
4
Go for pieces of furniture with multiple uses
When you are selecting furniture or decor items for your kitchen, make sure that it is foldable so that it doesn't occupy much space in the kitchen.
For example, you can get a foldable serving table. You can use it for serving as well as for keeping things on it while cooking. When not in use, you can just fold it.
Also if you are going for benches in the sitting area, see to it that the benches have drawers to store some of your cutlery and other kitchen stuff. Invest in multi-purpose pieces more.
5
Make your sitting area look minimal yet pretty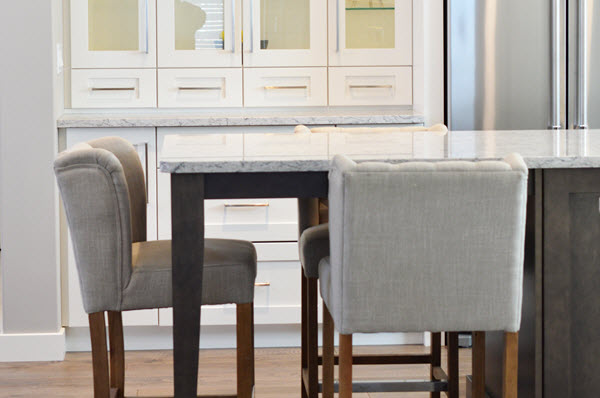 For maximizing space in the kitchen, select a sitting area that doesn't take up much space. You can also go for foldable dining tables so that it can be used for serving more people for gatherings.
You can also go for breakfast bars to reduce space. Add some chairs around the serving bar to make it a sitting area in the kitchen.
See Also: 7 Efficient Ways to Make Your Kitchen Child-Friendly
Some quick tips
You can display your chopping boards and create more space by keeping a stand for knives on the corner of the center platform.
You can display your pots and utensils using a rustic wood with a hook on the ceiling if you want to have some space in the cabinet for storing other tools.
Make use of every corner and try to keep it minimal.
You can also go for extra shelves under the serving table to keep the most used dinner sets. Aside from space, it'll save you time during table preparation as well.
See Also: 10 Awesome Kitchen Safety Tips for Seniors
I hope this article will help you in decorating small kitchens and making the area look more lively and functional.
Author Bio: Hi I am Priyanka Ramrakhiani, I am a science enthusiast and love to write articles related to science, art, decor, woodworking, plants, environment and dogs. I analyse every aspect for the content to give my readers the complete information. If not writing you will see me sipping my coffee and reading a book in the corner!
Like this Article? Subscribe to Our Feed!