Kitchen Organizing Tips: 9 Incredibly Smart Ways to Organize Your Kitchen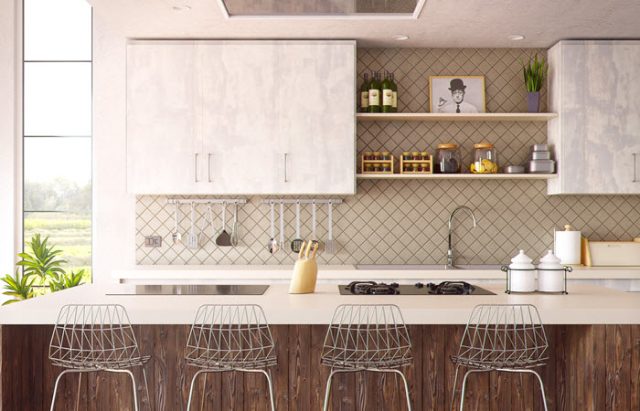 Space-saving kitchen organizing tips are helpful in creating space where you can cook, wash, and complete your other tasks in the kitchen easier and faster. Below are some of the best tips you can try today.
Use Your Space Above the Window
If the distance between the kitchen windows and the ceiling above them is large enough for extra storage, you can create a shelf and store things there. Use the space to keep things you don't use that often, such as cake or fruit platters and vases.
To make a shelf organically fit into the window frame or the kitchen design, paint it the same color and observe proportions towards the size of the window opening.
Let the Shelves Float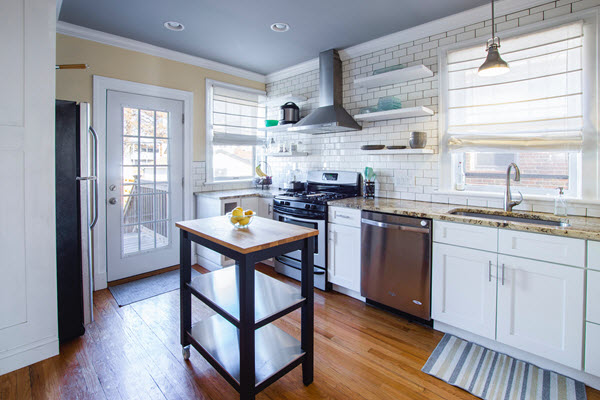 If there's not enough space to create storage above the window, give attention to the free spot on both sides of the window. Remodel and install some floating shelves there. Don't worry if space is too narrow for storage because you can attach several shelves, placing them one above the other.
Their total number can reach up to 6 or 8. You can even have 10 if the window is long and the ceiling of your kitchen is high.
Attach a Pot Rack
The space above the cooker could be a problem for storage because it's hard to hang some shelves or a cupboard there without blocking access to a stove hood. However, you can create sufficient space by installing a pot rock. You can place pans, ladles, and other kitchen utensils you often need for cooking.
Make a Grid of Woven Boxes
Some people think that extra storage and other functionality can compromise style.
If you're sure that too many drawers will make the kitchen look like a tipped-over hamper, take into consideration woven storage baskets with/without lids. You can place them on open shelves.
Modern-looking models can be easily bought from stores or created based on what you want. Don't forget to attach tags or stickers to remember where anything is.
Hang Cups
While building shelves above the tabletop in order to get extra storage, fit that space with a steel or copper crossbar to hang cups and mugs. It can also be furnished along the walls under the cupboards. It's one of the most straightforward and cheap storage tips you can use.
Besides, it's a good storage idea for drying the cups after they've been washed. If the metal or copper color of the pipe disrupts the harmony of the kitchen interior, paint the crossbar with your preferred color.
Get a Classic Etagère
When you need good storage spaces, think of an étagère. It can be designed as a factory or a handmade piece of furniture either from steel or wood. Its height will depend on the distance between the floor/tabletop and the ceiling. You can use it as both food and dishes storage.
Use Swing Stools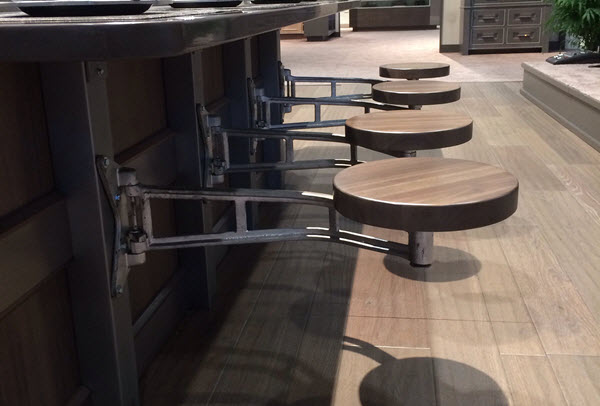 Swing stools are a valuable kitchen storage idea since it helps save space efficiently. Their seat can be made of different materials according to your preferences.
For example, wood is versatile and fits both vintage and high-tech interiors. This material is usually furnished under the kitchen table. You can make them disappear when not in use. High-quality steel attachments allow the stool to slide easily.
Make Inner Racks
The inner surface of your cupboard often remains neglected. However, it is a great kitchen storage idea if you want to save space or hide such dangerous tools, like knives from children.
Get a Drop-Down Tray for Mobile Devices
This tray is a great storage idea since it allows you to keep a tablet, smartphone or even a laptop nearby. Its mechanism is straightforward but if you don't know much about carpentry, you can order it without hurting your wallet.
These kitchen organizing tips can help save space in your kitchen. They can help make cooking faster and you won't have to waste time looking for things you need. Besides, they let you hide expensive, dangerous, and fragile things so they're not accessible to pets and kids.
See Also: 7 Efficient Ways to Make Your Kitchen Child-Friendly
Like this Article? Subscribe to Our Feed!
Sonya Moore is a blogger, photographer and writer at My Kitchen Advisor . Lover of traveling, fashion and cooking. She wants to inspire readers to discover the world and live life to the fullest.