Cobra Trading Review: The Most Important Feedback [2023]!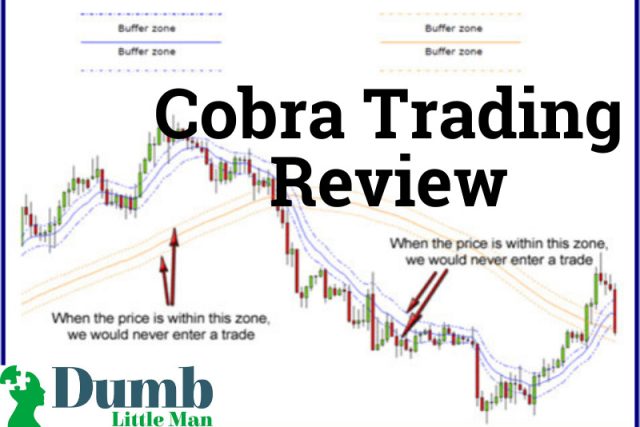 If you're scanning for a premium trading platform for expert traders then you need to get a Cobra Trading account.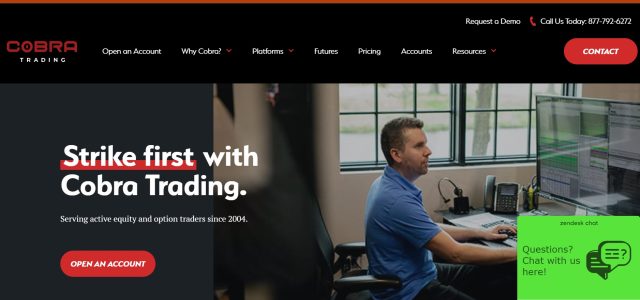 Cobra Trading platform offers services as a direct access broker for investors trading in the stocks and options market and uses Interactive Brokers and Wedbush Securities as their clearing firms.
Trading CFDs, Cryptos, and Forex is not part of the offering as they only provide direct access to stocks and options, and the minimum deposit for a trader is $30,000.
This is a detailed Cobra Trading review of what it Offers, its fees, and other important aspects of the platform.
Cobra Trading Review: A Deep Review
This direct market access broker provides powerful and flexible tools and trading programs for investors with best options whose trading fees are priced at a minimum of $1.
2013 is the year of establishment and Cobra Trading offers personalized service to all its Active traders.
Chad Hessing the CEO of Cobra Trading says that their objective is to give traders the best level of systems, trade support, and service at a fair rate.
| RECOMMENDED TRADING COURSE | REVIEW | VISIT |
| --- | --- | --- |
| | #1 Forex, Crypto and Stocks trading course. Ranked most comprehensive by Investopedia and Best by Benzinga. Free to Try! | |
Cobra Trading Review: How is it Regulated
This platform is an associate of the (SIPC) Securities Investor Protection Corporation, Financial Industry Regulatory Authority (FINRA), and (NFA) National Futures Association in the US.
FINRA allows firms and investors to confidently engage in the financial markets by safeguarding their integrity.
The National Futures Association regulates the derivatives industry in the US including off-exchange foreign currency, OTC derivatives, and on exchange futures trading.
SIPC is a protection scheme for investors established to protect them from the depletion of securities or cash when an online stockbroker fails to meet its obligations.
SIPC aggregate loss limit is pegged at $500,000 and a cash limit of $250,000. Most active traders open their accounts at Cobra Trading through Wed bush Securities.
Wedbush Securities provides more coverage besides that provided by SIPC for cash balances and securities all the way to $25,000,000 with a $100,000,000 gross loss limit.
This bond is covering up to $900,000 cash credit for cash credit balances totaling $1,150,000. You will not be provided with any extra coverage for a financial loss.
CLICK HERE TO READ MORE ABOUT COBRA TRADING
Cobra Trading Review: Trading Platforms
Sterling TraderPro
Sterling Trader Pro is a direct access broker for options and equities trading providing traders with advanced trading services.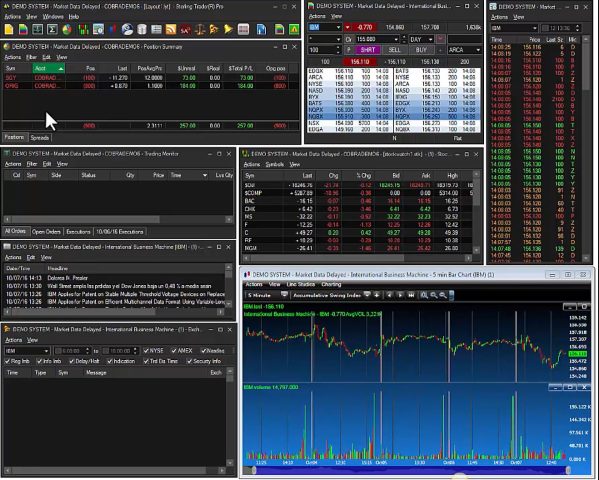 Among the features at Sterling Trader pro include basket trading, portfolio management, hot keys, level 2 market data, high-level charting tools, watchlists, news, and custom alerts.
CLICK HERE TO READ MORE ABOUT STERLING TRADERPRO
Cobra TraderPro
This trading program has been equipped with advanced charting tools for non-professional and non-entity users as well as other customizable features.
This brokerage firm is hinged to the Sterling Trader framework and among other features, it includes the short locate monitor, custom alerts, hot keys, stop orders, basket trading, watchlist, and level 2 real-time market data.
CLICK HERE TO READ MORE ABOUT COBRA TRADER PRO
Das Trader Pro
Das Trader is a multi-instrument trading platform for options and equities offering direct order flow and advanced charting besides more than thirty technical studies, multiple stop types, hot keys, a market scanner, multi-account management, and news.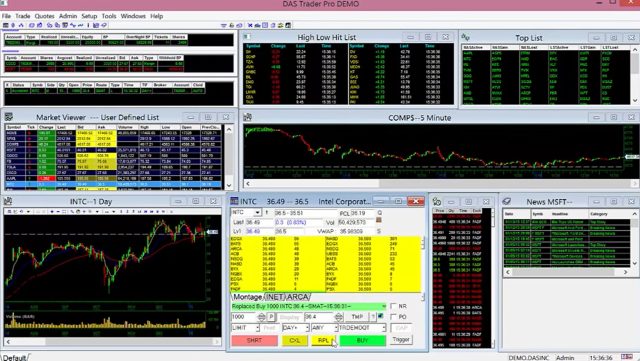 RealTick
Realtick is an award-winning platform and has powerful research capabilities, sophisticated data centers, multi-account management, and real-time analytics for global data.
The pro version is built-in with all the whistles and bells and is more streamlined. The pro version becomes free when you trade up to 500,000 shares but the prices are not inclusive of the routing charges and market data.
Markets
Active traders are given the opportunity to trade options and equities through direct access to the order flow handling venues for the stock exchange.
Venom trading allows investors o trade a wide variety of instruments such as ETFs, bonds, US stocks, futures, forex, and options.
Cobra Trading Review: Commissions
This Cobra Trading program offers tiered pricing on individual contracts, broker-assisted trades, and shares for options and equities.
All trades at Cobra Trading are subject to regulatory fees, ECN rebates/charges, and a $1 commission.
Equities/share
The rate of $0.004 applies for trades less than 250K shares.
$0.0035 is the rate for traded shares between 250K to 1M each month
The trader who trades between 1M to 2M shares in a month pays $0.03 for every share.
The rate of $0.002 applies for 2M to 10M trade shares in the month
Options/contract
The rate of $.50 is charged by Cobra Trading for less than 2,000 contracts in a month
Between 2,001 and 10,000 traded contracts in a month, you are charged $0.04.
$.30 is the price charged for 10,000 contracts and above
Software Fees
Software fees for Cobra Trader Pro, Das Trader Pro as well as Sterling Trader Pro are between $100 and $200 all with a waiver if you meet the minimum requirement of shares traded in a month.
Cobra TraderPro is charged at $100 but can be waived when a trading investor trades at least 200,000 shares in a month
Sterling Trader Pro is charged at $200/$230 with options and is also waivable if you traded at least 300,000 shares in a month
DAS Trader Pro is charged at $125 but is waivable if you traded at least 250,000 shares in a month
Cobra Trading also charges monthly data packages to non-pro traders at $25 and to pro traders at $79 with the option to have extra data packages from $12.
Cobra Trading also charges routing fees on every platform which varies depending on the stock exchange. You can find this and other account and cobra trading broker fees on their website.

Leverage for Cobra Trading
Cobra Trading's day trading retail leverage stands at 1:4 while overnight trading is 1:2. Buying power is limited to the available cash for those dealing in an IRA or cash account.
Mobile Trading
Trading via mobile is available through the use of iDAS which is energized via DAS Trader Pro at an additional monthly cost of $30.
The venom trading division also has an exclusive application for mobile that allows investors to trade options, futures, and stocks through streaming real-time charts and quotes.
Investors get to have full-day trading account management access, and set price alerts on both Android and iOS devices.
Payments
The options for funding at Cobra Trading include bank transfer through an ACH, cheque, or wire transfer through the clearing firm.
A trader can also do an account transfer from another account by reaching out to customer care and getting the account transfer form.
Wire deposits attract a fee of $20 on withdrawals and deposits while outgoing international wire transfers attract a $25 fee.
Trial Account
Day Traders who need a demo account can always contact customer support to help set it up to test drive it before initiating a live account.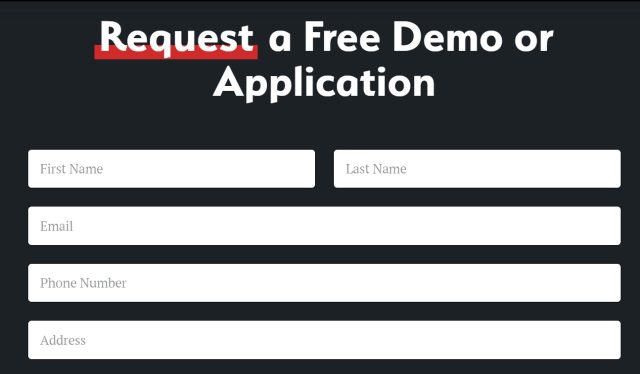 Cobra Trading Account Types
Subject to the online trading needs you have, you can choose from various day trading accounts. Standard accounts provided by other online brokers in the US include the following;
LLC accounts
Joint accounts
Partnership accounts
Individual accounts
Corporate accounts
Margin accounts (1:2 overnight trading and 1:4 day trading)
Retirement accounts
Trust accounts
Account minimum deposits for opening a day trading account are as shown below;
US Citizens
$30,000 for account opening
$25,000 account minimum balance
Non-US Citizens
$50,000 for account opening
$25,000 least account balance
As earlier indicated in this Cobra Trading review, people trading in IRA or cash accounts are confined to the available cash in their accounts.
A retail margin account buying power is four times the available cash in your account for day trading and 2 times for overnight trades.
Account Opening
To begin the account opening process, click on the "open account" tab on Cobra Trading official site.
You will then receive an email with an account opening packet.
You will also need to provide identification documents and your address before verification is done by the accounts team.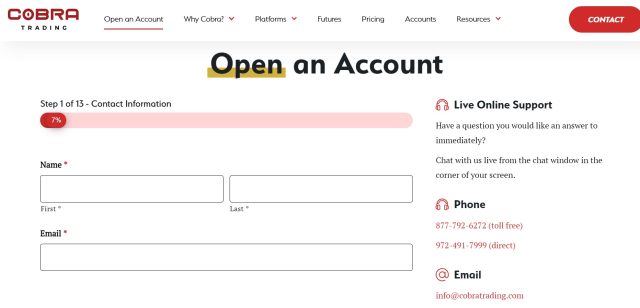 Pros and Cons of Cobra Trading
Pros
Live chat support
Multiple Short locate Sources
APIs
SIPC compensation
Multiple trading platforms
Accepts investors from UK and US
Cons
There are no meta trader platforms
High account minimum deposits
Pattern day trading restrictions
Several commissions and fees
Customer Support
The customer support at Cobra Trading has committed itself to offer premium personalized services to all its clients irrespective of their trading experience.
They offer support from 7 AM to 4:30 PM every Monday – Friday. The support crew can be contacted via email, online chat, or telephone.
Trading Hours
As we review Cobra Trading, it's vital that you know the hours of trading. Cobra Trading offers both pre and post-market trading to all its customers.
The trading hours are (by request) 4:00 EST – 20:00 however session times can differ.
Security
Advanced trading platforms typically apply industry-recommended security measures such as login codes and SSL encryption.
Cobra Trading security features are not well known so ensure you contact the agent for clarification.
Countries in Operation
Cobra Trading currently accepts investors from Australia, United States, and the United Kingdom.
Cobra Trading Alternatives
As we review Cobra Trading, it's good that we mention similar direct access trading platforms.
Trade Nation
If you are interested in trading CFDs and FX then the Trade Nation platform is a good option with multiple jurisdictions including Australia and UK. They have zero minimum deposit and claim tight spreads.
Forex.com
Reputed globally, Forex.com is regulated within the US, UK, Canada, and the EU. Other than forex they also offer a broad array of markets including margin trading with tight spreads within a superior platform. The platform is excellent for high-volume traders.
Just2Trade
This is an excellent online trading program for day traders offering high-tech options trading and stock trading with advanced analytics.
IronFX
This is an excellent platform to trade stocks as well as trading equities. You can also trade futures and is good for high-volume traders at a very competitive price.
Which is the Cobra Trading clearing firm?
Most option traders open their accounts via Wedbush Securities but venom has an additional clearing via Interactive Brokers.
Which deposit methods does Cobra Trading use?
Cobra Trading offers deposits to be made through cheque or wire transfer and you can as well transfer your account from a different firm.
Is there a free demo account at Cobra Trading?
Yes, you only need to fill a request form on their website to get a demo account. It is sound investment advice to use the demo account before going live.
| RECOMMENDED TRADING COURSE | REVIEW | VISIT |
| --- | --- | --- |
| | #1 Forex, Crypto and Stocks trading course. Ranked most comprehensive by Investopedia and Best by Benzinga. Free to Try! | |
Conclusion
Now that we have covered the important areas in this Cobra Trading Review, it is no doubt that it is among the best trading platforms in the market.
Cobra Trading offers established and regulated services for active and experienced traders who need excellent trading and portfolio management software.
Cobra Trading charges however are on the higher side and frequent traders need to have a minimum deposit of $30,000.
CLICK HERE TO GET COBRA TRADING AT A DISCOUNTED PRICE
Like this Article? Subscribe to Our Feed!
Passionate in tech, software and gadgets. I enjoy reviewing and comparing products & services, uncovering new trends and digging up little known products that deserve an audience.