Busuu Review: It Can Be A Good Choice [2023]!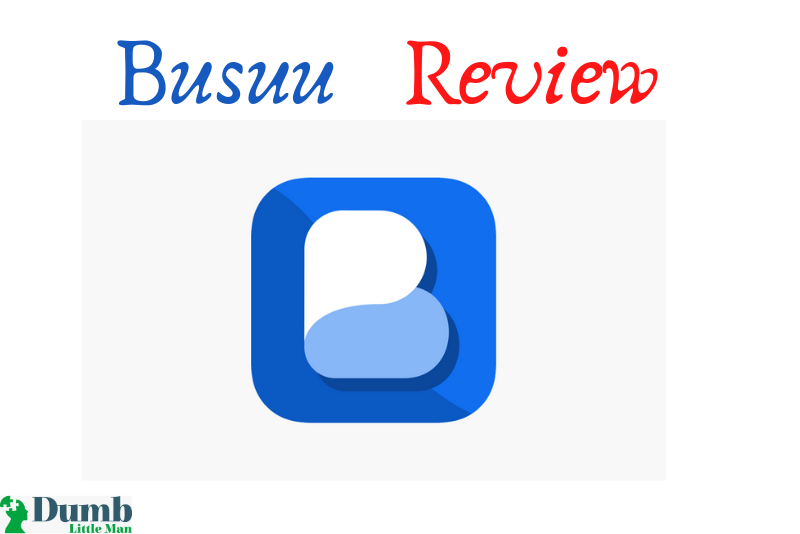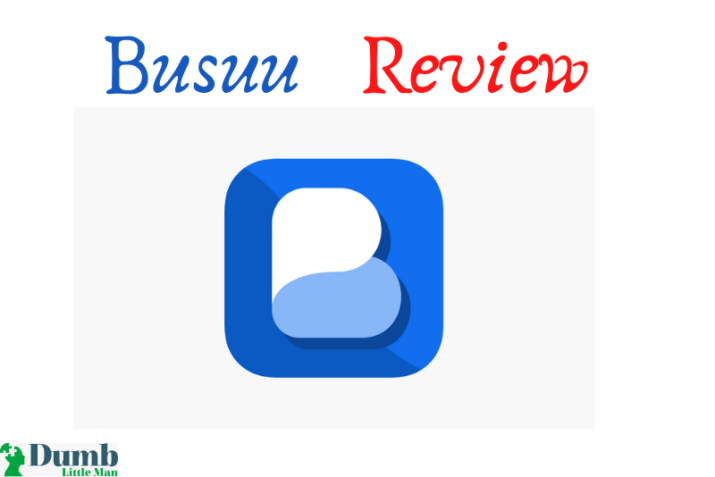 With a plethora of free language learning apps available, it can be very difficult for learners to choose a particular course. For those who aim to significantly improve their language skills, then the Busuu app might just be a suitable option.
On the other hand, the Busuu app is accompanied by a few disadvantages. Each person is also likely to have their own learning style and may benefit from other methodologies when it comes to language learning.
In this detailed Busuu review, our team will analyse all aspects of the Busuu language learning program. This includes their grammar lessons, writing exercises, ability to enhance the language learning process, and give their students both the confidence and ability to speak naturally with native speakers in a particular language.
For those who may find the Busuu app to be less appealing, we have also included alternative language courses that are well-established and highly regarded by language learners.
Busuu Review
Summary
Fluency in a foreign language can hold many advantages in the long term. Whilst learning can be difficult and time-consuming, these advantages are the reasons why there is an overwhelming amount of language apps in the market.
Amongst those free language learning courses, Busuu is considered to be quite effective in their process for helping learners speak fluently. Busuu has over 100 million users from all over the world and it has become more prominent in language learning communities.
Busuu offers both free and paid materials. It also gives users the ability to practice what they've learnt through a series of exercises and a feedback feature that encourages communication amongst language learners worldwide.
What I Like
Busuu has the option of skipping lessons entirely and allowing users to choose which topic or category they want to complete. Although this may seem slightly unstructured, the flexibility has been known to be advantageous for many users.
Their introduction to basic phrases and words is clear, direct, and very easy to understand.
The beginner lessons are well-paced and the inclusion of 'tips' means that you can learn about the cultural aspects of the countries associated with your chosen language.
Users are encouraged to fully complete lessons once they've started. Closing a session can cause all of your progress to be deleted. This makes it feel more motivating to power through each lesson and accumulate a library of complex vocabulary.
What I don't like
As a language learning app, it is important to be able to offer many languages. Although there are 12 languages covered, certain apps such as Duolingo have a larger array of courses available.
Grammar isn't as thoroughly covered and this is especially true for the free course. Grammar is only covered in detail through the paid version of the Busuu app.
CLICK HERE TO READ MORE ABOUT BUSUU
Languages covered
At the time of writing, there are 12 popular languages covered by the Busuu app:
1. Spanish
2. French
3. German
4. Italian
5. Portuguese
6. English
7. Japanese
8. Russian
9. Chinese
10. Arabic
11. Turkish
12. Polish
Pricing
Note: The following options are for a 12-month subscription. There are also options for 1 month and 24 months. The paid versions for 24 months are both billed every 2 years.
All billable options are priced annually:
12 months Busuu Basic – Free version
12 months Busuu Premium – €5,83 / month
12 months Busuu Premium Plus – €6,66 / month
CLICK HERE TO READ MORE ABOUT BUSUU
What is the Busuu app?
In this Busuu review, we'll first be covering the app as a whole. When it comes to learning a new language, Busuu encourages active participation in each language lesson for each language course. The Busuu app comes in a free version and a Busuu premium (plus) version.
With a free Busuu account, you can utilise the Busuu free trial and gain access to one language course that involves notes, vocabulary lessons, and audio by native speakers.
The Busuu premium plus subscription gives you access to advanced grammar lessons, the option to gain official language certificates, and the option to learn more than one language.
All courses under Busuu were created using the Common European Framework of Reference (CEFR) for languages. This is a well-established standard for teaching languages and uses a six-step scale for measuring ability.
First Impressions by Language Learners
Despite all of the advantages offered by the Busuu premium (plus) subscription, all Busuu courses boast a free version to help you become more confident in speaking to native speakers in their native language. For users of Busuu, free speaking exercises and listening lessons are commonplace.
The lessons are all displayed on a single, long page that makes it incredibly easy to keep track of your progress and see what your next topics entail.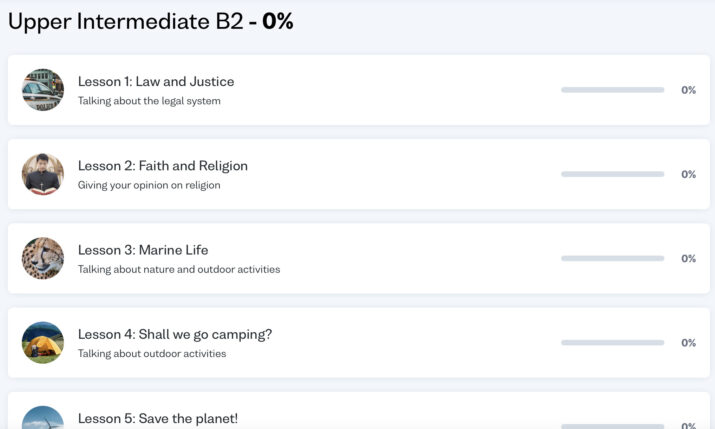 Clicking on a lesson allows you to directly see the structure of that lesson and how much time it will likely require.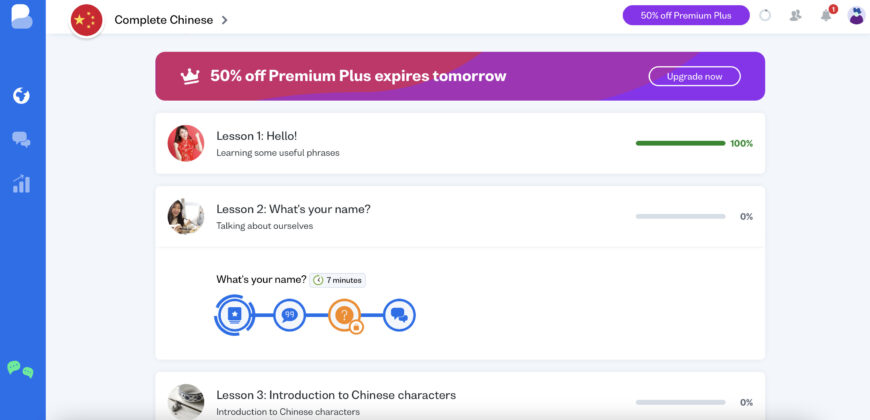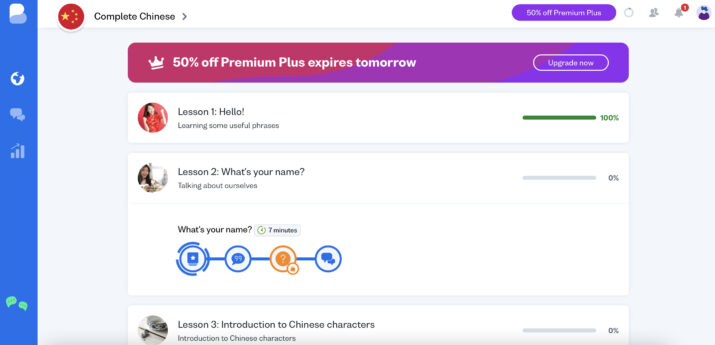 Another feature that we've found to be useful is the ability to skip lessons altogether. Unlike many other language apps, you can choose which topic would be best for you to complete. This is brilliant for those who aren't beginner-level and know exactly what they need to learn to achieve their goals.
In terms log the layout, both the user interface and user experience appear to be well thought out and creative. The pages are easy to navigate and easy to understand.
The lack of cartoon-like images makes it much easier to understand phrases and words in context.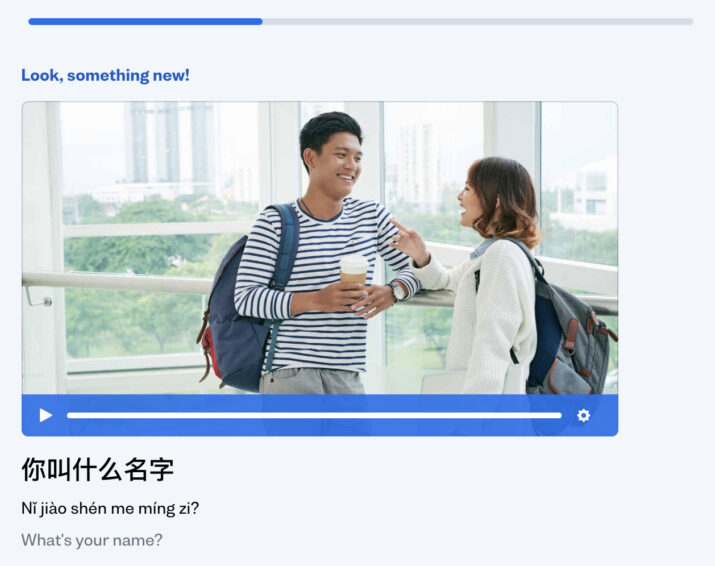 Lesson Format
Let's take a closer look at the Busuu Chinese course. The Chinese course is incredibly popular and very well structured. Users start straight away with learning vocabulary. In the free version, users are given audio clips of words said by a native speaker. They see the words in Chinese characters, the Romanised equivalents, and the translations.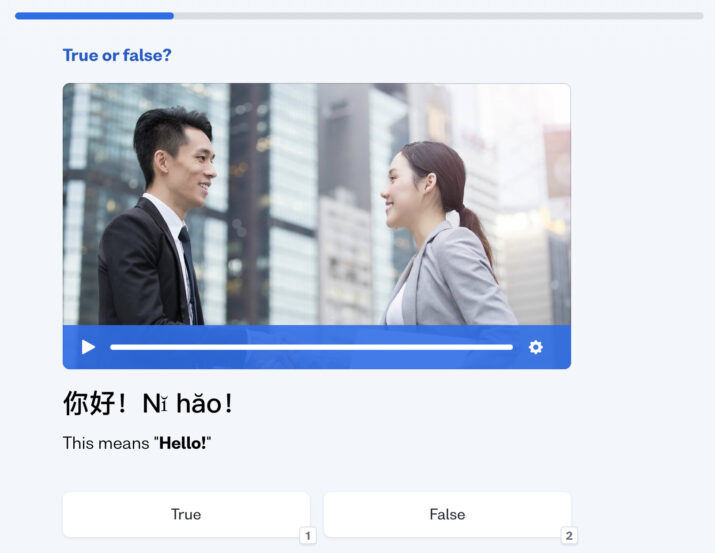 As a user, you are given 'tips' throughout each lesson to help give context and summarise the information you've learnt. In comparison to many other language courses, the tips are placed strategically so they are more enjoyable to read and more memorable. It helps make the process of learning a new language feel less like a chore.
Tips are also useful for giving you information about the native speakers of your target language. For example, in the second lesson, there is a tip that states that there are 100 commonplace surnames shared by around 85% of the Chinese population.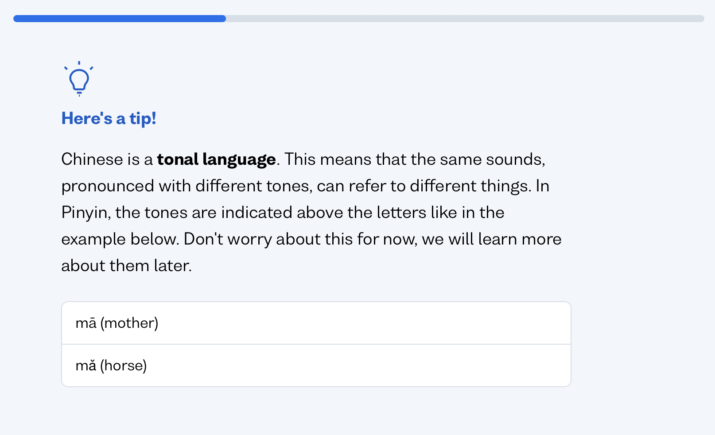 With Busuu, free materials are high-quality and plentiful. Even without the Busuu premium (plus) paid subscription, you are given many opportunities to listen to dialogue by native speakers, learn vocabulary, and enhance your language learning experience through interactive exercises that are fun to complete.
Exercises come in many forms. In the Busuu app, there are exercises that only require you to click true/false, ones that require you to fill in the blank, and other such activities for effective memorisation.
Busuu users also have direct access to previous lessons so they can go over material that they have previously seen.
CLICK HERE TO READ MORE ABOUT BUSUU
Busuu Chinese Course
Course Quality
The Chinese program has good quality content for beginners. The exercises and dialogues contain useful material that can be used in everyday conversation and there are plenty of cultural notes available.
Busuu also boasts an excellent keyboard control system so you can easily play or reply to certain audio files without needing to use your mousepad. However, there are also quite a few disadvantages associated with this course. Although Busuu Premium unlocks more materials, there aren't any tools to help you 'type' in Chinese characters.
There also aren't many opportunities for you to practice writing or practice speaking in Chinese. This can be quite irritating as speaking skills and your pronunciation abilities are very important aspects of learning the language.
Furthermore, Chinese is a tonal language, and although there are cultural notes, certain concepts are too complex to explain. For beginners, they'll likely need supplementary material to further their understanding of language structure and pronunciation.
Mistakes in the Material
A disadvantage of Busuu for learning Chinese in comparison to other languages is the mistakes in some of their materials. A criticism by many intermediate or advanced-level learners is that there may be incorrect information in the course.
Exercises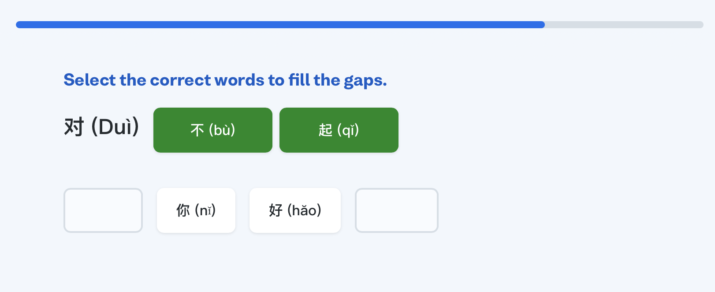 In the free version of the Chinese course, Busuu offers multiple exercises that you can complete to improve your proficiency.
Learning a new language requires frequent practice, and Busuu has designed its lessons to ensure maximum efficiency. If you answer a question wrongly it will repeat that question towards the end so that it becomes easy to memorise.
From what we've analysed, one of the most well-liked exercises includes the activity for filling in the blanks in a 'chat' like a conversation. It includes audio clips of native speakers and encourages you to put your learning into practice.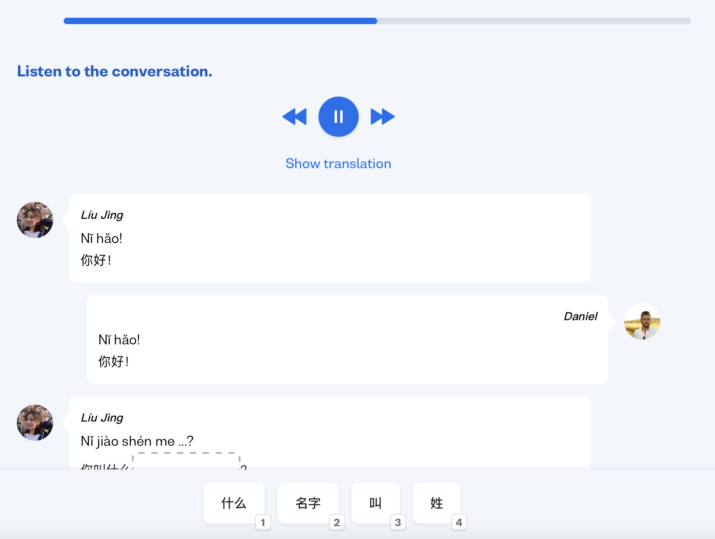 Reviewing Your Progress
Busuu's vocabulary review shows how well you've been able to memorise words and categorises them into 3 categories: weak, medium, and strong. It shows all words you've learnt in a list with the Chinese translations, English translation, then lastly the word strength.
This section also offers you the chance to review the words in your list and thus improve your memorisation skills.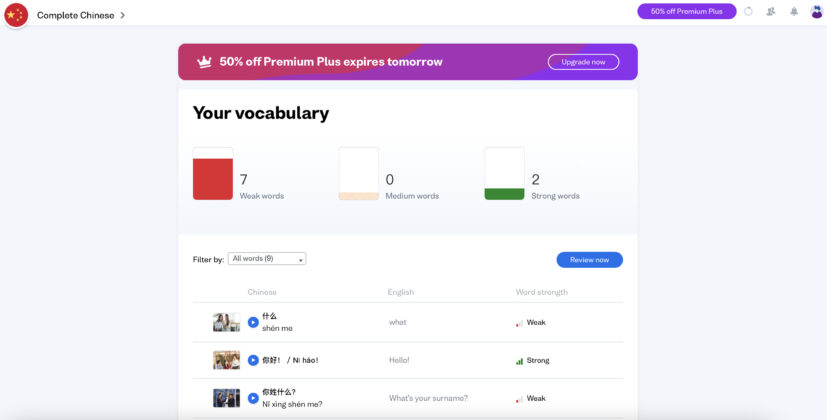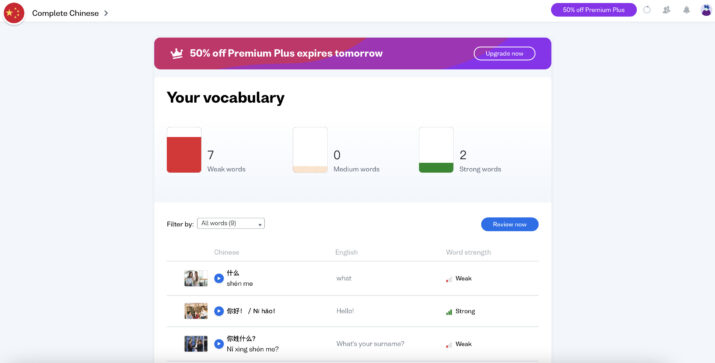 Support System for Language Learning
The Busuu community is active and very helpful for new users. In the 'Social' section of the app, you can listen to audio of people speaking your native language and give feedback on their attempts.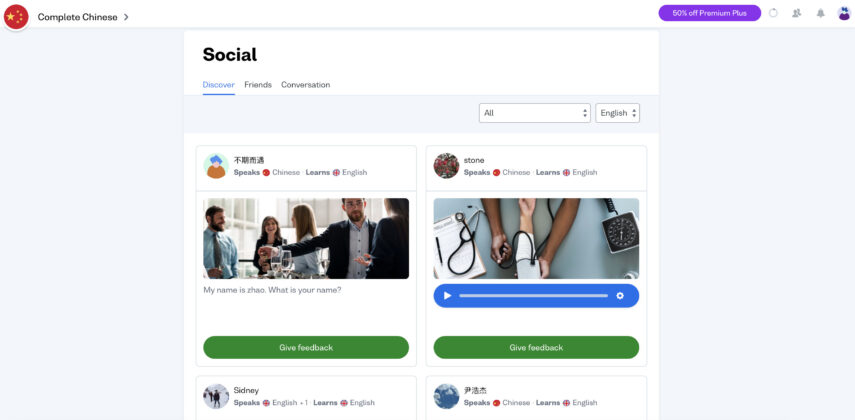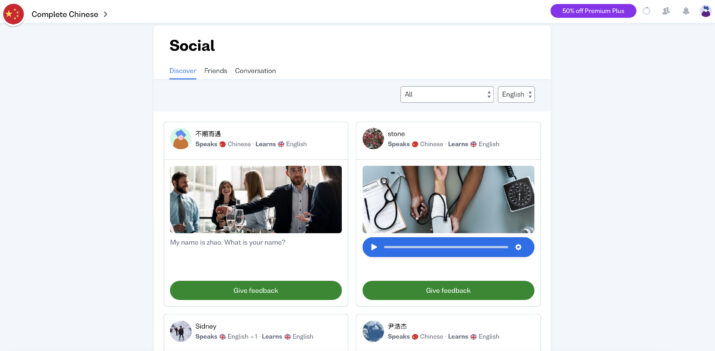 In the 'Conversation' section, you can ask others to give feedback on your pronunciation after talking about a certain topic.
Being able to give feedback and receive feedback, in turn, can be very motivating. If you give feedback to those who want to learn to speak your native language, then it feels motivating to know you've helped someone on their journey. Similarly, receiving feedback gives you peace of mind knowing that what you've said is either correct or there's an explanation why it might not be correct.
CLICK HERE TO READ MORE ABOUT BUSUU
Busuu Premium Plan Features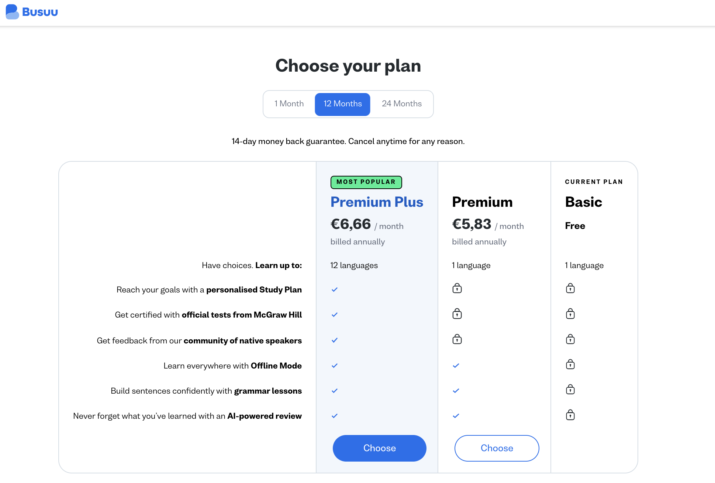 It wouldn't be a complete Busuu review without having a look at the Busuu premium (plus) plan. Language courses tend to place most of their highest-quality content behind a subscription. However, even without Busuu premium plus you can work through dialogues and other activities for almost every lesson.
On the other hand, with the Busuu premium subscription, you are given even more material to work through and there are key differences that make learning easier. Materials that involve activities like quizzes and dialogues.
To offer value for their paid content, Busuu offers certain lessons only for those with the premium plus plan. For example, in the beginner level, lesson 31 – Grammar: Adverbs of frequency is only available for users in a premium subscription.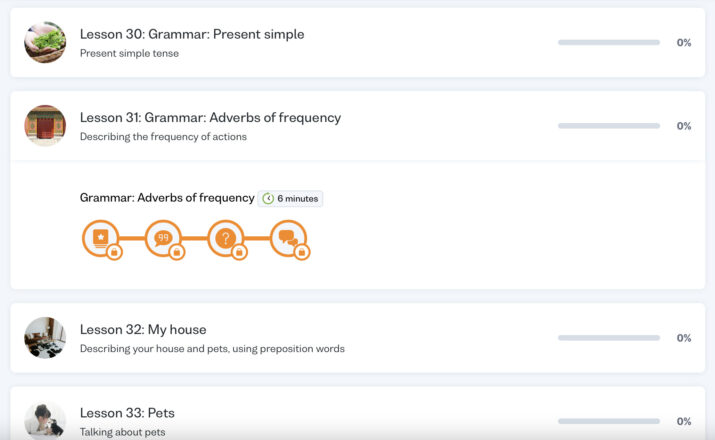 Other users on the free or premium subscription can only learn a single language, however, for those with a premium plus Busuu subscription, they can learn as many languages as it is available in the Busuu app.
For both paid versions, Busuu offers a study plan to help encourage users to develop a habit of learning according to their schedule. Users can set which days and what time they want to study. The Busuu cost also includes the ability to download lessons to help you learn languages on the go.
Furthermore, with Busuu premium you can take a placement test to understand where you might stand in their levels. Following your placement test, you are automatically given an indication as to which lesson or proficiency should you start from to improve your skills.
Alternative Language Courses and Resources
There are plenty of other resources and Busuu alternatives that are highly regarded. If you are less confident about the suitability of Busuu's lessons for your learning style, there are both paid and free language learning apps that you may benefit from considering.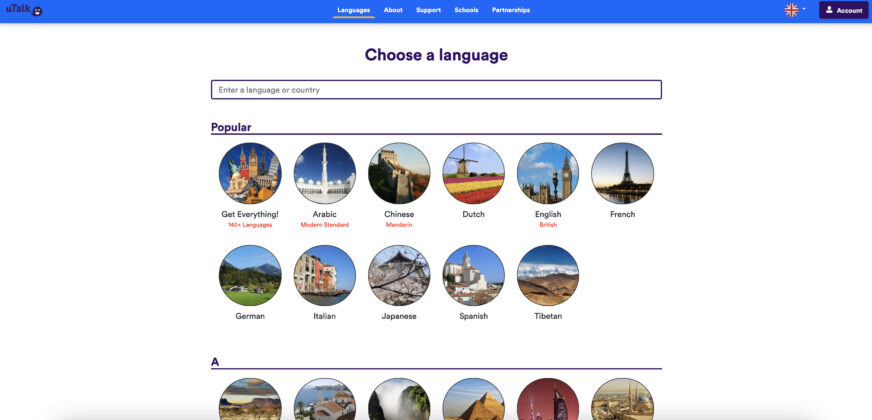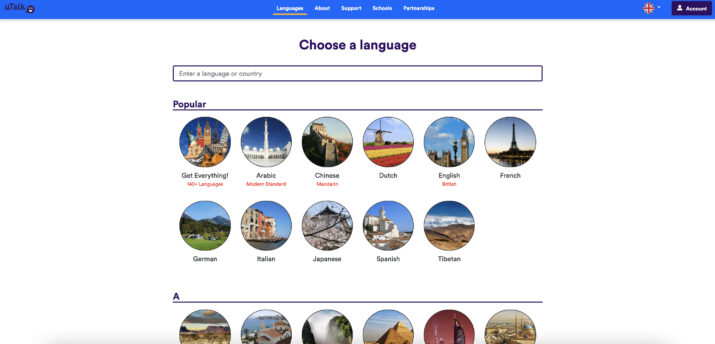 Summary
Learning a new language can both be tiresome and time-consuming. In order to combat this, uTalk is an app that aims to help you become more proficient in your target language through game-like exercises.
There are 140+ languages available and through their innovative repetition software, learning can feel more enjoyable. uTalk aims to improve both your short-term memory as well as your long-term memory through a series of engaging and fun games.
The games become more challenging as you complete more, therefore helping you to improve your language skills the more you complete the exercises. As challenging as the games are, they are also designed to be relatively short. Shorter and more 'to-the-point' exercises are brilliant for enhancing your short-term memory.
Features
It may sound a little unbelievable, but there really are more than 140 different languages offered by uTalk. Moreover, there are also plenty of materials and general content for each of the offered languages. Users will be able to choose from popular and well-known languages to the languages that are not as well-known.
Each course is made up of topics. Each topic is based on a particular category that has been chosen to improve not just your language skills, but also your knowledge of the culture(s) with people who are native speakers of your target language.
There are various types of available games for you to choose from. Certain people might find certain games less enjoyable, hence the choice in games helps to accommodate people of different personalities and learning styles.
Users can easily practice words and phrases that are commonly used in natural, everyday conversation. However, when it comes to grammar and other complicated language structure topics, for many of the courses it is advisable to use supplementary material.
CLICK HERE TO READ MORE ABOUT UTALK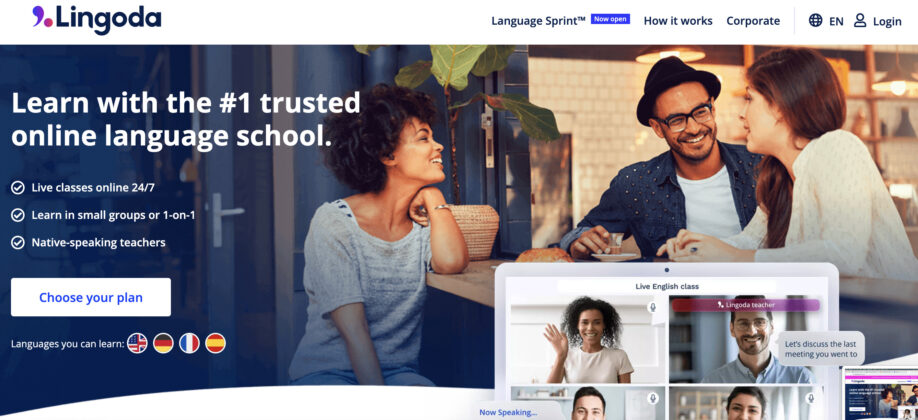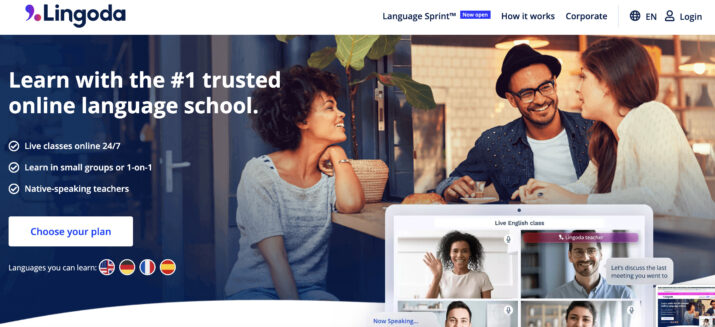 Summary
Learning languages can be made easier with Lingoda. Language apps tend to be impersonal and you are often learning on your own. However, a key factor for Lingoda is that they offer live classes where you can receive customised feedback that directly correlates with your knowledge or progress.
It has been established that Lingoda provides very high-quality material and high-quality teaching. All of the hosts/teachers are native speakers in the language that they teach and can provide you with resources that are suited to your proficiency level.
The flexibility offered by Lingoda is also worth mentioning. Classes are available 24 hours a day, 7 days a week for your convenience and you learn using real-life topics and real-life examples. To achieve fluency, it is much easier to listen and learn about how natural conversations are conducted, and Lingoda achieves this through their lessons.
Features
Lingoda classes are conducted over Zoom, therefore it is easily accessible for many people. All it requires is a working internet connection and you can learn from any location. Each class is around 1 hour and a typical lesson contains around 5 students.
In comparison to one-on-one lessons, a small class can be even more effective in motivating you to learn and participate in the class. The lessons are small enough such that you receive the personalised feedback needed to help improve your skills efficiently.
Teachers are likely to assign 'homework'. These simple exercises that you complete after class help enhance your memory and allow you to be better prepared for more classes. On completion of a level, Lingoda will also issue you a Lingoda certificate to prove your proficiency.
As with Busuu, Lingoda materials have also been created using the Common European Framework of Reference (CERF) for languages. This can give you confidence that you are learning from the right resources.
CLICK HERE TO READ MORE ABOUT LINGODA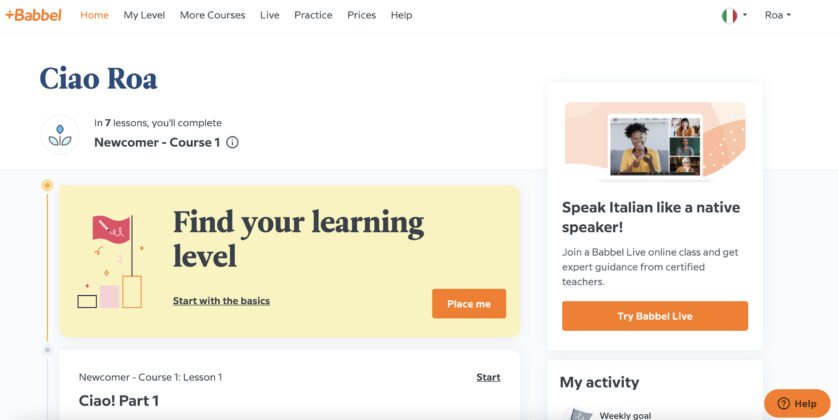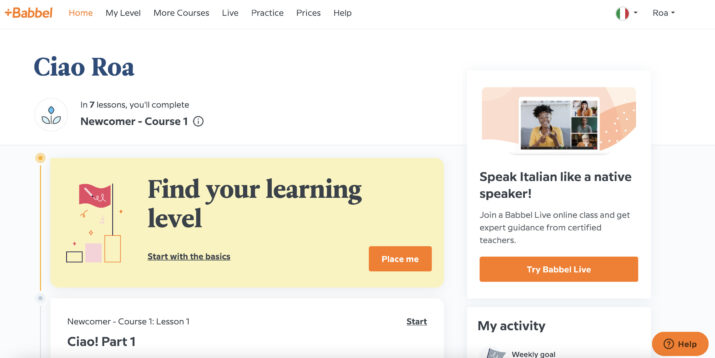 Summary
Babbel is an incredibly well-known app for language learning. They have retained millions of users from all over the world and they have a list of 14 languages including Indonesian, Norwegian, Italian, and Spanish.
Babbel teaches you to enhance all of your core skills. This includes your reading, listening, writing, and speaking abilities. They have high-quality and unique content available for each language, and their exercises have been known to be fun to complete.
Babbel courses are highly suitable for complete beginners. Whilst each course is, of course, different, there are detailed notes and instructions that are easy to follow.
The challenges have been known to be quite difficult, which makes it feel more engaging and encouraging to complete. This is advantageous for certain learners where difficult and complex exercises are preferred in order to advance their learning and the development of their skills.
Features
The core structure for all language courses designed by Babbel is clear. Each course includes lessons that are tailored directly to the proficiency level that it helps to teach. Lessons have been designed such that they should be completed in the order that they are structured.
Babbel uses an innovative spaced repetition methodology to help their users memorise the content that has been introduced in their lessons. Some of the activities also include exercises such as filling in the blanks and repeating terms and expressions out loud.
Words and phrases are introduced throughout the lessons. The content being introduced are snippets of conversations that you will hear in real life. This helps you to become more familiar with how native speakers are likely to speak to each other and how they form full sentences.
CLICK HERE TO READ MORE ABOUT BABBEL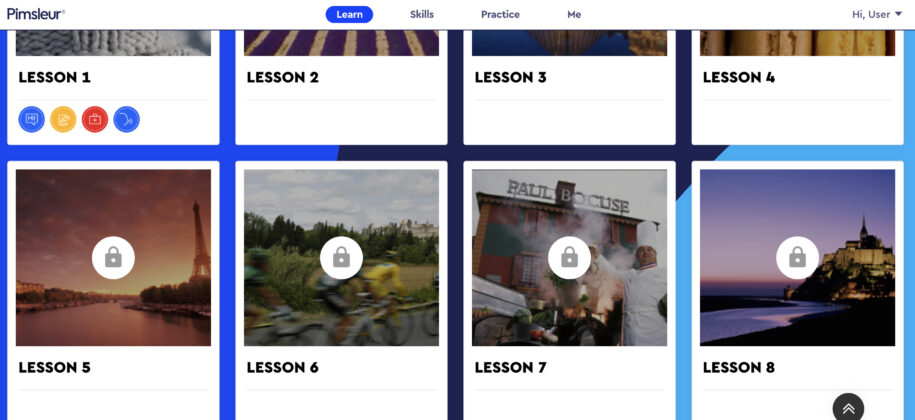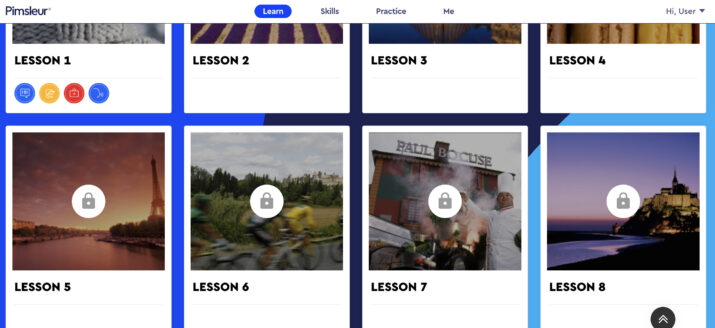 Summary
Auditory learners are likely to find Pimsleur incredibly useful for their learning style. Pimsleur uses a unique method for teaching languages through audio. They specialise in creating the best-quality audio available and ensure that all words and phrases introduced are clearly enunciated.
With Pimsleur, you can confidently develop both your speaking and your reading skills. Listening to native speaker audio is also going to help improve your ability to listen to your target language and understand complicated words and expressions quickly and easily.
Each lesson lasts for around 30 minutes and the hosts are known to be very well versed in both the language they teach and how to teach in such a way that students remember the information that they are presented with. If you choose to complete one lesson every day, it will help you become proficient in your target language quickly and efficiently.
After each lesson, you can start the reading lessons where you will have a list of words with pronunciations. It is then expected that you say the word out loud in your target language to practice. In comparison to the audio lessons, you will need to interact with reading exercises.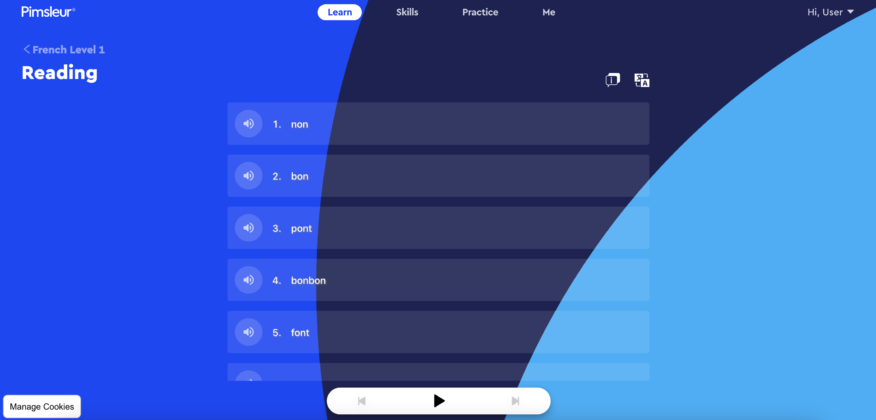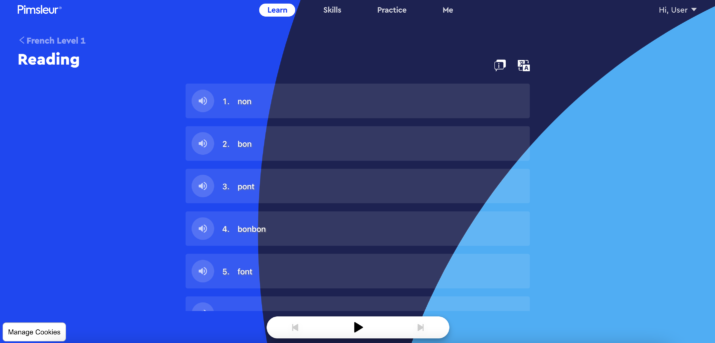 Features
A major benefit of Pimsleur is that you can learn without having to physically use your hands. Compared to other language courses where the exercises require active participation, this course is much more suited for those who want to learn subconsciously.
The audio clips include explanations and translations to help you learn whilst you are walking, going grocery shopping, or doing chores. Individuals who cannot focus as well on general courses would likely benefit from learning using the Pimsleur language app.
An interesting part of the Pimsleur course is that they do not offer transcripts. Many courses that are largely audio-based tend to have transcripts available for each of their lessons. However, the principle behind hot offering transcripts in the Pimsleur course is that it encourages learners to learn without having to heavily focus on notes.
Pimsleur even recommends that their learners do not make any notes during the lessons and to just simply listen to the conversation in the audio.
CLICK HERE TO READ MORE ABOUT PIMSLEUR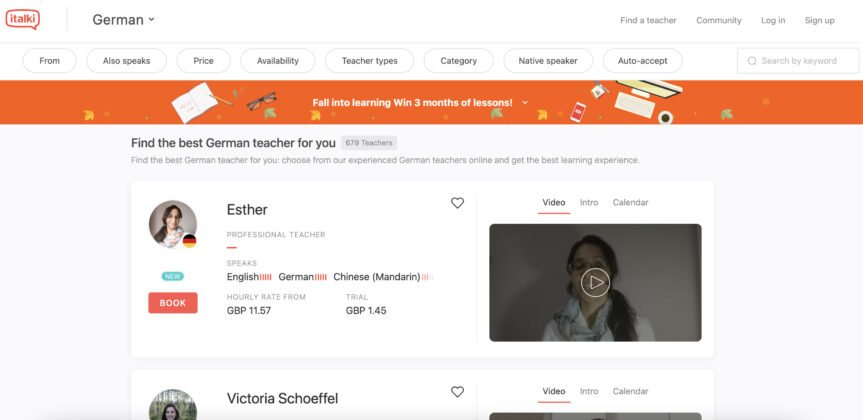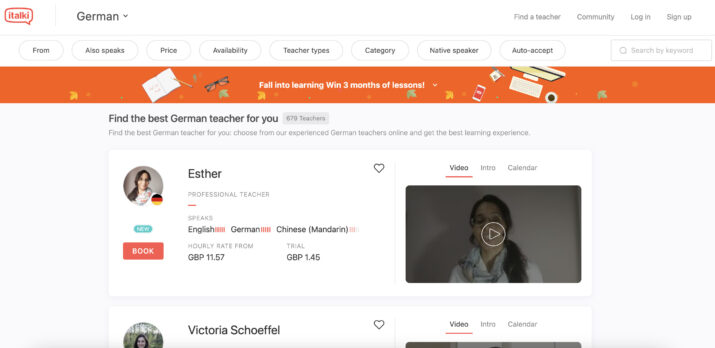 Summary
iTalki contains a large library of highly educated tutors who specialise in languages such as Spanish, French, German, Italian, Portuguese, and even Swahili. No matter how obscure your target language, iTalki is sure to have a tutor for you.
When you first sign in you can search for tutors in your desired language. Afterwards you're given a list of options to choose from. Each tutor is portrayed with their star rating out of five, the number of lessons that they have already taught in the platform, the languages they speak and an indication of how well they are proficient in them, their hourly rate, and lastly their trial rate.
As in the name, the trial rate is the rate that you pay for a trial lesson. This rate is cheaper than the normal hourly rate for each tutor. However, iTalki is one of the most affordable platforms for finding good quality tutors.
Features
Users have the option of choosing between professional teachers and community tutors. That clear distinction makes filtering through potential teachers easier and quicker.
Each tutor also displays their availability through a calendar. These features also make the process of choosing quicker since you can filter out teachers who are not available during the times when you have a free schedule.
iTalki also has an active community where you can ask questions and receive answers in turn. It's a brilliant way of communicating with other learners and sharing the knowledge and advice you have attained in your journey. It is also a way to find a suitable language partner to help keep you on track and motivated to achieve your language goals.
CLICK HERE TO READ MORE ABOUT ITALKI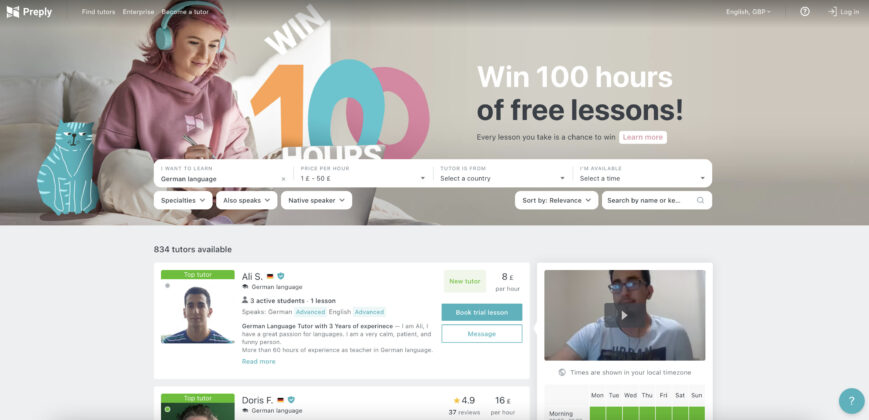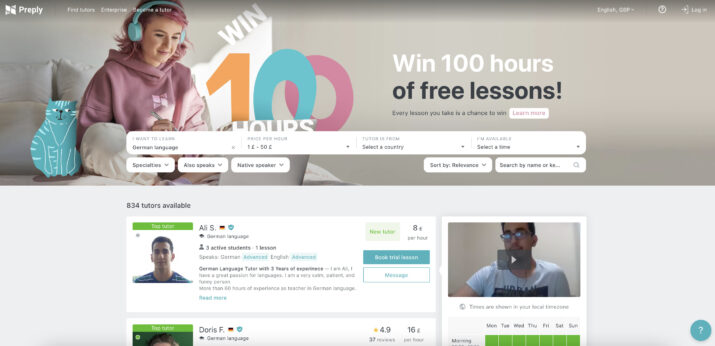 Summary
Preply is a platform to help learners find private tutors. Preply has a large database of experienced tutors who will tailor your lessons to suit your learning style. As you can see in the image above, at present there are 834 tutors for German. Whilst this isn't the case for less popular languages, you will likely have access to tutors for many of the less well-known ones.
When it comes to meeting your desired proficiency level, a highly qualified tutor will be a tremendous help in giving you useful content and ensuring that you are consuming the right material for your goals.
Preply allows you to filter via availability, price, specialities, and other important factors. Preply
Features
Preply
CLICK HERE TO READ MORE ABOUT PREPLY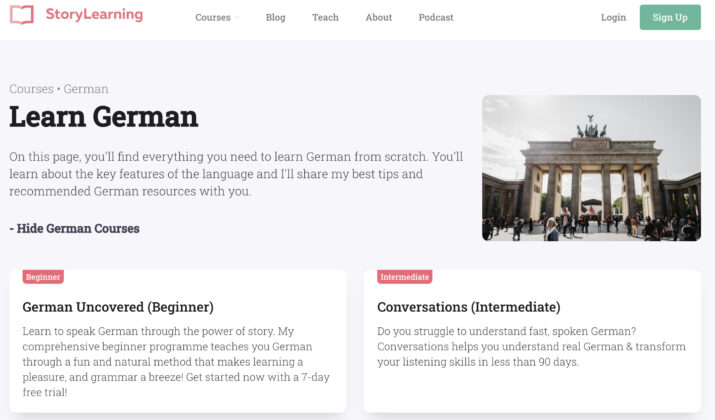 Summary
I Will Teach You A Language is a language course with a unique methodology towards language learning. It utilises the power of immersion to ensure that students can confidently learn how a native speaker would talk in everyday conversation.
They use storytelling to encourage their learners to understand how a normal-paced conversation would be conducted. The interesting stories help to make each lesson more memorable and thus give students the ability to remember words and phrases subconsciously.
Features
This course emphasises the importance of feeling immersed in the language that you aim to learn. At present, there are around 10 languages and each language typically has between 1-3 courses. Spanish, however, has 5 courses. The courses differ because they are taught to individuals with different proficiency levels.
In the German language section, there are 2 courses available for users. There is a course for beginner-level students and a course for intermediate-level students. These courses aim to teach you how to naturally hold a conversation with a native speaker.
CLICK HERE TO READ MORE ABOUT I WILL TEACH YOU A LANGUAGE
Busuu Review Conclusion
Overall, Busuu can be a very suitable solution depending on your requirements. It features a lot of content and you'll learn enough vocabulary to be able to hold an intelligent conversation. Furthermore, the UX and UI for any of the courses appear to have been thought through in detail.
On the other hand, for those who are keener on understanding complex language structure through detailed grammar lessons, Busuu may not be the most ideal course. Students are also likely to benefit more from courses that focus heavily on speaking practice in comparison to Busuu.
For other language learning apps that you'll likely benefit from the most, we've included several recommendations that all have different techniques for helping you learn a language. Pimsleur, Babbel, Preply, and other such recommendations are well-known, well-established, and produce incredible content.
Regardless of the level of proficiency you wish to achieve, there's sure to be a course most suitable for your learning style.
CLICK HERE TO GET BUSUU AT A DISCOUNTED PRICE
CLICK HERE TO GET PIMSLEUR AT A DISCOUNTED PRICE
CLICK HERE TO GET BABBEL AT A DISCOUNTED PRICE