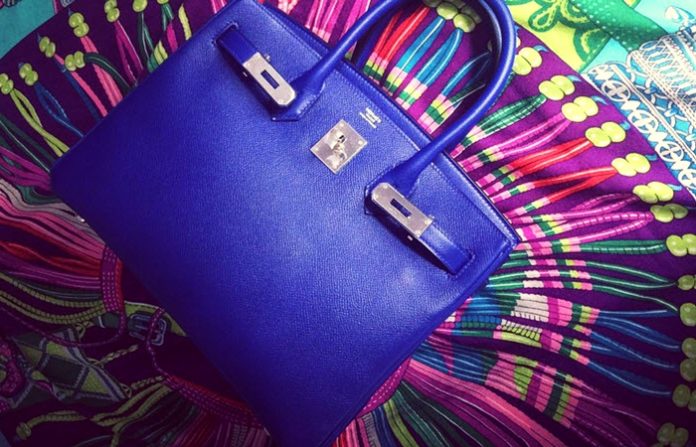 Like many girls, I have a passion for beautiful things and that includes luxury bags, especially the holy grail of handbags, the Birkin. I am neither a VIP at Hermes nor celebrity but I have brought back a total of five Birkin bags from the Hermes boutiques (United States and Paris) within three years. Some were obtained as a walk-in while others required certain purchase history.
With this, many people have asked me to share my experiences and tips on how to get a Birkin.
Here goes:
1. Try your luck as a walk-in at Hermes boutiques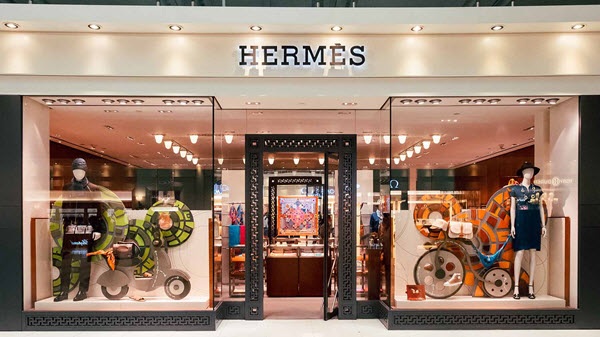 It is rare to get a Birkin as a walk-in, but it doesn't hurt to try your luck. I have successfully obtained two Birkins as a walk-in.
In my experience, dressing up nicely or wearing Hermes products do not guarantee you get offered a Birkin. Dressing up casually or not wearing Hermes products do not lower your chance of getting offered one, either. How you ask and when to ask for it matters.
Tips:
Do not ask for a Birkin right away but show your knowledge of their products and slowly bring up the idea that you're looking for a Birkin.
My first Birkin was bamboo 35 in palladium hardware (as shown below) and I obtained it from a Hermes boutique near my home as a walk-in in 2014. I remember wearing casual clothes and carrying a non-designer bag when I walked into the store.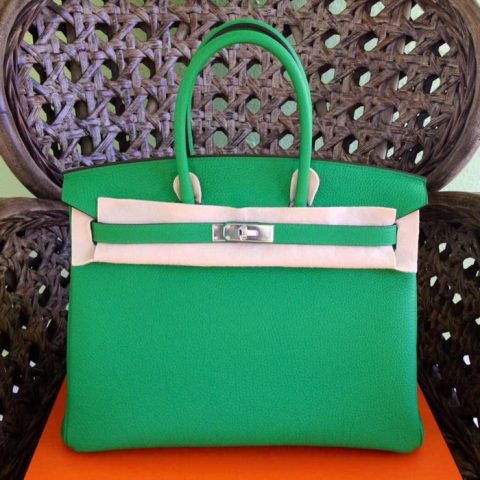 The store wasn't crowded that afternoon. I just walked into a friendly sales associate and told her that I wanted to buy a bag but not sure what to get.  Then, I looked at the garden bags and commented that the colors and leathers seemed nice but it would be nicer if they were Birkins or Kellys. That sales associate responded that she knew what I meant but they didn't have any.
After chatting more about the new colors and designs they had for the season, she eventually opened up and asked me to wait. Then, she came back with a big orange box. She took me to a private room and showed me a 35 Birkin in bamboo color. It was an amazing feeling to get an offer and I happily bought it. Of course, I was extremely lucky then.
Ask your husband/boyfriend to get it for you.
I have seen well-dressed men taken into private rooms and came out with big orange boxes. I know what those boxes have!
Sales associates know that men who walk into the store are ready to spend $$$. This means you'll have a higher chance of getting one when your husband/boyfriend buys them as special gifts for you.
My husband walked into the same boutique that offered me the bamboo Birkin and told a lovely SA that he wanted to get something special for my birthday. That SA just walked back to the stockroom and returned with a beautiful blue electric Birkin in size 30 (as shown below).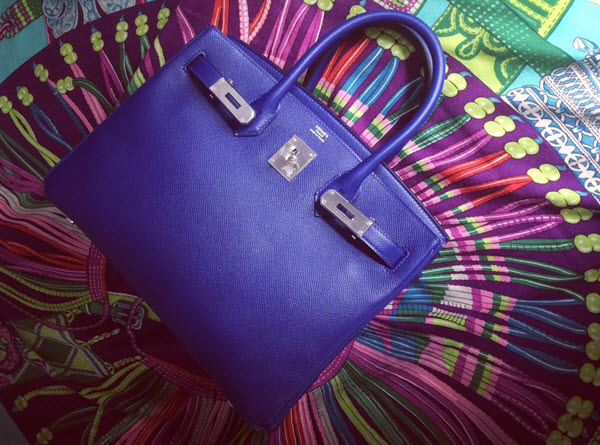 Try your luck at the mothership store in Paris.
The mothership store in Paris located on 24 Rue du Faubourg Saint-Honoré definitely has the widest inventory of the bags. There, you have a higher chance of getting a bag without previous purchase history.
Of course, it depends on the SA, the timing, the manager who will approve the bags and how open-minded you are with the colors/leathers/hardware. It seems that bright colors and seasonal colors are offered more often to tourists.
Shop on weekdays and avoid the month of August
Based on most people's experiences, boutiques receive shipments mostly during the weekdays and rarely on Saturdays. Also, the artisans like to take vacations in the summer, especially the month of August. Thus, the inventory is the lowest then.
2. Build up purchase history at boutiques
In general, Hermes likes to offer bags to customers who enjoy all products of the brand and not just their bags. Buying other non-Birkin/Kelly items is a way to show them that. However, what you buy and who you buy it from matters.
Tips:
Stick to the same sales associate in one store.
If you have multiple purchases from different stores, you need to spend a lot more from both stores to get offered a bag. Also, you need to build up a relationship with the sales associate in a store if you want to get a Birkin.
After getting one bag, it is important to maintain good relationships with the SA. You can try bringing some desserts during holidays or introducing your friends to the same sales associate.
Build up purchase history by making small purchases over a long period of time.
If you only buy non-Birkin/Kelly items, it may take you longer to get a bag offer, especially as a new client. An SA has many clients and it is hard for her/him to remember each one's spending and wishlist. You can visit the store often so your SA will remember you. You do not need to make purchases each time.
Buy big-ticket items that have high sales commissions.
My third Birkin was purchased in 2016. It was a 35 black birkin in gold hardware (as shown below). That was offered by the same sales associate who sold me the bamboo Birkin a few years back. I waited for two months for that.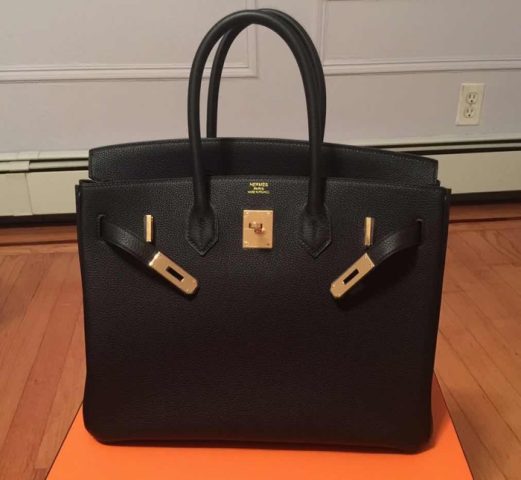 During these two months, I made few purchases of non-Birkin/Kelly items, such as cashmere shawls, silk scarves and fashion jewelries before I was finally offered a black Birkin in gold hardware. This one took a long time because the items I bought were popular Hermes products that had lower sales commissions. It would have been much quicker if I bought less popular products that had higher commissions, such as fine jewelry, clothing, and home products.
While different stores have different requirements, the current general standard in the States is:
Spending $4,000 to $8,000 on non-Birkin/Kelly items to receive an offer for a basic leather Birkin/Kelly.
Spending over $20,000 on non-bags to get offered a special order (where you can design your own bag).
Spend a lot more and become a big client for an offer for a crocodile or ostrich Birkin/Kelly/Constance.
Whichever you prefer, you can buy many smaller items at different times (which will take longer) or buy one big item to get offered a bag relatively faster.
3. Paris FSH Store Experiences/Tips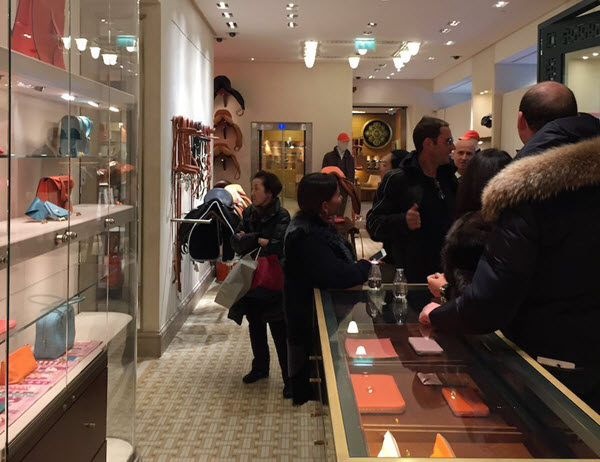 I had great experiences shopping at this mothership store in Paris. As many of you are aware, this store requires an appointment to see a leather sales specialist. I have been to this store twice and received an offer for Birkin bag each time.
This is how I did it:
Day 1
The first time I went to FSH store was last Thanksgiving. My friend and I didn't line up outside in the morning the first day. We arrived at the store around 5 pm when the store was about to close.
There, I went directly to the second floor to check out fine pieces of jewelry. I bought a gold ring and the jewelry SA immediately brought an SA from the leather department to help me with the bags. I wanted a neutral colored Birkin, but they only had bright colors left for the day. So, they asked me to come back the next day.
Day 2
I lined up outside of the store around 8:30 am and got an appointment to see a leather specialist at 11:30 am. During the wait time, I checked out the different departments of the store and bought a few belts and scarves.
Around 11:25 am, I went to see the jewelry SA who helped me the day before and he brought the assigned leather specialist to meet me at the fine jewelry area. The leather specialist asked me about my wishlist and went to check her inventory. She came back and told me that she had bright colors, but no neutral colors. She then asked me to come back the next day and directly ask for her.
Day 3
I lined up outside again around 8:30 am. I asked for an appointment specifically with the leather specialist who helped me on Day 2. This time, my appointment moved up very quickly and I met with her around 10:15 am. Again, no new shipments yet and she asked me to try again in the afternoon (no need for an appointment). I came back in the afternoon and directly went to see her in the leather department. Still, no shipments.
But, this time, she felt really bad and offered me a special order. I was able to select the exterior/interior leather/colors, the stitching and hardware. All the pain I suffered was totally worth it!
The second time I went to FSH store was this summer. My mom and I arrived Paris in the morning and went to FSH around 11:30 am. The store was not full that time as most Parisians went to the south for vacation. The store has fewer visitors because the stocks were low, too.
We didn't have to line up outside to get an appointment. The greeting team just assigned one leather specialist to see us immediately. We met with the leather specialist in the leather department. We chatted a little bit. I told him that it was a trip for my mom's birthday and it would be lovely if I could get her a gift (a Birkin or garden party).
He took down our wishlist and my passport and came back with a big orange box! It was a black Birkin in size 35! We knew that stock was really low and we were so happy to get an offer.
I don't know if my strategies will work again under FSH store's new appointment system, but they are definitely worth trying. Here are some tips:
Try to buy fine jewelry, clothing or home products and have the sales associate in these departments to introduce you a leather specialist without an appointment.
Show up later in the day and see if there is one leather specialist available to help you without an appointment.
If you have an appointment with one leather specialist in the morning, ask her/him if you can come back to see her/him again in the afternoon.
Utilize all of your networks and get to know Michael Coste. He is the head of client relations at Hermes and works in the FSH store. He spends a lot of time with celebrities and important people and has the best bags to offer. You will be in good hands if you get into his circle :).
Good luck on your first Birkin. I hope you find these tips helpful. 🙂
This article is a contribution by smarthomekeeping.com, a popular online brand dedicated to lifehacks, advises and recommendations for smart hoome keepers.
Like this Article? Subscribe to Our Feed!
Life tips and life hacks for happiness and prosperity.