4 Best Online Forex Brokers in Singapore – In Depth Review 2022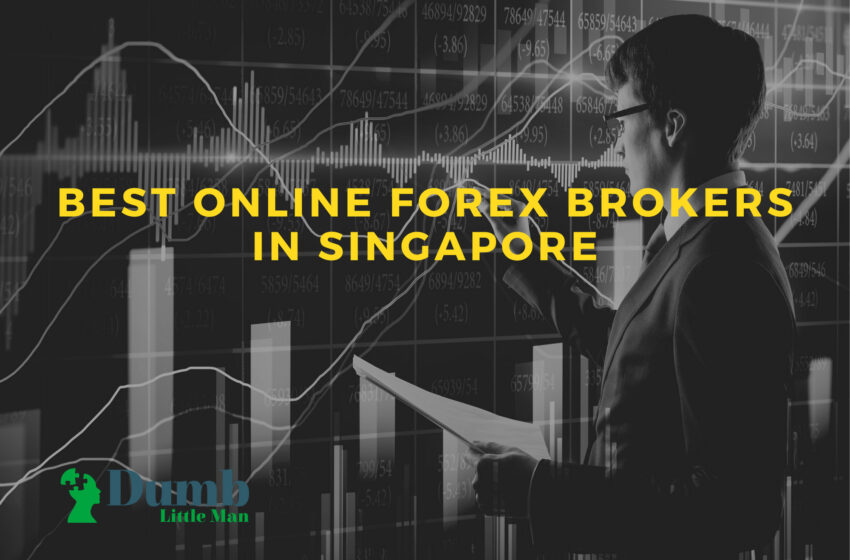 The forex market is huge and it has a lot of institutional-grade liquidity and a huge trading volume. This makes it one of the best places to trade for any investor. Besides, you also get a huge variety of major currency pairs listed. Nonetheless, in order to fully take advantage of the forex market, you will need the best-regulated brokers out there.
Well, for Singapore traders, there are actually a few options to choose from. Nonetheless, based on our research, including looking at individual broker reviews, we came up with a list of the four best forex brokers for Singaporean traders. These brokers are known for their low trading costs, credibility, and a wide range of features suited for both beginner and experienced traders. Here is the full list.
Best Online Forex Brokers in Singapore
Broker
Best For
More Details

Advanced Non-US Traders
Read Review




securely through Avatrade website




Lowest Cost Overall


Read Review



securely through Interactive Broker website


Overall Broker
Read Review




securely through Forex.com website




Lowest Spreads


Read Review





securely through IG website



4 Best Online Forex Brokers in Singapore
#1. Best Advanced for Non-US Traders: Avatrade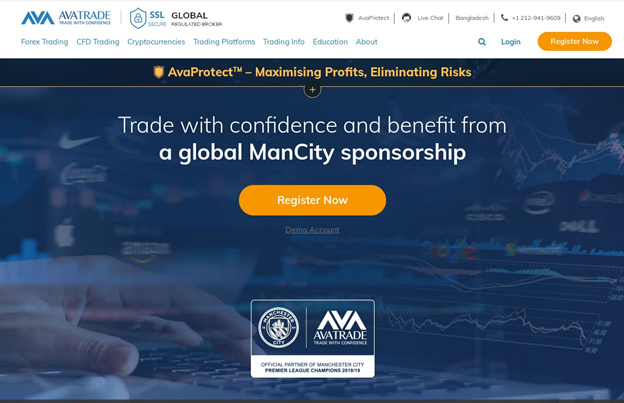 You can also trade forex in Singapore through AvaTrade. Based in Ireland, AvaTrade is an online trading platform that accepts applications for a forex trading account in a lot of countries. It is also one of the few forex brokers Singapore that is fully regulated and granted the capital markets services licence.
In addition to this, AvaTrade also offers serval state of the art trading platforms, excellent customer support, and a huge variety of currency pairs to trade. You also get a simple demo account to get you started in the foreign exchange without taking a significant risk.
How does it work?
Opening an account with AvaTrade is quite simple. The platform in fact allows you to use Facebook or your Google account to do this. You don't need to fill in a lot of info. However, the platform will have some screening questions to assess your investment experience.
If this is your first time trading in the foreign exchange market, get some investment advice before you start. Nonetheless, your account should be approved in 24 hours at most. After that, go ahead and make a deposit and start trading.
Pros
Allows users to open a trading account with Facebook or Google to make it easier
Global broker with accessibility all over the world
Some of the lowest trading fees you can find
regulated by the authority of Singapore mas
Cons
You can only trade CFDs, Forex, and Crypto and no stocks
Your account may incur a very high inactivity fee
Price
AvaTrade does not offer a clear and detailed breakdown of how it charges its users. But as with other top Singapore forex brokers, AvaTrade uses a Bid/Ask spread to calculate applicable fees on each trade. The forex trading platform has done well to keep the spread low but it's not nearly as good as Interactive Brokers. Either way, you still pay below-average trading fees with AvaTrade.
Broker
Best For
More Details


Advanced for Non US Traders
Read Review




securely through Avatrade website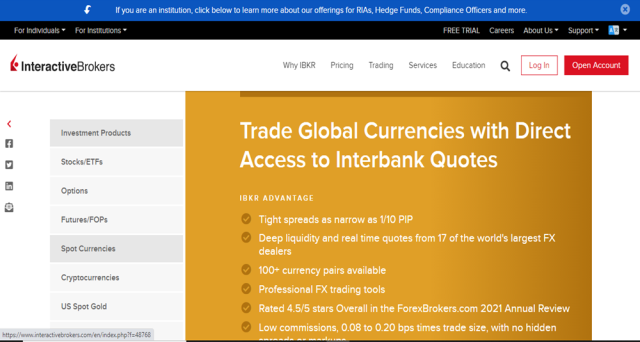 Interactive Brokers or IBKR is a US-based full-service brokerage firm that offers access to the forex market for Singaporean traders. With global name recognition, a list of major forex pairs, and a superior trading platform, IBKR is rated one of the best partners to trade financial markets.
In addition to this, users also get low fees, fast trade execution, and a huge variety of trading account options to open. You will also love the quick and responsive support team here, premier trading technology, and a wide range of educational materials to help you get started with forex CMC markets. No minimum deposit is required to start trading with IBKR. And besides, you get a multi-platform trading approach including a mobile trading experience with all the risk management tools you need.
How does it work?
To trade Singapore forex and other financial instruments with interactive brokers, you need to follow three steps. First, pick the account that you want. IBKR offers multiple accounts to meet the needs of different users. Each account has its own risks involved. So, take your time and look through each, including a demo account, and open one that suits you.
As a traditional broker, you will be required to verify your address and identity before starting to put your trading strategies into action. It doesn't matter which financial instrument you intend to trade, verification is necessary. After your account is verified, the final step is to deposit money and start to trade CFDs, forex, the city index, and anything you want. There is no minimum deposit required by IBKR.
Pros
Takes only a few minutes to open a trading account
Regulated in the US and other major countries
Has a huge variety of assets including currency pairs and the city index options
Accepts deposits in the Singapore dollar and other major currencies
Superior trading platform with superb trade execution
Cons
Sometimes account verifications for folks outside the US can take long
The educational materials for trading forex offered need some improvement
Price
As with other forex trading platforms, Interactive Broker does not charge a flat fee. The trading fees here are based on the Bid/Ask spread. As you know, each currency pair has a bid price and an asking price.
The difference between these two prices is called the bid/ask spread. It is often the fee charged by the forex trading platform. The same applies when doing CFD trading with retail CFD accounts. The good news is that IBKR strives to ensure that spreads are as low as possible.
Broker
Best For
More Details


Lowest Cost Online Stock Platform
Read Review




securely through Interactive Brokers website
#3. Best Overall Broker: Forex.com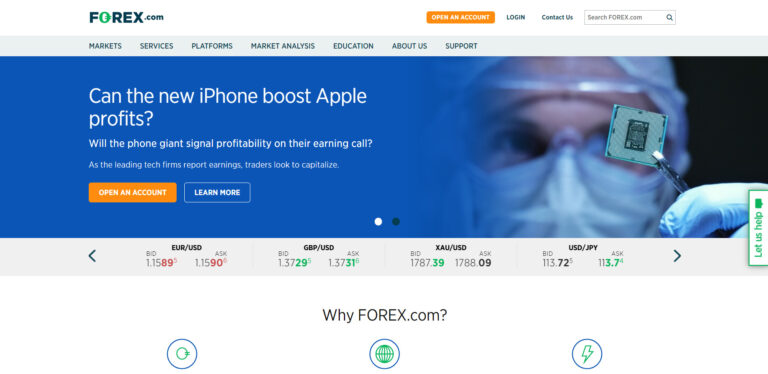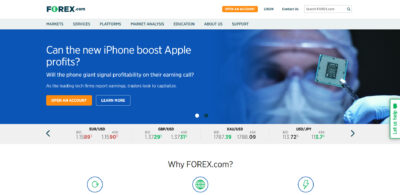 Forex.com is no doubt the leading forex broker in the world. It focuses purely on trading forex and offers users an array of great features as well. Regulated by the monetary authority of Singapore, the broker offers several trading platforms, all designed for the forex market.
You also get a demo account and quick and easy account opening to ensure you begin trading right away. Forex.com also has incredibly low fees, a superb support team, and a pool of forex trading experts available to teach you how to go about this. The platform is also global and has very lenient KYC requirements for new traders. It should be easy to get an account verified in less than a day.
How does it work?
Getting started with Forex.com is quite simple. The first thing is of course to open a trading account. Here, you will need to key in the info needed including your address. Verification is needed but don't worry if you don't have verification documents. The broker will send you an account verification form where you can fill it in and send it back.
Once your account is verified, go ahead and fund it. There are many ways to deposit funds here including credit cards and bank transfers. Once you are done with this, go ahead and choose the trading platform. There are several options including MT4s and the new and improved MT5.
Pros
Dedicated FX broker built specifically for forex traders
Offers several trading platforms including the new and improved MT5
You get some of the lowest fees in the market
Regulated by several bodies including the monetary authority of Singapore
No account minimums are required here
Cons
Does not allow trading of most assets and is only limited to forex
The desktop platform is not as user friendly as we hoped
Price
Forex.com uses a spread-based approach to charge fees. However, how much you pay depends on the account you have. The broker has three main account types. The basic standard account, which targets individuals, offers you traditional spread pricing on currency pairs with very tight spreads.
There is however a commission-based account that offers even tighter spreads with fixed commissions. The final option is the Direct Market Access account which is designed for high-volume FX traders. Here, you will pay some of the lowest fees of any account.
Broker
Best For
More Details


Overall Broker
Read Review




securely through Forex.com website
#4. Best for Lower Spreads: IG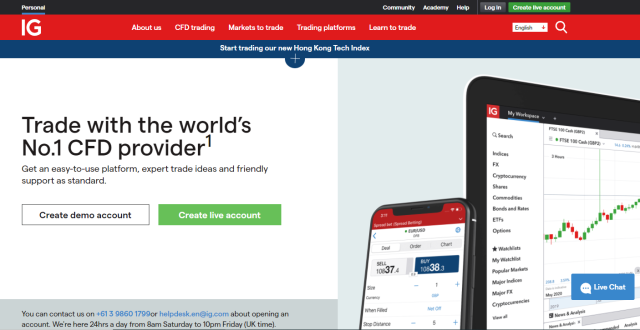 IG is actually a UK-based broker with a huge global presence. It has offices in Singapore as well and is one of the older brokers in the market. IG is known for trading CFDs on a wide range of assets including stocks, indices, forex, and so much more.
The broker also offers ultra-tight spreads on currency pairs, making it a low-cost platform to trade. You also get a simple and easy-to-use trading platform, easy account setup and verification, and quick deposits as well. IG is also a legit name in the forex market and has been here for so long. Don't also forget to check out the IG academy for all your forex trading guides and learning.
How does it work?
For Singaporean traders, head to the IG website and click to open an account. There will be a lot of info to fill in including your financial status. IG will not accept account applications for people who make less than a certain amount of money each year. Once you are done with this stage, you will be required to upload verification documents, mostly an ID and some proof of address. If indeed these documents are okay, IG will verify the account in 24 hours. After that, fund your account and start trading using the IG platform.
Pros
One of the most legit FX brokers in the world
Offers tight spreads, something that leads to low fees
Well built and easy to use trading platforms
A huge variety of assets available to trade including forex
Cons
Account verification can take longer if documents don't check out
The support offered needs to improve a bit
Price
Like all the FX brokers we have listed above, IG also uses a spread-based system. But there are so many additional charges to be aware of. For example, if you are trading with leverage, you will incur an overnight charge if open positions are held for more than 24 hours. IG also charges a USD 12 fee for dormant accounts every month. Currency conversion charges are also applied and you will also pay up to $15 for withdrawals.
Broker
Best For
More Details


Lowest Spreads
Read Review




securely through IG website
How we rank the Best Online Forex Brokers in Singapore?
In our analysis of the best stock brokers in Singapore, we looked at four main factors. First, we wanted to make sure the brokers are regulated by the central bank or the authority of Singapore mas. This gives the platforms a lot of legitimacy.
Secondly, the team also assessed the trading fees charged and how easy it is for the average person to open a trading account. We also looked at the trading platforms offered by the FX broker. Those that had superior trading tech and ease of use were ranked higher. Other considerations include the nature of customer support, quick deposits, and educational materials offered.
How to choose the Best Online Forex Brokers in Singapore?
Well, different traders have different needs when it comes to forex trading. But there are some important factors to look for before you pick a brokerage firm. First, ensure the brokerage has been regulated by relevant authorities.
The mas monetary authority does this in Singapore but different countries have their own bodies. Look at the trading fees carefully as well. The lower the fees the better. It may also be a good idea to look at the kind of reviews a given platform has from other users. Finally, pick a forex broker that has some reputation in the industry.
Conclusion: Best Online Forex Brokers in Singapore
Finding the best forex brokers should not be that hard. There is a huge variety of firms out there but despite this, Avatrade is a great choice for Singaporean traders. The firm is an all-inclusive brokerage that gives you access to a wide range of markets, including forex.
You also get state-of-the-art trading tools, a superb team of customer support, and some of the lowest trading fees out there. Although Avatrade should still do some work in improving educational content, other than that, it is a solid option.
Best Online Forex Brokers in Singapore FAQs
Is Forex Trading legit in Singapore?
Yes, online trading forex in Singapore is a legit investment opportunity. However, as with all investments, there are some risks involved so make sure you take the time to learn how everything works before you start.
Can Forex Brokers lose money?
Yes, they can lose money, especially if they don't have the right safeguards to protect themselves. However, most brokers separate client money from their own money to ensure you are not exposed as a trader.
How do Forex Brokers make money?
Brokers make money through fees. For every trade you open or close, a small portion of the money will be deducted as service fees. These fees range a lot from one broker to the other but they are typically a fraction of the transaction.

Like this Article? Subscribe to Our Feed!
Wilbert is an avid researcher and is deeply passionate about finance and health. When he's not working, he writes research and review articles by doing a thorough analysis on the products based on personal experience, user reviews and feedbacks from forums, quora, reddit, trustpilot amongst others.