3 Best Online Forex Brokers in Japan – In Depth Review 2023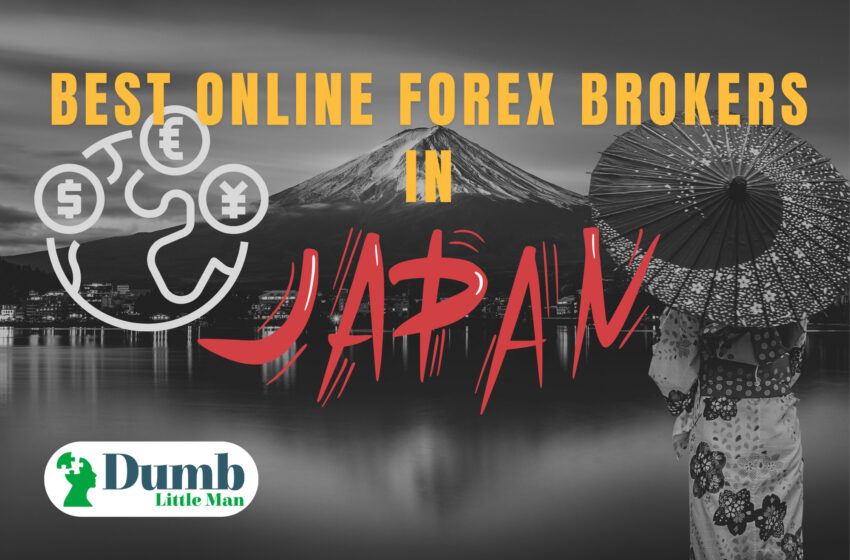 Want to jump straight to the answer? The best forex broker for traders is Avatrade
The #1 Forex Trading Course is Asia Forex Mentor
The forex broker is a specialized firm with all of the resources necessary to connect its clients to the currency market. The Forex market is well-regulated in Japan, which has the world's third-largest economy. Japanese traders can choose from a broad & impressive list of renowned and globally authorized Forex Brokers, all of which accept Japanese clients.
To trade profitably in the Forex market, it is necessary to select the best Forex brokers. Choosing the finest brokerage firms with the best trading conditions.
We've included three top FX brokers in Japan that we believe are the best, to make the broker selection process easier for you. Here are a few things to consider while choosing the finest trading platforms for your needs.
Best Online Forex Brokers in Japan
Broker
Best For
More Details

Advanced Non-US Traders
Read Review




securely through Avatrade website




Overall Broker
Read Review




securely through Forex.com website




Lowest Cost Overall
Read Review




securely through Interactive Brokers website



3 Best Online Forex Brokers in Japan
#1. Best Advanced for Non-US Traders: AvaTrade

AvaTrade is the best forex broker and the JFSA regulates them initially. AvaTrade offers trading in over 60 different currency pairs. Depending on your preferences, you can choose from a variety of major, minor, and exotic options, with spreads starting at 1.1 pips on the USD/JPY market. A minimum deposit of ¥50,000 is required to access these markets. You may also engage in copy trading with the broker in addition to this competitive value in terms of FX trading.
This is made possible through the Dupli-trade platform, which is a third-party platform that offers fantastic prospects for copying the trades of signal providers and others. The broker also offers auto-trading and a variety of other outstanding features and account kinds.
AvaTrade also has a large selection of instructional materials, such as eBooks and training videos. There are also several FX trading tools available, such as the Economic Calendar, to keep you up to date on currency market happenings. For Japanese forex traders, AvaTrade is an intriguing alternative.
How does it work?
Opening of retail investor accounts with AvaTrade to trade instruments from Japan is a quick and easy online process that requires submitting an identity document (passport or identity card) and evidence of address (electricity, water bills, etc.) through AvaTrade's website. After creating an account, you must deposit at least $100 and open at least 10 trades. It will also give all new users a 40-dollar bonus if they deposit at least $200. With a sophisticated interface that includes a set of straightforward management tools, clear charts, zoom for details, and many other useful features, AvaTrade provides a seamless trading experience.
By login into your personal section on the AvaTrade website, you can make a withdrawal from your AvaTrade account. Choose your withdrawal method from here. Wire transfers, credit/debit cards, and eWallet solutions like Skrill, Neteller, and WebMoney are all options for withdrawal. Withdrawals are normally free of charge, just like deposits. The only exception here could be if you have a wire transfer or a currency conversion fee with your bank.
Pros
User-friendly platforms
No Minimum Deposit
Easy account opening
Multi-language webinars
Cons
AvaTrade is not regulated by the Financial Conduct Authority (FCA)
No guaranteed stop-less
Price
AvaTrade does not offer volume discounts or guaranteed stop losses. Opening of retail investor accounts on AvaTrade and costs only $100.
After three months of inactivity, they charge a $50 cost, and after a year, they impose a $100 administrative fee.
Broker
Best For
More Details


Best Overall Broker
Read Review




securely through Avatrade website
#2. Best Overall Broker: Forex.com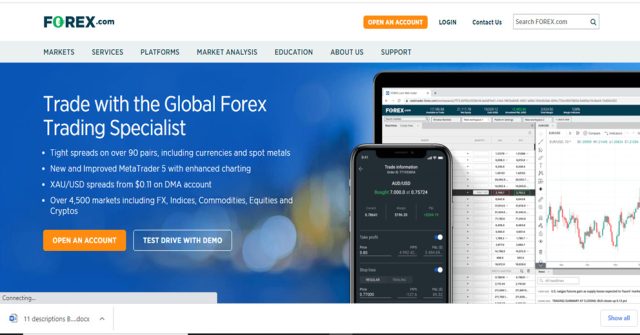 Forex brokers looking for a home base for their currency trading, Forex.com is the second best forex broker in Japan. FOREX.com offers free, instructive trading classes at many skill levels that will appeal to both new and experienced traders. They also have a large assortment of assets to trade in, with over 12,000 in total. They offer trading in the 84 forex pairs, including major, minor, and exotic currency pairs, as part of their asset portfolio. All of this is possible with a minimum deposit of $50,000 which depending on the account type you select.
FOREX.com gives Japanese forex traders everything they need to trade successfully. The Forex.com trading platforms or MetaTrader 4 is accessible via a web-based platform, mobile apps, and desktop. You can also expect to trade using the well-known platforms MT4 MT5 (MetaTrader 4 MetaTrader 5), which allows EAs to be used for auto trading and developing new methods. All of this is accessible at a very reasonable trading cost, which begins with a modest spread of 0 pips.
How does it work?
The process of retail investor accounts at Forex.com is simple and completely digital, with a small minimum deposit.   The account opening process at Forex.com is simple and entirely digital. Choose between Forex.com's proprietary platforms MT4 MT5 (MetaTrader 4 MetaTrader 5)and third-party trading platforms. Fill out the form, with your personal & financial information. Answer a few questions about your financial expertise and trading experience. You can prove your identity by uploading a national ID card, passport, or driver's license. Proof of residency is accepted in the form of utility bills and bank statements.
The FOREX.com platform offers 4 fundamental order types, each of which can be accompanied by "take profit" or "stop-loss" orders. Forex.com offers a variety of deposit and withdrawal options, all of which are free. Some credit cards, however, do not allow withdrawals. There are no deposit fees at Forex.com. You can deposit funds via credit/debit cards or PayPal in addition to bank transfers. Withdrawing money from Forex.com is completely free.
Pros
Availability of wide ranges of Products.
Trading View charts are integrated into the web platform
Client accounts in the United Kingdom and the European Union are protected
High-volume traders are eligible for rebates
Cons
There is no account protection for clients in the United States.
Limited product portfolio
Price
FOREX.com needs a minimum initial deposit of at least $100 of your preferred base currency," while they prefer a deposit of a minimum of $2,500 so that the client can trade with the greater freedom & also avoid the high risk of losing.
There's also a $15 per month, inactivity fee for the accounts that haven't traded in over a year. Extra charges for deposits and withdrawals are not listed on the website.
Broker
Best For
More Details


Overall Broker
Read Review




securely through Forex.com website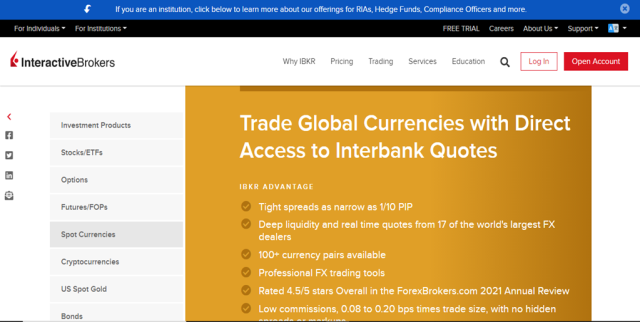 Interactive broker is one of the best American Brokers provides a variety of excellent services to the Japanese traders and is authorized by different financial authorities, including the Financial Conduct Authority (FCA) of the United Kingdom and the Securities and Exchange Commission of the United States (SEC). They are a major player in the market and one of the leading US stock and FX brokers. Round About 135 markets in 33 countries, They provide a varied selection of asset classes i.e. stocks, futures, options, and bonds. Traders seeking broad access to markets and the professional trading environment should consider this option.
One of the amazing and unique characteristics that help to keep the broker available to everybody is the fact that their international account (IBLLC Account) has no min deposit. As a retail trader, you can trade currency and worldwide equities here, but not commodities. Other account kinds, depending on your requirements, are also available, including the possibility to trade Japanese equities through a domestic account (IBSK). As a result, it is apparent that this internationally recognized broker provides a good and accessible choice of options for both the Japanese and foreign traders.
How does it work?
This broker provides a list of the best trading platforms which includes mobile apps on Android and iOS devices, the desktop, and the website. Any of these platforms can be used to trade asset classes. On all the above platforms, you can access real-time streaming data, charting, sketching tools, research and news. In order to open a new account with an online interactive broker, you must often present proof of identity and proof of domicile. In an ideal world, this process would be entirely digital. Its account opening is completely digital; therefore you may complete the entire registration process on the company's website.
Once you've completed the registration & account opening process, you'll need to transfer the required min deposit from your bank account to your brokerage account before you can begin trading. There's no minimum deposit with interactive brokers. Aside from its basic account min deposit, margin accounts require a $ 2,000 minimum deposit. Trading in Japan is started, Once your account has been verified and opened. Now you can deposit the minimum deposit, or any amount of money if there is no minimum deposit, into your broker account and get started. You've made the decision to become an investor.
Pros
Diverse offerings across asset classes and around the world
Superior order execution
Excellent trading tools
Interest rates with a low margin
Cons
Less skilled & active investors may find it intimidating.
Difficulty in opening a Saxo bank account
Price
The pricing structure of an online Broker is convoluted. A fixed per-share price of $0.005 per share is included, with a minimum of $1.00 and a maximum of 1% of the transaction amount. All Cyprus securities and exchange costs are included.
Per-share price is tiered based on monthly purchase volume. Exchange and regulatory costs are not included.
Broker
Best For
More Details


Lowest Cost Online Stock Platform
Read Review




securely through Interactive Brokers website
How we rank the Best Online Forex Brokers in Japan?
By far, the global foreign exchange (FX) market, is the world's largest and the highly traded financial market. Beginners & experienced traders alike look for several essential qualities and benefits while looking for the "top" forex broker.
The following are some of the most important factors to consider during ranking:
Overall trading experience
Size and scope of product portfolio (currencies, CFDs, indexes, virtual currencies, etc. )
Fees (such as spreads & commissions)
Trading platforms (i.e. web-based, mobile, tracking, and third-party platforms)
Customer support (live chat, phone services, email, etc.)
Trading research and education
And trustworthiness.
The purpose or ranking the top online forex trading in Japan is always to help people make the most informed decisions about how, when, and where to trade and invest. whether you understand how this product works & whether you can afford to take the high risk of losing money.
How to choose the Best Online Forex Brokers in Japan?
When it comes to investing in Forex, you must first establish what type of trader you are, what your goals are, and how you will use the trading platform. When searching for a reputable forex broker, take your time to find one that will properly handle your trades and funds.
Because brokers can be hacked or go bankrupt, the safety of your money and personal information is more crucial than anything else when you register a forex account.
 Also, look over a broker's funding and withdrawal procedures before you send them any money. And, most importantly, be sure the broker provides the greatest trading circumstances for the instruments you'll be trading.
Choose Asia Forex Mentor for Your Forex and Stocks Trading Success
If you have a keen interest in establishing a successful career in forex trading and aspire to achieve substantial financial gains, Asia Forex Mentor stands as the optimal choice for the best forex, stock, and crypto trading course. Ezekiel Chew, renowned as the visionary behind trading institutions and banks, is the driving force behind Asia Forex Mentor. On a personal note, Ezekiel consistently achieves seven-figure trades, a distinction that truly sets him apart from other educators in the field. Here are the compelling reasons that underpin our recommendation:

Comprehensive Curriculum: Asia Forex Mentor offers an all-encompassing educational program that covers stock, crypto, and forex trading. This well-structured curriculum equips aspiring traders with the knowledge and skills necessary to excel in these diverse markets.

Proven Track Record: The credibility of Asia Forex Mentor is firmly established through its impressive track record of producing consistently profitable traders across various market sectors. This achievement serves as a testament to the effectiveness of their training methodologies and mentorship.

Expert Mentors: At Asia Forex Mentor, students benefit from the guidance and insights of experienced mentors who have demonstrated remarkable success in stock, crypto, and forex trading. These mentors provide personalized support, enabling students to navigate the intricacies of each market with confidence.

Supportive Community: Joining Asia Forex Mentor brings access to a supportive community of like-minded traders pursuing success in the stock, crypto, and forex markets. This community fosters collaboration, idea-sharing, and peer learning, enhancing the overall learning experience.

Emphasis on Discipline and Psychology: Success in trading necessitates a strong mindset and disciplined approach. Asia Forex Mentor provides crucial psychological training to help traders manage emotions, handle stress, and make rational decisions during trading.

Constant Updates and Resources: The financial markets are dynamic, and Asia Forex Mentor ensures that students remain up-to-date with the latest trends, strategies, and market insights. Continuous access to valuable resources keeps traders ahead of the curve.

Success Stories: Asia Forex Mentor takes pride in a multitude of success stories where students have transformed their trading careers and achieved financial independence through their comprehensive forex, stock, and crypto trading education.

In summary, Asia Forex Mentor emerges as the premier choice for those seeking the best forex, stock, and crypto trading course to carve a rewarding career and achieve financial prosperity. Through its comprehensive curriculum, experienced mentors, practical approach, and supportive community, Asia Forex Mentor provides the necessary tools and guidance to mold aspiring traders into accomplished professionals across diverse financial markets.
Conclusion: Best Online Forex Broker in Japan
Traders seeking an online broker to work with from Japan must look for one which is regulated by the Japanese Financial System (JFSA) Agency, offers a wide range of asset classes, and has a good reputation.
Avatrade is the world's best Forex broker in Japan 2021. It requires min deposit, provides a large product selection, and other useful research tools.
AvaTrade is also an excellent platform for new traders. The broker offers consumers pleasant working conditions, as well as a high level of trustworthiness, as evidenced by a big number of licenses, implying that newbies can trade safely.
FOREX.com on the other hand is an online broker that caters to a wide range of traders, however, its emphasis on quick and dependable execution makes it a suitable choice for rising traders looking to earn rebates to reduce their trading costs. About 73% of retail investor accounts lose money when trading CFDs with this provider. Plus  FOREX.com is a reputable forex broker with a diverse product line, outstanding platform options & trading tools, and a wide range of in-house and 3rd Party market research.
Best Online Forex Broker in Japan FAQs
Is Forex trading legal in Japan?
There is a common notion that trading Forex on the Japanese financial services market is risky. This is not the reality; forex trading is quite active in Japan. In Japan, forex trading is permitted because it can afford to take currency exchange to conduct business. Import and export, as well as foreign investment, all require the use of forex. The most important thing to remember while trading Forex is to choose a licensed, safe, and a reputed broker.
Forex trading is not prohibited in Japan, and there are numerous foreign online brokers that provide favorable trading circumstances.
What are Trading Platforms?
The majority of forex firms provide their customers with a combination of their in-house Webtrader and platforms MT4 MT5. Webtrader is a forex trading platform that runs on a web server and does not require any downloads.
Platforms MT4 MT5 are two well-known forex robot platforms that can be connected using MetaTrader 4. Because it takes some time, we do not recommend it for novices.
Can Forex brokers lose money?
Brokers, on the other hand, essentially serve as a middleman that offers a trading platform. The LPs typically modify the earnings and losses. The commissions or spreads are the sole ways for the brokers to make money; they have no connection to your gains or losses.
CFDs are sophisticated instruments that carry the high risk of losing your money quickly due to their leverage. Among 61%-76.6% of retail CFD, accounts lose money when trading CFDs. You should consider whether you understand CFDs work and whether you can afford to accept the huge risk of losing your money.
| RECOMMENDED TRADING COURSE | REVIEW | VISIT |
| --- | --- | --- |
| | #1 Forex, Crypto and Stocks trading course. Ranked most comprehensive by Investopedia and Best by Benzinga. Free to Try! | |
Like this Article? Subscribe to Our Feed!
Wilbert is an avid researcher and is deeply passionate about finance and health. When he's not working, he writes research and review articles by doing a thorough analysis on the products based on personal experience, user reviews and feedbacks from forums, quora, reddit, trustpilot amongst others.