5 Best Online Forex Brokers in Italy – In Depth Review 2022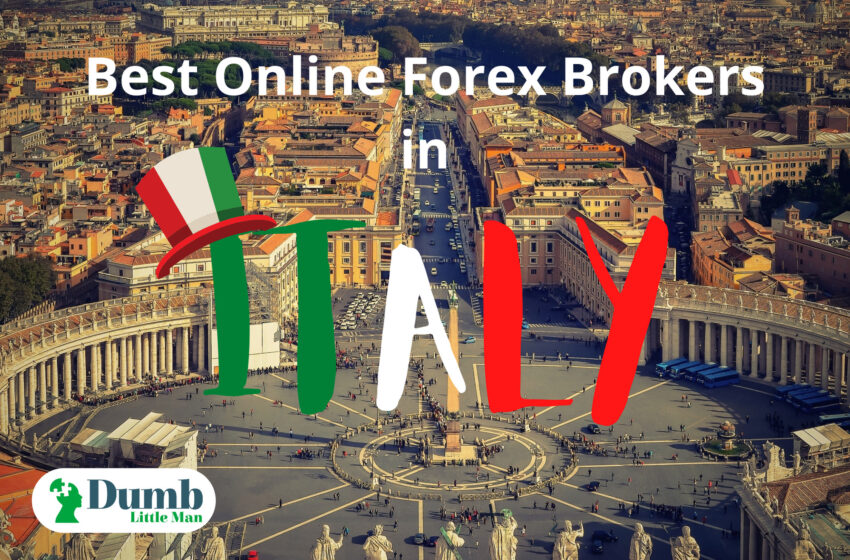 Trading forex is perhaps one of the easiest and the best ways to get exposure into the financial market. The forex market is also huge, with a daily capitalization of trillions of dollars. It is also accessible for global investors, meaning that anyone and everyone can trade forex wherever they are.
Despite this, you will need a top-quality brokerage firm to be able to take advantage of this vast currency market. Well, in case you are a forex trader in Italy, then you are in luck because there is a huge variety of forex brokers who happen to be regulated by top-tier bodies, including the Financial Conduct Authority and others.
But it can also be quite hard to decide which broker to use for Italian forex. Well, do not worry because our team has done extensive research on some of the best forex brokers in Italy and came up with a list of 5 of the very best. Keep reading below and learn more.
| RECOMMENDED TRADING COURSE | REVIEW | VISIT |
| --- | --- | --- |
| | #1 Forex, Crypto and Stocks trading course. Ranked most comprehensive by Investopedia and Best by Benzinga. Free to Try! | |
Best Online Forex Brokers in Italy
Broker
Best For
More Details

Advanced Non-US Traders
Read Review




securely through Avatrade website




Intermediate for Non-US Traders

Read Review




securely through FXCC website




Overall Broker
Read Review




securely through Forex.com website






International Forex Traders





securely through eToro website





Forex Trading





securely through HYCM website



5 Best Online Forex Brokers in Italy
Before we head over to the in-depth review of the best forex brokers for Italian investors, we must give you a disclaimer. Forex CFDs are complex trading instruments and a significant percentage of retail investor accounts lose money when trading CFDs. Please consider whether you understand how CFDs work and whether you can afford to take the high risk of losing your money rapidly.
#1. Best Advanced for Non-US Traders: Avatrade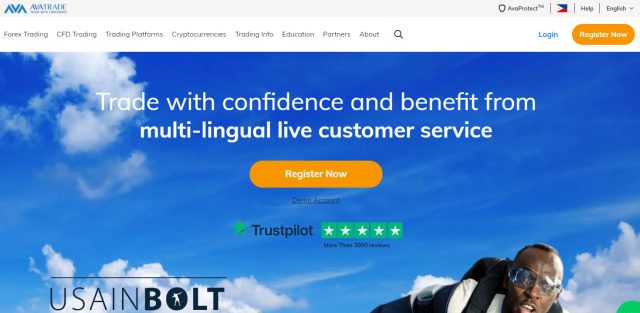 AvaTrade is one of the most recognizable forex trading brokers out there. The firm is regulated in 7 tier 1 jurisdictions, meaning that it's safe and reliable. In fact, AvaTrade is regulated by the Cyprus Securities and exchange commission, The Seychelles Financial Services Authority, ASIC, and a host of other tier-1 regulators, including those in Italy.
In addition to this, the firm offers a wide range of powerful trading platforms for the average forex traders and the ones with vast trading experience. AvaTrade also has its own proprietary trading software that feels easy to use and quite straightforward as well. You also get a chance to open a demo account and hone your skills in Italian forex before jumping into real currency pairs.
AvaTrade has also done well to offer a great variety of asset classes to invest in. At the time of writing this review, the platform had over 1200 investable assets, including commodities, indices, and so much more. You will also enjoy state-of-the-art customer support, some of the lowest trading fees, fast trade execution, and superior trading technology as well.
How does it work?
Before you start trading forex with AvaTrade, please be aware of the possible risks. CFDs in particular are very complex and your capital is at risk if you don't know what you are doing. Nonetheless, getting started with AvaTrade is actually not that hard. The first step is to sign up for trading accounts.
It would be best to start with a demo account and then upgrade to live trading accounts when you are ready. Some personal info will be needed before the account is approved including simple KYC questions and questions about your trading experience.
Once the account is active, you can go ahead and add some money. The min deposit at AvaTrade is $100 but you can deposit more depending on your trading needs. Once the deposit is reflected in your trading accounts, you can choose a trading platform and start investing in currency pairs and other asset classes on this platform.
Pros
AvaTrade is regulated in 7 tier one jurisdictions
One of the most recognizable brands in the forex trading world
Offers a wide variety of trading platforms with superior tech and advanced trading tools
Reliable customer support team
Some of the lowest trading fees of any forex broker out there
Cons
There is a minimum deposit of USD 100
Very high inactivity fees
Price
As with many forex brokers these days, AvaTrade offers commission-free trading on currency pairs and other assets including stocks. Now, this of course does not mean you won't be charged for trading. The bid/ask spread structure is often employed in determining payable fees.
The good news is that AvaTrade has some of the tightest spreads. For example, in the EUR/USD pair, spreads start from as low as 0.9 pips. For large volume traders with professional trading accounts, the spreads are even lower. Based on this, it is clear that AvaTrade fees are well in line with other competitors like Interactive Brokers and others.
Broker
Best For
More Details


Advanced for Non US Traders
Read Review




securely through Avatrade website
#2. Best Intermediate for Non-US Traders: FXCC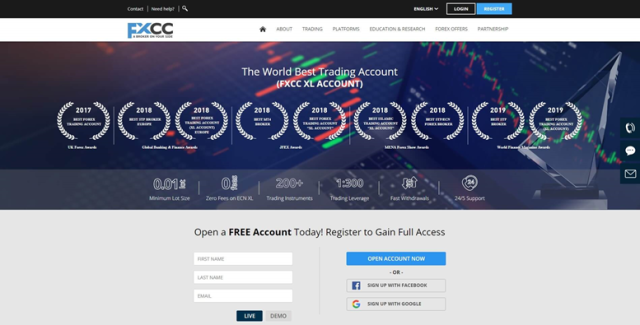 If you are looking for the best forex brokers when it comes to trade execution and speed, then FXCC has to be your first choice. The broker also comes with easy-to-use trading platforms, making it a great choice for intermediate forex traders. You also get very low fees with spreads starting from as low as o.1 pips.
FXCC also has a superb variety of tradable assets including metals, commodities, currency pairs, and stocks. As for folks who would love to trade with leverage, FXCC offers 1:300, one of the highest in the industry. There is also a dedicated team of customer support reps standing by to help you with anything and in-depth educational materials to help you get started with trading forex.
FXCC is also regulated by tier 1 bodies in various jurisdictions, including the Cyprus Securities and Exchange Commission Cysec and ASIC in Australia. For these reasons, the broker makes it to the list of the best firms to work with in forex trading.
How Does it Work
In case you would love to use FXCC to buy and sell a wide range of assets, then you need to head over to their website and create an account. Only a small amount of personal info is needed here. You can also sign up with Facebook or Google if you so wish. FXCC will also ask you a few questions about your trading experience before they hand you an account.
Once this is done, your account will be screened and verified based on the documents you provide. You can now start trading forex and other assets. Please note that the min deposit at FXCC is $100. You also get a various deposit and withdrawal options in Italy for some added flexibility. Once your deposit is in, choose a trading platform and start investing.
Pros
The broker is regulated by top agencies including CYSEC, ASIC, and others
Offers the lowest spreads, starting from as low as o.1 pips
Advanced trading platform with superb trading tools for fast execution
A wide variety of deposit and withdrawal options
Top-rated customer support reps
Cons
A min deposit of $100 is required before you start trading
Only has one trading platform
Closed for US traders
Pricing
FXCC offers some of the lowest trading fees of any forex broker. There are even some trading accounts that come with commissions free trading on several supported assets. FXCC offers low spreads too, starting from as low as 0.1 pips depending on trade volume, liquidity, and type of asset.
The EUR/USD currency pair is the most liquid and has massive trade volumes. Here, you are likely to pay close to zero fees. The fees charged by the broker are below the industry average, making it a great choice for high-volume active traders.
Broker
Best For
More Details


Intermediate for Non US Traders
Read Review




securely through FXCC website
#3. Best Overall Broker: Forex.com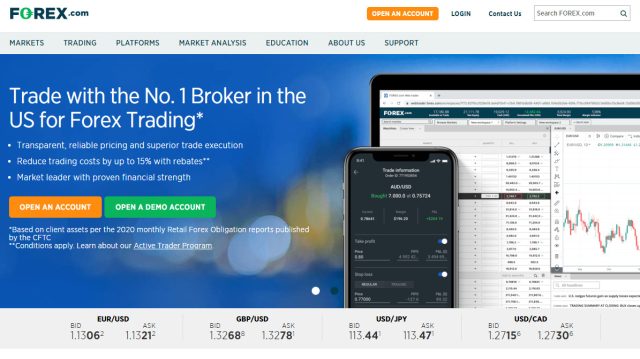 Forex.com is a big-name brand in forex trading. It targets traders all over the world and comes with some of the most advanced trading platforms, including the popular MetaTrader 4 and MT5. The broker also allows you to trade with leverage although you will get a risk warning.
It is also regulated by some of the leading tier one agencies including ASIC in Australia, the Financial Conduct Authority, and others. There are 4500 tradable assets on Forex.com including currency pairs, stocks, CFDs, commodities, precious metals, and so many others. Forex.com has also done well to offer low fixed commissions, tight spreads, and superb customer support for its traders.
The broker has comprehensive educational materials to help you get started with forex and a copy trading feature that allows for profitable social trading. Risk management tools and advanced technologies are also included in the trading platform to give all traders the best trading experience possible.
How does it work?
Getting started with Forex.com is so easy. The first thing to do, as with all the brokers on the list of the best firms, is to open a trading account. You will need to key in some personal info and upload identity and address verification documents. It takes about 24 hours for these documents to get verified.
Once this happens, you can now head over to the deposit section and add some money into your trading account. Deposits can take up to 3 business days to reflect in the account. It all depends on the deposit method you have chosen. After that, go ahead and choose the trading platform you need to trade CFDs and other assets.
You can also set the min leverage you want and take advantage of the in-depth research provided by Forex.com on various assets. In case you have any issues, contact customer service in Italian. Please also note that the min deposit here is USD 100.
Pros
The broker is regulated by the top tier Italian agencies and others including ASIC and the FCA
Offers tight spreads on currency pairs and very low fixed commissions
You get a variety of high-quality trading platforms to choose from
Among the most recognizable brands in forex right now
Offers extensive educational materials for traders
Excellent leverage for CFDs and other assets
Cons
The min deposit of USD 100 may be off-putting for low ticket investors
Customer support needs to improve a bit
Very high inactivity fees
Price
Forex.com charges both fixed commissions and spread-based fees depending on the account you are using. So, if you choose a commission-based account, you will pay a flat fee of USD 5 per standard lot, which is around 100K. You will also incur spread costs even if there is a fixed commission on the trade.
For instance, let's say you decide to purchase 200, 000 EUR/USD with a maximum spread of around 0.2 pips. The flat commission charged here will be $10. However, the 0.2 spread will attract an additional fee of $2 per trade. This will translate to about USD 12 in fees. The trade volume is what determines how much you pay but even then, the fees at Forex.com are competitive compared to other brokers.
Broker
Best For
More Details


Overall Broker
Read Review




securely through Forex.com website
#4. Best International Forex/CFD Traders: eToro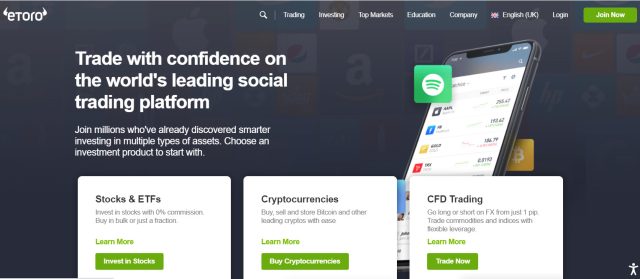 For the cryptocurrency investors in the United States, eToro has a graphics-intensive web platform. At the same time, the clients who are not in Italy are advised to trade contracts and stocks for the difference. A key feature of such a special proprietary platform is that the client can easily implement copy trading.
The main point of your experience with eToro is the ease it provides to complete tasks and carry out basic operations. The more instruments include searching the market available, making watchlists, and directly placing trades from the watchlist.
How does it work?
EToro platform features investors who like to follow risk-control rules and want to be duplicated. The retail account holders are accessible to mimic trading strategies and trades of many successful customers in real-time and automatically.
Note that the copy trading in and itself does not hold a guarantee of losses or gains. This platform is a little pricier concerning its competitors for trading Forex and CFDs. Although the recent introduction of zero-dollars commission and cutting spread for the Italian trading stock is beneficial.
All the investors on the eToro are trading manually. EToro does not permit completely trading systems like those supported by M.T. Thus, when you copy trade the eToro, it is guaranteed that every placed trade is manual.
Pros
15 cryptocurrencies options
Easy-to-use website
Great community for traders
Cons
Broad Spreads for trading cryptocurrencies
$25 minimum deposit
Price
The clients in Italy who trade cryptocurrencies have to pay 0.75 percent to 5.0 percent; this depends upon which currency you trade. In contrast, customers out of Italy don't have to pay any commission to close or open a long position. Small sales invite 0.18 percent commission of the trade value.
Italian clients are not charged for withdrawal of funds, except you are supposed to have a minimum withdrawal of 30 dollars. The withdrawal fee for non-Italian customers is 5 dollars.