5 Best Online Forex Brokers in Ireland – In Depth Review 2023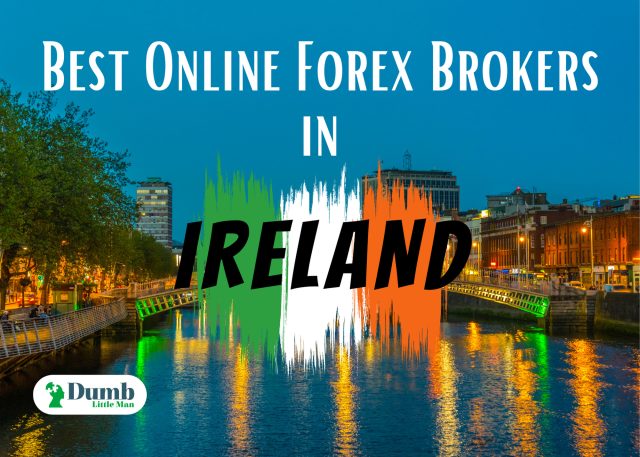 Want to jump straight to the answer? The best forex broker for traders is Avatrade
The #1 Forex Trading Course is Asia Forex Mentor
The forex market has been attracting a lot of investors over the years and for good reasons. It is by far one of the most liquid markets with a daily capitalization running into the trillions of dollars. As demand for forex trading grows, we have seen a sharp increase in brokers, and more so in Ireland.
The small European country in the British Isles has distinguished itself as the financial heaven in Europe and as such, all the major brokers are available there. However, it can be hard for the average trader to choose a broker for entities trading in the financial market.
Even if many brokers accept Irish traders, deciding which of these firms to trust in ETF trading and forex can be hard. This is why we decided to do some extensive research for you and come up with a list of some of the most respected forex brokers in Ireland. Keep reading and learn more.
Best Online Forex Brokers in Ireland
5 Best Online Forex Brokers in Ireland
Before we head over to the in-depth review of four of the best forex brokers in Ireland, it is important to remember that CFDs in forex and other assets are complex instruments and the risk of losing money rapidly due to leverage is very high. In fact, a significant percentage of retail investor accounts lose money when trading CFDs. Please make sure you understand the risks involved before you start a trading strategy with retail CFD accounts.
#1. Best Advanced for Non-US Traders: Avatrade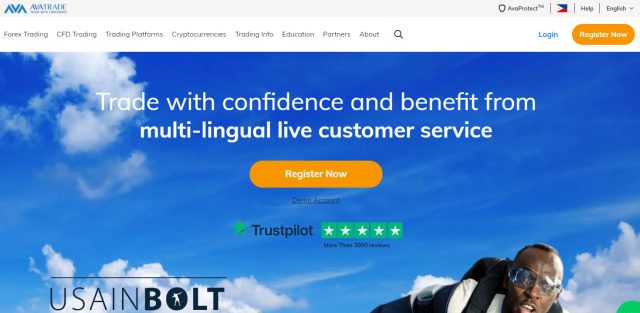 AvaTrade is one of the most notable brokerage firms in the world. The firm has been offering financial services since 2006 and is available in a lot of countries. AvaTrade is also regulated in 7 tier 1 jurisdictions, including Ireland itself. If you are looking for a trusted broker for trading forex, there are no better choices out there than AvaTrade.
In addition to this, the broker gives you access to a huge variety of financial instruments including CFDs, options, and individual stocks. At the time of publishing this post, there were over 1200 tradable assets available on the trading platform for global investors. AvaTrade has also invested in acquiring and developing some of the most advanced forex trading platforms for Irish traders.
You get its own state-of-the-art trading software and other third-party trading platforms as well including the Metatrader 4 and 5. You also get some of the lowest spreads on currency pairs and other assets, a robust team of customer support agents, and a global reputation for offering reliable forex trading services.
How does it work?
There are three simple steps to follow in case you'd like to use AvaTrade to access financial markets. They include registration, funding an account, and choosing the trading platform. Let's start with registration. Since AvaTrade is an Irish broker, it actually makes it a bit easier for Irish traders to open an account here.
Yes, there will be a few KYC screening questions but, in most cases, they are not too hard. Most people get trading accounts opened and verified with AvaTrade in less than 24 hours. The second step is to deposit money. Again, forex exchange traders in Ireland get a wide range of deposit methods to use. While some deposits may take up to 3 business days to reflect on the trading account, others reflect instantly.
Nonetheless, once the deposit is in, you can now go ahead and choose the trading platform. The MT4 and MT5 platforms are often a bit complicated for first-time traders so it would be best to start with a demo account. Once you are well versed with the platform, you can open live trading accounts and start investing. There is also the option of using the AvaTrade platform which is much easier to use for a beginner trader.
Pros
Offers several trading platforms for both forex and CFD traders in Ireland
Tight spreads and low fixed commissions on all assets
Has up to 1200 financial instruments to invest in
Excellent 24/7 customer support team
Extensive educational materials to help you make informed investment decisions
Cons
Very high inactivity fees
The trading platforms require a bit of time to get used to and may not suit beginner traders
Price
AvaTrade has a spread-based pricing system for people who want to trade in foreign exchange markets. For the EUR/USD pair, spreads start at 0.9 pips. This is in line with the average in the industry albeit some Ireland forex trading brokers charge less than that.
As for indices, spreads start from as low as 0.5 points on the S and p 500 but some indices like Europe 50 come with spreads of about 2 points. This is a bit high, to be honest. Please also note that this regulated broker charges high inactivity fees. For 3 months of inactivity, you will pay USD 50 while an annual administration fee of USD 100 will be applied for over 12 months of inactivity.
#2. Best Intermediate for Non-US Traders: FXCC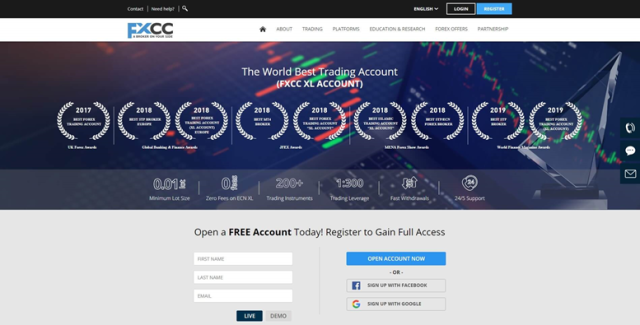 FXCC is a low-cost brokerage that offers traders in Ireland a variety of assets to purchase. The firm is regulated by the Cyprus Security and Exchange Commissions and other tier-1 regulators, including the Financial Conduct Authority FCA and others.
The broker also comes with negative balance protection for retail investor accounts to help reduce risk. You also get a superb and intuitive MT4 trading platform with reliable trade execution and efficiency. FXCC also offers commission-free trading on all assets albeit you will pay a spread-based fee. However, the spreads here are very tight, starting from as low as 0.4 pips.
There is also a lot of in-depth educational materials for new investors here, including regular trade signals and technical analysis. You also enjoy excellent customer support, easy account opening, and fast deposits and withdrawals.
How does it Work
There are just a few simple steps to follow to start using FXCC in your trades. First, you need a trading account. There is only one account type here albeit FXCC says it is working on other types to launch soon. Simply key in your personal info and upload verification documents.
The 24/7 customer support team will verify and approve your account in less than 24 hours. Once this is done, you can now go ahead and make a deposit, access the MT4 platform, and start trading in a wide range of currency pairs, cryptos, and commodities.
Pros
Offers over 71 currency pairs and 12 major cryptos
Regulated by the Cyprus Securities and Exchange Commission
Offers commission-free trading with tight spreads on currencies
You get the powerful Metatrader 4 platform
Excellent user research and investor education tools
Cons
Only has one single trading platform which can be limiting
The number of available tradable assets is very low
Pricing
FXCC is a commission-free broker whose fees are based on the spread system. The great thing about the firm is that spreads are very tight. For example, the EUR/USD pair has spreads that range from 0.0 pips to 0.4 pips. This is one of the lowest in the industry.
There are also swap rates on leveraged overnight trades as well as mark-up and currency conversion fees. The broker also charges inactivity fees so be aware of that. Either way, when you compare fees here with other brokers, they are very competitive indeed.
#3. Best Overall Broker: Forex.com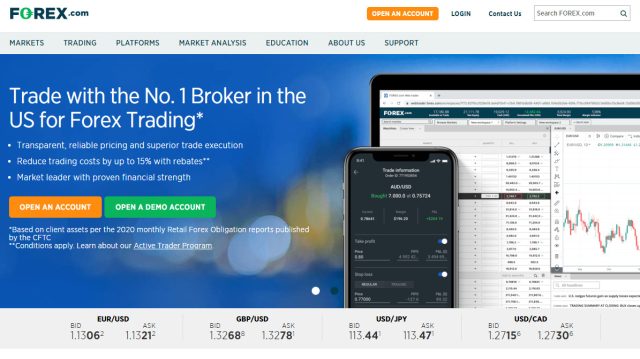 Just like FXCC, Forex.com is also a big-name brand in the forex world these days. It is known for its advanced trading platforms, extensive research and educational tools, and some of the lowest fees in the market. Forex.com also offers a huge variety of financial instruments including currency pairs, commodities, metals, indices, and stocks. In fact, there are over 4500 tradable assets on Forex.com for traders.
The online broker is also one of the most highly regulated firms on our list. Forex.com is regulated by tier-1 bodies including the Cyprus Securities and Exchange Commission, the UK's Financial Conduct Authority FCA, the International Financial Services Commission, amongst others. You also get some of the most advanced trading platforms here.
In addition to the usual MT4 and MT5 trading platforms, Forex.com has also developed its own advanced trading software with superb risk management tools, fast execution, and outstanding usability. The online broker is available in many countries as well and comes with a reliable customer support team, amazing leverage for CFD trading, and a global reputation of excellence in financial services.
How does it work?
As one of the leading online brokers in the world, Forex.com has made it easy for the average person to trade forex and other financial instruments with its platform. So, to get started, head over to the Forex.com site and hit the sign-up button.
But before you open a CFD account, please be aware that CFDs are complex instruments that come with a high risk of losing money rapidly due to leverage. Make sure you know what you are doing before you invest your capital in these leveraged financial products.
Despite this, Forex.com only requires basic info to open a trading account. For Irish traders, identity verification documents like an ID or passport will be required and a bank statement or utility bill indicating your address. Once the account is approved, just deposit some cash, head over to the trading platform, and start trading. Do not forget to download the mobile app to access your portfolio on the go as well.
Pros
Offers low trading fees and tight spreads compared to most brokers
Superb trading platform with advanced tech and ease of use
One of the most recognizable brands in the Ireland forex trading
Regulated by tier 1 agencies for extra safety
You get in-depth trading research and trade signals
Cons
Fees for certain CFD trading products can be very high
A minimum deposit of USD 100 is needed before you start trading
Price
Like most brokers offering financial services for Ireland forex trading, you will pay a spread-based commission with Forex.com. This is a standard practice in most established brokerages in the world. There are however some assets including stocks and ETFs that attract fixed commissions with this provider.
Also, the spreads paid will depend on the assets you intend to buy. For example, the EUR/USD pair attracts a spread of 1.3 pips while the GBP/USD currency pairs will start from 1.1 pips. This is a bit higher compared to other online brokers out there but well within the industry average. You will also incur a hefty inactivity fee with Forex.com. However, these fees will only kick in after one full year of inactivity.
#4. Best for International Forex Traders: eToro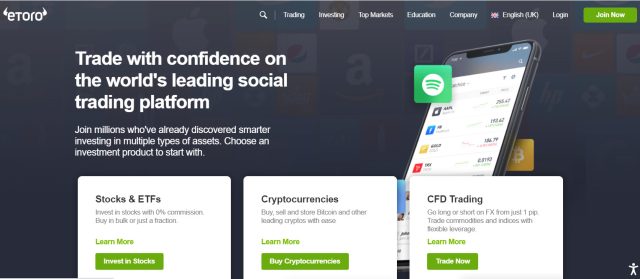 eToro is an Israeli-based brokerage firm that offers multi-asset investing for global clients. However, what really sets eToro apart is its advanced social trading approach. This approach allows relatively inexperienced forex traders to copy successful traders and earn returns.
In essence, eToro offers the average trader the chance to step into the market with confidence and comes with its own interactive trading platform that feels so easy to use. You also get a free demo account from the brokerage to train yourself before getting into real money. This makes eToro one of the best Irish brokers. The firm is also highly regulated too.
In fact, eToro is regulated by the UK Financial Conduct Authority FCA, the Cyprus Securities and Exchange Commission, the Australian Securities and Investments Commission ASIC, and others. You also get 100% zero commission trading on stocks and a good variety of CFD products. The firm has also done well to offer new traders extensive training materials, including research on stocks and other assets. For Irish traders looking for a simple and easy-to-use online brokerage firm, then you won't find a better option out there than eToro.
How does it work?
As a leading copy trading app, eToro has structured its financial services to make it so easy for average people to trade. So, how it works depends on your level of trading experience. But if you are an average forex trader, the first thing would be to open an account. eToro has some of the most accommodative KYC requirements for Irish forex trading so you should be able to get an account opened and approved in hours.
Secondly, find the most experienced investors to copy. Each of these experienced investors will have a rating under their names and the average returns they have made over the past 12 months or so. This is done to ensure there is trust and integrity in social trading. As a rule, always copy your trades from investors with a history of consistent returns.
Also, you can open a free demo account and trade with virtual money just to get acquainted with the online trading platform. Once you have decided it's time to trade and you have a few investors to copy trade, you can deposit money through bank transfer and other methods and start your journey. Please also note that there is a minimum deposit requirement of USD 200.
Pros
One of the most highly regulated brokers in Ireland and the world in general
Offers social trading to reduce the high risk associated with CFDs
Has huge asset classes to invest in including crypto, stocks, and currency pairs
Zero commission trading on US stocks and ETFs is also offered
Easy to use online trading platform for beginner traders
Cons
The online broker charges deposit fees for non-USD deposits
You also have to pay a minimum deposit of USD 200 before you start trading.
Price
Like many forex brokers, eToro uses a spread-based system to charge commissions albeit there are certain assets that have fixed commissions as well. First, it is important to note that the social trading app offers zero commission trading on all stocks in the US. There are no ticketing fees, stamp duty, or markup up fees. It's simply 100% free of charge.
But other assets attract fees. For example, for folks who want to try CFD trading on crypto, fixed commissions will be charged as a percentage of the trade volume. For instance, Bitcoin attracts a fee of 0.75% of the trade volume while Ether stands at 1.9%. Fees for buying crypto can go as high as 5% of the trade volume. For currency pairs, it all depends on the pair and its liquidity. Nonetheless, spreads on currencies start from as low as 1 pip while those on commodities start from 2 pips.
#5. Best for Forex Trading: HYCM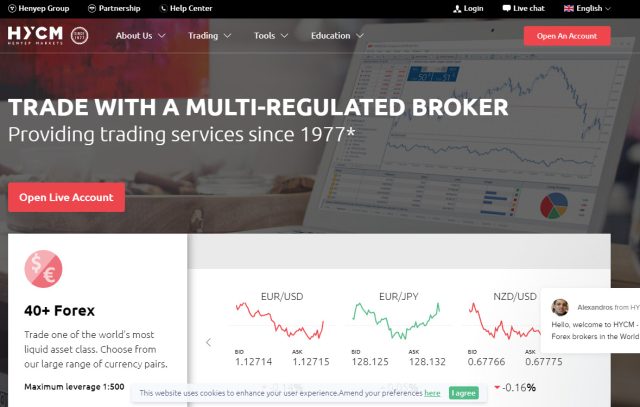 HYCM is not just one of the best forex brokers out there, it is also one of the oldest firms in the market. The broker has a 40-year history in this space and continues to build a reputation of reliability and trust among traders all over the world. There are also a few decent features too look out for here.
First, the forex broker is powered by the powerful MetaTrader 4 and 5 platforms for seamless trading and fast execution. It is also a regulated brokerage. In fact, the firm is regulated in 2 tier-1 jurisdictions and several other tier-2 jurisdictions as well. Although this is not nearly as much regulation as the other brokerages on our list above, it still means that HYCM is a safe place to invest your money. You will also get some of the lowest trading fees in forex, including spreads that start from as low as 0.9 pips.
HYCM also offers several assets to buy including stocks, indices, commodities, crypto, and others. At the time of writing this post, the broker had around 350 tradable assets under its platform. HYCM is also doing very well in research and education. The firm has a feature called Trading Central where you can get free and popular automated technical analysis and trade indicators as well. However, the Trading Central feature is part of the Metatrader platform so it should be available in other brokers that also offer the Metatrader platforms.
How does it work?
HYCM is such an easy-to-use brokerage. This is because it has one single platform. So, to get started, head over to the main website and sign up for an account. There will be a few questions there and some places to key in your personal info but in most cases, this will take less than 5 minutes to complete. After that, the broker will ask you to verify your account before you make any deposits.
This is done using your national identity card or Irish passport. You may also need to upload address verification documents including credit card statements and others. As soon as the support team verifies your account, you can start trading. Simply deposit some money into the account and head over to the Metatrader to open your first trade. If you have not used Metatrader before, do not worry.
Even though the platform can be hard to grasp at first, HYCM offers video tutorials to help you learn as much as possible. Also, do not forget to use the trading central feature in all your trades. There is a lot of technical analysis that goes into the portal and some trade signals as well that can help you decide where the market will go. Although you are ultimately responsible for your own investments, these signals can actually help you make profits.
Pros
One of the oldest and most reliable brokerages in the world
Regulated in two tier-1 jurisdictions for safety and security
Offers low trading fees with spreads starting from as low as 0.9 pips
Takes just a few minutes to open a trading account with this provider
Extensive technical analysis and investment research
Cons
Only has the Metatrader platforms and nothing else
Not as regulated as some of the brokers listed in our rankings
Price
HYCM, as with other brokers, uses the spread-based system to calculate fees for traders. However, there are no standard commissions here in fact, how much you pay eventually comes down to the type of account you have. HYCM has three main accounts. They include the Fixed account, the Classic account, and the Raw Account.
In terms of paying fees or spreads, the Classic and Fixed Accounts are more or less the same. Average spreads on the EUR/USD pair on these two accounts start from 2 pips. This is a bit high compared to the industry average. So, if you actually want to save on fees, it would be best to work with the Raw account.
Here, spreads start from as low as 0.7 pips on the EUR/USD pair. Please also note that even with this low spread, the Raw account will attract a fixed commission of USD 4 per round turn. But this translates to a spread of at most 1.1 pips which is still low. There are some large volume accounts that get as low as 0.5 pips including the fixed commissions.
How we rank the Best Online Forex Brokers in Ireland?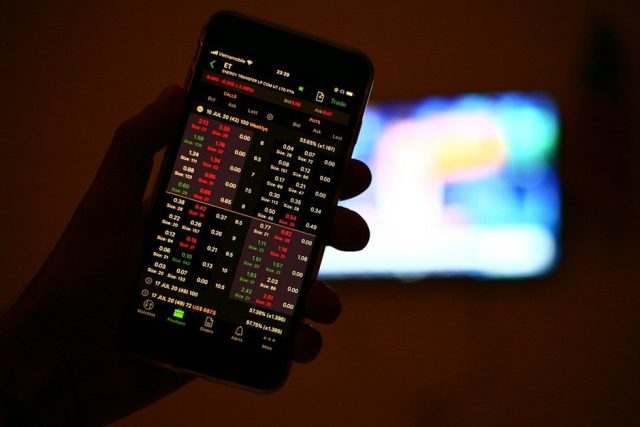 The ranking above of the best forex brokers in Ireland was done through extensive research, consultations with industry experts, and overall customer feedback. However, there were some general attributes that we fully focused on in determining which forex broker is the most ideal when it comes to trading CFDs, forex, and other assets. The first thing that the team considered in detail here was safety.
As you know, over the last few years forex markets have been filled with scam brokers. For this reason, we wanted to make sure that each of the brokers above is regulated by the central bank of Ireland and other tier-1 bodies. In most cases, brokers regulated by the central bank tend to be safe and reliable.
Also, the team wanted to see how much in trading fees do brokers charge. If you ask any investor, they will tell you that the biggest priority for them, other than making profits, is to pay minimal trading fees. Well, it appears the brokers above do quite well in this regard. Our team basically compared trading fees with the industry average and choose those that offer the best rates for each financial instrument.
There was also some in-depth analysis of trading platforms. As a rule, the team sought to find out how fast, reliable, and easy to use each of these platforms are. Brokerages that had superior trading technology were ranked higher. We also assigned weighted rankings based on customer support, ease of opening and funding an account, investor education and market research, and trade execution as well.
How to choose the Best Online Forex Brokers in Ireland?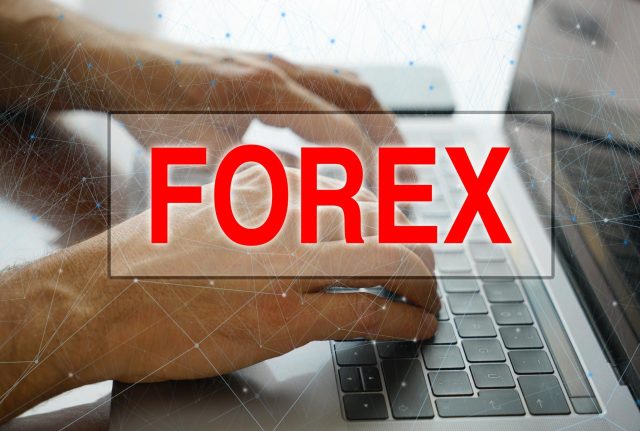 The forex trading market is filled with a huge chunk of brokers. But it does not mean that every broker is ideal for you. In fact, before you choose a broker you must ask yourself what your trading needs are and which broker meets them best. Despite this, there are a few steps you should follow before you choose a regulated broker.
First, decide what type of assets you want to trade. There are of course the usual asset classes like stocks, indices, currency pairs, and ETFs. But you can also buy crypto, metals, and so many others. It's only when you decide what you want to buy and sell that you can choose forex brokers in Ireland that work.
Secondly, ask yourself how much money you are willing to start with. You see, most CFD brokers have minimum account deposits. You must meet these minimums before you start trading. If indeed the account minimum is higher than what you are willing to invest, then find a more accommodative broker.
Thirdly, assess your trading experience. CFDs are very complex and require a lot of due diligence before you invest. In that case, always go for brokers that offer extensive investor education and in-depth market research to help you make informed investment decisions. You may also want to choose brokers that are fully regulated, those that charge low fees, and recognizable brands with a reputation of trustworthiness in the forex market.
Choose Asia Forex Mentor for Your Forex Trading Success
If you have a keen interest in establishing a successful career in forex trading and aspire to achieve substantial financial gains, Asia Forex Mentor stands as the optimal choice for the best forex, stock, and crypto trading course. Ezekiel Chew, renowned as the visionary behind trading institutions and banks, is the driving force behind Asia Forex Mentor. On a personal note, Ezekiel consistently achieves seven-figure trades, a distinction that truly sets him apart from other educators in the field. Here are the compelling reasons that underpin our recommendation:

Comprehensive Curriculum: Asia Forex Mentor offers an all-encompassing educational program that covers stock, crypto, and forex trading. This well-structured curriculum equips aspiring traders with the knowledge and skills necessary to excel in these diverse markets.

Proven Track Record: The credibility of Asia Forex Mentor is firmly established through its impressive track record of producing consistently profitable traders across various market sectors. This achievement serves as a testament to the effectiveness of their training methodologies and mentorship.

Expert Mentors: At Asia Forex Mentor, students benefit from the guidance and insights of experienced mentors who have demonstrated remarkable success in stock, crypto, and forex trading. These mentors provide personalized support, enabling students to navigate the intricacies of each market with confidence.

Supportive Community: Joining Asia Forex Mentor brings access to a supportive community of like-minded traders pursuing success in the stock, crypto, and forex markets. This community fosters collaboration, idea-sharing, and peer learning, enhancing the overall learning experience.

Emphasis on Discipline and Psychology: Success in trading necessitates a strong mindset and disciplined approach. Asia Forex Mentor provides crucial psychological training to help traders manage emotions, handle stress, and make rational decisions during trading.

Constant Updates and Resources: The financial markets are dynamic, and Asia Forex Mentor ensures that students remain up-to-date with the latest trends, strategies, and market insights. Continuous access to valuable resources keeps traders ahead of the curve.

Success Stories: Asia Forex Mentor takes pride in a multitude of success stories where students have transformed their trading careers and achieved financial independence through their comprehensive forex, stock, and crypto trading education.

In summary, Asia Forex Mentor emerges as the premier choice for those seeking the best forex, stock, and crypto trading course to carve a rewarding career and achieve financial prosperity. Through its comprehensive curriculum, experienced mentors, practical approach, and supportive community, Asia Forex Mentor provides the necessary tools and guidance to mold aspiring traders into accomplished professionals across diverse financial markets.
Conclusion: Best Online Forex Brokers in Ireland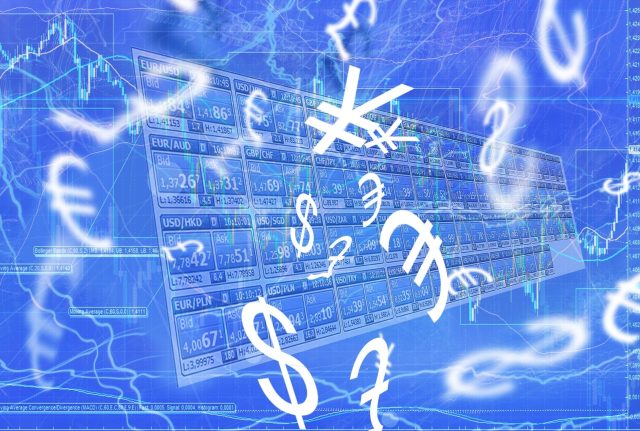 Picking the right broker often comes down to personal choice. But despite this, there are a few brokers out there that typically stand out more than others. AvaTrade is a prime example of that in fact, for traders in Ireland, there is no better option out there than AvaTrade. There are of course several reasons for this.
To start with, this is actually a home-grown broker based in Ireland. Although AvaTrade has expanded into so many countries, it still remains a truly Irish broker regulated by the local central bank. AvaTrade is also regulated by some of the top tier-1 agencies including the UK Financial Conduct Authority FCA, The Australian Securities and Investment Commissions ASIC, and so many others. This gives you that extra bit of safety and security as you trade global financial markets.
You should also know that AvaTrade has invested in developing state-of-the-art trading platforms with fast trade execution and superior trading tools. There are over 1200 tradable assets too, a superb customer support team, and some of the lowest fees.
Although this does not constitute financial advice, it's safe to say that AvaTrade is the ultimate choice for any trader. But there are a few shortcomings too, including high inactivity fees and account deposit minimums of USD 100. But other than that, this is a solid forex broker and should be a great place to start for Irish forex investors.
Best Online Forex Brokers in Ireland FAQs
Is Forex trading legal in Ireland?
Yes, forex trading is very legal in Ireland and in most countries around the world. Although there will always be a financial services agency regulating this market in most places, generally most people can easily trade the foreign exchange market without too many restrictions. You will only need a good and reliable broker and some investment capital to get started.
What are retail investor accounts?
Retail investor accounts are individual investment accounts that are used to buy and sell assets in the financial markets. This can be retail CFD accounts or just a stock buying account. In most cases, these accounts come with negative balance protection as part of the regulations set in many countries. However, make sure you understand how negative balance protection works with your brokerage first before signing up.
Does forex broker lose money?
It's not likely that a broker will lose money unless of course, they are sloppy. In fact, when you look at the brokers above, they are regulated by the best agencies out there including the Financial Conduct Authority FCA in the UK. This means that based on the financial instruments directive issued by these bodies, the firms have to aspire to the highest standards of quality possibleThis is something that eventually makes your money safe at all times.