11 Best Graphic Design Software In 2023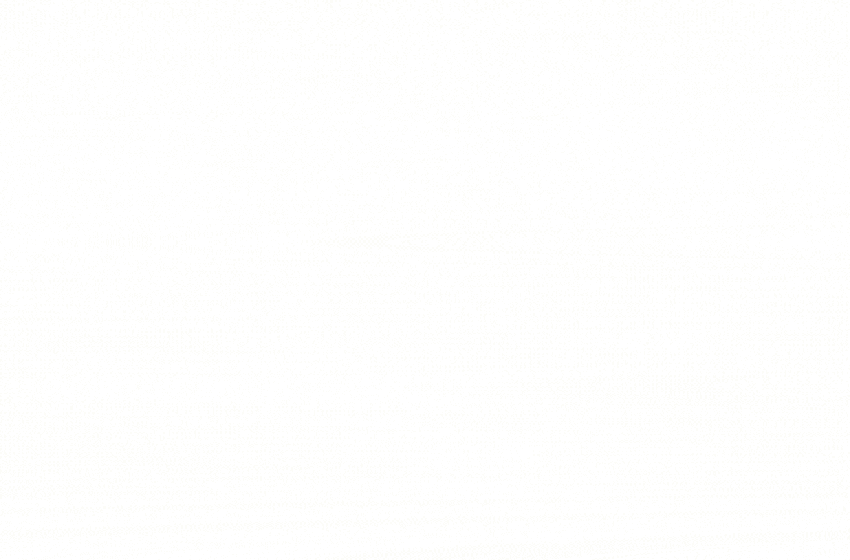 Graphic designers have an important impact on digital marketing. Because every project needs a visual representation before it is built.
Graphic design helps to understand the advanced features of the project. First, designing was done on paper but that didn't last long.
Now, many graphic design tools are available that help in vector graphics and image editing. Adobe creative cloud is one of the many editing tools.
Stick around to see the best graphic design software to create amazing designs. This will surely come in handy once you start your graphic designing career.
Best Graphic Design Software in 2022
11 Best Graphic Design Software: Detailed Insights
#1. Top Consumer's Choice: CorelDraw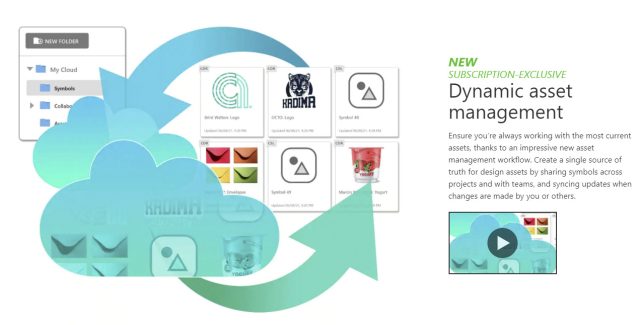 The classic free graphic design software is the coral draw. We mention it in the list of best graphic design software because of its amazing features.
Here users can do the projects of vector design and bitmap. In this software, users can do what people do using illustrator and photoshop.
Due to the amazing discounts, it is still the first choice of many entrepreneurs. Here are some features of the CorelDraw that you will love
Content Exchange
Customizable UI
How does it work?
CorelDraw allows users to write in multiple languages, create graphic designs, and edit pictures. It is an online digital library that contains thousands of HD images.
From this library, you can also export interactive frames, bitmap fills, templates, professionally created templates, gradients, fonts, and vectors.
You can download the software with a free version for desktop publishing. It is considered the steep learning curve to designing.
Pros
It supports 48 file types
With no lag, the surface pen works efficiently
For a smooth transition, you can use the touch functionality
It comes with a powerful set of tools
Cons
The intuitive interface is not good for beginners
You can not use CorelDraw on mobile
Price
Annual Subscription: $399 per year
One-Time Purchase: $885
#2. Best Photo Designing Software: Adobe Photoshop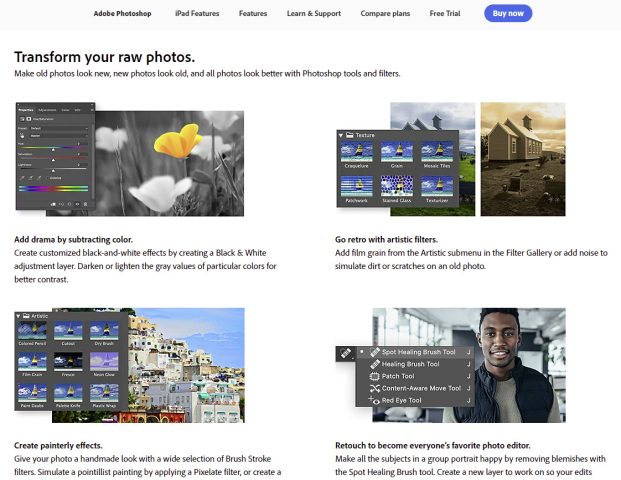 For photo editing, adobe photoshop is the first choice. Millions of people use it to crate and edit photos. It is an adobe creative cloud product and has amazing tools.
It comes with an interactive user interface that allows people to edit photos. To use the software, people need appropriate knowledge.
For this purpose, tutorial videos are available on the official website and the cloud. So if you are stuck somewhere you can take help from the videos and the internet.
There are many incredible photoshop features that we can not mention here, but some of them are
Layers
Color Channels
Levels
Hue and Saturation
Filters
How does it work?
To do the painting, editing, drawing, banners, websites, or logos, you can use Adobe photoshop. It has almost all the features that help you in editing.
You can also create custom brushes for the new effects. And with the help of layers, you can focus on the specific part of the image.
In this way, you will not disturb other images and produce a good output. Moreover, to change the shade of the pictures, there is a hue and saturation feature that make images magical.
Pros
HTML exporting is available
Resize multiple objects at a time
Integrated stock image library
Powerful editing tools
Cons
Overwhelming interface
Have more price than other free graphic design software
Price
Monthly Annual Plan: $20.99 per month
Prepaid Annual Plan: $239.88 per year
Monthly plan: $31.49 per month
Check out Adobe Photoshop here.
#3. Overall Best Editing Software: LucidPress
The first best graphic design software in this list is LucidPress. It is a web-based graphic design tool that helps students to create and share their digital content.
This drag and drop publishing software allows printing the design. Here students can find an interactive tutorial to know the basics.
Here students can browse the web graphics to design web pages. In addition, students have the facility to create a team or custom document.
Also, they can add collaborators to the document. After finishing the product, students can download the document or share it on social platforms.
It is the best platform for both teachers and students. Because through adding collaborators options, teachers can view the student's performance.
Here are some best features of the LucidPress that you will love
WYSIWYG UI
Platform-Agnostic
Templates
Print and Digital Ready
How does it work?
To introduce the graphic design concept to students LucidPress is the best option. Because it has a simple user interface and multiple templates.
And the drag-drop functionality allows beginners to create designs easily. Besides the students, this software is best for teachers.
The robust community of the software helps to create simple designs. So that users can learn the design basics and become experts.
Pros
Affordable rate
Mobile-friendly architecture
High-Quality layouts for printing purposes
Easy to use
Cons
Does not all file formats
Document sharing can be complex for beginners
Price
Basic Price: $10 per month
Advanced Price: $12 per month
Premium Price: Different price rates according to the package
#4. Free Vector Desing Software: Krita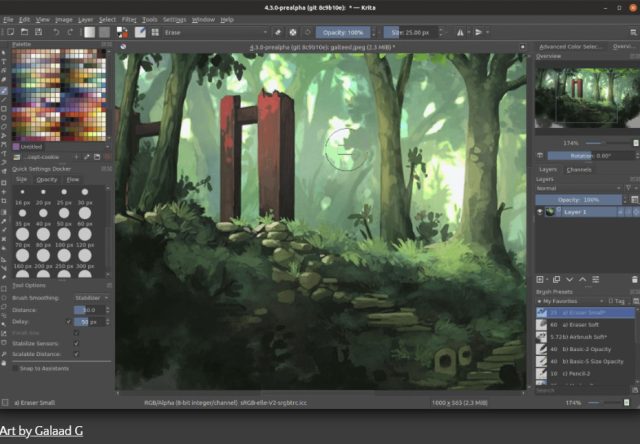 Krita is a famous illustration tool. It is a powerful photo editing tool and provides a better environment for users.
Unlike other software, it does not take too much money to access its features. Professionals developed it a long time ago just to provide better space to digital creators.
You can use it to create responsive web design layouts with a low learning curve. Moreover, it provides full-time support to users.
Here are some key features of the Krita that you will love.
HDR support
Drawing Assistants
PSD support
Training Resources
How does it work?
Like illustrator and photoshop, you can use this software for digital creation. To use this software you do not need the creative cloud subscription.
It has all the tools and objects that help you to create complex vector designs. In addition, you can create detailed graphics or UI.
Also, it has a gnu image manipulation program that allows you to edit images. So if you want to save money you should download this software.
Pros
Available free of cost
Specially designed for illustration
The vibrant community helps the beginners
Easy to use
Cons
The service team provide no support
Only desktop users can use it
Price
You can easily download it because it is free.
#5. Expert's Choice: Inkscape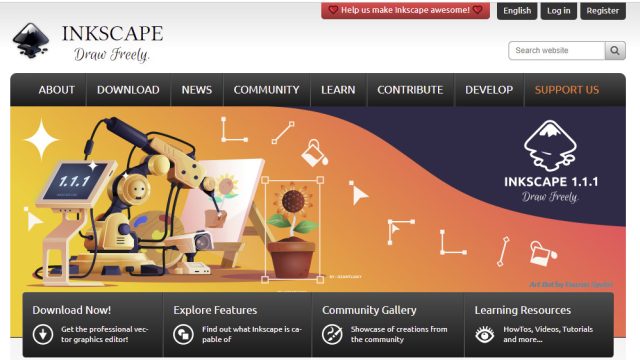 It is an open-source best graphic design software that is famous for creating smooth vectors. It comes with an easy user interface that an affinity designer can use efficiently.
For a graphic designer, the availability of editing tools matters. And here he gets many vector editing and designing tools.
You can enjoy its free version to create vector images. This free vector software is used by many designers to create custom vectors.
Here are some best key features of this free tool
Manual Improvements
Regular Updates
Better User Experience
How does it work?
To create smooth vector images this software provides the designers with a better environment. The robust community updates all the users with the new features and updates.
In addition, with the open-source code, designers can enhance the functionality of the software. It provides a better experience to all the users and has the tools that help designers.
Pros
Featured editing tools
Can design complex combinations
Available at a low price than other software
Multiple downloadable plugins
Cons
Bugs in the mac version
Processing may become slow
Price
It is free software and you can download it for both MAC and Windows.
#6. Good Vector Designing Software: Vectr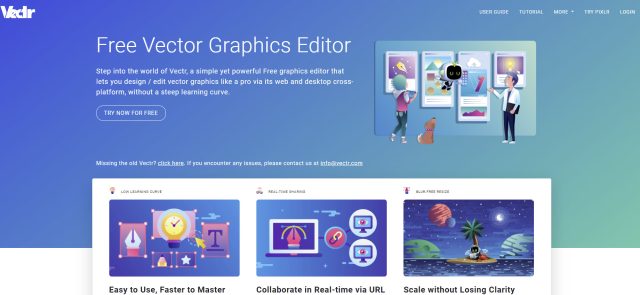 It is a simple and powerful vector graphics solution for graphic designers. Vectr is used by social media specialists, bloggers, project managers, and software engineers.
It has a simple user interface that allows all the designers to access all the designing tools. This software allows people to create designs for multiple purposes.
You can also add collaborators to the project for better interaction. Furthermore, it is compatible with browsers and all desktop devices.
Here are some features of Vectr that you should know.
Arrange elements
Fills and strokes
Pathfinders
Gradients
How does it work?
You do not need much knowledge to use this software. It is specially made so that you can easily share your file.
And import or export different tools. To provide better designing solutions it does not have advanced features.
Therefore, it a good choice for beginners. As it allows to create simple graphic designs quickly. In addition, with multiple tools, you can create wonders.
Pros
Easy to create vector images
Comes with hundreds of online vector graphics tools
Better user interface
Provide better access to all vector tools
Cons
Importing and exporting may be difficult
You need an active internet connection to access all features
Price
It is available free of cost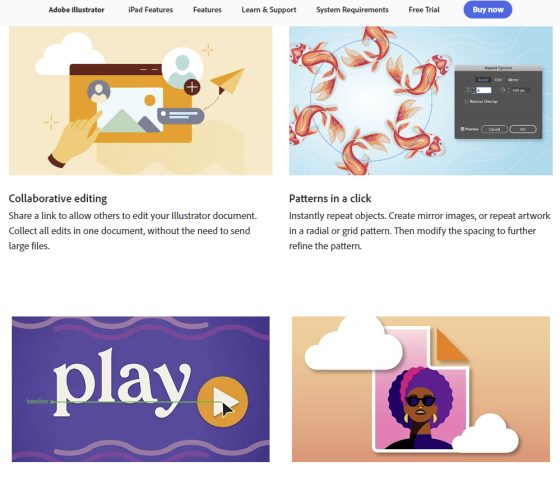 The second creative cloud product is adobe illustrator. For vector illustration and digital art, it is the best free graphic design software.
Illustrator is the product of Adobe software which means you can see video tutorials on full creative cloud. Illustrator provides the best vector art environments so that you can create imaging designs.
Both photoshop and illustrator have the same work environment. But the difference is that illustrator focus on vector illustration and photoshop is not just a photo editor.
Adobe InDesign is similar to illustrator but adobe illustrator has several targeted workspace layouts. So if you want to create vector designs you should use illustrator.
With advanced design elements, Adobe illustrator has some amazing key features which are
Transform tool
Real-time editing and drawing
In-panel editing
Cut, copy, paste artboards between files
How does it work?
Adobe Illustrator comes with multiple panels that have different tools. At the same time, you can open all the panels to easily access the tools.
And at a time you can only open the panel that you need. Each panel can be accessed through the shortcut key and the menu at the top.
Adobe's creative cloud product helps in resizing multiple objects. And create images with high quality.
Pros
A complete suite of drawing tools
Helps to create detailed images
Create graphics based on mathematical equations
Provide access to images, videos, and graphics
Cons
The software has a high size
You need to learn all the features
Price
Prepaid Annual Plan: $239.88 per year
Monthly Annual Plan: $20.99 per year
Monthly Plan: $31.49 per year
Check out Adobe Illustrator here.
#8. Beginners' Choice: Pixlr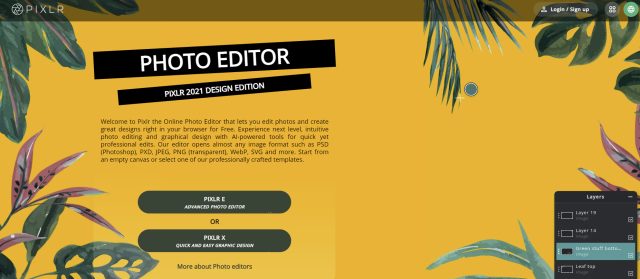 It is online flash-based editing software. It is free for all designers and enterprises. Till now, there is no news that this platform will charge people for its services.
Pixlr helps to create vector designs and edit images quickly. From the web, you can easily download the app.
You only need a good internet connection to get the app. It has some powerful functionalities that help you to create complex designs.
Here are some features of the Pixlr that you should see
Effects
Layers
Brushes
Digital painting and many more
How does it work?
To edit the image, you can easily open it through the software. It works the same as the other popular editing software does.
It means you will get the professional tools here that help you to create amazing digital designs. You can also set the images private that you edit in Pixlr.
It will increase your interaction with the app. But you need active internet to access all the features. Furthermore, it does not save a copy of your design in their system.
Pros
Create designs quickly
Easy to use
Do not take too much space
Available free of cost
Cons
You need to learn the tools
It doesn't support all file formats
Price
It is available free of cost.
#9. MAC Designing Software: Sketch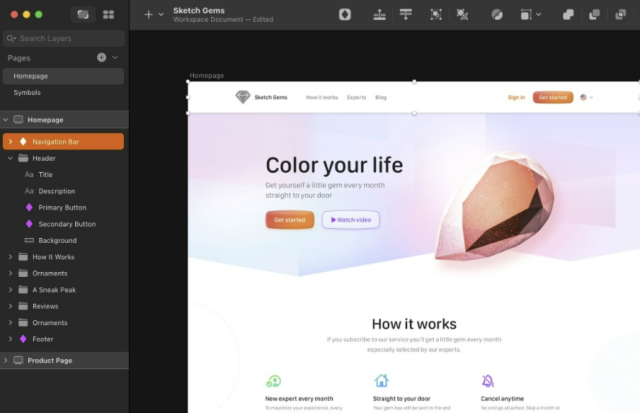 The sketch is only available to MAC users. It is vector-based graphic design software. It is specially made to create designs for the UI, app, and web.
Unlike other graphic design software, it is not useful for image editing purposes. That means its design tools only allow you to create vector images.
So if your laptop is not compatible with the illustrator's size then you should go for the sketch. Also, it is available at a low cost.
Here are some best features of the sketch that you will love
Screen templates
Smart layout
Custom plugins
How does it work?
The interface design is so simple that beginners can easily use it to create UI designs and custom templates.
According to your content, you can easily resize all the objects. It provides the artboard library to create responsive designs.
The user only needs to select the device and artboard first. Furthermore, it has hundreds of plugins that designer add for a specific project.
Pros
Collaboration with teammates is easy
Changes are saved automatically
Optimized for screen designs
Require minimum knowledge to use tools
Cons
Available for MAC users only
Don't render in high resolution while accessing the cloud screen
Price
Basic Price: $9 per month for a single editor.

Gravit designer pro based on HTML graphics design to produce high-quality vector graphics. It provides helpful tools for web designers, products, or graphics.
Through the dashboard, you can easily navigate between the light and dark theme quickly. Also, users can check the dimensions of the document through the dashboard.
With the canvas settings, users can easily set the artboards and pages for designing. In this platform, you will get the pen tool, Bezigon tool, lasso tools, and much more.
In addition, users can have multiple fillings in the object. It is compatible with Windows Linux, and the latest Mac version.
The best features of Gravit designer are following
Auto Layouts
Powerful Grids
Multiple Styles
Auto Layouts
How does it work?
This free graphic design software is specially made for website designers, product designers, and graphic designers.
To make a creative graphic design, it provides a suite of amazing tools. By using these tools users can express their creativity.
It can be used both online and offline. To produce amazing outputs, this platform provides concepts, animations, presentations, and much more.
By using all these powerful features, users can easily make detailed graphic images.
Pros
Offers flexibility in both Web and Desktop version
Support multiple file formats to export and import files
Editing of scalable vector graphics
Pro version offers unlimited cloud storage
Cons
You need an internet connection to use fonts
Not a lot of information is available on the official website
Price
Gravit designer comes with a free trial package and a basic package.
Basic Price: The package is available at $49.99 per year
Check out Gravit Designer here.
#11. Online Editing Software: Canva

For social media posts, youtube banners, and gigs, Canva is the best free graphic design tool. It is available on all platforms including iOS, Android, macOS, and Windows.
Canva is one of the best graphics software that is good for both beginners and experts. It also provides vector tools for creating innovative designs.
Here you can create graphic designs by drag and drop objects. Due to this facility, you can make the complex design in just some minutes.
Here are some key features of this best free graphic design software
Drag and drop speech bubble
Collaboration
Snapshot straightening
How does it work?
This one software provides you with enough design tools that will help you to complete the requirement. Even you can collaborate with your teammates from any device.
And to sharpen the project you can square up the photos. Furthermore, by drag and drop objects works become easy. It does not have a less intuitive user interface.
Therefore, users can easily access all the tools and objects. So if in less time you want to make something creative, you should select Canva.
Pros
Easy to use
You can easily change color, text, font, and layouts
Provide multiple templates
Available free of cost
Cons
Templates and photos are generic
Difficult to use on small screens
Price
Basic Price: Free
Pro: $119.99 per year
Enterprise: $30 per month for one person
How We Rank the Best Graphic Design Software?
We rank the graphic design software according to the customer reviews, price, and features. Every designer has different design needs.
Some want to work with photos. While some create digital designs like company logos and vector art. Both types of work have different natures.
Therefore, they need different tools which are usually available in different software. But there are notable softwares like Corel Draw and Adobe.
Both are the best graphic design software because they also create vector graphics and edit real images. That's why, in our list, the best product is Corel-draw and Adobe Photoshop.
How to Choose the Best Graphic Design Software?
Depending on the features and price you can choose the best graphic design software. If you want to save price then go for the software that is readily available and free like Inkscape.
But for the paid software CorelDraw and Adobe products are the first choice of every designer. In addition, you can use Canva to make designs quickly by drag and drop.
Furthermore, the best graphic design software is the one that helps designers to create the designs in a short time. And this is only possible when the designer has the facility of drag and drop objects.
But remember by drag and drop objects you will not include details in the graphics. So select wisely according to the requirement.
Conclusion: Best Graphic Design Software
All the software in the above list are the best of the best. You should read the description before deciding which one to use.
Because all of this software has different features and work environments. For photo editing, you can use photoshop as it is excellent in that area.
But for the free version, you can go for Krita. On the other side, for vector graphics illustrator, Adobe is also a good choice.
It comes in a heavy size that does not suit all designers and has high prices. Therefore, the sketch is the other option for illustration as it has less size and less costly too.
But as they say, we can only pick one. Certainly, the best is CorelDraw.
It is user-friendly especially for beginners. The surface pen works efficiently. This is a good thing for designers who wish to maintain being in the zone.
Try Coreldraw for yourself and you'll see what we mean.
Graphic Design Software FAQs
What is a Graphic Design Software?
A graphic design software contains the designing tools and templates that allow designers to create creative designs.
You can edit the photos by adding effects and changing the contrast. With the help of graphic design software, you can give a whole new look to the image.
Similarly, you can design multiple graphic designs that people use to design UI and banners for Youtube and gigs.
Can I do photo editing on this software?
Not all graphic design software provides the facility of photo editing. But you can use Photoshop for this purpose.
Is there a free graphic design software?
Yes, there is some free graphic design software that you can use. For Example, Vectr, Inkscape, and Pixlr.
Like this Article? Subscribe to Our Feed!
Vanessa is a mom of 3 lovely children and a software geek. Outside of her career as a health and wellness instructor. She enjoys writing and researching on topics such as finance, software, health and culinary.