13 Best Content Writing Tools You Need to Use in 2023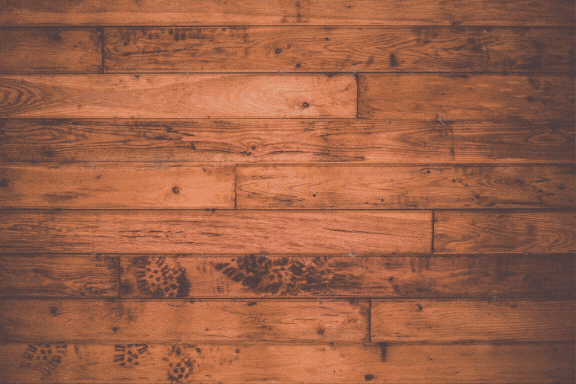 We could probably offer important reasons why you should shop for this information right now. Whether you want to ace your essays or reign in online content, this will lead you to sure goals.
In modern content writing, passion and basic knowledge are not enough to create a selling masterpiece. If you aspire to online presence, you must start adopting the essence of a digital platform— to deliver accurate and responsive information.
Whatever you aim in writing, hitting requires you to upskill with the help of various writing tools. These tools will not do the report but rather help you develop captivating write-ups.
Remember, never an AI creation yet ignites revolutions and sensations than people with unique minds and passion conquers.
Are you looking for the best tools for writing? Have this reference of writing products to choose for your writing business!
Best Content Writing Tools in 2022
Free your mind from the loud imaginary sound of spending money that you might think these writing tools could cost. You don't have to pay much to have an account.
One might not just need a grammar checker or plagiarism checker, but also other editorial functions. You can access at least three tasks as critical features of the free version to some writing products.
What a lifesaver for writing professionals, right? But you cannot also have what you need in a single application. That is why it is better to explore and consider what is valuable and appropriate for your crafts.
Here's a well-rounded guide at your service!
Discover the best combo of writing apps and tools that matches your style and flow. Below are all the details about the 13 recommended tools which are competitive in different writing categories.
13 Best Content Writing Tools
#1. Top Consumer's Choice: Scrivener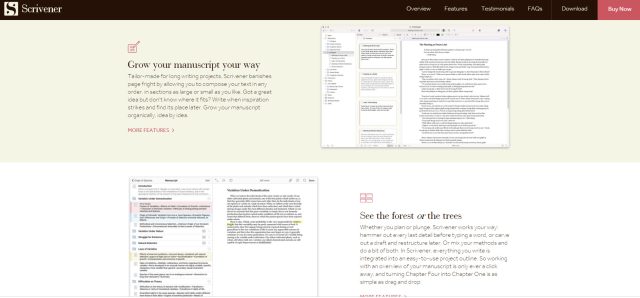 Scrivener is the top pick among the rest of the featured writing tools. This tool is an excellent aid for creative writers who works on numerous long documents.
How does it work?
If you are writing for extended essays, column articles, or long blog posts, Scrivener suits these types of projects. Compared to other tools, it is the most efficient when it comes to the following:
Organizing process of writing
Outline for notes and research and
Allows you to see the bigger picture
It can serve as an alternative word processor. Most importantly, it can help you in polishing heavy information hassle-free.
This platform permits editorial members to drop their comments and remarks. Scrivener also allows content writers to insert pictures, edit text, and emphasize phrases in the file.
Pros
Scrivener saves your time from screening parts of documents or moving back and forth from one page to another. Handle the zooming in and out feature easily.
It helps you break down the text into small readable sections or edit the entire document in complete control.
Scrivener has outlined features and side-by-side document viewing for at ease consistent checking.
Has tracker of writing processes and work in progress for timely accomplishments.
Cons
Windows and Apple users (iOS/macOS) have the privilege to use Scrivener, which is unavailable to Androids as of the moment.
This software does not load very fast. You might experience screen lags often when typing.
Price
The price varies depending on the version.
Mac version: $49.00
Windows version: $45.00
Ios Version: $19.99
#2. Minimalist Content Writing Tool: Write!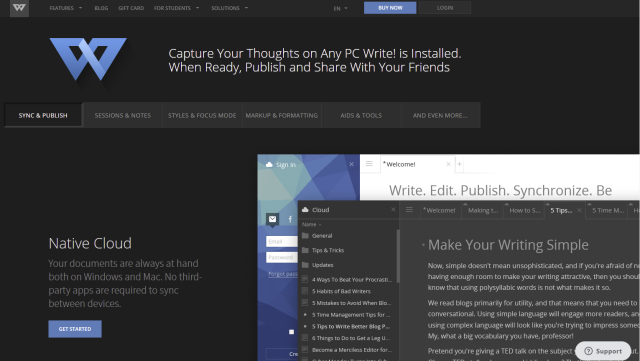 While Scrivener is the top choice for having elaborative features, having heavy information is overwhelming sometimes. But this is what the app called Write! has to offer— a minimalist writing zone.
How does it work?
Concentration is the main point of having Write! The user interface is literary empty without any mess and distractions.
Even though it has a clutter-free and straightforward interface, this writing software still has a desirable word processor. It is a top star in an actual content writing tool.
Unlike Scrivener, which tends to give off overwhelming content to work with, Write! will give you a breather. It is an excellent writing and editing space to turn into focus mode and be attentive in your writing process.
Consider Write! If you want to put 100% focus on refining heavy-duty contents. Better be early in releasing season treat for bookworms and reader enthusiasts.
Pros
Write has a light and dark mode option. Switching into a dark theme would be better for the vision and would allow you to concentrate.
It automatically saves your document into the Cloud. Meaning, you can able to access the file on any device. You won't be needing Google docs, USB drives, or emailing yourself if you use the Write! app.
This writing tool will be permanently accessible after accomplishing a one-time payment fee.
It does not require a monthly subscription which makes it exceptional from other writing tools.
Cons
Write! would be too bare for some users.
If you want to see compact information while working, it is much better to find another app.
Price
Basic Price: Grab Write for only $24.95 one-time payment
#3. Distraction-Free Writing App: Storyist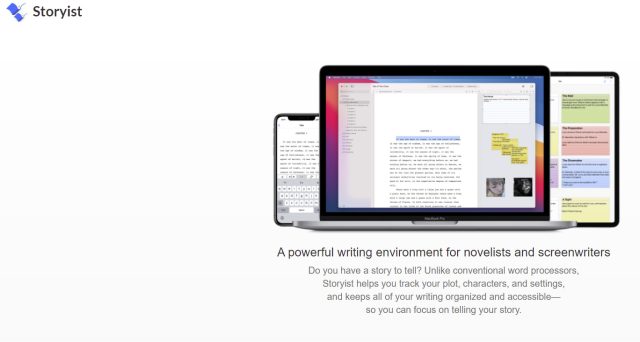 Are you looking for a top-tier writing tool for Scrivener? Storyist is waving at you. If you are a creative writer and an Apple user at the same time, give this specialized writing support a try.
How does it work?
Storyist is another writing product that will capture the needs of novelists. With the same program as the Scrivener offers, it is non-minimalist and clutter-free.
As a Scrivener alternative, it suits bloggers and content writers that usually work for competitive content marketing.
Having Storyist, you can execute your content plans and writing composition.
The updated version (Storyist 4) has a slick option for export. You can select parts of your manuscript, and Storyist will compile it. The file will be available to download in pdf form.
Pros
Manuscripts and screenplays templates are present and ready to use. That will make your writing experience smooth as you follow through.
It has an all-in-one planning and composing interface that will help you in consistently organized content.
The iOS version is worth the price.
Cons
As what we suggest in Scrivener, Android users may skip these related writing tools because it won't work with the system.
It does not do not have features for collaborative work.
Price
Basic Price: You can buy Storyist in the Apple store at $59.99 for macOS and $19.00 for iOS
Advance Price: You can get Storyist cheaper on the developer's site at $59.00
#4. Classic and Simple Text Editor: Hemingway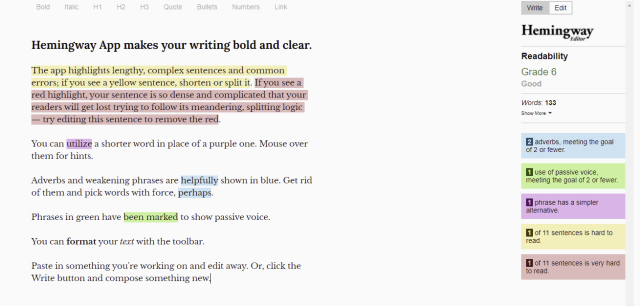 Hemingway is a classic yet popular editor for a copywriter or content writer. As the app name implies, it is an essential tool to simplify complex writing.
How does it work?
Hemingway is a 'two birds in one shot' app. It is free and works as simple as this:
Visit the site using an online search engine
You can type or paste content right then and there
This writing application caters editorial needs of copywriters and journalists. The main goal of these occupations is to produce readable information that a sixth-grader can understand.
Using this app, you can detect complex sentences and complicated words, including multiple uses of passive voice. Writing in the form mentioned above will be understandable for the lower grade level.
Hemingway handily keeps you posted about your writing score as you work. Go straight in, hitting the 80's to a hundred.
Pros
Supreme when it comes to the user interface.
Helps you to compose efficient and stunning write-ups.
Loads very fast as well.
You can have a bird's eye view and identify writing errors with its color-coding notes.
Cons
This app runs and does its purpose only through online entrée.
You cannot use it offline to simplify your writing and make it more directly to the point.
Price
Basic Price: You do not have to spend a single penny to use this app.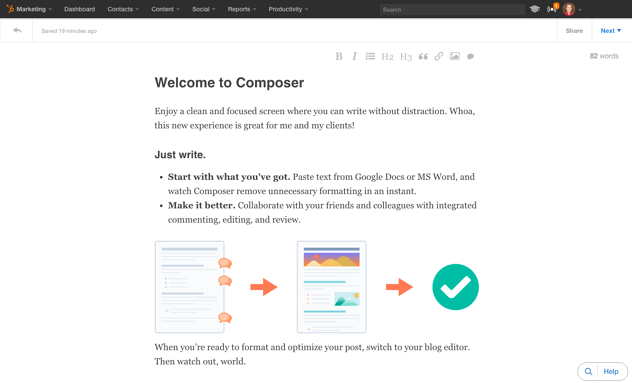 Many content creators aim to come up with new and trendy topics from time to time. They have to create unique and not duplicate content to be successful in internet marketing.
You can work with Hubspot with a honey smile, like getting money from the ATM.
Pause sipping your coffee and use Hubspot instead to search for fresh ideas in your field.
How does it work?
This tool will require three to five target keywords related to your niche. After that, it will give five exciting topics for a blog in return.
Being in the 5th spot, HubSpot is an excellent tool to search for research materials. It will give you 250 title ideas, especially if you input important business contact details.
It is an advisable tool for content marketing institutes to provide marketing software, support, and services. Not only that, but they can also set up and monitor incoming marketing campaigns at ease.
Pros
Moving blog to Hubspot will improve the speed of your site because it uses a globally innovative content delivery network (CDN). It also promotes safe access and multi-blog hosting manageable in a single place.
It is relatively easy to use with these two modes of creating and editing blog posts.
The HubSpot has built-in SEO tools that optimize blog content to appear in search engines.
It has an intuitive blogging dashboard that reveals blog performance in terms of traffic sources, clock in the page, regular rate of bounce and exit, new bonds, and clients. It also generates subscribers for every blog you create, plus complete control in publishing comments.
Cons
You might experience difficulties in translating your blog into other languages.
The value of SEO decreases in processing multi-language content, which will appear as the secondary blog post.
Price
You will not pay anything to enjoy the essence of this writing tool because it is free. Meaning you do not have to have an account to access its service.
#6. Website Crawler for SEO: Siteliner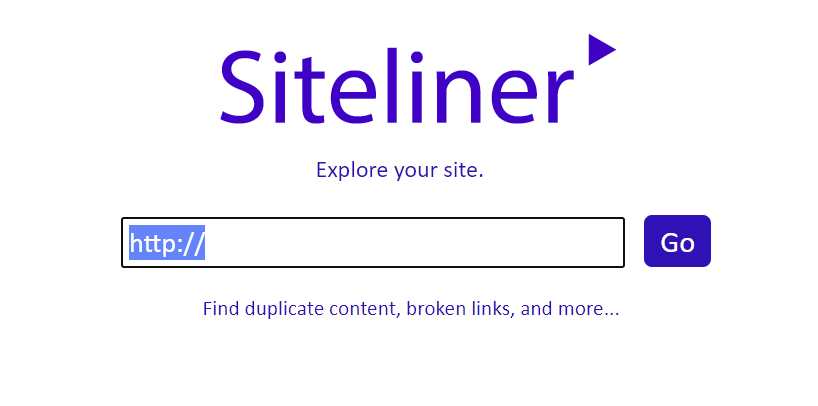 Facing troubles in duplicate content, skipped pages, broken links, and related domains in your website? Siteliner, come to the rescue! It is a website analyzer that discloses room for improvements to triumph against your content competitors.
How does it work?
One of the most valuable qualities of Siteliner is its matchless speed in providing real-time results of website diagnosis.
Place your URL in the app search box for Siteliner to crawl inside your site. After few loadings, it will display a graphical representation of results for clear understanding.
The Siteliner can detect duplicate content within 500 pages for every scan. It has an internal analysis that shows the power of your content page base on the links it receives from other carriers.
This site crawler also provides an XML sitemap that emphasizes comparable metrics outcomes between competitor sites such as the typical size of a page, loading time, words per page, external links, overall links, and inbound links of every page.
Pros
Speedy website analysis.
Siteliner shows results and downloadable reports.
It includes free services.
The premium services are affordable.
Cons
Siteliner is bound for internal analysis only.
One site can only be check once every 30 days in the free version.
Price
Basic Price: You can use the first set of services for free with 250 pages limit of monthly analyses
Advance Price: You can purchase premium credit at $0.01 each
Premium Price: You have to pay $1.00 per page. Siteliner premium offers monthly analysis limited to 25,000 pages.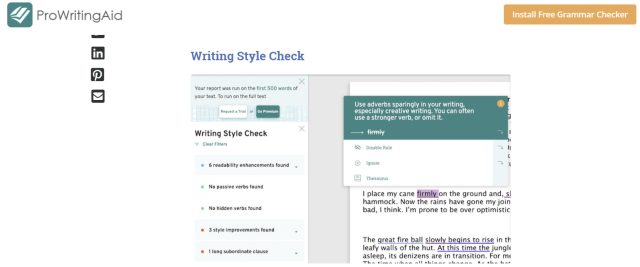 If you are looking for a Grammarly counterpart, then give Pro Writing Aid a try. As close competitors
For correcting grammar errors, this app will fight when it comes to accuracy, context, and price.
How does it work?
When it comes to pricing, Pro Writing Aid is more affordable than Grammarly. Although Grammarly performs better in grammar precision, you must consider these angles in purchasing either product.
On the other hand, Pro Writing Aid will outdo Grammarly in understanding real context. For example, Pro Writing Aid will not mind fragment sentences in dialogues like Grammarly will do.
That is why Pro Writing Aid is suitable for a creative writer that uses informal writing. And one more, it has a built-in Thesaurus that will fit the same word meaning in the content.
What does it suggest, then? Pro Writing Aid learns from the context and offers the most suitable suggestions for enhancement. So, you will likely get better choices of words than similar terms.
Pros
The premium version of Pro Writing Aid is more affordable than Grammarly.
Pro Writing Aid is friendly for informal writing style. You won't get bothered with pointless corrections.
Give best word suggestions for your content needs.
Best writing tool that transforms wording into straightforward form.
Cons
Precise editing will be better in Grammarly than in Pro Writing Aid
Does not have sentence rephrasing tool
Price
Introductory Price: To experience the perks of free services, just visit the website
Advanced Price: There is a 20% off if you avail the annual and lifetime access to the tool
Premium Price: The premium version usually costs $ 20.00/month, while the annual fee and lifetime packages are $63.20 and $319.20, respectively.
Check out Pro Writing Aid here.
#8. Ranking Optimized Content: Surferseo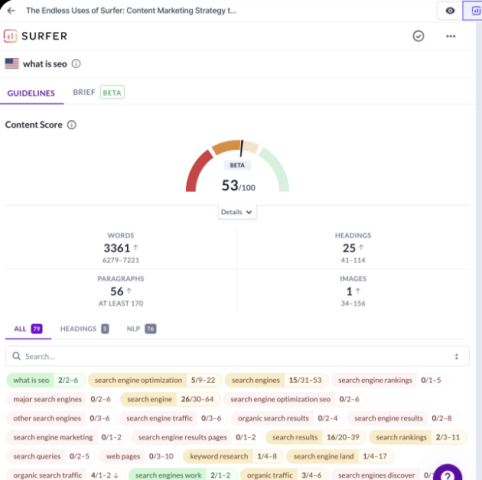 The Surferseo will have a place in the list as it is among the performing content creation tools under Search Engine Optimization (SEO). Optimized content has the most substantial potential to champion google search and could receive waves of unlimited searches.
Related Article – Surfer SEO Reviews 2022
How does it work?
SEO tools are essential to experience the benefits of Internet marketing. The Surfer can make websites competitive, profitable, and become popular because it is helpful.
This SEO content writing tool works in capturing relevant keywords or the most frequently used words of competitors. The Surfer will program your blog posts' number of words, paragraphs, headings, images, and keyword density.
By raising a content or beta score above 75, your content will have a higher chance of ranking on search engines. This writing tool promotes an easy way of auditing your competitors and is easy to operate.
Surfer can inspect 500 plus on-page signals to project your content status against competitors. Also, connect your data to the tool instead of shifting it into the device itself to monitor your progress instantly.
Pros
The user interface of Surfer is easy to understand. Producing the content guidelines is easy too. Just make sure to follow through and hit the highest content score you can attain.
This SEO tool is a highly recommended content writing tool among content writers in making a living to score more hires.
You can directly use Surferseo in writing your content.
It is easy to open and easy to load.
Cons
Following the exact number of suggested words may increase your score, but it can make your content sounds unnatural sometimes.
You can't use Surferseo offline.
Price
Basic Price: The basic fee is at $59/month. It includes two-digit usage counts on SERP analyzer, content editor, site explorer, and NLP analysis.
Advanced Price: You can buy a subscription of the Surfer Pro at $99/month with a 2-to-3-digit count of using the SEO tools mentioned above.
Premium Price: You can also subscribe for the business version at $199/month with all three digits using the same SEO tools mentioned at the top.
#9. Stellar Content Reviewer: Grammarly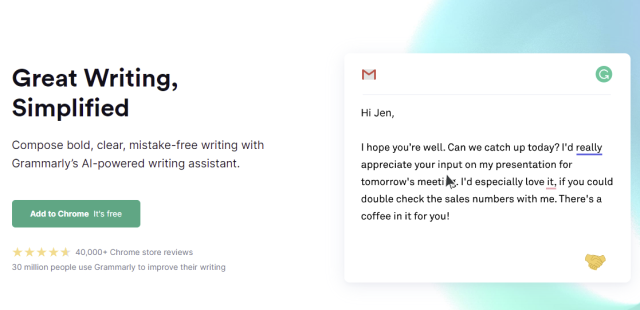 Grammarly indeed is one of the most famous writing tools at the moment. It is designed as an extension app to any device for a handy grammar and plagiarism checker tool.
How does it work?
When you activate Grammarly, it is ready to run in any need-to-type platform such as messages, emails, notes, and social media.
This powerful tool also works on project management apps such as Asana and Slack. By setting goals in utilizing this app, it will program your team in creating content accordingly.
The free version can check common mistakes in spellings, tenses, or misuse of commas. To unlock other productivity tools, you need to switch and pay for the premium version.
Here's how it's done;
Import the document you desire to edit
Grammarly will spot all the errors and provide suggestions you need to apply in producing quality content.
Comply with its content strategy, such as correctness, clarity, engagement, and delivery to optimized content.
Pros
Create content directly at the app or type it first in Microsoft Word or Google docs.
Can either paste or import your document in the app to diagnose, edit and download the revision after.
View your document in Grammarly precisely what it is, without extra spacing or disorganize format, making it easier to edit.
It gives you complete control in setting your content's domain, tone, target audience, and formality.
Cons
It suggests irrelevant words to prevent overused word
Overly corrects passive voice phrases or sentences even if it is not necessary for the situation.
Price
Basic Price: Grammarly is one of the best writing tools that offer accessible 3-4 editing functions.
Advanced Price: There is no advanced price for this writing app.
Premium Price: You have to pay at least $30 month or $12 per month if you pay for the full annual fee.
#10. Productivity Tool for Content Marketing Writers: Yoast Seo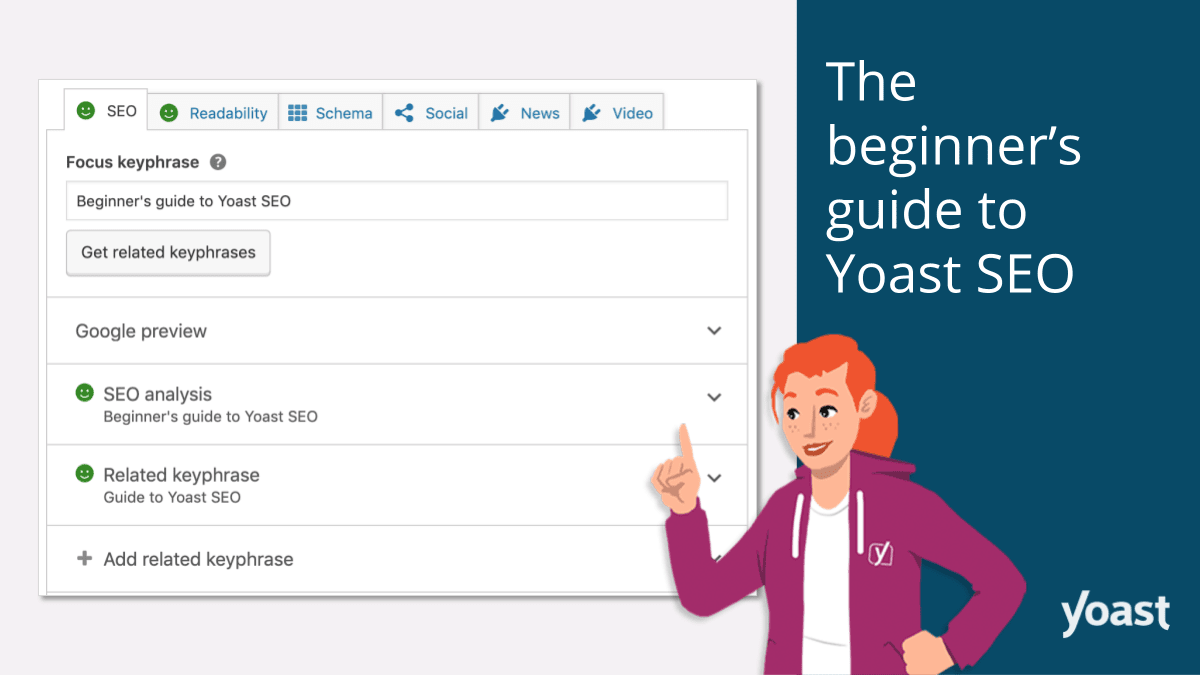 Attention to WordPress users!
If you wish to increase your search volume and attract website traffic, Yoast SEO is a search engine optimization that will cater to your needs. It is a powerful tool that helps you create compelling SEO meta descriptions and titles.
How does it work?
Yoast SEO is a gateway to deeply check the quality of your content and guide you to execute marketable content creation.
As a WordPress extension app, it can directly compute Flesch's reading score. This content strategy will allow breeze revisions like copying data between programs, plus you can easily spot areas to improve.
Yoast SEO writing tool can judge your content relevance with google analytics and google trends. In addition, it can check internal links, distribution of subheadings, length of sentences, and strengthen your English command.
This writing product will lead your content marketing group to focus on their writing tasks, promotes better management of time and more efficient roadmaps.
Pros
User-friendly and available tool
Can work for proofreading purposes
Save your Simple Syndication (RSS) feeds from content elimination
Provides target keyword
Cons
Weak intent understanding evokes misleading messages or tone.
Promotes strict rules to follow but can't suggest the proper method of correcting the errors.
Price
Basic Price: Yoast Seo basic services are free
Premium Price: Experience the Yoast top SEO tools for $89.00 without VAT. You'll get a 5% in purchasing more quantities.
All Plugin Price: You can enjoy the Yoast premium at $89.00 plus $69.00 per plugin.
#11. Precise Plagiarism Checker: Copyscape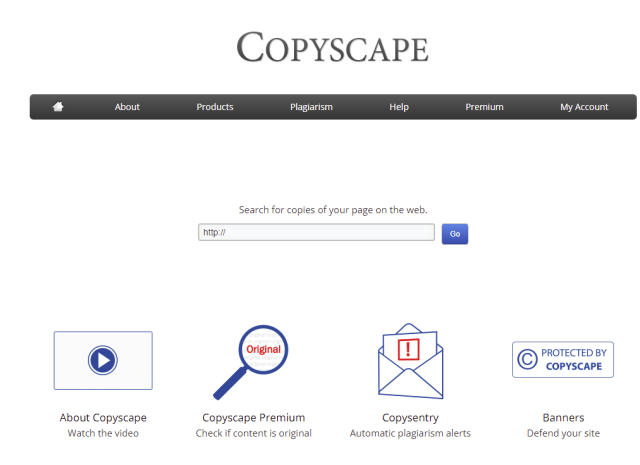 Plagiarism is one of the biggest sins a content creator should not commit. It could ignite a major downfall to your writing career. Skip a lousy record of copycat content with Copyscape.
How does it work?
Copyscape is a fantastic plagiarism checker to make sure your content comes clean from plagiarism. It crawls within and totalizes links with a specific structure similar to your content if there's any.
It is an advisable tool for content creators because plagiarizing taints reputation; You will also receive penalties from Google.
Choose this essential tool in your editing processes to ensure unique, optimized, and relatable content that will establish your brand.
Pros
Significantly helpful in testing content writers for hire
Indorse exceptional content
Have many languages option
Relatively easy to use
Cons
Requires extra payment for extra words
You cannot download the report
Price
Basic Price: You'll have to pay $4.95/month for checking a maximum of 10 pages.
Advanced Price: Get ready to pay $0.25/month for additional pages up to 500.
Premium Price: The premium version price is at $19.95/month for checking ten pages. You'll have to pay $1.00 for every additional page if you want to optimize.
#12. Commendable SEO tool: Frase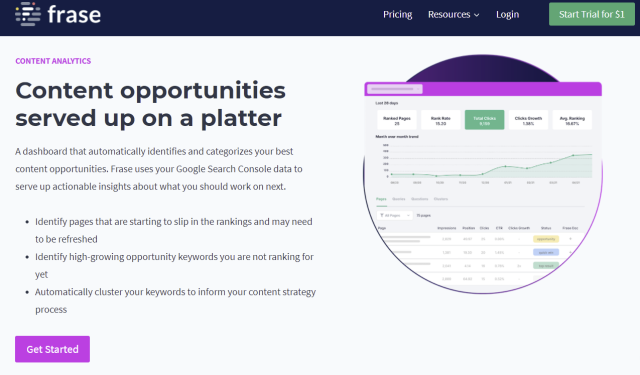 Numerous writing tools are for SEO. The Surfer is probably well-known, but Frase can compete head-to-head in the game.
How does it work?
Just like Surfer, it can quickly boost blog posts with easily operated SEO tools. Another speedy writing tool for creating content guidelines that reduce time in the writing process by at least 50%.
It is also a powerful tool in updating current content. Bringing your data in the Frase will expose relevant keywords that you didn't manage to think about before.
You can perform keyword research on Ahrefs. Organize and write your blog using Frase, then go back to Ahrefs in tracking backlinks-A typical strategy of content creators.
Frase is for the content editor and strategist who is in charge of the research. It also has AI chat support that automatically responds to visitors' queries.
What makes Frase shine?
Pros
Sometimes it is hard to optimize content with one-word keywords. With Frase, you can deal with this issue in content writing by working with suggested long-tail keywords.
It also maintains the proper keyword density to avoid bulky yet empty content.
Frase also makes it easy to scan the context where the suggested keywords, headings, and questions are situated. In this way, you can have a complete understanding of your composition makes sense or not.
Frase promotes accurate measurement of content success. The quality of your content does not entirely rely on hitting recommended keywords or the number of times you can reuse it.
Cons
The biggest turn-off with Frase is to purchase additional SEO features to experience optimum performance separately.
Frase is much better if its SEO tools are intact to justify a high price.
Price
Basic Price: The essential plan cost at $39.99/month is good for solo SEO writer/expert
Advanced Price: Ideally, this plan offers more services at $ 99.99/month for SEO teams or agencies.
Premium Price: With the inclusion of an automatic answer engine, you can buy it at $199.99/month
#13. Fast SEO Content Builder: Topic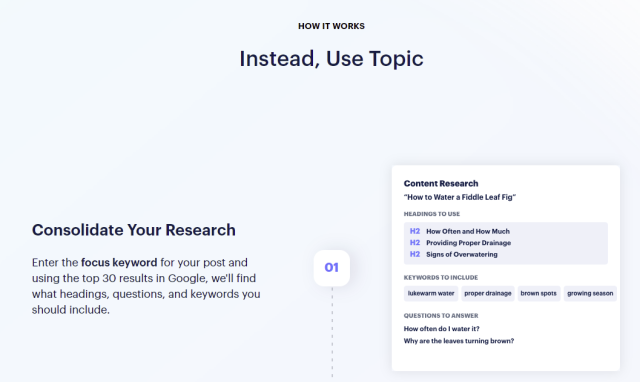 The Topic is another SEO tool that made it to the cut!
You can navigate this writing tool by typing usertopic.com in google search. In terms of performance, Topic can be comparable to Surferseo and Frase.
How does it work?
Learn the easy way to build traffic-driven content with Topic. It garners positive feedback from users regarding automation that made their website rank in SEO.
With Topic, it takes three steps to optimize your content.
Research Consolidation- Type the primary keyword of your content, and Topic will gather 30 ranking entries in google, which inspire the keywords, headings, and questions of your post.
Outline content- It readily provides you with a conceptualized outline for your content.
Optimize before publish- you can run the SEO tools of Topic to ensure successful web launching.
Pros
Speedy content outline generator
Suggest helpful and relevant headings and keywords
Supportive tool for content strategist that manages a team of writers
Easy to operate
Cons
May unreasonably add or delete space from the original document.
Some SEO apps are cheaper than the Topic.
Price
Basic Price: For the starter pack, you can avail of essential services of Topic at $99.00/month
Advanced Price: To access additional use of essential services, buy Topic for your content agency at $199.00/month
Premium Price: For bulky production, better buy the premium version at $299.00/month
How We Rank the Content Writing Tools?
The entire list might look random at a glance, but it is organized based on the progressive needs of content writers in creating content.
If you are a veteran in the content writing industry, it is not hard to understand this sequence. But for newbies and also for general understanding, try to look at it in this way;
The first five content writing tools will cater to the needs of different writing niches. These tools highlight the personality preferences and existing resources of content writers and creative writers.
Meanwhile, the rest of the list highlights the best writing tools for SEO. It covers content guidelines, grammar, and plagiarism checkers that are vital for website ranking.
How to Choose the Best Content Writing Tools for your business?
Any of the tools above can provide a need-based solution. Whether your crew struggles to find provoking topics to write about or needs extra help in large-scale proofreading.
Then you can pick among these specialized tools that could solve the areas of concern of your content marketing team. Weigh the advantage and disadvantages of contender tools and decide on the most acceptable combination for your primary writing tool.
The best solution is to focus on tools that associate many functions in one product. It is inexpensive, more competent, and less hassle than running different devices at once.
Conclusion: Best Content Writing Tool
These 13 content writing tools are an excellent investment in increasing the value of your content. It helps you to provide proper strategies in developing digital content that will attract visitors and engagements.
As a long-living writing software, it's not surprising that Scrivener snagged the top spot. Scrivener is the powerhouse of organizing content and the best app for live composition.
With Scrivener's latest version, you can move around specific parts of your manuscript and scenes allowing a clear view of your narrative flow. It also furnishes tracking progress to increasing productivity that makes it appealing up to this time.
For book and novel writers, choose between Scrivener, Write!, and Storyist. These writing tools are for long texts editing and different vibe of the user interface.
The Hemingway app and HubSpot blog topic generator, on the other hand, will help you in simplifying text and in creating catchy headlines.
You can choose the best grammar checker and plagiarism tracker between Grammarly, Pro Writing Aid, or Copyscape.
If you are looking for manageable Search Engine Optimization (SEO) tools, carefully decide among Frase, Surferseo, Yoastseo, Siteliner, and Topic. These SEO tools propose efficient website crawler, content automation, and optimization.
Content Writing Tools FAQs
What is a Content Writing Tool?
These are the tools devoted to aid writers during writing processes to achieve optimum success in content marketing.
The content must be attractive, readable, informative, responsive, and unique to increase web traffic. Therefore, it is essential to integrate writing tools to save some time and become competitive.
86% of businesses testify that content marketing increases brand awareness. Further, 79% stated that it effectively educates their target audience, while 79% said they use it to construct trust and credibility.
These outcomes from a 2020 record of a Content Marketing Institute support the need for productivity tools in creating materials that produce sales.
How can a content writing tool help increase website traffic?
Content creation tools may streamline the duty of content writers in producing quality content. These are programs to perform editorial and site analysis to shape the range suitable for digital marketing.
Here are some features of content writing tools that boost website traffic:
Find content sources
Answers demand of target audience
Create comprehensive content
Optimize content to climb at the top of internet search
Hook solid customers
Include reliable sources and quotations from authorities
Editorial Support