9 Best Content Research Tools in 2023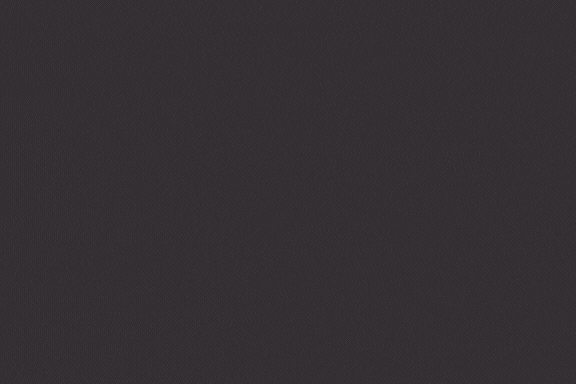 Thinking of publishing on social media? Are you searching for content creation ideas for a blog post? Ideas may not always come up naturally. That is why you can make the optimal use of content research tools.
Regardless of your business niche, quality content is important to strengthen your brand visibility. A research-driven approach is always desirable to make your content marketing campaign successful.
Well-researched content can bring you lots of quality leads. But, researching the content is not as easy as publishing it.
Thus, you can rely on content marketing research tools to make your it easier.
Best Content Research Tools in 2022
Top Consumer's Choice: Semrush
Designed for Topic Research: Google Adwords
The Best Customizable Engine: Soovle
Best News Aggregation Engine: Topix.com
Comprehensive Content Marketing Tool: Buzzsumo
Aggregator for Trending Topic: Exploding topics
Best for Content Ideas: Ubersuggest
Best for Generating Leads: LeadFWD
Best for Knowing the Audience: Quora
9 Best Content Research Tools
#1. Top Consumer's Choice: Semrush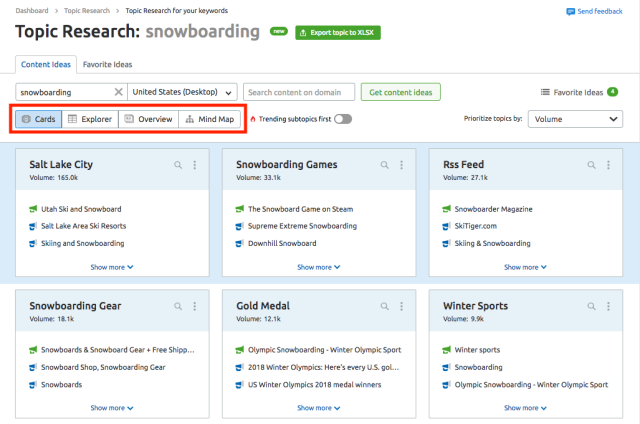 Our top choice in the long list is Semrush. It is one of the best tools for finding topics based on Google trends. To make your digital marketing strategy, Semrush offers several advanced tools, and this topic research tool is one of them.
Features
• More than 100 headlines for a given topic
• Questions around the topic- Who, How, What, and Where
• Include SEO content template- SEO tag tips
• Content optimization with a few clicks on Google docs
• Include plagiarism checking options
• Check the readability level of voice
• Find the best PR channels to distribute content
• Track your posts
How does it work?
It is very easy to use the topic research tool. The tool presents you with a search bar, and it will create a number of different subtopics. You can include these subtopics for the content marketing campaign.
Pros
• Content topics relevant to the audience's needs
• Show the issues around the topic
• Option for setting your location
• Several content ideas in a minute
Cons
• Provide data mainly for Google
• Keyword search volume-Not much accurate
Price
Pro and Free users conduct not more than 2 searches per lifetime. Business and Guru users get limited access to the tool.
#2. Designed for Topic Research: Google Adwords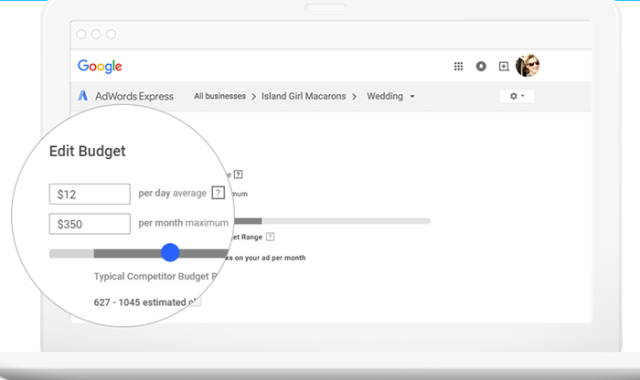 Google Adwords comes next. PPC advertising is, of course, one of the ways to generate leads. However, although there are several PPC tools, Google Ads is a better option. This online advertising tool ensures a massive reach. Unlike other content research tools, Google Ads helps you with different campaigns. You can choose display campaign, search campaign, app campaign, and video campaign,
Features
• Tools to adjust bids based on the historical user data
• Quality scores to determine your bids and ads position
• Options for choosing the ad format
• Call-only ads for better promotion
• Action Insights- To identify the frequency of the appearance of ads
• Content remarketing after the initial ad click
How does it work?
Google Ads is based on the PPC model. Thus, content marketers target a particular keyword on Google to place their bids on that word.
Bids are the maximum bids amount you can pay for your advertisements. For instance, when your bid is about $4 and the CPC is $2, you can place your ad successfully. Moreover, Google Ads lets you set the daily budget.
Based on the ad assessment and bid amount, Google detects the Quality Score (1 to 10). The higher scores ensure a higher rank.
Pros
• Easy to reach the target audience
• Make your ads relevant
• Ads can reach the right persons
• Pay only for the clicks
• Provide useful data
Cons
• Some keywords are costly.
• Include some complicated tools and features
Price
As Google Adwords is for PPC campaign, you can set your budget. Still, we have listed the average costs.
Ad Spend- $9000 to $10,000/ month
CPC- $1 to $2 per click
Google Ads Management- $350 to $5000
Check out Google Adwords here.
#3. The Best Customizable Engine: Soovle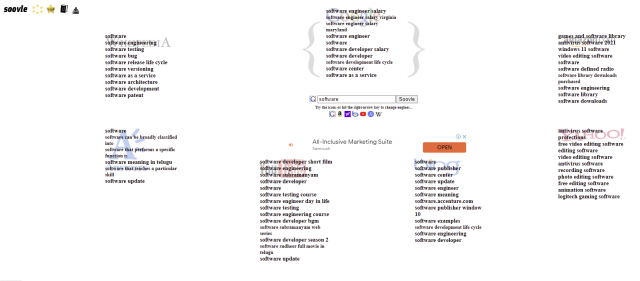 To look for broad topics based on your keywords targets, you can use Soovle. We have chosen it as the best customizable engine, which gathers different suggestion services from Amazon, Wikipedia, Yahoo, Google, eBay, and Bing.
Features
• Country-oriented search volume data
• Analyze Page Content- It is intended to find keywords on webpages
• My Keywords- A special section to save keywords
• Organic Ranking Keywords- It identifies keywords for which the page is ranked
• Bulk Keywords Data option with volume metrics
• Add all keywords- Another option for adding keywords present on the page
How does it work?
To know how Soovle works, you have to understand the interface. The interface contains some icons, search engines, and a Soovle link. Enter your keyword, and then, start waiting for the search engine to present a list of relevant words.
After installing the browser add-on, you may check the CPC and keyword search volume.
Soovle has also streamlined the brand monitoring process across different channels. Type in the brand name to see what is mentioned.
Pros
• An intuitive interface with multiple search engines
• Data collection from 150+ search engines
• A good source of concepts
• Save searches for your future use
Cons
• Outdated interface design
• Not easy to find the saved searches
Price
Soovle is a free keyword research tool, and thus, you do not need to be concerned about premium packages.
#4. Best News Aggregation Engine: Topix.com
Topix, one of the Internet media companies, accelerates the decision-making process. The new tool is something more than a forum. You can create content and make it visible to other users.
Features
• Give you access to the local news
• Enable you to discuss, read, and write something about the news
• Collect news from more than 50,000 sources
• Stories pertaining to more 32,500 U.S. localities and other international locations
• Pages related to sports teams, celebrities, industries, and health
How does it work?
You can simplify your search for local content. Visit Topix.com and read the news. You may contribute to the platform by submitting a URL and emailing your stories. You have to create a mini-profile to list the best Topix pages and interact with the community.
The homepage is customizable based on the ZIP code and IP address. The personalized homepage has discussion threads and local stories. There are icons to display Topix-member activities.
Pros
• Easy to find local news
• Helps in managing hometown pages
• The content is highly relevant
• Easy to search news by month
• Let you chat about the news
Cons
Have some objectionable content
Price
Topix is available in a free version.
#5. Comprehensive Content Marketing Tool: Buzzsumo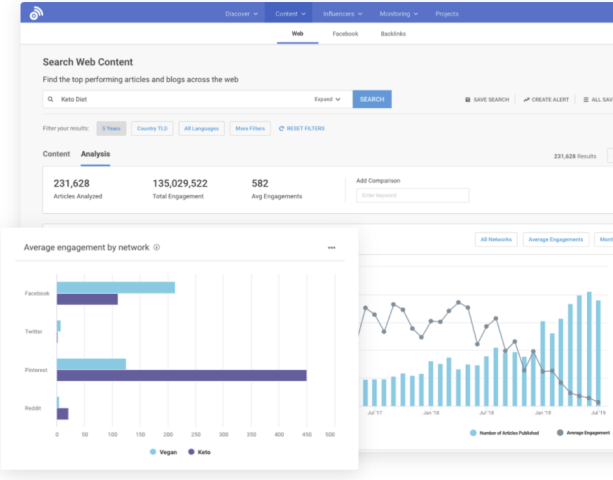 Buzzsumo is one of the best social media content analytics tools and help you to post trending content. We have chosen Buzzsumo to make this analysis easier. The versatile tool also helps you with content-related research.
Features
• The Analysis feature with insightful graphs
• Search filters to include Facebook status, like links, images, videos, and coupons
• A content analysis report in PDF format
• Advanced search for chosen URL, phrases, and domains
• Alerts to track backlink opportunities, brand mentions, website content, keyword mentions, and competitor mentions
How does it work?
The cloud-based platform, BuzzSumo, is effective in identifying the best content engagement level, and outreach opportunities. You need to create your account and choose the Monitoring tab.
You can check your brand publicity to identify any negative issue. You may develop relationships with those who mention your brand.
Moreover, you may find link relationships between your competitors and journalists. Backlinks are also easy to track with the tool.
Pros
• Detect trending content
• Look for contact details
• Find influencers
• Affordable pricing
Cons
• Confusing navigation
• Free trials with limited functionalities
Price
There are 4 pricing options for businesses.
• Pro Plan price – 79$/Per Month- 5 Alerts and 5000 Mentions
• Plus Plan price- 139$/Per Month– 10 Alerts and 10000 Mentions
• Large Plan price- 239$/Per Month– 30 Alerts and 20000 Mentions
• Enterprise Plan price- 499$/Per Month– 50 Alerts and 20000 Mentions
#6. Aggregator for Trending Topics: Exploding Topics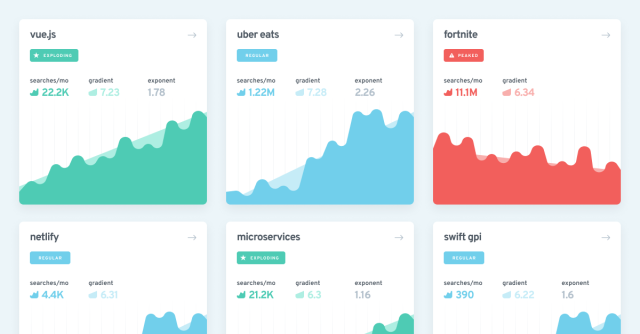 Exploding Topics is similar to Google Trends. This easy-to-use tool is best for finding emerging keywords. The automated tool can scrape the web and find the trending topics.
Features
• Latest technologies to analyze several conversations and topics across the web
• Present you with curated topics
• Personal algorithm to detect the most relevant exploding topics
• Newsletter available with the weekly trending topics
How does it work?
Professional bloggers can use the tool to find the untapped topics and write the best content about them. Exploding Topics relies on advanced technologies to analyze conversations and searches.
It also finds the low-competition keywords and the latest content ideas. You will be able to identify the fresh topics based on your keywords.
Visit the website, choose the definite field for the keyword list, and the tool will give you the result.
Pros
• Very interesting trends
• Category searches
• User-friendly interface
Cons
• Need to research the trends
• High variance trends
Price
You can use the tool free of cost.
Check out Exploding Topics here.
#7. Best for Content Ideas: Ubersuggest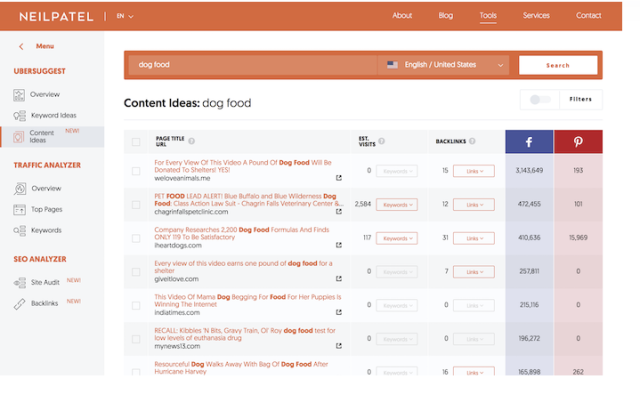 We have chosen Ubersuggest as an awesome tool, as it is something more than a content and keyword research tool. You will find the winning content and generate traffic to your site.
Another thing, which has attracted us, is the price rate. Ubersuggest is cheaper than other SEO tools. Several marketers have chosen it to create the most effective content strategy.
Features
• Content Ideas- To identify the top-performing, engaging content for chosen keywords
• Top SEO Pages- A comprehensive report to check visits, CPC, search volume, and buyer intent.
• Backlink Data- To detect the type of content getting more backlinks
• SEO Analyzer- To crawls your website and provide keyword suggestions
• Domain Score- It can range from 1 to 100
• Organic monthly traffic- The level of traffic your site receives
• Organic keywords- You will learn about how many keywords for which the domain is ranked.
How does it work?
There is nothing complicated about the way in which Ubersuggest content idea works. You have to enter the keyword, choose the country, and find the result.
The tool will show you the list of topics, which attract SEO traffic. Moreover, you will see the keywords chosen by your competitors. The report also reveals the level of traffic generated by the webpage.
Pros
• Clear data charts
• Best content ideas from keywords
• Fast and reliable
• Easy to interface
Cons
• No competitor analysis
• Very limited free features
Price
Ubersuggest is available with free 7-day trial. Choose between Lifetime and Monthly package. The latter one is cheaper for you.
Select from the following 3 pricing schemes-
• Individual- $12USD/month- Best for small business- Manage 1 to 3 websites
• Business- $20USD/month- Best for SMBs- Manage 4 to 7 websites
• Enterprise-$40USD/month- Best for large business- Manage more than 8 websites
#8.Best for Generating Leads: LeadFWD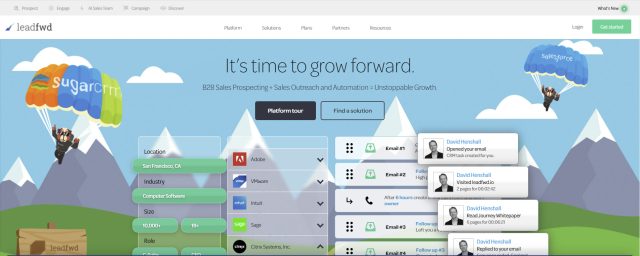 Your marketing becomes successful when you create interesting content, which generates several leads. We have found Leadfwd a unique platform for both outbound and inbound marketing activities.
Features
• Templates and built-in pages with drag-and-drop functionalities
• Leadbox creates target messages for visitor engagement.
• Email marketing features- Track email effectiveness
• Social Connect- Share your content across social channels
How does it work?
Leadfwd performs its function by integrating with your CRM. It has a SymSync data integration system to send qualified leads to your CRM for your sales department.
Leadfwd crawls through your present and past sales information in the CRM database for better opportunities.
Pros
• AI-driven account-based marketing
• Integrates with Sugar CRM, SuiteCRM, and Salesforce
• Simplify drip marketing automation
• Real-time data
Cons
Cannot work with any CRM
Price
Free trial and demo are available for the new users. The premium users can find two options-
• Essentials – $49/month- Designed for 1,000 contacts
• Pro – $99 per month for 1,000 contacts
#9. Best for Knowing the Audience: Quora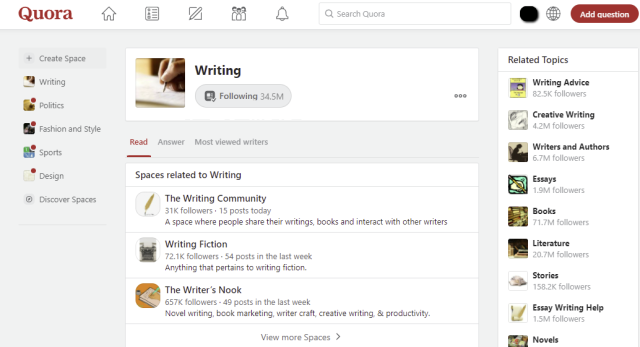 The final tool, included in our list, is Quora, as it helps in managing multiple content marketing goals. You can strengthen your authoritative position and get organic traffic.
Features
• A space to share knowledge
• Let you follow others
• Get answers from different Quora users
How does it work?
Quora gives you the space to demonstrate your knowledge on a subject. You can ask questions and respond to others' question. While answering the question, you may embed your website link.
Quora also helps you in promoting your blog and website content. Your potential customers can follow you and visit your site.
Moreover, your answers to Quora users will retain their value for years.
Pros
• Free forum for everyone
• Generate leads
• Make your conversation more interactive
• Request anyone to answer your question
Cons
• Lack validity
• Lots of ads
Price
Quora has no premium version. You can use it free.
However, Quora has released its monetizing tool, Quora+. Its monthly subscription fee is $5, while the yearly charge is $50.
How We Rank the Best Content Research Tools?
Our team has set some criteria to find the reliable content research tools.
Our first criterion is the user-friendliness and simplicity. The most effective tools must have an intuitive interface for easy navigation.
Moreover, we have checked the availability of customer service for users. The user may ask questions on how to use the tool and write content. Furthermore, we have looked for CMS integration options for better content marketing opportunities.
How to Choose the Best Content Research Tools for your business?
We can guide you on choosing the content creation and research tools but first, one must;
• Understand your business goals to find the needs of the right audience.
• Check the pros and cons of the available tools
• Identify the tools useful for every content marketer
• Make sure that the tool provides additional data.
• Know your budget and check pricing of the chosen tool.
If everything is clear, that's the time to decide which tool will suit your business needs best.
Conclusion: Best Content Research Tool
We have reviewed the best available tools for your content marketing campaign.
Every tool is designed for a range of purpose.
However, based on the functional value, features, and intuitiveness, we think that Semrush is recommendable.
You can outrank your competitors. Moreover, you can build a larger audience using the tool.
The results are also measurable. You can make data-driven decisions due to the detailed content insights.
While other tools are relatively good in for searching topics, Semrush is for creating SEO-friendly, keyword-related content.
Take your time to identify the tools useful for your content marketing campaign. But we highly suggest you give Semrush a try!
Content Research Tools FAQs
What is Content Research?
It is a concept of analyzing online content creating a strategy based on the research data. For a successful research, you may need to check the top posts, find the most popular social media content, and learn about the activities of industry leaders.
What is the Best Tool to Create Content?
We cannot name a particular product as the excellent tool for content development. Every content research and development tool has unique features and pricing schemes. Moreover, while some tools are best for PPC ad content, others are effective for bloggers. Quora and a few other platforms are right tools to let you publish content and generate leads. On the contrary, Semrush, Google Ads, and several tools help with a comprehensive data.
Are there Free Content Research Tools?
Topix, Soovle, and Quora are some free content research tools that help you create compelling content.
Like this Article? Subscribe to Our Feed!
Vanessa is a mom of 3 lovely children and a software geek. Outside of her career as a health and wellness instructor. She enjoys writing and researching on topics such as finance, software, health and culinary.