6 Reasons To Adopt A Conversational Tone For Content Marketing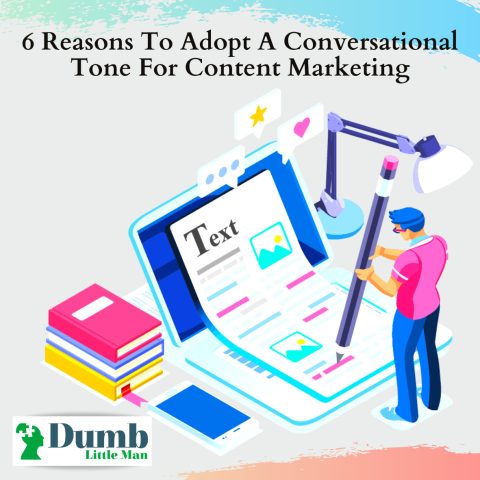 Speaking in a formal tone limits the conversation and keeps it only one-sided. However, marketing always involves two-way communication, which is rich in ideas and concepts. Additionally, a conversation makes a better impact on the audience compared to formal or monotonously flowing content. With the advent of new technology transforming the industries rapidly, you need a modern approach for maximum results.
Today, more than 67% of people shop digitally/online, proving a dramatic shift of the business industry towards digital platforms. Most of this audience prefers a simple and conversational tone when businesses communicate with them, which is another reason for influencer marketing. However, when you need the same approach for content marketing, it is essential to adopt a conversation tone when drafting your content.
This guide will help you understand why you need conversational content in content marketing and how to achieve it. Read through to know more.
6 Basic Reasons To Adopt A Conversational Tone For Content Marketing
Your tone plays a huge role in your marketing, 2021 is the age of technology and the internet of things with needs and expectations higher than ever. Modern consumers need value from conversational and digestible content when businesses promote their products. This means your content needs to be as good and as perfect as a speech.
Gone are the days when Google valued perfect grammar and spelling. Now what it loves is traction and how people see your content. Therefore, you need to make people feel good with conversations
① Voice Search Optimization Is On The Rise
Among many good reasons, voice search optimization is a basic need for increased visibility on the web and SERPs. With the abundance of users using voice search, Google needs brands to optimize their content with conversational tones and the right keywords. This will enable you to optimize your content in a way that is easy for Google bots to understand when responding to voice search queries entered by users.
The number of voice search users is drastically increasing over time, so you can't ignore voice search optimization while working on your SEO strategies. However, you must adopt a conversational tone as one of the essential SEO strategies in 2021 and the future.
② Conversational Tone Fosters Personalization For All
When you talk to someone, you use a very personal tone with them. This is what conversational content does. When done right, people find a hint of personalization within your content, which makes them feel valued, and they tend to understand better.
Moreover, as personalization in marketing increases year by year, all businesses need to adopt strategies that help them maximize personalization. This increases customer satisfaction and authority when people find your web content appealing and spend more time on your platforms.
This strategy ensures that all your audience will feel like you are talking to one individual at a time without targeting the masses. As a result, the plan will drastically improve your engagement level and ROIs by, as told by 71% of digital businesses.
③ Conversational Text Can Build Trust Among The Audience
When you talk to your audience personally, giving them the due value, they feel overwhelmed and find you reliable. The tone helps you build trust among your audience in the most traditional way. Additionally, once your audience starts trusting you, they will automatically visit you more often and buy from you with a sense of reliability.
④ Simple Language Is More Understandable For All Audiences
As the audience we face today is more intelligent than ever, businesses need to be smart too. Therefore, instead of throwing stale, promotional content at valued customers, it is crucial to adopt a personalized tone with simple language to make your tone more persuasive.
For reference, if your friend arrogantly brags about his belongings, would you like it? Probably not. In 2021, you need to believe that your customers are your friends, and you need to talk to them in the simplest way that is easy to understand and feels as if a friend is talking to them.
Your content must speak volumes by the value and undeniable information it offers but not with the intention of a promotional tone that praises the products with heavy words. But, in a simple tone with simple words that help people understand the problem they are facing and that you can solve their problems.
⑤ Every Story Needs A Different Tone
We talk to all the people in our lives differently. Thus, when you try to pen down your life story, you will have to use different tones and styles with each character that comes by. Similarly, it would help if you had various tones to communicate with your audience, and you must use a special tone to craft your story.
Your product is the hero in this story, and the customers are the protagonist of the story that you need to win. It would help if you made all the efforts to win the audience. Using a tone that your audience understands and finds most convincing must be adopted.
Today. Audiences like brands that are empathetic towards them. Therefore, when telling your story through text, you must use a compassionate tone for your story. This tone must depict that you as a business understand your audience's difficulties and are eager to help them.
Given that your audience needs a dynamic approach from you, you must express your emotions in your content.
⑥ The Right Tone Makes The Text Sound Like A Human
Knowing that customer experience is the primary factor contributing to a business's success, companies must take the proper steps for the best strategy.
Do you ever come across advertisements in text and feel like they are pretty monotonous and flat? How did they make you feel? Of course, not very pleasant. This is the same reason your content needs to speak and flow as a human says.
Using a conversational tone for your content will make your content read more like a human so that the customers will receive a more humanized experience through your content marketing.
The Final Take Away
A conversational tone is a very powerful tool in communication. It also plays a massive difference for businesses when they incorporate it in their textual content to humanize their contacts with the audience. From marketing to internal business procedures, knowing the right way to converse is essential for organizations. Therefore, as you develop your content marketing strategy, find the most simple, interactive, and engaging tone to influence and persuade your audience seamlessly.
Like this Article? Subscribe to Our Feed!
Aimen Kahn is a skilled writer with vast experience in providing content writing services . Having served several different industries she's now exploring the digital marketing side and helping businesses, startups, and entrepreneurs establish their online presence with compelling content. Having worked with numerous big names, she aims to help the struggling ones on priority for a change.