A Complete Guide To Beginners' Golf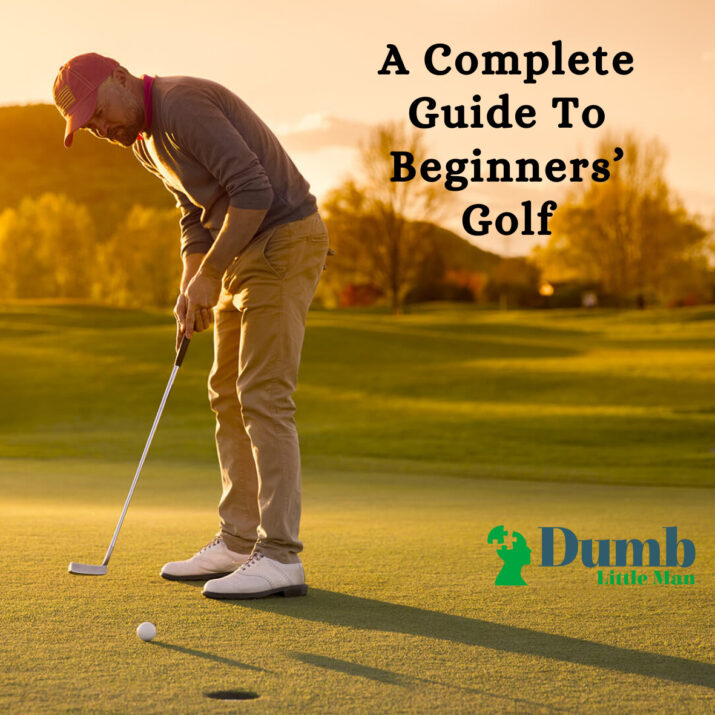 Golf is known as a gentleman's (and woman's) game. It's elegant, it's refined, it's peaceful, and it takes place in stunning natural settings.
It's also the ideal sport for getting your exercise, fresh air, and nature fix while staying safe and socially distanced. There's really no downside to it!
If you're looking for a new outdoor sporty hobby, learning how to play golf is an excellent choice. Yes, you need to spend a bit on good equipment upfront, but setting yourself up doesn't have to be as expensive as you may think.
Here's our complete guide to beginners' golf to help you get off to the best start possible.
Golfing Equipment
The equipment is the biggest reason you may be put off the sport. It can be costly to set yourself up, but it doesn't have to break the bank. Here's how to be smart when it comes to buying new equipment.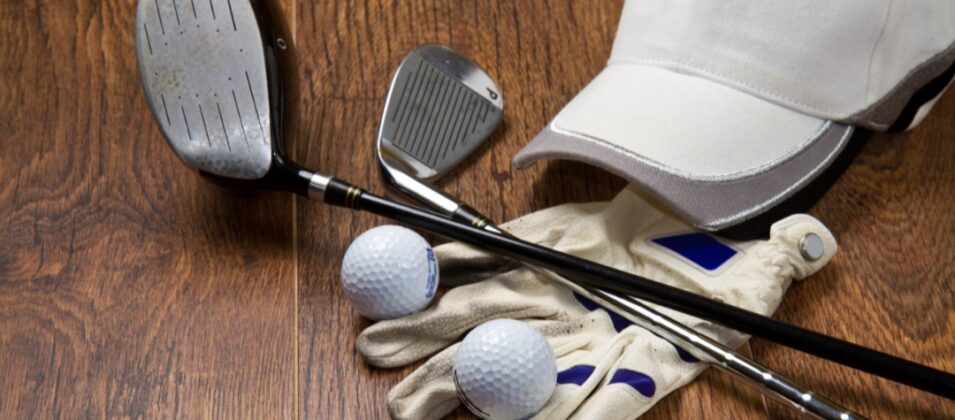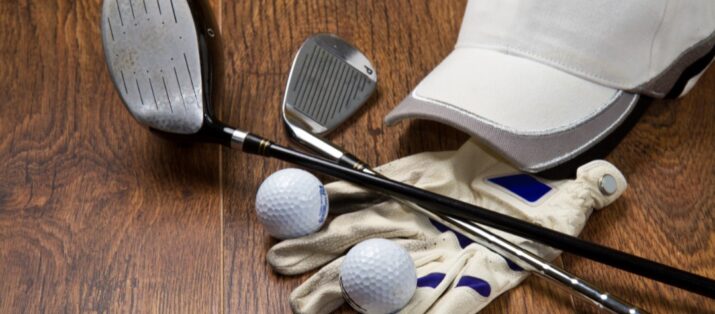 Firstly, you don't need all of the clubs. You can fit 14 clubs in your bag, but chances are strong you won't use them all. You can absolutely get by with:
Driver
Putter
Sand Wedge
Pitching Wedge
6-Iron
8-Iron
Wood
Don't just buy the first set you see. Here's a quick trick that will help you find comfortable and effective clubs.
Either at the sports shop or driving range, test out two 6-irons – one with regular flex and one with a stiff flex. One of the two should feel noticeably more comfortable than the other. Choose this flex for all of your clubs.
Also, don't get too technical with choosing the right balls when you're new to the sport. We recommend buying a pack of as many as you can for less than $20.
Golf Training & Practice
Training is essential if you want to make quick and consistent progress in the game of golf. We highly recommend taking lessons from the very beginning, before you Google or YouTube golfing form videos. That way, you'll start with a clean slate and no bad habits.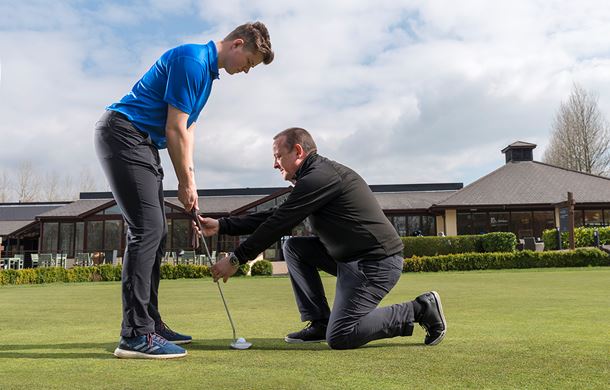 A golf instructor will help you to learn the right way to hit the ball for maximum effect and minimum chance of injury. It may also be a good idea to download a swing analyzer app—Coach's Eye is an excellent one that's available for both Android and Apple, and your coach can work with you and the app to improve.
Once you've had a few lessons and you're confident enough to practice on your own, head to the driving range before you go out and play around on the course. Practice with all your clubs, not just your driver.
Golf Shots
While choosing the type of shot you play at any given time is something you'll pick up as you go along, understanding what the different shots are can be helpful.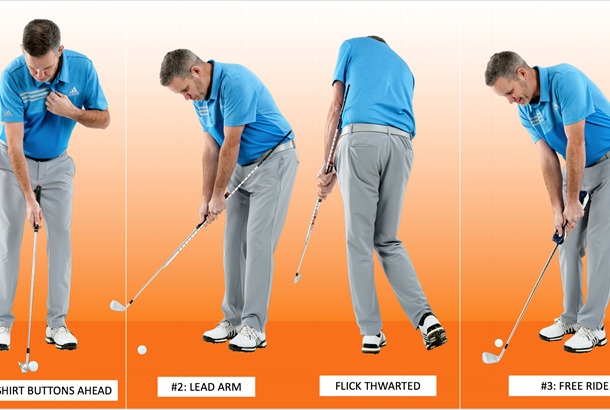 A full shot is any shot where you swing with full power and that gives you maximum distance. A half shot is where you hit your shot shorter—with less power—than you would normally. These two are common shots on every hole.
A punch shot is something you'll use on certain occasions. You'll hit a punch shot much lower than you usually would, usually because there's a wind or trees preventing you from hitting it at normal height.
Chips shots are also fairly common and are similar to a punch shot but lower and at a shorter distance. Pitches are slightly higher chip shots. A putt is obviously a shot with your putter, on the green.
Other shots you don't necessarily need to learn upfront but you may be interested in researching include slices, fades, draws, hooks, and flops.
Golfing Attire
Before you set foot on a driving range or a golf course, you need to dress the part. Rules vary from club to club, but in general, you won't be allowed on the course in jeans, t-shirts, or sneakers.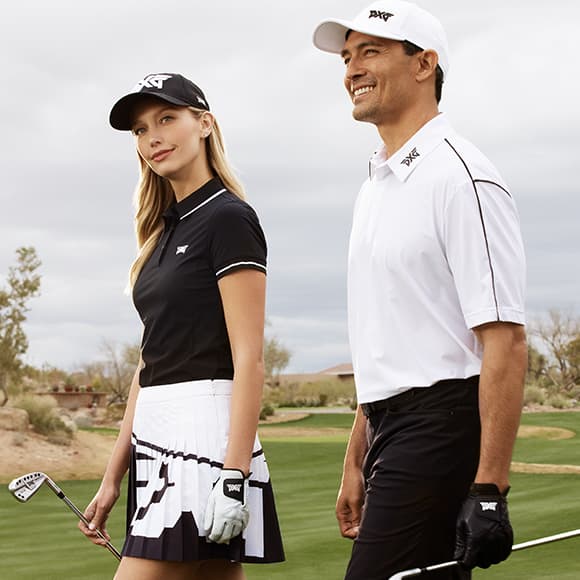 If you want to meet most clubs' regulations, be comfortable, and look smart at the same time, make sure you're wearing:
Chinos or smart trousers
A collared shirt or polo shirt
Golf shoes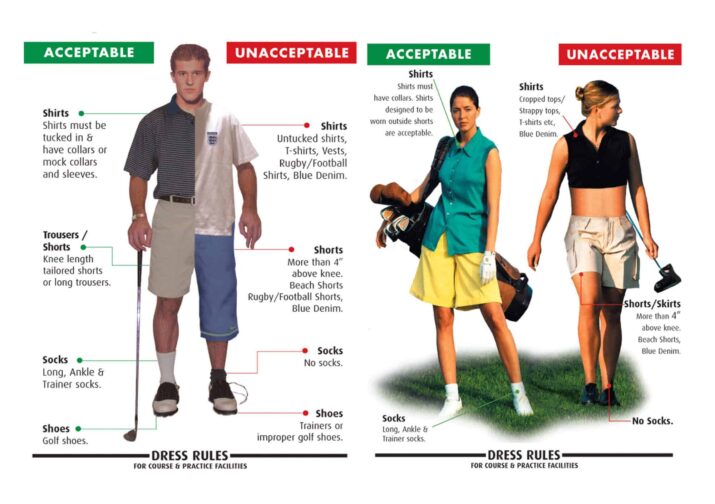 You don't need to spend a fortune on golf shoes. You can pick up a good pair for less than $50, and although some clubs will be okay with athletic trainers, not all will be. To avoid being kicked out of a club for wearing inappropriate footwear, it's best to invest in a pair of golf shoes from the beginning.
Golf Etiquette and Rules
In keeping with the gentleman's and woman's game, respect is important on the golf course. Following the rules is just one part of it. Good golf etiquette is the second aspect.
If you're playing with a group, wait your turn. When your turn does come along, have one or two practice swings and then hit it for real. Don't waste time leading up to your shot. This can cause everyone to lag behind.
Chances are you've heard someone yell "Fore!" either on the course or in a movie. If you hit a ball in any direction that has a chance of hitting someone, you'll need to yell it too. It's simply a polite way of telling all in the vicinity to watch out.
Lastly, make sure the course is in the same condition you left it. If you hit a divot out of the grass, replace it. Smooth out the bunker after hitting your ball out of it. Don't drive your golf cart onto the green.
Respect the course as much as you do the other golfers on it!