7 Proven Techniques To Learn English In 10 Minutes • Dumb Little Man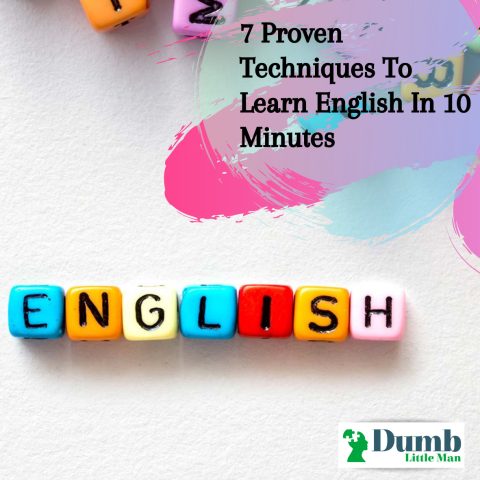 With over 7,000+ languages in the world, English remains one of the most widely spoken worldwide since it is the official language of about 54 countries. For this reason, a huge number of people are looking for unique ways to improve their proficiency in this language for personal and professional reasons. In fact, having fluency in this can even help you develop a competitive edge and offer opportunities to land a job overseas. 
However, mastering English entails a long time commitment since it has distinct features which might be totally different from your mother tongue. If you are truly passionate about learning, be sure to check out there seven techniques that you can apply in your daily life. After all, all of what we are going to mention here is perfect to use for just 10 minutes or less. Interested? Keep reading below. 
Learn English In 10 Minutes
Have you ever pondered the question, "how long does it take to become proficient in another language?" As much as we want to believe that there is one guaranteed way to turn a learner into a native speaker instantly, such a thing is just not possible in real life. Like any other skill, language learning is a process, and whatever works for others may not work for you. Some learners may find themselves picking up vocabulary through music or movies, while others may find comfort in learning through memorization of the use of flashcards. 
To help you choose what might work best for you, check these seven free approaches to learning which can help you progress in no time. 
① Create A Learning Plan
Before setting out on a language learning adventure, it would be wise to start strategizing by creating a personalized language learning plan. Since you know better what your schedule is, you can create a syllabus around that schedule to make sure that you are not wasting time on things that do not matter. In addition, laying down your plans for the week or the whole month allows you to visualize how many tasks you have to complete and identify available time slots where you can squeeze in language learning lessons. 
A plan is also good in the sense that it helps you keep track of the learning activities, worksheets, applications, and textbooks that you will use for mastering English. Through this, you can keep yourself motivated by ensuring that you will use different strategies to avoid monotony while learning. 
② Utilize Free Language Learning Worksheets
Since English has one of the biggest numbers of learners in the world, there are several available materials online that can guide you in terms of grammar, reading, spelling, and even writing. Two of the best examples of learning resource providers are BBC English and British Council, which comes complete with quizzes, video materials, and worksheets. They offer high-quality worksheets that are geared for different levels of learners and are perfect for enhancing your skills in reading and writing. Suppose you are more interested in focusing on the type of English used for work and professional situations. In that case, they even have downloadable activities which will help you gain advanced information on the intricacies of English. 
③ Use Gamified Language Learning Apps
Contrary to common belief, learning a new language does not have to be boring at all. If you are tired of answering worksheets and watching videos for countless hours, you can download innovative applications geared to keep you motivated and excited for learning. Lucky for us, there are several free apps you can download on your mobiles devices. Some of the top brands today include the Ling App and Duolingo, which are both structured in such a way that you will be able to learn something new just by using them for at least 10 minutes a day.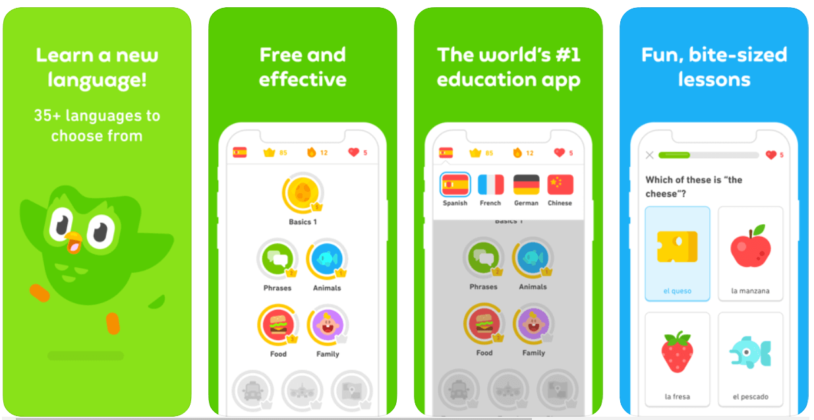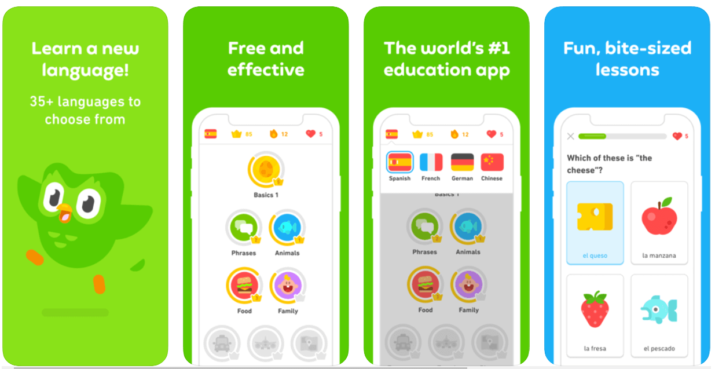 Photo: techpout.com/best-free-language-learning-apps
④ Listen To Podcasts
Podcasts are also useful since they are available for free, and you can listen to them even while you are doing something. Even if you are stuck in traffic or doing the laundry, you can simply check the English-based podcasts, which are very much updated and will only last for 10 minutes or less. Some of the most popular podcasts include BBC Learning English Drama, 6 Minute Vocabulary, and All Ears English. 
⑤ Play Word Games 
For intermediate learners who are interested in boosting their knowledge in terms of vocabulary, one can easily try out word games including scrabble, crossword puzzles, boggle, and word hunt. Such an approach offers a unique opportunity for learners to be exposed to new terminologies which they can also use in real life. While you can purchase physical game boards, you can also look for free downloadable word game apps. Some of the readily available word games that you can try out can be found on Merriam-Webster's website and Semantics by Google AI.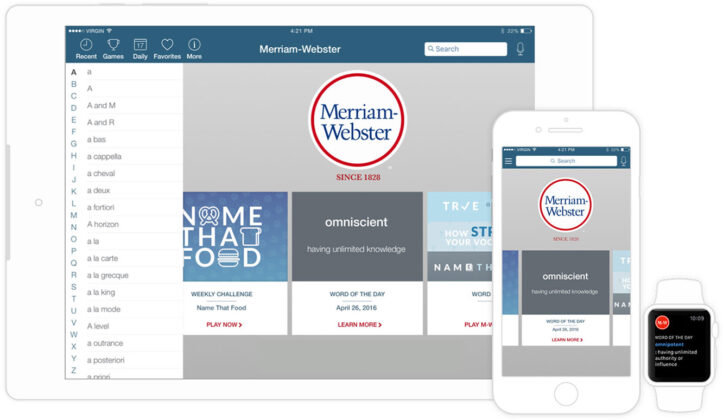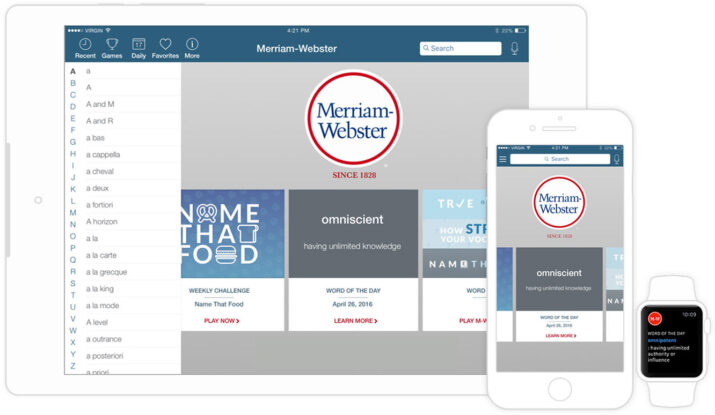 Photo: merriam-webster.com/apps
⑥ Use Flashcards To Quiz Yourself
If you are on the lookout for a classic strategy that is sure to work, then quizzing yourself in the form of flashcards is a perfect choice. By using immersive flashcard programs like Anki and Quizlet, you'll get to see the value of Spaced Repetition System (SRS). The SRS is applied in the website's algorithm, and it will ensure that you'll get to memorize the terms since it has a way to know what specific cards you have struggled at and the cards that you already mastered.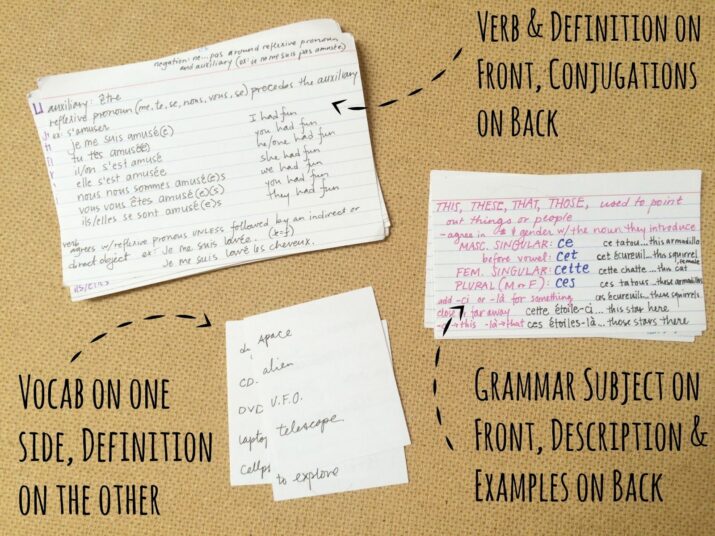 Photo: howto.faithandfamilyhomelessness.com
⑦ Sign Up For Language Exchange Platforms
Learning English is not just about memorizing grammatical points or enhancing your written skills. To truly say that you are progressing, you also need to practice speaking. You can do this by joining online language exchange platforms where you can speak with a real native speaker and get real-time results. To do this, you can simply connect using social media or downloading applications like Tandem and Italki. 
Language experts recommend this approach since language learners should also focus on developing their confidence in speaking English. Having the chance to try and speak the language can put you in a position where you have no choice but to use whatever words and phrases you have learned in order to express yourself better.
Final Thoughts
As we reach this part of the post, we hope that you were able to identify the best ways by which you can incorporate language learning into your busy schedule. While learning beyond 10 minutes is still the best way to go, consistency in using any of the above approaches can significantly help you progress and reach your desired level of fluency.
Like this Article? Subscribe to Our Feed!
At Dumb Little Man, we strive to provide quality content with accuracy for our readers. We bring you the most up-to-date news and our articles are fact-checked before publishing.