29 Best Webinar Software Reviews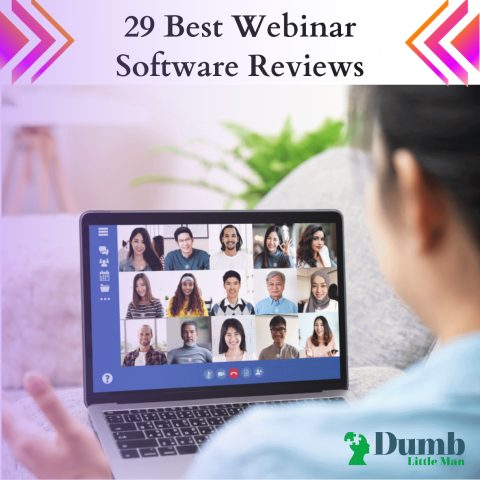 Webinar marketing is a powerful strategy that has been on the rise lately, and numerous business-to-business brands and consumer companies are switching to it for their marketing efforts. Essentially, webinars provide firms the chance to create more personal relationships with their audience and customers and majorly discuss critical topics and issues that necessarily concerns them.
To make friendly and quality webinars that will potentially pique your audience's interests, you will require webinar software. Nevertheless, the market is extensively flooded with numerous choices, and therefore not all webinar software is created equally. That is why we are here to greatly assist you in evaluating and deciding on the best webinar software convenient for your needs.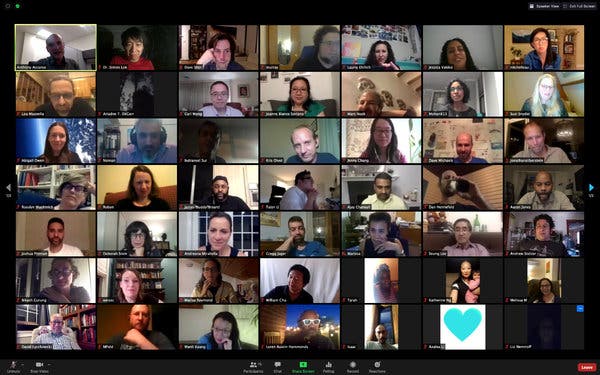 Here, we will progressively outline each webinar software platform along with the features that they provide. Confidently, by the time you are done with this article, you should pick the best webinar software platform that performs best for your brand.
Be it that you want to host your webinars for approximately thirty people or you are in search of a powerful and best webinar software to speak to at least five thousand individuals, our versatile compilation of the best webinar software will shed some light and eventually help you in finding what you are looking for.
What is a Webinar?
Firstly, it is imperative to understand what a webinar is to decide whether webinar marketing is suitable for the brand. A webinar is a presented or an online meeting hosted live through the internet. It can also be referred to or regarded as a virtual seminar. Similarly, it is safe to say that a webinar is an online event that joins or connects individuals with an audience from all around the globe.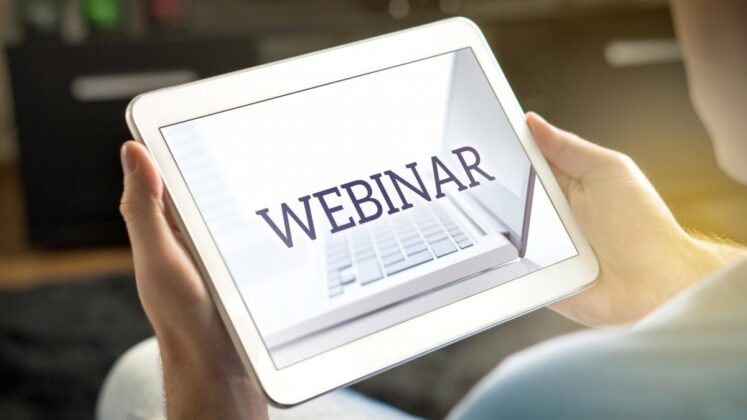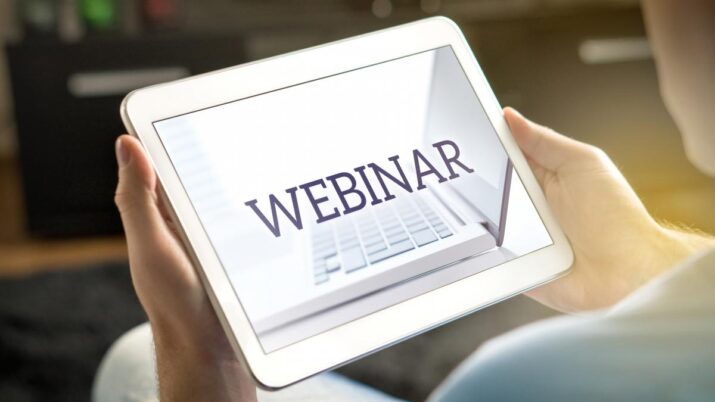 Webinars are fantastic since they make seminars easily accessible to everyone, even in the middle of a pandemic. They make hosting conferences and meetings function smoothly at any place and time, no matter where the participants are. Ideally, individuals can join a webinar at home, on holiday, at work, or on a business trip.
Consequently, this eliminates the terrible headache of organizing and preparing for things like travel, rental, and catering accompanied by the tradition of in-person seminars. It is essential to keep in mind that hosting a conference in webinar format is easy just by clicking a button, and you are good to go.
What are Webinars used for?
It is imperative to understand that webinars are used in numerous spheres, from education to business and training. Working with webinars for online education is very popular, especially after the COVID 19 pandemic, as it was consequently adopted. By using online webinars, a broader audience of students can be taught, and therefore they do not have to spend their precious time and money traveling to their classes.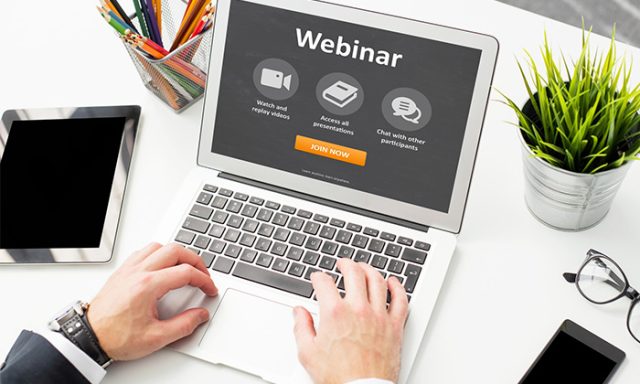 Wherever the students are in the world, the participants can easily tune into a webinar software. Additionally, educators have fewer overhead costs, thus signifying that they can charge less for classes, eventually making them more accessible. Numerous businesses use the best webinar software platforms for onboarding and training their employees on the company.
In addition, numerous companies have employees living and working worldwide; therefore, it would cost too much to invite every individual to travel to one place in the world. Innumerable people are intensely interested in learning through the best webinar software platforms. In a fast-paced atmosphere, only those who make an effort to keep up with the industry's hot trends are most likely to grow and succeed.
Using webinar software for marketing can significantly bring in new and potential customers. By hosting an online webinar software, you can showcase your services and products to gain more attention. Also, video content products have a high engagement, which signifies that even if the webinar software is not entirely focused on your product, it is still most likely to attract and boost interest.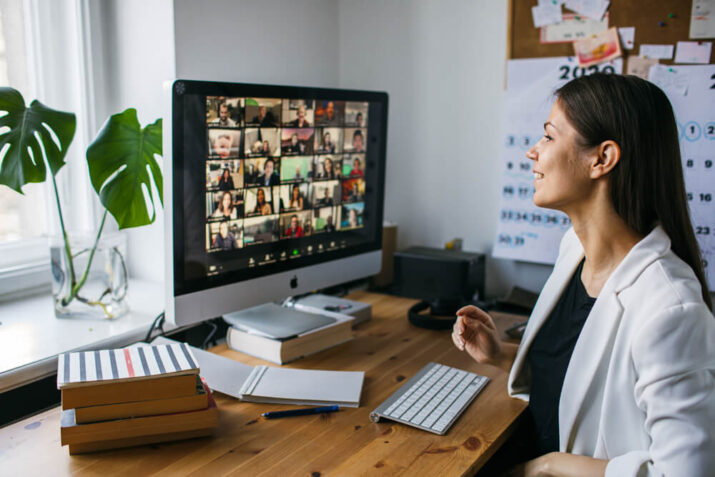 Webinars also assist business owners in establishing more personal and top-notch quality relationships with their customers. This is because when you explain how a product or service functions and take the time to answer questions comprehensively, it signifies that you are.
Essentially, customers appreciate that, and therefore, as a company, you are more likely to establish brand loyalty in that essential but straightforward manner.
Factors to consider significantly when choosing a webinar software
First and foremost, you should first ensure that the webinar software is easy to use and navigate through. Also, you have to ensure that the webinar software is within your budget to afford it without breaking the bank.
Thirdly, you should examine the number of attendees to know what webinar software will significantly suit your needs accordingly. Additionally, you have to choose an entirely reliable webinar software. Also, you should carefully look into the webinar frequency and the branding.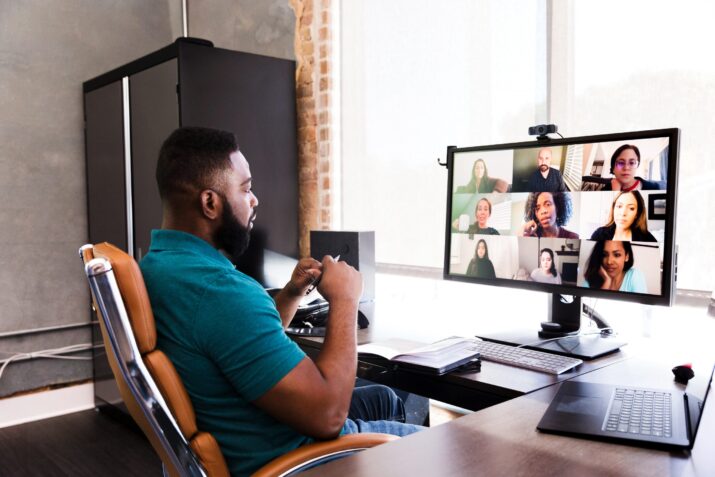 Moreover, features are required, such as calls to action, analytics needs, pop-up CTAs, polls, handouts, live chat, whiteboard, phone call-in options, and recording and replays options. It would be best to consider interactions because the webinar software effortlessly connects with your CRM, email marketing service, or calendar tools.
You should also check if the webinar software of choice required the viewers to download a plug-in and also if there can be several presenters. You should also consider if the webinar software sends out email reminders to registrants.
Also, you should think if the webinar software is for on-demand webinars, live webinars, or both. The best webinar software should be effectively deployed and greatly interest your viewers with a beautiful, on-brand experience.
How much do webinar platforms cost?
This is among the numerous FAQs, and therefore it is essential to understand that there is quite a considerable price range based on how to live attendees you have and the features you require.
Prices range from $39 per month to $199 per month, although most people can expect to pay at least $129 per month or less.
Best Webinar Software Platforms
Imperatively, webinars are utilized by various professionals, from educators to brand managers, since they connect users to their audiences, whether clients and students, in a powerful way. This is fully accomplished by combining the flexibility and responsiveness of face-to-face interaction and the convenience of cutting-edge technology.
Importantly, webinars enable users to tailor their messaging to the individuals watching immediately. Additionally, live Q&A sessions after webinars personalize and clarify said messaging in a way that could not be achieved with just a vlog or a blog post.
The list below carefully outlines any webinar solution within an available free offering. Do not be surprised when you find out that they may only support a single user or one project; however, they are genuinely free offerings. Scaling, nevertheless, will more than often need entire investments.
1. WebinarNinja

As the best for top-notch quality training or coaching, WebinarNinja provides you with a mammoth of tools to easily connect with your audience. Here, you can chat with the group or even individually, where they can share course materials, take a poll and display the results.
You can significantly increase engagement which consequently assists people to solidify and enjoy their experience. This is one of the enormous reasons many users like it for instruction, whether teaching, coaching, or onboarding a new employee.
WebinarNinja is a close contender of Demio in its beautiful design, modern, and flexible webinar capabilities; however, WebinarNinja is slightly more cost-effective for smaller groups than Demio.
Essentially, WebinarNinja is trusted and relied on by renowned business-to-business brands like Podia, AppSums, and Barametrics, which effectively supports their ranking as the best for top-notch quality training or coaching purposes.
Ideally, you can run any Webinar with WebinarNinja, whether automated, hybrid, live, or series. The main features of the training or coaching aspect are uploading PowerPoint presentations, creating Q&A spaces, and easily sharing information.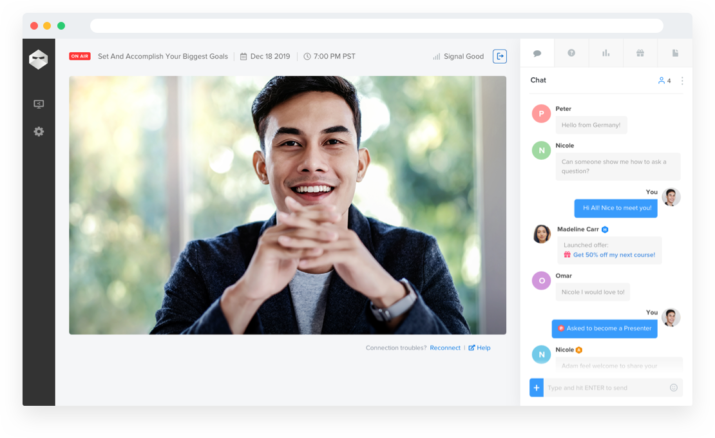 Some other conspicuous features of WebinarNinja include the following firstly; you can use a mammoth of integrations with notable systems like ConverKit, Squarespace, MailChimp, HubSpot, and ClickFunnels.
Also, there are attractive ready-to-use templates for fast and straightforward webinar creation. WebinarNinja allows saving marketing materials within the software for quick and easy access. Lastly, you can easily create custom-branded registration and thank you pages designed to convert.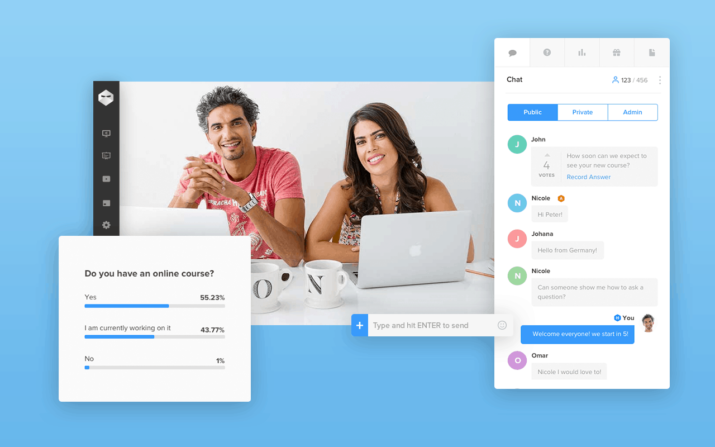 Moreover, WebinarNinja is reported to have some excellent customer support, and this support is extended through email; live chat is a detailed resource library for set-up guidance and minor troubleshooting.
The starter plan goes for not more than $40 per month, the Pro plan goes for not more than $80 per month, the Plus plan goes for not more than $130 per month, and the Power plan goes for not more than $200 per month.
2. LiveStorm
One of the most remarkable features of this software is that it is the best for automation and ease of use. If you are in search of a webinar software that enables you to run on-demand, live, or automated webinars with just about any objective in mind, LiveStorm could be the solution for you.
Suppose you are interested in holding a live event or detailed product demo. In that case, you can easily do that, thanks to LiveStorm, which is a simple yet strong video communication tool since they considerably stand out for their ease of use and detailed automation.
Therefore, you do not have to be tech-savvy to use this software which goes for not more than $90 per month, since you can have a webinar up and running in a second, thanks to the automation key features such as a promotional email, event registration page, and automatic custom event reminder details.
Some additional key features of LiveStorm are screen sharing capabilities, exceptional analytics, and reporting capabilities. Also, you can quickly join the best webinar in any browser with a single click.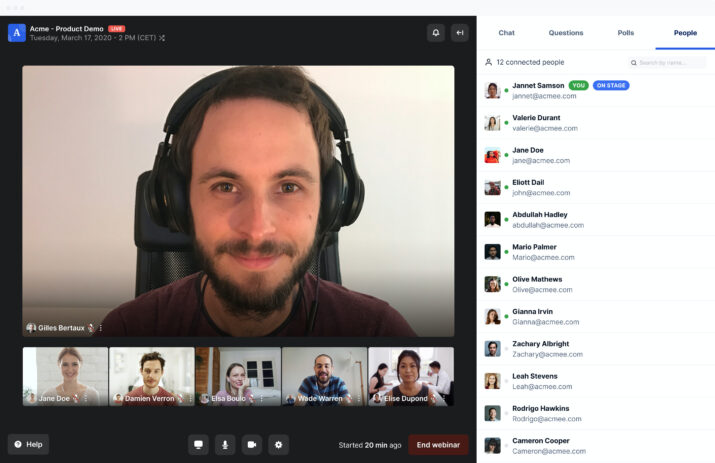 Additionally, there is an entire suite of webinar types like on-demand, live, and pre-recorded. Plus, you can find easily interact with polls, Q&A, and live chat within the webinar. In addition to that, LiveStorm also provides comprehensive customer support in several languages.
Furthermore, LiveStorm also has an instrumental self-service documentation section of its website. This offering is widely appreciated because they are convenient when encountering a minor set-up issue or pesky technical difficulty that you could solve exclusively without having to explain yourself at length to tech support.
3. EasyWebinar

Distinguished as the best software for beginners and social media, that goes for not more than $80 per month, its motto is 'wildly easy to sue live and automated webinar platform,' and confidently, they seem to get it right.
Some reports indicate EasyWebinar is one of the only webinar platforms that have successfully integrated marketing strategy with webinar technology. Indeed, this software is for anyone desiring to launch their first seminar rapidly and painlessly with a conspicuous drag and drop page builder and a lot of seamless integrations right at your fingertips.
The absolute highlight of this software is that it enables hosts to Livestream to Youtube and Facebook simultaneously. It is imposing because it essentially provides you with uncapped potential concerning how many people your content can reach at a single time.
Those viewing Youtube or Facebook will not get the platform's built-in interactive capabilities; however, your message could still be racing hundreds of people. More key features of EasyWebinar are; first, it is browser-based viewing, and it has seamless integration with popular platforms like MailChimp and WordPress.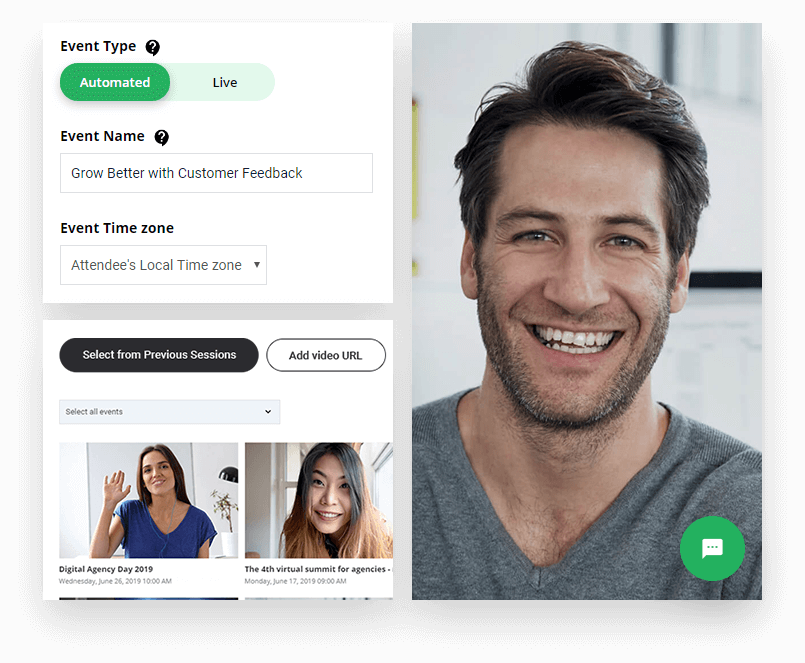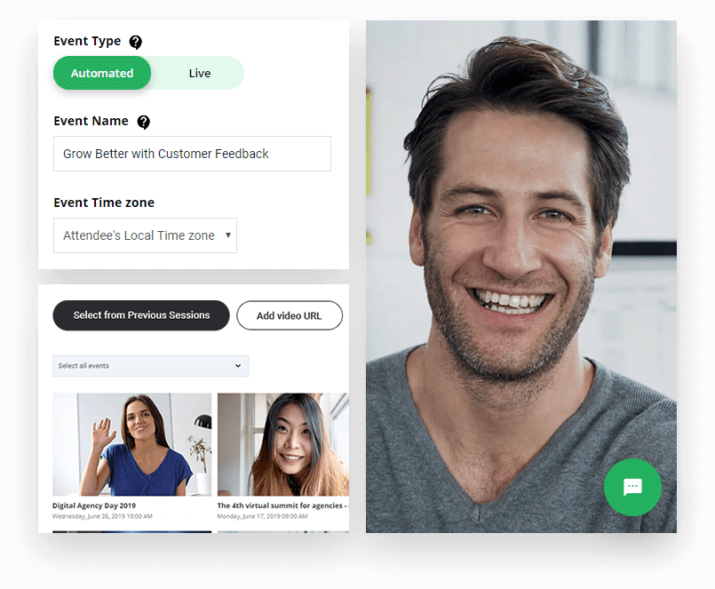 Additionally, there are in-depth engagement trading tools covering webinar watch time and in-platform clicks. Also, with EasyWebinar, you can quickly turn live events into evergreen webinar funnels.
Another key feature is that EasyWebinar permits four presenters in a single room, all-inclusive with sharing capabilities. Even though EasyWebinar is not the most affordable webinar software in the market, this platform certainly is worth a shot.
4. WebinarJam

As the best webinar software for large businesses, WebinarJam can host up to at least five thousand attendees at a single time with barely any delays. It is easily one of the best webinars out there, most especially for huge businesses.
A significant highlight of this software is that even though it is designed for large audiences, you do not have to turn a blind eye to some of the fantastic and interactive features that software for smaller groups offers. Among the favorite interactive features mentioned by many users is the advanced live chat within the webinar that pulls the person's video to the stage.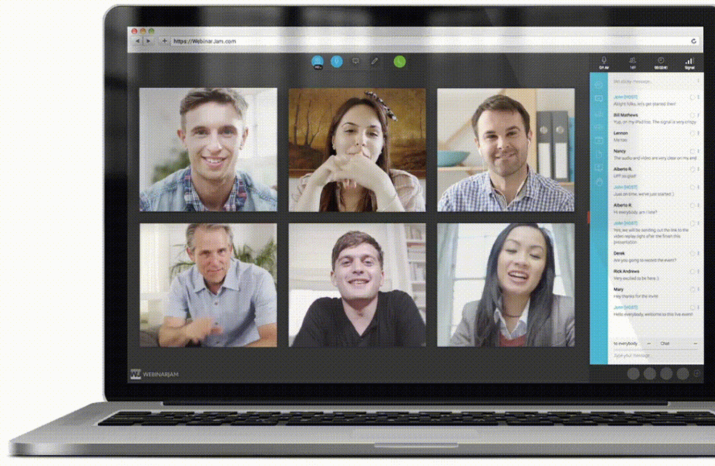 Additionally, you can also include offer countdowns and pop-ups to encourage significant attendees to take action. These key features are almost more essential for large businesses than small ones to eliminate the 'faceless large business' some may perceive.
The main selling point of WebinarJam is that it automatically records your content every single time. WebinarJam is sure you will love their software since they provide a 30-day money-back guarantee; therefore, your purchase is risk-free. The software goes for not more than $500 per feature and year. At the exact time of writing, they also feature a 14-day free trial for a restricted time only.
5. Demio

Demio is the epitome of the crop for modern, user-friendly webinar software that is expected to assist your business to grow. It is suited to almost any business that wants to hold interactive live events to drive their marketing campaigns significantly.
One of the numerous lovely attributes of Demio is that there is no download needed, and not only will your attendees gain access to an attractive platform that reflects your branding; however, they will also be able to join from any browser with a single click.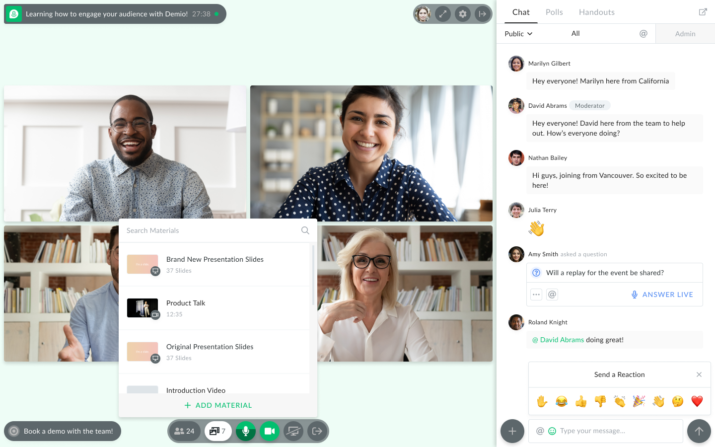 There are several key features that Demio boasts of are; firstly, it can potentially run interactive polls and surveys get stats in real-time. Also, there are embed launch offers and CTAs designed to convert sales immediately.
It also provides attendees with a microphone and video permissions as needed, and it also shares handouts for instant download with your attendees. Conclusively, Demio is entirely interactive, and it is bound to leave your audience feeling like they know you.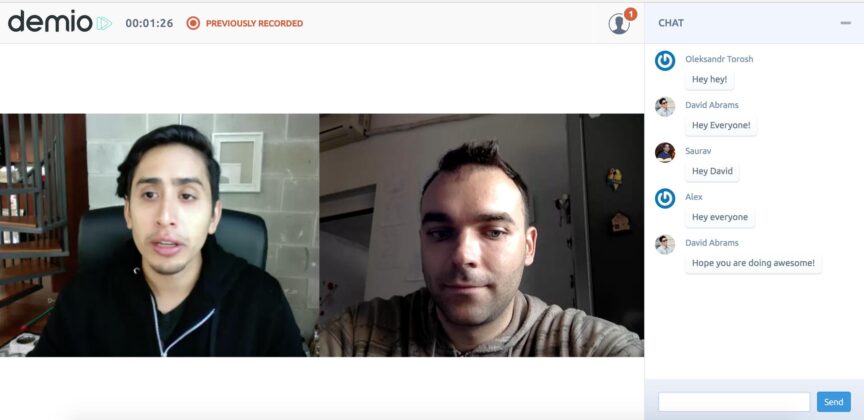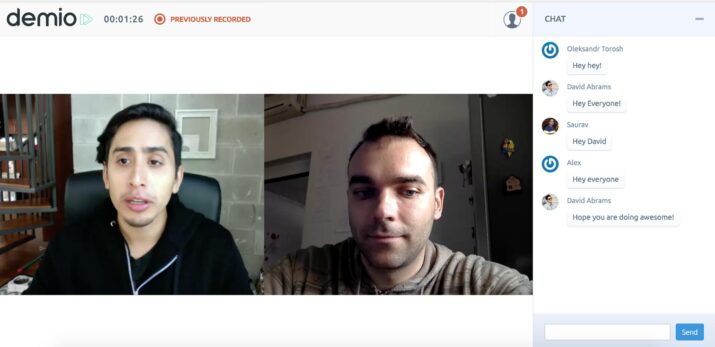 Another fantastic thing about Demio is that you can easily record your webinar and automatically send it to all registered participants; therefore, no one misses out if they cannot make it, even if they miss a live event's enthusiasm.
The starter plan that allows up to fifty attendees goes for not more than $35 per month; the growth plan that allows up to one hundred and fifty attendees goes for not more than $70 per month.
6. GoToWebinar


It is widely known as the premium webinar platform to promote and effectively run your virtual event. Ideally, if your company or agency is searching for a webinar solution that provides powerful features, it would be best to consider GoToWebinar.
Apart from your standard webinar features, GoToWebinar allows you to host your webinars on their servers and create a page you can potentially share online. Essentially, in this way, you can significantly increase your visibility and greatly entice them to join your live webinars soon, if not immediately.
There are several outstanding features of the GoToWebinar. Firstly, it provides the users free access to GoToStage, where they can instantly switch their high-performing webinars into on-demand content that users can watch severally.
Furthermore, working with your on-demand webinars, you can easily create a channel to host all your past videos and get found or visible online more accessible by people who want to be your follower but do not know them yet.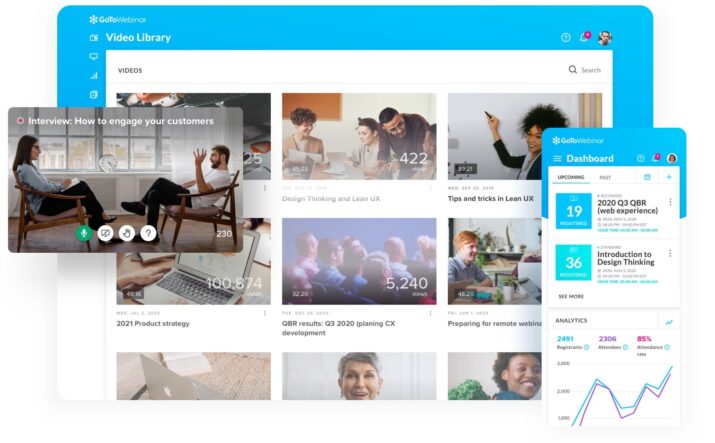 Also, you can easily stimulate live experiences by working with pre-recorded webinars to fully accommodate attendees from different time zones. Lastly, you can create templates using information from the past events so you can work with them again and save you the precious time of setting up a new webinar every time.
Ideally, GoToWebinar allows you to choose from monthly to annually shy from 17 to 23% plans. Every plan permits a specific maximum number of attendees. It is imperative to keep in mind that video embedding to your site and landing page creation is only available in the standard plan and higher.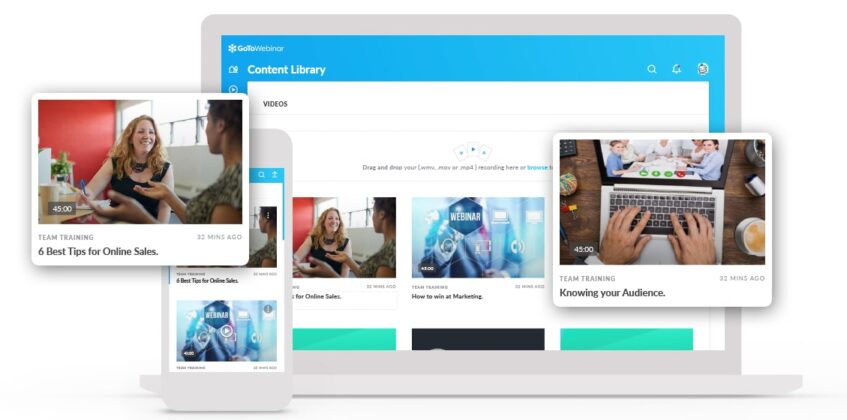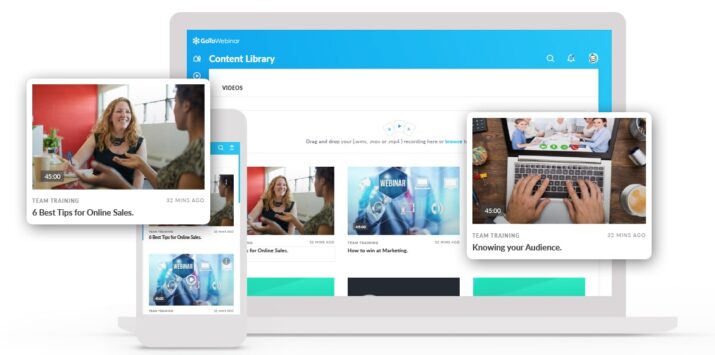 Also, users with Pro and Enterprise subscriptions have access to premium webinar features like Video Editors, Certificates, Recorded Events, Transcripts, and others. The starter plan goes for not more than $90 per month; the pro plan goes for not more than just $200 per month, and the Plus plan for not more than $430.
7. EverWebinar

This webinar platform is commonly referred to as the most exceptional on-demand webinar complement to WebinarJam. Interestingly, from the same company after WebinarJam, EverWebinar enjoys similar benefits that live webinar platform does.
However, the significant distinct difference is that your audience may be located in different parts globally, each of which has different time zones. Hence, instead of forcing all of them to stick with your live webinar set to your convenience continuously, EverWebinar allows you to create an on-demand that many people can view at their preferred time.
There are several main features of EverWebinar that you may want to look into. Firstly, it easily imports the same WebinarJam videos directly to EverWebinar and switches them into evergreen content that you employ for upcoming campaigns.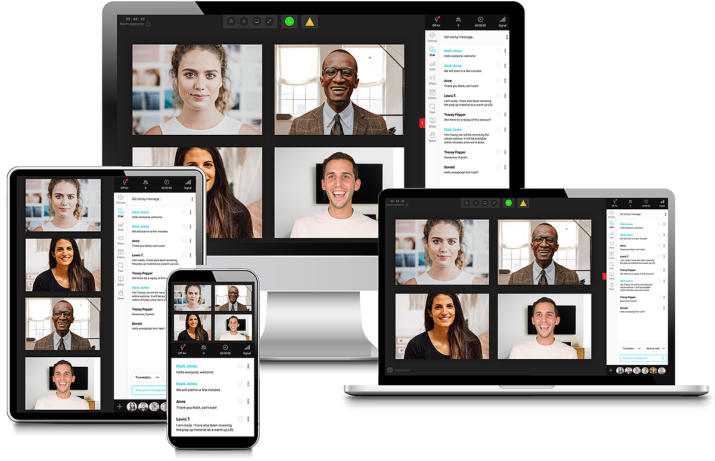 Also, with this webinar platform, you can conduct a live chat even if the webinar video is not and let your support team excellently answer the questions and reply to the comment section of the attendees as the video is rolling without even skipping a single beat.
Lastly, you can set the webinar videos to begin "just in time" the attendees signed up to automatically give them the feeling of satisfaction. Ideally, all plans share similar webinar features. However, the only difference is the payment plans.
Therefore, if the annual plan is a bit expensive for you, you can opt and sign up for the installment plan instead of the usual three times, not more than $200 per year. For the users fond of EverWebinar and want to save more from the subscription, the Biennial Plan that goes for not more than $800 for two years may be the best option that you did not see coming.
8. ClickMeeting

This webinar software is famous for being the most exceptional all-purpose webinar software for education and business. With the growing need these days for teachers to broadcast their training modules to their students, they need to search for webinar tools that essentially fit and satisfy their requirements.
Not to forget, in this circumstance, ClickMeeting is among the few geared towards teachers and instructions. The webinar software, in addition, works for marketers interested in creating product demos to assist in educating their leads and facilitate collaboration with various businesses and online meetings.
There are some critical features of ClickMeeting that you would want to miss out on; firstly, it makes signing up to your webinars very simple by creating personalized invites to your participants or audience and setting up a registration page with the help of custom branding.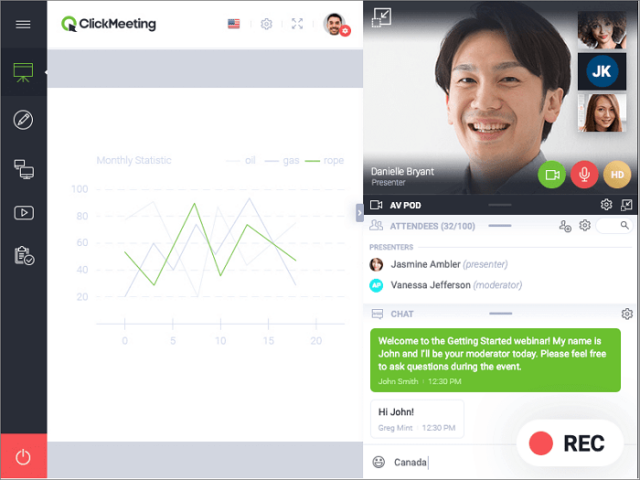 Additionally, with ClickMeeting, you can potentially grow the engagements during your webinars by running surveys and polls, using a whiteboard, encouraging attendees to ask questions for you to answer, and consistently taking turns with participants by easily sharing your screen with them. Also, you can buy add-ons to your current plan I the limits are too restricting.
However, you cannot afford to upgrade to a higher plan for now. Moreover, ClickMeeting assists you in gathering reactions and opinions from attendees about your webinar and carefully analyze its statistics to find ways to enhance your upcoming webinars.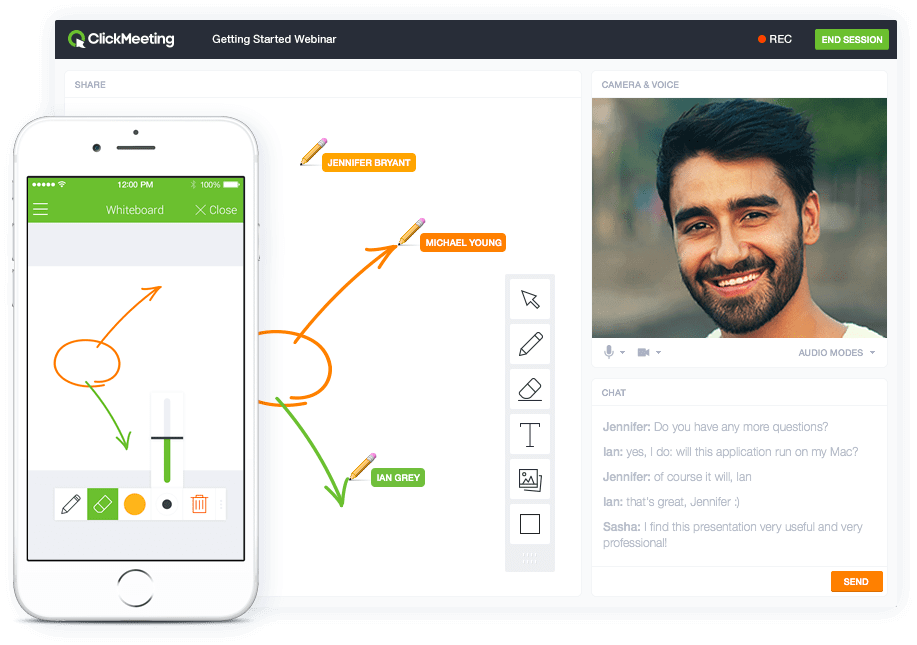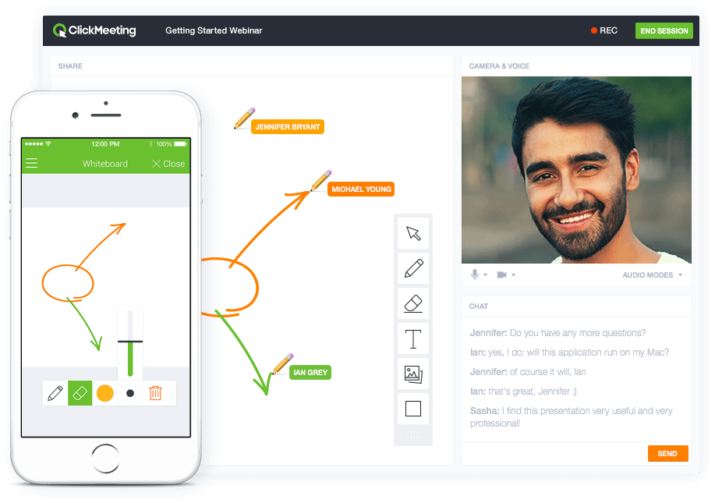 Luckily, you can sign up for a 30-day free period and see if ClickMeeting is for you before you decide to pay for its $25 per feature. After the free trial period, you can decide whether you prefer paying annually (up to 20% off) or monthly for your plan of choice. In addition, the number of attendees is set to 25 by default; therefore, if you increase the volume, the price also soars up.
9. GetResponse

It is widely considered the best marketing tool accompanied by excellent webinar functionalities. Just as it is essential for webinars for your business, email marketing extensively engages with your target audience and enhances your sales if done correctly.
Hence, if you have not found the best tool for both yet, then GetResponse is something you should significantly consider. Marketing to your business is made simpler by working with this software. Therefore, you can weave in your email marketing efforts with your webinar marketing strategy to assist you in achieving the most out of our list and gather more prospects.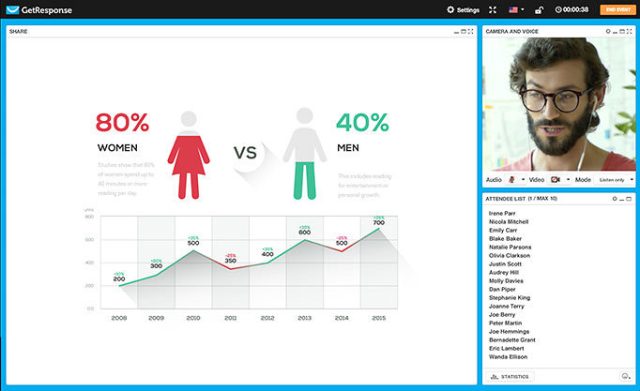 Indeed, some of the attractive features of this software will significantly catch your interest. Fortunately, you can set up an SEO-friendly landing page to enable webinar registration and begin collecting leads.
From the page, you can work with Facebook's retargeting pixel to send registrants with relevant offers even after the webinar is finished. With this software, you can significantly maximize audience engagement by sharing your presentation file in different formats, enhancing collaboration with whiteboards' assistance, and collecting feedback using surveys and polls.
Moreover, you can use the webinar to collect the most qualified leads and provide a product tour before presenting them with your best and latest offer. There is a free 30-day trial period of GetResponse, which the basic plan goes for not more than $16, and following the period, you have to sign up to the Plus plan or higher to access its webinar features extensively. Simultaneously, you get premium email marketing solutions such as sales/ webinar funnels, automation builder, and contact tagging and scoring.
10. LiveWebinar

This software is an affordable and straightforward all-in-one webinar tool that permits its users to conduct virtual events, host webinars, and create your real-time communication solution. Moreover, the platform is simple to use and does not need any plug-ins or downloads, and majorly it is browser-based, runs on all key browsers, and operates on a majority of smart devices.
Planning an event does not involve much therefore takes a few clicks, and the attendees can join with just one. You can also record events to store for later reference or create evergreen and on-demand content.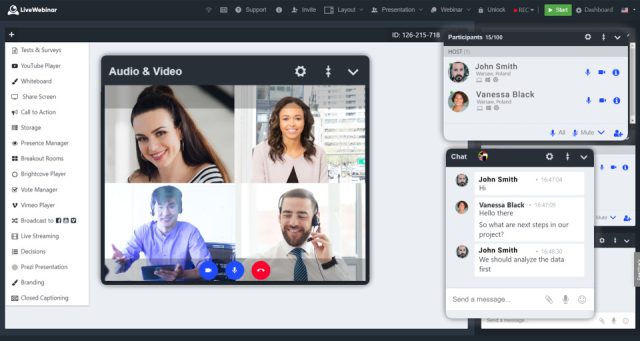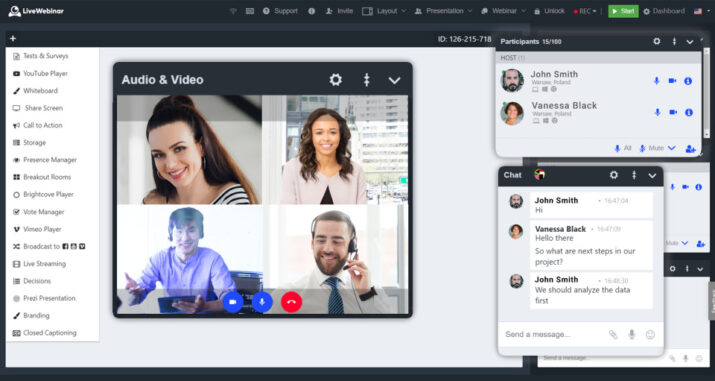 Engagement is among the main features of this affordable software, where it establishes engagement with LiveWebinar's interactive features. You can use polls and surveys to quiz your audience or get feedback, share your ideas with the whiteboard, directly play videos from Vimeo or YouTube, share your screen with ease, and much more.
Secondly, you can easily customize your LiveWebinar room to significantly fit with your visual identity by customizing the background of your room, adding your logo, changing the colors of text and windows, or adding an ads banner.
Additionally, you can also customize your camera feed background with the assistance of Virtual Backgrounds. Furthermore, LiveWebinar permits you to create events that are easily accessible to people from all around the globe, with exceptional features such as automatic chat translation and real-time translation with the help of language interpreters.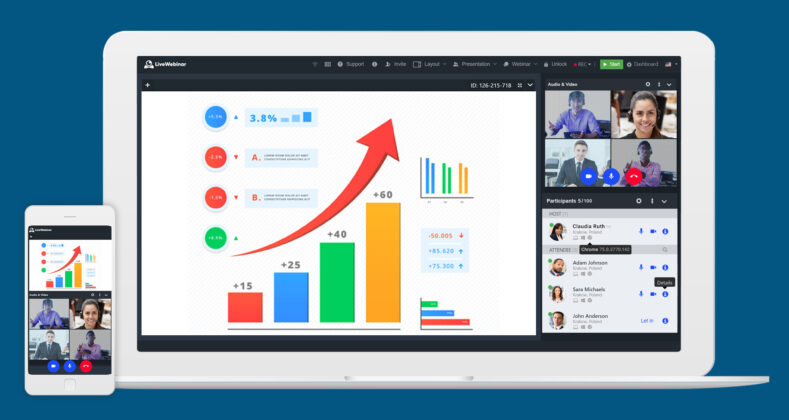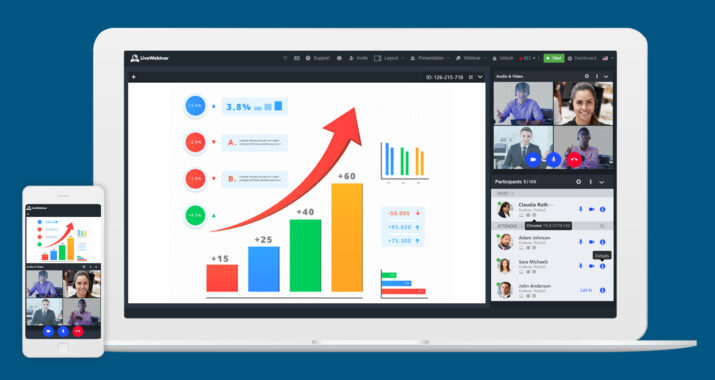 LiveWebinar offers you a unique free 14-day free trial to begin, and after that, you have three packages to decide on. The first package, known as Pro, starts at not more than $15 per month, allowing up to one hundred participants and unique webinar features such as virtual backgrounds, a whiteboards branding tool, and up to at least 6 hours of storage for recordings.
Business's second package begins at approximately $120 per month, allowing up to five hundred participants, accompanied by features such as the room presence manager, mass invitations, total HD recorder, and recording editor.
Custom, the last package, allows you to establish a personalized plan with all the features you need, with the number of participants you would prefer, and as such, the pricing will vary.
11. Dacast

Essentially, Dacast is the most excellent video platform for tech-savvy entrepreneurs since it is a developer's idea for webinar software. This best webinar provides you with full rein on how you prefer your video to match your brand.
You can even create brand new apps with the autonomy of how the target audience can view your videos. This software's first plan goes for not more than $40 per month if you want the 50 GB. Dacast allows you to manage all your video content using the platform's cloud video platform; therefore, you can carefully analyze their performance, look for ways to monetize them, and transcoding them into VOD content for evergreen reasons.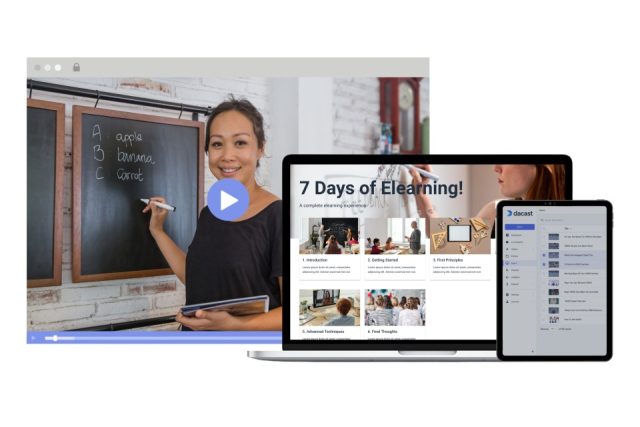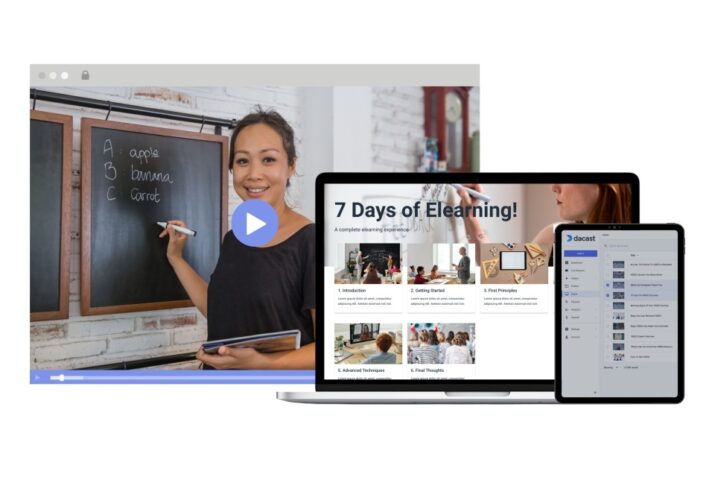 Also, you can use the video API to personalize its video player and make it your own by configuring its monetization tools. Luckily, you can even build mobile video apps for your business by working with its mobile SDKs.
Lastly, you can stream your content to viewers without buffering or lag problems regardless of their locations, thanks to its exclusive partners of CONs. Essentially, Dacast's yearly or monthly subscriptions are measured as per users' storage demand and bandwidth.
The more webinars they launch working with the platform, the higher the plan they need. For beginners, they can click on the Calculations tab to break down the storage capacity and bandwidth they need and assist them in deciding which plan is the best.
12. Zoom


There is no doubt that this is the best popular online video solution for everyone since it is widely used; therefore, it needs no introduction. Essentially, this platform can accommodate any online video needs such as conferences, webinars, and meetings across all business levels, right from solopreneurs to enterprises and even in schools.
As a popular video conferencing tool, there are some key features that you should know about. It allows private and public chats during a webinar; therefore, you and the participants can ask questions and give answers for everyone to see.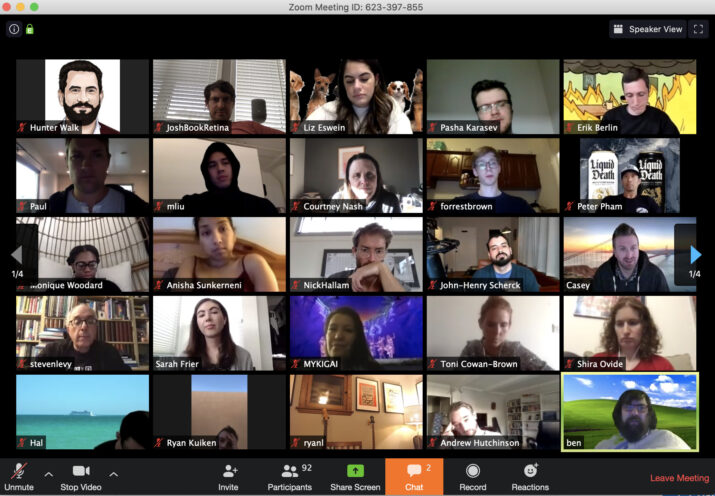 Also, Zoom gets the participants to join meetings and webinars with just a single click of a button. Fortunately, people without an internet connection can still participate through phone calls.
Moreover, you can save all your meetings in the cloud containing 1GB of storage space, so they do not consume space in your hard drive to access the videos for later review. Lastly, Zoom provides a wide variety of integrations with several ups from security and compliance (AppOmni, OneLogin), Learning and development (HeySummit, LTI Pro), productivity (Zapier, Gitlab).
As one of the very few webinar platforms with a free tier, you can download and install a Zoom copy on your computer or mobile device to host a 40-minute online event tops with at least 100 participants.
Users receive premium features such as cloud recording transcripts, unlimited group meetings, and custom domains for higher tiers. Therefore, you can sign up for each plan per month or yearly, where you can save up to approximately $30-400.
13. Google Hangouts
As the best free online chat software for all devices, Google Hangouts has been around for a while as an online communication tool to message or hold video calls with users to ensure everybody is on the same page about your products and work.
And while it is not a webinar platform in the strictest sense, Google Hangouts can hold webinars and online events on a small scale, approximately a maximum of thirty participants. Google Hangouts, whose pricing does not exceed $10, allows participants to jump in and speak during a webinar.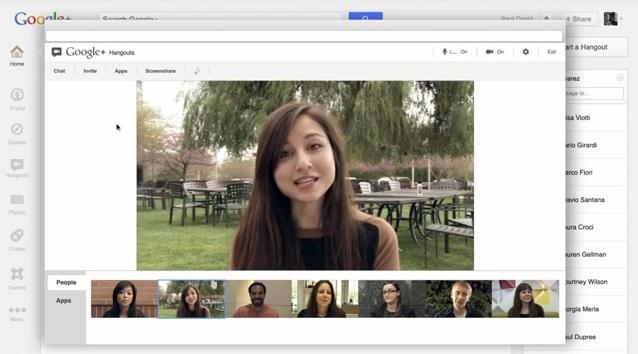 There is little to no moderation that takes place as everyone has complete control over how they participate. Also, you can stream your webinars straight to YouTube to get more attention to your Livestream, and this is ideal given that the platform itself can only host a restricted number of participants at a time.
Luckily, you can carry the webinar wherever you please by simply installing the Hangouts Dialer app and Chrome browser on your iOS and Android devices. As earlier mentioned, Google Hangouts is a free platform where you can launch small-scale webinars with your audience.
For participants to access your webinars, nevertheless, they must own a Google account. Moreover, since you do not have to spend a single coin, the platform may hamper your marketing efforts. It does not provide analytics and email marketing integration.
14. BigMarker

As the best webinar tool for conducting a virtual conference, BigMarker is dedicated to providing users with the most detailed webinar features to grow their respective businesses. Here, you can choose from different webinar types to launch, which you can work with internally for your company and enhance your processor externally to produce more leads and grow revenue.
Nevertheless, BigMarker boasts as a tool for running virtual conferences and summits to engage hundreds and thousands of attendees. Here, you can host multi-series video sessions that you can promote using different channels and potentially monetize from it.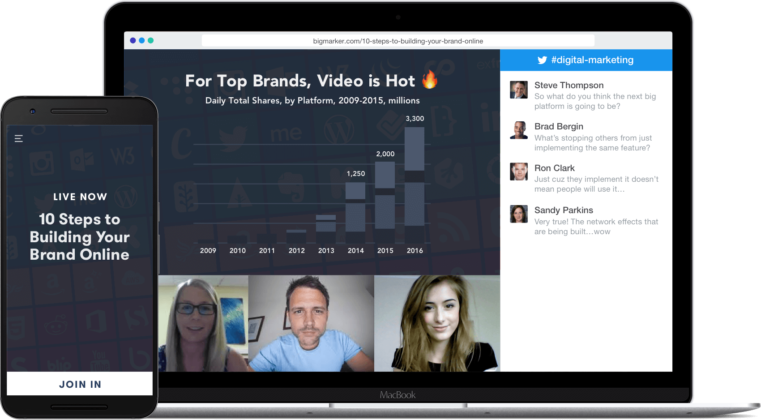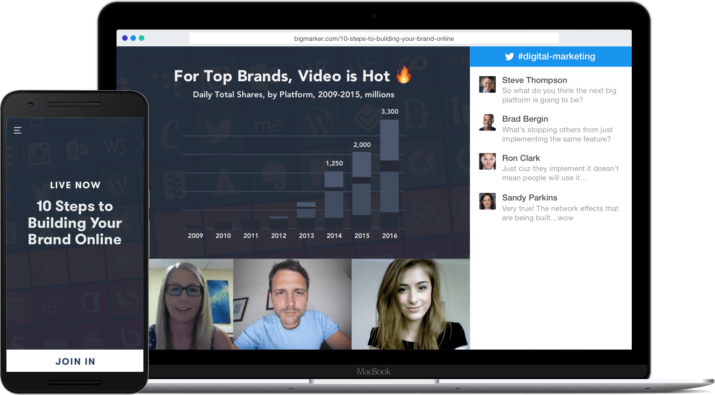 You can also embed videos from BigMarker employing its customizable video player. Apart from showcasing your brand, you can include offers, lead forms, and Q&A sections to create interactive and immersive experiences for attendees.
Furthermore, you can create educational materials to automate training and enhance the employee or/and customer onboarding process. Set up a white label portal or microsite for your brand to standardize information across all fronts of your business.
Essentially, BigMarker's webinar software solutions are divided into three tiers known as Elite that goes for not more than $160 per month, Starter that exceeds $80 per month, and Premier that does not go for more than $300.
While they all possess the same features, their differences lie in the number of maximum hosts and attendees per plan. For its white label feature and advanced services (consulting and support), you need to reach out to its sales team for further information.
15. Any meeting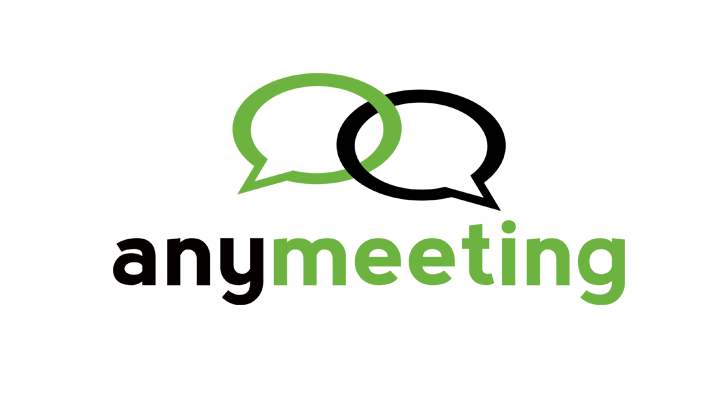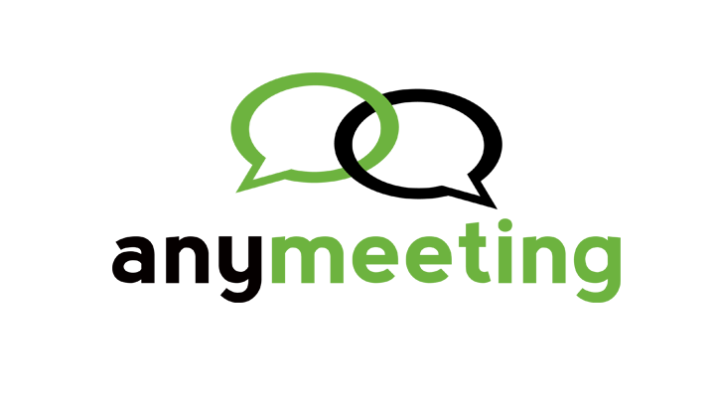 This software has proven to be a robust software solution for webinars. Any meeting allows you to host up to 1000+ users from both fundamental interactions and video conferencing. Since it is an easy-to-use tool, you need not be a tech genius to use the software as no training or onboarding is required.
It enables small and mid-sized businesses across all industries to efficiently conduct significant online events with no hassle. Also, the software has allowed businesses to have an easy time coordinating their remote teams thanks to the Artificial Intelligent powered smart assistant, screen annotation, screen sharing, and cloud-recording features.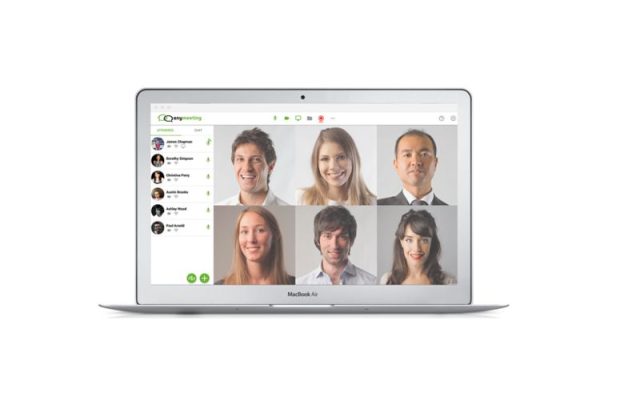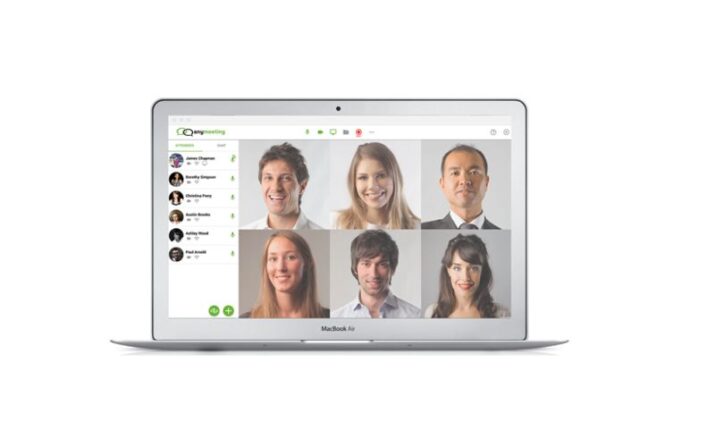 Before purchasing Anymeeting, you may want to try it out by taking advantage of the free 30-day trial and free-tier version. The free tier permits you to connect with friends and family; however, you will be limited to 4 meeting participants. The Lite plan does not exceed $10 per month, and the Enterprise plan does not go for more than $18 per month.
Nevertheless, AnyMeeting provides you with paid tiers that are ideal for businesses. The lite tier allows you to host ten people so, you may want to use it for your small business. An upgraded version of the lite tier is the pro tier which is also suitable for small and medium-sized businesses.
Any meeting pro tier enables you to host about 100 meeting participants at both local and international levels. The final version of the software is the enterprise tier which supports 200 web participants.
16. BlueJeans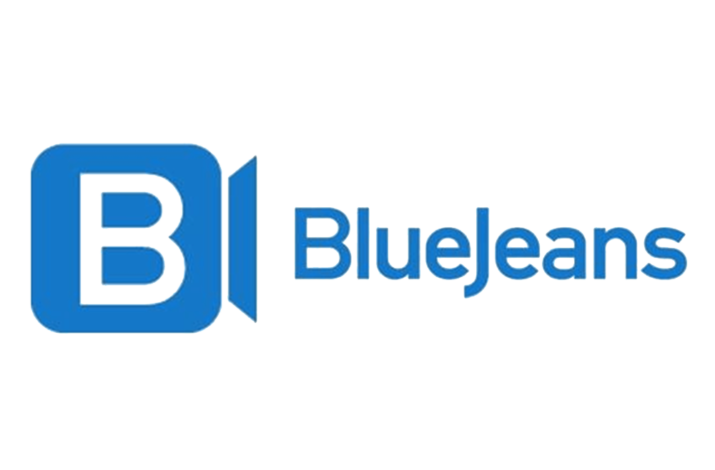 The BlueJeans software offers an interoperable cloud-based video meetings service to connect multiple users across a wide range of platforms, devices, and conference programs. This makes BlueJeans suitable for use by people who are not technologically savvy.
One of the most conspicuous features of the app is its ability to record meetings, which is relatively uncommon to other webinar software. This ability has made BlueJeans very reliable for its users because the recordings will be available in a library that users can easily access and refer from.
Not only is the software designed to support up to 300 people, but it is also available in numerous countries. Therefore, the app is ideal for large and international businesses. It is prevalent for instructors and educators to group students for group exercises and discussions during classes or lectures.
With the rise of e-learning, BlueJeans which goes for not more than $18, would be an ideal option as it offers breakout rooms where students can hold meetings in smaller groups. Furthermore, the breakout rooms are easy to set up and make attendance much more manageable as all students can participate in the lessons.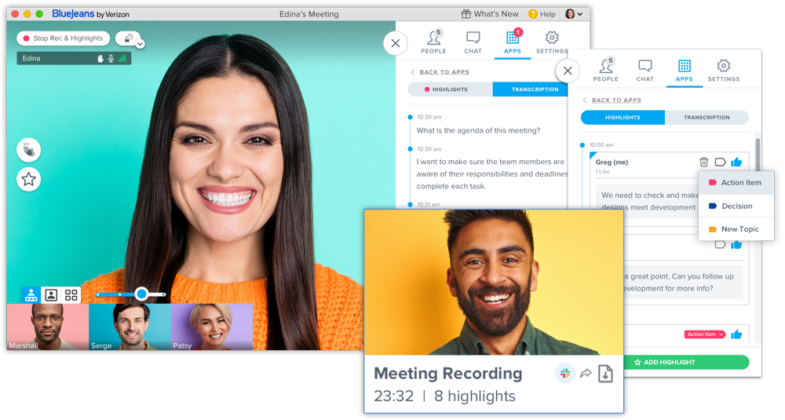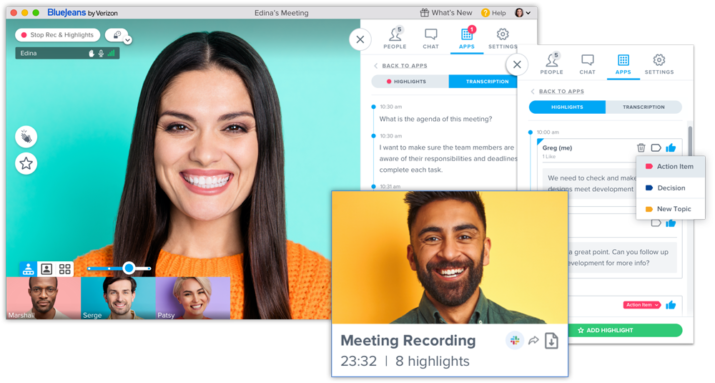 You would undoubtedly opt for a reliable and best webinar software for meetings to enable collaboration and show information to keep all attendees well-informed. The BlueJeans screen sharing feature lets you show presentations, charts, videos, and your desktop to engage all attendees.
The software's other beneficial features are its clear and straightforward user friendly interface, excellent audio and visual quality, integration with google calendar and mobile phones, and virtual backgrounds.
17. Adobe connect


If you have been searching for a webinar tool that enables you to have stellar virtual experiences for a diverse audience, you need not anymore! Adobe Connect, whose pricing starts at $5o per month, allows you to make your meetings and webinar platforms extraordinary as you can customize your webinar per your desired style and audience.
As a host, you need to stay in complete control of your webinar, and adobe connect allows you to do so. The software has a desktop and document sharing feature that will enable you to grab the attention of your attendees as you will display your screen in real-time and allow your attendees to participate.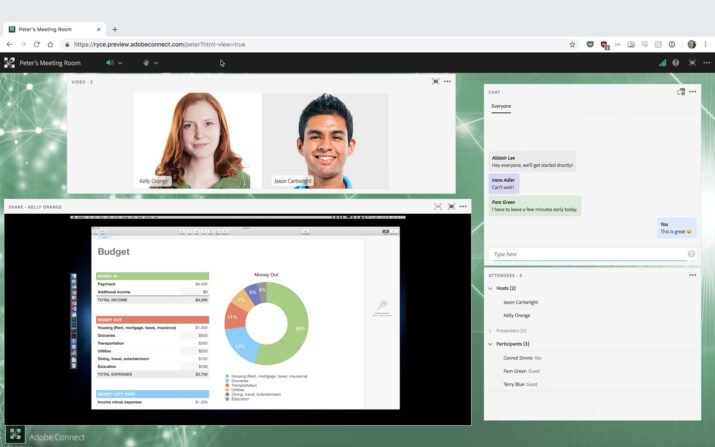 Moreover, meeting hosts are in charge of their webinars as they can mute and unmute users to enable easy coordination of the meeting.
Adobe Connect allows you to host up to 25 participants and allows nine meeting hosts; therefore, suitable for businesses where board meetings are ordinary.
This product also stands out as it enables instructors to recreate the learning environment of physical classrooms as learners can engage with one another using breakout rooms. Breakout rooms enhance interactivity and capture the learners' cognitive attention.
18. WebinarsOnAir

WebinarsOnAir is a web conferencing software that is very simple and affordable for users while simultaneously providing an expert solution. It is believed to be a one-stop-shop for freelancers, small businesses, and large enterprises that allows them all to host their webinars effortlessly.
Most web conferencing software is overwhelming and time-consuming; therefore, they demand you to have tech skills to create, start and host a webinar. Nonetheless, with WebinarsOnAir, you can create a webinar in just 60seconds.
The basic plan begins at $20 with an exclusive feature for 25 attendees, and the professional plan begins at not more than $60 with an exclusive feature that allows a maximum of 100 attendees.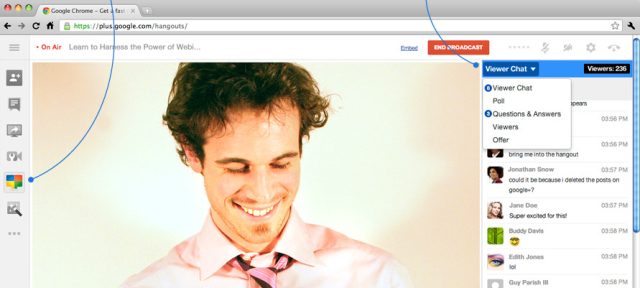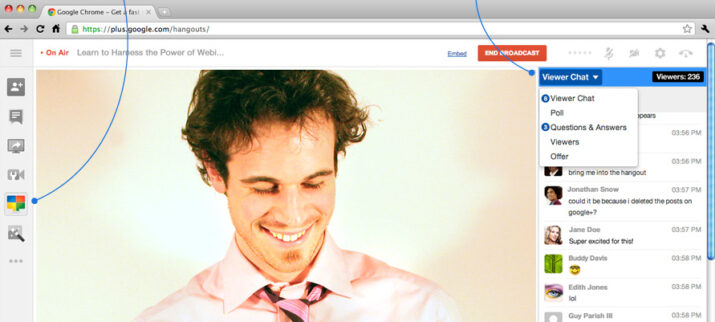 Thanks to WebinarsOnAir, you can integrate your webinar program with social media platforms such as Facebook and Twitter without a hitch. WebinarsOnAir guarantees traffic to your website; therefore, the software is cut out for businesses who want to boost their sales.
Furthermore, the web conferencing software allows you to increase your engagement rates and interactivity due to its Q&A, polls, and survey features. Despite being easily accessible, you will have to part with some funds to utilize the software. WebinarsOnAir has various versions priced as per user requirements, ranging from the basic plan, the professional program, and the premium plan.
On the other hand, if you do not want to commit to the software, you can take advantage of the 30-day money-back guarantee. As a result of the money-back policy, you can try out all the plans and suppose you don't like them; you can issue a refund request.
19. Livestream

Livestream is not a mediocre webinar software because it is utilized by educational institutes, big businesses, and corporate clients. For this reason, the software is primarily designed for people who already have an existing relationship with their target audience.
One of the best parts of this web-conferencing software is that it has no maximum limit to the number of attendees while still experiencing great audio and video quality, unlike other webinar software tools. Since it is cloud-based software, Livestream offers unlimited storage that allows you to save all your events for the future.
At the same time, Livestream guarantees you maximum and comprehensive audience coverage. The app allows you to link with the Livestream community and integrate the software with social media platforms like Facebook Live and YouTube, where you can stream your event.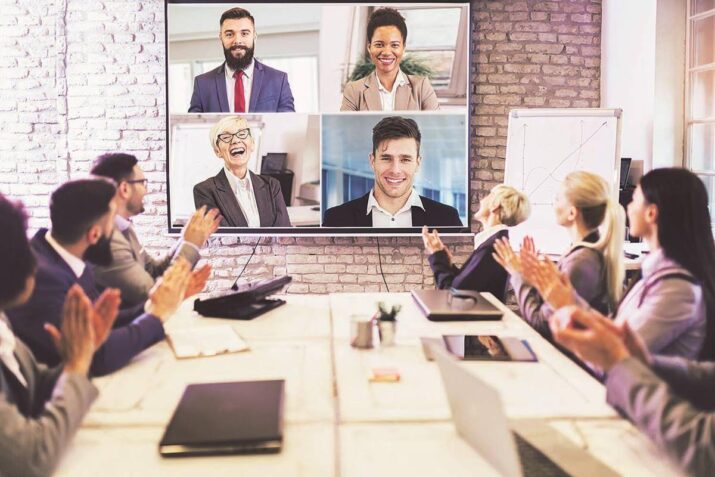 Livestream also enables you to create polls to grasp the pulse of your audience and view their answers in real-time. The software is also accentuated by a screen-sharing feature that helps in time-saving as it only takes a single click to share your screen instead of emailing all the necessary files to all attendees.
The starter pricing plan is $1 per month, and the growth pricing plan begins at not more than $500 per month. Another fascinating Livestream feature is its MEVO event camera. The outstanding camera records live events hands-free, so it allows you to save up on a cameraperson.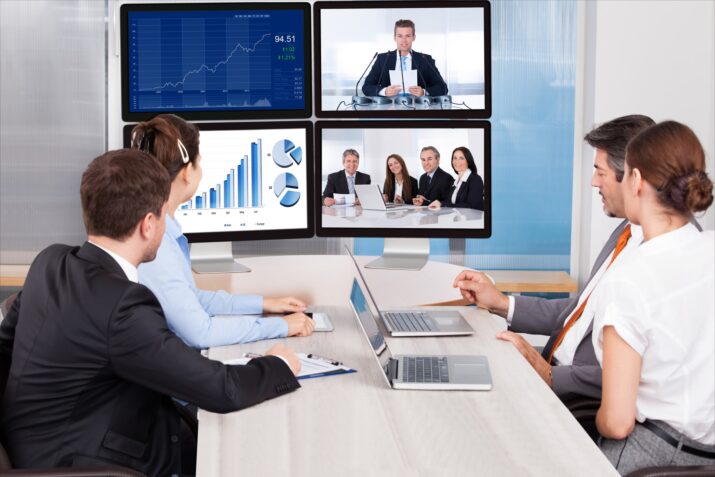 Besides, the technology in the MEVO camera Is captivating as the camera follows the speaking head and records from different angles.
If you want to use the Livestream webinar software, you can choose from their paid plans, including the advanced and premium plans. Nonetheless, it is essential to note that these plans differ in their functionality.
20. Zoho meeting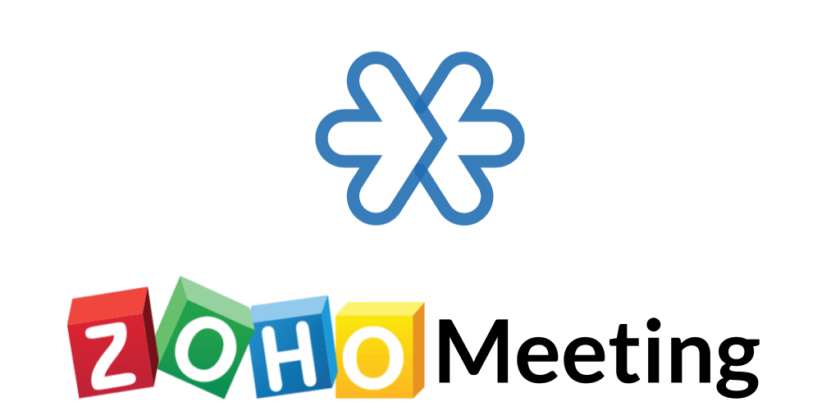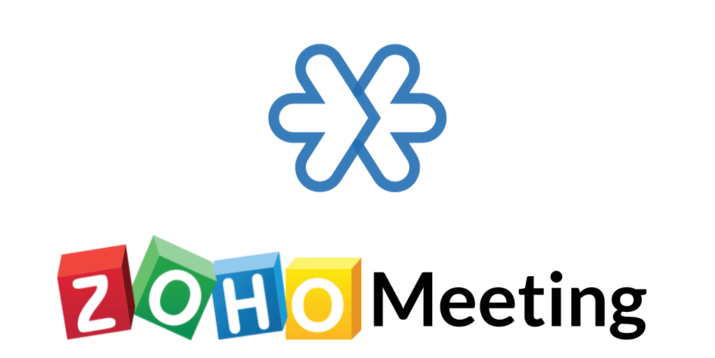 Zoho meeting is an online meeting software whose pricing begins from not more than $4, is designed to help you manage your online meeting and webinar needs.
The web conferencing tool is a great and affordable business tool that facilitates collaboration courtesy of the video conferencing, raise a hand, real-time chat audio, and screen sharing features. Therefore, you can easily make presentations, product promotions and communicate with your remote teams.
All international-based businesses desire to have meetings without the hassle of traveling for one-on-one interactions.
With the Zoho meeting software, you can host secure, robust international meetings as the software support approximately 15 languages such as Bulgarian, German, English, French, Japanese, and many more.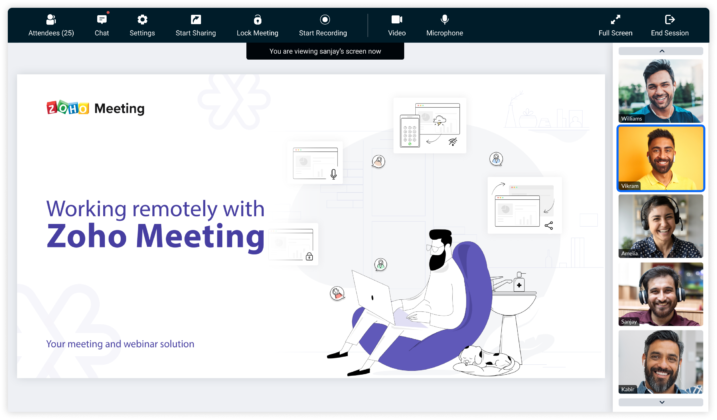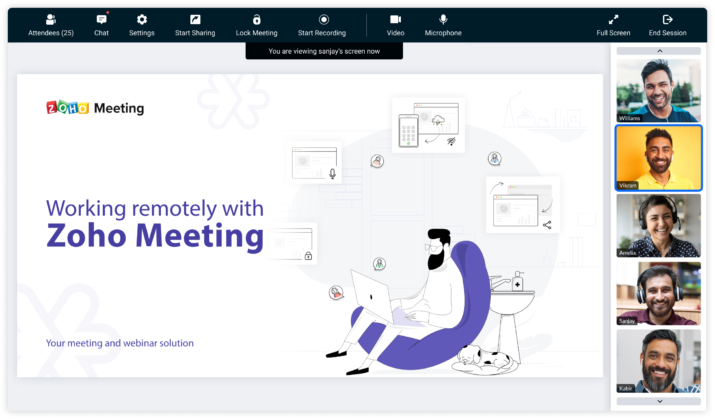 If you want to try out the Zoho meeting software, check out its free version that supports 5 participants, however, with limited accessible features. Zoho Meeting also allows you to enjoy a free trial of 14 days, where you can test out the paid tiers depending on your subscription.
21. ON24

Enhance your web-based conferencing experience with the ON24 webinar software. ON24 is a secure online meeting platform and webinar solution that assists people and businesses to conduct exceptional virtual events and online meetings while simultaneously collaborating and working with remote teams hassle-free.
According to customer reviews, ON24 has ranked #1 webinar software on the Report for Webinar Software Fall 2021. ON24 is very engaging in its ability to disseminate content and its capacity to provide audiences with an interactive webinar experience. The software boasts of engagement tools such as polls, customizable backgrounds, downloadable resources, and surveys.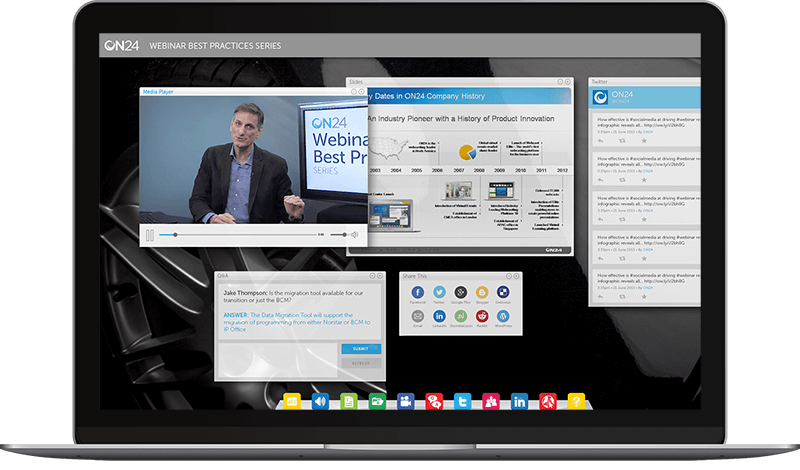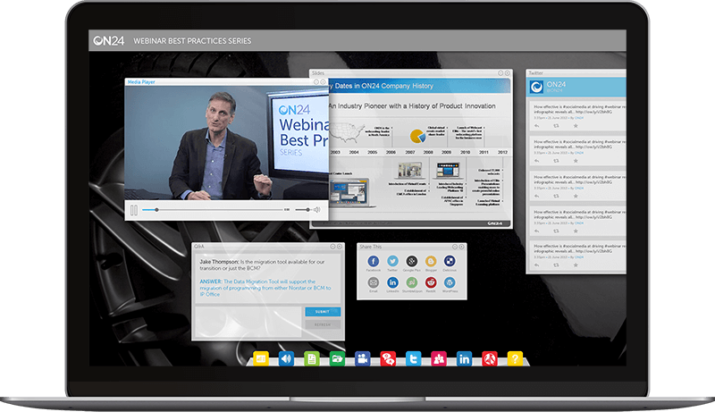 In today's world, a buyer's journey is mainly digital, so it is only wise to invest in technologies that assist in mapping out and stimulating the buyer's journey. The ON24 web conferencing software fits within your marketing technology stack to enable you to accelerate deals and buyer journeys.
This way, you will be aware of the necessary actions you and your team need to increase buyer engagement for your goods or services. Audiences expect and deserve wonderful digital experiences, and ON24allows you to provide this.
22. CISCO WebEx app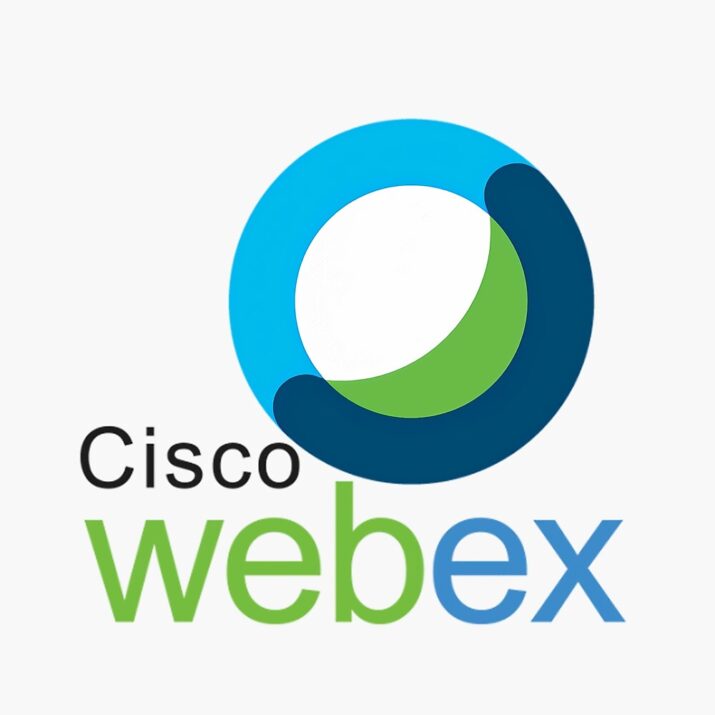 With the increased amount of video conferencing tools, there is lots of competition among them.
For this reason, the CISCO WebEx app, not more than $14 per month, goes for offers a collection of features that draws potential users away from their competition. Such features include Webex devices, Webex teams, and WebEx meetings that facilitate collaboration for remote and in-office teams.
The CISCO WebEx app is tailored to support small groups and large meetings as it accommodates both global and virtual teams for up to 3,000 attendees on a small-scale level and 40,000 attendees for large-scale events.
The WebEx meetings feature offers tools such as meeting recording, broadcasting, screen sharing, and customizable layouts to ease collaboration. Moreover, the webinar platform allows integration with other software such as Slack and Microsoft teams that enables attendees to join meetings directly from various platforms.
With the CISCO Webex app, you can effortlessly schedule events and plan for the future through its calendar integrations features such as Google calendar, office 365, and outlook. This best webinar software boasts of its impeccable customer service called Webex support so, you are assured that you will not be stranded if you require tech support.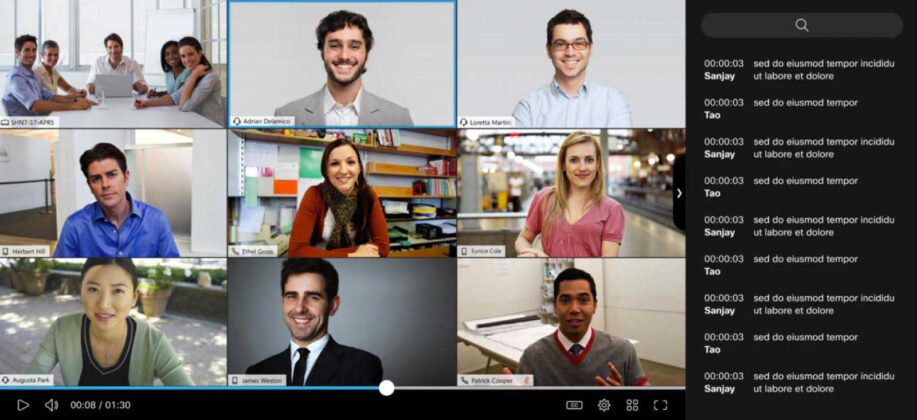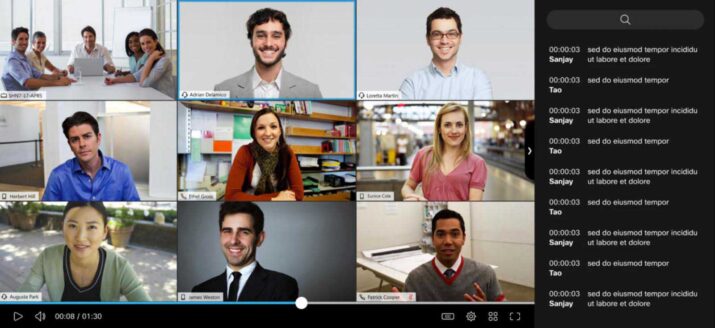 WebEx support offers live chat, remote desktop control, video conferencing with the support team, and automatic routing.
Despite all these, the CISCO WebEx app is more expensive compared to most webinar tools such as zoom. Nevertheless, it is worth the purchase; choose from the Cisco WebEx plans at different price points and begin your webinar journey with the plan that suits you.
23. Ring Central MVP

Suppose you are searching for a webinar software that allows you to conduct and distribute live and recorded video presentations to existing and potential customers. In that case, you may want to settle on the RingCentral MVP software.
Ring Central MVP is a cloud-based webinar software that facilitates business communication on a large scale and small-scale level. It has core features such as video conferencing, auto-recording, and unlimited long-distance calling to allow webinar communication.
The tool can be used by all sorts of businesses such as mid-size businesses, freelancers, government, NGOs, and small businesses as it supports approximately more than 1000 web participants.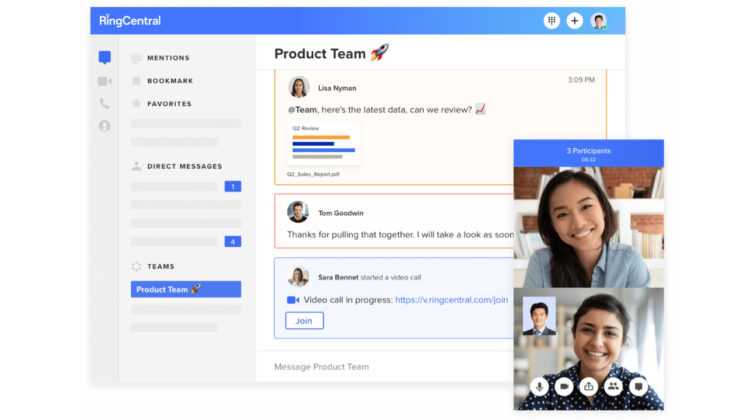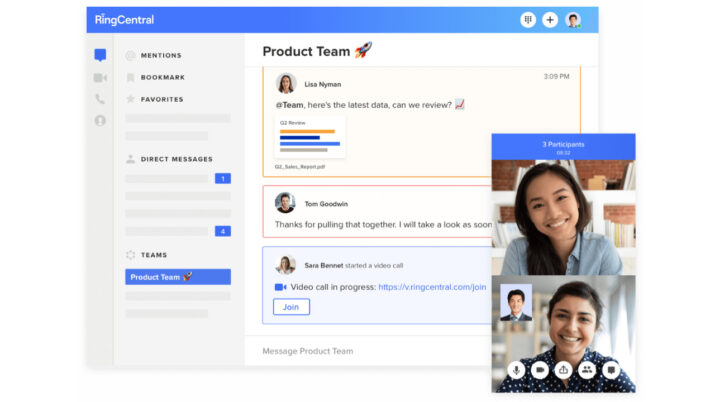 Unlike other webinar software tools, you can rely on RingCentral's support options as the technical team will accommodate you during business hours and by offering 24/7 live support.
RingCentral MV, whose pricing goes for not more than $23 per month, integrates with multiple platforms like Agile CRM, HaloPSA, Alexa for business, Google workspace, and many more for easy maneuvering, control, and collaboration. Take advantage of the RingCentral free trial version to see if the software is ideal for you and your team.
24. Webinargeek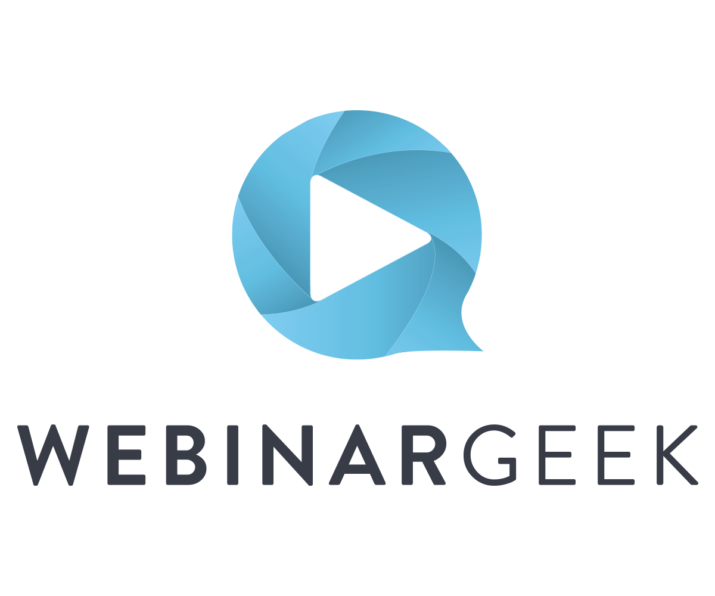 With a rating of 4.6out of 5 stars, Webinargeek is considered a complete webinar platform. The multipurpose software allows you to host great webinars characterized by assessments, interactions, and evaluations. Besides, Webinargeek will equip you to grow your business. It will enable you to integrate your favorite marketing tools to get the most out of the web conferencing software.
Other than that, Webinargeek is designed to assist businesses of all sizes in recording live webinars, stream presentations, and share pre-recorded videos in HD+ quality. When looking for a suitable the best webinar software tool, you need to consider safe options.
With WebinarGeek, you need not worry about data breaches and compliance with strict guidelines as WebinarGeek takes care of data safety and privacy. The web conferencing software has put up the necessary measures that ensure you enjoy the highest standard of safety from hacking threats.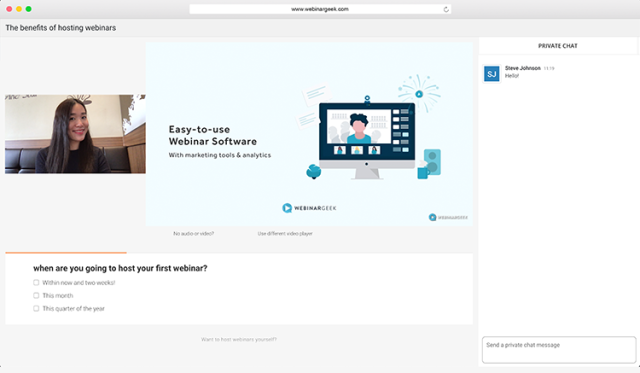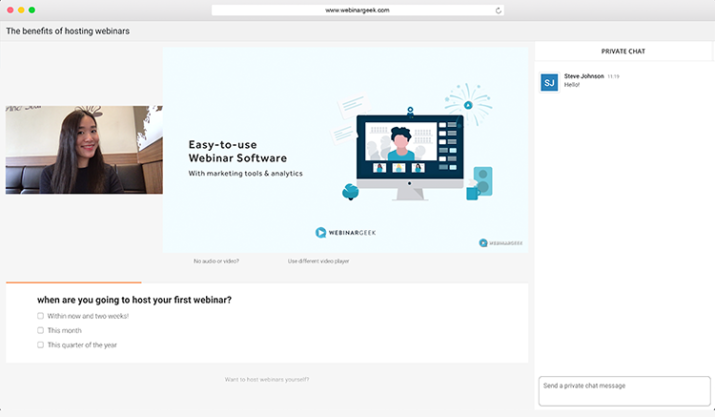 If you run into a flaw or error while using the Webinargeek software, you can depend on their multiple support options: chat, phone support, knowledge base, FAQs, and email desk. The starter plan goes for not more than $11, and the premium plan for not more than $35.
25. Crowdcast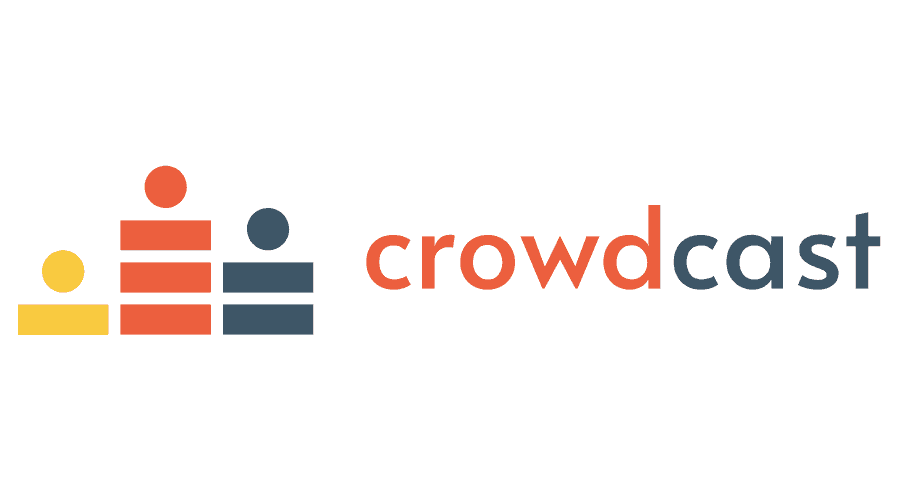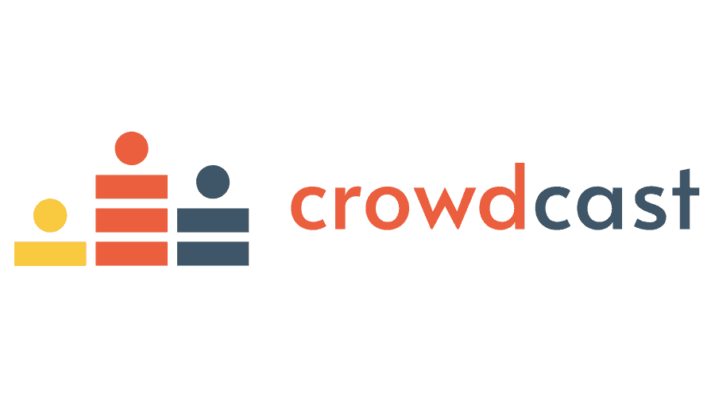 Crowdcast is a live streaming platform for online conferences. Webinars, Q&As, courses, and concerts. If you are not familiar with live and stream and want to get started immediately and efficiently, then Crowdcast is most suitable for you.
With this webinar software, you can create your first live stream in a few minutes, even if you are not a very techy geek. It is also regarded as a combination of webinars and live streaming with a social media touch. It is easy to get started with this webinar, and fortunately, it is browser-based; that is, there are no downloads. You can quickly go live or attend on any device.
Additionally, this software has a separate tab for public chat and for asking questions. There is also an easy invite feature where presenters can multi-stream on Facebook and Youtube. This best webinar software is an excellent option for people who are not familiar with marketing or live streaming.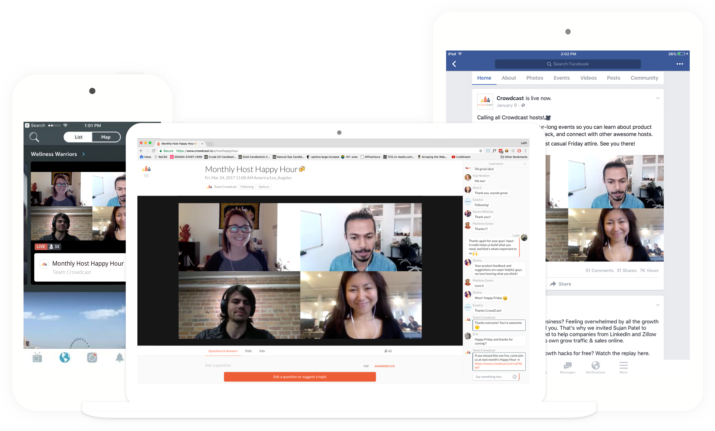 An exciting feature about this webinar is that the audience can chat and ask questions even before the live starts, with a Preview page before going live. Crowdcast has a social network aspect wherein people can have their accounts and follow presenters and see past, ongoing, and future events.
When it comes to its pricing, the Starter plan goes for not more than $30 per month, the Lite plan goes for not more than $50 per month, the Pro plan goes for not more than $90 per month, and the Business plan goes for $195 per month.
26. MyConference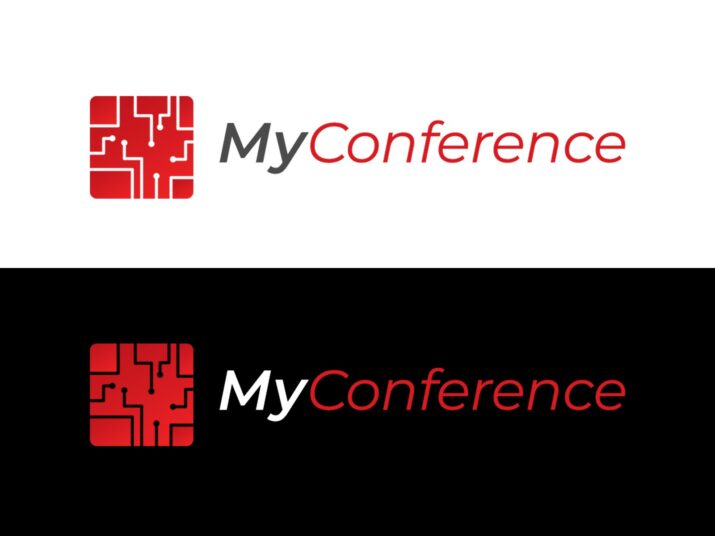 the conference is a cloud-based solution for webinars, video conferencing, and online meetings. At a relatively cost-effective price, it provides a relatively stress-free experience with a straightforward setup process. Smaller businesses will find this solution a suitable option as it ticks most of the boxes in terms of must-have webinar features.
Attendees can join in without downloading the software, and they can join with any web browser on a desktop or mobile. Share your screen and effortlessly broadcast videos from YouTube for a multi-media webinar experience.
With widespread coverage, users can actively participate in your webinar no matter where they are globally. There is also no need to beat yourself about a language barrier since the webinar room interface is available in more than 16 languages.
Another outstanding feature is that it allows hosts to effectively warn or blacklist unruly attendees to maintain peace during their presentation and avoid future issues with spammers. This way, you can direct your entire efforts towards offering valuable information to your audience.
With this software, attendees do not have to install software, and you can quickly go live broadcast presentations with one or multiple presenters simultaneously. It also allows you to send instant private messages to attendees and pin crucial information and links to the top of the chat, so they do not get lost in the mix.
MyConference displays whatever materials you are working with during the webinar, such as slides and documents. Not only does this software allow its users to record webinars in SD, HD, or full HD with the ability to decide on which elements of the webinar room stay in the recording, but also it enables its users to incorporate surveys and tests into your presentation to collect certain information about your audience.
MyOwnConference's white-labeling feature permits customized branding and custom backgrounds. The webinar platform works with international-level data centers so people worldwide can effortlessly participate, and it also supports 16 different languages.
MyOwnConference has a free and paid plan where the Free option allows you to have 20 attendees and three cameras during your webinar; however, you can only record for 20 minutes. The paid plan is priced depending on the maximum number of attendees you need. At a minimum, you can have 60 attendees, ten cameras, and full HD recording for up to 10 hours for $30 per month.
27. AirMeet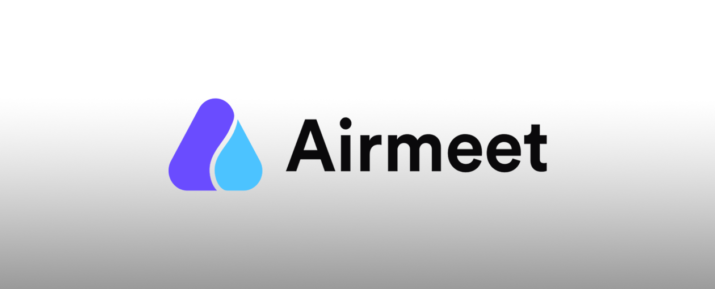 You can conduct engagement-driven and connections, conferences, events, fairs, webinars, and meet-ups that stand out. Airmeet offers you the power to efficiently conduct and monetize your events and keeps your audience in the center through dedicated conversation and engagement spaces.
Interestingly, more than two thousand and five hundred brands such as Accenture, Walmart, HackerRank, University of Toronto, Volvo host thousands of events every month on Airmeet worldwide.
28. Webinar.net

Webinar.net successfully launched in 2019, plotted to be a contemporary substitute to the current Meeting tools frequently employed for training and marketing applications. It is a powerful, simple-to-use online presentation platform with polished a user friendly interface.
Webinar.net is the very first and commission online presentation platform entirely hosted in the cloud. This architecture enables our customers to reach massive audiences without capacity concerns and enjoy straightforward, affordable pricing.
Your brand is entirely represented when offering online presentations through webinar.net, not your technology provider's. You should expect users to quickly join presentations from their devices with no app downloads, issues, or hassles.
Webinar.net offers firms a simple and affordable solution to offer powerful audio and video presentations to a global audience. With live and on-demand broadcasting options, you have the power to control when and how your content is delivered.
There are several tools, such as the host tools, consisting of recording, branding, role-based access, attendee tools that consist of attendee live chat, registration, polls, and surveys. Also, there are post-event tools that consist of attendee reports and event analytics
29. InEvent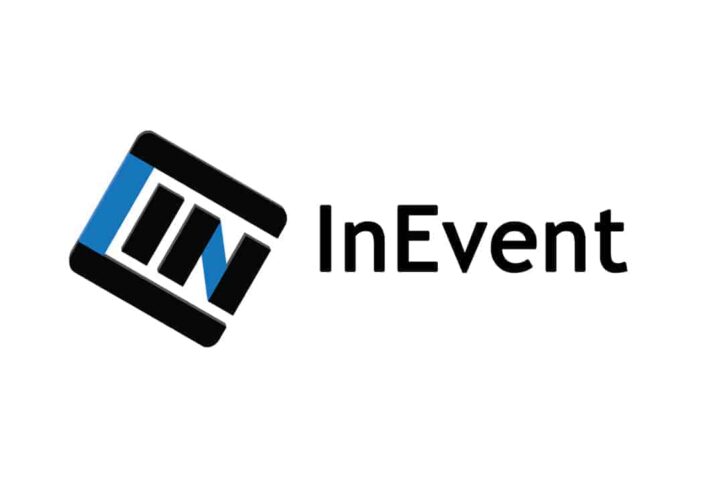 InEvent consists of event specialists motivated to push the boundaries of event technology. This product offers unique experiences for enterprise firms, authorizing them with a white-label solution to create virtual and hybrid events through software, hardware, and dedicated 24/7 customer service.
The integrated event platform consists of robust marketing automation, smooth registration, dynamic networking, live engagement, custom websites and mobile apps, real-time analytics, and more than one hundred other features to power interactive, immersive, and enthusiastic experiences.
Inevent has successfully serviced more than six thousand events with over 2 million attendees and 60 +million streaming minutes globally. Whether you are hosting an offsite meeting or a month-long convention, our flexible solution will assist your ideal event come to life.
Conclusion
Certainly, this comprehensive article has significantly shed the light on the best webinar platforms and therefore the process of choosing the best webinar platforms should be relatively easy as they are of a reasonable price, they provide any webinar tool and options, on-demand webinar options, and much more. Confidently, these webinar software platforms of 2021 are also regarded and integrated with the renowned CRM that gathers important customer data that passively create marketing opportunities for your business and interests.
Like this Article? Subscribe to Our Feed!
At Dumb Little Man, we strive to provide quality content with accuracy for our readers. We bring you the most up-to-date news and our articles are fact-checked before publishing.