Zoosk vs EliteSingles: 2022 Head to Head Comparison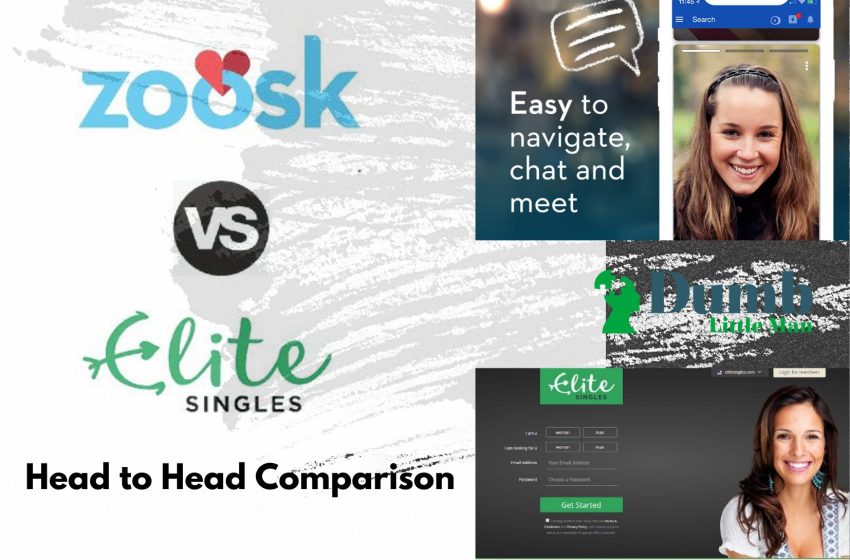 People are turning more and more to online dating sites and there are more than enough apps to choose from. To avoid wasting time on the wrong dating sites as you dive into the online dating scene, take a brief look at the key similarities and differences of the Zoosk vs. Elite Singles battle.
Let's dig deeper into this head-to-head comparison to know which ones are the most successful, has the best price, and the most reliable.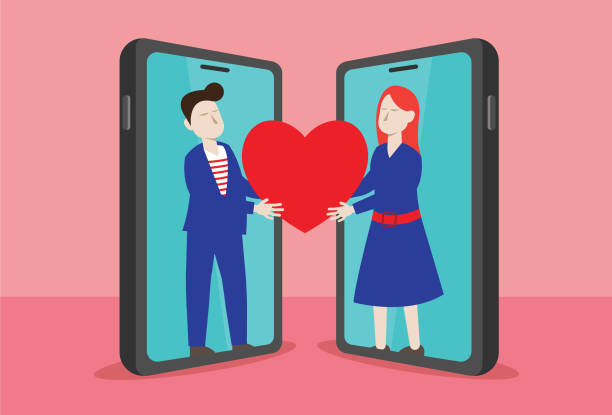 Zoosk vs EliteSingles: Overall Review of These Online Dating Sites
Which is the better choice between Zoosk vs EliteSingles?
Let's take a look at what these sites are and understand better how they work.
| RECOMMENDED DATING SITE | REVIEW | VISIT |
| --- | --- | --- |
| | America's leading and most recognizable dating site. Free to Try! | |
| | An innovative new matchmaking service designed for sophisticated and ambitious professionals of all ages in the US. ! Free to Try! | |
Users on Zoosk are fairly evenly split between the sexes, and they tend to be in their early to mid-twenties. All the exciting features on their dating site make it almost like a game. Some of their features can help you stand out from other singles in your area, such as video chat. Rather than upgrading to a full premium membership, you can add some features to your free membership, making it more affordable for younger, less financially stable members.
Zoosk Rating: 7/10
The first version of this matchmaking app was launched in December of 2007. The application is currently among the top-grossing matchmaking apps in the app store. It uses the same swipe-left-and-right technique as other internet dating apps. It's simple to make, but you will have to pay additional fees to access all the features.
Because Zoosk is heavily focused on social media marketing, it started as Twitter software. By connecting and confirming Twitter accounts, you can improve your connections with people. It is tailored primarily for singles looking for a casual or serious relationship.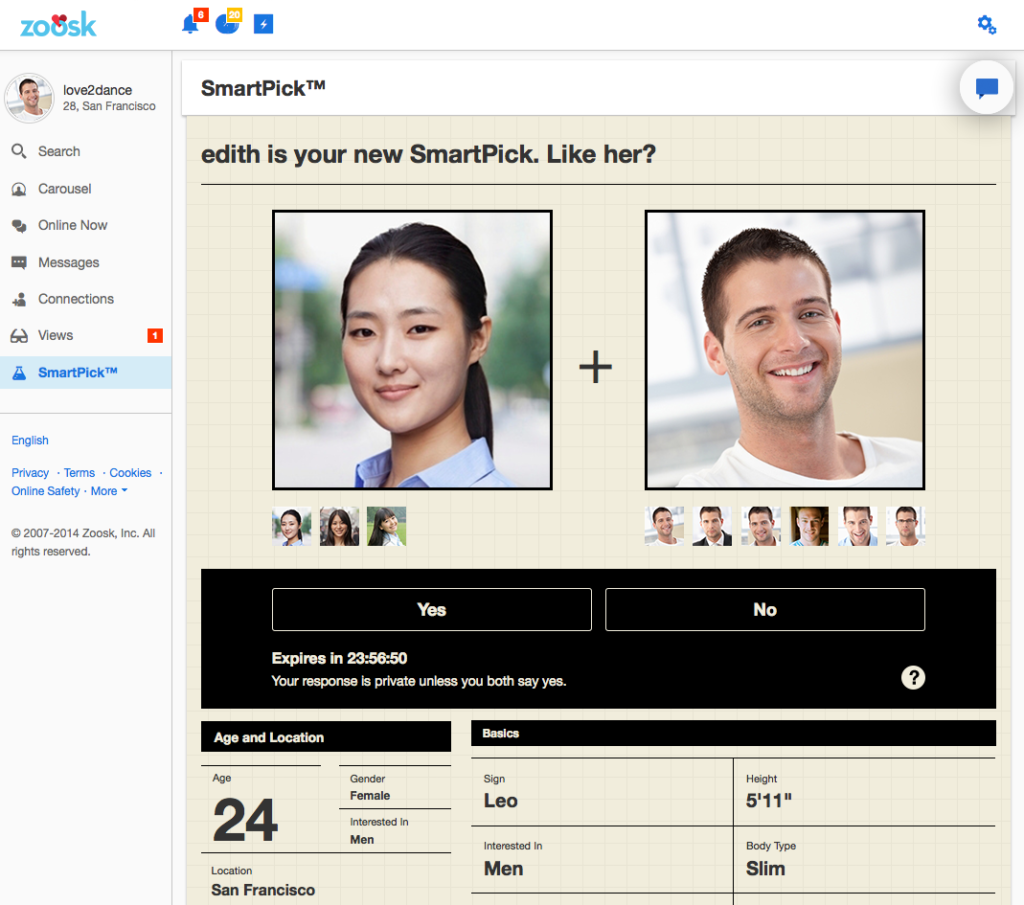 The Elite Singles process is more classic, and it uses scientific personality assessments, explaining why the average member is in their late 20s to 30s, 40s, and 50s. The site offers classic chatting features, tried and true features, and in-depth search filters. A subscription must use all features, but the algorithmic matching allows the average single to spend less time looking for the right partner.
EliteSingles Rating: 8/10
This service caters to a very mature group, meaning members must have completed a degree and be many years older than 30. It's ideal for singles seeking lasting relationships and not just casual dates. Initially released in 2009, the app has gained popularity since then.
There are many other options for dating apps, but this app is more personalized because it offers an extended assessment upfront. In addition, it just suggests many individualized matches each day. Rather than merely swiping between left and right, the features of this application focus more on finding the perfect match.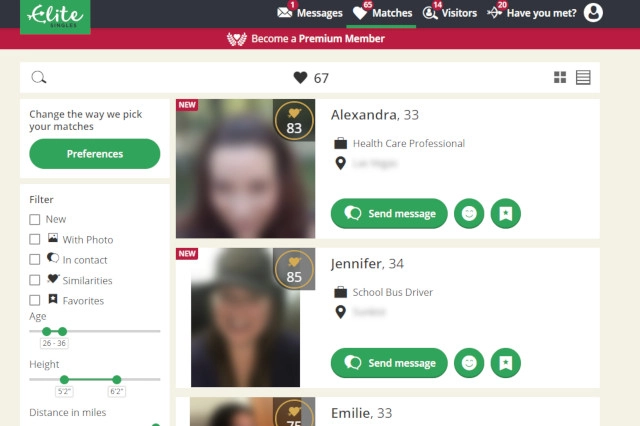 Best Recommended (Winner): Elite singles
EliteSingles has a much better understanding of its target audience than Zoosk since it is geared toward an older audience. With this software, each user can find a mate who is a suitable match for their own unique characteristics and interests.
Zoosk would be a better, more informal option if you are under the age of 30 or still in school. With Zoosk, you can have the best online dating experience no matter how old you think you are on dating sites.
Zoosk vs EliteSingles: Pricing
These two apps can be installed and accessed free of charge, but there is a cost for something beyond what was originally offered.
Zoosk allows you to sign up for free and view potential matches, but you must pay for messaging if you actually wish to contact these individuals. Though Zoosk cost way less than any other dating app.
The same is true of EliteSingles since you can register for free. However, to access most of the features, you will need a standard membership or a Premium membership.
Zoosk Rating: 8/10
It is free to use for all basic functions, including making a profile, viewing possible matches, and sending a "wink." Direct communication with other members requires a monthly fee.
With a monthly Zoosk subscription, singles have access to extra benefits, such as unlimited messaging and connections with SmartPick Introductions, matching users by analyzing their profiles and behaviors.
Zoosk's membership prices are as follows:
$29.95 for a monthly membership
For three months, it's $19.98 per month ($59.95 total)
For six months, it will cost you $12.49 (a total of $74.95)
Purchasing Zoosk coins is another option available to all Zoosk members. You can use this currency to buy boosts to help you market your profile, purchase virtual gifts for other members, and unlock additional information about matches in your carousel.
Zoosk coins are priced as follows:
50 Zoosk coins are $4.99
250 Zoosk coins are $19.99
750 Zoosk coins are $49.99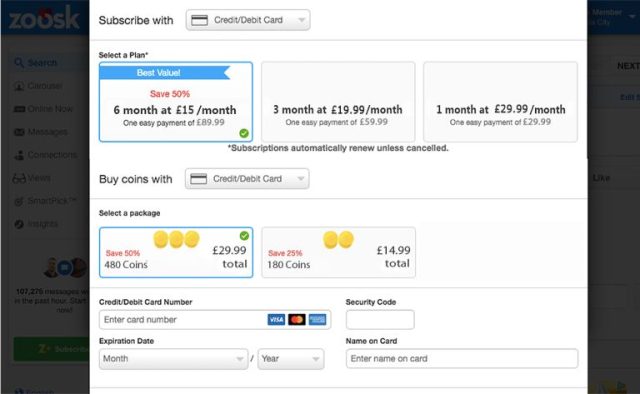 EliteSingles Rating: 5/10
Initially, EliteSingles is free to join and take the personality test, but there is a monthly fee after that. A Premium subscription is required to begin receiving matches.
Here are the EliteSingles membership prices:
Three months for 37.95 USD ($113.85 total)
Six months at $21.95 ($131.70 total)
An annual fee of $19.95 ($239.40)
However, even if you have this basic membership package, some additional benefits are still not included. A Premium Plus membership allows users to receive up to 20 additional matches each day, receive unlimited messages, and create a more detailed profile.
Here are the EliteSingles Premium Plus prices:
Three months at 57.95 per month ($173.85 total)
Six months for $44.95, total $269.70
For a year at $31.95 per month, totaling $383.40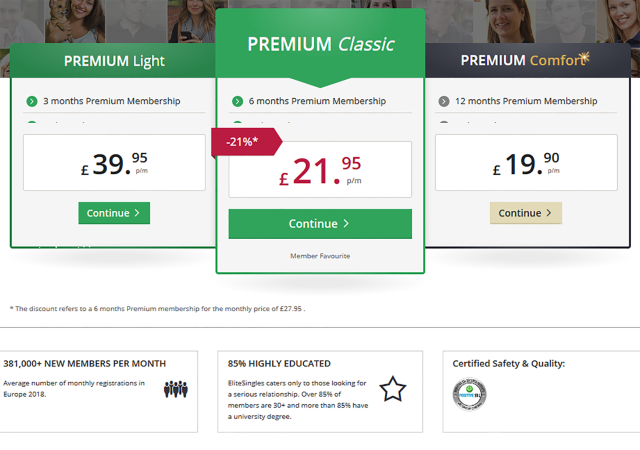 Best Recommended (Winner): Zoosk
Zoosk's premium membership account is cheaper and has a lot more features. Compared to other dating apps, Zoosk's premium membership account is more affordable. This allows you to set everything up and see whether it will work before committing to the entire payment.
| RECOMMENDED DATING SITE | REVIEW | VISIT |
| --- | --- | --- |
| | America's leading and most recognizable dating site. Free to Try! | |
Zoosk vs EliteSingles: Demographics
The demographics of each option differ slightly and they do not cater to the same audience. What are the user demographics of each?
Zoosk Members
Zoosk has more than 40 million members, including users from 80 different countries. There are 25 languages in the Zoosk app.
Users of this app typically range in age between 25 and 34, although anyone over 18 can sign up. This app is accessible to all orientations and has a fairly even gender ratio.
EliteSingles Members
The average age of the app's members is between 30 and 55 years old since the app is designed to connect singles with long-term relationships. It is the ideal dating app for educated professionals, with about 80% of its users having a college degree.
Every month, 318,000 new members join, promoting success. People of all orientations can also use this app.
Best Recommended (Winner): Elite singles
EliteSingles reaches a more specific demographic than Zoosk, with a good variety of members. Zoosk members may not find the exact matches they are looking for, while EliteSingles users know what they can expect.
Zoosk vs EliteSingles: Who is Better at Being Scam-Free?
There might be a con risk associated with diaper chatting with another individual on the internet. You should start thinking about this when you register for adult dating sites.
Zoosk
Zoosk lets users verify their identities with a photo verification feature. The Zoosk team will review this video to verify that the photo you posted is actually yours, and you will be asked to take a short selfie video to prove it.
A verification badge will appear on a verified user's profile to confirm that it is a real account, not a scam. It does not guarantee that this platform is scam-free, but it is a useful tool for narrowing your search.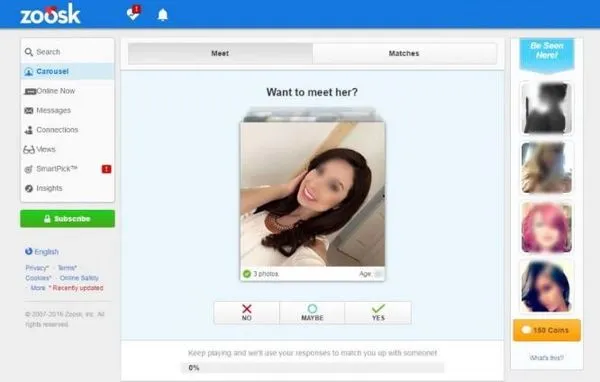 EliteSingles
Before your potential matches can see your profile updates, they must be approved by EliteSingles. By doing this, active users will avoid encountering fake or unapproved profiles.
In addition, the higher membership fee for this site makes creating fake accounts and using them regularly more difficult.
Best Recommended (Winner): Both!
Both of these are the best dating sites options to monitor and prevent any potential scams from coming their way, even though there is always a possibility of scammers finding their way onto apps.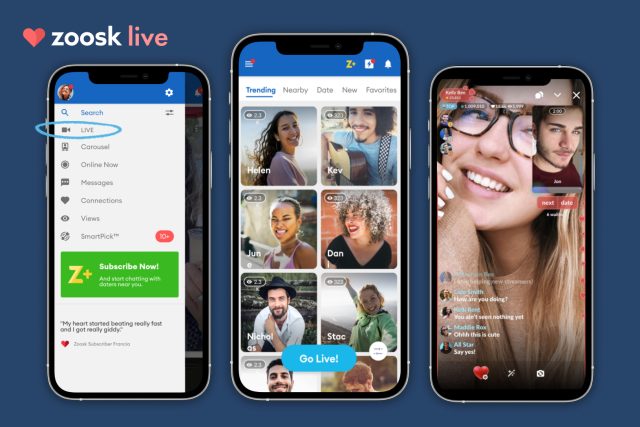 Zoosk vs EliteSingles: Features Comparison
Casual and serious dating are the two most popular approaches to online dating. People on casual dates are more concerned with having a good time than finding a long-term relationship. Those serious about dating know they want to love and the chance to get married. Zoosk combines these two worlds into a casual, fun approach to romantic relationships.
Zoosk is a truly interesting online dating service from its unique features, such as invisible dating and "crushes," Zoosk is an exciting online dating service.
The approach to dating at Elite Singles is very different. They are looking for long-term partners that are successful, intelligent, and have potential. The Elite Singles community knows what it wants and isn't interested in wasting time looking for it.
It uses a questionnaire to discover what singles want and matches them with the perfect partner. The only limitation is that some singles will not have access to the service, but the dating process can be streamlined!
When it comes to choosing a dating app, many customers are concerned with which features are most important to them. Choosing which app works best for you depends on how it handles and offers.
Zoosk Rating: 7/10
It usually takes just a few minutes to set up Zoosk. Creating a profile, which includes photos and writing a 1500-word story, opens the possibility of interacting with other members.
The carousel mode allows you to connect with others similarly to other swipe-based apps. Then you can move on to the next option by clicking yes or no. If you want to narrow down your search, you can use specific filters.
EliteSingles Rating: 8/10
The EliteSingles signup process includes a lengthy personality test with over 200 questions. This test measures your openness, extraversion, and agreeableness to get the most accurate results.
The EliteSingles app does not use the typical swiping system that most dating apps follow. Instead, the app selects 3-7 singles for you each day based on the information you provide. The "Have You Met…" feature that comes with the Premium membership lets you meet even more singles every day.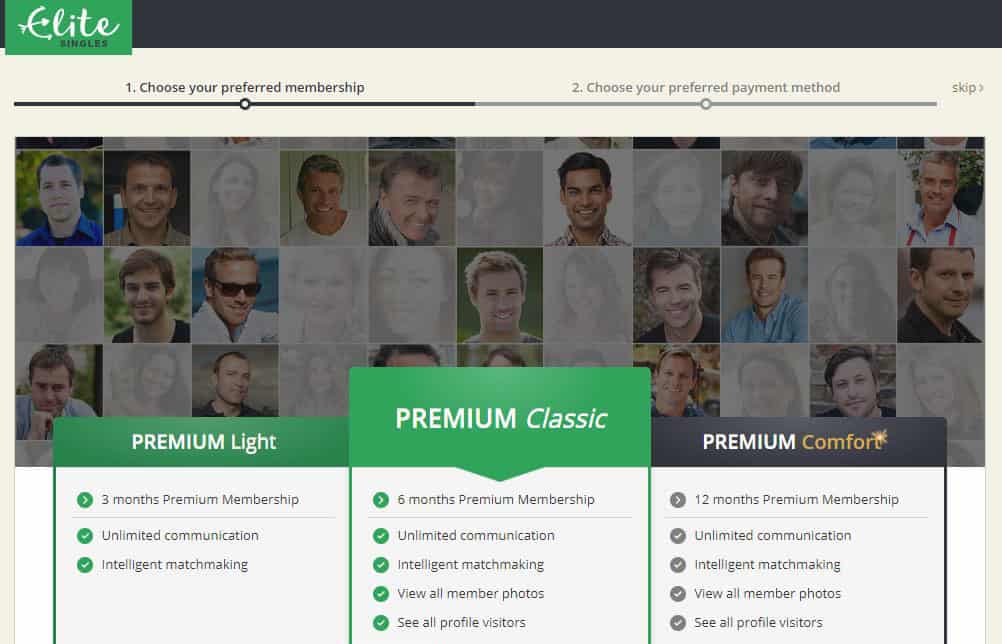 Best Recommended (Winner): Elite singles
EliteSingles stands out from other dating apps in that it has more unique features that assist with the matching process. Though the sign-up process does take longer than usual, it allows for more personalized matches and, hopefully, better results. EliteSingles is a simpler site, and simplicity is paramount to ease of use.
| RECOMMENDED DATING SITE | REVIEW | VISIT |
| --- | --- | --- |
| | An innovative new matchmaking service designed for sophisticated and ambitious professionals of all ages in the US. ! Free to Try! | |
Zoosk vs EliteSingles: Dating Success
The success of these websites is often overlooked when picking a dating app. Which is more successful?
Zoosk
With thousands of success stories every month, Elite Singles is known for its high success rates. Their website also shows pictures of these couples who have had successful relationships.
EliteSingles
As a way to congratulate couples who found each other with Zoosk, they keep a couple of archives. Unlike EliteSingles, the company does not provide an average number on its website.
Best Recommended (Winner): Elite singles
The purpose of this conversation is to explore both dating applications' success stories because EliteSingles is far more distinguished for successful interactions, and they openly display it on their website.

Verdict: Which is Best?
The two dating sites or apps have very different audiences and have almost similar ratings, so it's hard to select one over the other. What you're looking for ultimately determines which one is best.
Zoosk is a popular dating app that leverages the power of Behavioral Matchmaking. Still, EliteSingles' algorithms are based on an in-depth personality test that members take when signing up. Despite having millions of users each, there are some distinct differences between the two sites.
If you're in your twenties or early thirties and simply want to meet people or start a relationship quickly and easily, Zoosk is for you. EliteSingles is ideal for older individuals looking to find a long-term relationship. Online dating apps are good choices for those looking to meet people online, but each is designed for different scenarios, so deciding which one is the best boils down to personal preference.
Overall, neither of the websites is clearly superior to the other. Taking into account your dating goals is the key to selecting the right dating site for you. Zoosk may be a good choice for people looking for more casual and loose dating. However, those looking for more structure may not enjoy it. Users can test out both of these sites for free before spending any money on them using the free trial or membership options.
Like this Article? Subscribe to Our Feed!
Ruth is a life coach who specialises in finance, relationships and career development. Outside work, she loves writing novels and guides for personal development.