What Things You Can Experience with Virtual Reality Games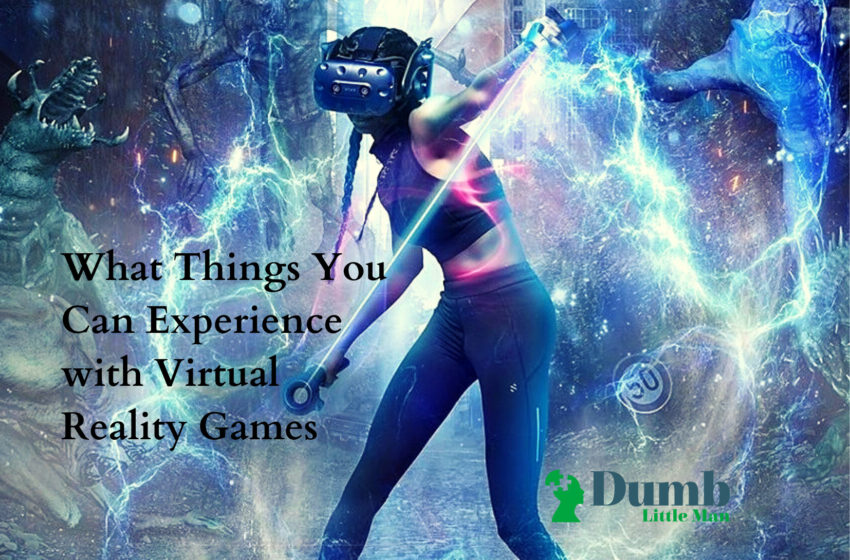 Recently, virtual reality games are seeing a massive surge in popularity. Of course, almost everyone loves playing games, but what makes VR games different is their latest technology. Unlike ordinary games, virtual reality games not only let you play the game but also literally put you inside it.
But it doesn't mean that you need to buy headsets and other tools to experience this amazing technology. Many VR arcades offer people to play both VR single-player and VR multiplayer games at their centers. They offer a wide range of games, and you can choose any of them to experience a whole different realm.
VR technology uses 3D graphics, and players wearing headsets feel like they have entered the gaming environment. It makes their gaming experience more immersive as players act physically to do the tasks in the game. VR games can make you feel like you have entered a horror house, a jungle, outer space, and many more.
Here are some experiences that VR games offer you.
① Cosmos (zero gravity)
If you ever wanted to experience outer space and zero gravity zone, cosmos is the best game for you. In this game, players feel like they are floating in space and fighting to save their lives. This game requires high communication with your friends. It allows players to feel like they all are astronauts and have to survive in space to reach their space station.
The game's mechanics and technology allow the players to do magical things such as shooting lasers with hands, fighting with robots, and even using telekinesis to move the objects.
② Arizona sunshine (Zombies)
This is one of the most popular VR multiplayer games. This game puts you and your squad in a zombie apocalypse. In this thrilling game, players feel like a breakdown has turned all humans into zombies. The player and the squad have to save themselves from zombies' attacks and survive.
It allows you to use virtual weapons that can be seen by the players. You can sense your real-life movements and feel like you're moving your body to beat the zombies.
③ Christmas (Fairies and magic)
This is one of the most loved games by teenagers. This game replicates the night of Christmas, but unfortunately, Santa has been caught in a blizzard. All kids are waiting for their presents, and only you can save Christmas from getting ruined. You have to help Santa find his house by lighting up the biggest tree in the jungle.
Before you light the lights, you have to reach the North Pole where Santa lives. You have to find out why Santa's magic isn't working and where all the presents are.
④ Sanctum (Mystical creatures)
This game allows you to experience mystical creatures and demons that are impossible to see in real life. The theme of this game is based on a horrifying dark place where you have to enter to save a friend. The player receives a letter from a friend detective named Anna, investigating mysterious disappearances in the nearby forests.
Players enter the jungle to save Anna and spot an old abandoned monastery. There you see many horrifying demons sleeping and cross them to solve the puzzles of the monastery. This game needs strong cognitive skills as it is full of paranormal phenomena.
⑤ Jungle quest (Animals & mysteries)
This game offers you the experience of 3D animated animals in a magical world. During a walk, the player finds a portal and enters it. The portal leads the player to a mysterious world. That world is actually an amazing sanctuary full of giant animals and birds.
Now you have to get back to your real world, but how? The player gets a series of puzzles to solve and escape from the sanctuary. During the game, the player gets to experience many mystical animals and flying islands. This game is perfect for people who always wanted to experience the deep jungles and their animals.
⑥ Chernobyl (Nuclear explosion)
This game lets you witness the historic disaster of Chernobyl. In this game, players experience time travel and transport themselves at night when Chernobyl nuclear explosion occurred. With this game, you can solve various questions such as what happened that night. What happened afterward? This game tells you the story of the ghost town Chernobyl and the disaster that still haunts us.
This game allows you to see whether you could change your fate. How was life before the nuclear explosion, and what if you could stop it and save people?
⑦ Survival (Plane crash)
This VR multiplayer game tests your problem-solving and team-building skills. In this game, you and your friends go on an unforgettable vacation, but the vacation turns into a survival quest. The plane you and your friends were in gets struck by lightning and crashed on a small island of the Pacific Ocean. All the tools and transmitters get faulty, and you can't connect with anyone to get help.
You don't know how long you have to wait for the help, so you start finding ways to get out of the situation. Unfortunately, you're short of supplies and food. Now you have to use your critical thinking to survive and stay alive on the planet until the rescue team reaches you.
Bottom line
Virtual reality is a great way to see the things you always wanted, but reality didn't allow it. VR games let you become your own hero and solve the problems and win the situation. These games are helpful to boost your confidence, motivation, and your overall mood. To experience any of the above situations, visit a VR arcade with your squad and test your problem-solving skills.
Like this Article? Subscribe to Our Feed!