Todo List Apps for People Who Don't Like Todo Lists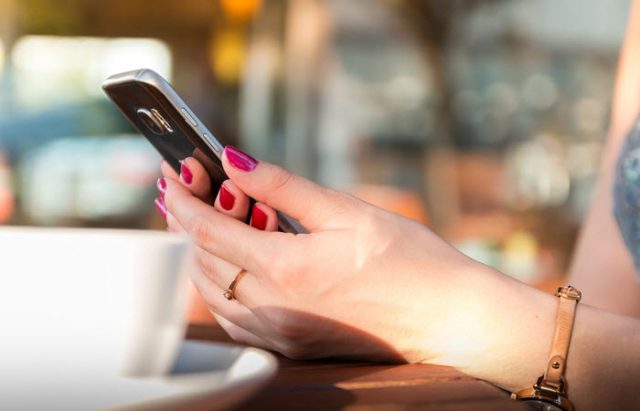 To-do list and task manager apps can be great as a second brain. They act as a repository for all of the things that we need to do but struggle to remember. These days they enable you to bring all of the things to be done everywhere you go and on whatever platform you are using, whether that be a mobile phone, tablet or PC.
However, when you dump all of your tasks, appointments, and random thoughts into a to-do list app, the resultant wall of text can be hard to digest. Some app developers recognized this and responded with innovative ways for people to handle daily tasks.
Let's review some of the options available.
Droptask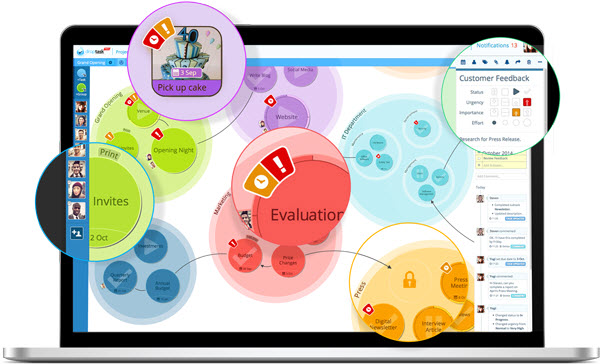 Using Droptask is like being given free rein with jelly beans in a candy shop. Droptask has a fun and vibrant interface that is a delight to use.
Tasks are represented as circles with a collection of circles forming a project. Each circle can have additional information such as urgency or importance. The circle size can also be adjusted to indicate how much effort is needed for the task.
Droptask has native apps for Windows, IOS, and Android but it is really on the PC's bigger screen that the unique user interface excels. Droptask can also be used across a team so tasks can be assigned to team members, comments entered for each task and files attached. The latest version of Droptask also brings a new Kanban style view. This shows all tasks a.k.a. circles arranged in vertical columns.
The Business version is at $8.25 per user per month as of writing. This removes the one-project restriction of the free version and enables a host of other features including team calendars, Google and Evernote integration and the new Kanban style workflow.
Priority Matrix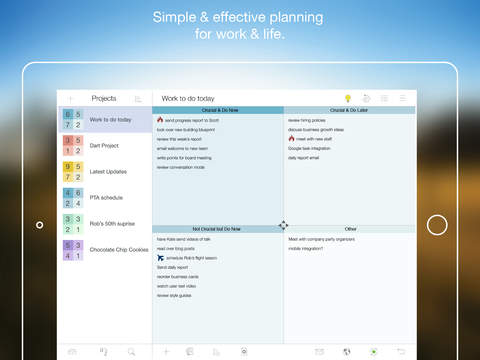 Priority Matrix is based on the Eisenhower matrix which uses four quadrants to categorize tasks by urgency and importance. From a quick glance at the relevant quadrant, you can immediately see which tasks are to be focused on. If urgency and importance are not the key categories in your tasks, fear not for they can be configured to your particular needs such as task category or status. Any of the four quadrants can be filtered and you can then see those tasks in the quadrant view, as shown below or alternatively as a list or Gantt chart.
Not only does Priority Matrix provide a framework for personal task organization, it can also be used for distributed teams. This app supports chat for team members, running records of all changes made, and file uploads.
Priority Matrix supports many of the common platforms with native apps available for Windows, Mac, Android and IOS. The Pro version comes at $12 per month and essentially brings team functionality to the table including project templates, chat, and team delegation.
See Also: 20 Best Productivity Apps and Programs for 2017
Trello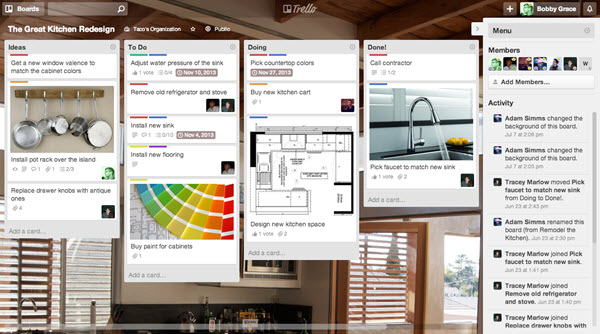 Trello is a visually appealing app that is based on the Kanban methodology. Traditionally, Kanban has been implemented on a physical notice board divided into different sections such as Pending, In Progress and Done. Tasks are then written on post-it notes and stuck to the board in the relevant section. As the task is progressed, it can be physically moved along the notice board sections from Pending to Done.
The virtual realization of Kanban works really well, especially with Trello, the leading app of this ilk. As with Droptask and Priority matrix, Trello can be used not only for personal usage but also for distributed teams or families. You can also add pictures, comments, due dates and even checklists to each task.
Trello offers both free and business class options, with the latter costing $9.99 per user per month. The business features include the ability to organize the Trello boards within collections and unlock integration with other online services such as Dropbox, Evernote, and Slack.
To Round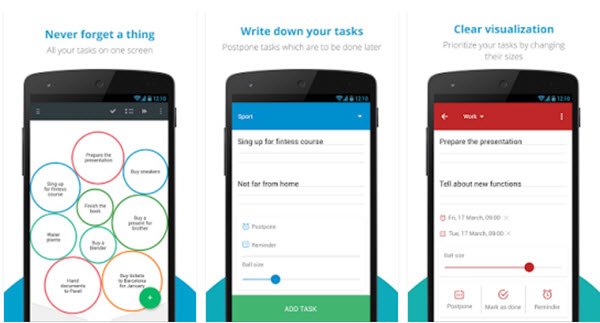 This is the only app of the bunch to meticulously follow Newtonian laws of motion. In To Round, bubbles represent tasks and these bubbles can be moved, bounced off one another and even respond to gravity! As you pan and tilt your phone, the bubbles topple around the screen accordingly.
Apart from this party trick, the other nice thing about To Round is that it is the virtual manifestation of Stephen Covey's big rocks philosophy. In this philosophy, big rocks represent important tasks. Unfortunately, it is the pebbles and sand that often fill our time. To Round reflects this philosophy by enabling the size of the task bubbles to be adjusted between teeny weeny little bubbles and bubbles of biblical proportions.
So, from a glance you can immediately fixate upon the huge bubbles, representing the important tasks to be done. To Round lacks many of the features of the other apps such as team task sharing and multi-platform support but if you only seek an affable app to handle simple task lists, To Round is certainly worth a look. It is available and free for both Android and IOS devices.
See Also: 14 Great Apps for Getting Organized 
So, what'll it be? Boards, bubbles, quadrants or circles? All have free versions so try them out now.