Tips For Success: How to Create a Face-to-Face Networking Plan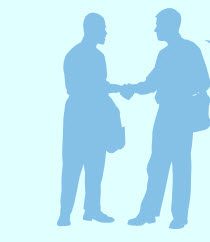 Networking is one of those activities that everyone loves to hate. And for good reason. Most of us would rather spend an evening relaxing at home or playing with our kids instead of drinking watered-down cocktails and making small talk with strangers.
However, even in today's social media-centric world, there is no substitute for meeting people face-to-face. The sad truth, however, is most of us don't put enough effort into developing new relationships by networking, and we don't have a system or strategy to ensure we are meeting and getting to know the right people, rather than wasting our time.
Today I'll share some tips that will help you make the most out of any networking events that you attend.
How to Prepare for Face-to-Face Networking
I have spent a lot of time networking during my career, and I have found that the most effective way to make the most of face-to-face networking is to have a plan in advance. Here's what has worked for me:
• Have a positive attitude.  If you aren't thrilled about being there, then it will show.  Be sure to have a positive attitude going into any networking session, happy hour, cocktail party or conference.
• Dress Appropriately for the Occasion. You should aim to dress a little nicer than everyone else – not so dressy that you look like you're on your way to a cotillion, but enough so that people can tell you care. You want others to think, "he looks like someone important I want to meet."
• Don't bring a Wingman. If you bring someone with you, the tendency is going to be for you to talk to one another. Even if you are an introvert, you should go by yourself so that you are forced to meet others.
• Do Research in Advance. Find out if the event you are going to publishes a list of attendees in advance. If so, you can identify and research people who you want to meet, and can even reach out to them by email in advance.
How to Behave at an In-Person Networking Event
The second aspect of a good networking plan is how you behave at the actual event:
Arrive on Time
Arriving on time sends a message that you are disciplined, organized and respectful. In addition, arriving to a partially empty room is easier than arriving to a full room because you are forced to meet the few other early arrivers.
Avoid the Hors D'Oeuvres Table
Few things are less attractive than a person talking with a mouth full of food. If you must eat, keep it clean and neat and do not open your mouth while eating.
Look People in the Eye and Shake Hands
Studies have shown that people who look others in the eye are naturally perceived as being more powerful, warm, personable, and attractive.  The same can be said for delivering a firm and impressive handshake. When you are meeting people, extend your hand and grip like you mean it.
Set a Goal for Business Cards Collected
I learned when I was working in politics that a successful networking event meant coming home with at least a dozen business cards. I still consider it a fruitful evening if I've collected 6-10 business cards by the end of an evening.

How to Make the Most of Follow Ups After an In-Person Networking Event
The final – and most crucial – step is to make sure to follow up with people you met at the face-to-face networking event. The best way to make sure these followups get done is to have a very simple and easy system that you follow every time. Here's how a simple system can be structured:
Send Follow Up Emails Immediately
After a networking event, I will immediately email everyone I met, usually the next morning. If you really want to make a great impression, send a handwritten note on nice stationery t.
Connect on LinkedIn
Once I am connected with someone on LinkedIn, I know I am less likely to lose touch with them and they will be reminded of me everytime I post something to LinkedIn. It's a great tool.
Deepen the Relationship
The final step in the follow up process is to deepen your relationships with the people who matter. If I really am interested in getting to know the person and they live or work near me, I will wait a few weeks and then see if the person is able to meet me for lunch, coffee or a drink. This is a great way to get to know the person better than you probably did in your initial meeting.
Deeper relationships don't just make life more enjoyable; they will also mean more money in your pocket as your network expands. So get out there, create a system for following up that you will use religiously, and meet some people.
Photo Credit: Sean MacEntee
Like this Article? Subscribe to Our Feed!