Tickmill Review 2023 with Rankings By Dumb Little Man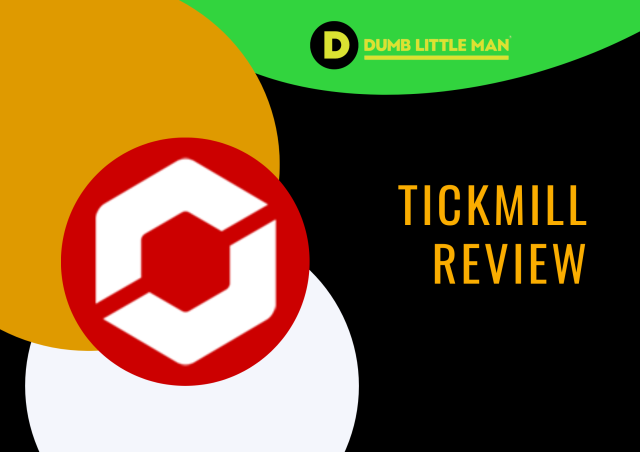 Evaluation Criteria
Our professional team of review experts evaluates and analyzes all aspects of brokers and follows a strict set of criteria for deciding which ones make it to our list. We strive for accuracy and objectivity in our reviews by accessing the broker's services, the technology it provides, and the overall customer experience.
Our team is dedicated to evaluating brokerages objectively and equitably, using a specific set of criteria. In addition, we use multiple metrics to assess each brokerage's performance so that our reviews remain impartial for all brokers we review. With this approach, you can be sure that the results are reliable and accurate when deciding.
Moreover, we examine the techniques and strategies that the broker has implemented to ensure they remain compliant with regulatory requirements. This information is compiled into a comprehensive review, accurately representing the broker.
Our standard set of criteria includes the following:
Convenience
Profitability
Reliability
Broker's Competency
Affordability
Based on the results of our comprehensive evaluation, we concluded that Tickmill is one of the most attractive choices for retail traders looking for an efficient yet reliable CFD broker. Their services are both convenient and affordable, and the platform is user-friendly and efficient. We also found their customer support team helpful and responsive, and the variety of CFD products and trading tools available to traders was also impressive. As a result, we believe Tickmill is a broker worth considering for new and experienced traders.
Tickmill Review
Expert traders always prefer companies that combine functionality with the latest technology. That's why Tickmill is one of the world's most trusted and reliable brokerages. With its intuitive platform, flexible fees, and wide range of instruments and markets, Tickmill continues to provide traders with a valuable service.
Tickmill offers features like a one-click trading bot, advanced charting, and CFD trading. Traders also get access to leverage up to 1:500 with lower spreads and no commissions. Plus, traders can trade almost 62 currency pairs, oil, gold, silver, stock indices, bonds, etc.
To top it off, Tickmill also provides access to a comprehensive education center with tutorials and webinars. As a result, this broker is the perfect choice for traders utilizing various strategies, such as automated advisors and transaction copying, scalping, intraday trading, or medium to long-term trades.
In this detailed review, we will discuss the costs and advantages of using Tickmill and its services and features. So don't miss out on this comprehensive guide to one of the world's best brokerages. Let's get started!
What is Tickmill?

Tickmill is a cutting-edge international CFD and forex trading platform established in the year 2014. Several top-tier regulations regulate this broker, including The UK Financial Conduct Authority FCA. Moreover, Tickmill is committed to providing customers with the most competitive spreads and lowest risks by connecting them with some of the best liquidity providers.
Tickmill has over 111,000 traders and has fulfilled over 215 million trades since its inception in 2014. Additionally, the broker offers a wide range of CFD products, such as cryptocurrencies, commodities (including oil and metals), stocks, and indices. Besides, the broker also offers an array of trading tools for traders to enhance their trading experience.
This CFD broker is a powerhouse for Forex trading, offering cutting-edge tools such as copy trading and platforms like MT4, MT5, and Webtrader. What sets Tickmill's broker forum apart from other top forex brokers is its incredibly low commission fees, which allow users to reduce transaction costs and maintain a lucrative trading strategy no matter what. In addition, the company has committed to reducing swap rate commissions for its traders to further benefit customers.
Safety and Security of Tickmill

Tickmill is regulated primarily by the Seychelles Financial Services Authority (FSA) with security dealer license number SD008. Moreover, Tickmill UK LTD operates under the authorization of the Financial Conduct Authority (FCA) with registration number 717270.
With the Financial Services Compensation Scheme (FSCS), traders can be sure of up to £85,000 in deposit protection. This makes trading more secure and gives peace of mind when engaging in financial activities. Moreover, Tickmill's registration with the Investor Compensation Fund (ICF) of CySEC guarantees its traders high-level financial security against any fraudulent activity.
Tickmill continues to be a highly regarded brokerage, prioritizing the security of its customers and being approved by the FSA. With such qualities, it is clear that this subsidiary presents an ideal option for many traders. Moreover, it offers negative balance protection, and clients' funds are kept in segregated accounts. Overall, Tickmill is considered a secure and trustworthy broker with excellent customer support.
Sign Up Bonus of Tickmill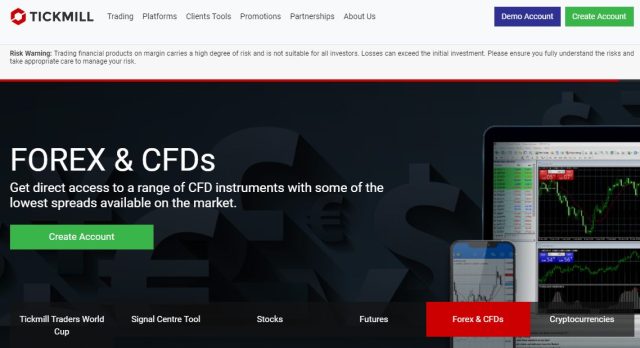 Tickmill offers new and experienced traders great bonuses with their 'Welcome Bonus'. The complimentary deposit of $30 is immediately credited to the trading account of the new trader and can be used for live trading. Traders can't withdraw this amount. However, they can use it to make profits and withdraw it later.
In addition, there is a trader of the month bonus, and the top traders receive rewards up to $1000. The management team evaluates the traders not just on their overall profits but also on how they handle both high-risk and financial losses.
Minimum Deposit of Tickmill
The minimum deposit for opening a Tickmill account is $100 (Classic/Pro) or $50,000 (VIP). You can easily fund your trading account via bank wire transfer, debit/credit cards, Skrill, Neteller, and other accepted payment methods. All deposits are free of charge with no hidden fees.
Account Types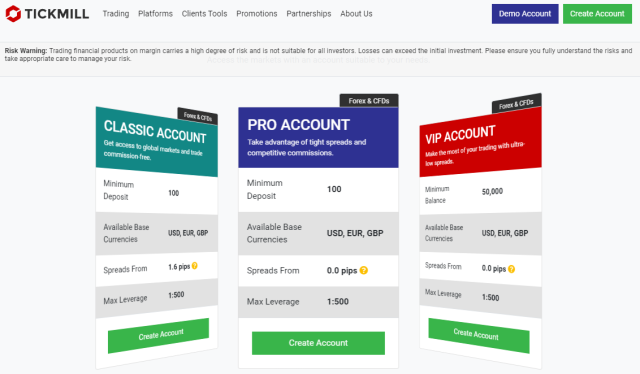 Tickmill provides you with a choice of 3 trading accounts, each offering the opportunity to invest in 62 currency pairs, key stocks, indices from around the world, and oil, precious metals, bonds, and cryptocurrencies. Below are the account types of Tickmill:
#1. Classic Account
The Classic account has been designed to take the complexities out of trading, making it accessible for new and expert traders. As a result, you can expect a superior trading experience with ultra-fast order execution, no matter your strategy. In addition, a minimum deposit of $100 is required with a leverage of up to 1:500 and a spread starting from 1.6 pips with no commission fees.
Min Deposit: $100
Spreads: 1.6
Commissions: Zero
Min Lot Size: 0.01
Leverage: 1:500
#2. Pro Account
The Pro account is best suited for experienced traders with a minimum deposit of $100 and attractive leverage of up to 1:500. Spreads from 0.0 pips, and no commissions enable traders to make the most of their investments.
Min Deposit: $100
Spreads: 1.6
Commissions: 2 per side per 100,000 traded
Min Lot Size: 0.01
Leverage: 1:500
#3. VIP Account
The VIP account has been created for traders seeking maximum performance, full control of their trading experience, and access to the best prices and liquidity. The minimum balance requirement is $50,000, and the account features spread from 0.0 pips with no commissions and leverage up to 1:500.
Min Balance: $50,000
Spreads: 0.0 pips
Commissions: 1 per side per 100,000 traded
Min Lot Size: 0.01
Leverage: 1:500
#4. Islamic Account
Tickmill also provides an Islamic account, a special swap-free trading account, allowing traders to take advantage of Tickmill's trading conditions and services without paying any additional cost. As a result, Muslim traders can benefit from the best trading conditions on all three accounts by converting them to Islamic accounts.
Islamic accounts offer the same features and trading conditions as other account types. However, its instruments do not feature swaps but come with a handling charge if you keep multiple open for over three consecutive days.
#5. Demo Account
Before getting familiar with the live accounts, traders can use the Tickmill Demo Account. This account is easy to open and allows traders access to various instruments with the same spreads and leverage as the live accounts. The demo account is a great way to practice and test different strategies without risking capital.
Tickmill Customer Reviews
Our team of review experts has carefully analyzed the customer reviews of Tickmill, which are mainly positive. Many customers have praised the broker's tight spreads and fast executions, as well as reliable customer service. Tickmill also offers a wide range of trading tools, such as charting and analysis software, allowing customers to make informed trading decisions.
However, some traders claim that the customer support of Tickmill could be better, with slow response times. Also, the delay in payments can sometimes be quite frustrating, making it difficult to withdraw your funds.
Tickmill Spreads, Fees, and Commissions

Tickmill Spreads
Depending on the type of account, Tickmill spreads are not fixed. Below are the details of the account types and their respective spreads:
Classic Account – Spreads from 1.6 pips
Pro Account – Spreads from 0.0 pips
VIP Account – Spreads from 0.0 pips
Tickmill Fee
Tickmill charges are very low compared to many other brokers. Moreover, there is no inactivity or platform fee. Also, you will never be charged on deposits or withdrawals with Tickmill.
Tickmill Commissions
Tickmill provides clients with two distinct account types – VIP and Pro. If you choose the VIP Account, you'll need to hold a min balance of $50,000 in your account but gain access to highly competitive commission rates starting at only $1 per standard lot (100k units) or just $2 per round-turn.
After commissions are factored in, effective spreads drop even lower to 0.27 pips! With TickMill's Pro Account, a deposit of merely $100 gives traders similarly low commissions; however, they double up on Round-Turn trades ($4).
Deposit and Withdrawal
Deposit Options
At Tickmill, traders can open an account with many brokers and start trading from just USD 100. In addition, the platform accepts deposits in currencies such as USD, EUR, GBP, & PLN; it even supports cryptocurrency payments like Bitcoin, Litecoin & Ethereum.
When depositing funds with Tickmill brokers, traders can use methods like bank transfer, Skrill, Neteller, Sticpay, FasaPay, UnionPay, Credit card, WebMoney, Qiwi, and more. Moreover, your deposits are safeguarded by tier-1 financial institutions in Europe for your peace of mind.
Withdrawal Options
Traders can withdraw funds using several payment modes, including Visa, MasterCard, Neteller, Sticpay, Ewallets, WebMoney, Qiwi, and more. The payment is processed within one business day, and this broker doesn't charge any withdrawal fee. However, there may be charges associated with certain payment methods depending on the currency and amount you are withdrawing. Moreover, the minimum withdrawal amount is 25 units.
Tickmill typically charges a handling fee if you keep multiple open accounts for over three consecutive days. So make sure you close your inactive trading accounts to avoid any unnecessary costs.
How To Open a Tickmill Account – Step by Step Guide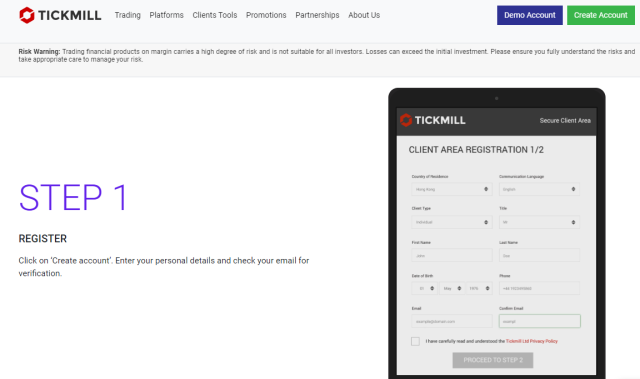 Below is the step-by-step guide to opening an account on Tickmill:
Go to the official website of Tickmill, and click on 'Create Account' in the upper right corner.
Choose Account Type
On the next screen, choose between an Individual or Corporate account and click on 'Proceed.'
Personal Details
Now add your details; name, DOB, email, residence, and phone number.
After that, you will receive a verification email. Click on Verify email to continue to proceed with the sign-up process.
After verification, add your nationality, complete address, and tax information.
Now add your password and accept the terms & conditions.
Finally, click on 'Create Account' to proceed.
Financial Info & Experience
In this section, you must provide your education level and employment status.
Fill out the source of funding, gross annual income, net worth, and other required details, and click Next.
Now check the buttons according to your trading experience and click Next.
Documents
The last step is to submit the required documents for account verification. For example, you can upload your passport, driver's license, or national identity card to verify your account.
For address proof, upload your bank statement or utility bill.
Review & Confirm
Once you have uploaded all the required documents, click on Submit.
Your account will now be created, and you can start trading with Tickmill.
Tickmill Affiliate Program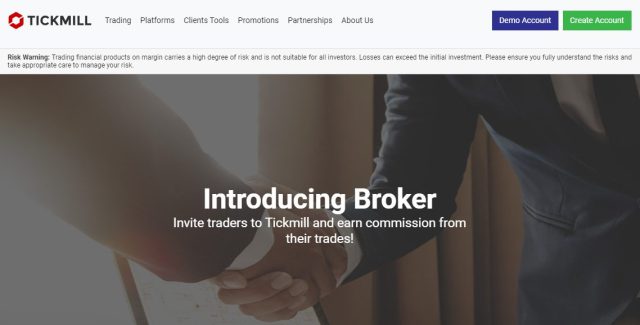 TickMill offers two different types of affiliate programs:
Introducing the Broker
As a partner of Tickmill, you can benefit from your customers' transactions by receiving commissions. This can range from 10 US dollars per lot for classic accounts to two dollars for VIP and Pro accounts.
Tickmill offers an IB cabinet with a user-friendly interface and top tools to make it easier for partners to manage their funds and accounts. In addition, they provide promotional materials that help attract new customers — making this partnership highly beneficial.
Multi Account Manager (MAM)
This affiliate program is tailored to investment companies licensed to manage funds for their clients and professional trader managers. We provide these partners with exclusive software integrated into MetaTrader 4.
This software is the ultimate solution for financial managers, allowing unlimited order submissions – Market, Stop or Limit — all from one account! Plus, there will never be a limit to the number of accounts that can be opened with this centralized manager's profile.
Tickmill Customer Support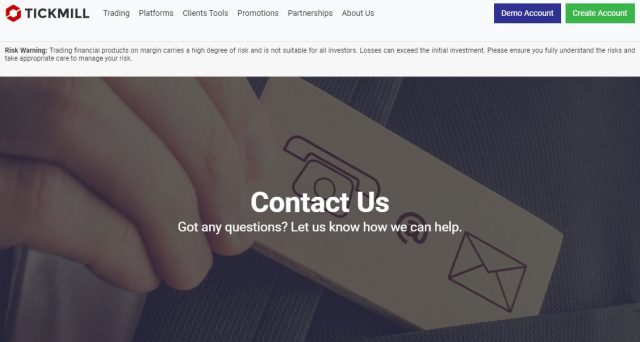 Tickmill takes customer support very seriously and provides 24/5 (from 7:00 to 16:00 GMT.) customer service to all its customers. The service representatives are well-trained and knowledgeable, providing fast, accurate solutions to all customer queries.
Customers can connect with Tickmill's support team through live chat, phone calls, and email. They can also use the broker's social media platforms and the contact us page on their website for assistance. Moreover, there is an FAQ section for customers who have general queries.
Contact Information
Email:  [email protected]
Phone:  Office: +44 203 608 2100 support service: +852 5808 2921 | +65 3163 0958
Registration address3, F28-F29 Eden Plaza, Eden Island, Mahe, Seychelles.
Advantages and Disadvantages of Tickmill Customer Support
Advantages
Disadvantages

Live chat support is available 24/5
Fast and accurate solutions
Multi-lingual support team
Ability to connect via multiple channels

Phone support is only available in certain countries
It doesn't work 24/7 and round the clock
Tickmill Vs. Other Brokers
Below is the comparison of Tickmill with other well-reputed forex brokers: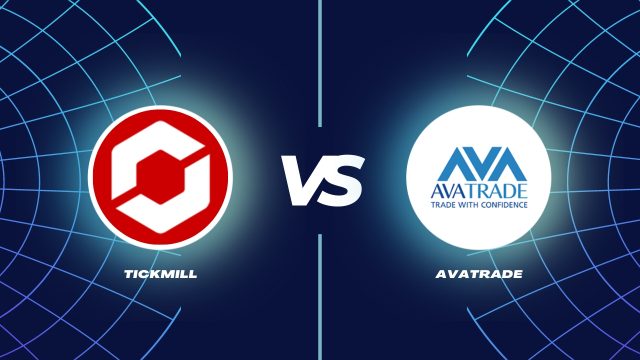 Avatrade, a premier trading broker for professional traders worldwide, has quickly made its mark in the financial industry since its inception in 2005. An exponential increase in active traders and profits from this platform evidences this success. AvaTrade has become popular for traders seeking a reliable broker with various trading tools, platforms, and options.
Tickmill is another reputable trading broker designed for traders who seek fast execution and tight spreads. This platform offers a range of instruments, including forex, CFDs, currency pairs, and more. Its user-friendly interface makes it easily accessible even to beginner traders. What's more, Tickmill has a great customer service team available 24/5.
However, when Tickmill is compared to AvaTrade, AvaTrade outperforms the former regarding trading tools, customer service, and product offerings. AvaTrade has more advanced tools, such as automated trading systems, that enable traders to customize their trading strategies. Top-tier regulators regulate both brokers, but AvaTrade has more regulatory licenses than Tickmill.
AvaTrade provides excellent value for money and is the preferred broker for many traders due to its competitive trading costs and advanced tools. Moreover, the credibility of AvaTrade has been established for many years in the industry. Overall, when choosing between Tickmill and AvaTrade, AvaTrade would make a better choice due to its wide range of products, advanced trading tools, and robust support team.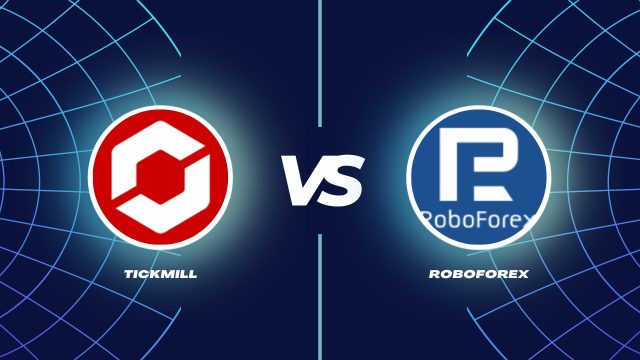 RoboForex is an international broker founded in 2009 that offers services for trading currencies, cryptocurrency, and stocks. It boasts over 3 million customers worldwide and is most popular in Russia, China, Europe, and the Middle East. In addition, it offers multiple trading instruments like CFDs and precious metals.
Tickmill is an award-winning broker launched in 2014 that offers a wide range of instruments, including forex, commodities, and indices. The FCA also regulates it in the UK and CySEC in Cyprus. Moreover, it offers multiple account types so traders can choose the best suits their needs.
When comparing Tickmill with RoboForex, both brokers offer competitive spreads and leverage limits.  However, regarding the range of trading instruments and customer service, Roboforex provides more than Tickmill. RoboForex also offers a wide range of trading accounts, with features such as swap-free and zero-fee options.
Ultimately, while both brokers are reliable and offer a wide range of instruments, RoboForex is the better choice for traders seeking more options and customizable features. Moreover, the minimum deposit fee of RoboForex is just $10, making it ideal for beginner traders. Overall, RoboForex is the preferred choice for many traders due to its wide range of products, advanced trading tools, and robust support team.
In conclusion, Tickmill and AvaTrade are both reliable brokers with a wide range of instruments. However, RoboForex is the better choice for traders who want more tools, features, and options.  Moreover, both brokers provide an excellent range of services and products, catering to different kinds of traders. So, choose the one that best suits your needs.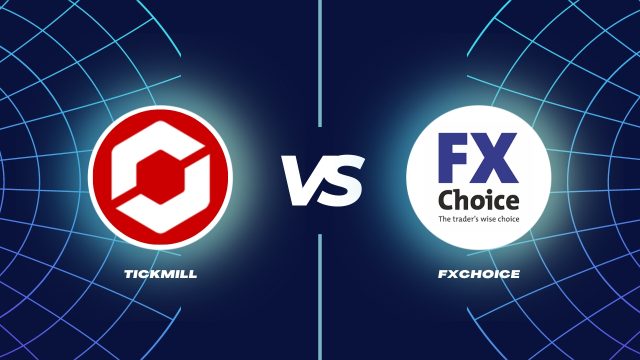 FXChoice has been a leader in the Forex market since 2010 and is licensed by the International Financial Services Commission of Belize (FSC). As a customer-oriented broker with integrity, they satisfy Western traders with their diligence to high standards for global employees. FXChoice is devoted to delivering unparalleled services for both passive and active trading.
This forex broker keeps growing its variety of trading tools and facilities for automated trading. The company provides two types of accounts — traditional and professional ECNs with narrowed market spreads. Furthermore, FXChoice holds a permit from FSC, an extremely stringent regulator in the industry.
On the other hand, Tickmill is a Forex and CFD broker founded in 2014, which CySEC and FCA license. This broker offers a wide range of markets for trading and includes currency pairs, indices, commodities, and cryptocurrencies. Moreover, Tickmill's advanced technology and features make it a preferred choice for traders.
Comparing Tickmill and FXChoice, both brokers offer competitive trading conditions with tight spreads, low-latency execution, and reliable customer service. However, FXChoice is better for traders who prefer sophisticated trading technology and automated trading, as it offers more options for these services.
Moreover, FXChoice requires a min deposit of $10, while the Tickmill min deposit is much higher at $100.  This makes FXChoice the go-to broker for beginner traders who want to start trading with a small amount of capital.
Overall, both Tickmill and FXChoice offer reliable trading services. However, for traders who want more options and features for automated trading, FXChoice is the preferred broker.  With its competitive trading conditions, sophisticated technology, and low min deposit requirement, FXChoice is an attractive option for novice and expert traders.
Choose Asia Forex Mentor for Your Forex Trading Success
If you have a keen interest in establishing a successful career in forex trading and aspire to achieve substantial financial gains, Asia Forex Mentor stands as the optimal choice for the best forex, stock, and crypto trading course. Ezekiel Chew, renowned as the visionary behind trading institutions and banks, is the driving force behind Asia Forex Mentor. On a personal note, Ezekiel consistently achieves seven-figure trades, a distinction that truly sets him apart from other educators in the field. Here are the compelling reasons that underpin our recommendation:

Comprehensive Curriculum: Asia Forex Mentor offers an all-encompassing educational program that covers stock, crypto, and forex trading. This well-structured curriculum equips aspiring traders with the knowledge and skills necessary to excel in these diverse markets.

Proven Track Record: The credibility of Asia Forex Mentor is firmly established through its impressive track record of producing consistently profitable traders across various market sectors. This achievement serves as a testament to the effectiveness of their training methodologies and mentorship.

Expert Mentors: At Asia Forex Mentor, students benefit from the guidance and insights of experienced mentors who have demonstrated remarkable success in stock, crypto, and forex trading. These mentors provide personalized support, enabling students to navigate the intricacies of each market with confidence.

Supportive Community: Joining Asia Forex Mentor brings access to a supportive community of like-minded traders pursuing success in the stock, crypto, and forex markets. This community fosters collaboration, idea-sharing, and peer learning, enhancing the overall learning experience.

Emphasis on Discipline and Psychology: Success in trading necessitates a strong mindset and disciplined approach. Asia Forex Mentor provides crucial psychological training to help traders manage emotions, handle stress, and make rational decisions during trading.

Constant Updates and Resources: The financial markets are dynamic, and Asia Forex Mentor ensures that students remain up-to-date with the latest trends, strategies, and market insights. Continuous access to valuable resources keeps traders ahead of the curve.

Success Stories: Asia Forex Mentor takes pride in a multitude of success stories where students have transformed their trading careers and achieved financial independence through their comprehensive forex, stock, and crypto trading education.

In summary, Asia Forex Mentor emerges as the premier choice for those seeking the best forex, stock, and crypto trading course to carve a rewarding career and achieve financial prosperity. Through its comprehensive curriculum, experienced mentors, practical approach, and supportive community, Asia Forex Mentor provides the necessary tools and guidance to mold aspiring traders into accomplished professionals across diverse financial markets.
Conclusion: Tickmill Review
Tickmill is a reliable and trustworthy broker and has earned its prestigious reputation as an award-winning leader in the online trading domain through elevated trading conditions, comprehensive investor resources and tools, low-cost structure, and transparency. These traits combine to create a broker many consider the best in the industry.
The customer service and support provided by TickMill are also top-notch, with a multi-lingual support team available 24/5. In addition, their services are competitively priced, offering all the necessary tools and resources for successful trading.
Tickmill offers an ideal trading atmosphere for both new and experienced investors, providing immense value through learning materials, up-to-date research and market insights, sophisticated analysis tools, and quality execution to help users reach their investing goals. A welcoming environment further encourages successful results with Tickmill's reliable ecosystem.
Overall, Tickmill is a top-tier online broker with low trading costs, reliable execution, and a wide range of educational and informational materials. In addition, with their outstanding customer service, investors can trust that they will enjoy a secure trading experience with Tickmill.
Tickmill Review FAQs
Is Tickmill good for beginners?
Yes, Tickmill is a great broker for beginners. The trading conditions are competitive, and the customer service is excellent. It has a user-friendly interface and trading platform, making it easy for beginners to understand. The customer support team is knowledgeable and helpful, and the account opening process is fast and straightforward. Moreover, Tickmill offers educational resources and a Demo account that beginners can use to practice trading.
Is Tickmill good for scalping?
Yes, Tickmill offers excellent conditions for scalping. There are no trading restrictions and requotes, making it ideal for scalpers. It also provides scalpers with low spreads, hedging, algorithm trading, and other beneficial features. Moreover, Tickmill offers a fast order execution speed and a reliable trading environment essential for successful scalping strategies.
What is the minimum deposit for Tickmill?
The minimum deposit for Tickmill is $100 for Classic and Pro accounts. This makes it an attractive option for traders just starting who don't have much money to invest. However, the VIP account requires a minimum balance of $50,000.