The Need for New Tech in Commercial Real Estate Lending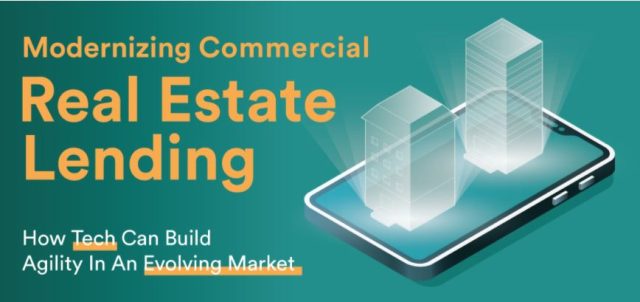 When we think of different industries as disruptive in today's economy, we typically think about how Uber completely changed the game in terms of taxis and black cars service as well as how AirBnb changed the way we think about hotels, bed and breakfasts, and the hospitality industry. Financial markets have been disrupted with such innovations such as Stripe and RobinHood.
Commercial Real Estate Lending: Need for An Upgrade
Industry disruptors have walked into unsuspecting industries, only to effectively change the game for their respective marketplace and in effect, level the playing field. That said, not all industries have felt the disruption…yet. 
One such industry that is still a laggard by these standards has been the commercial real estate lending market – a market that has been behind the times in terms of technological innovation.
Case in point: as recently as 2 years ago, over 40% of US banks remained reliant on COBOL, a pre-internet programming language, for necessary functions. 
What will happen if commercial real state lending won't be upgraded?
Simply put, banking tech has not caught up to the modern era. In commercial real estate lending, this fact is painfully obvious. Even today, the lending process for commercial real estate relies heavily on brokers cold calling individual banks in search of deals. Negotiation times are lengthy, stretching the average commercial real estate loan into a 3 month process. This is a problem because months of negotiation rarely result in the exact deal a lender wants. Commercial borrowers are made to wait weeks or months for a loan decision, and lenders are slow to react to changes in market demand and risk. As this past year has demonstrated, a lot can change in 3 months.
Challenges faced by Commercial Real Estate in Covid Pandemic Times
As the economy transformed in 2020, commercial real estate faced new challenges. At their lowest point, office spaces had a 20% vacancy rate, with retail spaces not far behind. Today, 33% of Americans work from home full time while 59% of retailers are concerned with rising rent costs. Both offices and stores are going through a reimagining process to figure out how they will use their space going forward. At this time, many stores are operating as mini-warehouses for curbside and delivery services.
Modernizing Commercial Real Estate Lending
Yet while certain types of commercial real estate struggle, others are thriving. Commercial and multifamily lending will grow by 11% in 2021, reaching a total of $486 billion. The shift to remote work has skyrocketed demand for cloud and networking services, making data centers a valuable asset. Meanwhile, industrial locations like distribution sites, logistics warehouses, and storage spaces are benefitting immensely from the shift to e-commerce. So while lenders still want deals with long term value, the way they go about defining a quality property investment will look quite a bit different in 2021 and beyond. Only by embracing modern technology can commercial lenders take full advantage of changes in the market.
Compare the state of commercial lending to residential lending. Both faced great upsets in 2020, but residential mortgage lenders barely missed a beat. 92% of residential borrowers began their search for a lender online. In 2015, just 20% of lenders relied on websites. Additionally, 74% were able to use an online portal to work with their lender. For 43% of people, the entire application could be completed online. These percentages are only growing. 
Stay Ahead of the Change Curve
A quote from Jack Welch, the former chairman and CEO of General Electric, " if the rate of change on the outside exceeds the rate of change on the inside, the end is in sight" means if businesses don't stay ahead of the change curve they will soon find themselves in trouble. Welch tells all industries through his quote that the problem does not focus on rate of change, which moves faster all the time but it's what it does to customer expectations.
If commercial lenders want to join their friends in the residential side of the house, they need to work at it. Otherwise, the market has the potential to leave them behind. Digital mortgage players are on the rise, and more than 25% of loans are direct-to-consumer originations.
Nowadays, most borrowers demand exceptional customer service every bit as much as they want a great rate. If banks don't rise to the occasion, alternative lending platforms threaten to cut them out of the market. Crowdstreet has $1.25 billion invested on their platform, with Fundrise not far behind at $1 billion. As the members of the Forbes Real Estate Council are quick to warn, "reluctance to adopt new technology can stand in the way of innovation, and this, in turn, can lead to unintentional and potentially hazardous forms of disruption."
Banks in need of help catching up with the times can turn to more agile technologies. Such innovative tech offers the agile; fintech lenders process mortgage applications 20% faster with no increase in defaults. In essence, the system here is one giant sorting machine. Lenders enter their criteria regarding asset type, geographic regions, and dollar amounts on one end.
At the same time, brokers enter loan details and borrower preferences with regard to cost, type of asset, location, occupancy, and more on the other end. With enough of both in the system, advanced algorithms can match brokers and lenders to their perfect fit deals.
The new system benefits both sides.
The convenience and availability of information streamlines the bidding and negotiating processes, allowing lenders and brokers to spare their time and effort. There's no need for lenders to chase down missing information, and deals are already matched to bank requirements. It brings increased deal speed and safety to all.
In today's uncertain times of the pandemic, there is no time to waste as commercial real estate is at a critical juncture of potential vulnerability. Lenders should be able to match up with prospective buyers in a more agile manner and need not miss deals happening in their very own backyard.
Learn more about agility and innovation in the realm of the commercial real estate lending market in the visual deep dive below:

Like this Article? Subscribe to Our Feed!
Brian Wallace is the Founder and President of NowSourcing, an industry leading infographic design agency based in Louisville, KY and Cincinnati, OH which works with companies that range from startups to Fortune 500s. Brian also runs #LinkedInLocal events nationwide, and hosts the Next Action Podcast. Brian has been named a Google Small Business Advisor for 2016-present and joined the SXSW Advisory Board in 2019.