Shoe Repair Tips Everyone Should Know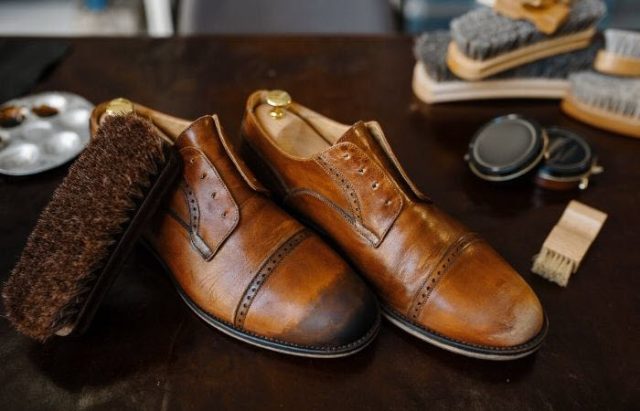 Are you attached to your favorite footwear and having a hard time giving it up to get a new pair? Worry no more because you can keep them for another year or two, especially those fancy and high-priced pairs. All you need to do is store them properly, have a good maintenance routine, and repair them often.
The following are simple shoe repair solutions everyone can do at home.
Worn-Down Heel Tips
Repairing worn-out heels can help restore your walking posture. If the heels of your shoes are worn out and produce a clicking sound, you should look into using heel caps. The caps will cover the metal on the heels' tip which will stop the clicking sound immediately.
Make sure to measure the tips of your heel in order to get the right cap size.
Fixing Tears
To seal rips or tears in any type of shoe, you can use shoe glue. Choose a good shoe adhesive that offers a sturdy yet flexible bond. The glue should also be suitable for rubber shoes, leather, canvas, vinyl, or any kind of shoe.
To use, simply apply the glue on the torn section and attach the two parts. Apply pressure for them to stick firmly. Give the adhesive time to dry. Once the glue has dried, you may now use your footwear. This tip comes in handy in emergency situations, for example, when on your way to an interview and you notice a tear on your shoe too late.
Reattaching Soles and Other Shoe Parts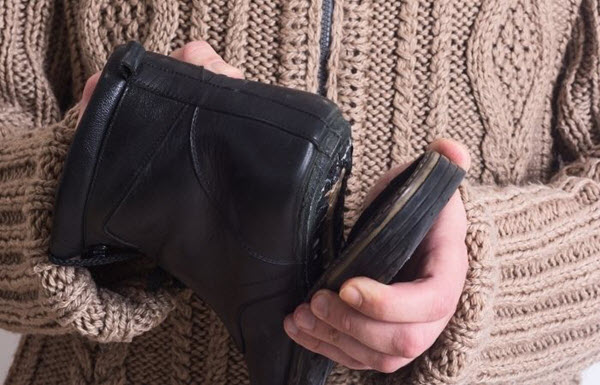 If the soles of your footwear detach from the rest of your shoe, you don't have to chuck them out just yet. You can reattach soles or other shoe parts using shoe glue. The glue also comes in handy if you need to fill in holes or gaps in seams.
Broken Strap
To repair a broken strap, you need a needle and some sturdy thread that matches the color of your shoe. Sew the broken strap in place. You can go one step further by covering up the stitches with embellishments.
Scratches and Small Scuffs
For your shoes to last longer, you need to prevent scratches. This can be done by polishing your shoes using a quality spray when they are still new. For canvas shoes, use beeswax. For leather footwear, use suede. Apart from this, make sure you protect your shoes from water daily. Ideally, there should be no stains or spills on your footwear. After all, shoes make the man.
For Nicks on Your Vinyl or Leather Shoes
You can use nail polish of the same color as your shoes to fill in the small nicks in your leather shoes. Alternatively, you can color the nicks using a marker pen of the same color. Then cover the area with clear nail polish.
Stretch Shoes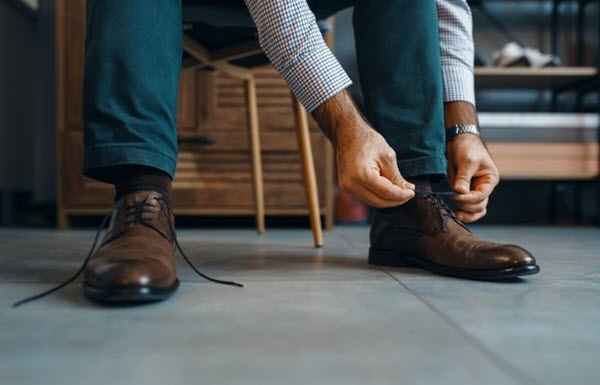 If you've just bought a new pair of shoes and they are too tight, you can use this little tip to stretch them. All you have to do is fill a plastic bag with water, insert them in the new shoes, put the shoes in the freezer, and wait until the water is frozen. When frozen, water tends to expand. This will help to stretch your shoe out for a more comfortable fit.
Shoe maintenance and repairs are inexpensive and worth trying. You don't need to pay for uncomfortable new shoes or waste your time waiting for your footwear to be fixed at the shoe repair shop since the above DIY shoe repair tips are straightforward and practical.
Like this Article? Subscribe to Our Feed!
At Dumb Little Man, we strive to provide quality content with accuracy for our readers. We bring you the most up-to-date news and our articles are fact-checked before publishing.