Scope Markets Review 2023 with Rankings By Dumb Little Man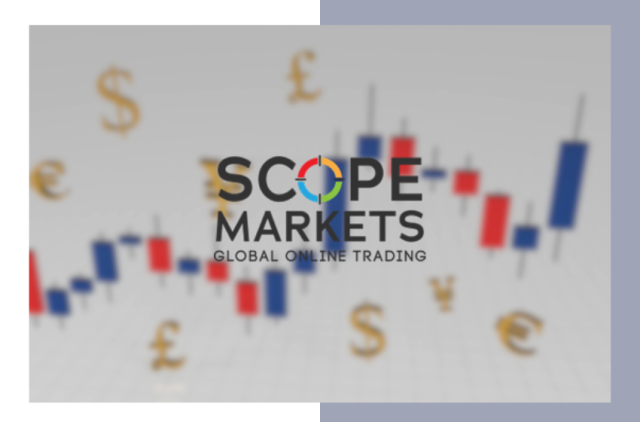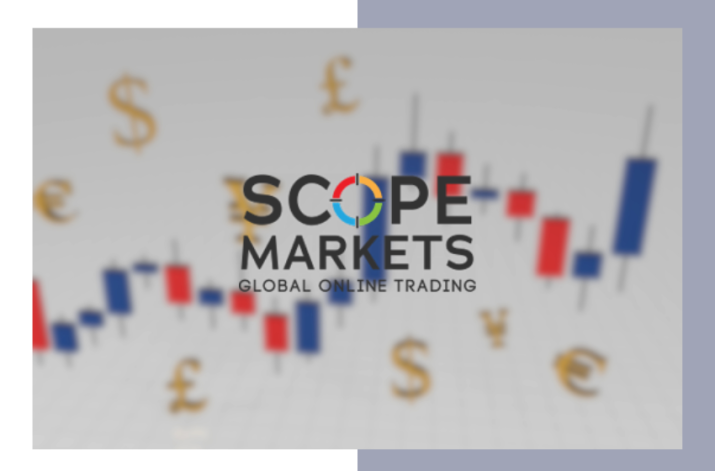 [wptb id="129685" not found ] [wptb id="129686" not found ]
Scope Markets Review
Forex brokers are intermediaries that allow traders to buy and sell foreign currencies in financial markets. These platforms are essential for anyone looking to engage in forex trading. Scope Markets is a notable player in this sector, overseen by the International Financial Services Commission of Belize (IFSC). This brokerage adheres rigorously to regulatory guidelines, emphasizing the importance of segregated accounts.
In this article, we present a detailed review of Scope Markets. The insights here are a blend of expert analyses from Dumb Little Man and actual customer experiences. We will discuss various account options, deposit and withdrawal processes, as well as commission structures. Our aim is to provide you with all the necessary information to decide if Scope Markets fits your trading needs.
>> Also Read: How To Trade Forex For Beginners
What is Scope Markets?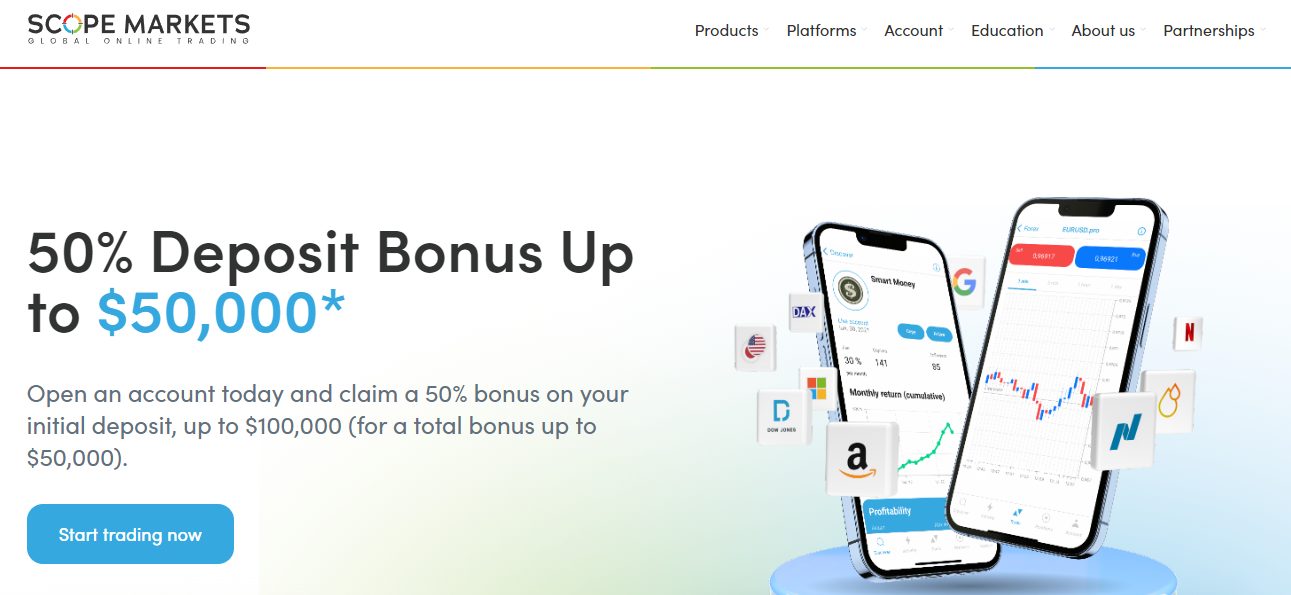 Scope Markets is a Forex and Contract for Difference (CFD) broker with a track record dating back to 1997. With over two decades in the industry, the company has adapted to traders' needs, providing exceptional trading conditions. It employs a No Dealing Desk or Straight Through Processing (STP) execution model, offering a balanced trading environment suitable for both novices and seasoned traders.
This broker doesn't limit itself to forex alone. It offers a range of trading instruments including Forex, Indices, and Metals. Scope Markets operates in different regions through two entities: Scope Markets Ltd in Belize and SM Capital Markets Ltd in Cyprus. These entities manage various domains such as scopemarkets.com/eu and sminvest.com/eu, delivering consistent trading services across platforms.
Safety and Security of Scope Markets
When it comes to Safety and Security, Scope Markets takes several measures to ensure client protection. Based on in-depth research from Dumb Little Man, it's noteworthy that the broker is regulated by the Cyprus Securities and Exchange Commission (CySEC). This adds a layer of trust and reliability to the platform.
For those concerned about account balances, Scope Markets offers a negative balance protection policy. This feature ensures that Scope Markets clients cannot lose more money than what is deposited in their accounts.
The broker's services are not limited to a specific geographic region; they have a broad global reach. This accessibility caters to traders from various corners of the world.
In addition to regulatory oversight and negative balance protection, Scope Markets has a compensation scheme. This could offer additional safety nets for traders' investments under specific conditions.
However, it's essential to note a potential drawback. The broker's international regulation is through an offshore zone. This may be a concern for some traders due to a potentially less stringent regulatory environment.
Sign-Up Bonus of Scope Markets
If you're considering joining Scope Markets, there's an attractive Sign-Up Bonus to take note of. New traders who open an account can claim a 50% bonus on their initial deposit. The bonus can go up to a substantial amount, maxing out at $100,000, which means a total bonus potential of up to $50,000.
[wptb id="129687" not found ]
Minimum Deposit of Scope Markets
When it comes to starting your trading journey with Scope Markets, the financial barrier to entry is relatively low. The broker has set a Minimum Deposit of just $100. This accessible amount makes it easier for both beginners and experienced traders to get started on the platform.
Scope Markets Account Types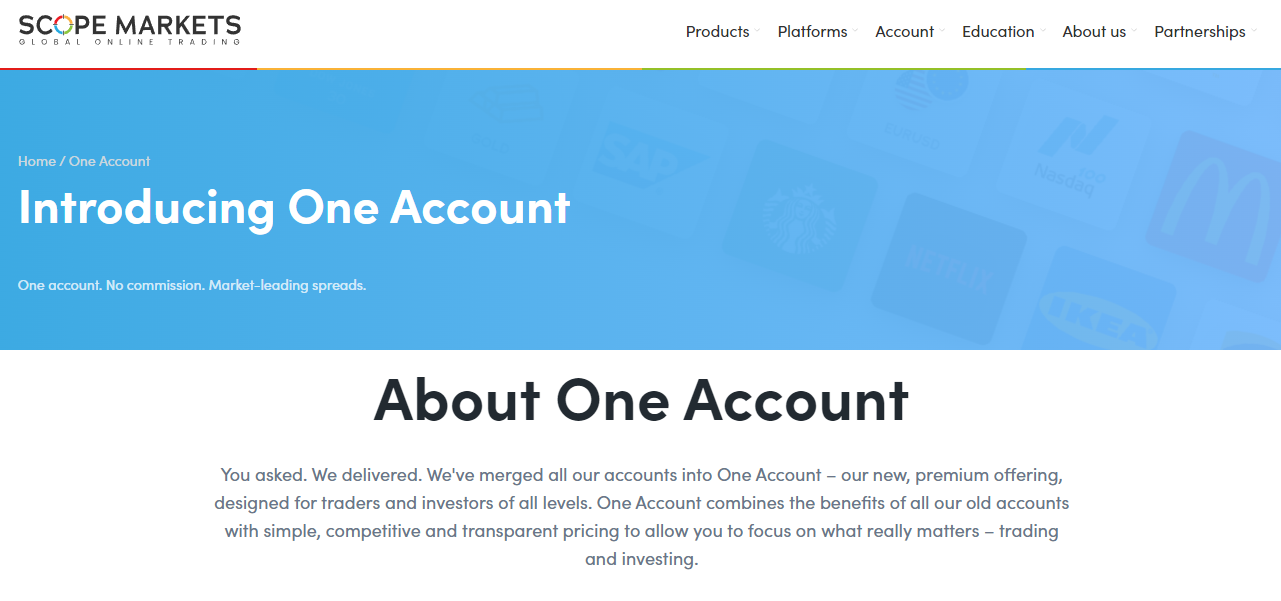 Based on rigorous research and testing by our team of experts at Dumb Little Man, broker Scope Markets account has two types. Here's what you need to know about each:
One Account
Competitive Pricing

: Traders benefit from competitive spreads and overnight fees.

0% Commission

: No commission on trading any instruments.

Choice of Platforms

: Options to trade on either MT4 or MT5 platforms.

High Leverage

: Up to 2000:1 leverage available.

Dedicated Account Manager

: Personalized management and support.

Additional Perks

: Free Premium signals package, weekly webinars, premium educational materials, and unlimited withdrawals.
Islamic Account
Competitive Pricing

: Similar competitive pricing structure.

0% Commission

: No commission fees on trading.

High Leverage

: Leverage up to 2000:1 is also available.

Dedicated Account Manager

: Specialized management and support.

Additional Benefits

: Free Premium signals package, access to webinars, premium educational materials, and unlimited withdrawals.
Both account types aim to offer a streamlined, transparent, and efficient trading experience, catering to traders of all levels.
Scope Markets Customer Reviews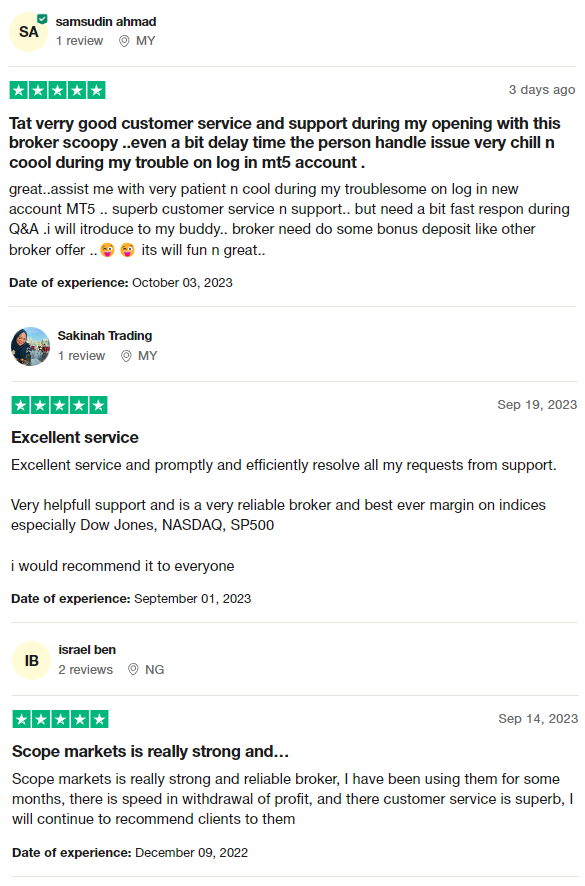 Based on Customer Reviews, Scope Markets generally receives positive feedback for its reliability and customer service. Users praise the platform's efficient support team and quick resolution of issues. There are commendations for the wide range of trading instruments, especially indices like Dow Jones, NASDAQ, and SP500. 
Customers appreciate the speedy withdrawal process and feel confident enough to recommend the broker to others. However, some users suggest that the platform could improve by offering deposit bonuses and faster response times during Q&A sessions. 
Scope Markets Fees, Spreads, and Commissions
When it comes to Fees, Spreads, and Commissions, Scope Markets aims to offer a cost-efficient experience to traders. The platform's trading fees are in the lower to average range, making it a good option for those looking to maximize profits.
One standout feature is the no fee on deposits, except in the case of Bank Transfers. For these transactions, clients may incur fees from their own or intermediary banks. It's advisable for traders to be aware of their bank's fee structure before choosing this deposit method.
The minimum withdrawal amount is set at a reasonable 50 USD, EUR, or GBP, depending on the account's currency. This flexibility enhances account management efficiency for traders.
Scope Markets also excels in offering competitive spreads, starting as low as 0.01 pips. This is particularly beneficial for traders sensitive to cost fluctuations. Furthermore, the broker maintains a transparent pricing policy, free from hidden charges and commissions.
Deposit and Withdrawal
After thorough testing by a trading professional at Dumb Little Man, key insights have been gathered about Deposit and Withdrawal options at Scope Markets. The broker offers a wide array of trusted payment methods, which include Credit Cards (Visa or Mastercard), Skrill, Neteller, and Wire Transfer among others. While the broker itself does not charge funding fees, payment providers may add fees depending on jurisdiction or international regulations.
When it comes to withdrawals, Scope Markets has a user-friendly policy. The platform allows for two free withdrawal requests per month. Any additional withdrawals beyond this limit will incur a fee of $35 or its equivalent. This structure allows traders to manage their funds effectively while being mindful of potential costs.
How to Open a Scope Markets Account

Visit the Scope Markets website.

Click the 

Login button

.

Select the 

Get an Account

 option.

Fill in 

personal details

 like name, email, and phone number.

Complete 

account setup

 for trading profile and security.

Start the 

verification process

.

Submit 

required documents

 like utility bills and ID for proof.

Await 

account activation

 after verification.

Fund your account

 to start trading.
[wptb id="129688" not found ]
Scope Markets Affiliate Program
The Scope Markets Affiliate Program is tailored for partners aiming to leverage their online reach for additional income. Affiliates have the opportunity to earn up to $800 CPA for each account they refer through their website or social media platforms.
From the moment you sign up, Scope Markets ensures you are well-equipped to start earning. They offer a comprehensive suite of marketing tools and support, allowing affiliates to easily refer clients. This includes tracking of referral data, from click-through rates to conversion metrics and transparent CPA reporting.
By joining the affiliate program, partners can boost their earning potential. They benefit from the broker's industry expertise to attract larger audiences and optimize their revenue streams.
Scope Markets Customer Support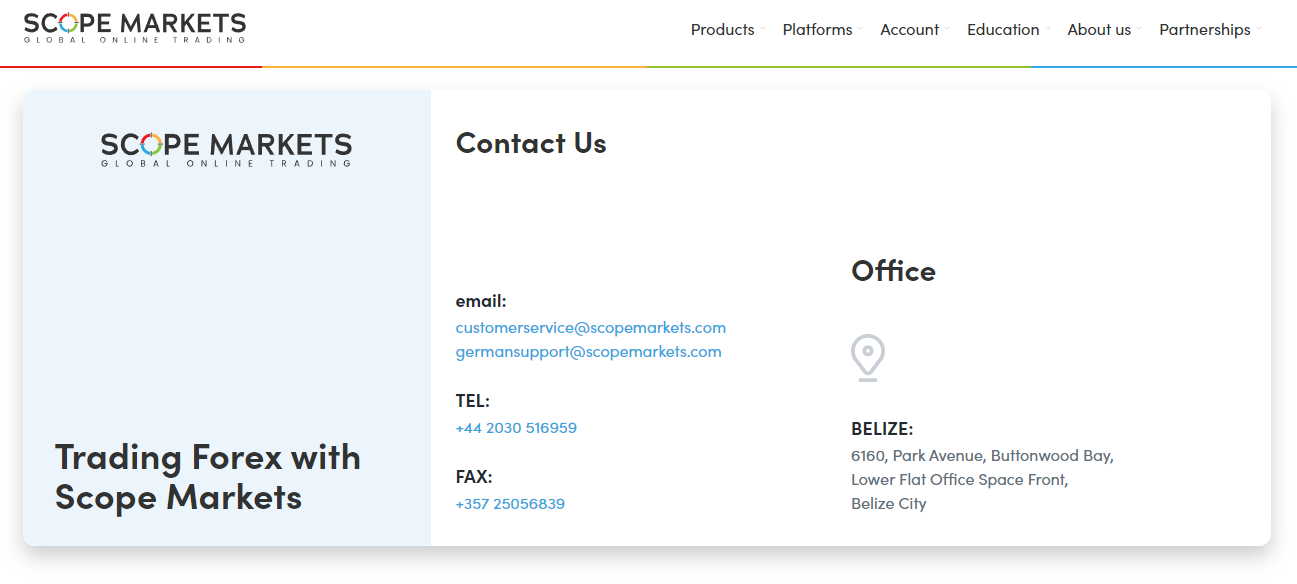 Based on the experience of Dumb Little Man, Scope Markets Customer Support stands out for its accessibility and effectiveness. While the service is not available 24/7, the support team is on hand during standard working hours on working days. This ensures that customers receive timely and relevant solutions to their concerns, enhancing the overall user experience.
Advantages and Disadvantages of Scope Markets Customer Support
[wptb id="129689" not found ]
Scope Markets vs Other Brokers
#1. Scope Markets vs AvaTrade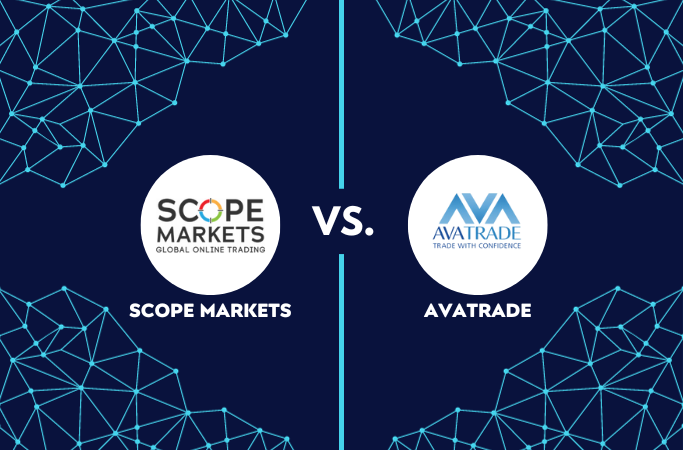 AvaTrade and Scope Markets both serve as online brokers but cater to different global demographics. While Scope Markets is regulated by CySEC and focuses on a streamlined trading experience, AvaTrade boasts multiple global locations and is committed to diverse trading platforms. AvaTrade executes around two million transactions monthly and offers over 1,250 financial instruments. It has a broader range of offerings and more global reach. 
Verdict: AvaTrade is better for traders looking for diverse financial instruments and global access.
#2. Scope Markets vs RoboForex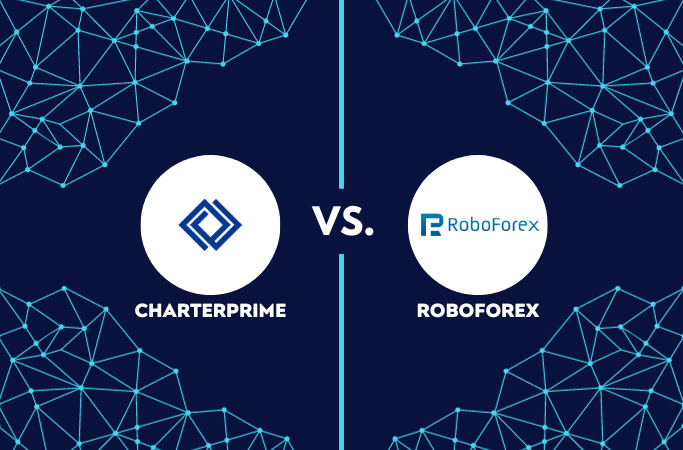 RoboForex emphasizes technology-driven trading and offers a wide range of platforms like MetaTrader, cTrader, and RTrader. Scope Markets, on the other hand, consolidates its services into a single "One Account" type and is more focused on cost-effective trading with competitive spreads. RoboForex offers a more varied trading experience with over 12,000 trading options. 
Verdict: RoboForex is better for those who prioritize variety and technology in trading platforms.
#3. Scope Markets vs FXChoice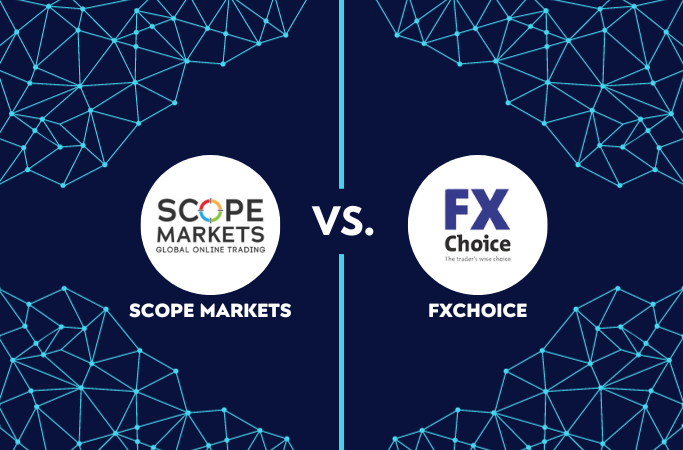 FXChoice is tailored more for experienced traders, offering tight market spreads and no optimal leverage for beginners. Scope Markets offers the "One Account," designed for traders and investors of all levels, with features like negative balance protection and 0% commission on all instruments. FXChoice limits demo account validity to 90 days and focuses on high-volume, professional customers. 
Verdict: Scope Markets is better for traders seeking a simplified, all-in-one account type and inclusive offerings.
[wptb id="129690" not found ]
Choose Asia Forex Mentor for Your Forex Trading Success
For those aiming to make a successful career in forex, stock, or crypto trading, Asia Forex Mentor is a top choice for comprehensive education. Led by trading expert Ezekiel Chew, the platform is unique in its offerings. As a seven-figure trader, Ezekiel stands out among trading educators.

Comprehensive Courses: Asia Forex Mentor provides an all-encompassing curriculum that covers forex, stock, and crypto trading. This robust educational approach equips you for success in diverse financial markets.

Strong Track Record: Asia Forex Mentor has a history of producing profitable traders across various markets. Their high success rate testifies to the quality of their education and mentorship.

Expert Mentorship: Students benefit from learning directly from Ezekiel, who has achieved significant success in multiple trading markets. His personalized guidance enhances your chances of success.

Supportive Community: By joining Asia Forex Mentor, you become part of a community of like-minded traders. This setting promotes collective learning and support.

Emphasis on Mindset: Succeeding in trading is not just about knowledge; it's also about the right mental attitude. Asia Forex Mentor places a heavy focus on mindset and discipline, key elements in becoming a successful trader.

Current Resources: The platform keeps you updated with the latest market trends through continuous resource updates.

Success Stories: Many students have attained financial freedom through the in-depth education provided by Asia Forex Mentor.
Conclusion: Scope Markets Review
The team of trading experts at Dumb Little Man finds Scope Markets to be a reliable choice for both beginners and experienced traders. The broker's simplified "One Account" system is easy to navigate and offers a range of benefits, including competitive pricing and robust customer support. Its low minimum deposit of $100 makes it accessible for traders with different financial capacities.
However, it's important to note that Scope Markets lacks 24/7 customer support, limiting the window for immediate assistance. Traders should also be aware of the additional fees for multiple withdrawals within a month.
In summary, Scope Markets offers a comprehensive trading environment with a straightforward approach. It is ideal for traders who value simplicity, low costs, and customer service. But, as with any financial platform, it's essential to consider its limitations and tailor expectations accordingly.
>> Also Read: AvaTrade Review by Dumb Little Man
Scope Markets Review FAQs
What is the Minimum Deposit Required to Open a Scope Markets Account?
The minimum deposit requirement at Scope Markets is $100. This makes it an accessible option for traders who are just starting out or those who prefer to start with a smaller investment.
Is Customer Support Available 24/7 at Scope Markets?
No, Scope Markets does not offer 24/7 customer support. The team is available during standard working hours on regular business days. While they provide timely and effective support, traders should plan their queries accordingly.
What Types of Account Does Scope Markets Offer?
Scope Markets has streamlined its account offerings into a single, premium "One Account." This account offers a host of features including competitive pricing, up to 2000:1 leverage, and access to both MT4 and MT5 trading platforms. It's designed to suit traders and investors of all levels.
[wptb id="129691" not found ]