Pimsleur vs Michel Thomas: Exact Facts – Unbelievable Outcomes [2022]!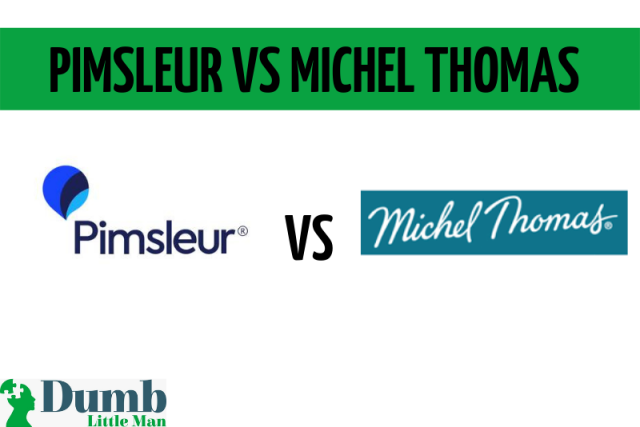 Pimsleur vs Michel Thomas

Image from Tim Mossholder on Unsplash
The internet is filled with tons of language learning apps and platforms. However, 2 of them stand out because their teaching approach has made them popular- Pimsleur and Michel Thomas.
Both Pimsleur and Michel Thomas use the same approach to deliver content- audio lessons available on their mobile apps and websites. However, their methods differ on;
Quality- learners enjoy over 50 languages with quality learning resources and materials.
Fluency- Michel Thomas lessons are only good for beginners. At Pimsleur, you'll get access to advanced material to help you become conversational as well as fluent in formal contexts.
I find both Michel Thomas and Pimsleur insufficient in terms of language learning. From grammar to reading and writing, both courses under deliver. Pimsleur stands out. I wouldn't recommend Michel Thomas. His emphasis on teachers being the problem rather than the learner's continuous practice is baffling.
Pimsleur's program is excellent for any student interested in improving his listening and skills while compromising on reading and writing. The audio courses are real-life conversations to show how language works in different contexts.
If all that is a great deal, you can still find an excellent instructor at Michel Thomas, but be sure to avoid those he teaches. There are better language learning platforms and apps such as Babbel, Baselang, I Will Teach you A Language and Rosetta Stone.
Pros
Pimsleur
Pimsleur's audio learning method means you can study whenever you feel free.
Listening to native speakers, you can quickly build an accent and become conversational in no time.
Its app has a nice and user-friendly interface with a pause button to help you speak frequently.
Lessons are well structured, starting from the first lesson. They are brief, focused, and effective.
Michel Thomas
The Michel Thomas method requires you to remember each word.
The lessons emphasize comprehension and speaking frequently. This is helpful since you'll become conversational in no time.
Cons
Pimsleur
With non-interactive lessons, you'll easily get bored going over the same thing again and again.
Puts little emphasis on reading and writing, since its primary focus is improving your spoken language.
using English to explain concepts is a challenge for non-native speakers.
All its programs focus only on formal language. There are no lessons on slang or colloquialism.
Michel Thomas
Michel Thomas provides no reading or writing resources. This hinders the learners' language development process.
Michel Thomas doesn't provide interactive materials such as video games, quizzes, or video lessons. All lessons are identical, making them boring.
The program is only suitable for learning the basic language. The pacing of the lessons isn't worth it for intermediate or advanced learners.
Michel Thomas' method is negative. The environment in each class is demotivating because he keeps interrupting students and also offers no praise.
It doesn't immerse you into the language from the start because it uses a lot of English for explanations.
Languages taught in each program
If you want to become a polyglot, then Pimsleur is better compared to Michel Thomas. Michel Thomas offers only 18 languages, which is less compared to Pimsleurs' 50 distinct language classes.
Michel Thomas's students love classes in French, Greek, German, Italian, Irish, Arabic, Japanese, Russian, Portuguese, Polish, Norwegian, Korean, Mandarin, Swedish and Spanish.

On the other hand, language learners are spoiled of choice. Whether you want the most popular languages in the world such as English, French, German, Mandarin, Russian, and Spanish or unique ones such as Urdu, Twi, and Tagalog, Pimsleur has the resources to get you started.

Pricing
Both Michel Thomas and Pimsleur's pricing differ. Pimsleur uses monthly subscriptions while Michel Thomas' pricing is by lesson or the complete course.
Pimsleur has two types of subscriptions- Basic and premium. The basic goes for $14.95 a month while the slightly expensive premium goes for $19.95 a month. To evaluate whether the cost is worth it, Pimsleur offers you a 7-day free trial. However, some language courses are still priced by level. Pimsleur costs you as much as $575 if you opt for a complete course. They also offer a 30-day money-back guarantee.
The pricing for Michel Thomas depends on what you want. First, you can create an account on their website and sign up and enjoy free classes. If you just need one lesson, then it will cost you $7. However, if you need the full language learning course, prices range from $11.99 to $100. Compared to Rosetta Stone, it's cheaper.
Suppose you want to study for free and later purchase the courses. The Michel Thomas website is the first place to look. You create a login for that site, purchase the programs you desire, and then play the lessons on the site or the mobile app using the same login.
Language Teaching Methods

At Pimsleur, the course length depends on your language of choice. For less popular courses such as Cantonese, the levels are fewer, while for popular languages such as Spanish and French, there are 5 levels.
Lesson structure.
You'll have to listen to 30-minute audio recordings. Each level has 30 lessons. If you take a class daily, you'll be able to finish the longest course in 5 months.
Lessons are well structured, with each new lesson building upon the previous one. All lessons are full of cultural knowledge which motivates you to keep learning.
You'll find Pimsleur programs interesting if you aim to;
Improve your speaking skills.
Are not interested in grammar or verb conjugations.
All lessons involve listening to conversations. A narrator, who sets the tone, ensures that you can visualize yourself in the situation, hence you'll recall faster. The conversations are by native speakers- man and woman, while the narrator uses English. All you have to do is keep repeating words and phrases.
CLICK HERE TO READ MORE ABOUT PIMSLEUR
Michel Thomas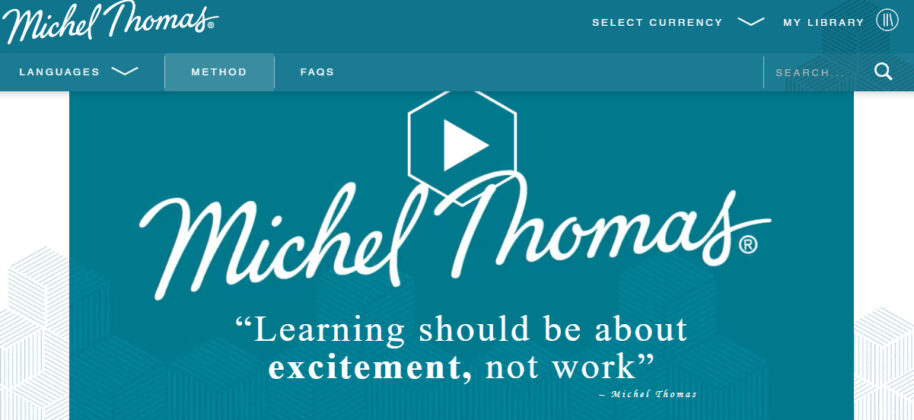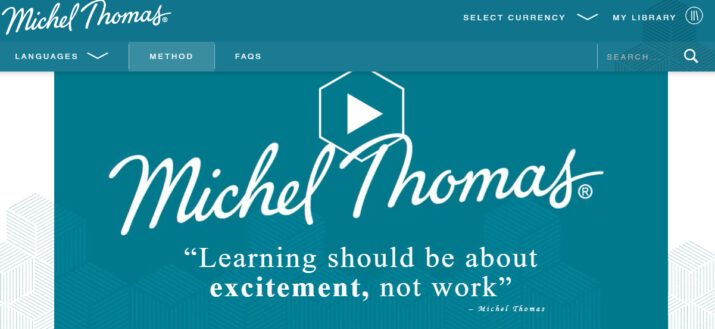 Just like Pimsleur, Michel Thomas uses audio lessons and podcasts to instruct any language. The courses can have up to 8 hours of content to help you become fluent in any language.
You'll find the course interesting if you aim to:
Learn correct pronunciation
Improve your grammar, vocabulary, and verb conjugations.
Learn without the need to keep writing and memorizing.
The primary goal is to train you through listening and saying it loud until you become a master.
Lesson structure
Whether you are learning French, Russian, or Arabic, you'll realize that each course has an instructor and two students at the beginning. The instructor is not necessarily a native speaker, just as I found out when learning Arabic.
The tutor lectures by asking questions with the students responding with both correct and incorrect responses. As the third student, you're expected to respond with the correct answer. The lesson duration varies from 5 to 10 minutes.
Having learned courses from Babbel and Baselang, I find Michel Thomas' teaching lacking in terms of all aspects of learning a new language. Some of the missing aspects are;
No resources to help you improve your speaking and writing skills.
No grammar and vocabulary lessons to help you become conversational within a short period.
That Michel tells students to blame the teacher is a turnoff. He clearly says,
"There are no poor students, only poor teachers".
The above quote is really uninspiring, and it's clear from the courses. He keeps on interrupting learners by answering his own questions rather than giving them time to respond.
Other instructors have some of the best courses on the platform. Some learners will find it uncomfortable to learn from someone who is always irritated at every wrong answer they provide.
Before parting with your money to buy any Michel Thomas course, kindly look at courses offered at Pimsleur, baselang, Rosseta stone, and Babbel, which are way better in terms of method of teaching and structure.
CLICK HERE TO READ MORE ABOUT MICHEL THOMAS
Conclusion
Learning languages from either Michel Thomas or Pimsleur is difficult. The reason is, it is hard to construct sentences on your own or even start a conversation until you have gone through all the materials. Their limited writing, reading, and grammar lessons cause this. However, if speaking is your concern, then Pimsleur is worth it.
I find it easier to learn from Pimsleur than Michel Thomas. His teaching methods, ideologies, and content are difficult for beginners. The only way to learn is by avoiding his courses. I hope he fixes this. I'd always recommend Pimsleur over Michel Thomas.
If neither of these courses appeals to you, I would strongly advise other students to look into other possibilities — there are plenty of excellent courses available. Look at.
If you are thinking of going to Spain, then Babbel Spanish is the best for you. Babbel provides you with state-of-the-art learning resources. You'll be able to practice reading, writing, speaking, and listening through interactive sessions. You can also evaluate yourself.
If you want one-on-one lessons with a good teacher, Baselang is a great course. With your own tutor, you can choose your own learning style, a native speaker as a tutor, and schedule to ensure you become fluent in a short time. You can also earn money by tutoring.
Olly Richard uses the storytelling method to train any new language. If you hate grammar classes but want to start a conversation, check out his YouTube channel to know more. In this language learning program, you can either sign up and choose a popular language from French, Spanish, German, or Japanese.
Good luck as you aim to listen and speak a new language. If you have used any of the different methods above, let us hear about it in the comments section.
CLICK HERE TO GET PIMSLEUR AT A DISCOUNTED PRICE
CLICK HERE TO GET BABBEL AT A DISCOUNTED PRICE
CLICK HERE TO GET BASELANG AT A DISCOUNTED PRICE
CLICK HERE TO GET I WILL TEACH YOU A LANGUAGE AT A DISCOUNTED PRICE
Like this Article? Subscribe to Our Feed!
Passionate in tech, software and gadgets. I enjoy reviewing and comparing products & services, uncovering new trends and digging up little known products that deserve an audience.