OppLoans Reviews: Compare Top Lenders of 2023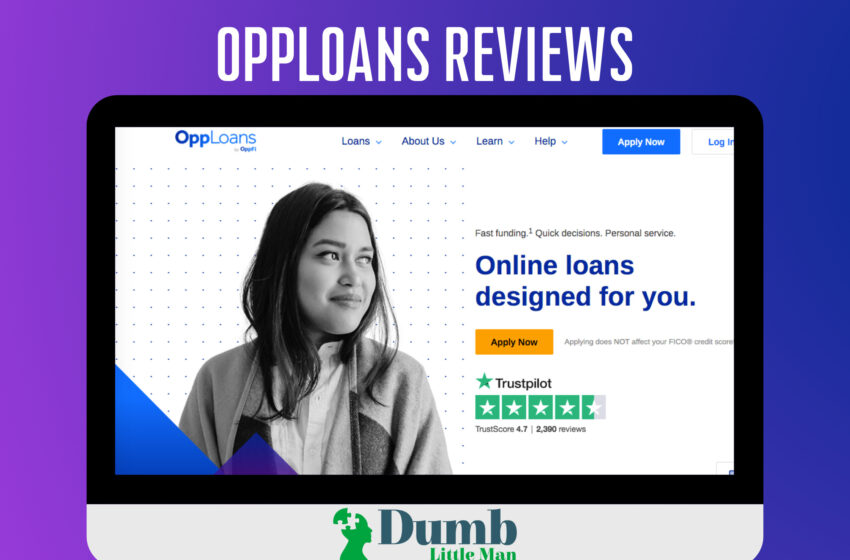 When people are in a financial bind, a title or payday loan can be a quick and easy option to receive cash. OppLoans offers a more consumer-friendly alternative to title and payday loans for consumers with weak credit. It is a Chicago-based online lender that offers personal loans to those with bad credit as an alternative to pricey payday loans.
OppLoans looks at alternative data and the borrower's work and income records rather than reviewing a borrower's credit ratings with the major credit agencies.
Opportunity Financial, or OppFi, offers OppLoans short-term installment loans. The main subject of the Borrowers of OppLoans is to have a credit check. The firm promotes OppLoans as a quick and inexpensive alternative to payday loans; interest rates can still approach 160 percent.
Card
Best For
Fee & Credit
More Details

Best For Bad Credit Quick Funding

APR:

59% to 160%

• Loan Amount:

$500 to $4,000

• Loan Term: 6 - 18 months
What is OppLoans?

OppLoans is based in Chicago, Illinois, and was created in 2022. Payday and installment loans are available to customers with bad credit through the lending platform. Opportunity Financial LLC or one of its providing companies originates the loans. However, the partners handle the loans created by OppLoans.
In Alabama, Georgia, Nevada, and Wisconsin, installment loans are only accessible. Loans created and underwritten by OppLoans' lending partners in 32 states across the South and Midwest are also available to applicants.
OppLoans is a company that specializes in online personal loans for those with terrible credit or no credit. Loan money amounts range from $500 to $4,000, and they determine the applicant's income, repayment capabilities, and creditworthiness. Borrowing requirements differ by state; Alabama citizens must loan at least $2,000.
OppLoans offers personal loans with durations ranging from six to 18 months and APRs ranging from 59 percent to 199 percent. In comparison to other lenders, this makes OppLoans a costly borrowing alternative.
Furthermore, OppLoans does not impose origination costs or prepayment penalties, even though its loan periods are short and its APRs are high. It also considers criteria other than the FICO score and credit history when making loan choices. While this may simplify customers to qualify for a loan, some alternative online lenders provide more affordable personal loans with better rates.
What are the Types of Loans Offered by OppLoans?
Consumers with bad credit or a restricted payment history can apply for online personal loans through OppLoans and lending affiliates. Personal loans, in general, may be used for a variety of things, and OppLoans' financial solutions are no exception.
While OppLoans' website does not specify banned loan purposes, many lenders do not allow borrowers to spend funds for post-secondary education or illicit activities.
You can utilize the funds from OppLoans can for the following objectives in general:
Automobile maintenance
Home improvements and repairs
Debt consolidation and credit card debt
Repayment of medical debt
OppLoans does not demand t applicants have a minimum FICO or Vantage Score. Rather, the corporation assesses each application using data from several credit agencies and bank records.
Personal Loans
OppLoans do not have a minimum FICO or Vantage credit score requirement for personal loan applicants. Rather, the lending platform uses data from Clarity Services and Experian credit reports to make its decisions. Experian subsidiary Clarity Services specializes in alternative financial services data.
This implies that the OppLoans application procedure does not need a credit check, making it easier for those with bad credit—or no credit history—to get a personal loan.
Payday Loans
Payday lenders can apply for a physical facility in a person's hometown, but you can only file OppLoans for the internet. Despite being an internet lender, OppLoans only works with 37 states. According to the Annual Conference of State Legislatures, personal loans are only available in states. Payday loans are usually available the same day, whereas OppLoans are available the following working day.
How does OppLoans work?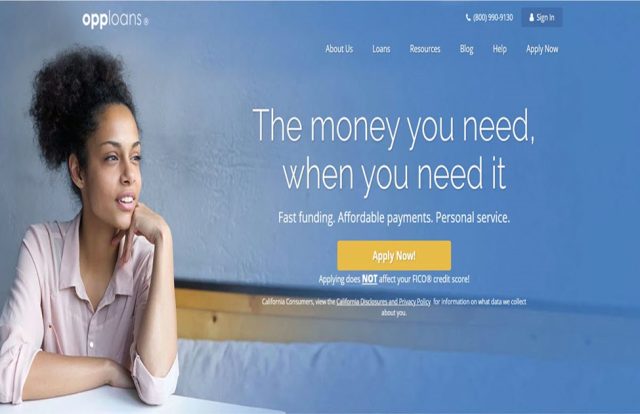 According to where the loan proceeds, OppLoans offers unprotected unsecured loans via FinWise Bank (Member FDIC) or Opportunity Financial LLC. An unsecured loan is a personal loan with no collateral, such as a house or automobile. You can utilize a personal loan for many different purposes.
Regardless of where you reside, loan periods range from nine to twenty-four months. Even yet, if you need money quickly and want a shorter loan period, OppLoans is likely a better choice than a payday loan. The annual percentage rate (APR) on many payday loans is as high as 400 percent.
Because OppLoans rates are much higher than many rivals, you may want to explore whether you are accessible for personal loans with lower APRs at other organizations. You might also check into credit cards for those with negative credit to see if you qualify for a reduced APR and better conditions. Weighing the benefits and drawbacks of your options can help you get the greatest bargain.
The majority grants the OppLoans loans in one business day, and you will most likely receive your cash the following business day, depending on when your application is accepted. With an OppLoans loan, you won't have to pay any costs, such as an origination charge, a late fee, or a prepayment penalty.
Click Here to Get Started With OppLoans.
What are the Features of OppLoans?

Let's consider the features!
TurnUp Program
OppLoans' TurnUp Program compares the offerings of 15 near-prime lenders to determine if borrowers are eligible for a better, lower-interest loan.
FICO Score Increases
OppLoans doesn't depend only on a cardholder's FICO score whenever it comes to lending choices. Still, it does send monthly reports to all three main credit bureaus—Experian, Equifax, and Transunion.
Customers who use OppLoans can improve their credit ratings by borrowing the money and generating frequent, on-time installments.
Customer Service
Current and potential OppLoans customers may reach the Opportunity Financial Customer Care Team via phone or email. From the first day of the week to the last, i.e., Monday to Friday, from 7 a.m. to 11:30 p.m. CT, and on weekends from 9 a.m. to 5 p.m. CT, the team is accessible. OppLoans also claims that its OppLoans Resolutions Group will answer client questions within ten working days.
OppLoans gives existing, and potential clients access to OppU in addition to its customer service staff. Financial literacy classes and materials are available on this platform to assist borrowers in better understanding their finances and the repercussions of borrowing.
Customer Satisfaction
Customer feedback on OppLoans is excellent, with a 4.7 out of stellar reputation across 2,300 Trustpilot ratings. Many borrowers praise the platform's simple application procedure and quick funding periods. Borrowers also praise OppLoans' customer service staff and the fact that this lender assists customers in obtaining cash while they are in financial distress.
OppLoans' high-interest rates and monthly installments highlight some critical evaluations. Other clients say they had problems with the application procedure and were denied a loan despite getting a pre-approval notification.
Account Management
Consumers of OppLoans may visit and update their financial affairs by going to the industry's webpage and clicking "Login." Borrowers may access their promissory note, verify their loan amount, and monitor their cash flow and forthcoming payment schedule using the online portal. Customers can also contact an OppLoans Advocate for financial help through the site.
OppLoanss Requirement?

If you have bad credit, OppLoans can be a viable option for you. There is no minimum credit score, and the firm specializes in lending to those who aren't often qualified for loans from conventional lenders. However, you should be aware that the poorer your credit score, the higher your APR may be – and OppLoans rates might reach 160 percent.
Minimum Credit Score
Unlike other personal loan firms, OppLoans does not need a minimum credit score to apply for a personal loan. Nevertheless, keep in mind that your interest rate will be greater if your credit score is poor.
When you check your loan rates with OppLoans, you won't influence your credit score because the firm simply makes a soft credit inquiry when retrieving your credit report. A soft credit inquiry isn't visible to others and does not affect your credit score. OppLoans will not conduct a hard credit investigation throughout the loan approval procedure.
How to Apply for OppLoans?

Prequalifying for a personal loan, completing a formal application, and waiting for loan approval are all common steps in the process. To qualify for a personal loan with OppLoans, follow these steps:
Complete your application
You'll need to supply basic information like your name, contact information, date of birth, Social Security number (SSN), and current income to apply for an OppLoans loan. Also, you will need to know how much you make every pay period, how often they pay you, and whether you're self-employed or employed traditionally for the income section and provide your financial details.
Take a look at your offer.
If you are authorized, OppsLoans will provide you with the conditions of your loan. Your state of residency decides the size of your loan. The income and repayment capabilities and your creditworthiness also add-in.
Complete the loan
Finalize and sign the loan documentation after you've reviewed your offer. This will start the process of disbursing your loan cash.
Begin to make payments
To ensure on-time payments, login into your account and view your payment due date after you get your cash.
How much does OppLoans Cost?

There are no application charges, origination fees, or prepayment charges with OppLoans. With APRs already so high, the lack of fees might be a welcome respite. According to the state where you live, the lender may levy a late fee or a nonsufficient funds (NSF) fee.
Click Here to Get Started With OppLoans.
Who is OppLoans Best For?
OppLoans is a provider for those with bad credit who need money fast but don't want to pay the exorbitant interest rates. While the interest rates on OppLoans are substantially higher than those on conventional loans, payday loan costs can be comparable to APRs of up to 400%.
OppLoans additionally records your payments to all three credit agencies so that they will appear on your credit report, excluding payday or title loan providers. Your credit score will steadily improve if you complete your payments on time. This may make it simpler to qualify for a lower-rate product, such as a typical personal loan, in the future.
OppLoans Pros and Cons
👍 PROS
► No minimum personal credit necessity
OppLoans does not consider candidates with a minimal credit score. As a result, it's a viable choice for bad credit borrowers or restricted payment history.


► OppLoans evaluates applicants based on more than just their credit score
Rather than relying simply on traditional variables like a FICO Score, OppLoans looks at alternative financial data like Clarity Services and Experian. This implies that a regular credit check does not influence the applicant's credit score.


► Quick funding
After application verification and approval, borrowers may get their loan cash as soon as the following working day.
👎 CONS
► High annual percentage rates
OppLoans is for customers who aren't eligible for reduced rates from many other providers. Annual percentage rates (APRs) range from 59 percent to 199 percent for customers.


► Limited loan quantities
OppLoans' maximum loan amount is $4,000, much less than the highest loan balances offered by other creditors.


► Loan periods are limited
OppLoans' loans are only available for 6- to 18-month maturities. Other lenders might be able to provide more liberal lending conditions.
OppLoans Compared to other Lenders
| Lender | Est. APR | Loan Amount | Loan Term | Min. Credit Score |
| --- | --- | --- | --- | --- |
| OppLoans | 59% to 160% | $500 to $4,000 | 6 - 18 months | Not Specified |
| BadCreditLoans.com | 5.99% - 35.99% | $500 - $10,000 | 3 months to 7 yrs | Not specified |
| Fast Capital 360 | 6.25% - 10% | Up to 5 million | 3 months - 25 years | 500 |
| ZocaLoans | 7.95% | $200 - $1500 | 6 - 12 months | Not specified |
Click Here to Get Started With OppLoans.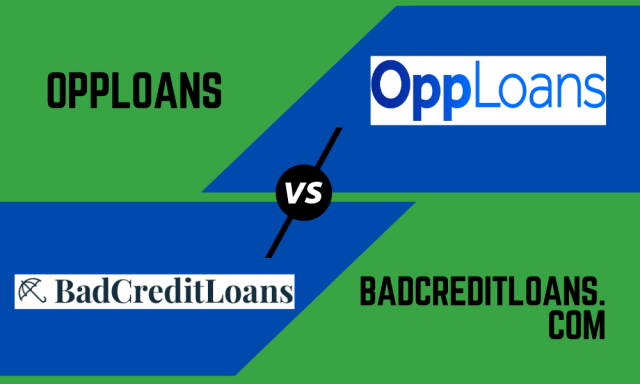 OppLoans specializes in online personal loans for those with terrible credit or no credit. However, Bad Credit loans.com offers personal loans, auto loans, debt consolidation loans, business loans, student loans, and mortgages.
OppLoans does not consider candidates with a minimal credit score. As a result, it's a viable choice for bad credit borrowers or restricted payment history. Besides this, Bad Credit loans.com is accessible all the time, seven days a week. Therefore, people with poor credit can submit a request anytime they need it or want it.
>> Read the Full Article Review: BadCreditLoans.com Reviews • Personal Loan For Low-Credit
OppLoans vs. SoFi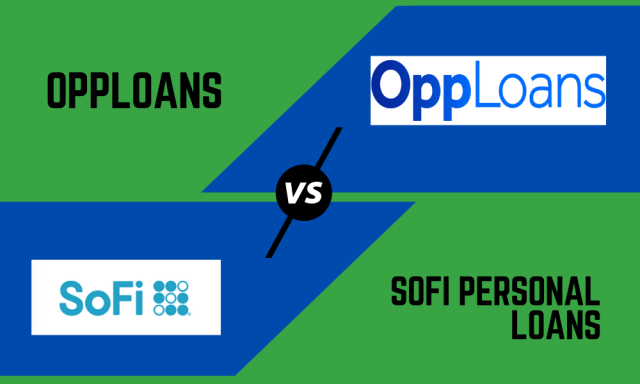 OppLoand offers loans for bad credit. Customers who use OppLoans can improve their credit ratings by borrowing the money and generating frequent, on-time installments.
SoFi offers a loan amounts range for excellent credits. While the minimum score required is 680, the high-qualified applicants may score big loan amounts and the lowest interest rates.
>> Read the Full Article: SoFi Personal Loans Reviews: Compare Top Lenders of 2023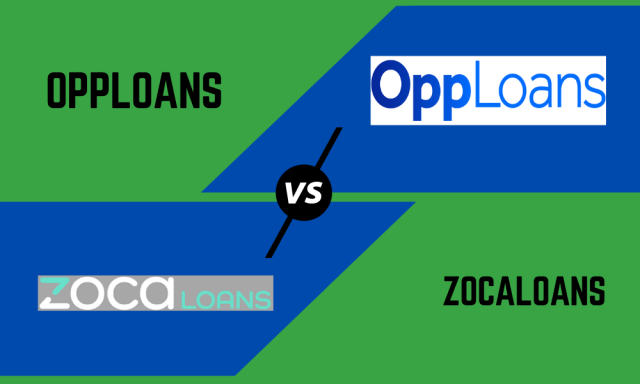 Opploans personal loans are among the best financial institutions to offer loans originated with direct deposit and poor credit. Besides this, if you are looking for short-term financing and don't have enough credit, ZocaLoans will provide you with excellent benefits.
OppLoans is a provider for those with bad credit who need money fast but don't want to pay the exorbitant interest rates. ZocaLoans also enable borrowers to make a pre-approval application.
Besides this, OppLoans are regulated by three major credit bureaus and offer effective loans amounts and monthly payments. However, ZocaLoans enable users to assess the APR rates, potential fees, and origination fee.
Final Verdict
It might be difficult to secure a personal loan if you have terrible credit. OppLoans, on the other hand, is an online lender specializing in dealing with people with terrible credit, providing them with a viable alternative to predatory short-term loans.
For applicants with bad credit or limited credit history, OppLoans may be a viable personal loan choice. This is because the platform makes loan decisions based on various criteria.
Opploans personal loans are among the best financial institutions to offer loans originated with direct deposit and poor credit. Besides this, it is regulated by three major credit bureaus and offers effective loans amounts and monthly payments. With a decent loan terms range, origination fee, minimum credit score requirement, and installment loan amounts, it is one of the fast funding loan options.
OppLoans FAQs
Do you need a bank account to apply for OppLoans?
The first step in applying for a loan through OppLoans is to fill out our online loan application. To be eligible for a lending product through OppLoans, potential borrowers must be 18 years or older. It would help if you were a resident of one of the states we operate.
Does an OppLoan affect your credit?
When you are applying for personal loans through OppLoans, the lender does not check your credit history with the three leading credit bureaus are Equifax, Experian, and TransUnion. But it depends upon different credit reports from Clarity Services, a small part of Experian.
How does OppLoans verify income?
Proof-of-income consists of a recent bank statement disposing of regular deposits or government benefits award letters. Child support, alimony, and separate maintenance incomes shouldn't be revealed if you don't wish to have it dependent based on your ability to repay.
Click Here to Get Started With OppLoans.
Like this Article? Subscribe to Our Feed!
John is an avid researcher and is deeply passionate about health and finance. When he's not working, he writes research and review articles by doing a thorough analysis on the products based on personal experience, user reviews and feedbacks from forums, quora, reddit, trustpilot amongst others.