SoFi Personal Loans Reviews: Compare Top Lenders of 2023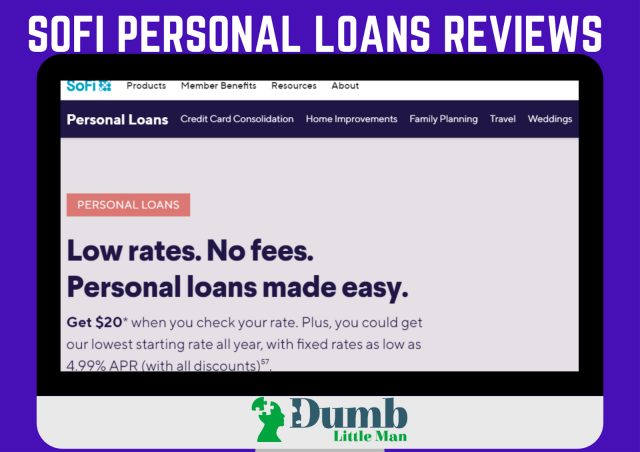 SoFi Personal Loans are convenient for having no service fee and lower rates. They can help customers in consolidating debt, financing a big purchase, or offering a deal with an unexpected expense.
Higher possibility to qualify and helpful in employment protection are some of the perfect reasons to get started with SoFi. Besides personal loans, SoFi also offers other financial products including various loans, investing and banking services, and credit cards.
With these financial services, SoFi is available across the US via online access. Let's know how you can start with SoFi Personal Loans in this SoFi personal loans review.
Overview: SoFi Personal Loan Review
Card
Best For
Fee & Credit
More Details

Best For No Fees and Low APR

APR:

12.99% - 24.99% variable

• Loan Amount:

$5,000 – $100,000

 • Loan Term: 2 to 7 years
What is SoFi Personal Loan?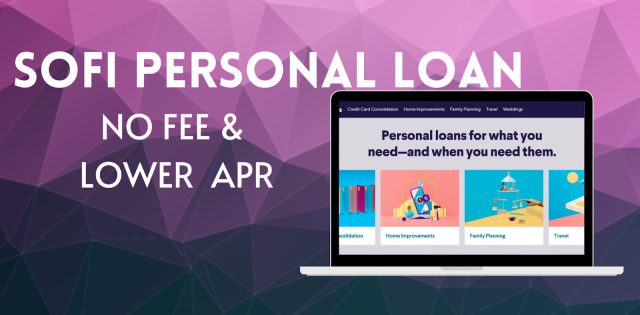 Established in 2011 by Standford Business School students, SoFi is an American online personal finance company. It offers personal loans, mortgages, student loan refinancing, credit cards, investing, and banking services.
SoFi personal loan is a quick and easy loan solution for any kind of personal use. It offers loans including home improvement loans, credit card consolidation loans, family planning loans, travel loans, wedding loans.
SoFi also offers multiple-loan offers with an easy online form. It won't affect your credit score while applying for and receiving pre-qualified offers.
It has no origination fees, no pre-payment fees, and no late fees. You can borrow up to $100,000 personal loans for 7 years with low rates ranging from 4.99% APR to 19.63% APR.
SoFi is available online via mobile app and official website so that you can manage your account from anywhere. Also, they provide live customer support 7 days a week.
What other Loans Offered by SoFi?

Besides personal loans, SoFi offers other loans in three categories.
Student Loan Refinancing
SoFi is the Best Student Loan Refinance Company providing 375,000+ students for $30 billion+. It offers Student Loan Refinancing for working graduates at fixed 2.49% – 6.94% APR and variable 1.74% – 6.59% APR.
They also give a refinancing bonus of up to $1,000 to students. Students also leverage the Guaranteed Rate Match that allows students to have a lower or competitive rate with a $100 bonus.
This loan section categorizes into Medical Resident, Parent PLUS, Medical Professional, Law, and MBA Refinancing.
Private Student Loans
SoFi also claims to be the Best Private Student Loans of 2023. SoFi Private Student Loans includes Undergraduate Student, Graduate student, Law and MBA, Parent Student Loans.
SoFi also provides a perk worth $266 on organizational tools, writing assistants, and an in-depth financial course. This way, its partnerships with Evernote, Grammarly, and Courser helps students secure better scores.
Home Loans
Under Home Loans, SoFi offers services including Mortgage Loans, Mortgage Refinance, Cash-Out Refinance, and Home Equity. Whether you're buying a new house or need a Home Equity loan, you can visit at SoFi.
SoFi allows multiple tenure options for mortgages and various fixed rates accordingly. They also offer a $1000 bonus if you're about to take a home loan or refinance.
Auto Loan Refinance
Finally, SoFi also provides auto loan refinance at a lower rate. Even if you have bad credit, you can win some lenders via SoFi.
For this, you need to fill out a short form which is free of cost. Based on the information, you can compare the auto loan options from available lenders. After selecting loan offers, you can get final approval.
How does SoFi Personal Loan work?
Getting personal loans from SoFi is much easier than expected. All you need to do is to submit an online application and wait for 2 minutes to get a result.
Once your application is accepted, the fund will be deposited into your account in 4 to 15 days. SoFi offers unsecured personal loans so you needn't hand over the collateral.
SoFi Personal Loan doesn't include any fee and they're flexible in payment. You can pay earlier than the expected date and there'll also be no issue if you make a late payment.
You can borrow a minimum of $5000 and a maximum of $100,000 personal loan according to your need. After that, you can clear your loan in 2 to 7 years based on the plan you've selected.
What are the Features of SoFi Personal Loan?

Customers can leverage the deal-breaking features and offer available at SoFi Personal Loans.
No Fee
Customers are free from considerable fees including an Origination fee, Pre-Payment fee, any Late Payment Fee. This helps customers feel relaxed and save some money for payment.
Bonus and Discount
SoFi offers a $20 bonus if you check your rate online. Besides, you can get a 0.25% AutoPay discount.
Flexible Payment Date
SoFi Personal Loan is also known for its flexible payment facility. You can choose a plan and pay off your loan whenever you want.
There will be no fee or charge if you make payment earlier or late. This helps customers enjoy freedom in loan concession.
Unemployment Protection
If a customer loses his job and doesn't have the current income to pay, SoFi helps here. They pause the payment for some time until the customer finds a new job.
After finding the job, you can continue your payment without having any penalties. This feature is really helpful when you're about to be broke.
Online Access
SoFi has its own mobile app and website through which the customers can manage their loans easily. Besides, customer care provides live support 24 hours through these online access tool.
Sofi Personal Loans Requirement?

Each lender has its own underwriting requirements which start from an applicant's credit profile. So, do check the following requirements if you want to qualify for SoFi personal loans.
The US Citizenship
SoFi personal loan is available in all states of the US, except Mississippi so, you need to be a US citizen or visa holder. Also, you must be eighteen to apply for SoFi personal loan.
Job and Income
SoFi checks if the applicant has a current job. If not, the applicant must have a job offer that may start within 90 days.
Besides, employment, an alternate source of sufficient income is also fine. They require the applicant to have an income of at least $45,000.
Besides, SoFi also evaluates how much income the applicant saves after the monthly expenses. So, an ideal applicant can have an amount of at least $1,500 in free cash flow every month.
Good Credit Score
A minimum FICO credit score of 680 is needed to qualify for SoFi personal loans. However, all lenders don't approve the loan application even if the applicants meet this credit score. So, the successful applicants secure a 700 credit score.
Requirements of Co-applicants
SoFi also allows co-applicant who will become co-borrower if the application is approved. If you don't have the perfect credit or required credit, you can select a partner with you.
For this, the co-applicant must live at the same address as the primary applicant. The co-applicant also needs to provide information regarding employment, income, and education.
The addition of co-applicant can take 1 week to 2 weeks so you need to plan early. The co-applicant or co-borrower can't be removed from the loan even if the primary applicant has improved the credit score.
How to Apply for Sofi Personal Loans?
Without making haste, check the following steps which can help decide wise SoFi personal loan.
Figure Out the Loan Amount and Term: Before you jump into taking the haste loan, make sure you have selected the calculated amount and planned timeframe for repayment. The long timeline means little monthly payment but a large interest rate.
Prequalify: You can check your APR rate via mobile app and official website. This is a prequalifying step that needs soft credit pull and it won't affect your credit score.
Submit Your Application: At this stage, you need to fill an application form providing documentation such as photo ID, proof of address, and proof of income. They also require a hard credit report from one or more consumer reporting agencies.
Await Approval: The loan application can take 2 to 4 days on average. But if you're self-employed and have complex income history or have co-borrowers, this can take up to 15 days. Till then, you need to wait.
Sign Loan Agreement and Receive Fund: Once the application is approved, you need to sign an agreement and can receive the loan fund. After funds have been disbursed, they leave the first payment date in the final disclosure. This way, you can receive a required loan and start repaying it.
How much does SoFi Personal Loan Cost?

SoFi personal loan doesn't have any fee or charge for providing the needed loans to you. They have excluded the charges such as Origination Fee, Pre-Payment Fee, and Late Fee.
However, you need to adhere to APRs between 4.99% to 19.63% with autopay if you have taken personal loans. The variable APRs depends on the amount of loan and tenure you've selected.
Maximum interest rates are considered lower in many US states: Alaska, Colorado, Kansas, Maine, Oklahoma, South Carolina, Connecticut, Hawaii, Illinois, Texas, Virginia, and Wyoming.
Who is SoFi Personal Loan Best For?
SoFi personal loans can be the best for personal, family, and household purposes. If you want to large expenses including expensive purchases or home improvements, this will be a wise choice.
It's good for consolidating debt or paying for unexpected expenses that need the amount ranging from $5000 t0 $100,000. Besides, SoFi can be a better option for those who prefer to apply and manage their loan online.
Customers who have good or excellent credit with a 690 FICO score or higher can think of joining SoFi. Also, those who need additional help with a career or financial decisions can opt for SoFi personal loans.
SoFi Personal Loan Pros and Cons
👍 PROS
► Bonus and Discount: Checking your rate gives a bonus worth $20 which is good encouragement. Besides, You can receive a 0.25% AutoPay discount after setting autopay. If you're a member and have multiple financial products, you can rate the available discount.


► Flexible payment date: You've freedom in repaying the loan. You can change the monthly.


► Unemployment protection: If you're temporarily out of your regular job or income, SoFi can pause your payment due for some time. This way, you can save yourself from being broke.
👎 CONS
► Not available to residents of Mississippi: SoFi is available in all states of the US except, Mississippi. So if you're from Mississippi, you need to find a personal loan from elsewhere.


► Higher Credit Score Required: SoFi require a good to excellent credit score to qualify for the loan. So, customers who have bad credit history may feel disappointed.


► Loan for No Less Than $5000: SoFi personal loan starts from $5000 which can be a huge amount for customers. They also need to focus on a small amount through which budget spending is possible.
SoFi Personal Loan Compare to other Lenders
| Lender | Est. APR | Loan Amount | Loan Term | Min. Credit Score |
| --- | --- | --- | --- | --- |
| SoFi | 12.99% - 24.99% variable | $5,000 – $100,000 | 2 to 7 years | 680 |
| BestEgg | 5.99 - 29.99% | $2,000 – $50,000 | 3 to 5 years | 640 |
| LightStream | 2.49% – 19.99% | $5,000 – $100,000 | 2 to 7 years | 660 |
| PayOff | 5.99% – 24.99% | $5,00 - $40,000 | 2 to 5 years | 680 |
Best Egg Personal Loan offers loan amounts ranging from $2,000–$50,000, which can be helpful for low amount borrowers. Like SoFi, it also provides direct payment to creditors with the debt consolidation loan.
However, Best Egg charges an origination fee whereas SoFi doesn't have any fees. Though Best Egg has a lower credit score requirement (640), it doesn't have a rate discount for autopay.
Unlike Best Egg, SoFi offers employment protection and unsecured personal loans. It also has a longer loan term than Best Egg, which helps customers who struggle to manage expenses.
SoFi and LightStream are similar in many services while offering personal loans. No fees, rate discounts for autopay, and competitive rates are found in both personal loan lenders.
LightStream can be helpful in qualifying for the loan as it has a lower credit score requirement than SoFi. However, it has no option available to pre-qualify on its official website.
On the other hand, SoFi provides direct payment to creditors with the debt consolidation loan. Besides, it includes features like employment protection.
>> Read Full Review: LightStream Personal Loan Reviews
SoFi Loan vs. PayOff
The payOff can be beneficial for customers who have low as a credit score of 600 to qualify for the loan. Like SoFi, PayOff also allows customers to change the payment date and offers direct payment to creditors.
Though PayOff doesn't include prepayment or late fees, it can charge an origination fee. Besides, it doesn't have rate discounts for autopay.
On the other hand, SoFi offers much lower APR rates than PayOff, with co-sign loan options. Besides, SoFi is loaded with many facilities including a checking rate bonus, unemployment protection, and a mobile app.
Final Verdict
SoFi Personal Loans offer fee-free loans of up to 100000 for personal purposes including expensive purchases and consolidating debt. It has a 4.99-19.63% variable APR, which is lower than competitive lenders.
If you have good or excellent credit and expect a beginner loan amount of $5000, you must apply for this personal loan. SoFi also offers a checking rate bonus, unemployment protection, and a mobile app.
SoFi Loan FAQs
Is SoFi a legitimate lender?
Though SoFi isn't a bank, it has earned an A+ rating with the Better Business Bureau. Besides, it has 2,500,000+ members collected and $50 billion+ loans funded so it is a legitimate lender.
Is it hard to get a personal loan with SoFi?
It all depends on your credit. You need to secure a minimum credit score of 680 to qualify for a SoFi personal loan.
How long do SoFi personal loans take to fund?
SoFi personal loan applications take on an average of 2 to 4 business days to get approved. Thereafter, another 6 to 11 days can take for getting a loan funded into your account.
Altogether, you can get loan fun within 6 to 15 business days. It all depends on the complexity of your loan information.