33 Best Online Spanish Classes in 2023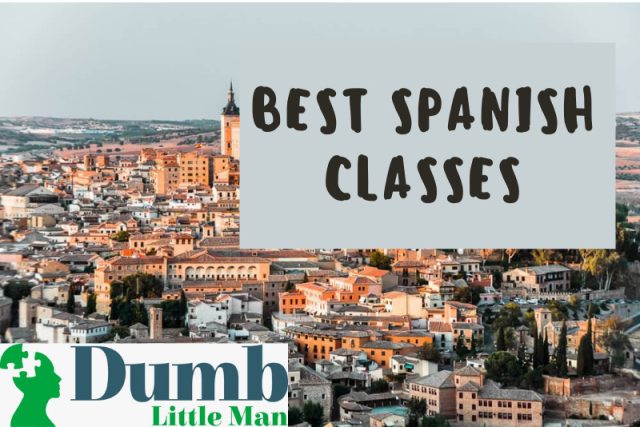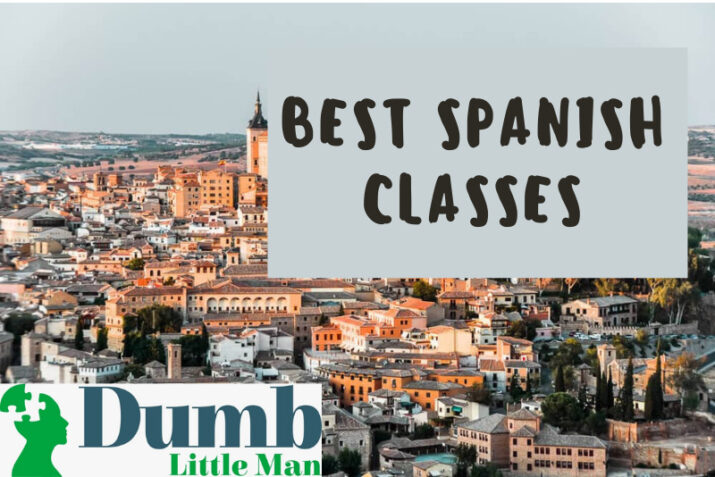 Currently, the Spanish language is arguably one of the most popular foreign languages in the world.
This is why more people are searching for 'online Spanish courses' every other day – may be a journey to Latin America, and Spain is on their shop cart list.
If you want to learn it as a second language read this blog till the end. We've summed up the 33 best online Spanish courses platforms word by word that can help you learn Spanish online like a Pro.
33 Best of Online Spanish Classes
Table of Contents
I Will Teach You a Language
Baselang
Pimsleur
Coffee break Spanish
News in Slows Spanish
Spanish VIP
Rosetta Stone
Lingoda
Babbel
The Foreign Service Institute
Destinos
Unlimited Spanish
Lingodeer
Memrise
1001 Reasons To Learn Spanish
Language Transfer
Duolingo
Mango Language
Fluenz
Assimil
Wlingua
Spanish With Paul
Chatterbug
Verbling
Fluencia
Spanish Dict
Live Lingua
Ouino
Busuu
Spanishpod101
Show Time Spanish
Insta Spanish Lessons
Leaarn Spanish With La Casa Rojas

Description
On this platform, you'll find everything that the Spanish course entails. The lesson structure is simple as it incorporates learning through storytelling. In a few days, you'll learn new words and phrases in the Spanish language.
Pros
The learners enjoy a different learning style and will feel overwhelmed being taught by native speakers from whom they will listen and practice their language skills.
Secondly, their courses are designed to invoke your passion for learning advanced Spanish as they underline keywords and phrases along with their texts. Underlining texts challenges learners to learn more about the language and possibly tackle the underlined skill.
Cons
The lessons are designed in story-structured courses so it might not be convenient for students who doesn't want to study for long hours.
Likewise, the courses do not focus on your grammar skills as the focus is more on speaking classes.
Click Here To Read More About I Will Teach You a Language!

Description
This free online language course is a perfect match for you if you're looking to learn unlimited words and phrases in Spanish grammar.
Baselang offers a unique online course curriculum where a student gets the privilege of interacting with a native teacher on a one-on-one platform. Begin your online course from the comfort of your choice
Pros
Baselang kicks off your learning urge by offering the following advantages;
You're free to book programs.
It offers one of the quickest ways to learn Spanish – as grammar and vocabulary are integrated homogeneously.
Offers free unlimited time to access their platform to students; hence you can spend unlimited time learning.
Students are free to interact with tutors after each lesson.
Cons
The course outline of Baselang is just like hiring a tutor and it will not work for you if you don't have free study time after attending a class.
Click Here To Read More About Baselang!

Description
Pimsleur is one of the most popular learning language platforms, which was developed by a linguist and a statistician. It majorly incorporates learning through audio lessons around the world. In addition, its classes focus on learning vocabulary that is correlated to Spanish learner's language.
Pros
You don't need to take notes in Pimsleur classes as most of the lessons are audio. These audio lessons stimulate students' minds as they stay alert while listening to Spanish lessons which in return improves the skills used to pronounce the new language.
Pimsleur utilizes native languages skills to teach beginners on its platform and for this reason, it sources tutors from native countries.
Cons
Pimsleur overlooks students' speaking, reading, and writing skills. Just listening to audio does not improve your Spanish language skills.
Click Here To Read More About Pimsleur!
4. Coffee Break Spanish

Description
Coffee break features Spanish language podcasts. On this platform, lessons are called episodes and each episode contains audio lessons of less than 20 minutes.
The new language is divided into four lessons that depict different learning skills.
Group one focuses on words and phrases that will give you a kick-start to begin your online learning journey, group two focus on basic grammar skills such as verb tenses and gives you vocabularies that you may need to use daily routine. The last two seasons weave in advanced skills like complex grammar and colloquial.
Pros
Coffee Break Spanish platform is easy to use as it incorporates a manageable routine for practicing languages.
The best part of this course is that it is self-paced which means you're free to reschedule your class if you're busy to attend it on time.
Cons
It's endowed with a lenient Spanish tutor compared to other sites, which means you may take longer to learn the Spanish language than on other platforms.
Secondly, the classes do not focus on written Spanish, which ends up hurting your writing skills.
Click Here To Read More About Coffee Break Spanish!
5. News in Slow Spanish

Description
Currently, News in Slow Spanish is one of the best sites that you can choose in pursuit of your online Spanish course. It offers its lessons through reporting the current events in Spanish but at a relatively slower rate.
Moreover, it is a comprehensive and fun way of teaching that helps improves student-teacher relationships.
Pros
News in Slow Spanish offers material in three categories; the beginner, intermediate, and advanced levels.
All these groups are assigned to different Spanish speakers which enables a student to keep practicing the language with dedication.
Cons
News in Slow Spanish entails generally advanced-level classes that are not productive enough for beginners.
Likewise, it has a general user interface that is not so user-friendly and may discourage learners from practicing Spanish.
Click Here To Read More About News in Slow Spanish!
6. Spanish VIP

Description
Spanish VIP works as a partner for you rather than a teacher; thus enables you to speak Spanish more confidently. Furthermore, this online course focus on enhancing the critical conversational skills that will encourage you to grow progressively.
Pros
Classes are more convenient as they happen online and are available when you're available, too, which is a huge milestone for busy individuals.
Spanish VIP provides Latin American teachers from Venezuela and Colombia who will help you enhance your Spanish-speaking skills.
Cons
Spanish VIP certification for online Spanish Classes is not recognized in all international spheres.
Also, there is a common use of slang words by tutors which may end up confusing the learner.
Click Here To Read More About Spanish VIP!
7.Rosetta Stone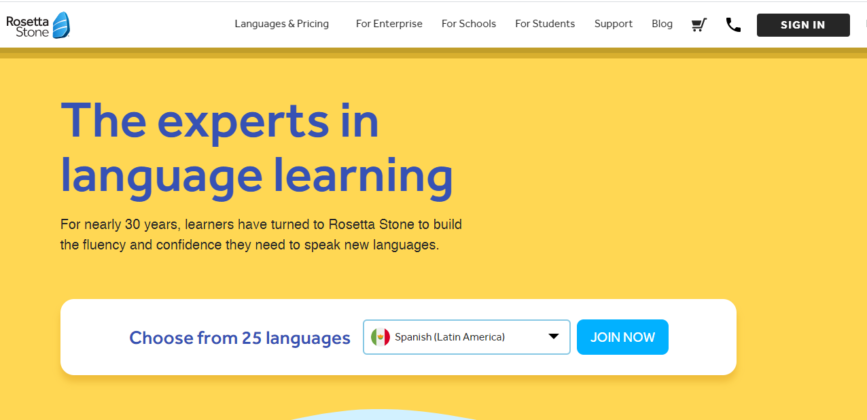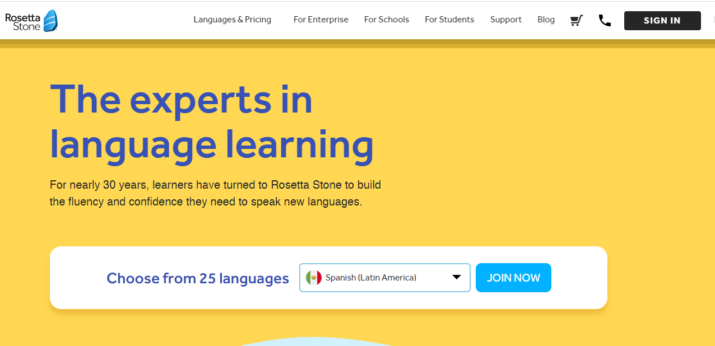 Description
Rosetta is one of the biggest languages platforms that offer different Spanish language courses.
Rosetta works on the belief that there is an easy way of learning Spanish without visiting a Spanish-speaking country and prides itself in its vast experience. You will be surprised to learn that this platform has produced over 20 million learners around the world.
Pros
It contains a fully immersed curriculum – designed to keep stimulating you to research and know more about Spanish.
It has a very responsive user interface that enables individuals to access material at a self-paced level and on their choice.
It has pronunciation software that helps a learner in pursuit of fluent speaking.
Its course outline has a unique way to learn as it focuses on real-life situations, which enable you to relate your Spanish language skills.
Has a couple of patient native teachers who can help students at individual levels
You're likely to speak like a native speaker after taking a class or lesson with them.
Cons
Its web utilizes the use of bots which means you may not get the exact feedback in online Spanish transcription. This may have adverse effects on your learning efforts.
It has no centralized review resources nor quizzes that a learner can use to measure his/her level of skills at a particular time.
Its material doesn't recognize linking languages, thus making it difficult for a learner to learn a new language.

Description
How about using a website that has 30 years of experienced teachers?
Lingoda is one of the best online Spanish course teacher you can consider and it is regarded by many excellent European websites where free Spanish course classes are given for free.
The class is well known for its tests which include reading, listening, comprehension and grammar. In addition, it has two advanced levels. Theoretically, most advanced learners who could pass Latin American Spanish should pass European tests, with online few European cultures as well. This simply means it's suitable for individuals who have attended a Spanish course or class before.
Pros
With Lingoda, learning is done at your own pace. It means you need not worry about fixed schedules; learn anytime you want, in your comfort too.
Moreover, you can choose materials that you want at every step in learning Spanish grammar.
Other important features that are incorporated by Lingoda for Spanish learners include; grammar checker, vocabulary catalogs, podcasts and different niches of using Spanish for practice and communication skills.
Cons
Though one of the best online Spanish courses, Lingoda is relatively expensive to study.
To learn Spanish under this platform you have to go an extra mile in research (post-class) which may be an inconvenience to many students.

Description
Babbel offers Spanish courses designed for intermediate and beginners in mind. Its material is built around quiz styles to reinforce what is being learned. Babble is one of the cheapest platforms you can utilize to complete an online Spanish course.
Pros
It offers basic summarized vocabulary guidelines
It's good for practicing difficult grammar
It's relatively easy to use
It comes with a free trial that you can utilize
Offers a couple of free audio lessons to boost your Spanish classes.
Cons
-It fails to develop conversational skills
-Lacks resourceful material
10. The Foreign Services Institute (FSI)

Description
This is a free online Spanish course offered by the Us government touts federal employees. So, it's a great chance for you to take advantage of the class and learn your online Spanish course with it.
It comes in 42 lessons, where 25 lessons are divided into the first volume and the rest into the second volume.
Pros
Each lesson have corresponding Spanish classes audio track that native speakers have recorded.
Each lesson is blended by speaking, listening, and writing.
It points out similar words in its passages and transcripts to ensure quality grammar is established and instilled in learners.
It has recorded dialogues that help the learner practice content structure efficiently
Spanish lessons' ensure that quality is achieved throughout your training.
Cons
Its Spanish courses contents at times entail old words that lack meaning in the current world that may end up confusing learners
Some questions in the instruction manual lack answers, which might be quite discouraging to learners
11. Destinos

Description
Destinos is an outstanding video instructional series presented with an educational foundation.
It periodically airs Spanish speaking course on PBS television and incorporates 52 hours episodes in its entire Spanish course. The episodes teach Spanish comprehension skills mainly through speaking and listening.
Likewise, it's blended with entertaining storylines to help you perfect your Spanish language fluency.
Pros
The preceding episodes recap previous episodes, which enables one to develop language mastery skills and assist learners to learn Spanish online.
Destinos has additional free onscreen images and key points in vocabulary and grammar, allowing one to learn at self-pace.
We must say that the 52 episode Latin American Spanish series continues to expose everyday dialogue and idioms that will help you grow your grammar without even noticing.
Cons
Destinos is not recommended for faster language practicing if you have a tight schedule because you have to sit and watch all episodes.
Moreover, it lacks teacher-student interaction which means you cannot ask questions and get responses during the course.
Click Here To Read More About Destinos!
12. Unlimited Spanish

Description
Unlimited Spanish offers online Spanish courses in podcasts. Majorly, they help you practice your listening and speaking skills through high-quality audio.
Pros
Here, you'll also improve your writing skills as teaching is cemented with mini-stories and transcripts for each podcast episode – rather than the boring exercises on other platforms. Likewise, instead of continuous analysis of Spanish courses, this platform employs incredible proven techniques that make class learning enjoyable.
Besides being a self-paced course, it focuses on online spanish exercises that can help you master grammar and vocabulary quickly.
Also, Unlimited Spanish offers you exclusive free online lessons on top of each five pillars bought.
Cons
Some of the translations are confusing, which may discourage the learner from learning a new language.
It over focuses on advertising itself rather than delivering enough content. The courses contents are relatively shallow.
It requires serious students who will have time to do additional research and practice speaking. Otherwise, you may fail to learn Spanish within your planned time frame.
Has a free online placement test that is used as a measuring scale of your lesson success.
13. Lingodeer

Description
Lingodeer will teach you the entire Spanish language better than other platforms. Its course offers grammar lessons in a simple and fun way.
Pros
Lingodeer employs traditional language teaching methods that help to fill your understanding gaps. Moreover, it has a unique way to teach Spanish; a story mode structure, where you'll listen to native Spanish tutors blended with free exercises and transcriptions where you can practice what you've learned.
In a few days, you will learn sentence structures and pronunciation like a Pro.
Other benefits include:
Multiple choice questions, matching words, and non-Latin scripts that help you learn at self-pace.
Lastly, it is affordable in comparison to other websites.
Cons
Lingodeer contains unvaried and repetitive quizzes/lessons that may be boring to learners.
Its website is not responsive to all devices; key features end up missing in some devices.
14. Memrise

Description
Memrise is an excellent website for those starting to learn Spanish. It has provisions of vocabulary that a learner can use in grammar concepts using unique texts named workout.
Pros
Despite being an online learning tool, Memrise encourages the learner to connect life experiences to learn Spanish.
Why memrise? memrise uses ' mems' created by online Spanish learners that associate with the new vocabulary you're learning. If none of the vocabularies fancies you, you're always free to create others.
Memrise also has audio Spanish lessons files that feature native speakers. These audio files come with a couple of dialects to make speaking skills easier as a freelance language learner. Let's be frank, repeated hearing, writing, or even seeing words or phrases becomes solid in our minds after some time and that's what Memrise does.
Lastly, memrise integrates both old and new vocabulary to facilitate ease of memory in learning and offers various online features to appeal to its users.
Cons
Memrise has the following pitfalls:
It has repetitive sets of exercises that limit the quality of its online course. As a result, it leads to boredom and may crush your plan of studying advanced Spanish.
Click Here To Read More About Memrise!
15. 1001 Reasons to Learn Spanish

Description
1001 Reasons to learn Spanish is a Spanish-language learning website that was developed by Juan Fernandez.
It offers online Spanish courses through podcasts and facilitates free vocabulary development resources that will help a learner to improve their writing skills. Thanks to his Spanish language teaching profession.
Pros
He is specialized in using animated props and gestures to improve your Spanish course's understanding. Moreover, he speaks at a relatively slow speed for you to grasp the basics of the Spanish language.
Occasionally, he offers a free 30-day course to help intermediate learners to grasp Spanish and what they might have missed during their online Spanish courses.
The materials offered by Juan ranges from intermediate to advanced levels.
Lastly, he sautees his online Spanish classes with grammar explanations and audio quizzes that he reviews every week over his online courses.
Cons
Juan's online spanish classes are time-consuming, which may not be recommendable for busy schedule learners.
Its lacks conversational attributes that will hinder you from speaking fluent Spanish
Also, this platform is expensive as compared to most sites.
Click Here To Read More About 1001 Reasons to Learn Spanish!
16. Language Transfer

Description
Language Transfer is a completely free course for learning a language. Spanish teachers with the help of audio courses teach you how each word and phrase works in Spanish languages. It offers additional tools to its lessons that can help you learn at your own pace.
Pros
Its material covers a lot of content with short periods, which improves your Spanish language effectively and efficiently.
The lesson incorporates a mixture of Latin American Spanish grammar and vocabulary to help you understand how sentences are being formed in the Spanish language.
It thoroughly explains every aspect of materials in a relaxed manner compared to other platforms.
Cons
-No sufficient exercises for practice purposes. This means you may not be able to track your progress in Spanish language learning skills.
– It doesn't offer native-speaking services which hinder developing pronunciation and you feel trouble in conversations.
Click Here To Read More About Language Transfer!
17. Duolingo

Description
Duolingo is one of the most popular websites in language learning. Its Online Spanish courses offer reading, speaking, and writing lessons for all types of learners. All the lessons are simple and brief.
Pros
In Duolingo, you have to set goals and objectives, which may include: committing a certain amount of time per day to practice, which, if missed, reset the tally to zero.
Duolingo also has a free online feature that lets you advance from one level to another, just like a game.
On average, 34 hours of Online Spanish in Du-olingo can be equated to a college-level semester.
Cons
You cannot pass to the next level until you complete the previous ones.
Click Here To Read More About Duolingo!
18. Mango Languages

Description
Mango language provides self-paced language instructions and a highly learning experience in one package. It specializes in helping the learner gain conversational skills which makes this platform among the best provider of online Spanish classes.
Pros
This platform teaches Spanish in a style that adapts to your study habits and fits convenient for you.
Cons
It has long lessons that hinder learners from learning Spanish online. They overlook vital vocabulary and writing skills – takes longer to learn a language.
Click Here To Read More About Mango Languages!
19. Fluenz

Description
Fluenz should be the greatest companion you'll ever need if you like to study a language course offline. You get additional videos for learning Spanish that stand out.
Pros
Fluenz offers an easy way to learn Spanish as it embraces several explanations of language skills which helps you quickly grasp languages basic concepts.
It offers quality podcasts courses that enable you to practice fluent Spanish speaking.
Moreover, it incorporates an academic approach in its classes which acts as a plus to learn Spanish online.
Cons
The activities are repetitive which you may find annoying at times and may prolong your learning period.
Click Here To Read More About Fluenz!
20. Assimil

Description
Assimil advocates for assimilation learning. All online language Courses are designed to adopt this policy. It employs the use of books and compact disks for teaching Spanish.
The course is divided into 60 short lessons that are progressive and interdependent. It contains reviews of vocabulary and grammar by natives from Spanish-speaking countries, which helps learners understand their course better.
Pros
It has completely free quality dialogues that any learner would wish for.
Has organized online Spanish classes and a comprehensive audio library
Cons
Some of its materials including audio resources have unusual topics that aren't relevant to this current world.
Its Online courses content lacks enough research on the Spanish language.
Click Here To Read More About Assimil!
21. WLingua

Description
Wlingua is a platform that teaches Spanish language concepts with a wide number of accents recorded by Spanish-speaking natives.
Pros
It has a very progressive course structure that gives enough timespan for an individual to learn Spanish.
It offers learners rich vocabulary access to help them adapt to pronunciation and use of words.
Wlingua provides grammar tests where learners can evaluate themselves to know their progress.
Its web also has a search bar where you can search word's meanings and phrases in your own time.
Cons
You'll certainly take a longer time to master the Spanish language with Wlingua because its course work is entirely progressive, just as a game.
Over focuses on grammar which may hurt your speaking skills.
Click Here To Read More About WLingua!
22. Spanish With Paul

Description
Spanish with Paul is a YouTube-based channel that teaches Spanish and is regarded as one of the best online Spanish guides due to its conformity to the current world of learning.
It is characterized by impeccable grammar structuring and also embraces the repeat-after-me- technique which helps beginners to learn fast. Lessons entail breaking down vocabulary for learners to make their language learning comfortable.
Pros
This platform offers the best grammar descriptions than most of the platforms.
Employs the use of high-quality video and audio content that will encourage one to keep learning.
It has an engaging voice course structure, creatively designed for beginners.
The whole course can be accessed at any time of the learner's choice.
Cons
The video class has the same boring format.
It lacks conversation touch after you have learned the lessons.
Unlike other platforms, it doesn't employ the use of native, which means you're likely to miss some important terms and pronunciation skills.
23. Chatterbug

Description
Having been founded in 2016, chatter bug is the youngest language platform. It was designed to integrate different language learning soft wares.
Pros
It offers live Spanish lessons just like a classroom.
Its quality information regarding Spanish helps it stand out as the best course so far.
It offers engaging and interactive sessions so that learners can master the content learned.
It's relatively cheap.
Cons
Overlooks your writing and reading skills as it concentrates more on speaking.
Reading materials at times have errors that might mislead the learner unknowingly.
Click Here To Read More About Chatterbug!
24. Verbling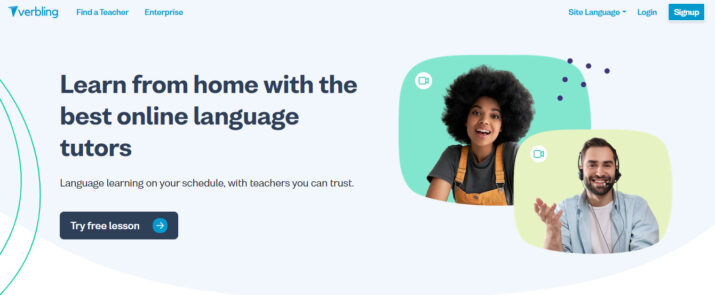 Description
Verbling is a Spanish learning app that gives learners an opportunity to choose their preferred tutors through online booking
Pros
Its user interface is well designed to help you maximize your Spanish knowledge
The sessions are easy to book and quite affordable
Cons
Their response time is quite long compared to other platforms
Click Here To Read More About Verbling!
25. Fluencia

Description
Fluencia is a learning app that is widely accessible to anyone. It offers basics language learning concepts and is relatively cheap.
Pros
It provides a couple of native speakers who're fluent in Spanish, which I generally think is a great way to familiarize yourself with the language.
Native speakers speak and read along with the lessons to help you master your speaking and reading language concepts.
It comes with an elegant user interface that makes learning more interactive.
The courses employ tactical techniques which help learners to interact with Spanish in a different engaging manner.
Cons
Lacks top-notch fluency for beginners
It cannot be accessed through a mobile phone, which means you'll need to use larger computers.
Click Here To Read More About Fluencia!
26. Spanish Dict

It provides free Spanish materials such as dictionaries, translation, and other important learning tools. Moreover, it also offers a discussion platform for its users to ask each other questions regarding the Spanish language.
Pros
It has a translator that provides detailed information to you. Also, it offers two different sources for each translation. With the help of an audio feature, users can hear the word-to-word pronunciation clearly.
Lastly, Spanish dict offers a range of quizzes that enable students to test newly learned skills and determine whether they've mastered them or not.
Cons
It takes longer to learn due to the traditional learning style.
Click Here To Read More About Spanish dict!
27. Live lingua

Live lingua uses Skype to deliver its lessons and personalizes its language courses according to each individual. Each student is provided with a personal coordinator, which means you could have a personal study plan.
Pros
You're also connected with native speakers who will help you speak Spanish fast.
You're also offered free materials called 'live lingua project' for more practice and learning.
Cons
Its user interface is crowded with stock photos that aren't even related to the content.
The classes are so flexible that it may take a longer time than required to learn Spanish.
Click Here To Read More About Live lingua!
28. Ouino

Description
Ouino uses a five-in-one learning system and begins its course through Building Blocks. First, you will learn language structures and grammar, which are the foundations of Spanish.
Later you will learn Spanish language verbs and the correct way to use them in tenses. Indeed, the building blocks will help you learn Spanish quickly and efficiently.
Pros
Most lessons are short and precise.
It employs audio teaching that facilitates ease in practice and speaking Spanish.
Cons
Some lessons can be challenging, and it's better suited for people who can speak English.
Click Here To Read More About Ouino!
29. Busuu

Description
Busuu is among those free learning platforms that offer Spanish courses in basic mode; premium and free access. The selection of the package entirely depends on you.
Pros
It's impeccable feature allows you to record your answers and get feedback from natives. The teachers give detailed explanations on those feedbacks which help you learn Spanish lessons on your finer points.
Busuu has a highly responsive user interface that is compatible with all devices. This means you can learn a new language even in the palm of your hand.
Cons
It lacks other language options that can help you to relate Spanish and your original language.
The features of this platform are not so entertaining and may lead to boredom for learners.
Click Here To Read More About Busuu!

Description
It's one of the cheapest Spanish learning courses you'll ever find on the world wide web. Spanish 101 specializes in grammar drills and specific Spanish speaker phrasebook exercises.
Pros
It has four levels through which learners are channeled; hence ensures progressive and engaging learning.
The channels are also grouped according to one's ability in the language, which I think is a good gesture in fast-tracking your progress.
It's also known for its continuous update of the Spanish language, enabling the learner to stay updated.
It provides videos and audio that act as assistive devices to learners too.
Cons
The contents lack dense materials and overlook reading and writing abilities.
Click Here To Read More About SpanishPod101!
31. Show Time Spanish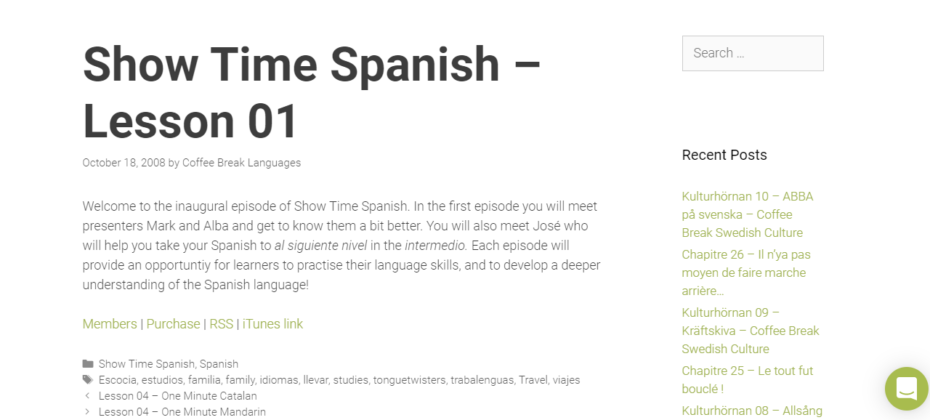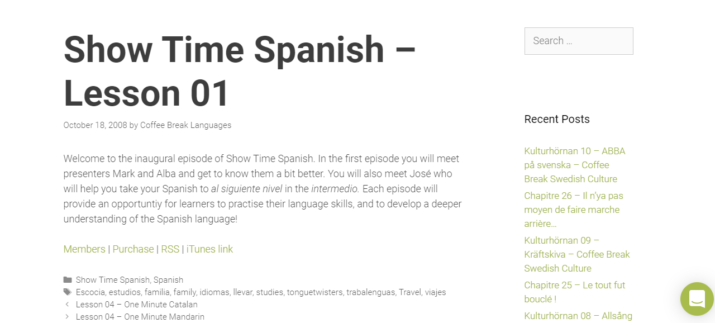 Description
Show Time Spanish specializes in teaching Spanish in podcasts and audio lessons. It gives learners a choice to learn a language from their comfort zones and at their own time pace.
Pros
You can store lessons for later learning.
It comes with both free and premium packages.
The Spanish classes offered by premium courses are relatively cheap and worth it.
Cons
It may take you a long time to complete your Spanish language course.
Click Here To Read More About Show Time Spanish!
32. Insta Spanish Lessons

Description
This entails learning Spanish through the social media platform; Instagram.
Insta lessons offer continuous speaking courses which help interested learners to master different accents more easily.
Pros
It is a visual-based course which means that a learner can learn by watching the image of products. Classes are up to date – constant posting and sharing of materials help you learn fast.
You can easily practice speaking with its vast speaking and listening courses resources available.
Cons
Because its online Spanish courses are visual-based a learner can easily get distracted due to activities around them.
Click Here To Read More About Insta Spanish Lessons!
33. Learn Spanish with La Casa Rojas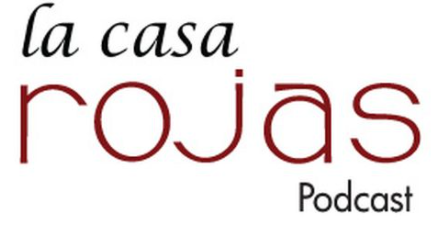 Description
La casa is ideal for intermediate and advanced speakers who like to sharpen their skills. The Spanish language courses have a unique way of presenting topics that are unique and helpful for learners.
Pros
They offer their online courses in podcasts so a learner can access materials anytime he/she feel convenient.
It helps you master Spanish in a relatively short time as if you already knew Spanish.
Helps you to become fluent too as the program offers additional native podcasts.
Cons
You're likely to miss Spanish basic courses lessons as they are not so detailed, compared to other platforms.
A major disadvantage of learning with this platform is that it is a little time-consuming for Spanish learners. The lessons are broken down in a way that it becomes hard to come up with reason and meaning
Click Here To Read More About Learn Spanish with La Casa Rojas!
Conclusion
Where do I start my Spanish classes? Which platform offers completely free lessons? Do I need to be in a Spanish-speaking country class to kick off my language learning skills? These are common questions that you've heard before or probably asked yourself these days.
Well. Choosing the right platform to study a new language at times could be challenging and require a lot of research. But with the help of this article, you'll get to learn more about the best online Spanish learning platforms that will help you learn Spanish like a Pro.
F.A.Q.
Where can I take Spanish classes online?
Whether you're learning Spanish to work abroad, to study, to talk to a friend, or due to any other good reason, online Spanish courses are the way to go. However, you should choose the one which meets your preferences and goals.
How much Spanish online classes?
Online Spanish classes vary according to the course offerings, duration, and pricing. Some platforms offer free classes whereas others offer only premium classes as low as $6 per week. Both are available as downloadable apps.
Click Here To Get I WIll Teach You A Language At A Discounted Price!