LightStream Personal Loan Reviews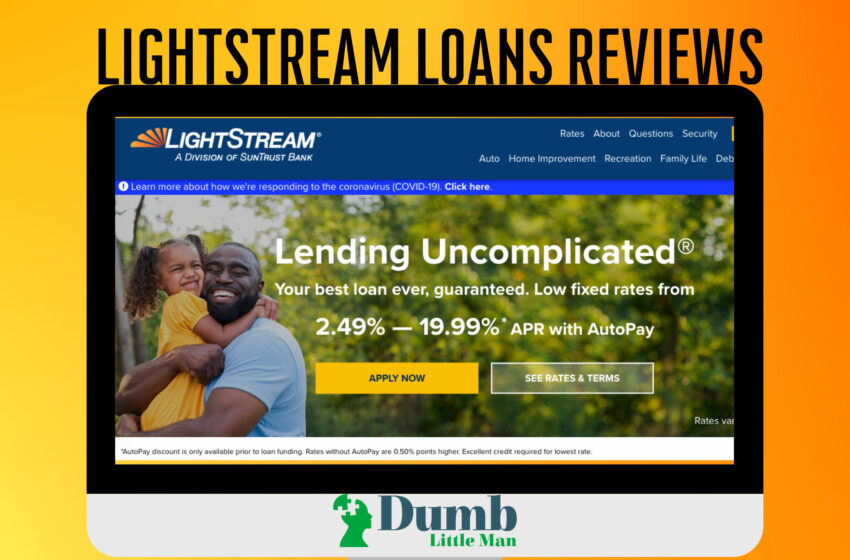 Whereas many personal loan companies provide customers up to five years to pay back their loans, LightStream's offerings have periods as extended as seven years. Major renovation loans, such as those for constructing a swimming pool or photovoltaic systems, can pay it back over up to 12 years.
Nevertheless, obtaining a longer loan term with LightStream will need borrowing far more than the firm's $5,000 minimum. For example, if you want to pay for a medical bill or a yacht over more than six years, you'll need to borrow at least $25,000.
Personal loans are available through LightStream, an internet lender. It offers reasonable rates on loans up to $100,000 and rate comparison and a satisfaction guarantee. With its loans, auto purchases, household solar energy systems, home renovations and upgrades, credit counseling, and medical costs are all possible.
Lenders can register digitally or over the phone, as well as you can fund some bids the very same day. The personal loan lenders offer exclusive services. Let's take a closer look!
What is LightStream?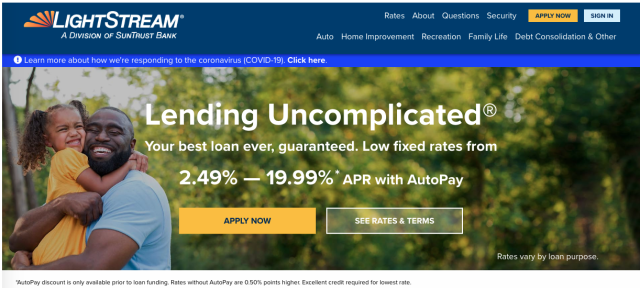 SunTrust's online consumer lending branch, LightStream, was founded in 2019 when BB&T and SunTrust merged. In 2012, SunTrust purchased the assets of online lender FirstAgain and rebranded the company as LightStream.
LightStream's online personal loans are available in amounts ranging from $5,000 to $100,000 and may be utilized for almost any purpose. Personal loans offer individuals good to exceptional credit all around the country. The loan application and funding procedure at LightStream are both done online. They may request identification, pay stubs, proof of residency, and credit scores as supporting evidence.
For personal loans, LightStream does not publish credit scores or income restrictions. According to the firm, it only qualifies customers with a good credit history, steady income, and a history of timely payments. LightStream requires loan applicants to have consistent and adequate income to fulfill both current debt obligations and a new LightStream loan to be authorized.
LightStream considers applicants' liquid assets, cash down payments on real estate, retirement funds, and revolving credit card debt in addition to their income criteria. Keep in mind although that LightStream does not take marijuana-related earnings into account.
How does LightStream Personal Loan work?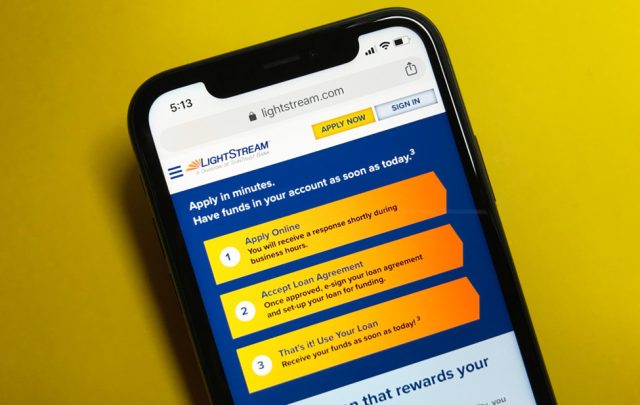 It is a consumer lender that provides unsecured best personal loans for excellent credit. There aren't any late fees, origination fees, and prepayment fees, as well as offer personal loan rates, discounts for the borrowers who signed up for an autopay. Let's get right into the details!
LightStream enables the borrowers to choose when they receive money. It deposits personal loan funds into credit accounts on the same day or even up to after thirty days of the approval. Lightstream offers the customers highly valuable credit history and min credit score with monthly payments to offer customers excellent benefits.
By scheduling a fund later allows time for planning your very first payment and gives the flexibility to align loans with starting of the home improvement projects and also other projects with higher expenses. It offers increased debt to income ratio with increased reliability making it an accessible option for excellent credit.
It beats competitive interest rates by 0.1 percent for all the applicants showing that they were approved by other competitors for a fixed, regular loan with a similar term, payment method, amount, and purpose. Term applies
Borrowers who had their loans less than thirty days, as well as being unhappy with the experience they have, may get about 100 dollars. For qualifying, borrowers should contact LightStream as well as a questionnaire should be answered, which helps it in understanding the needs of the customer as well as improve the services. Every borrower is limited to a 100 dollars payment on every loan funding.
What are the Features of LightStream?
Customers who participate in autopay receive a 0.50 percent APR decrease, as well as the following additional benefits:
Rate beat program
For applicants who can show their authorization by a rival for a conventional fixed-rate loan with the same amount, length, purpose, and payment mode, LightStream will beat the competition's interest rate by 0.1 percent. Terms and conditions apply.
Loan experience guarantee
Borrowers who have held their LightStream loan for less than 30 days and are displeased with their experience might receive $100. To be considered, borrowers must contact LightStream and complete a questionnaire that will help get better understanding and enhance its services. Each borrower is only allowed to make one $100 payment per loan that has been funded.
Some of LightStream's Online Features
The application procedure at LightStream is entirely online, including the signature of the loan agreement and the scheduling of the loan deposit. Using the lender's rate calculator, you may explore a range of lowest APRs based on loan amount and purpose. You may use your online LightStream account to review your loan and payment history.
• Make extra payments on your debt or pay it off completely.
• Apply for the registration of a new loan; update your contact information or security details, such as your password.
Alternatively, you may check payment due dates, account balances, make payments, and apply for a new loan using the LightStream mobile app.
Lending terms
LightStream offers personal loan with maturities ranging from two to seven years and loans for home remodeling, pools, and solar energy systems with terms up to 12 years. The Lightstream personal loans includes debt consolidation loans with no monthly payment or origination fees. The retirement savings and loan funding includes credit report as illustrated by Consumer Financial protection bureau to provide student loans as lightstream loans are no more an exception.
If you can establish that the rival accepted you for the same sort of fixed-rate loan for the same amount, length, purpose, and payment mode, LightStream will beat the competitor's rate by 0.1 percentage points.

LightStream Credit Score Requirement
To be eligible for a personal loan, LightStream doesn't specify a credit record. The lender looks for decent to exceptional credit and assesses each borrower's capacity to pay back the loan.
Overall, unless we think that there is a strong possibility that they will return our loan in whole and on time is what determines excellent credit explains Julie Olian, senior vice-president of global relations and social media at LightStream. The auto loans feature adds more to reliability.
LightStream does not have a preapproval procedure, unlike many other online lenders. As a result, potential borrowers must fill out a formal application and submit to a thorough credit check to examine whether or not they qualify for a loan and, if it is, then, at what price.
Candidates should have a least minimum fico credit score and credit history of 660 considering the LightStream financing. Furthermore, as seen by their credit profile, a good candidate will have many more decades of credit record, including numerous account types—for example, credit cards, vehicle loans, and mortgage debt. While a strong credit score may be sufficient for approval, the best rates need outstanding credit.
What are the LightStream Fees?
The loan conditions, including the annual percentage rate (APR), may vary depending on the loan purpose, amount, term duration, and credit profile. Excellent credits requires for the lowest rates.
If you utilize autopay, you may save half a percentage point on your APR, and there are no origination, prepayment, or late penalties with LightStream. These unsecured personal loans offer credit approval services allowing the student loan refinancing feature to hey maximum benefits.
The personal loans from $5,000 to $100,000 are available through LightStream, based on your requirements and qualifications. The conditions of the Personal loan loans from LightStream typically offer for lengths of two to seven years (or 24 to 84 months). Home remodeling, swimming pool, and solar loans, on the other hand, may have payback durations of up to 12 years (144 months).
Click Here to Securely Get Start with LightStream Loans.
Loan Costs
If borrowers sign up for autopay, LightStream provides APRs ranging from 2.49 percent to 19.99 percent. Borrowers who do not enroll in autopay face APRs ranging from 2.99 percent to 20.49 percent, which is 0.50 percent higher. The allowable APR ranges vary based on the loan purpose. As of October 26, 2021, all rates are correct.
Fees for starting a business. LightStream charges no origination costs.
Fees for being late. Late fees are not imposed on borrowers, although late payments result in greater interest accrual.
Penalty fines for not paying on time. Borrowers who want to submit off their loans early do not face prepayment penalties with LightStream.
Who is LightStream Best For?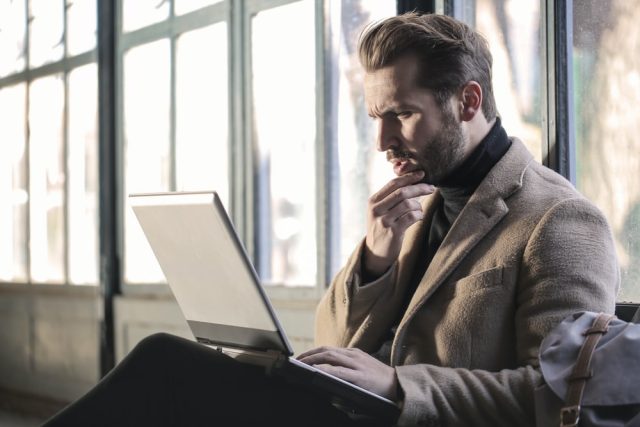 LightStream provides personal loan of about 100,000 dollars for various purposes; this includes purchasing a small land or a house, types of loans that aren't very frequently provided by traditional lenders. The high loan amounts are consolidated with a funding timeline, and quick application makes LightStream a good choice for prospective borrowers, need a bigger loan, and it has flexibility.
Just like a few other online lenders, though LightStream puts a few limitations on using loan funds. Borrowers are restricted from using personal loans to paying for post-secondary education and covering business expenses. The Lightstream interest rates offer home improvement loans to people looking for effective loan terms and origination fee.
Yet, LightStream has ranges of loan amounts, APRs, terms, and minimum score requirements that is only 660, making it flexible for borrowers. The Lightstream offers loans automatic monthly deduction with existing loan and flexible loan amounts with reliable origination fee. Lightstream offers personal loans with existing debts and interest payments with auto loan feature to get on-time payment reward.
LightStream Pros and Cons
✅ PROS
▶ Low rates and no fees
According to LightStream, initial rates are modest, but they fluctuate depending on the loan size, purpose, payback duration, and the applicant's credit history. To get the best rates, you'll need good credit, and borrowers who choose autopay can save 0.5 percentage points on their loan.
There are no charges for lending institutions, delayed payments, or withdrawal at LightStream.

▶ Term availability
Because LightStream offers a wide range of payback durations (two to seven years for most loans), borrowers may choose to pay less total interest with a shorter term or pay less monthly with a longer-term.

▶ Special home improvement features
Borrowers with high or exceptional credit who want to finance a home repair project can get up to a 12-year loan with no appraisals or home equity restrictions.
On your expensive home renovations, such as a kitchen remodel, solar panel installation, or pool expansion, longer payback terms might make monthly payments more manageable. The lender can also postpone loan funding for up to 90 days, giving you extra time to plan the makeover without incurring additional interest.
🚫 CONS
✖ Hard credit check
The loan calculator on LightStream's website shows example rates depending on your chosen loan purpose and loan amount, but the lender only accepts applications that begin on its website. NerdWallet, on the other hand, uses a mild credit check to pre-qualify candidates.

✖ No direct payment to creditors
Unlike other lenders, LightStream does not transmit payments directly to creditors when you combine debts with a loan. Borrowers must instead keep track of their payments.
LightStream Compare to other Lenders
| Lender | APR Range | Min. Credit Score | Loan Term | Loan Amount |
| --- | --- | --- | --- | --- |
| LightStream | 2.49% – 19.99% | 660 | 24 - 36 months | $5,000 - $100,000 |
| BadCreditLoans | 5.99% - 35.99% | Not Specified | 3 mnths - 7 yrs | $500 - $10,000 |
| Avant | 9.95% - 35.99% | 580 | 2 - 5 years | $2,000 - $35,000 |
Click Here to Securely Get Start with LightStream Loans.
LightStream Personal Loans vs Avant Personal Loans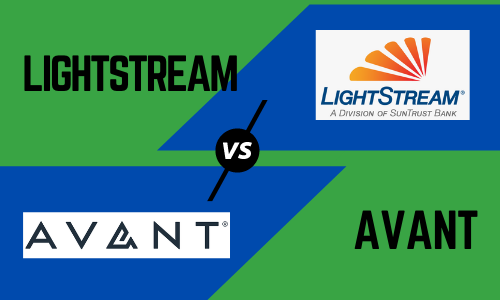 LightStream enables the borrowers to choose when they receive money. It deposits personal loan funds into credit accounts on the same day or even up to after thirty days of the approval. However, Avant provides secured as well as unsecured personal loan choices. Unsecured loans are common with competing lenders and Avant.
LightStream provides personal loans of about 100,000 dollars for various purposes. This includes purchasing a small land or a house, types of loans that aren't very frequently provided by traditional lenders.
LightStream vs BadCreditLoans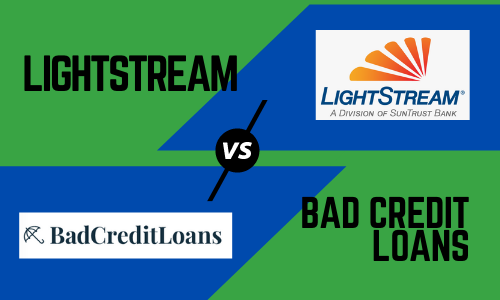 Lightstream offers the customers a highly valuable credit history and min credit score with monthly payments to offer customers excellent benefits. However, Bad credit loans have a strong track record of connecting clients with several lenders who compete for your business by giving the greatest APR rates.
The application procedure at LightStream is entirely online, including the signature of the loan agreement and the scheduling of the loan deposit. In contrast, Bad Credit Loans assist people with bad credit in obtaining modest personal loans rapidly. Its 10-minute application procedure makes requesting cash a breeze.
>> Read Full Review Here: Bad Credit Loan Review
Final Verdict
LightStream is a personal lending company that provides unsecured loans for a variety of purposes. There are no origination, late payment, or prepayment costs, and borrowers who sign up for autopay get rate savings.
Depending on your lending purpose, loans range from $5,000 to $100,000 with periods ranging from two to twelve years. It provides personal loans up to $100,000 for various objectives, including the purchase of land or a tiny house, which are loan kinds that regular lenders seldom provide.
LightStream, like several other internet lenders, has some restrictions on how you can use loan funds. Borrowers are not permitted to utilize their loans to fund post-secondary education or company expenditures. Despite this, LightStream's wide selection of loan sizes, periods, and annual percentage rates (APRs)—along with a credit score requirement of just 660—make it a flexible alternative for many potential borrowers.
>> Related Topic: Best Personal Loans for Bad Credit of 2023
Frequently Asked Questions
Is it difficult to get a LightStream loan?
LightStream's same-day loan approval and funding received good reviews. However, it does not publish its minimum income criteria, making it more difficult for potential borrowers to determine whether the lender is a good fit for them. LightStream's $5,000 minimum loan amount is too expensive; some of the lenders we looked at give loans as little as $1,000.
What credit score do I need to get a loan from LightStream?
LightStream may be able to offer you reduced interest rates if you have good credit. LightStream provides loans ranging from $5,000 to $100,000 for several uses. Now You'll require a credit score of at least 660, a consistent income, and years of credit history to qualify.
If you have a great credit score, LightStream has some of the best personal loan rates available. The company also offers loans up to $100,000, with financing available the same day you apply and are accepted.
Is there a penalty for paying off the LightStream loan early?
Prepaying your debt in full or in part without penalty is not a problem with LightStream. By logging into your account, you can make additional payments at any time. LightStream does not charge late fees and origination costs. LightStream is a fantastic alternative if you have unpredictable cash flow and require flexibility because there are no penalties for paying off your loans early.
Click Here to Securely Get Start with LightStream Loans.
Like this Article? Subscribe to Our Feed!
John is an avid researcher and is deeply passionate about health and finance. When he's not working, he writes research and review articles by doing a thorough analysis on the products based on personal experience, user reviews and feedbacks from forums, quora, reddit, trustpilot amongst others.