IC Markets Review 2023 with Rankings By Dumb Little Man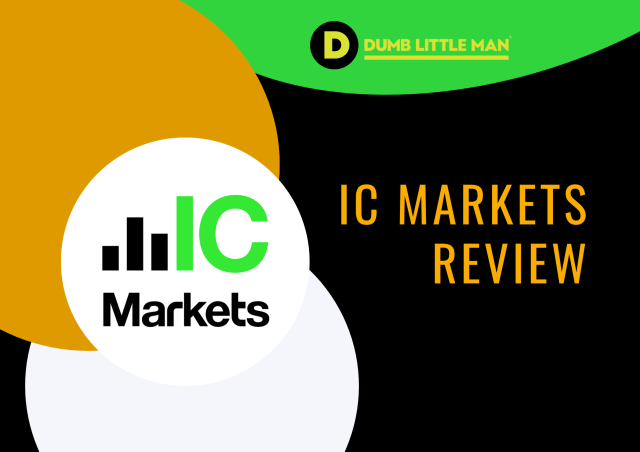 Evaluation Criteria
At Dumb Little Man, our review experts analyze and evaluate each broker by following a strict set of criteria. As a result, we ensure you get a comprehensive and unbiased review of every broker before you use their services. In addition, we strive for accuracy and transparency in our reviews so that traders like you can make informed decisions.
Our team uses multiple metrics to evaluate brokers to assess each one's performance in providing its services. These metrics include trading platforms and tools, customer support, research materials, financial instruments offered, fee structure, and more.
Additionally, we thoroughly inspect the broker's strategies and methods to comply with mandatory regulations. We then compile all our findings into an in-depth review that precisely portrays the broker's operations. Our standard set of criteria includes the following:
Convenience
Profitability
Reliability
Broker's Competency
Affordability
Based on our evaluation, we have concluded that IC Markets is an excellent broker, offering its customers a wide range of features and benefits. Their services are reliable and efficient, with various trading instruments available. The broker also has an excellent customer support system and competitive fees. Additionally, IC Markets has a wide range of research materials and tools for traders. All these features make the broker one of the most reliable and popular brokers.
Let's take an in-depth look at IC Markets.
IC Markets Review
Day traders and scalpers are always looking for reliable and trustworthy brokers, and IC Markets is one of the most renowned names. IC Markets is a forex and CFD broker that has been around since 2007 and offers competitive spreads, lightning-fast executions, and top-notch customer service.
With advanced charting tools, CFD trading, one-click execution, and automated trading, IC Markets has won the hearts of many traders worldwide. Besides that, it comes with a wide range of trading instruments, platforms, and low deposits.
But is IC Markets the right choice for your trading needs? Let's find out in this detailed review in which we cover the security of brokers, the fees and commissions details, account types, customer reviews, and more. Let's dive in!
What is IC Markets?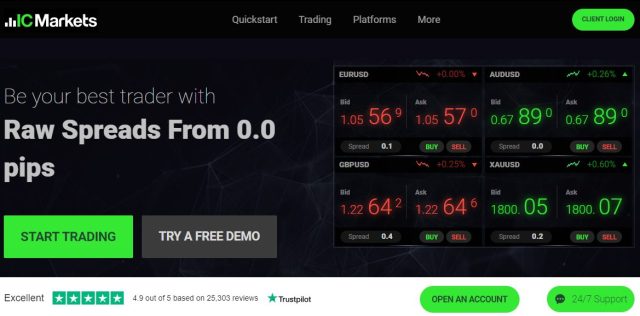 IC Markets, established in Sydney, Australia, in 2007, is a brokerage firm facilitating access to global financial markets. With the company's offices across various regions worldwide, IC Markets ensures that traders comply with local laws while they fulfill their trading needs from practically any jurisdiction.
IC Markets is regulated by three entities, including the Cyprus Securities and Exchange Commission (CySEC), the Australian Securities and Investments Commission (ASIC), as well as St. Vincent & the Grenadines Financial Services Authority (SVGFSA). Additionally, it strictly adheres to international AML/CFT regulations, ensuring that all activities are done with utmost security.
IC Markets is also a member of the Financial Commission, which works to resolve disputes and provides up to EUR 20,000 coverage per trader through an insurance fund. This broker aims to provide the best trading experience for institutional and retail investors through its extensive services. Moreover, this broker is popular among algorithmic traders as it offers access to some of the lowest spreads in the industry.
Safety and Security of IC Markets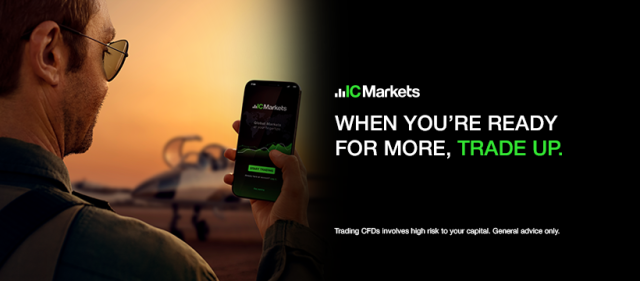 The safety and security of the customers' funds are among IC Markets' top priorities. To ensure a secure trading environment, this broker follows strict safety protocols. In addition, the broker is regulated by the three top-tier entities operating in different jurisdictions. Boasting three licensures from the world's most reputed regulators, this broker is able to provide brokerage services in more than a hundred countries worldwide.
Additionally, IC Markets follows the highest security standards to safeguard investor funds. The broker also strictly segregates assets and ensures that all client funds are invested in separate accounts, providing maximum safety for the traders. Furthermore, IC Markets is also a member of the Financial Commission, which ensures insurance coverage of up to 20,000 EUR for each client. All these safety measures guarantee the protection of funds and a safe trading environment for its customers.
Moreover, IC Markets is renowned for its ultra-low latency order execution, with both of their Equinix data centers in London and New York offering secure and dependable connections to traders. Dedicated fiber optics networks are used at these locations to guarantee that orders are processed quickly without any slippage. As a result, it ensures optimal performance when dealing with large-volume trades or times sensitive transactions.
Sign Up Bonus of IC Markets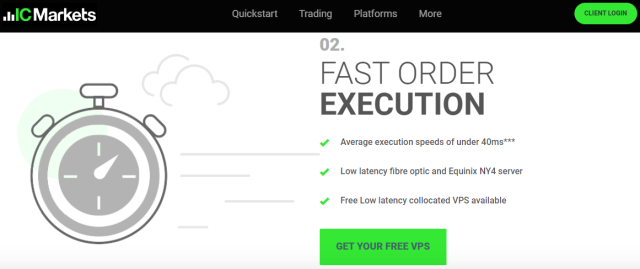 IC Markets offers their traders no sign-up or welcome bonus unlike other trading platforms. Even when you register a real account for the first time with them, there is no Deposit Bonus nor any no-deposit bonuses available as an incentive.
Minimum Deposit of IC Markets
Establishing a live trading account with IC Markets is as straightforward as depositing just $200 — no matter which type of account you opt for, whether it's the Standard, Raw, or cTrader. Furthermore, more than twelve payment methods, including bank transfers and credit cards, are available amongst other third-party providers such as PayPal and UnionPay.
Account Types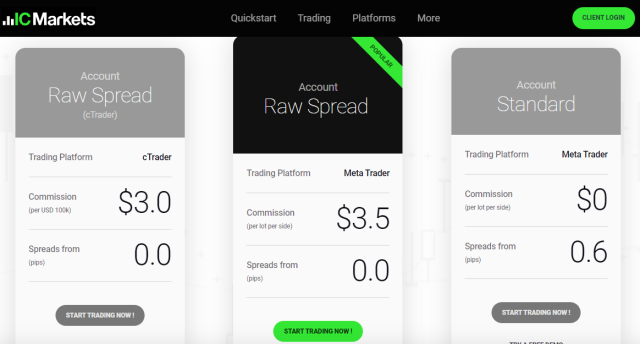 IC Markets provides its customers with an extensive selection of accounts. Two work on the MetaTrader trading platform, specifically (Raw Spread and Standard), while one is based on the cTrader platform — Raw Spread. Moreover, disabling the swap function can utilize each account as a Sharia-compliant Islamic account.
Below is the in-depth analysis of IC Markets account types:
#1- Standard Account
This is a standard account, and it requires a minimum deposit of 200$. It offers floating spreads from 0.6 pips and a leverage of up to 1:500. Traders benefit from instant order execution when they use standard accounts. In addition, you can access МetaТrader 4 and МetaТrader 5 platforms to initiate secure trades. Moreover, this account is most suitable for discretionary traders.
Commission (per lot): $0.0
Spread: 0.6 pips
Starting Deposit (USD): $200
Trading Platform: Meta Trader
Leverage: 1:500
#2- Raw Spread
The Raw Spread account is the most popular account type at IC Markets. This trading platform requires a minimum deposit of 200$ and offers the lowest possible floating spreads from 0.1 pips for EUR/USD and leverage up to 1:500. All orders are filled with no requotes and instant execution. It also uses МetaТrader 4 and МetaТrader 5 to make trades. Due to its low-spread offering, this account is built with day traders in mind. Moreover, this account type is most suitable for active day traders, EAs, and scalpers.
Commission (per lot): $3.5 ($7.0 per lot roundturn)
Spread: 0.0 pips
Starting Deposit (USD): $200
Trading Platform: Meta Trader
Leverage: 1:500
#3- cTrader Raw Spread
This is the only account type that uses cTrader, designed for traders who prefer to do algorithmic trading. This account requires a minimum deposit of 200$ and offers floating spreads from 0.0 pips with leverage up to 1:500. The trading account cTrader is best suited for day traders and scalpers.
Commission (per lot): $3.0 ($6.0 per lot roundturn)
Spread: 0.0 pips
Starting Deposit (USD): $200
Trading Platform: cTrader
Leverage: 1:500
#4- Raw Trader Plus
IC Markets has recently introduced its Raw Trader Plus account, specially designed for high-volume traders looking for a wide range of benefits. As a Raw Trader Plus member, you receive automatic rebates on your trading commissions deposited daily once certain conditions are met. The more standard lots you trade, the higher the rebate amount will be awarded.
To avail Raw Trader Plus account, you need to contact the IC Markets team at [email protected] to set up the account and discuss the available benefits.
Islamic Accounts
IC Markets also offers Islamic accounts which are swap-free and they are compliant with Sharia law. These accounts allow traders of the Muslim faith to trade without incurring overnight swap interests. Traders can open Islamic accounts for both Standard and Raw Spread accounts.
Spread: 0.0 pips
Starting Deposit (USD): $200
Trading Platform: cTrader
Leverage: 1:1000
Demo Account
IC Markets provides a free demo account that you can use to practice and test out trading strategies. The demo account also allows traders to familiarize themselves with the trading platform and to gain experience and knowledge about the markets before investing real money. Moreover, the demo account is available for all Standard, Raw Trader, and cTrader Raw Spread accounts.
IC Markets Customer Reviews
Our team of experts has carefully reviewed IC Markets accounts and found them robust, reliable, and user-friendly. IC Markets offers a wide range of features and advantages from which traders of all levels can benefit. In addition, the traders highly appreciate the competence and responsiveness of this broker.
Moreover, their clients highly appreciate the customer support team at IC Markets. The customer service provided by the company is excellent, with queries being answered quickly and politely. However, only some traders complain about withdrawal issues, so it is best to contact IC Markets customer service directly if you face any withdrawal issues.
IC Markets Spreads, Fees, and Commissions

Below are the details of the IC Markets spreads, fees, and commissions:
IC Markets Spreads
IC Markets offers tight spreads on major currency pairs, starting from 0.0 pips for Standard and Raw Spread accounts. The spreads are also competitive for other asset classes, such as indices, commodities, and stocks.
Standard Account: 0.6 pips
Raw Spread Account: 0.0 pips
cTrader Raw Spread Account: 0.0 pips
IC Markets Fees
IC Markets does not charge any fees for deposits or withdrawals. Moreover, there is no overnight or inactivity fee charged by the broker.
IC Markets Commissions
IC Markets has no commission on the Standard account. However, a low commission is charged on the Raw Spread account and cTrader Raw Spread accounts.
Standard Account: No commission
Commission (per lot): $3.5 ($7.0 per lot roundturn)
Commission (per lot): $3.0 ($6.0 per lot roundturn)
Deposit and Withdrawal
IC Markets Deposit Options
With IC Markets, you can effortlessly and immediately fund your account via 15 different payment methods in 10 various currencies. In addition, there are no additional fees for deposits or withdrawals; however, you should be aware that certain intermediary costs may apply when transferring money to and from international banks.
The currencies supported by IC Markets for funding are AUD (Australian Dollar), GBP (British Pound), USD (United States Dollar), SGD (Singapore Dollar), CHF (Swiss Franc), EUR (Euro), CAD (Canadian Dollar), JPY(Japanese Yen), NZD (New Zealand Dollar), and HKD (Hong Kong Dollar).
Moreover, the supported payment methods are Credit and Debit Cards, Neteller, Paypal, Neteller VIP, UnionPay, Wire Transfer, Skill, Bpay, Broker to Broker, POLI, Thai Internet Banking, Vietnamese Internet Banking, Klarna, and Rapidpay.
IC Markets Withdrawal Options
At IC Markets broker, you don't have to worry about hefty withdrawal fees — regardless of the account type, there are no commissions or charges for withdrawing funds. That's right; zero commission is applied. However, a commission of 20 AUD is charged to withdraw from international banks. Moreover, your account must be verified to withdraw funds.
The currencies IC Markets supports for withdrawal are AUD, GBP, USD, SGD, CHF, EUR, CAD, JPY, NZD, and HKD. Moreover, traders can use the payment methods like Visa and MasterCard bank cards, bank transfer, and electronic payment systems: PayPal, Rapidpay, Skrill, Union Pay, Neteller, Bitcoin Wallet, BPay, Klarna, POLI, and Vietnamese Internet Banking.
The operations department of ICMarkets swiftly handles withdrawal requests. If you use the electronic payment system for money transfers, funds will be received instantly, whereas withdrawing to a bank card may take 2-5 business days to receive your payments. All Paypal, Neteller, and Skrill withdrawals must be performed from the account to which the funds were initially sent. Moreover, there are no fees, and your transactions will be instantaneously processed.
How To Open an IC Markets Account – Step by Step Guide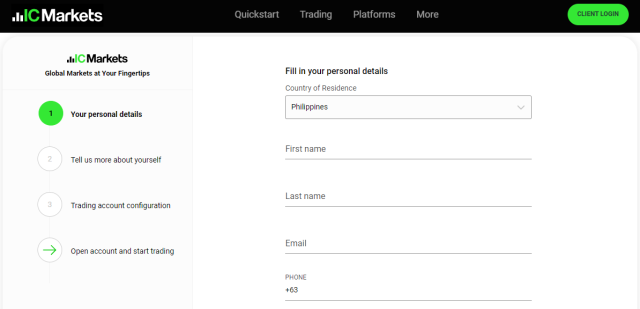 Below is the step-by-step guide to opening your IC Markets Account:
Step 1: Visit the official website and click "Start Trading."
Step 2: Add your details like country, name, email, and phone number, and click on Next.
Step 3: Now choose your account type, DOB, and address, and click on Next
Step 4: Configure your trading account by choosing between the Standard and Raw account. Also, choose the trading platform between (MetaTrader 4, MetaTrader 5, or cTrader), and currency, and click on Next.
Step 5: Choose your Security question, accept the terms and conditions of IC Markets, and click Submit.
Step 6: The next step is verifying your account, so provide information about your employment status, investment amount, annual income, and estimated net worth, and click Next.
Step 7: Provide information about your trading knowledge and expertise and click Submit.
Step 8: To finalize your application, provide your government photo ID (ID, Passport, Driver's license) and proof of residence (utility bills).
Step 9: Make your Initial funds and start trading.
IC Markets Affiliate Program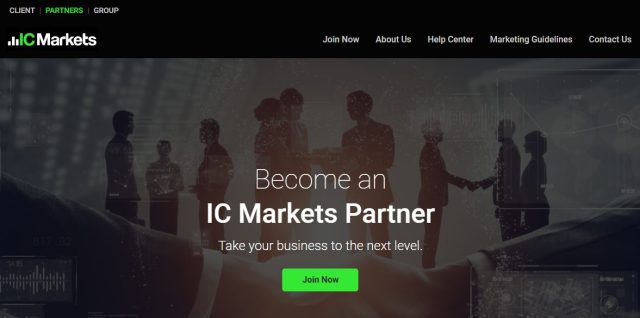 IC Markets takes pride in its Affiliate Program and is committed to helping affiliates earn an excellent commission.
To earn the affiliate commission from IC Markets, you must join their Partner program and promote their products and services through your website or other online marketing activities.
Once the referred client opens a live account with IC Markets, makes a deposit of $200, and trades five lots successfully, the affiliates will be paid.
The commission is calculated in percentage of the spread or the commission that IC Markets receives from its clients. Moreover, the commissions can be withdrawn on a monthly basis and can be withdrawn into the verified withdrawal method.
IC Markets Customer Support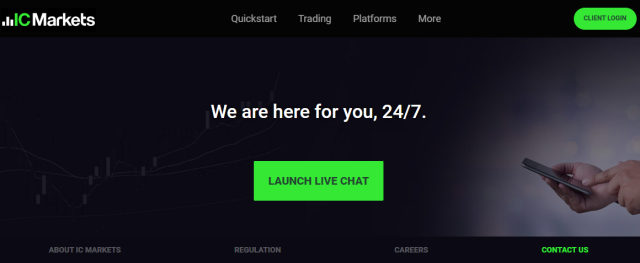 Reliable customer service is the backbone of any online trading platform, and IC Markets excels. They provide 24/7 chat support through email and phone calls. You can email them at [email protected] or call +248 467 19 76 for any query related to your account. Furthermore, live chat support can help you with your concerns from Monday to Friday.
Moreover, their official website has an extensive FAQ section covering all the queries related to trading with IC Markets. Plus, they provide webinars and educational content to help traders gain the necessary knowledge of forex trading in the market. Moreover, you can request a call back from customer service, who will contact you within 24 hours.
Contact Details
Email: [email protected]
Phone number: +248 467 19 76
Address: Eden Plaza, Office 222, Eden Island, Mahe, Seychelles
Advantages and Disadvantages of IC Markets Customer Support
Advantages
Disadvantages

Live chat support
Call back function
Fast response time
24/7 availability
IC Markets Vs. Other Brokers
Below is the in-depth analysis of IC Markets with other well-known brokers: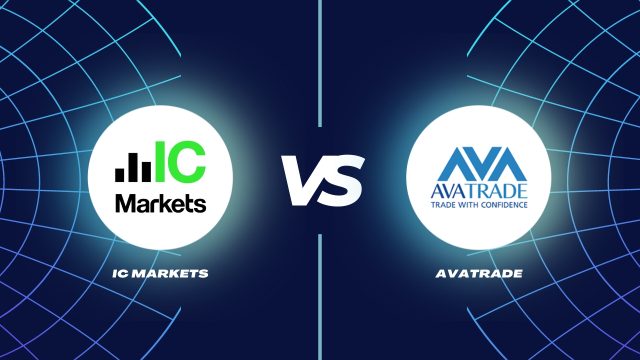 AvaTrade is one of the top Forex brokers. They offer over 250 tradable products, including Forex, cryptocurrencies, stocks, commodities, and indices. The minimum deposit requirement for AvaTrade is $100, while IC Markets requires only a minimum deposit of $200.
AvaTrade provides more payment options, has a better trading platform, and has better customer service. Moreover, it has more advanced trading tools and automated trading systems that provide traders with more options for trading. However, IC Markets offers traders more leverage, tighter spreads, and a larger selection of trading instruments. Moreover, IC Markets has an excellent Affiliate program and customer service.
It comes down to the individual trader's preferences, as both offer competitive features and quality services. However, there are a few differences between the two that makes AvaTrade a better choice, like the minimum deposit fee of $100, the wide selection of payment options, and the advanced trading tools.
Moreover, AvaTrade is more suitable for beginners due to its user-friendly platform and comprehensive customer support. It is also regulated by 5 top-tier financial regulatory bodies, which provide more security to traders.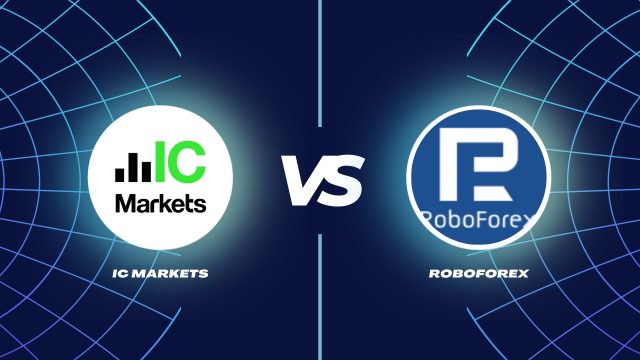 RoboForex is another popular broker which offers an extensive range of trading instruments, including Forex, CFDs, Indices, Stocks, and Cryptocurrencies. RoboForex clients benefit from the most optimal conditions, with tight spreads starting at 0 pips, lightning-fast execution speed, and micro-accounts that boast plenty of 0.01 lots.
The minimum deposit of RoboForex is just $10, whereas IC Markets requires a minimum deposit of $200. In terms of customer support, RoboForex has a better chat support system than IC Markets. It also has an in-depth FAQ section, which provides more detailed and comprehensive explanations of various trading topics.
RoboForex has not received any significant complaints or claims from its clients, so that's a plus. Moreover, it offers leverage of up to 1:1000, while IC Markets offers up to 1:500. Therefore, RoboForex is better for traders looking for more leverage options.
Overall, both brokers offer competitive services and features that can cater to different traders' needs. However, RoboForex has a better customer support system and lower minimum deposit requirement, making it the ideal choice for both beginner and seasoned traders.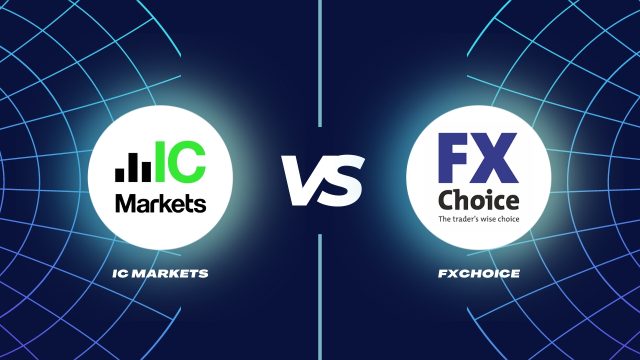 FXChoice is another top Forex broker that provides its clients with low spreads, fast execution speeds, and a wide selection of financial instruments. In addition, it has a minimum deposit requirement of just $10 and allows its clients to trade with leverage up to 1:1000.
FXChoice is devoted to furnishing superior services for both active and passive trading. To ensure its customers receive the best possible experience, FXChoice constantly expands its range of automated trading tools and services. In addition, it offers classic and ECN account with tight spreads that make it more suitable for experienced traders.
In comparison, IC Markets offers a wide selection of trading instruments. Still, it has a minimum deposit requirement of $200 and offers leverage up to 1:500. In terms of customer support; both brokers have 24/7 live chat support and call-back functions.
Both brokers offer great services but have differences that may make FXChoice the better choice. For example, it has a lower minimum deposit requirement, higher leverage, and a better selection of trading tools. Thus, FXChoice is more suitable for traders with experience who are looking for a reliable and secure broker that provides excellent customer support. However, IC Markets may be a better option for beginners due to its user-friendly platform and comprehensive customer support.
Choose Asia Forex Mentor for Your Forex Trading Success
If you have a keen interest in establishing a successful career in forex trading and aspire to achieve substantial financial gains, Asia Forex Mentor stands as the optimal choice for the best forex, stock, and crypto trading course. Ezekiel Chew, renowned as the visionary behind trading institutions and banks, is the driving force behind Asia Forex Mentor. On a personal note, Ezekiel consistently achieves seven-figure trades, a distinction that truly sets him apart from other educators in the field. Here are the compelling reasons that underpin our recommendation:

Comprehensive Curriculum: Asia Forex Mentor offers an all-encompassing educational program that covers stock, crypto, and forex trading. This well-structured curriculum equips aspiring traders with the knowledge and skills necessary to excel in these diverse markets.

Proven Track Record: The credibility of Asia Forex Mentor is firmly established through its impressive track record of producing consistently profitable traders across various market sectors. This achievement serves as a testament to the effectiveness of their training methodologies and mentorship.

Expert Mentors: At Asia Forex Mentor, students benefit from the guidance and insights of experienced mentors who have demonstrated remarkable success in stock, crypto, and forex trading. These mentors provide personalized support, enabling students to navigate the intricacies of each market with confidence.

Supportive Community: Joining Asia Forex Mentor brings access to a supportive community of like-minded traders pursuing success in the stock, crypto, and forex markets. This community fosters collaboration, idea-sharing, and peer learning, enhancing the overall learning experience.

Emphasis on Discipline and Psychology: Success in trading necessitates a strong mindset and disciplined approach. Asia Forex Mentor provides crucial psychological training to help traders manage emotions, handle stress, and make rational decisions during trading.

Constant Updates and Resources: The financial markets are dynamic, and Asia Forex Mentor ensures that students remain up-to-date with the latest trends, strategies, and market insights. Continuous access to valuable resources keeps traders ahead of the curve.

Success Stories: Asia Forex Mentor takes pride in a multitude of success stories where students have transformed their trading careers and achieved financial independence through their comprehensive forex, stock, and crypto trading education.

In summary, Asia Forex Mentor emerges as the premier choice for those seeking the best forex, stock, and crypto trading course to carve a rewarding career and achieve financial prosperity. Through its comprehensive curriculum, experienced mentors, practical approach, and supportive community, Asia Forex Mentor provides the necessary tools and guidance to mold aspiring traders into accomplished professionals across diverse financial markets.
Conclusion: IC Markets Review
Overall, IC Markets is a reliable and secure trading platform. They offer low spreads and fast execution speeds, along with excellent customer service. This broker is ideal for algorithmic traders due to the MetaTrader and cTrader platforms available, its no-requote execution methods, and the capacity to place orders within the spread. This ensures that IC Markets has strengthened its position as one of the top choices regarding trading algorithms.
IC Markets provide access to third-party social trading platforms such as Myfxbook and ZuluTrade, making them stand out from other brokerages for retail forex and CFD traders. That makes it the best choice for scalpers, algorithmic traders, and manual traders.
Therefore, we recommend IC Markets as the perfect broker for any Forex and CFD trader. They offer great features and tools to help you succeed in your trading journey. This broker offers multiple trading instruments, including currencies, metals, commodities, and index CFDs. Moreover, IC Markets also provide traders with reliable customer support and a secure environment for trading.
IC Markets Review FAQs
Is IC Markets a regulated broker?
Yes, IC Markets is regulated by the 3 top-tier financial authorities, The Australian Securities and Investment Commission (ASIC), Financial Conduct Authority (FCA) in the UK, and Cyprus Security and Exchange Commission (CySEC).
These regulatory bodies ensure that all the financial services IC Markets provide adhere to their rules. Moreover, IC Markets is also regulated by the Securities Commission Bahamas. These regulations offer a secure trading environment to all its traders.
Is IC Markets reliable?
Yes, IC Markets is a reliable and trustworthy broker. It offers its traders excellent trading conditions and features backed by advanced technologies. They utilize award-winning trading platforms and offer a wide range of assets with tight spreads. Moreover, IC Markets is regulated by several financial authorities, ensuring that all their services adhere to the set rules and regulations.
How long does IC Markets withdrawal take?
IC Markets withdrawals usually take 1 to 5 business days, depending on the method used. For e-wallets such as Skrill and NETELLER, it takes up to 24 hours. International bank transfers may take up to 14 days, whereas credit/debit card withdrawals take 1-3 business days. You need to ensure that the withdrawal method and account currency are the same as your deposit method to avoid any complications.