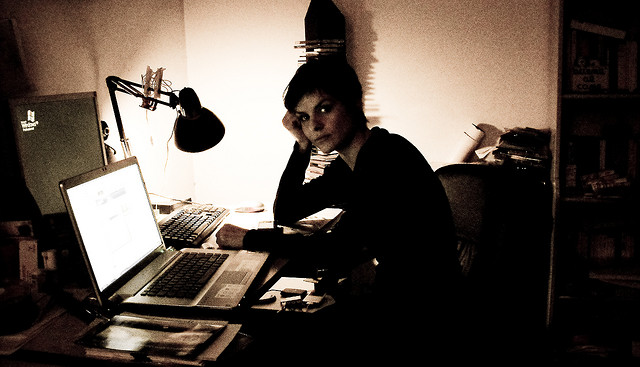 | | | |
| --- | --- | --- |
| | Written on 9/9/2008 by Abhijeet Mukherjee. You can catch him at Jeet Blog where he blogs about different Web 2.0 apps and online tools and how they can help you become more productive. | Photo Credit: ishane |
Being a web worker, I firmly believe that working from home is much better than the alternative of sitting in a cube all day at the office. Although it has its share of negatives, I assume the majority would agree.
Over the last few years, working from home has really picked up and now you can find people from in all occupations like freelancers, internet marketers, salespeople or people like our very own Jay White who have convinced their employers to let them do their office work from home.
However, for anyone who has just taken the plunge to web working from an office job, the initial days could be the toughest. There is a complete change of lifestyle and the realization of the fact that you are essentially your own boss and that nobody is cracking the whip to keep you moving could unleash more troubles and negatively affect a lot of things in your life including your health. In fact discipline and proper organization of work is a challenge which I think most of the web workers (or home workers) struggle with on a daily basis and hence I have decided to mention a few points which could probably help them to get over those issues.
Decide and organize workspace
It's important to decide which portion of your house will be called your home office and then organize it. Even if a laptop is enough for you to work make sure that you have a desk for yourself, and if you live with your family try to keep it at a place which is separate from the hustles and bustles of your home. If that's not possible then rent a room near your house. And yes, please don't make your home office a mess.
Fix your work hours
The liberty to not wake up with the alarm at 6AM is really amazing, however, it could make you lazy and slack at work. So make sure you fix your work hours in a manner that you are able to complete your work and also get time for other things like family, sleep, food, watching TV and taking a walk. f it makes sense, work when you love to work, doesn't matter nights or days, but have fixed working hours even at home.
Educate your family about the change in lifestyle
This is very important for those who don't live alone. After you've decided your work hours, you should sit down with your family and discuss the forthcoming changes in your lifestyle. Also make them realize, especially to your kids, the importance of your work and why you should not be disturbed during your work hours. Your always being at home should not imply that you are always available.
Educate your friends too
Eventually, your friends and neighbors will come to know that you work from home, but what they won't understand easily is that you 'work ' from home. This could mean a friend dropping by when you are busy with something and asking you out for a coffee or beer. Don't let such a conflicting situation arise. Inform them about your work hours beforehand and frankly if the doorbell rings and you're not expecting a business colleague, ignore it.
Prioritize work
Prioritizing your work could save you valuable time and also make sure that you are not absorbed in unnecessary activities which don't make you money. So think and decide what you need to accomplish first and complete the tasks in order of their priority.
Manage distractions
I'm not talking about avoiding distractions; every distraction has its own significance. If you consider a computer game as a distraction then don't forget it lightens up your mood, reduces the stress and makes you laugh. The point is you need to manage things which could pull you away from your priority tasks.
If you read too many RSS feeds then learn to manage and avoid RSS overload. If you are tied up with emails all day long then learn to manage them like an expert. Just make sure that you give the maximum time to the work which is important and which makes you money.
Don't be stressed…enjoy life !
The idea behind getting disciplined and organized as someone working from home is to get more freedom and enjoy life. Yes, there would be an amount of stress especially during the initial few months but if you don't budge and keep going you will be able to beat that stress easily.
So don't be stressed and just enjoy life. That's why you left your day job, isn't it. 🙂
Cheers,
Abhijeet
Like this Article? Subscribe to Our Feed!