10 Steps To Rejuvenate Your Messy Home-Office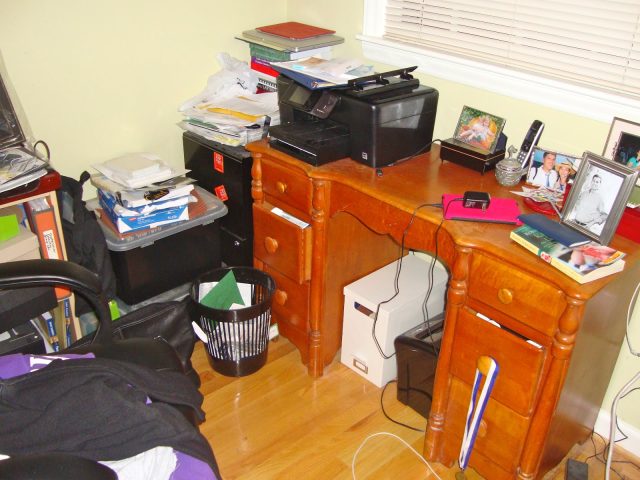 Written on 6/27/2008 by Abhijeet Mukherjee, of
Jeet Blog
.
If you work from home, your home office is the place where you spend majority of your time during the day. If this space is a complete mess with all kinds of stuff piled up on your desk, you know that it's doing nothing more than hurting your productivity.
Do you enjoy hunting for things under piles of paper? Aren't you tired of torturing yourself when you can't find that tiny but very important thumb drive because it's buried? Most of us go crazy when we can't find things and such craziness could be an everyday routine for a person working from a messy and cluttered home office.
I know you've been thinking about cleaning it up but have been constantly overpowered by fear, laziness and of course, procrastination. So it's time to pull up your socks and get set to rejuvenate your messy home office.
Identify your needs


The first step should be to identify what are the most essential materials for your work. For example, a USB thumb drive or a microphone could be more important to you than that bulky printer sitting on your desk. So take a pen and paper and make a note of just the "very essential" things. Those are the things that will get placement on your desk (i.e. in plain view).

 
Start with an empty room


It will be wise to start by completely removing

all

your belongings from the room. Once you've got an empty room you can get an idea of the vacant space and then plan the placement of different objects. You've already sorted out the most essential objects so you can start by placing them first, nearest to your desk.

 
Go wireless


Wires or cords are the most prominent contributor to clutter in a home office. Hence going wireless should take care of most of that mess. You should start by investing in a wireless keyboard and mouse and then plan to get rid of more cords or at least group them together in a way that they look neat. LifeHacker's Adam Pash has a nice article on setting up a cordless workspace.

 
Keep the desk clean
You should try and keep the desk as clean as possible and devoid from any clutter. Organize your filing cabinet and put all the important papers and files in that. Don't let the printer or fax machine sit on your desk. Instead allocate them space below your desk . For other important stuff like thumb drives, I am hoping that your desk has a drawer attached to it and it's time to make use of it. Don't let these small things occupy space on your desk, when you already have a separate space for them.
Go paperless


Yes, this had to be the next obvious option. If you are dealing with lots of paper everyday then your home office is bound to turn messy again. Hence it's better to go paperless and make use of the unending world of tools and apps available on the internet. What and why are you printing? Can you receive electronic bills or invoices instead of paper ones?

 
Use the wall space


You could make use of the wall space beside your desk by putting things like a calendar and a small wall clock on it. Apart from making your work space look attractive, it also makes sure that you don't keep these on your desk and add to the clutter.
Get the perfect chair


A quality chair plays an important role in the ergonomics of your home office, helps you maintain good posture, and also helps you to stay away from common health problems like back pain. Hence if you are not satisfied with your chair, you should invest some time and money and make the purchase. Read on as Jeff Atwood explains you more about workstation ergonomics.

 
Improve the lighting


Make way for some more sunlight to pass into your room during the day so you can keep the other lights switched off. It's healthy, energizing and also saves electricity.

 
Go green
Well, you've already gone green by allowing more sun light and saving electricity during the day time. Now add some real plants to your home office and water them every day. Your room will always have a fresh odor and hence improve the work environment.
Keep it fresh !…always !


Okay, so we're done. We have completely removed the clutter and given a new and fresh look to our beloved home office. Now, you gotta swear that you'll never make a mess out of it again and keep it clean and fresh. Always ! 🙂

 
Hope the above tips help you in improving your personal workspace. Do you have any more suggestions ? Do share them in comments.
Cheers,
Abhijeet
Like this Article? Subscribe to Our Feed!