Hartford Auto Insurance Reviews: Insurance Offers, Features, Cost, Pros & Cons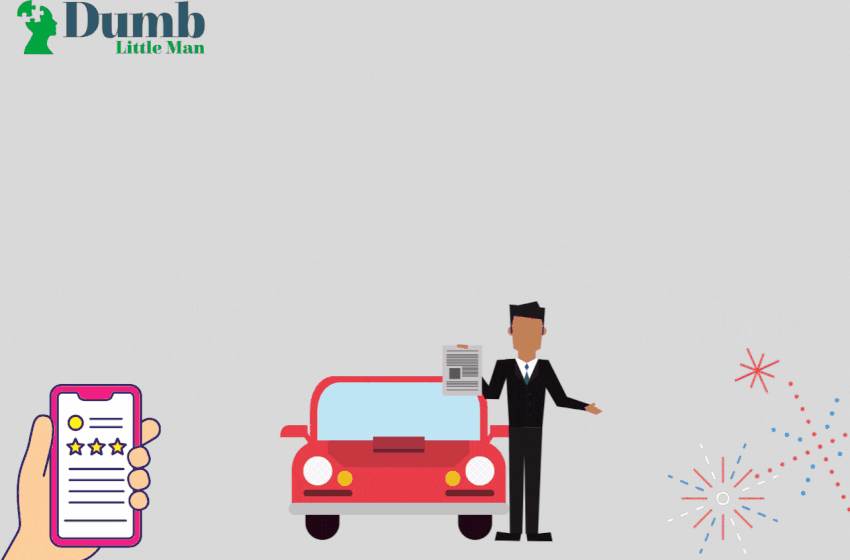 Auto insurance is a mandatory requirement to drive vehicles in certain states. The majority of the states in the country require car owners to get auto insurance before registering their vehicle to legally drive on the roads. Besides the mandatory requirements, auto insurance is actually a blessing in disguise for car owners.
The United States has more than 6 million car accidents annually across the country. To secure yourself against any financial loss from an accident, you must get auto insurance when you purchase or lease a car. Auto insurance can help secure car owners against the financial repercussions of a fatal accident. Car owners make annual payments to the insurance company, which then pays settlements when individuals file claims after getting into a car accident. For example, if you're driving and get hit in a rear-end collision that was not your fault, the insurance coverage kicks in and pays for the damages.
Vehicle insurance laws differ from state to state. This means you'll need to make certain you obtain the appropriate coverage for your location. And, depending on the number of vehicles you own, you may require more than one sort of insurance. You will, at the absolute least, require automobile insurance coverage regardless of where you live.
Bodily injury liability: This type of liability coverage protects car owners from costs associated with any personal injury or wrongful death by a negligent driver.
Property damage liability: This type of liability coverage provides financial compensation to car owners for any damage done to their vehicle by a negligent driver.
Furthermore, many states require you to carry:
Medical payments or personal injury protection (PIP): This covers medical expenses caused by you or your passengers in the event of an accident. It will also pay missed wages and other associated expenses.
Uninsured motorist coverage: This provides coverage for an accident caused by a motorist who does not have vehicle insurance or for a hit-and-run. You may also get an underinsured motorist policy, which will cover charges if another driver does not have enough coverage to cover the costs of a major collision.
Hartford Auto Insurance Reviews: What Is Hartford Auto Insurance?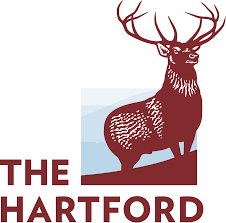 Through its insurance partner, the AARP, formerly known as the American Association of Retired Persons, the Hartford Group offers a wide range of insurance products. AARP has a long history of assisting older Americans in their golden years, and its auto insurance policies are no exception. The origins of AARP can be traced back to 1958 when a former professor from California founded the organization as a nonprofit membership organization for people aged 50 and up.
The Hartford Financial Services Group Inc. is the company's official name; it was founded in 1810 and offers vehicle and house insurance in all 50 states. It has almost 200 years of experience and is situated in Hartford, Connecticut. It provides a wide range of coverage, particularly for AARP members. Hartford is not well-known for having a high auto and house insurance market share, but it is more popular in employee group benefits, business insurance, and mutual funds.
In collaboration with the AARP, Hartford provides motor insurance to AARP members aged 50 and older. The Hartford provides full-coverage automobile insurance as well as a variety of supplemental coverages and perks to those who qualify. Hartford's policies are backed by a solid financial foundation, and the company offers clients and shoppers an extraordinarily seamless purchasing experience. The firm is ranked 160th on the Fortune 500 list. The Hartford exclusively sells various programs and plans to AARP members.
The Hartford provides the following insurance products:
Automobile insurance
Insurance for antique automobiles
Insurance for homeowners
Insurance for renters
Insurance for apartments
Flood insurance is available.
Umbrella insurance plans
Insurance on one's life
Insurance for businesses
Liability in general car insurance
Insurance for workers' compensation
Various employment perks are available.
Unlike many other car insurance companies, Hartford allows consumers to submit reviews directly on their website. This amount of transparency, we believe, is pretty cool and indicates that the organization is committed.
If you're an AARP member looking for house and vehicle insurance and have good J.D. Power ratings for customer satisfaction and financial soundness, The Hartford is worth considering.
How Does Hartford Work?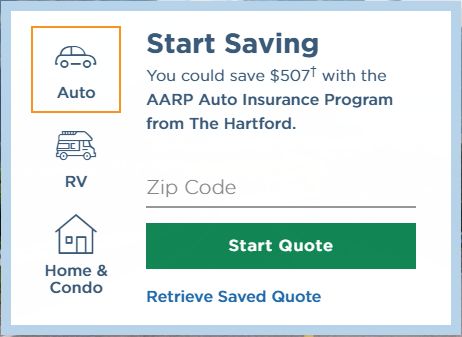 The Hartford car insurance offers a wide range of insurance, benefits, and investment services. The company's financial stability is strong, which means it can settle customer claims more quickly and efficiently. It also has above-average customer satisfaction ratings and provides AARP members and policyholders over the age of 50 with a wide range of discounts. If you're younger or need coverage for multiple cars, you should shop around for car insurance to see if another company can better meet your needs.
The Harford provides vehicle insurance estimates over the phone (888-546-9099) Monday through Friday, 7 a.m. to 11 p.m. ET, and Saturday and Sunday, 8 a.m. to 6 p.m. ET.
You may also get a quote online. The online quotation procedure walks you through a series of questions and takes 8 minutes or less. While not needed, The Hartford allows you to provide your Social Security number and your vehicle identification number for a more accurate quotation.
Upon completion of the questionnaire, the system creates your quotation and allows you to change basic coverages or add optional ones. The online quotation system automatically applies any discounts that you or your vehicle are eligible for.
Hartford offers the following common car insurance coverage:
Bodily injury liability
Property damage liability
Uninsured and underinsured coverage
Collision coverage
Comprehensive coverage
What are the Features of Hartford Auto Insurance?
When it comes to coverage, Hartford offers numerous solutions. Plans are only offered to AARP members in all 50 states. You'll discover the normal range of liability and comprehensive choices, some of which are required by your state.
The Hartford vehicle insurance coverage provides the following features as standard:
Lifetime Renewal: The Hartford guarantees that once your vehicle insurance policy is in place, it will never reject your coverage. You must continue to pay all charges, have a valid driver's license, and satisfy all other conditions. This benefit is not offered in all states.
Recover Care: This plan pays for transportation, cleaning, cooking, and other expenses incurred as a result of an automobile accident that results in an injury that is not covered by your health insurance or Medicare.
Replacement of a New Vehicle: If your car is totaled within 15 months or 15,000 miles after purchase, Hartford will pay you the cost of a newer model with the same equipment.
The Hartford offers a variety of add-on coverage options that are typically found with other car insurance providers.
You can add one or more of the following add-ons to your package.
Insurance Features and Coverage Options
Assistance on the Road
Towing assistance is available at The Hartford for AARP members. To qualify for this package, you must have comprehensive coverage and be willing to pay out of pocket for labor and repair costs that exceed your policy limit.
Auto Glass Replacement
This benefit pays for the full cost of repairing or replacing your windows and windshield if they are damaged. The availability varies according to the state.
Forgiveness for the First Accident
After the first automobile accident, your premium does not rise. To be eligible, you must have been accident-free for five years. In California, this plan is not available.
Disappearing Deductible
Every year, if you keep a clean driving record, your collision deductible on your plan decreases by $50 until it hits $0. The minimum deductible in New York is $100.
One Deductible
You only pay the higher deductible if your claim involves two automobiles covered by Hartford. The same is true if you submit a claim for your vehicle and residence, which are protected by the company's coverage.
Deductible Waiver
If you are not at fault in an automobile accident, you will not be required to pay the deductible.
100$ Collision Deductible Reduction
You just have to pay a $100 deductible if you utilize a Hartford-authorized repair shop. The terms of this scheme differ per state.
How much does Hartford Auto Insurance Cost?
The following are the typical yearly premiums for The Hartford vehicle insurance:
Minimum coverage costs $754.00.
Full coverage costs $2,270.
According to the most recent Bank Rate statistics, Hartford vehicle costs are more than the national average yearly premium of $1,674. Before looking into The Hartford, make sure to check prices from other auto insurance companies. Keep in mind that Hartford insurance offers several extra benefits at no extra cost, and you may be eligible for some large reductions on your policy.
There is no defined pricing for how much auto insurance a 25-year-old needs. Your car insurance prices will also differ depending on your age. For example, insurance companies frequently perceive young drivers as high-risk drivers behind the wheel, such as teenagers. This is due in part to their lack of driving experience. The cost of automobile insurance varies according to the driver and is determined by a variety of factors.
A 25-year-old who recently obtained their license, for example, will most certainly pay a higher premium than other drivers of the same age who have been driving since they were 17 and have a clean record. Furthermore, automobile insurance is often more expensive for males than for women.
The more you drive and the older you grow, the lower your vehicle insurance prices tend to be.
Click Here to Open an Account with Hartford (Official Page)
Who is Hartford Best For?
Hartford is a property and liability insurance pioneer but also offers various financial products and services to consumers. The financial institution has received widespread recognition for its stellar customer service, sustainable practices, and a lot of transparency.
Hartford has been providing individuals and corporations with the financial security they need to pursue their dreams, avail opportunities, and overcome unexpected challenges.
The company maintains its mission of making an impact as central to what they do in order to increase resilience in their communities, empower individuals and business success for their customers, and foster a workplace culture centered on human capital.
Hartford's insurance solutions are focused on those over the age of 50, as seen through a partnership with AARP that provides members with additional savings and privileges. Non-AARP members can buy house and vehicle insurance via independent insurance brokers, and the corporation also provides group benefits, business insurance, and mutual funds.
Hartford Car Insurance Pros and Cons
Hartford's auto insurance includes benefits such as breakdown assistance and Recover Care, which is a fantastic initiative to protect the insured while they recover from a car accident.
Hartford's online calculator is a great way for homeowners to get estimates of their premiums and also get an online quotation. You can even get multiple insurances together, such as getting auto insurance with your homeowners, condo, or renters' policy can result in a substantial multi-policy discount.
Although there are multiple discounts and other fantastic features, Hartford only provides personal auto and home insurance policies to AARP members over the age of 50. Those above the age of 50 looking to bundle their car insurance with life insurance and more should also consider looking elsewhere since the company does not provide that.
Although Hartford proclaims senior discounts, the average premiums on these policies are relatively higher than what the competition is offering consumers. If you aren't eligible for the multiple discounts, you may be able to find a better deal elsewhere.
✅ PROS
▶ 24/7 car insurance claims services
If you are in an accident or need to file a claim, you can reach The Hartford representatives 24 hours a day, 7 days a week. You do not have to wait until normal business hours to contact someone to begin the claims process.


▶ AARP members receive exclusive discounts and benefits
Although Hartford offers a wide range of insurance policies, there is one in particular for AARP members. As a result of this focus, it can tailor benefits, coverage, and discounts to those members.
✅ CONS
▶ You must be 50 or older
Suppose you are under the age of 50. In that case, you are ineligible for Hartford's AARP Auto Insurance Program as well as special policy features that may not be found elsewhere to best accommodate senior lifestyles.


▶ You must be a member of the AARP
Although AARP membership is open to people aged 50 and up, not everyone in this age group is a member. To enroll in Hartford's AARP Auto Insurance Program, you must first become a member.
Click Here to Open an Account with Hartford (Official Page)
Hartford Compared to other Insurance Company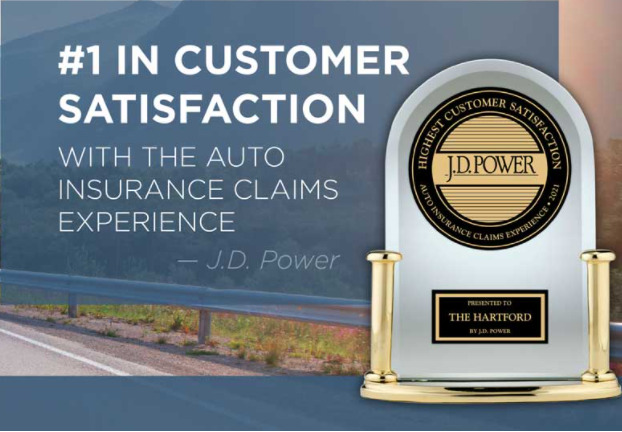 | Insurer | J.D. Power Rating | A.M. Best Rating | Multiple Discounts | Gap Coverage |
| --- | --- | --- | --- | --- |
| Hartford | 1/15 | A + | Yes | Yes |
| Farmers | 10/15 | B++ | Yes | No |
| Progressive | 8/15 | A++ | Yes | Yes |
| Geico | 3/15 | A++ | Yes | No |
>>Read more About Geico Insurance Reviews: Insurance Offers, Features, Cost, Pros & Cons
Hartford Auto Insurance
Hartford auto insurance has been in business for over two centuries. The organization is based in Hartford, Connecticut, and is one of the industry leaders. Hartford's strong commitment to sustainability has been critical to its competitive advantage and is central to the company's long-term business strategy.
Most third-party rating agencies, including J.D. Power and the Better Business Bureau, rank Hartford among the best car insurance companies (BBB). Overall, the company receives fewer customer complaints than its size would suggest, and it may be a good option for drivers looking for a provider with solid financial stability.
Customer Satisfaction Index
According to J.D. Power data, Hartford receives an 833 out of 1,000 on their customer satisfaction rating scale. In this regard, Hartford is quite similar to a typical insurance company, as the industry average is 835. J.D. Power's data was also used to generate these star ratings, which allow you to see how this company ranks in a variety of categories.
The Ratio of Customer Complaints
The National Association of Insurance Commissioners (NAIC) is a national regulatory body that provides information on the number of public complaints filed each year against insurance providers. Each company is graded by comparing its complaint index to the national median, which is one. Scores higher than this indicate that the company received more complaints than was required. The Hartford insurance company collaborates with AARP, which has a customer complaint ratio of 0.28.
Financial Strength
AM Best assessed car insurance companies' financial strength to determine their ability to meet financial obligations to customers. AM Best gave Hartford insurance an A+ rating, indicating that it has a superior ability to pay claims.
Final Verdict: Hartford Auto Insurance
Although many newer insurance companies are incorporating the latest technology to serve their customers better, Hartford Auto Insurance sticks to being traditional. The company understands that claiming insurance can be challenging for individuals and having the right customer service can make the entire process a lot easier.
Focusing on providing the best customer service, Hartford Auto Insurance is a great option for AARP members and those above the age of 50. Individuals can take advantage of a variety of car insurance discounts to help lower their car insurance premiums while maintaining comparable levels of car insurance coverage.
However, if you're a young individual or above 50 looking to bundle your auto insurance with life insurance, you're out of luck. There are other relatively cheaper options out there for young drivers to explore.
Hartford Auto Insurance FAQs
What is Hartford insurance known for?
Hartford is a dominant player in property and casualty insurance, group benefits, and mutual funds. The financial institution is widely recognized for its customer service excellence, sustainable strategies, trust, and integrity.
Is AARP a good insurance company?
AARP auto insurance is well-regarded in general, with very competitive prices for AARP members and benefits such as lifetime renewability and a disappearing deductible. Car drivers covered by the AARP through Hartford's car insurance policies can also take advantage of benefits such as Recover Care and first-accident forgiveness.
Aside from travel benefits and shopping discounts, an AARP membership offers discounts, services, and resources to help you maximize your retirement benefits. This includes resources for financial planning, as well as free tax and financial advice. Banking and investment services are also available at discounted rates.
The rating for AARP Auto Insurance is 1.93, which is near twice the national average. This means they receive almost twice as many customer complaints as their competitors in the auto insurance industry. However, through Hartford, you can expect to receive great customer service.0
Who is Hartford insurance owned by?
In 1970, the Hartford Group was acquired by ITT Corporation for a staggering $1.4 billion. This move was considered to be the largest American takeover at the time. Since 2014, Hartford Insurance has been run by its Chief Executive Officer and Chairman, Christopher J. Swift. Swift became a driving force behind the growth of Hartford, further cementing the company's position as the insurance leader in the country.
Click Here to Open an Account with Hartford (Official Page)
Like this Article? Subscribe to Our Feed!
Vanessa is a mom of 3 lovely children and a software geek. Outside of her career as a health and wellness instructor. She enjoys writing and researching on topics such as finance, software, health and culinary.