Geico Insurance Reviews: Insurance Offers, Features, Cost, Pros & Cons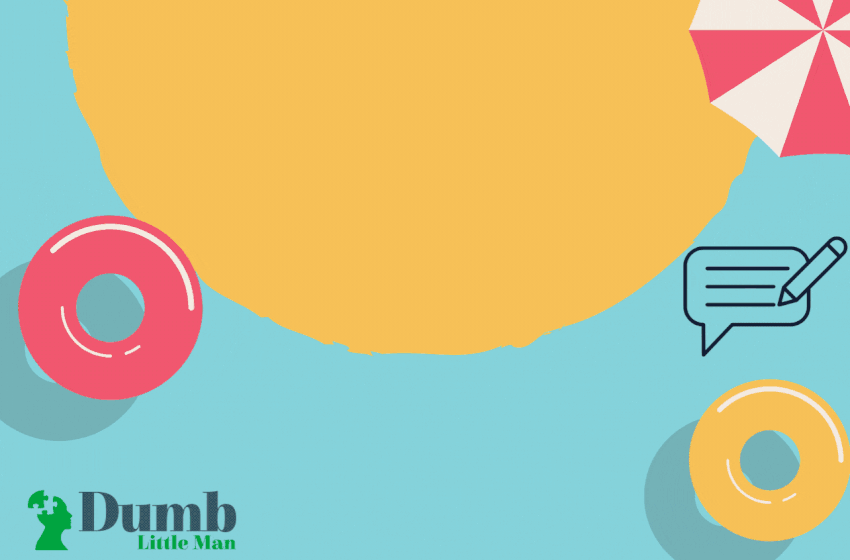 Holding your very first car key will surely leave you a rush of excitement. It is now possible to roam around places you like and say goodbye to early morning commute challenges. But wait, step on the break. Do you have car insurance?
Car insurance is a policy requirement for drivers that you cannot just shove away. An accident can happen anytime, and you can breathe out the stress if you have auto insurance to save money.
Sign up for a car insurance company that will cover most of the costs if you run into car accidents. An affordable auto insurance company provides car insurance coverage such as comprehensive insurance, collision insurance, bodily injury liability, and a lot more essential add-on.
Turn right to Geico car insurance that never fails to leave the top-performing insurance companies. It is rare to find negative Geico insurance reviews. Is it worth the quote with a good 15 minutes claim process to save 15% car insurance? Here's a Geico insurance review that you are looking for.

Geico Insurance Reviews: What is Geico?
Government Employees Insurance Company, or GEICO, is one of the most distinguished auto insurance providers in the United States. Since 1936, Geico has offered various insurance products from home insurance, life insurance, and car insurance. The insurance services are available in 50 states and the Columbia district.
In 2019, Geico's website revealed that the company established 17 million auto insurance policies in the US and insured up to 28 million cars. In terms of market share, the insurance company is second to State Farm.
Many Geico insurance reviews reveal that Geico is receiving great claim satisfaction compared to other car insurance companies. It has $32 billion in assets marking impressive financial stability to pay full coverage insurance in the states.
It is important to note that financial values are the best indicator to ensure that insurers are financially sufficient to provide the needs of insurance customers when these are most needed.
Geico has gathered several customer service assessments over the years. Have an eye on some of their best ratings:
4.5 over 5 (13,559 customer reviews) average customer ratings
A++ for A.M Best Rating
A++ for S&P Global Rating
4th place in J.D Power US Auto Claims Satisfaction Study (2019)
1st place in J.D Power US Auto Claims Satisfaction Study (2020)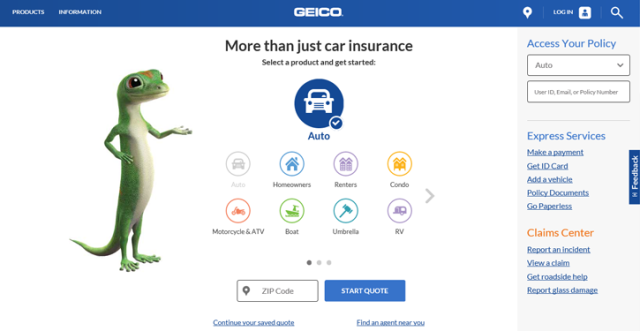 How does Geico work?
Processing an insurance quote and paying premiums in Geico is similar to other major car insurance companies. You will need to enter your profile information on the Geico website to get a possible precise offer.
Geico works in partnership with an association of insurance commissioners or agents nationwide that sell only Geico insurance products. In an insurance policy application, you can schedule an appointment with local agents, or you can accomplish almost everything online using the Geico mobile app.
Geico offers numerous coverage options for more than one vehicle. They have motorcycle insurance, ATVs, mountain-type vehicles, RVs insurances, and commercial policies, to name some. As a unique feature, insurance coverage for vintage and classic cars are also available.
It is also a good insurance company where you can avail of home insurance and renters' insurance. If you decide to help with policy bundles in Geico, you'll receive a discount on homeowners' and auto insurance rates.
Have a glimpse of what you get with the following Geico car insurance coverage:
Physical Injury Liability and Property damage Liability coverage
These policies will separately cover expenses for the other person if you're faulty with the accident.
Personal Injury protection and Medical payments coverage
Almost anyone wants these two separate policies, which help to pay hospital bills when hit by accident.
Uninsured motorist/driver coverage
This policy will cover the damage you have caused to a driver who is not insured.
Collision Insurance and Comprehensive Insurance Coverage
You need either of the policy to cover repair fees. Some money lenders also require this compensation in loaning for your car.
If you subscribe to Geico auto insurance, you have the privilege to add coverage that removes the deduction for inclusive claims of glass repair. It charges a bit more, but who wouldn't want to get an essentially free windshield repair?
Are you looking for a more personalized policy? Go over this section and shop for Geico's customized policy coverage.
Roadside Assistance – If you encounter flat tires, failing engines, or any emergency road service, use the Geico mobile app to reach out to their customer service for assistance. You'll have to pay at least $100 to fix jump starters, tire changes, repair shop services, or towing (in the case of non-accidents). Geico's Roadside Assistance service offers about the same coverage as AAA Plus Roadside assistance at a lower price, with no rewards or discounts that AAA customers can get.
Mechanical breakdown insurance (MBI) – is optional insurance coverage that acts as an extended warranty for your vehicle. MBI will cover all car systems and parts for a new or rental car for less than 15 months. Instead of paying high costs charges by dealers, you only have to pay a small premium for repairs.
Progressive has comparable coverage with Warrant Direct. Warrant Direct will charge different deductions matching the insurance plan for every suitable repair shop visit. The other $250 range for each unrelated repair, makes Geico's MBI coverage different from Warrant Direct. With Geico's MBI, you are liable for two deductions if you need to repair the transmission and the air conditioner.
Rental Car Reimbursement – If you rent a car during an accident or a total loss, you will receive up to a $ 750 refund for every incident.
Note: Geico will process all direct billing when you book with Enterprise.
When you decide to quote for the insurance of your choice, sign a contract with Geico. It is an exclusive contract between insurance customers and the insurance provider. You'll have to pay your premium, which is the amount of insurance policy you avail of. Your vehicle history, credit history, and specific entries are the basis for your compensation.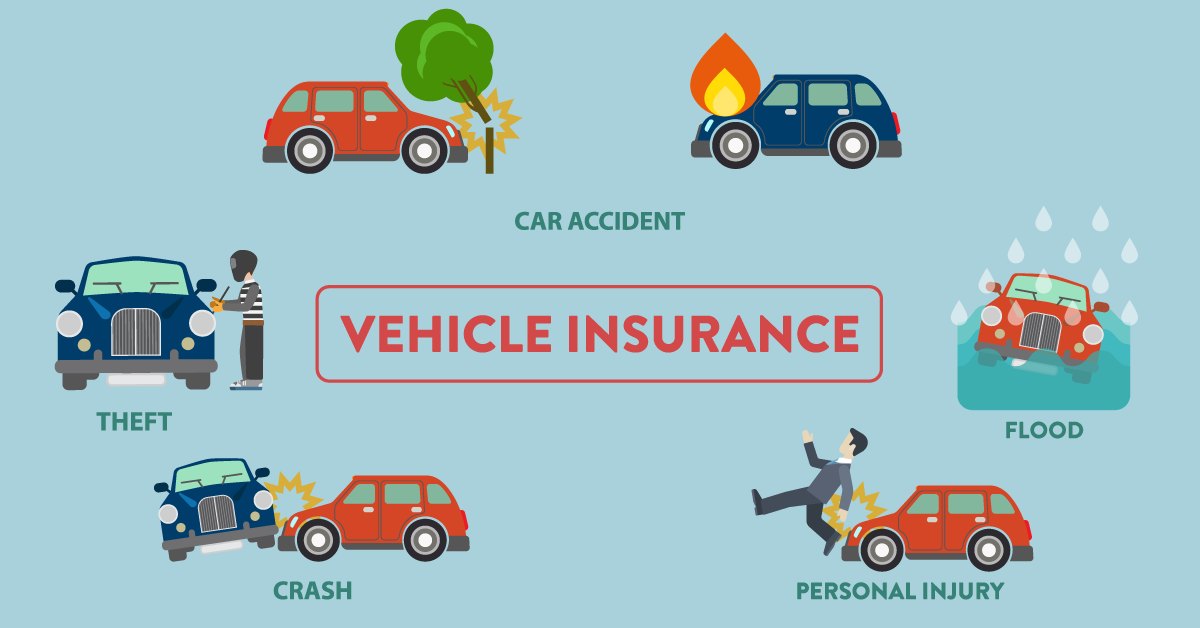 What are the Features of Geico Auto Insurance?
The insurance company makes sure that you are not settling for any less in their hands. You might want to shower positive Geico insurance reviews with the following notable features:
Technology-advanced tools
Geico incorporates Artificial Intelligence in their customer service. You can easily search on their website and use it to complete processes such as requesting car insurance quotes, paying car insurance rates, ID printing, policy covered claim, etc. The Geico mobile app is both a convenient and spontaneous alternative to the website. It also has AI voice assistance for iOS and Android users.
24/7 customer support
Customer service will respond to you immediately, whether you reach out via phone call, mobile app, or the Geico website. This feature is vital when you suddenly run into an accident, need roadside assistance, or when you have questions about payments.
Rideshare Policy
You can count on Geico for rideshare car insurance coverage which is rare for insurance companies. Geico's Rideshare policy differs from other car insurance companies because it is a policy and not an option. Uber and Lyft drivers should protect themselves from spending on their own in case of accidents during their mobile service.
If you decide to avail of ride-sharing insurance, take note that you will have to drop your car insurance. However, it gives you the insurance coverage you need when using your car for delivery services and on-demand ride-sharing businesses. How can you use Geico whether you are on or off duty? Just download the Ridesharing app and slide the enable (or disable) button when you drive the vehicle to monitor your driving performance or while you wait for passengers.
It is surprising to know that the rideshare policy is not just for Uber and Lyft drivers. This policy also applies to GrubHub, UberEats, DoorDash, and other busy shipping companies. The rideshare policy is also applicable if you are driving around one or more locations. Be mindful that carpool insurance is accessible in 40 states.
DriveEasy Program
Several insurance companies, plus Geico, offer usage-based policy discounts. The program monitors your driving behaviors and awards discounts to good drivers. DriveEasy is Geico's usage-based insurance application and is accessible in the states of; Alabama, Arizona, Colorado, Connecticut, Columbia District, Florida, Illinois, Indiana, Lowa, Lousiana, Kentucky, Maryland, Nevada, New Jersey, New Mexico, Texas, North Carolina, Ohio, Oklahoma, Oregon, Tennessee, Pennsylvania, Utah, Virginia, and Wisconsin.
DriveEasy monitors your driving performance through the mobile app and tracks your driving behavior and details such as:
Smoothness of acceleration
Cornering
Driving distractions (phone using)
Drive distance
Hard breaking
Street Type
Time and Weather type
DriveEasy apps ratings in the App Store and Google Play are below average. Some Geico reviews remark whether the app works regularly. Still, many customers also leave positive experiences primarily on their premium discounts.
As mentioned before, Geico insurance services are available in 50 states. The provider also trades other types of insurance policy such as:
Commercial insurance – If you invest in a co-operative or are a condominium owner, the condo insurance can protect your house's internal structure and personal property. Geico Condominium Insurance proposes movable property coverage ranging from $ 20,000 to $100,000 and $200,00 worth of home insurance. Condominium owners can take advantage of the alert systems and bolt lock discounts covered by this insurance.
Motorcycle insurance – the insurance company, offers reasonable motorcycle insurance policies at 10% off to premiums. It makes Geico one of the most affordable auto insurance companies. It is easy to qualify for Geico Motorcycle Insurance discounts making it easier for customers to earn savings. In Florida, for example, Geico's motorcycle insurance products are constantly lower than co-top insurers such as Progressive, Markel, and Dairyland.
Mobile home insurance – Like home insurance, Geico's property insurance went through the association of insurance commissioners. Under this policy are home insurance and some other personalized add-ons such as personal liability, personal property insurance, and coverage for building extensions.
Umbrella insurance policy – aims to complement existing or home property insurance or car insurance with significantly higher accountability. For example, your car insurance cover is $100,000, but you are accountable for $ 500,000 worth of property damage from a car accident. If you have umbrella insurance, it will supply the remaining balance.
Flood Insurance – If you reside in a flood-prone area, get flood insurance to keep your home safe if a disaster happens. Your home is undoubtedly a significant investment. In other words, you'll have to save your home from potential harm. This type of insurance is in harmony with the US Flood Insurance Program.
ATV insurance – In contrast to mopeds and scooters, this insurance is a standalone offer. It gives policyholders access to a unique range of coverage options such as comprehensive coverage, Property damage liability, Physical Injury, Collision coverage, medical payments, and Uninsured motorists coverage.
Jewelry insurance – it provides inclusive coverage for damage, loss, and theft. While some insurers offer jewelry insurance as homeowner or tenant insurance, Geico offers separate jewelry insurance. In addition to a complete insurance package, Geico ATV Insurance offers discounts for Anti-theft devices, multi-car, policy bundling, and Mature rider.
Homeowners insurance – Geico does not have standalone homeowners insurance. For that reason, one of its 31 partners will process this coverage obtained from Geico. The significant advantage of picking Geico home insurance is the opportunity for package discounts. Geico does not suggest an accurate quote for the total amount you can save by getting multiple policies. Nevertheless, this Geico insurance is one of the highest discount promotions for home insurance.
Aside from the details of insurance above, here are additional insurance products that you might want to check out:
Life insurance
Identity theft coverage
Renters insurance
Travel insurance
Personal vessel insurance
Pet insurance

How much does Geico Car Insurance Cost?
The best way to know the cost of Geico is to make a comparison with other car insurance companies. Insurance providers may offer different car insurance premiums. The non-standard tips are influential factors such as a vehicle, location of residence, age, driving performance record, marital history, and credit-related information.
Geico markets itself as a cheaper alternative to car insurance. You can decide to avail a policy covering your minimum insurance needs, or you can spend additional cash to invest in some add-ons. For example, Geico can offer a coverage option amounting to $ 100,000 or $ 300,000 for personal injury liability mandatory in all states except Florida. The $ 100,000 will serve as the minimum cost, while the $ 300,000 will add the endorsed compensation rate to your quote. If you're in North Carolina in an instance, Geico will make sure that you are safe with the following appropriate car insurance:
Bodily Injury Liability Coverage
The authorized minimum rate requirement is $ 30,000 for every person and $ 60,000 for every accident.
Liability insurance for damages to property
The minimum requirement to cover property damages cost is $ 25,000.
Uninsured driver/motorist coverage
The essential authorized requirement costs $ 30,000 for every person and $ 60,000 for every accident.
Uninsured/ Uninsured Property Damage by Driver
The lowest legal requirement will cost $ 25,000. Geico insurance customers may get the same information for all states in canvasing auto insurance before purchasing policies.
You need to choose the one that you can sustainably avail with your budget and the coverage you think is appropriate with your age and state requirements.
Example of premium rates
A single male with a college diploma gets a quote from the Geico auto insurance program. He rents a house in Chicago, USA, and drives an average of 11,000 to 13,000 miles annually with a Toyota Camry (2018) as of March 28, 2021. He receives the basic and full coverage options.
Minimum Coverage Inclusion:
Bodily/Physical Injury: 25 to 50 thousand US dollars
Property Damage Coverage: 20 thousand US dollars
Uninsured Motorist Physical Injury: 25 to 50 thousand US dollars
Full Coverage Inclusion:
Bodily/Physical Injury: 100 to 300 thousand US dollars
Property Damage: 50 thousand US dollars
Uninsured Motorist Bodily Injury: 100 to 300 thousand US dollars
Collision Deductible: 1,000 US dollars
Comprehensive Coverage: 1,000 US dollars
| Type | 25 Yeasr Old | 35 Years Old |
| --- | --- | --- |
| Minimum Coverage | $942 | $832 |
| Maximum Coverage | $2216 | $1900 |
The table shows the rates difference offers on an age basis. For a 25-year-old policy, you'll be paying $942 for minimum coverage and $2,216 for full insurance coverage. For a 35-year-old policy, you'll be paying $832 and $1,900 for minimum and total coverage costs.
Click Here to Open an Account with Geico (Official Page)
Does Geico Car insurance have Discounts?
With cheaper policy rates, Geico still wants to pursue you with several discounts deals. From their basket-full of discounted policy offers, you can find one or more most qualifying protection whether you are on and off driving.
Mark your bet on the listed Geico discounts below:
Federal employee discount
Whether active or retired federal personnel can receive a car insurance discount of up to eight percent. This deductible is also called an eagle discount.
Driving history, performance record, and habits discount
As already stated, clean driving reports give you free accident forgiveness that will cost you less after an accident.
Seatbelt use discount
By always wearing seatbelts, you qualify for 15% off health or personal insurance.
Defensive driving course discount
After finishing a permitted defensive driving course, it will shave your rates at Geico. The value of money you can save will vary on your residence policy coverage. Save 5% to 20% on applicable coverage by taking Geico's defensive driving courses available in your area. Currently, Michigan, Massachusetts, Vermont, North Carolina, and Hawaii do not offer markdowns on defensive driving courses.
Driver's education course discount
If drivers have completed their driving lesson program, they may also be eligible for this insurance discount.
Five-year accident-free discount
You can save 26% on car insurance if you manage to avoid no accidents in five years of availing of policies.
Good student discount
In some American states, a full-time student who consistently gets a "B" grade in driving can get up to 15% off on overall car insurance premiums. Young Drivers must be 16 to 24 years old to receive to qualify for this discount.
Membership and Employee discount
If you're a member or employee of one of 500 specific organizations, you may be eligible for a discount. This group includes over 500 professional associations, tertiary schools, colleges/universities, and other institutions.
Military members/ families discount
Active US military members, retired US military members, or National Guard or Reserve members can have a discounted premium of 15%.
Full payment of coverage discount
You can keep some money in your pocket by not paying Geico charges for monthly installments by paying the total premium for the whole contract period.
Multi-vehicle (bundling) discount
Save up to 25% on auto insurance discount if you insure more than one vehicle with Geico.
Customer loyalty discount
Geico customers can receive usage-based discounts by using apps or plug-in devices to monitor their
driving behaviors. Be an excellent driver to save money!
Multi-policy discount
Geico will giveaway a discount on your car insurance premium if you take out other insurance like a condominium, renters, homeowners, or RV insurance.
Tools discount
If you have car insurance at Geico, you will get a discount on the insurance premiums for devices like Airbag, Anti-lock brakes and Anti-theft system, and Daytime running lights. You may also have an interest in the following insurance discounts:
Driver affiliation discount
Emergency deployment discount
Multi-family discount
New car discount
Click Here to Open an Account with Geico (Official Page)
Who is Geico Best For?
According to some Geico auto insurance reviews, the insurance coverage best fits young drivers, particularly consumers of technology. It primarily suggests digital practices which offer affordable car insurance rates.
Moreover, Geico is trying its best to keep up with its slogan, "You can save more than 15% on car insurance in 15 minutes." If you are looking for car insurance that suits your budget, give Geico auto insurance a try. You can anticipate quality service at affordable rates. In numerous citations, Geico repeatedly reports as low-priced selections for drivers with decent or respectable credit.
With solid financial assets and ratings, Geico is a durable option for insurance products. An economic analysis by the AM Best and Standard & Poor's confirm that Geico will manage to be present in times of need.
Geico Insurance Pros and Cons Pros
✅ PROS
▶ Full range of insurance products
Geico includes all the majority coverage options. You can also add more personalized needs such as car rental reimbursement, roadside assistance, and umbrella insurance policy. Geico promotes straightforward request claims. You can pick several options for filing complaints about the website, phone calls, landline, and the Geico mobile app.


▶ Features Accident Forgiveness
At Geico, you can get or buy coverage for accident forgiveness. If you possess this insurance and are faulty with your first car accident, your premium will not increase.



▶ Full insurance discounts
There are many ways to decrease your insurance premiums fees from the military, approved defensive driving course, and good driving habits. Some deals may cut up to 40% in your premium. Therefore, Geico's insurance review is worth checking, especially if finances are the primary concern.
✅ CONS
▶ Gap insurance is not available
The Gap Filling is especially popular with new car owners. If you are the new car owner, Geico does not currently offer a gap coverage option. This coverage fills the financial insufficiencies when your car is total, but you have a balance more than it's worth. Since new cars' value depreciates quickly, you may experience hard trading.


▶ Average Customer Service Experience
Geico auto insurance is receiving mixed customer satisfaction responses. It seems to vary noticeably from region to region. The 2019 J.D Power Auto Claims Satisfaction Study suggests that Geico excels in a few areas. It receives a not-so-good shot in New York as to the same study survey report. Also, consider that it does not reach the highest customer satisfaction survey in any serviceable regions.



▶ Fewer agent links
Geico Auto Insurance promotes the use of cutting-edge technologies through digital tools such as websites and mobile applications. Some may feel detached or less approachable. However, this form of business transaction is a way to trim expenses.
Geico Compared to other Insurance Company
Results show that the three auto insurance companies have the same rating of three over five in the J.D Power survey. Moreover, Geico gets an A++ in A.M. Best rating, which makes it ahead of its two competitors. All of the insurance providers, compared to each other, offers multiple discounts. However, Progressive is the only insurer that provides gap coverage insurance.
| Insurer | J.D. Power Rating | A.M. Best Rating | Multiple Discounts | Gap Coverage |
| --- | --- | --- | --- | --- |
| Geico | 3/5 | A ++ | Yes | No |
| Farmers | 10/15 | A- | Yes | No |
| Progressive | 3/5 | A+ | Yes | Yes |
Geico vs. competitors
It is essential to look for a car insurance quote first before choosing among insurance providers. Even though Geico is one of the most well-known insurance companies globally. Other reputable car insurance companies may come head-to-head in better coverage, services, and cheaper auto insurance rates.
Let's take a look at some of Geico's main competitors.
Geico
Since 1936, Geico has been working to provide US military members with the cheapest insurance options. The insurance company aims to contribute to the military's essential services in the US by offering federal employee discount plans and service options, whether in local and foreign missions, in the event of peace and conflict.
Today, the leading insurance company has blossomed to insure various customers, whether they work in the US or a private division. Geico's best feature includes 24/7 Customer Support, Accident forgiveness, Car rental reimbursement, Mechanical Failure Coverage, and Rideshare Coverage.
In comparison to Progressive, Geico is a cheaper insurance company for various types of drivers. The auto insurance rates are almost the same for auto insurance with minimal coverage. However, the gap between Geico and Progressive is widening for young drivers, reaching up to $ 3,000 rates difference for full insurance coverage.
Geico vs Progressive
Progressive is another top auto insurer that considers whether low prices are the main priority. Compared to other insurance companies, Progressive offers fewer discounts. But it provides steady lower rates in the market.
Progressive houses coverages and additional protection are not available in most insurers like customized car parts coverage and pet insurance. However, several Geico insurance reviews show that the second-most discount opportunity against Progressive ranks at 3rd.
According to Forbes Advisor, Progressive good drivers rating (1, 825 nationwide) is in the middle of other top car insurance companies. On the other hand, a good drivers rating for Geico's car insurance is at no.1 (1,221 nationwide) as a better auto insurance choice than Progressive. The rates basis is the liability coverage at 100, collision insurance at 300, and comprehensive insurance at 100.
Final Verdict: Geico Insurance
For over 75 years, Geico has been serving the US with quality auto insurance policies. It starts as an insurance company dedicated for government employees and the military to enjoy an affordable car insurance cost until it grows into one of the largest providers in America. If you choose Geico, you will get cheaper premium rates and discounts on the sides.
In the National Association of Insurance Commissioners or NAIC report, the auto insurance leader held a 13.5% market share in 2020 and a record of approximately $33.8 billion insurance premium in the same year. The only more prominent insurer rather than Geico is State Farm.
Overall, the insurance rating of Geico is strong. According to J.D Power, the company has a solid and appealing customer service experience in California, Central, and New England.
Geico has adjusted with the current technology trends in providing their insurance products. You can pick up insurance information using an easy-to-use Geico mobile app or when visiting the website. Choose from the list of insurance coverage and an insurance policy that you'll be needing on the way.
Geico considered its mechanical breakdown insurance a special offer since other car insurance companies do not generally provide it. If there's a lacking in Geico, it would be the gap coverage. But it's not a massive problem because you can still avail primary insurance needs on the list provided by this Geico auto insurance review.
Geico Insurance FAQs
Is Geico's full coverage good?
Yes, Geico offers excellent full coverage insurance. Aside from affordable rates, it is easy to enroll with the online process. It consistently receives the highest rating financially and in terms of customer service satisfaction. These factors indicate that Geico is likely to have sufficient funds to pay full coverage insurance.
According to NAIC, the company is below average on a scale of 2020. Nevertheless, numerous Geico insurance reviews mention that the provider's customer service is generally reasonable.
The full-coverage experience will be worth it for insurance buyers who wish to process everything online and those who are after multiple insurances at cheaper rates than possible.
Is Geico hard to deal with?
Reaching out to Geico is not always smooth. Some Better Business Bureau (BBB) customers report complaints on hardly contacting Geico in contrast to the insurer's claim in responding to customers within two minutes. Others have stated that they were not given notice about their vehicle condition during the billing. However, the majority of the customers drop an overall positive experience.
In the J.D Power survey, Geico obtains an average rating for claim experience. The insurer secured 871 out of 1,000. Despite the complaints, the majority of the customers still take Geico auto insurance service positively.
What is Geico's rating?
Customer service rating
In the J.D Power Insurance Shopping Survey for 2020, Geico enters the list scoring 867 out of 1,000 possible points from insurance customers across regions. Geico's overall score of 869 in J.D Power is slightly below the average (the average score for the leading insurer was 871) about the Market watch review. In this survey, customers determine their satisfaction with each shopping stage experience.
Claiming Process Rating
Geico's billing process is also closer to the industry average. The company garner 871 out of 1,000 possible points in the J.D Power US Automotive Claims Satisfaction Survey 2020 (average 872).
Mobile app rating
The mobile app receives different ratings on customer user experience. Though insured drivers' rating on usage-based apps is low, the claim submission and policy details display experience is highly rated. It receives a 4.8-star rating (over 2.8 million consumer reviews) on the Google store and another 4.8-star rating (over 390,000 consumer reviews) on Google play.
Click Here to Open an Account with Geico (Official Page)
Like this Article? Subscribe to Our Feed!
Vanessa is a mom of 3 lovely children and a software geek. Outside of her career as a health and wellness instructor. She enjoys writing and researching on topics such as finance, software, health and culinary.