Grand Capital Review 2023 with Rankings By Dumb Little Man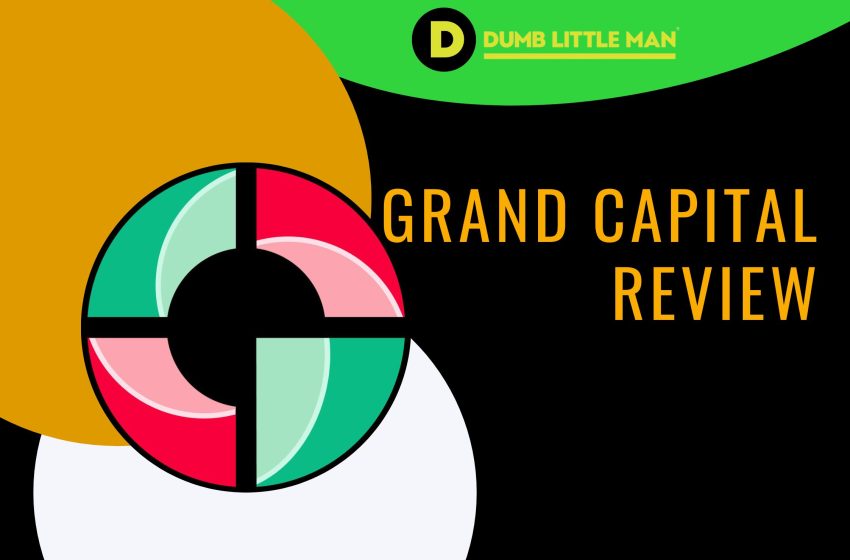 Evaluation Criteria
Before we jump right into the review and what Grand Capital offers, it is important to first highlight some of the criteria we have used in making this review. These are basically some of the factors that were considered when writing it:
Convenience: This is a measure of how easy it is to use the services offered by grand capital invest. This includes things like ease of opening a trading account, executing trades, and using the trading platforms.
Profitability: This measures the percentage of folks who are actually making money using the broker. The higher the percentage, the better.
Reliability: This one looks at how consistent the broker is in meeting and responding to the needs of its customers.
Broker's Competency: The competency of the broker measures how the firm adheres to the rules out there and how it leverages its position in the market to deliver top services. This section is typically inspired by some of the positive reviews from users out there.
Affordability: Finally, the team also looks at the fees, commissions, and spreads charged to determine if, indeed this is an affordable broker or not. Firms that offer lower fees are often ranked higher on the list.
Grand Capital Review
The forex market has become quite attractive for so many investors out there. In fact, most retail traders are angling towards forex as a way of making regular income from the financial market. However, forex trading instruments are complex and not everyone will make a profit. Besides, you still need a high quality broker that offers you better technology, decent fees, and all the tools you need to succeed in the financial markets.
Well Grand capital ltd is one of the many international forex brokers out there that you can use as your investment service provider. Whether you are looking to open a demo account or a micro account, Grand Capital ltd will have some decent options for you. The company grand capital is the focus of this review. We will be looking at what the company does, how it operates, and some of the features it offers forex traders around the world.
We will also give you an overview of the fees charged by the forex broker, details on how to open an account, and check out some of its ecn prime account options and of course the swap free accounts as well. There will also be additional info on trading forex and the risks involved.
What is Grand Capital?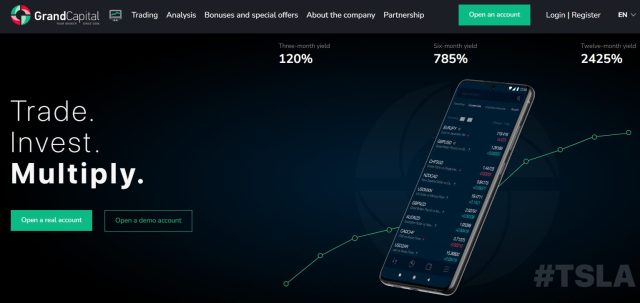 Grand Capital is an international broker that has been giving users access to the financial markets since 2006. The firm offers a wide range of financial derivative products, including forex CFDs, commodities, precious metals, and so many others. Since its inception, the firm has managed to sign up over 100,000 clients spread in several countries around the world.
In addition to this, the firm has opened offices in up to 40 different countries, designed to streamline its global operations and give clients the best possible brokerage services. This makes it one of the market's most preeminent international forex brokers. The international financial commission also regulates the firm. This should give new and existing traders the confidence of knowing they are working with a secure and best forex ecn broker.
Grand Capital has also worked to streamline its fees so that retail investors get the best deals possible. The commission charges here are very small, and the spreads across various assets are quite manageable as well. Whether you are looking to trade forex, crypto, commodities, and an array of so many other assets, this will be the broker to work with.
Safety and Security of Grand Capital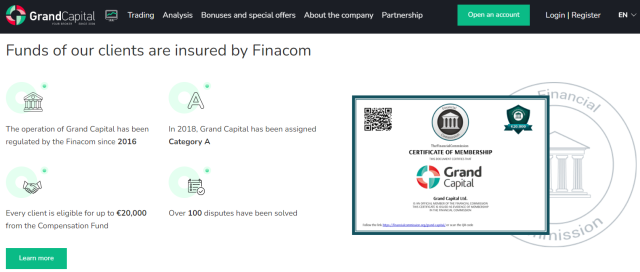 Security and safety are two critical factors to look at when considering a broker. It doesn't matter whether you want to use managed accounts, or your own investment portfolios, you want to be sure that your money is safe. Now, the grand capital site does not offer a lot of info about the security and safety measures that the firm has taken.
However, there are a few we have deduced based on our experience in the Africa financial expo and other events. First, the grand capital group takes the separation of client funds very seriously. This means that all the deposits made by a user will typically be placed in separate bank accounts and will not be used for any purpose.
The grand capital website also hints that the money is stored in some of the most reliable banks in Europe. This ensures the safety and security of money at all times. But that is not the whole story. Grand Capital has also leveraged blockchain technology, escrow payment services, and state-of-the-art encryption tools to protect customer data and customer money. We have not seen any reviews that suggest otherwise. In fact, this security is spread across all trading platforms at grand capital, including mobile trading and others.
Sign Up Bonus of Grand Capital

The grand capital company has created a series of bonuses and offers that are designed to incentivize users to sign up. The firm in fact offers a 40% deposit bonus for first time account owners. This bonus is designed for retail investor accounts, including a swap-free account or any other trading account you may want.
The good news is that there are no conditions for the 40% bonus. Any deposit, regardless of the amount, will qualify for this. Also, the grand capital regulated broker will offer you additional bonuses if you top up your account with at least 10% of the initial deposit within six months.
For example, if your initial deposit was $100, you will get an extra $40 to trade at first. But if you were to later deposit an amount higher than $10, which is ten percent of the initial deposit, you will be eligible for additional bonuses from the broker.
Minimum Deposit of Grand Capital
Since Grand Capital is a firm that targets small scale traders, the minimum deposit requirements set are actually very reasonable. In fact, you only need to deposit $50 to access trading accounts and the trading platform from this broker. You will also be able to use a wide range of deposit options but most folks will typically rely on bank transfers.
However, the broker recommends a deposit of $2000 as the most appropriate. Now, this does not mean that you should deposit the $2k or that it's a must you do it. However, when you have more capital in your live trading account, you will be able to do more trading transactions and open more trades that suit your trading strategy.
Account Types

There are several account types that are on offer at Grand Capital. These accounts are designed for experienced traders as well as beginner traders as well. Here is a breakdown of some of these accounts:
ECN Account: These ECN accounts are designed for most prime traders. The option is ideal for people who want to trade large volumes and comes with spreads that start at 0.4. There are also very low commissions, and you get so many different trading instruments too.
Micro Account: So, if you are a small-scale trader who wants a crypto account with little withdrawal fees, then you can check out these micro accounts from the broker. They may not have external dispute resolution or high risk, but they offer you a decent way to earn some money in forex.
Standard Account: This account is more of an intermediate option for people who want to trade bigger volumes. The minimum deposit is $100, but you will get access to some of the best fees and spreads too. The standard account is also open to folks who wish to trade several assets.
Grand Capital Customer Reviews
The reviews that we have seen from previous users as far as Grand Capital goes are a bit mixed. Some users seem to be happy with some aspects of the broker, while others appear to have some issues. For example, on the issue is the deposit bonus, the reaction or the reviews of different users show a mixed picture.
Some users appear to suggest that the bonus program is a scam while others are quite happy with it. This is, however easy to corroborate. We have not seen any serious evidence to suggest that the bonuses are scams. In fact, it is possible that the users who have had a bad experience with them failed to understand the terms and conditions of the bonuses and the prize money therein.
In addition to this, we did actually see a genuine concern that we can confirm. One user noted in the reviews that the spreads are a bit higher. Yes, this is true. Even though grand capital is still one of the most affordable brokers in the market right now, there are still so many other brokerages that offer way lower spreads than it. Nonetheless, overall the firm seems quite good in terms of trade execution, and efficacy and in addition to this, it seems it has one of the best affiliate programs offers out there.
Grand Capital Spreads, Fees, and Commissions

Like many brokers out there, there are no fixed fees or fixed spreads. How much you pay will often depend on the assets you are trading and the type of account. If you have a standard account, spreads start from as low as 1 pip. There are no commissions here. If you are using the micro account, the spreads also start from as low as 1 pip. Also, there are no commissions here too.
The fees and spreads will, however be a bit different if you decide to go for an MT4 account. Here, the spreads start from as low as 0.4 pips and the good news is that you also don't need to pay any fixed commissions as well. For high volume traders who are using the ECN prime account, the spreads also start from 0.4 pips, and just like the other accounts, you won't have to pay a fixed commission.
There is however some fixed commission for the swap free acocunt of 5% per lot. Please also note that you will be required to pay spreads from 0.4 pips depending on the assets you are buying and selling on the trading terminal.
Deposit and Withdrawal
Grand Capital offers several withdrawal and deposit options in all accounts, including the Islamic account and others. You can use a bank transfer to top up your account, and only you will have access to that money. The broker also allows users to deposit using electronic payment options. This is suited for most people in Africa where Grand Capital has managed to build a big presence.
Typically, a normal deposit will take just a few hours to reflect, It may take longer for bank transfers, but credit cards and electronic payments are typically processed much faster. You can always contact technical support if you have issues with the deposits. As for withdrawals, there is also an array of options to use, including bank transfers.
The broker even allows you to receive your money through crypto as well. Most withdrawals are processed within a day while some can take even less than an hour. Please note, however, that there are withdrawal fees to deal with. The fees typically range between 1% and 5% depending on the payment method that you are using. Bank transfers typically tend to be the most expensive, and besides, it is possible that you may end up paying currency conversion fees as well.
How To Open a Grand Capital Account – Step by Step Guide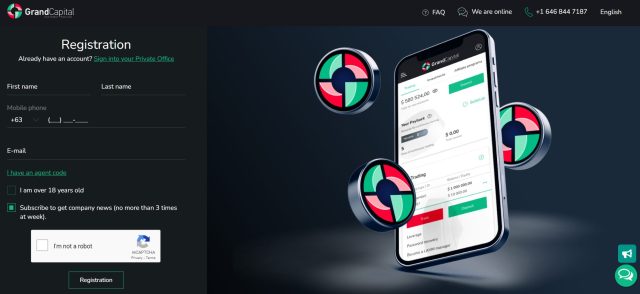 If you would love to trade the financial markets using grand capital, then you will be happy to know that it doesn't take a lot to open an account here. The broker is already available in nearly 190 countries and is already offering its services to 100,000 people. So, to get started, head over to the main Grand Capital website. Keep in mind that they have changed their site off late.
Once you are there, you will see a large green button on the top right corner of your screen with the words "Open An Account". Simply click it, and you will be redirected to a page where you will fill in your details. Once you have done this, the second phase is to choose the type of account you need. Please refer to our discussion above on the account types to help you choose an account suited for you.
When you have finally chosen your account, it's time to verify the account. This is necessary if you want to access the best trading technology that is offered by the brokerage. The great news is that it takes less than 24 hours to get verified as long as you upload the required documents in time.
As soon as the account is verified, you can now go ahead and make the deposit and start using the service, including some of the copy trading service offered as part of the trading experience. Also, it is worth noting that we did not see any negative reviews with regard to the process of opening the account. It's a simple process that actually works.
Grand Capital Affiliate Program

Grand capital offers one of the best affiliate programs in the forex trading market. Now, there are four different options for affiliates who want to join. The first one is called the web partnership. Here, users are invited to use their own marketing resources to attract users to the firm. It doesn't matter if they open a live account or just a demo account to use virtual funds. If you bring more and more folks in, you will earn a commission. The affiliate program is paid through a compensation fund from the broker.
The second affiliate program is the regional representative. Here, Grand capital seeks to recruit people from different counties to represent it and what it offers. The reps are often charged with the responsibility of signing up people, giving them access to its copy trading service, and more. The regional representatives are also expected to educate the users about trading conditions, account currencies, and others.
Thirdly, you can also become a franchisee for grand capital. Here, you will use the broker's brand to market and recruit traders out there. This is something you won't find in some of the best forex broker brands out there, but it seems Grand Capital is ready to offer users this option.
Finally, you can also join the white-label program. This one is designed for companies that already have a user base and would love to market the technology offered by Grand Capital. This partnership is designed to unlock value for both entities. Nonethless, whichever affiliate program you decide to choose here, grand capital will go out of its way to make it worth your while.
Grand Capital Customer Support

Any good broker will, of course, rely on a customer support team to make sure that things flow smoothly. Grand Capital is not any different, and in fact, the firm has invested heavily in setting up a top customer support base with the tools needed to get things done. Here is a break down of some of the advantages and disadvantages of the support:
Advantages and Disadvantages of Grand Capital Customer Support
Advantages
Disadvantages

The firm has created a well-trained team of experts with the necessary expertise to help customers
The support team seems to be well-versed about how the company works and its approach in forex trading brokerage
There is also multilingual support which is ideal considering that the firm is available in over 190 countries

We did not see a live chat feature on the website
There are some complaints online that the support team is often relatively slow when dealing with clients
Grand Capital Vs Other Brokers
This grand capital review wouldn't be complete if we did not compare the firm with other brokers in this space. So, we picked three of the top brokers and analyzed how they compare with Grand capital. Here is what we found out: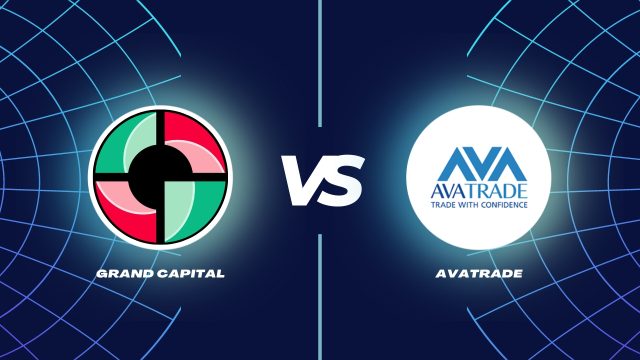 AvaTrade is by far one of the most notable breakages out there. Although the firm is based in Ireland, it has actually managed to work with and serve clients from all parts of the world. There are several key areas where the firm shares some similarities with Grand Capital. To start with, both these companies have a lot of pedigree in the forex trading market. They have all been offering these services for the best part of two decades, and in that time, they have both earned invaluable experience on how to meet client needs.
In addition to this, both these firms have also shown that they have a wide range of trading assets on offer. Whether you are looking to trade currencies, indices, metals, crypto, or any other CFD asset, you can rely on both firms to help.
Despite this, AvaTrade excels in some areas. The technology for example, that is offered there is way better compared to Grand Capital. AvaTrade is also regulated in London, a tier 1 jurisdiction while Grand Capital is not. You will also notice that the fees charged by AvaTrade are more reasonable compared to those charged at Grand Capital. But despite this, these are both reputable brokers.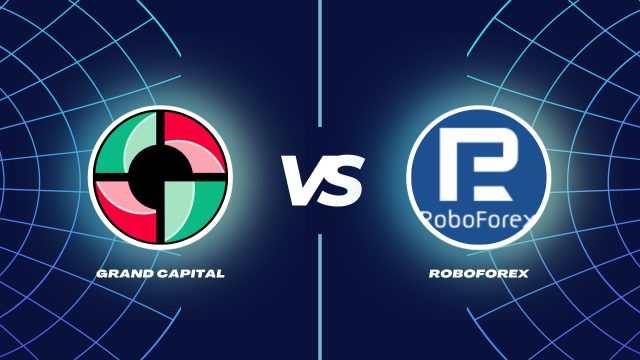 Roboforex is also one of the most experienced global brokers in the world. In fact, both these firms have appeared at the Moscow financial expo and they are all regulated in several jurisdictions. However, the status of Roboforex's regulation is still clouded in mystery, Unlike Grand Capital which is regulated by an independent self-regulatory organization, there is no info on the roboforex site that shows the nature of regulation there.
We have also seen some differences in terms of the trading technology. Roboforex has much better tech compared to grand capital. However, in terms of reach. Grand capital is much better. Yes, both these firms are global and they have a ton of clients. But with over 100,000 clients in 195 countries, Grand capital does way better. In terms of fees, both firms are more or less the same. But Grand Capital is a bit more expensive, albeit the difference is not that big.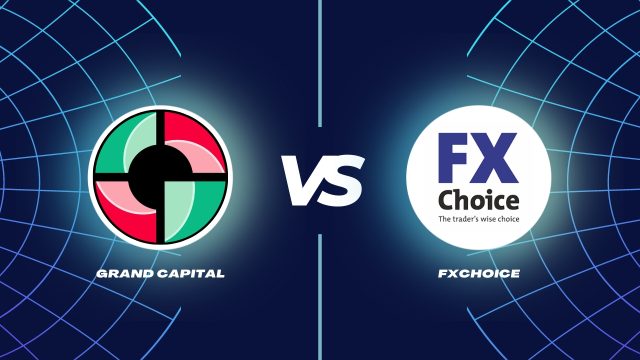 If you are looking for forex brokers that are quite similar in the way they are structured and how they operate, then Grand Capital and FXchoice will be suited for you. Both these firms have some of the most diverse trading assets you can find of any broker, and they both work so hard to give each client the best trading conditions.
The status of regulation for both brokers is also similar and the fees are at the same level too. But despite this, there are a few subtle differences. For instance, while FXchoice has developed its own internal trading platform and technology, Grand Capital heavily relies on third-party ones.
This does not mean that this tech is not good, but it's just a difference worth noting. There are also some differences in the way spreads are calculated across various assets. Major currency pairs, for example, attract much higher spreads from Grand Capital compared to FxChoice. However, with that said, there is nothing you can do about these small differences. The point is they are all experienced brokerages, and they have shown over the years their ability to stand out.
Choose Asia Forex Mentor for Your Forex Trading Success
If you have a keen interest in establishing a successful career in forex trading and aspire to achieve substantial financial gains, Asia Forex Mentor stands as the optimal choice for the best forex, stock, and crypto trading course. Ezekiel Chew, renowned as the visionary behind trading institutions and banks, is the driving force behind Asia Forex Mentor. On a personal note, Ezekiel consistently achieves seven-figure trades, a distinction that truly sets him apart from other educators in the field. Here are the compelling reasons that underpin our recommendation:

Comprehensive Curriculum: Asia Forex Mentor offers an all-encompassing educational program that covers stock, crypto, and forex trading. This well-structured curriculum equips aspiring traders with the knowledge and skills necessary to excel in these diverse markets.

Proven Track Record: The credibility of Asia Forex Mentor is firmly established through its impressive track record of producing consistently profitable traders across various market sectors. This achievement serves as a testament to the effectiveness of their training methodologies and mentorship.

Expert Mentors: At Asia Forex Mentor, students benefit from the guidance and insights of experienced mentors who have demonstrated remarkable success in stock, crypto, and forex trading. These mentors provide personalized support, enabling students to navigate the intricacies of each market with confidence.

Supportive Community: Joining Asia Forex Mentor brings access to a supportive community of like-minded traders pursuing success in the stock, crypto, and forex markets. This community fosters collaboration, idea-sharing, and peer learning, enhancing the overall learning experience.

Emphasis on Discipline and Psychology: Success in trading necessitates a strong mindset and disciplined approach. Asia Forex Mentor provides crucial psychological training to help traders manage emotions, handle stress, and make rational decisions during trading.

Constant Updates and Resources: The financial markets are dynamic, and Asia Forex Mentor ensures that students remain up-to-date with the latest trends, strategies, and market insights. Continuous access to valuable resources keeps traders ahead of the curve.

Success Stories: Asia Forex Mentor takes pride in a multitude of success stories where students have transformed their trading careers and achieved financial independence through their comprehensive forex, stock, and crypto trading education.

In summary, Asia Forex Mentor emerges as the premier choice for those seeking the best forex, stock, and crypto trading course to carve a rewarding career and achieve financial prosperity. Through its comprehensive curriculum, experienced mentors, practical approach, and supportive community, Asia Forex Mentor provides the necessary tools and guidance to mold aspiring traders into accomplished professionals across diverse financial markets.
Conclusion: Grand Capital Review
Finding the right broker can make or break your trading journey. It does not matter how good you are as a trader, your success will often come down to just how effective you are in executive trades and the kind of technology you have access to. While there are so many brokers out there, Grand Capital is a very decent choice for several reasons.
The firm has proven itself over the years and has enough experience in the market to offer you a good service. It has invested in creating robust trading technology too, and you will get a top customer support team. There are so many account types, too, for you and so many different asset classes to trade.
However, there are some downsides too. The spreads, for example, are relatively higher than what you would expect from such a broker. We have also seen some complains that the customer support is not good enough. Some users say that it takes way longer than expected to get a response. But even with these downsides, Grand Capital is still a good broker that you can work with to earn money from forex.
Grand Capital Review FAQs
Is Grand Capital a regulated broker?
Yes, Grand Capital is regulated by an independent self-regulatory organization that ensures it adheres to all the rules and regulations of trading.
Is Grand Capital safe?
Yes, you will be safe when you trade the forex market with this broker. It is not only regulated, but it also has so many years of excellence in the forex trading market.
What is the minimum deposit for Grand Capital?
The minimum deposit charged by the broker will often depend on the account you are using. But normally, it will range from $0 to $100, depending on the account type.
Like this Article? Subscribe to Our Feed!
Wilbert is an avid researcher and is deeply passionate about finance and health. When he's not working, he writes research and review articles by doing a thorough analysis on the products based on personal experience, user reviews and feedbacks from forums, quora, reddit, trustpilot amongst others.