Fusion Markets Review 2023 with Rankings by Dumb Little Man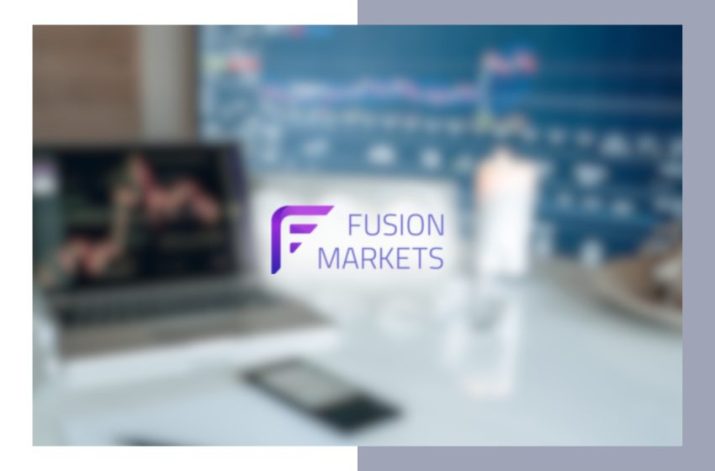 | | | |
| --- | --- | --- |
| | | |
| | | |
Evaluation Criteria
The Dumb Little Man team, comprising financial experts, experienced traders, and private investors, employs a unique algorithm for thorough assessments of brokerage services. Their review process takes into account aspects such as:


Ease of Use
Earning Potential
Dependability
Brokerage Knowledge
Cost-Effectiveness

Client feedback is also integrated into their evaluations to ensure a well-rounded and impartial perspective.

Following a meticulous review, they determined that Fusion Markets is a dependable broker for those seeking a consistent financial ally. Nonetheless, Dumb Little Man recommends that prospective clients meticulously review their detailed articles to fully grasp any potential drawbacks of the broker.
Fusion Markets Review
Forex brokers play a crucial role in the trading industry by giving people and companies a platform to exchange foreign exchange and other financial instruments. Fusion Markets separates out from the rest of these brokers thanks to its unique features.
Fusion Markets was inspired by an appealing idea to streamline and reduce the cost of trading. They want to give everyone access to the global markets without having to pay outrageous fees by making trading simpler, quicker, and less expensive on a worldwide scale.
This Fusion Markets review aims to explore the broker using the knowledge and insights of experts. It attempts to give readers a clear and in-depth summary that will aid in understanding the broker's offerings and place in the international market.
>> Also Read: 9 BEST Forex Brokers For 2023: Reviewed By Dumb Little Man
What is Fusion Markets?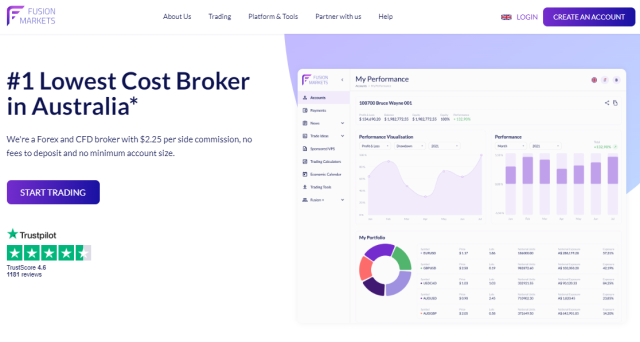 Fusion Markets is a 2017-founded FX and CFD broker renowned for its hassle-free style of trading. With offices in Vanuatu and the Seychelles and a headquarters in Melbourne, Australia, it has quickly become well-known on the international scene. Fusion Markets is well-known for its cheap trading and non-trading costs and offers a variety of trading options, such as spike trading, scaling, and expert advisors.
More than 80 currency pairs, well-known cryptocurrencies, equities, indices, precious metals, and commodities such as CFD trading are among the wide range of trading instruments that the broker provides. Because of Fusion Markets' emphasis on diversity and affordability, traders of all skill levels find it to be a compelling option.
Fusion Markets, which prioritizes the fastest execution speeds and lowest prices, has had a considerable effect despite its relatively recent origin. It provides trading platforms like cTrader, MT4, and MT5 across Desktop, Mobile, and WebTrader editions and supports all trading styles. It's crucial to remember that some consumers have left mixed opinions.
This highlights how crucial it is to consider the advantages and disadvantages before working with this broker.
Fusion Markets offers a safe and secure trading environment because it is governed by ASIC and VFSC. It also provides benefits including no broker costs for US stock trading and eliminated fees for Visa, MasterCard, and PayPal deposits. Fusion Markets markets itself as an affordable, user-friendly broker that can accommodate a variety of trading requirements thanks to these qualities.
Safety and Security of Fusion Markets
Fusion Markets is notable for its heightened safety protocols and adherence to regulations. Having been founded in 2017, the broker has a flawless regulatory history and works through three well-regulated subsidiaries. Reputable financial companies such as HSBC and National Australia Bank uphold the confidence of their clients by safely segregating their funds.
Fusion Markets significantly improves its safety profile by providing negative balance protection for specific clients.
Fusion Markets guarantees a high degree of legitimacy and operational security because it is regulated by Australian securities like ASIC and additional agencies in Vanuatu Financial Services Commission (VFSC) and Seychelles (FSA). It is noteworthy, nonetheless, that not all clients are eligible for negative balance protection, especially those who fall under the purview of the VFSC and FSA.
It has passed Australian securities and is also licensed to carry on a financial services business in Australia under Australian Financial Services License No. 385620.
This approach to safety and regulation, thoroughly researched by Dumb Little Man, cements Fusion Markets' position as a reliable and secure option in the forex trading landscape.
Pros and Cons of Fusion Markets
Pros
Safe and regulated by ASIC
Advanced trading platforms
Generous spreads and competitive trading costs
Easy account opening
Low trading and non-trading fees
Cons
No cryptocurrency funding
Basic resources and educational tools
Limited to some countries
Sign-Up Bonus of Fusion Markets
Fusion Markets does not currently provide its customers with promotions or sign-up bonuses. This strategy aligns with the broker's emphasis on simple services and inexpensive trading.
Fusion Markets' focus has shifted from conventional promotional incentives to offering three partnership packages. These initiatives aim to generate prospects for passive income, providing a different means by which clients can profit from their affiliation with the broker.
Minimum Deposit of Fusion Markets
One of the main benefits for traders at Fusion Markets is that there is no minimum deposit needed. It is incredibly accessible to a diverse group of traders, regardless of experience level, thanks to this feature.
Although Fusion Markets has no required minimum, the broker's FAQ section states that the median client deposit is more than $1,500. This deposit requirement flexibility highlights Fusion Markets' dedication to serving a wide range of customers and strengthens its standing as a user-friendly choice in the FX trading industry.
Fusion Markets Account Types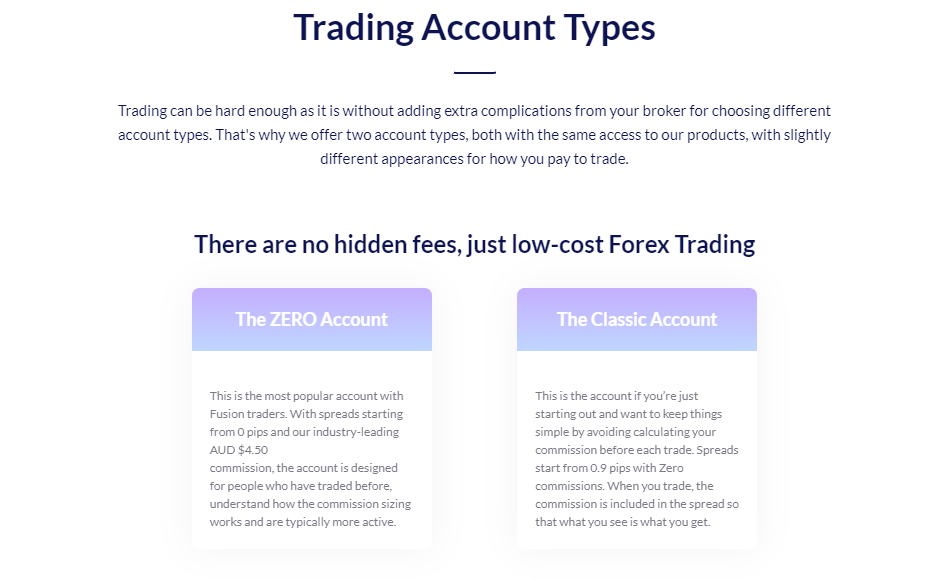 The Dumb Little Man team of professionals carried out extensive testing and research to offer comprehensive insights into the account kinds that Fusion Markets offers. This is a summarized overview of the various retail investor accounts Fusion Markets offers:
Zero Account
Commissions: $2.25 per side.
Spreads: Starts from 0.0.
Features: Unlike Classic Account, Zero Account provides unfiltered low-cost trading with raw spreads. Perfect for traders who would rather figure out their own commissions. This account type perfectly embodies Fusion Markets' low-cost philosophy without sacrificing quality.
Classic Account
Commissions: Included in the spreads.
Spreads: Transparent, with no additional costs.
Features: Unlike Zero Account, it is designed with ease and simplicity in mind. It is appropriate for traders looking for a simple trading experience because it provides a range of trading platforms and round-the-clock client service.
Demo Account
Risk: Unlike Classic and Zero Account, it has no risk to your capital.
Purpose: Perfect for learning, experimenting with strategies, or experiencing spreads on Fusion Markets.
Suitability: Benefits include the opportunity to practice trade execution, risk management, and market trend analysis in a risk-free setting for both novice and experienced traders.
Fusion Markets Customer Reviews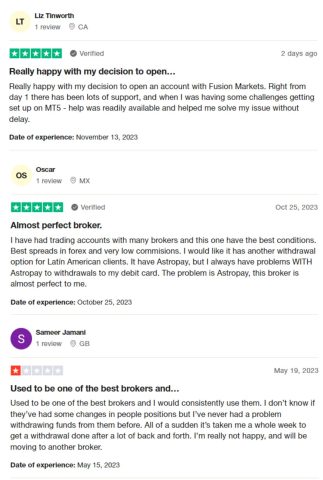 Customer reviews of Fusion Markets present a varied picture. Clients like Oscar praise the competitive spreads and low commissions, though some express concerns about limited withdrawal options, especially for Latin American clients. One Fusion Markets review left by Liz emphasizes its responsive and helpful customer service, particularly with technical setups.
However, Sameer notes recent challenges with fund withdrawals, contrasting with previous positive experiences. These insights suggest that while Fusion Markets is commended for its trading conditions and support, improvements in the withdrawal process could enhance client satisfaction.
Fusion Markets Fees, Spreads, and Commissions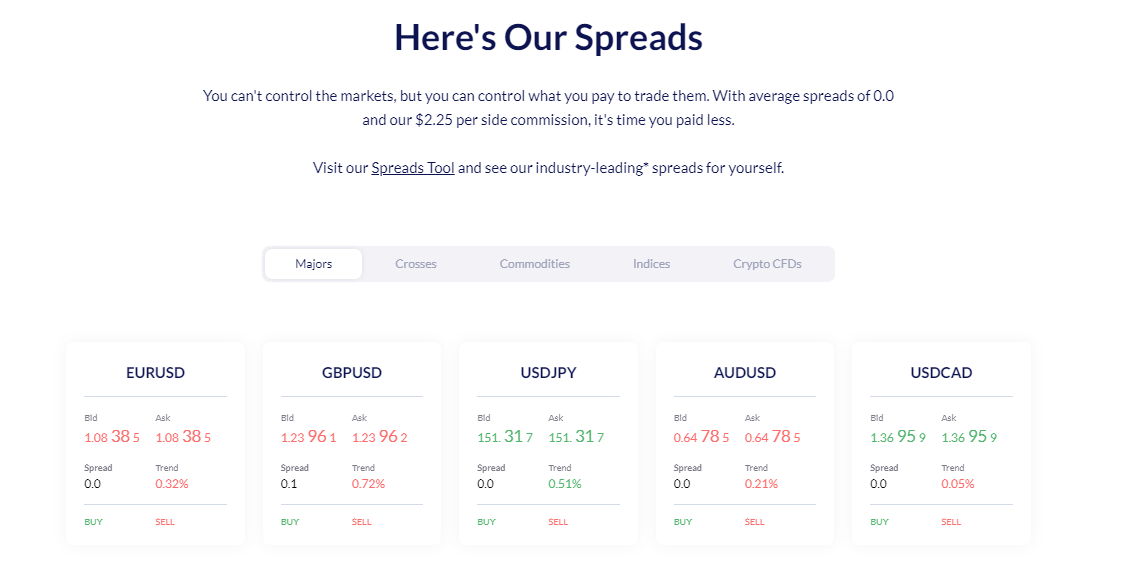 Fusion Markets trading fees are notably low. In Classic account, the brokerage commission is seamlessly integrated into the spread, simplifying the cost structure for traders. Conversely, Zero accounts incur a base commission of $4.5 per round for each lot (open and close).
A significant advantage of Fusion Markets is the absence of non-trading fees, including zero commissions on depositing and withdrawing funds, although clients should be aware of potential charges from banks or payment systems.
The broker's fee structure varies with the chosen account type. For Australian clients, particularly, the commission starts from USD 2.25 per standard lot. In the realm of cryptocurrency trading, Fusion Markets offers to not charge any comissions. Additionally, the broker does not impose an inactivity fee, but traders should consider rollover fees for positions held open longer than a day.
The tight spreads offered by Fusion Markets are variable and based on each currency pair's current market pricing. For Zero Accounts, the average EUR/USD spread is as little as 0.02 pip. The average EUR/USD spread in Classic Accounts is 0.92 pip, fees included. Fusion Markets is a desirable alternative for traders searching for low-cost trading opportunities because of its competitive price structure.
Deposit and Withdrawal
Fusion Markets offers traders the ability to fund their trading accounts using a range of currencies, including AUD, USD, CAD, EUR, and GBP. Additionally, traders may select from a number of payment options, such as Skrill, Neteller, Bank Wire, and Credit/Debit cards. Interestingly, the broker eliminates internal processing fees and has no minimum deposit or withdrawal limits.
Nevertheless, there can be a $20 to $30 fee for foreign bank transfers, in addition to any other costs or currency conversion fees from outside sources.
Fusion Markets only allows verified accounts to make deposits and withdrawals, and the account name must correspond with the payment processor. There is a lack of clarity on the platform with regard to processing times and accepted currencies, as well as a comprehensive table for deposit and withdrawal options.
This area has been flagged for improvement in the financial management system of Fusion Markets.
How to Open a Fusion Markets Account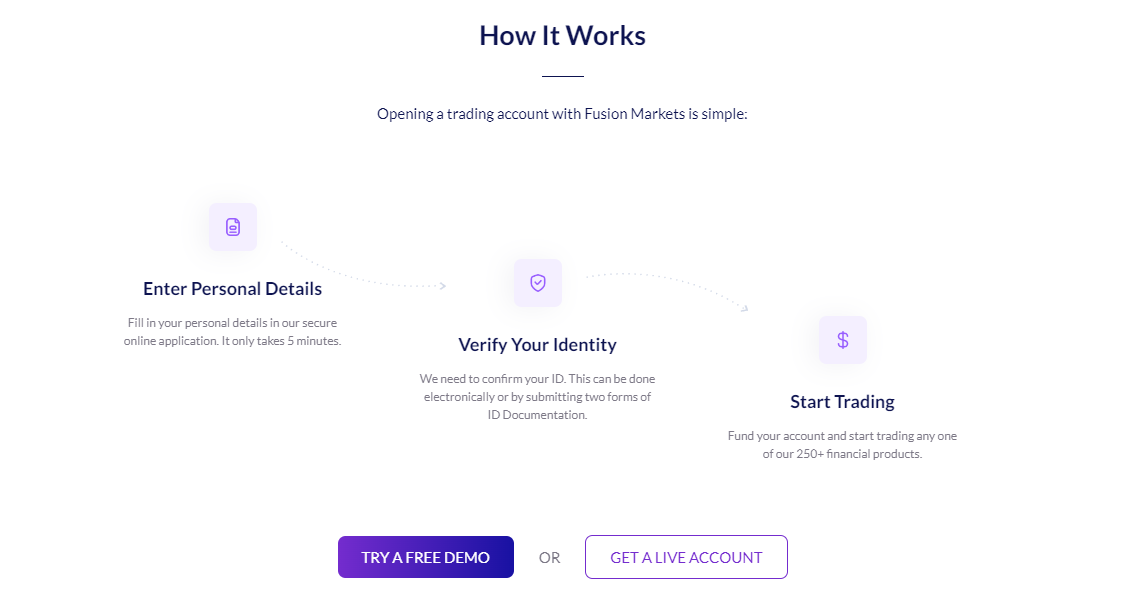 To effortlessly start your trading journey with Fusion Markets, simply follow these nine easy steps to set up a Zero account, tailored for both novice and experienced traders.
To open an account with Fusion Markets, first, click on 'Create an Account'.
Fill in the registration form and press 'Sign Up', agreeing to the Fusion Markets' terms and conditions.
Complete ID Verification and pass a quiz to confirm understanding of Forex and CFD trading risks (specifically for ASIC Retail Clients).
After verification, select the 'Live' option followed by '+New Account'.
Under 'Live', choose your account type, trading platform, and base currency, then click 'Create Account'.
Once your identity is verified, check your email for login details sent by the Fusion Markets team.
Install your chosen trading platform to start trading.
Fund your account using one of the supported payment methods.
Begin trading on your new Fusion Markets account.
Fusion Markets Affiliate Program
A unique option to earn money using a Cost-per-Action (CPA) model is provided by Fusion Markets and its Fusion Affiliates program, which is perfect for bloggers, social media influencers, and website owners.
The program stands out for having a set payment schedule and offering affiliates a full affiliate site, marketing materials, and individualized support from a Fusion Markets Account Manager.
Interestingly, Fusion Markets offers an infinite earning potential, which makes it intriguing to people looking for efficient ways to monetize their web presence.
Fusion Markets Customer Support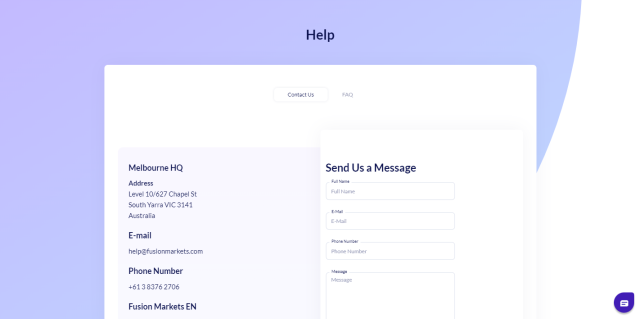 Fusion Markets offers customer support via a Contact Us form for in-depth questions as well as a handy live chat function that is accessible on every page of their website. Throughout the Forex trading hours, their support staff is available around the clock.
However, Dumb Little Man's review uncovered Fusion Markets' drawbacks, including a support system that is mainly email-based, an unsatisfactory FAQ section, and difficulties using live chat. Furthermore, their customer service may use some work, as evidenced by the lack of a direct phone line for urgent problems, especially with the financial department.
Advantages and Disadvantages of Fusion Markets Customer Support
Advantages
Disadvantages
a practical live chat option

24-hour assistance

several avenues for support

mostly email-based communication

trouble logging into live chat

Fusion Markets vs Other Brokers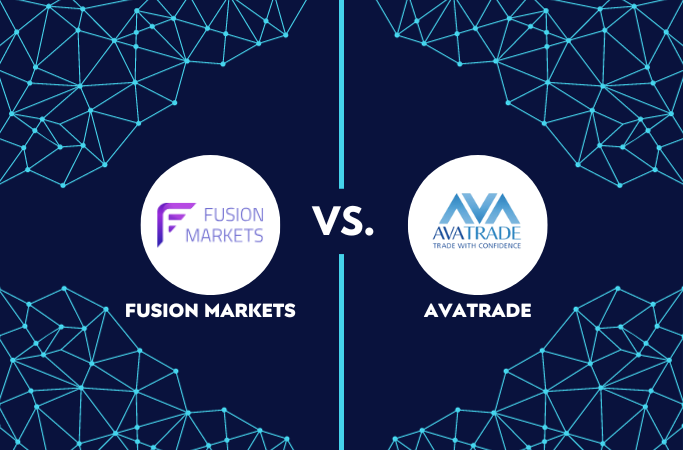 Fusion Markets is a prominent Asia-Pacific trading platform with reasonable trading fees and an emphasis on trading instruments rather than educational content. AvaTrade provides a variety of resources and platforms, including comprehensive instruction manuals and trade insurance through AvaProtect.
Verdict: Fusion Markets is a great alternative for traders seeking lower trading costs, while AvaTrade is a better choice for those who value a wide range of trading instruments and educational support.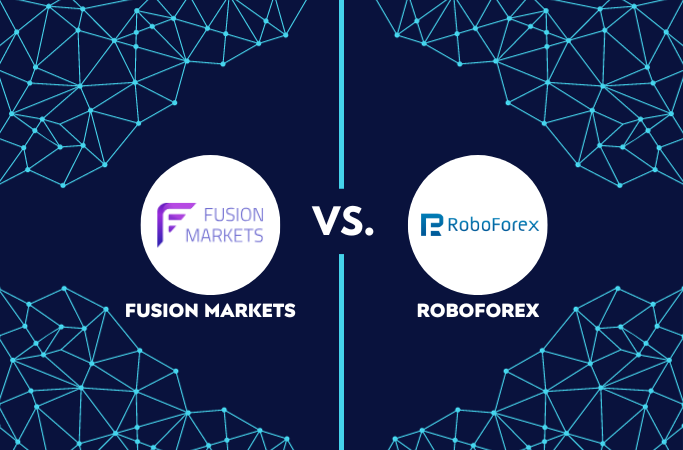 One of Fusion Markets' specialties is providing inexpensive trading alternatives. RoboForex gained recognition for providing a wide range of trading tools, such as cTrader, MT5, and MT4, and for being able to easily modify trading conditions to suit various trading volumes and preferences since it was first launched in 2009.
Verdict: RoboForex is a superior choice for traders looking for a variety of trading tools and customized trading conditions. Conversely, Fusion Markets are advantageous to traders who value lower trading costs.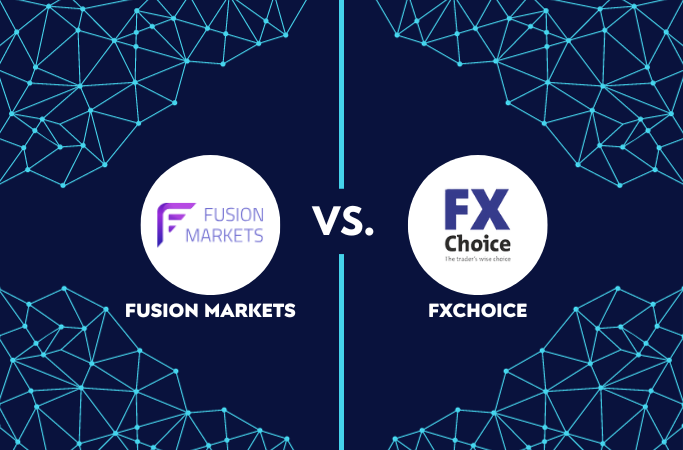 By focusing on low-cost trading, Fusion Markets sets itself apart from FXChoice. Still, FXChoice offers a large selection of CFDs on currency and commodities pairings and permits trading in both currencies. It increases the range of trading options available to dealers by providing them with access to both emerging and large energy markets.
Verdict: If you want to cut trading costs, Fusion Markets is a better option. However, if you want to trade energy commodities and emerging markets, FXChoice is a better option.
Choose Asia Forex Mentor for Your Forex Trading Success
Trading professionals at Dumb Little Man strongly recommend Asia Forex Mentor for anyone looking to launch a profitable career in trading and make substantial financial advantages. Asia Forex Mentor, run by prominent trader Ezekiel Chew, who is well-known for his seven-figure deals, provides a plethora of advantages:

Comprehensive Curriculum: The site offers a comprehensive course covering forex, cryptocurrencies, and stock trading. This curriculum aims to transmit the knowledge and skills necessary for success in these sectors.

Proven Track Record: Asia Forex Mentor has proven himself to be a strong figure in trading with his ability to help traders consistently convert profits. The list of reviews and recommendations proves how successful he is in training and mentoring future traders.

Expert Mentor: At Asia Forex Mentor, Ezekiel Chew provides his pupils with priceless experience and insights. His one-on-one mentoring is designed to assist students in comprehending and prospering in the intricate realm of trading.

Friendly Community: A community of merchants that assist and educate one another is also housed on the platform. By promoting the exchange of concepts and tactics, this network improves learning.

Stress on Psychology and Discipline: Having the correct attitude is essential. Asia Forex Mentor places a strong emphasis on psychological training as a means of assisting you in controlling your emotions, handling stress, and making wise trading decisions.

Updates and Resources Every Day: Asia Forex Mentor and the markets are always moving. You'll always be one step ahead because of your constant access to the newest tactics, trends, and market knowledge.

Success Stories: Be inspired by the number of success stories and the number of traders who have achieved financial independence and success in their trading careers, that stemmed from Asia Forex Mentor.

All these make Asia Forex Mentor a premier learning resource for traders who want to participate in more extensive training, not only in trading platforms like Fusion Markets but also in stocks and cryptocurrency. Being part of the program will guarantee traders the assistance that they in order to succeed in today's ever-changing market.
Conclusion: Fusion Markets Review
Fusion Markets receives high scores from experts at Dumb Little Man for their quick account opening, attentive customer support, and cheap trading and non-trading expenses. With competitive trading conditions, spreads starting at 0 pip, and an NDD/STP execution system, the broker works incredibly well. It also provides an extensive array of trading options and a broad range of platforms.
The broker does, however, have some shortcomings, such as a small catalog of educational materials and a product selection that consists primarily of FX and a few CFDs. Notable drawbacks include the restricted choice of assets and the lack of investor protection, especially with regard to equities and ETFs.
In summary, Fusion Markets is an excellent option for people who appreciate fair prices and a trustworthy forex trading platform, but it can fall short of traders' expectations for comprehensive training support or a wide range of assets. Stock traders might be turned off by its small variety of assets, but algorithmic and copy traders will find it especially helpful.
>> Also Read: JustMarkets Review 2023 with Rankings By Dumb Little Man
Fusion Markets Review FAQs
What trading platforms does Fusion Markets offer?
It was mentioned in this Fusion Markets review that it provides a selection of renowned trading platforms, including MetaTrader 4 (MT4), and cTrader. These platforms accommodate different trading techniques and preferences and come in Desktop, Mobile, and WebTrader versions. For many who are trading forex, having a variety of platforms is a big benefit, especially with MT4's user-friendly interface and strong functionality.
Are there any account types with no minimum deposit requirement at Fusion Markets?
Yes, account types offered by Fusion Markets are flexible and don't demand a minimum deposit. Because of this feature, traders of all skill levels, from novices to seasoned pros, can use it. Although Fusion Markets don't set the minimum deposit required, most clients deposit more than $1,500 on average.
Does Fusion Markets offer any educational resources for new traders?
Fusion Markets offers a restricted selection of educational resources, which may be of interest to inexperienced traders seeking more extensive educational materials. Although Fusion Markets does well in other areas, novice traders may need to look outside for additional training materials to enhance their Fusion Markets learning experience.