Fluencia Reviews: A Deep Look With Extensive Experience [2023]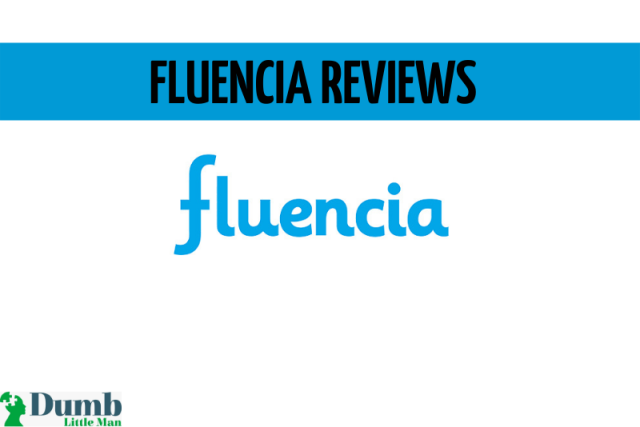 If you're learning Spanish you may have come across SpanishDict. These are the same people behind Fluencia which is a thoroughly done resource for studying Spanish.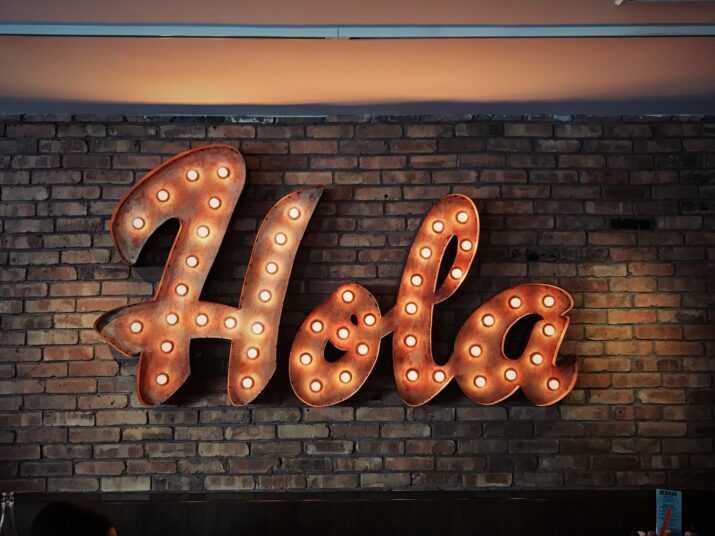 Image from Jon Tyson
Fluencia is purely dedicated to teaching you Spanish and not any other language unlike other programs such as Duolingo.
In an actual sense, this is probably why the course is among the best Spanish language training tools around. The course is well structured with tons of exercises to help you master the Spanish language.
Take a dive into this Fluencia review and see what this language training tool has in store for you.
What is Fluencia?
This is is one of the best platforms for Spanish learning online as it uses effective methods to help you speak, listen, and read in Spanish as you will see in this review. This is through its clever technology for adaptive learning and cognitive research.
It has a total of 15 lessons that are free and well structured to get you to have a conversation in Spanish within a short time. This online language platform will take you from a beginner to an intermediate level of speaking Spanish.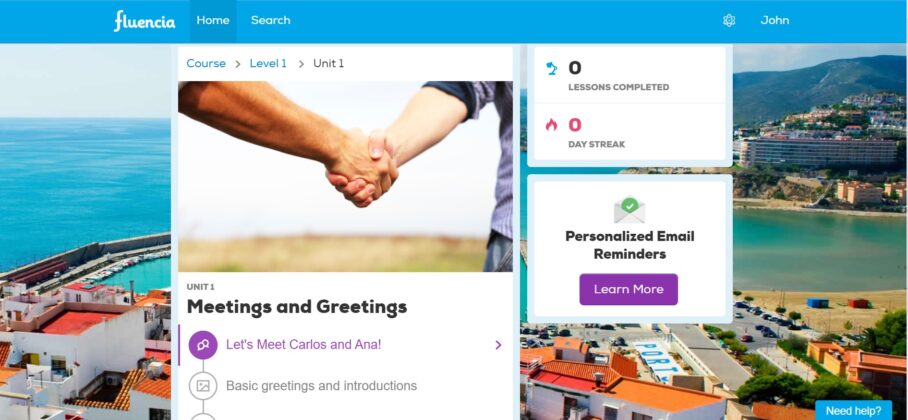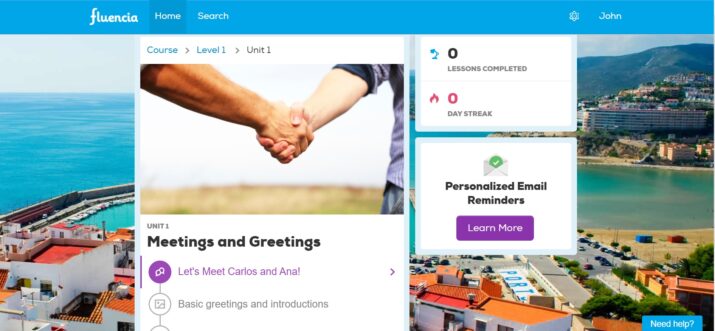 Fluencia does not have a mobile application however they have optimized their website for mobile use and the experience is still good. A mobile app could have been a big plus.
Fluencia Review
Before going through the whole review here is a quick look at the pros and cons of Fluencia.
Pros
The speakers speak native Spanish with a range of accents.
It has an easy-to-use interface without much clutter.
The platform is very practical and tactical as well
I have comprehensive culture and grammar lessons
Cons
The platform does not have a mobile application
To gain total fluency, you'll need to use it together with other resources.
It is only dedicated to teaching Spanish and not any other language.
It does not have a reward system and has not used game elements to enhance learning.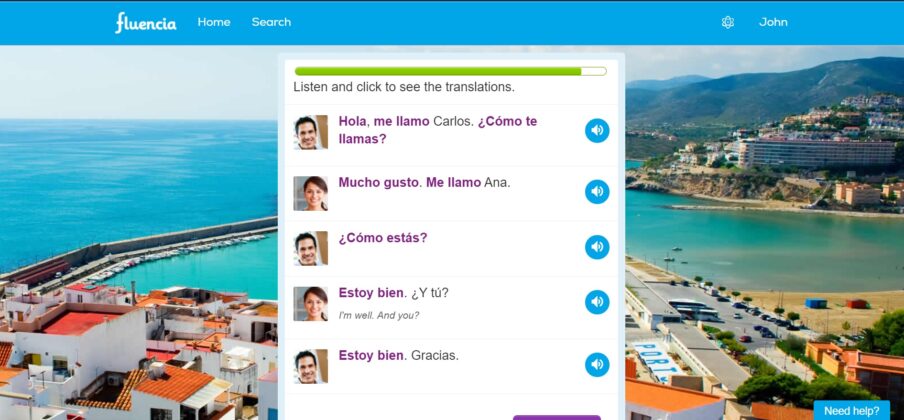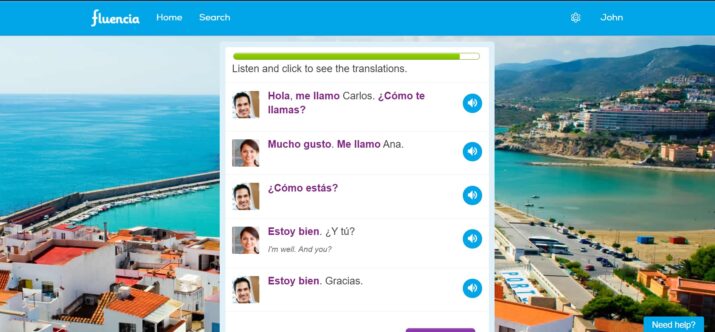 Fluencia Course Structure
Fluencia's course is divided into 10 levels with each level having 10 units. The units are further subdivided into 6-8 lessons while the last unit is usually shorter as it is a Fluencia review of what you have been learning.
This, therefore, means that learners will have to practice through about 600 lessons to take them from complete beginners to intermediate level of speaking.
The striking difference of Fluencia from other platforms like Duolingo is that it has not incorporated gamification in the study process.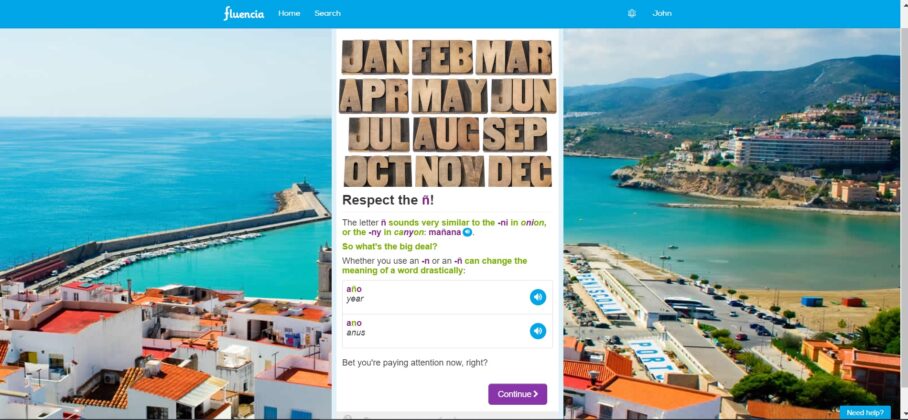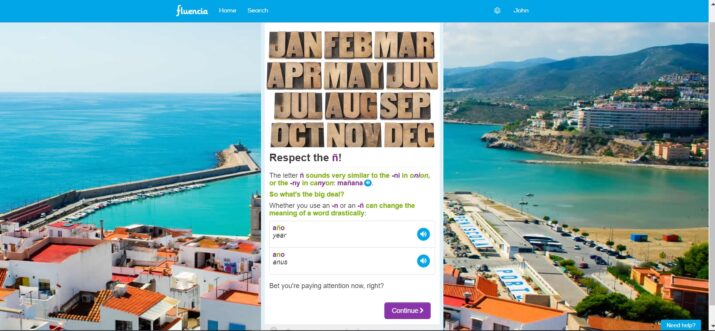 Gamification makes studying fun and engaging to say the least. The practice sessions learners go through in this language learning platform are usually tougher than in most other platforms where you will be expected to fill in the blank to many questions.
Fluencia however has excellent and clear explanations with examples and every new lesson is a continuation from the last making it an advanced way of learning.
The program ensures you are actively studying by giving you lots of exercises to practice or review what you are learning.
Fluencia Language Learning Lessons
The Spanish course by Fluencia is among the best and most comprehensive around with a well-structured curriculum and thorough lessons.
It has plenty of exercises and explanations of Spanish grammar in the 6-8 lessons of every unit which is among the great features of this app. The lessons within a unit are designed around 6 points.
These are;
Conversation
Spanish grammar
Vocabulary
Pronunciation
Culture
Fluencia review
Conversation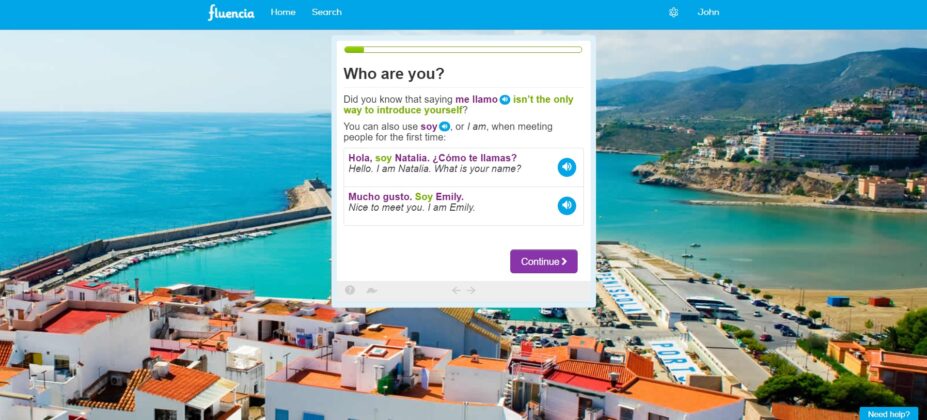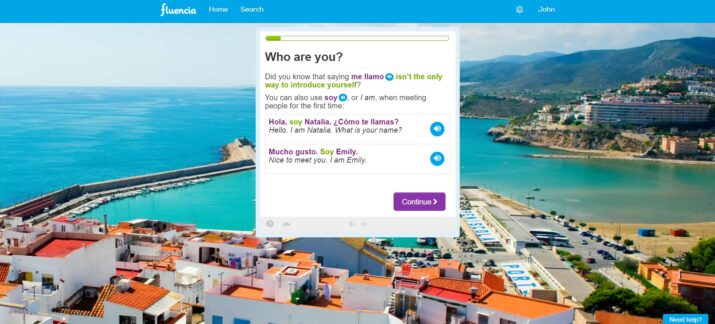 This is usually the very first lesson in every study unit. It is easy at the beginning levels but becomes more complex as you continue to learn Spanish.
As said before, all audio at Fluencia is done by native speakers which is actually better than getting speech lessons from a bot. Speakers have varying accents which help you be able to catch how each is different from the other.
When you finish listening to a dialogue, you get questions that help you comprehend better with a set of choices to choose from. It is a better platform than SpanishPod101 their questions more challenging.
The questions form a very important part of learning Spanish words when you fill in the blank in a conversation.
By using multiple-choice questions you get to pick an answer from a list then the system will review and tell you whether you're right or wrong.
Next to the answer is a button where you press play to listen to the term for comprehension.
Spanish Grammar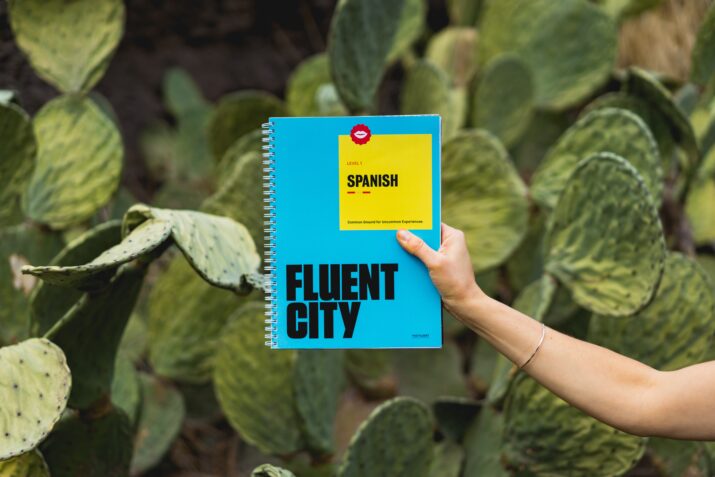 Image from Dan Gold
Fluencia's grammar courses are nothing short of amazing. They are so well done and elaborated just like any textbook. The lessons also focus on giving you exercises for everything you have learned.
The grammar lessons are designed differently because here you can't jump straight to exercises. They have very detailed explanations of the Spanish expressions with many examples.
After the explanations, you get right into doing exercises where you are reviewed based on your comprehension and the correct answers you give out.
The review exercises in this section will require you to have understood the lesson before moving to the multi-choice questions. Therefore you must make sure you have understood all grammar points before doing a review.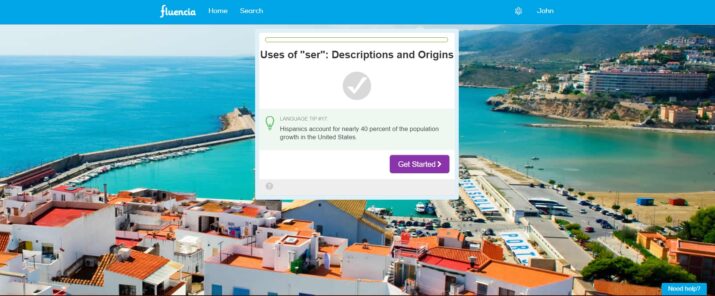 The questions are presented with a picture and audio that is read by a native speaker. The lip on the audio is a blank that you are expected to fill either by choosing from the multiple-choice section or typing the word in the space provided.
Vocabulary
At the vocabulary lesson, you get to be taught new words with exercises to review your comprehension all the way from the beginning.
In the audio, you get to hear a phrase, and a picture is put on the screen, and the word is written in both English and Spanish.
This part is quite easy as you only need to see the photo as you listen to the phrase being spoken then you type it in the space provided.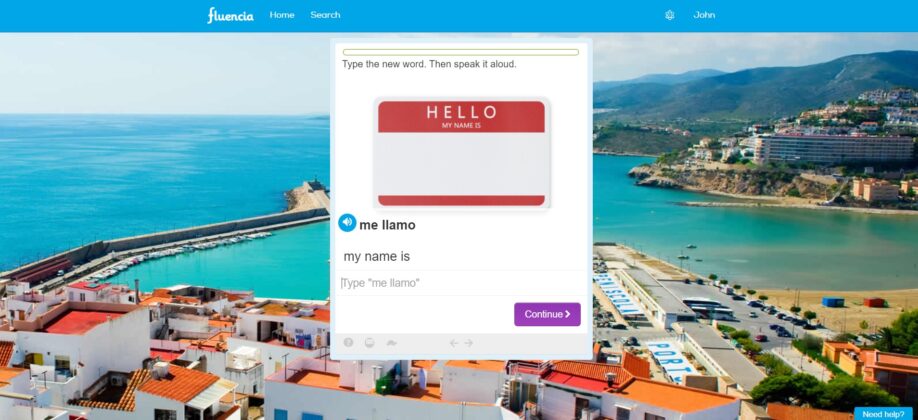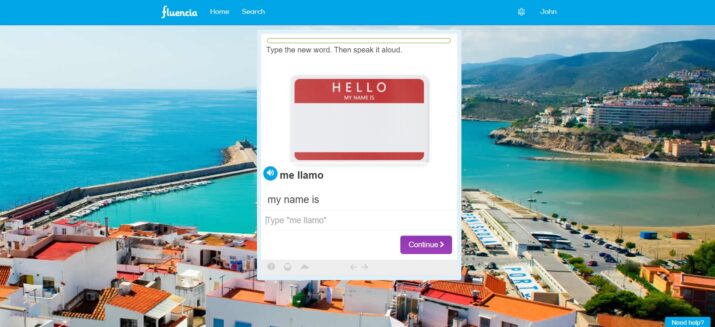 In as much as it is easy, it is very important because you get introduced to new words for the first time. You will be able to hear it from a native speaker, read it, see a photo and also type it.
This is definitely helpful when remembering the word then you get to the exercises. The exercises here are not very easy though not too challenging for learners.
This way of teaching Spanish vocabulary is quite similar to that of Babbel and Duolingo. You get to choose the right English translation from the multiple-choice section.
Sometimes they provide the written Spanish word but you get to hear the audio then choose the right answer from the list given.
The questions become more and more challenging as you continue. You can be provided with an English word that requires you to do a translation and write in Spanish with the correct spelling.
Other questions are done orally through their voice recognition system. The voice recognition system is not that great but it does help a lot because it will require to answer by speaking out loud.
Pronunciation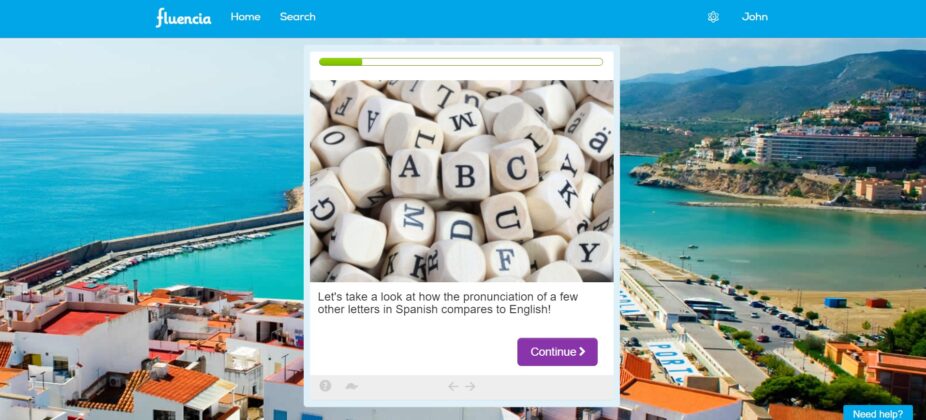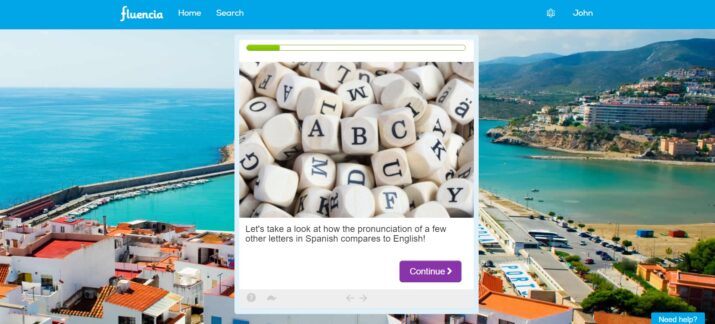 Each unit has pronunciation lessons with different content and topics. To learn Spanish, they have included in the pronunciation topics exclamations, onomatopeias, children rhymes, Spanish in the Caribbean, shortened adjectives, and more.
In this section of the menu, Fluencia does not compromise when it comes to the quantity and quality of the content. It provides clear descriptions of this Spanish course with lots of examples.
The content in this pronunciation part of learning includes nouns and adjectives, exclamations through the use of queue and Spanish around the world.
Through the voice recognition system that Fluencia has, you get to hear the Spanish word spoken by a native speaker however it is not as good as people might think.
Hearing the texts on your screen is however still a brilliant way of language learning as Spanish speakers are native.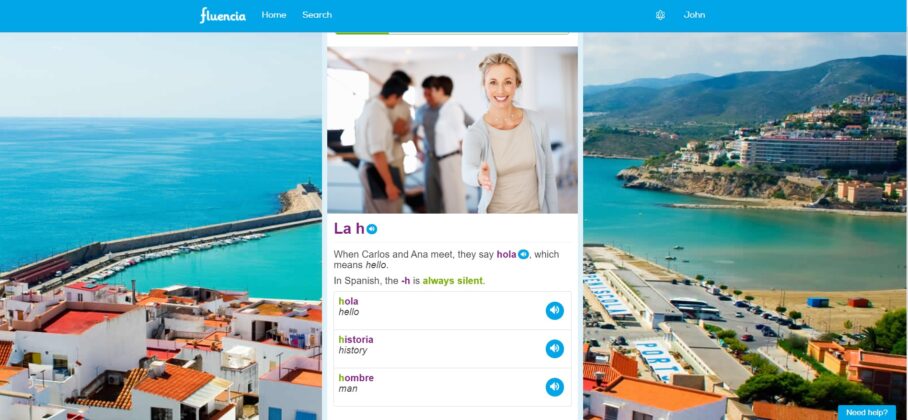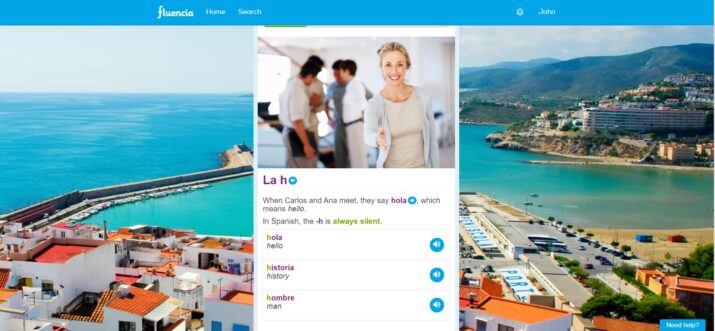 The downside of studying with Fluencia is that you don't get one-on-one lessons from qualified Spanish speakers as much as it allows you to some extent to practice speaking.
It would be better for you to uses other language training resources such as italki which has actual teachers to help you learn the Spanish language.
Culture
Fluencia has one of the most exhaustive cultural lessons around, better than Rocket Spanish. The lessons are quite informative, thorough, and also cover an array of topics.
This course section also has a review area where you get to do some exercises after studying to boost your comprehension.
This culture lessons section is mostly covered in English but will highlight a couple of Spanish words with a different color and next to it an audio recording.
Fluencia Review Lessons
This is arguably one of the toughest parts of studying French with Fluencia. Here you are taken through exercises where you focus on making full sentences.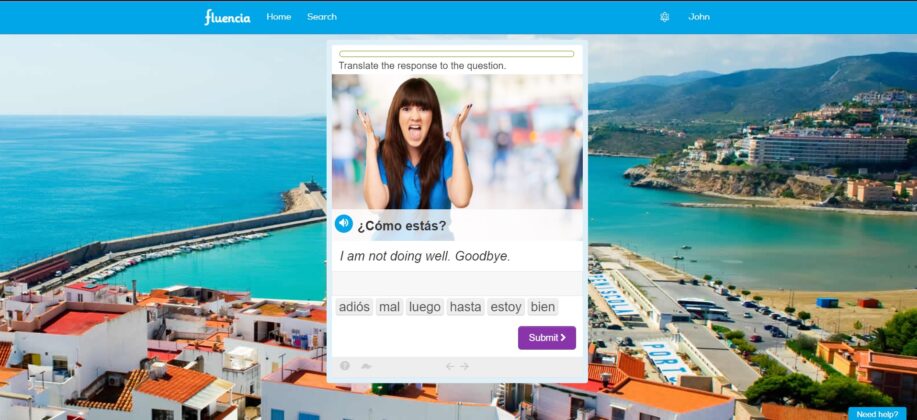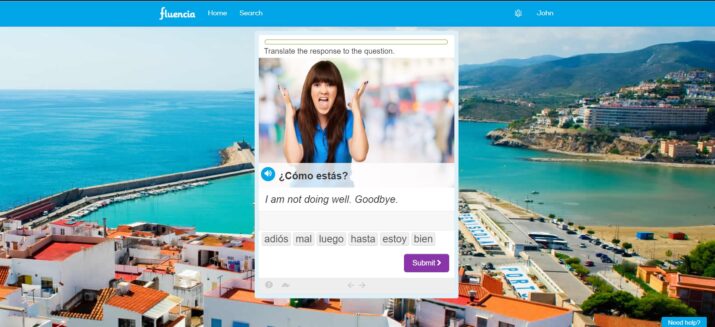 Though not a unique and new characteristic, Fluencia has shortened the phrases under review to ten, unlike other platforms which blast you with up to 50 of them which can be daunting.
You will be expected to drag and drop words to create various sentences in Spanish. You will also be dictated to and write what you have heard in Spanish, and as well translate words and phrases from English to Spanish.
Fluencia Search Feature
It may seem a bit bland to talk about this language learning feature but it has proved to be very useful. You are able to search for certain keywords within a lesson as well as go through various types of lessons such as grammar or vocabulary.
If it is grammar you want to focus on, the feature will take you right to it with a single click of the search button.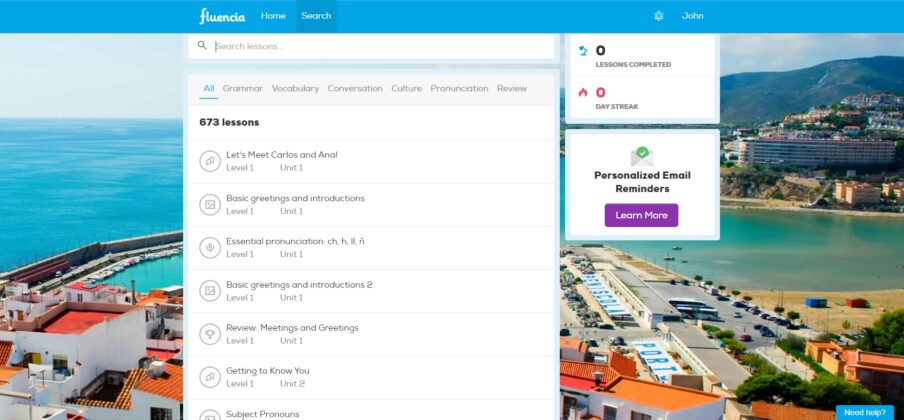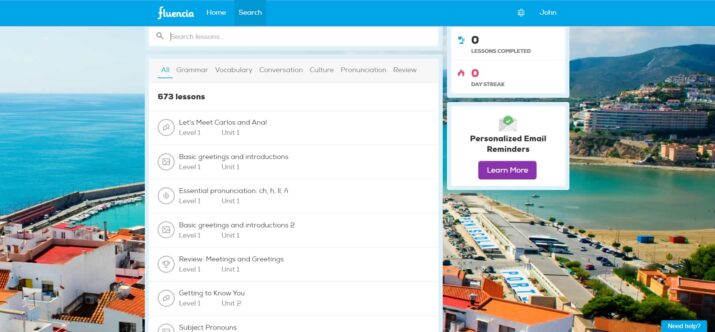 Whatever lesson you want to take the search feature will take you right the resources you need.
Smart review
This section is a smart way of reviewing what you have learned. The exercises in this section are automatically added after you have completed a certain unit or lesson.
This pretty much makes it seem easy as you don't have to find out what needs to be practiced. The questions in this section are much similar to the ones provided when you complete each section of the study.

The review questions are slowly added to this section to allow you to go through them one day at a time while giving correct answers without having to go through a huge list of them.
How much does Fluencia cost?
Fluencia offers initial 15 lessons during the free trial period. Thereafter, it will cost you $14.95 per month to access the language resources.
You could decide to take a 12 or 24-month option which is definitely cheaper than subscribing per month to the language learning program.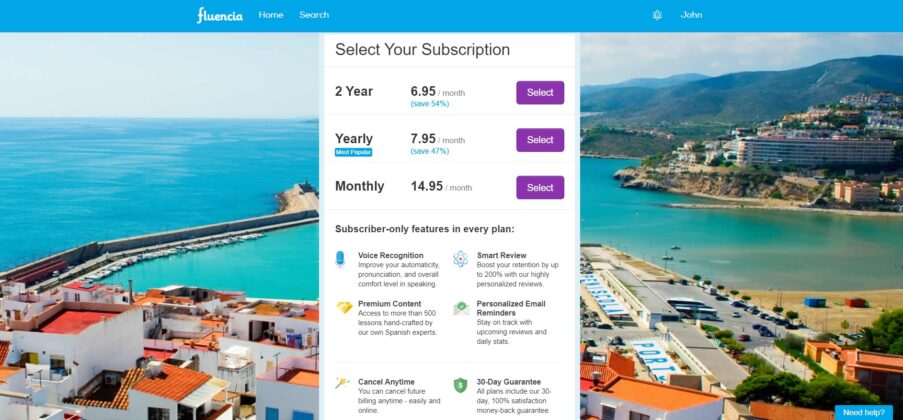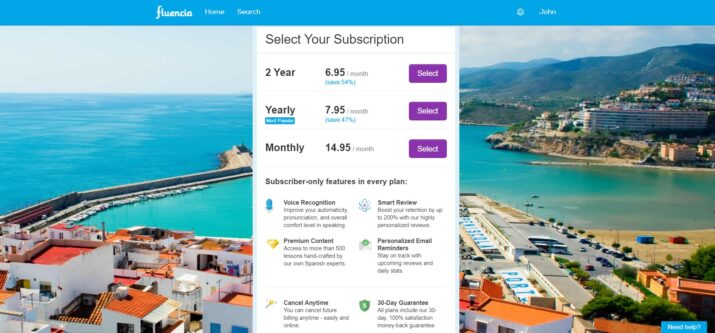 It however hardly for you to take a whopping 24 months to et fluent in speaking Spanish.
Therefore it is recommended that you take the lesser one first but the monthly plan will still give you value for your money.
How advanced is Fluencia?
As earlier stated in this menu Fluencia review, the course is divided into 10 units with more than 65 lessons for each. Te advanced and intermediate lessons can only be accessed once you pay the subscription fees.
All conversations in the advanced and intermediate levels are presented in native Spanish therefore your listening has to be quite good to get this far. This is among its best features.
Rarely will you get any explanations in English unless it is necessary. However, to get a translation, learners only have to click a statement in the conversation to get it.
Regrettably, you cannot pause a conversation or rewind back to hear a certain word that you may have missed. This however should not be a big issue.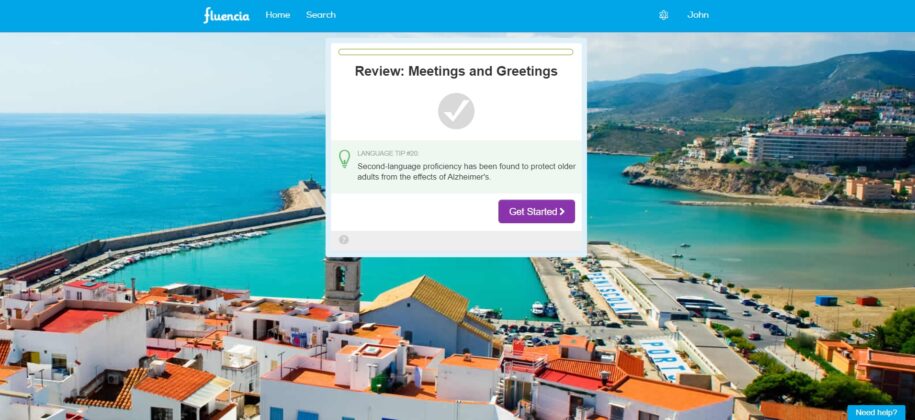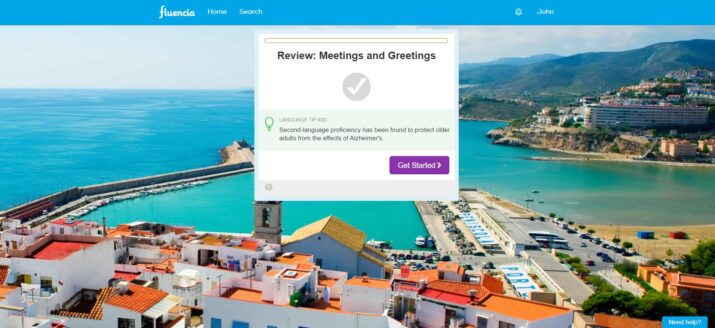 As soon as you have finished listening and practicing with the conversation, you get tested with multiple-choice questions to know how much you comprehend what you've learned.
If you fail to give the correct answers to the questions, you may have to go back to the lessons to learn once more.
Fluencia: Who is it for?
The bulk of the Spanish course by Fluencia is really good save for one or two challenges here or there and it works very well for most language learners.
The 15 lessons course offered during the free period will help a beginner be able to understand and pronounce a host of Spanish phrases as well as construct a sentence.
Fluencia's grammar course is indeed thoughtful with tons of explanations to them and will get you speaking within a short time.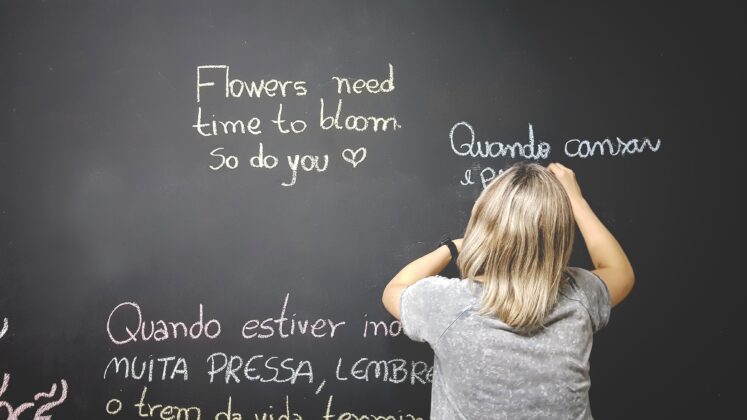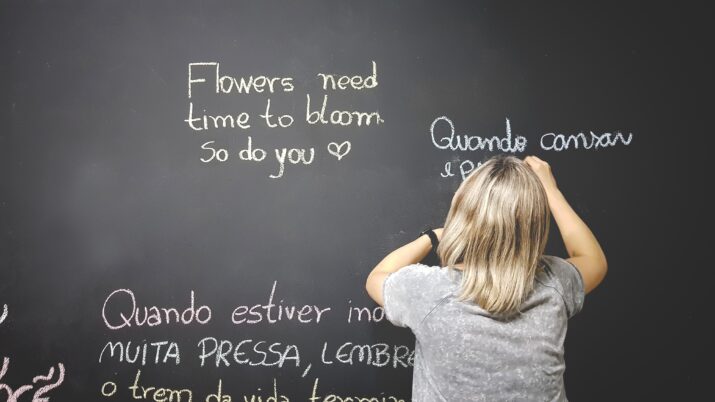 Image from Leonardo Toshiro
It is an excellent platform for beginners, intermediate, and advanced level learners as it becomes more challenging as you progress further into learning.
Note that learners at Fluencia do not do much of speaking through its speech recognition system therefore it would be great to pair it together with other language resources such as italki, Baselang, and Verbling.
It is also notable that Fluencia is very helpful for people who want to learn to write in Spanish.
Fluencia Alternatives to learn Spanish
Just like other review posts, this Fluencia review cannot be complete without having a look at what other alternatives there are.
Babbel is a popular language-learning platform that could give Fluencia a run for its money. However so, Fluencia is still a better platform but not in a huge way as they are just a tad bit different.
The grammar and culture lessons at Fluencia are more polished however Babbel has many more languages to offer while Fluencia only offers Spanish lessons.
CLICK HERE TO READ MORE ABOUT BABBEL
Pimsleur is great for language training just like Fluencia. However, Pimsleur has focused more on developing Spanish verbal skills as opposed to grammar.
Fluencia on the other hand is excellent with grammar and vocabulary practice. Therefore you could use the two since the strength of one compliments the other program's weakness. Pimsleur also offers a set of other languages unlike Fluencia.
CLICK HERE TO READ MORE ABOUT PIMSLEUR
Mondly is a top-rated award-winning language learning app that incorporates speech recognition, voice chatbot, augmented and virtual reality to teach languages.
Mondly gives feedback instantly to learners on the pronunciation exercises as well as makes suggestions to enrich the vocabulary of the learner which is one of the areas it competes with Fluencia.
The cost of studying with Mondly is also a bit less than that of Fluencia's.
CLICK HERE TO READ MORE ABOUT MONDLY
Babbel vs Fluencia
Babbel is an excellent all-round Spanish education platform with a well-structured course. It also has a speech recognition system that is a bit like Fluencia's to practice listening and speaking.
Just like Fluencia it also incorporates a question-answer section after completion of a lesson. Babbel does not have as many grammar exercises as Fluencia has.
According to Knoji, Fluencia seems to enjoy a better rating than I will teach you a Language course. The structure of the courses in I will teach you a language much like that of Fluencia's with listening and speaking sections, grammar, question and answer among others.
Despite the rating, Fluencia is not as popular as the other but it does provide a more satisfying learning experience. Fluencia also has very intuitive culture lessons which the other doesn't seem to have much of.
CLICK HERE TO READ MORE ABOUT I WILL TEACH YOU A LANGUAGE
italki is a popular language-training app that offers a Spanish course. It is definitely a notch better than Fluencia because you get to have one on one classes with native-speaking teachers.
The italki program also provides learning courses for about 130 languages while Fluencia offers Spanish only. It is an excellent alternative resource especially for pronunciation lessons since you get skills from an actual tutor.
CLICK HERE TO READ MORE ABOUT ITALKI
Learning Consistency with Fluencia

It is a fact that many language students hardly make studying French consistent and Fluencia has taken this into consideration.
In as much as it doesn't have a mobile app to send you notifications daily, learners can automatically set up their reminders on the dashboard or cancel them when they want.
If you're the type of person who reads such daily emails then this could actually be of value to you.
Is Fluencia Any Good?
This Spanish course is overall very good despite having a few challenges here and there however you may need to use a bit other training resources in tandem to boost your comprehension levels.
As stated earlier in this review, Fluencia's speaking classes are not that good and therefore an area the developers need to check up on and improve.
The platform is also not as pricy as others it competes with therefore the learner will get more benefits by choosing to learn with Fluencia.
Conclusion
To a beginner Spanish learner, this is an excellent online education platform with no filler content and vague explanations. If you like a gamified way of training then this might not be the best platform for you.
Since the pronunciation opportunities in this course are not that good on this platform, you may have to incorporate other learning resources to gain total fluency in the Spanish language.
What do you think about Fluencia now? If you're a beginner and yet to decide based on this Fluencia review, we advise that you start with the first free 15 lessons during the trial period before making any subscriptions.
Alternative online Spanish language teaching programs such as Babbel, I will teach you a language, Mondly, Pimsleur, and italki are in actual fact quite effective apps for learning Spanish as well as other languages. Most of these also have a Free period for trying the app.
Duolingo is also another excellent free course for use with more than 30 other languages. Just open a Google page and type Fluencia to sign up and start learning Spanish at your own pace. If anything you can always come back to this Fluencia review posts to be sure.
CLICK HERE TO GET BABBEL AT A DISCOUNTED PRICE
CLICK HERE TO GET I WILL TEACH YOU A LANGUAGE AT A DISCOUNTED PRICE
CLICK HERE TO GET MONDLY AT A DISCOUNTED PRICE
CLICK HERE TO GET PIMSLEUR AT A DISCOUNTED PRICE
CLICK HERE TO GET ITALKI AT A DISCOUNTED PRICE
Like this Article? Subscribe to Our Feed!
Passionate in tech, software and gadgets. I enjoy reviewing and comparing products & services, uncovering new trends and digging up little known products that deserve an audience.