Exness Review 2023 With Rankings- By Dumb Little Man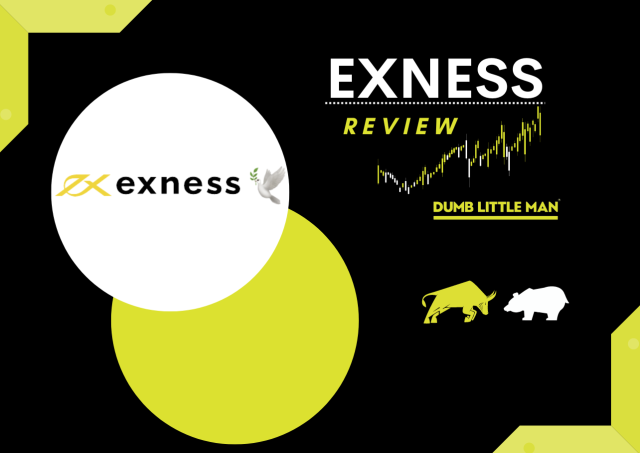 Exness is an online brokerage company that offers trading services in various financial markets, including forex, commodities, and indices.
Founded in 2008 and headquartered in Limassol, Cyprus, Exness is regulated by the Cyprus Securities and Exchange Commission (CySEC) and the Financial Conduct Authority (FCA) in the United Kingdom.
The company offers a wide range of trading instruments, including forex, indices, commodities, and cryptocurrencies, on a variety of platforms, including its own proprietary platform, as well as MetaTrader 4 and 5.
The brokerage is known for its tight spreads and fast execution speeds. The company also offers a range of educational resources and customer support services to help traders improve their skills and navigate the markets.
That being said, we'll be diving deep into the world of Exness, exploring its features, benefits, and drawbacks to comprehensively review one of the most respected names in the online trading industry.
So, grab your trading notebook, and let's get started!
Exness Overview
Evaluation Criteria
At Dumb Little Man, we conduct evaluations of various forex brokers to determine their overall performance. Our analysis team takes a comprehensive approach, examining a range of factors, such as:


Cost-efficiency of the platform (comparing commission fees, charges, spreads, etc.)

Broker's technical competency by assessing the tools, customer services, trading instruments, and other platforms.

Reliability by analyzing the margin requirements, account types, background checks, leverage, and minimum deposit to open an account.

Profitability by testing and reviewing the success rate, platforms, signal services, and other resources.
Convenience by checking if the broker offers mobile trading, MetaTrader 4/5, and other advanced features.
And, after conducting a thorough evaluation of Exness, our analysis team has determined that it is a reliable and cost-effective option for forex and CFD trading.

The platform is user-friendly, with a range of account types available to suit different trading styles, and customer support is noteworthy.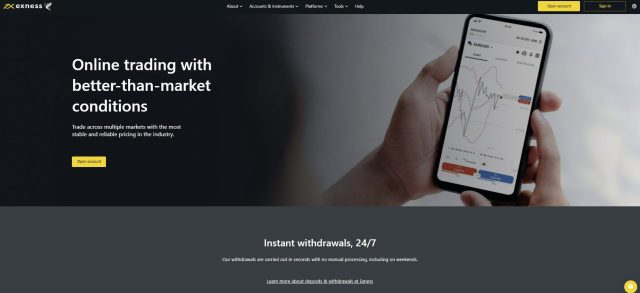 Exness is an online forex and CFD broker founded in 2008. The company is headquartered in Cyprus and has offices in Saint Vincent and the Grenadines, Seychelles, and Hong Kong.
The broker offers trading in a wide range of financial instruments, including forex, cryptocurrencies, commodities, and indices. Exness is regulated by the Cyprus Securities and Exchange Commission (CySEC) and the Financial Services Authority (FSA) of Saint Vincent and the Grenadines.
The broker's trading platform is available in multiple languages and supports various trading strategies. In addition to its online trading platform, Exness also offers mobile trading apps for iOS and Android devices.
P.S: The broker has moved up to the next level as it touched $2.105 trillion in net trading volume with a total of 281,270 active clients onboard.
Moving on whether you're a seasoned professional or a novice trader, Exness offers a comprehensive suite of tools and resources to help you succeed in the fast-paced world of online trading.
With its commitment to transparency, reliability, and customer service, Exness is quickly becoming one of the industry's most popular and trusted financial service provider trading platforms.
Safety and Security of Exness?
Exness prioritizes the safety and security of its clients' funds above all else. The strict regulatory body regulates the company as FSA, FSCA, and CySEC.
It employs state-of-the-art security protocols, including SSL encryption and two-factor authentication, to protect personal and financial information and trading operations.
Additionally, all client funds are kept in segregated accounts with top-tier banks, ensuring that they are never used for operational purposes.
Exness also participates in the Financial Commission's Investor Compensation Fund, providing an additional layer of security for clients' funds.
Sign Up Bonus of Exness
Let's be honest, offering signup bonuses can be an attractive incentive for traders, and a lot of scam brokers take advantage of it. However, it does not align with Exness's philosophy of providing transparent and fair trading conditions for all clients.
Instead of offering bonuses, Exness focuses on offering competitive spreads, fast execution, and reliable customer service to ensure the clients have the best possible trading experience.
Additionally, bonuses can often come with hidden terms and conditions that make it difficult for traders to withdraw their profits, but Exness prioritizes their clients' long-term satisfaction and success above short-term gains.
Minimum Deposit of Exness
Exness is proud to offer a minimum deposit of just $1 (on standard, standard cent) and $200 (on the raw spread, zero, & pro trading accounts).
This makes it easy for traders of all levels, from beginners to experienced professionals, to start trading without accumulating a large amount.
And with 24/7 customer support on board, you can rest assured that you'll have the help you need whenever you need it.
Exness offers a diverse range of account options to cater to the unique needs of traders.
Whether you're a novice or a seasoned pro, they have an account type that can help you achieve your trading objectives. Exness mainly categorized their accounts based on 2 characteristics.
Account Types
Standard Accounts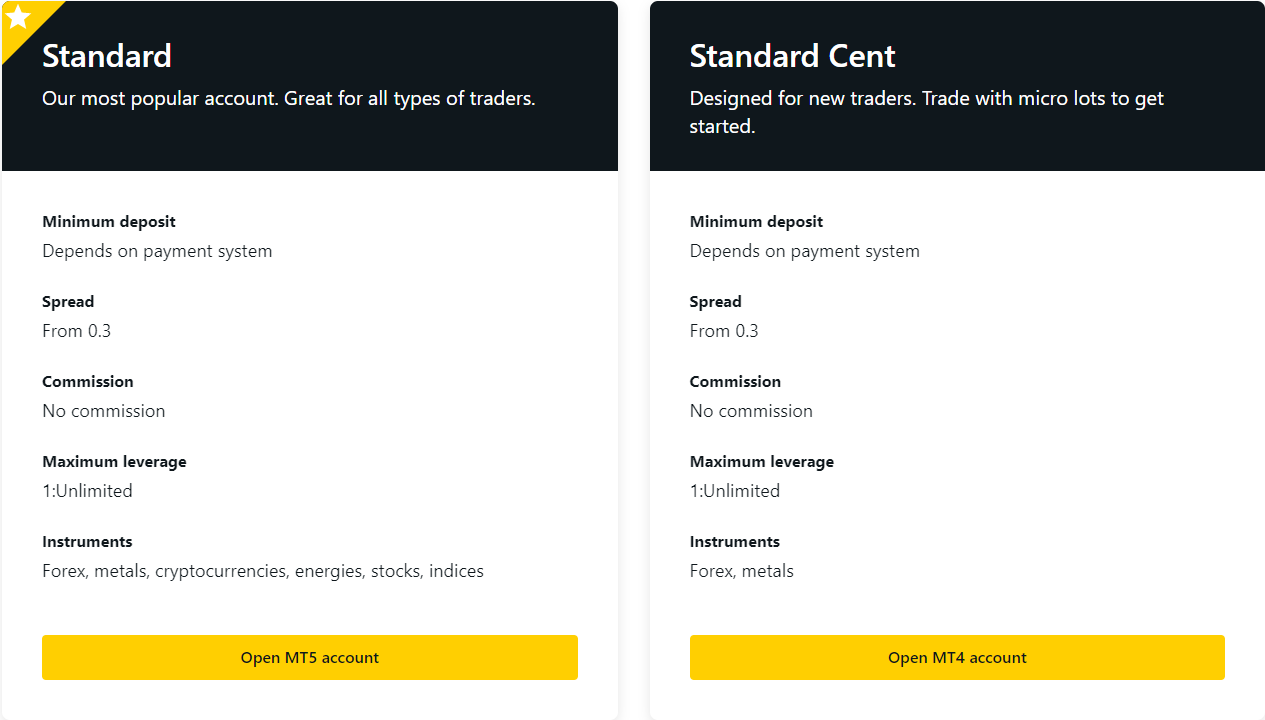 Accounts with a lot of features and no commissions are perfect for today's traders. Sign up and enjoy the benefits of the broker's most popular account with all trading tools.
The standard account comes with two different variations: Standard Accounts and Standard Cent Accounts.
Professional Accounts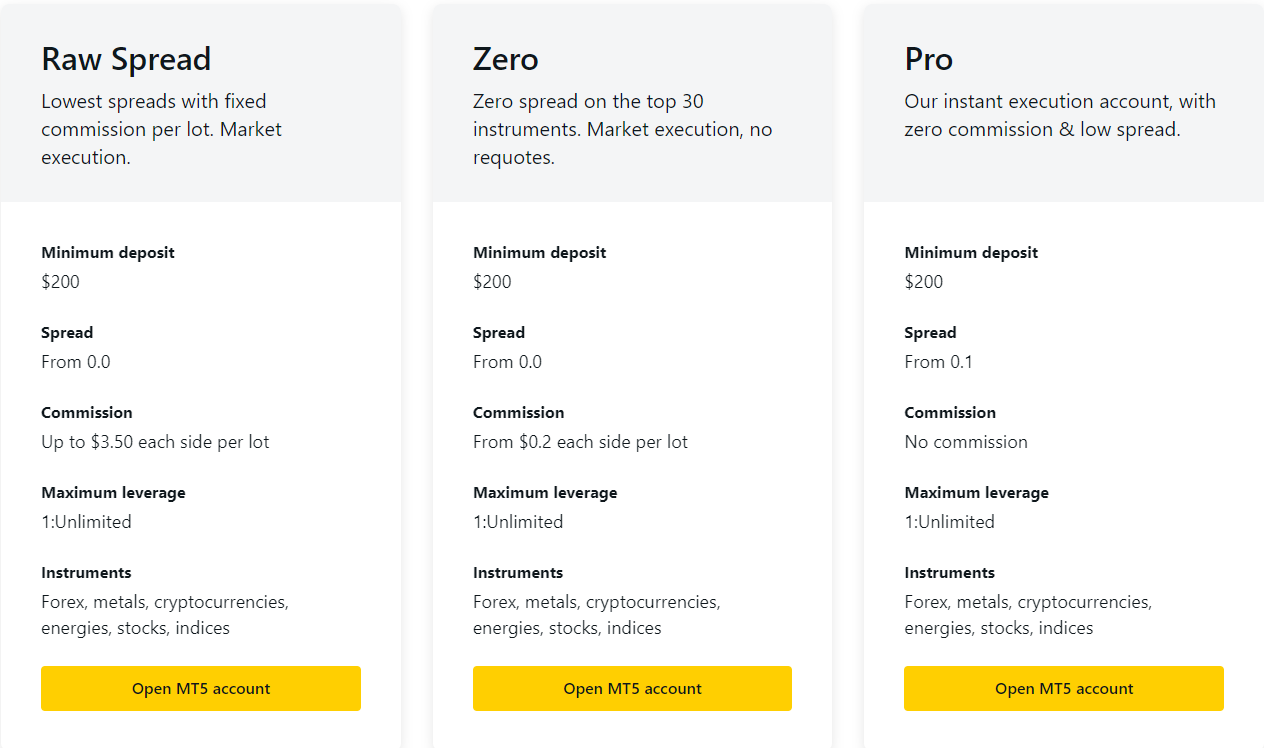 Accounts designed to fulfill the demands of the most seasoned traders. Highlights include spread-free or low-spread accounts with execution tailored to scalpers, day traders, and Algo traders.
The professional account comes with three different variations: Raw Spread Accounts,  Zero Accounts and Pro Accounts
Exness Customer Reviews
Despite having some negative responses over the years, Exness users have often praised the broker for its reliable and efficient trading platform and responsive customer support team.
However, here are some user feedbacks at a glance to give you an IDEA of the user's thoughts regarding Exness.
Many traders appreciate the wide range of account types and custom trading conditions available; on the other hand, many traders often complain about educational resources because they lack multilingual format support, which they're currently working on.
Overall, Exness customer reviews reflect high satisfaction with the broker's services.
Exness Spreads, Fees, and Commissions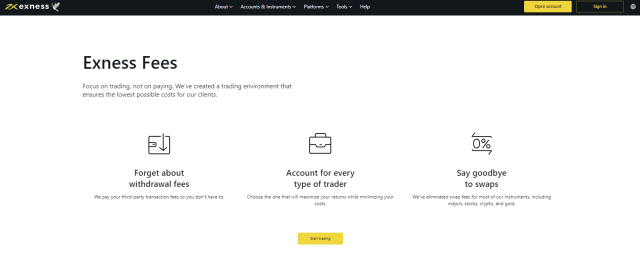 Exness Spreads
When it comes to spread, Exness is known for providing tight spreads to online market traders. In the standard trading accounts, the spread is 0.3 pips; on the other hand, in the Professional accounts, the spread is 0.0 pips, except for the PRO accounts, where the spread is 0.1 pips.
Exness Fees & Commission
Initially, Exness doesn't take extra charges as they say, "Focus on trading, not on paying." However, the Pro Account has a raw spread and a commission structure that changes for each trade.
The Exness Zero (0) Spread Account doesn't have spreads for 95% of the day. But according to some of our reviewers commission is required, with fees starting at $3.50 per lot/side.
Deposit and Withdrawal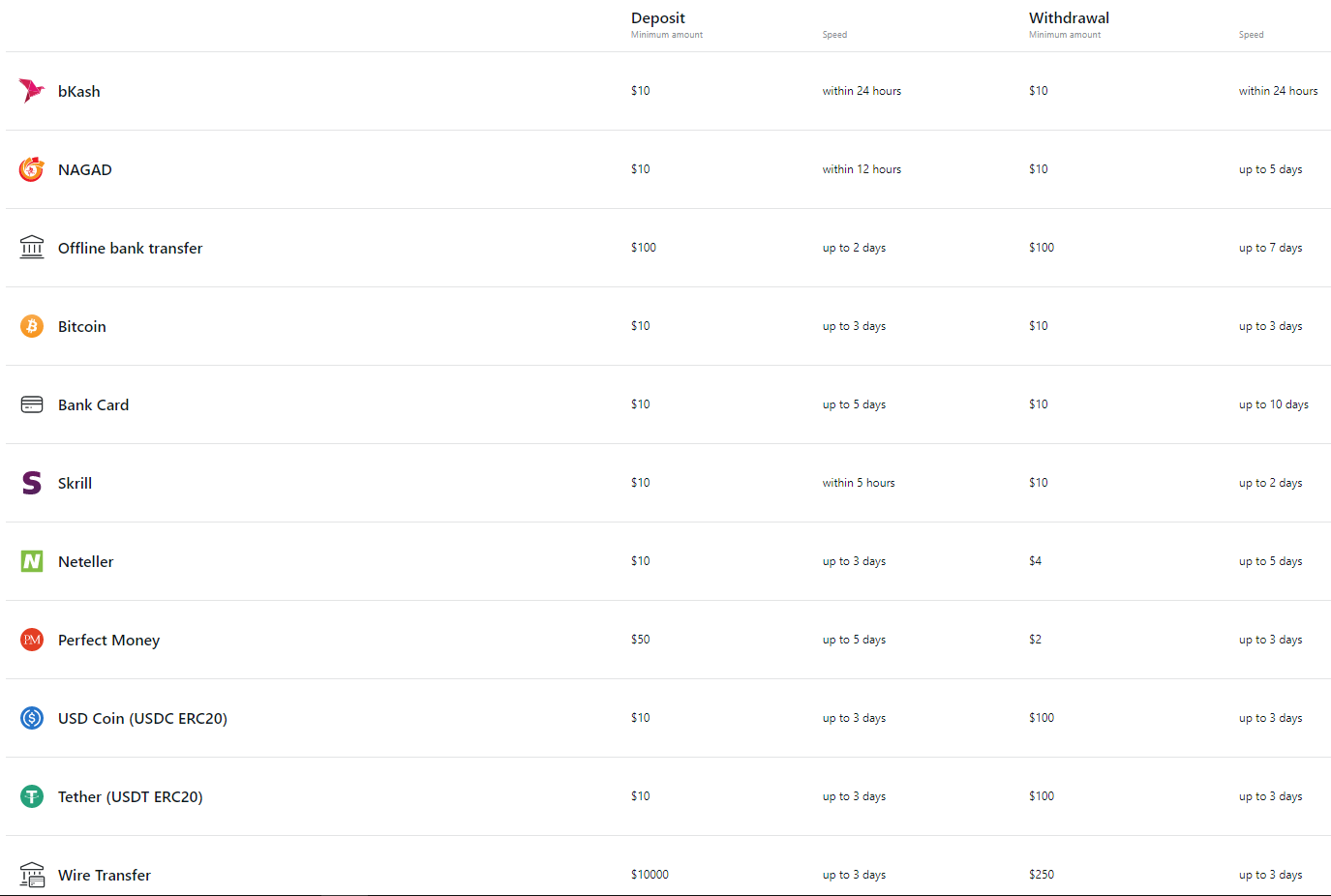 Exness understands that the deposit and withdrawal options are important to every client's trading experience. That's why they have made it as easy and secure as possible.
The clients can choose from a variety of deposit and withdrawal methods, including the world's most popular payment system, credit and debit cards, bank transfers, e-wallets, and crypto-wallets.
The process is quick and straightforward, and funds are credited to and withdrawn from traders' accounts in a timely manner.
Additionally, the brokerage employs strict security measures to ensure the safety of your personal and financial information.
How To Open an Exness Account – Step-by-Step Guide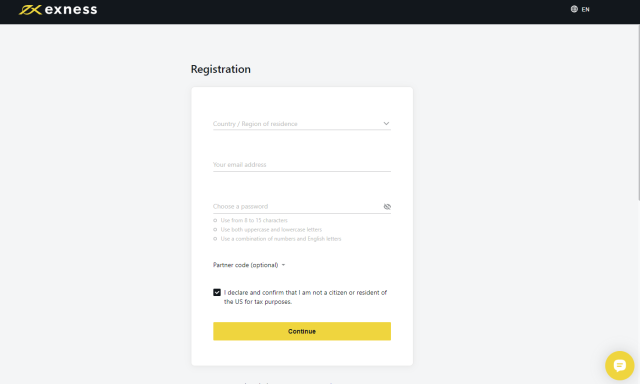 Opening an Exness account is easy and straightforward. With just a few simple steps, professional traders can start trading on one of the most popular online forex and CFD trading platforms.
Follow this step-by-step guide to get started:
First, visit the Exness website and click on "Open Account".
Choose your nation of residency; this will determine which

local payment systems

are accessible to you.
Next, fill in your personal information and create a secure password.
After that, you'll need to verify your email and phone number and upload the necessary documents to complete the verification process.
Once everything is set up, you can fund your account and start trading. With Exness, you'll have access to a wide range of financial instruments and enjoy some of the best trading services & conditions in the industry.
Exness Affiliate Program
The "Partner Of the Year" (by Affiliate Space Awards 2022) award-winning broker, aka Exness, has some appealing affiliate programs for forex traders & other financial instruments traders.
The Exness Affiliate Program is an incredible opportunity for anyone looking to earn extra income while promoting a reputable and reliable online trading platform.
As an affiliate, you will be able to share your unique referral link with others and earn a commission for every new trader who signs up through your link.
You will also have access to a wide range of marketing materials, including banners and landing pages, to help you promote Exness effectively.
In addition, if you're able to drive traffic to Exness, you can get a commission of up to $1850 for each user that becomes an active client.
Exness Customer Support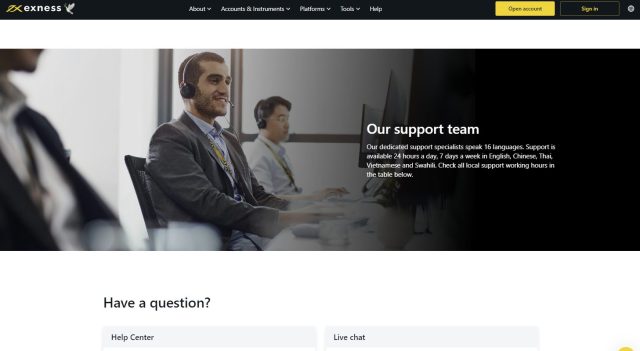 The company's customer support team is available 24/5 and can be reached through various channels such as live chat, email, and phone. They can also be reached via various local phone numbers, which are available on the Exness website.
The customer support team is multi-lingual and is able to assist traders in various languages such as English, Chinese, Russian, Bahasa Indonesia, Thai, and Malay.
The company also has a comprehensive FAQ section, which can be accessed on its website, and provides answers to many common questions.
Exness also provides support for clients through a personal account manager for VIP clients and also provides educational materials such as webinars, video tutorials, and an economic calendar.
Overall, Exness is committed to providing a high level of customer service and support, with a dedicated team on hand to assist traders with any queries or issues they may have.
Advantages and Disadvantages of Exness Customer Support
Advantages
Disadvantages

➼

24/7 availability

✖

Limited availability of phone support in some countries

➼

Multilingual support (available in multiple languages)

✖

 Occasional long wait times for live chat or phone support

➼

Fast response times

➼

Knowledgeable and helpful staff

➼

Various methods of contact (phone, email, live chat, etc.)
Exness Vs Other Brokers
In the financial industry, Exness is, without a doubt, a BIG name, but how is it holding up against the other BIG brokerage companies, such as AvaTrade, Axi, and Alpari?
Let's take a look!

Exness and Avatrade are one of the most widespread Forex and CFD brokers providing a wide range of trading instruments, including currencies, commodities, indices, and cryptocurrencies. However, they have shown quite the opposite.
According to their regulation, Exness is regulated by the Cyprus Securities and Exchange Commission (CySEC) and the Financial Services Authority of Seychelles (FSA).
On the other hand, Avatrade is regulated by Australian Securities and Investments Commission (ASIC) & South African Financial Sector Conduct Authority (FSCA).
Both brokerage companies have their own trading conditions. Exness offers a bunch of trading conditions, including tight spread, low minimum deposit, and no deposit bonus.
As for Avatrade, they provide essential education materials, tight spreads, and low minimum deposit facilities.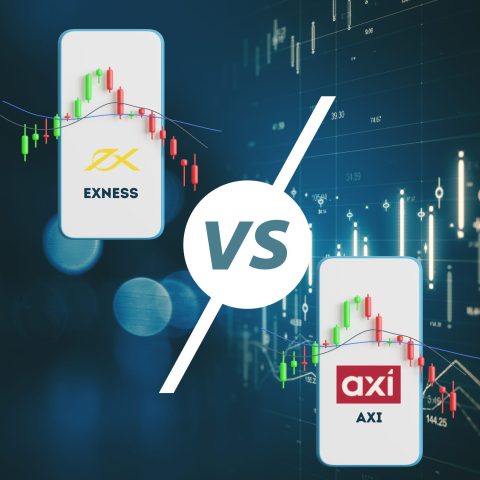 There are some significant differences between the world's two most renowned brokers – Exness & AXI.
Starting with the regulation, Exness is covered by the world's two most regulated bodies like Cyprus Securities and Exchange Commission (CySEC) and the Financial Services Authority of Seychelles (FSA).
On the other side, AXI is regulated by the Australian Securities and Investments Commission (ASIC), a regulatory body for many forex brokers.
As for trading platforms, Exness and AXI have the popular MetaTrader 4 and MetaTrader 5 platforms.
Also, both brokerage companies have their own proprietary platform, accordingly Exness Trader & AXI Trader.
And as for the trading condition, Exness is built with the 3 trading conditions, including tight spreads, low minimum deposit, and no trading bonuses.
While AXI offers competitive trading conditions, tight spreads, leverage up to 1:500, and a wide range of trading instruments.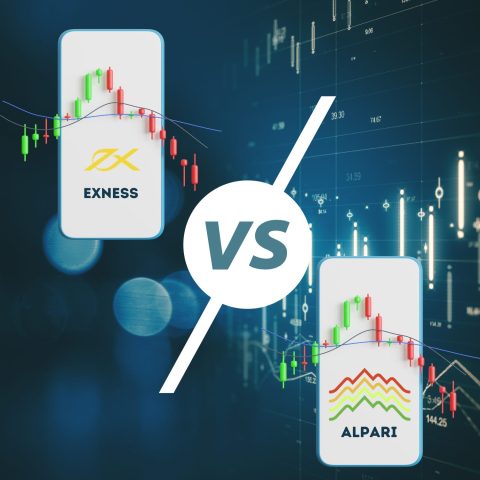 Exness and Alpari are both well-established online forex and CFD brokers. Firstly, Exness is regulated by the world's two most regulatory bodies, CySEC and the FSA of Seychelles.
And on the other hand, Alpari is regulated by the FCA in the United Kingdom and the IFSC in Belize.
Exness and Alpari both have MetaTrader 4 and MetaTrader 5 platforms. Also, both brokers have their proprietary platforms accordingly, Exness Trader & Alpari Direct.
Both companies have slight changes in the spread, but Exness offers up to 1:2000 leverage, whereas Alpari is capped at 1:1000.
Both companies are considered reputable and have been in business for over a decade. However, it is worth noting that Alpari was involved in a high-profile bankruptcy in 2015 but later re-opened under new management.
Exness Pros and Cons
Exness is a very renowned online brokerage company with millions of thoroughly satisfied traders on board, but despite being a TOP name in the industry,
There are certain lackings that the broker needs to work on. That being said, let's take a quick glance at the pros and cons of Exness.
PROS
CONS

➼

Around 107 currency pairs are supported.

✖

The financial market choice is narrow.

➼

Offers lowest commissions in the forex market.

✖

No instruments for passive investment.

➼

Zero spread accounts.

✖

Analytical content and learning seem to be superficial.

➼

Many options are available for trading accounts with varied approaches to charging a commission for new traders and experts.

✖

MTS does not have the Standard Cent Account.

➼

More than 60 base money in the account.

✖ US and Israel citizens are not allowed to register.

➼

Fast withdrawal methods and deposit process.

✖ Research materials are limited

➼

Regulated by the FCA, CySEC, and FSA

➼

24/7 customer protection service is available.
Having seen and comprehended all the pros and cons, it can be said that, despite some minor drawbacks, Exness is a good choice for traders looking for tight spreads, a secure platform, fast execution, and a wide range of instruments.
Choose Asia Forex Mentor for Your Forex Trading Success
If you have a keen interest in establishing a successful career in forex trading and aspire to achieve substantial financial gains, Asia Forex Mentor stands as the optimal choice for the best forex, stock, and crypto trading course. Ezekiel Chew, renowned as the visionary behind trading institutions and banks, is the driving force behind Asia Forex Mentor. On a personal note, Ezekiel consistently achieves seven-figure trades, a distinction that truly sets him apart from other educators in the field. Here are the compelling reasons that underpin our recommendation:

Comprehensive Curriculum: Asia Forex Mentor offers an all-encompassing educational program that covers stock, crypto, and forex trading. This well-structured curriculum equips aspiring traders with the knowledge and skills necessary to excel in these diverse markets.

Proven Track Record: The credibility of Asia Forex Mentor is firmly established through its impressive track record of producing consistently profitable traders across various market sectors. This achievement serves as a testament to the effectiveness of their training methodologies and mentorship.

Expert Mentors: At Asia Forex Mentor, students benefit from the guidance and insights of experienced mentors who have demonstrated remarkable success in stock, crypto, and forex trading. These mentors provide personalized support, enabling students to navigate the intricacies of each market with confidence.

Supportive Community: Joining Asia Forex Mentor brings access to a supportive community of like-minded traders pursuing success in the stock, crypto, and forex markets. This community fosters collaboration, idea-sharing, and peer learning, enhancing the overall learning experience.

Emphasis on Discipline and Psychology: Success in trading necessitates a strong mindset and disciplined approach. Asia Forex Mentor provides crucial psychological training to help traders manage emotions, handle stress, and make rational decisions during trading.

Constant Updates and Resources: The financial markets are dynamic, and Asia Forex Mentor ensures that students remain up-to-date with the latest trends, strategies, and market insights. Continuous access to valuable resources keeps traders ahead of the curve.

Success Stories: Asia Forex Mentor takes pride in a multitude of success stories where students have transformed their trading careers and achieved financial independence through their comprehensive forex, stock, and crypto trading education.

In summary, Asia Forex Mentor emerges as the premier choice for those seeking the best forex, stock, and crypto trading course to carve a rewarding career and achieve financial prosperity. Through its comprehensive curriculum, experienced mentors, practical approach, and supportive community, Asia Forex Mentor provides the necessary tools and guidance to mold aspiring traders into accomplished professionals across diverse financial markets.
Conclusion: Exness Review
In conclusion, Exness is a well-established and reputable forex broker that offers its clients a wide range of trading options and trading tools.
In addition, the company strongly focuses on customer service and education and provides a user-friendly and customizable trading platform.
With its competitive spreads and fast execution speeds, Exness is a solid choice for novice and experienced traders.
However, it's important to note that, as with any financial investment, risks are involved.
And it's essential to thoroughly research and understand the market before making any trades. Nevertheless, Exness is a reliable and trustworthy broker worth considering for your trading needs.
Exness Review FAQs
Is Exness a Safe broker choice?
Yes, it is. Exness is a regulated forex and CFD broker, meaning government agencies oversee it to ensure it operates legally and fairly as it is regulated by the FSC, FSA & CySEC, which are considered to be strict regulators.
What is the minimum deposit to trade with Exness?
The minimum deposit to trade with Exness is $1. This means that you can open a trading account with Exness and start trading with as little as $1 in your account.
This low minimum deposit makes Exness accessible to a wide range of traders, including those who are just starting out and may not have a lot of capital to invest.
Can I practice Forex trading with Exness?
Yes, Exness offers a free demo account that allows traders to practice forex trading in a risk-free environment.
The demo account is fully functional and includes all the features of the live account, allowing traders to test their strategies and gain experience with the platform.