Cashusa.com Reviews: Compare Top Personal Loans of 2023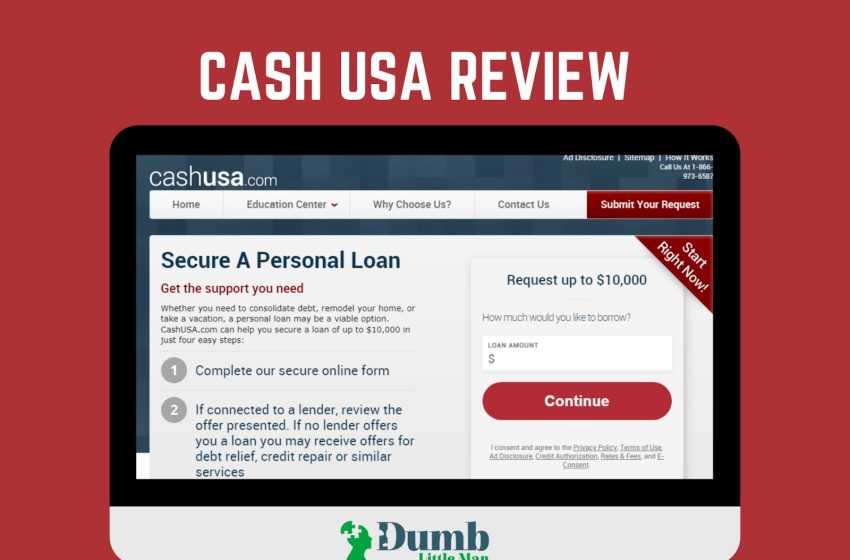 Personal loans have always been a go-to solution in order to meet your small expenses whether you need cash for an unplanned trip or medical emergency. According to LendingTree, approximately 19.4 million US citizens had personal loans in 2020, and the popularity of the loan is still increasing.
Thousands of lending companies have emerged in the US but Cashusa.com can save you from wasting your effort and time. This review will help you identify if Cashusa.com can meet your personal finance needs.
Lender
Best For
Fee & Credit
More Details

Best For Online Personal Loan With Low APR

APR: 5.99% - 35.99% •

Loan Amount:

$500 - $10,000

• Loan Term: 90 days - 72 months
What is Cashusa.com Loan?

Cashusa.com is an online lending marketplace that organzines a network to connect lenders and borrowers. Borrowers find the lenders based on their loan requirements and make an agreement to engage in the loan business.
The lending network is a safe and secured platform that has a quick and easy application and loan approval process. Requesting and receiving loans take only 1 to 2 business days and even people with bad credit can qualify for CashUSA loans.
This US-based company has leading services or networks in 50 states across the country. It partners with state and tribal lenders who offer loans ranging from $500 to $10,000.
What are the Types of Loans Offered by Cashusa Loans?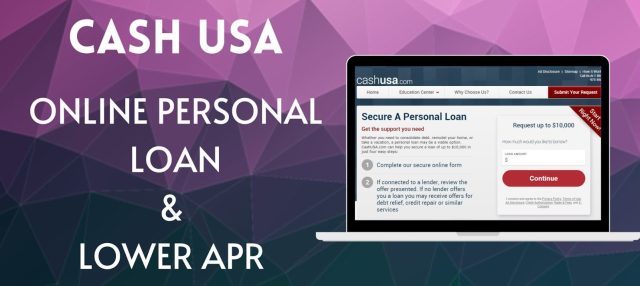 CashUSA offers personal loans or small installment loans that are repaid over an extended period of time with a set number of scheduled payments.CashUSA personal loans avail a minimum loan amount of $500 and a maximum of $10,000.
Besides, personal loans offered from CashUSA are fast and convenient loan requests that are approved in a few minutes. The borrowers can receive the cash loan in a single business day, which can save them from embarrassment to request friends.
The lending marketplace has secured and unsecured personal loans so you have no obligation to place collateral for the loans. However, it will depend on your loan requirement whether you are offered a secured or unsecured loan.
The lenders in the network can have interest rates ranging from 5.99% to 35.99% for a period of 90 days to 72 months. Personal loans at CashUSA are easy to qualify for and have flexible payment plans.
How do Cashusa Personal Loans work?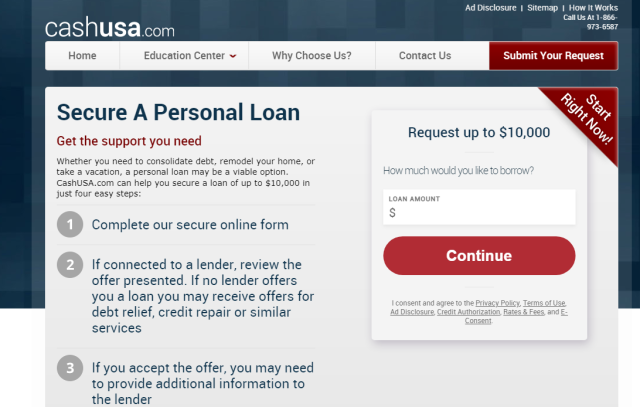 Qualifying for and receiving CashUSA loans takes only two simple steps. Borrowers need only to fill out the loan request forms and make an agreement with the lenders to receive the loan.
Between these two steps, CashUSA operates all the required tasks. When you finish completing the loan request, CashUSA passes your information to the network of lenders and to other third-party.
The lenders in networks review your loan request and propose their offers based on your financial requirements. If you feel the offers and terms are comfortable for your financial needs, you can e-sign the agreement.
Once they approve your loan request, you can receive the fund in one business day. In case, CashUSA can't find the loan offer for you, they direct your information to some limited marketing partners.
This way, you can also receive loan offers for credit repair, debt relief, or similar services. After receiving the fund, the payment is automatically withdrawn from your checking account on the due date.
Besides, you can set the monthly payments plan based on the agreement. How much flexible your schedules are can depend on your lender and the signed agreement.
Click Here to Get Started with Your Loan Application on Cashusa.com
What are the Features of Cashusa Loans?

CashUSA has a variety of personal loans that differentiates the company from other lending companies. Besides, highlights included below are bonuses from CashUSA.
Secure & reliable lending platform
CashUSA is a reputed lending platform in the US. Thousands of borrowers and lenders have been operating their financial activities at this lending marketplace.
No application fee
CashUSa is not a direct lender so it does not charge any fee for its service. So you can apply for personal loans for free.
Easy application and quick approval
CashUSA personal loans have an easy and short application with minimum requirements that takes only a few minutes. Once you finish submitting your application, you can get the result with an offer in a few minutes.
Transparent loan terms
The online marketplace clearly mentioned the interest rate ranging from 5.99% to 35.99% and loan period from 90 days to 72 months. Though each lender has its own conditions, they can violate the mentioned loan terms at CashUSA.
Education resources
CashUSA has an education resources section that includes useful posts for people who need some financial guides. The visitors can read about several topics such as credit, finance, debt, and banking.
Excellent customer support
The customer care officers standby during office hours to respond to queries from the visitors. They communicate via email, phone calls, and messages. Besides, customers can access the online platform 24/7 anytime and anywhere.
Network of lenders from all 50 states
The platform has a wide range of lenders spread across the 50 US states. Though the official website has not mentioned the states, you can ask customer care for it.
Suitable for borrowers with bad credit
Many reputed lenders require a good or excellent credit score. But people with bad credit also can qualify for personal loans at CashUSA.
Cashusa Loans Requirement?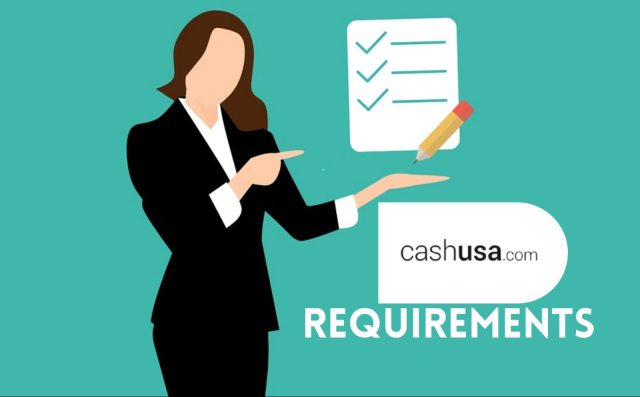 CashUSA loans have only a few easy requirements to qualify. The applicant need not worry about the credit score as there is no specified credit requirement at CashUSA loans. However, you will need the following requirements to proceed.
18 years of age
U.S. citizenship or permanent residency proof
Employment for at least 90 days and minimum income as per lender's requirements
Checking account
Phone numbers and email address
How to Apply for Cashusa Loans?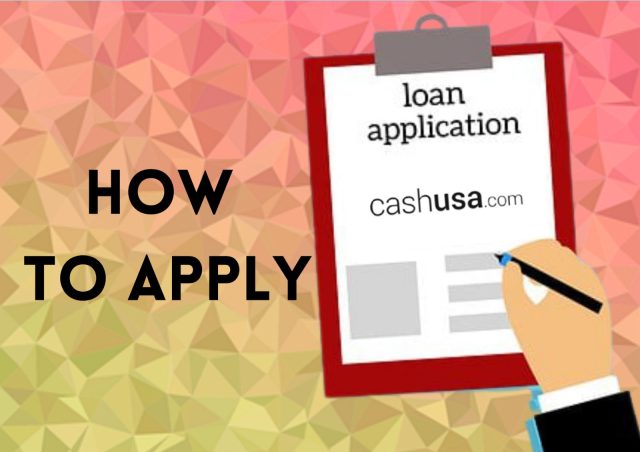 CashUSA has an easy online application process that doesn't take more than a few minutes.
Step 1: Apply Online
You need to visit the official website where you need to submit your loan request. For this, you may fill out some basic information like loan amount, purpose, date of birth, and zip code. This will also require a soft credit pull.
Step 2: Receive Loan Offers
Once you finish submitting the required details, you receive offers from multiple lenders. You can compare and proceed with your application if you find the requirements met. At this step, a hard credit pull will be required.
Step 3: Loan Approval
After submitting the complete application, you will receive the result if you're qualified. Then you need to sign the agreement and you can receive the fund the next day in your bank account.
How much do Cashusa Loans Cost?
As CashUSA is not a direct lender, it doesn't have any fee regarding the services. It helps connect the borrowers with the lenders who specialize in offering personal loans.
So, the platform can't specify the financial implications of the personal loan offered from the network. Rates and fees for the loan differ from lender to lender based on your financial information and requirements.
Once the lenders approve your loan request, they send offers with the loan terms including APR, loan renewal policies, and fees. However, you can expect the APR of your personal loan to remain between 5.99% and 35.99%. The loan amount of $500-$10,000 extends periods ranging from 90 days to 72 months.
For example, If you borrow $1500 for 2 years with a 7.9% APR, you will have $67.77 interest and a total payment of $1626.54.
Click Here to Get Started with Your Loan Application on Cashusa.com
Who is Cashusa Loans Best For?
CashUSA loans are designed for borrowers who need working capital and those funds can be used for anything. They can use the fund for several acts including Debt consolidation, Home improvement, and Major purchases.
CashUSA loan is the best option for those who need emergency funds up to $10,000. You can leverage this loan like payday loans or quick loans.
Borrowers who seek multiple loan offer to compare and then to decide can opt for CashUSA loans. Besides, people who are US residents and want quick applications and funding can leverage a CashUSA loan.
Also if people doubt qualifying for personal loans due to bad credit history, they can join CashUSA.
Cashusa Loans Pros and Cons
👍 PROS
► Easy and quick application and funding
CashUSA loans have easy and short loan request form that takes only a few minutes. Also, once you make a loan agreement, you can receive the fund on the same day of application.


► No service fee
CashUSA doesn't charge for its services so you can focus only on your loan terms. It has no application fee or monthly fee.


► Multiple offers
The platform offers a wide range of small loan amounts. Borrowers can apply for as little as $500 and a maximum of $10,000. Besides, borrowers can receive multiple offers from lenders in a network. This helps borrowers to compare and select the best deal for them.
👎 CONS
► The maximum amount of $10,000 only
CashUSA only provides loan amounts up to $10,000. If you need more than this amount, you need to seek other lenders or lending networks.


► Not a direct lender
CashUSA is not a direct lender itself so you will have no idea which lender would offer you a loan. It also makes complex to determine the exact loan terms as each lender operates on its own condition.


► No Mobile App
Though the platform is online only based, it does not provide a mobile app.
Cashusa Loans Compare to other Lenders
| Lender | Est. APR | Loan Amount | Loan Term | Min. Credit Score |
| --- | --- | --- | --- | --- |
| Cashusa.com | 5.99% - 35.99% | $500 - $10,000 | 90 days - 72 months | Not Specified |
| BadCreditLoans.com | 5.99% - 35.99% | $500 - $10,000 | 3 months to 7 yrs | Not specified |
| 100Lenders | 5.99% - 35.99%  | $100 to $40,000 | Depends on the Lenders | Not Specified |
| ZocaLoans | 7.95% | $200 - $1500 | 6 - 12 months | Not specified |
Click Here to Get Started with Your Loan Application on Cashusa.com
CashUSA and Bad Credit Loans are similar to offer the loan amount, APR, and credit score requirement. Besides, they are both lending agencies to connect the borrowers and lenders; they don't offer loans themselves.
Bad Credit Loans offers several types of loans including Personal Loans, Business Loans, Student Loans. However, CashUSA specializes in offering personal loans ranging from $500 to $10,000.
This amount range seems relevant based on the personal loans at CashUSA. Unlike CashUSA, Bad Credit Loans offers many types of loans at a maximum loan amount of $10,000 which seems unmatching for a bigger capital requirement.
>> Full Article Review: BadCreditLoans.com Reviews • Personal Loan For Low-Credit
Though 100Lenders is also an online lending platform that connects the borrowers and lenders in a single place. It offers personal loans ranging from $100 to $40,000 which seems quite diversified.
However, 100Lenders is not transparent about its loan terms as the platform has not disclosed anything related to fees, charges, or loan period. You need to apply for the loan with the required details to know the offer and loan terms.
Besides, 100Lenders doesn't offer a loan to the military personnel that is quite sad for soldiers. Unlike 100Lenders, Cashusa Loans mentions all the required information for borrowers that show its transparency.
Besides, CashUSA provides personal loans to all groups of people above 18. It is quite simple and easy to use, qualify and repay.
Though Cashusa Loans and ZocaLoans provide personal loans, they are different in their services and terms. CashUSA is an online lending platform that works like a third-party broker whereas ZocaLoans is itself a loan provider.
Borrowers can receive multiple offers from a single application at CashUSA but this service is not possible from ZocaLoans. Besides, there is a striking difference in charging APR; ZocaLoans has a relatively higher APR.
ZocaLoans may not be sufficient for you if you need more than $1500. But here CashUSA can be beneficial that offers up to $10,000 for personal expenses.
Besides, CashUSA has a wider network covering 50 US states whereas ZocaLoans is available in only 37 states. This way, CashUSA can be more beneficial than ZocaLoans in offering personal loans.
>> Full Article Review: ZocaLoans Review: Compare Top Lenders of 2023
Final Verdict
Cashusa.com is an online US-based lending platform that connects borrowers and lenders specialized in personal loans. From lenders from its network, CashUSA loans offer personal loans ranging from $500 to $10,000.
Borrowers who seek the loan offers from the majority of lenders and endure 5.99% – 35.99% APR can leverage Cashusa.com. They can repay in up 72 months based on their agreement and use the fund for anything they desire.
Cashusa loan has only a few requirements so it is easy to qualify. If you have bad credit and worry about a personal loan, you can definitely try Cashusa.
Cashusa Loans FAQs
Is CashUSA legit?
Of course. CashUSA is a reputed online lending platform available in 50 states in the US. Thousands of people are using CashUSA to lend and receive personal loans.
What Credit score do CashUSA Loans need to qualify?
CashUSA has not mentioned the specified credit score requirement but bad credit also can qualify for the loan. The 500-600 FICO credit score will be enough to qualify CashUSA loans.
Are CashUSA Loans are Payday Loans?
No. CashUSA is not a payday lender that offers the loan which expires in a couple of weeks. CashUSA loans are more like installment loans that require a standard payment plan.
Click Here to Get Started with Your Loan Application on Cashusa.com
Like this Article? Subscribe to Our Feed!
John is an avid researcher and is deeply passionate about health and finance. When he's not working, he writes research and review articles by doing a thorough analysis on the products based on personal experience, user reviews and feedbacks from forums, quora, reddit, trustpilot amongst others.