BlockFi Loan Review: Cryptocurrency Loans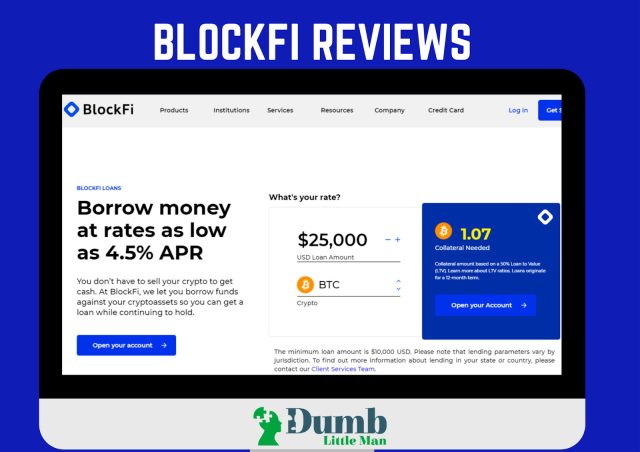 While more people are running toward digital assets, a new source of loans has come into the market. Now, customers can trade, earn, and even take loans out of crypto assets.
The crypto-backed loans offer USD or other traditional currency liquidity. So, borrowers can leverage these loans by funding major purchases, refinancing debt, or making a down payment on a home.
Several crypto loans are available in the market but BlockFi loan comes out with combined features. So, let's know more about the BlockFi loan through this BlockFi review.
Overview: BlockFi Loans Review
Card
Best For
Fee & Credit
More Details

Best For Cryptocurrency Trader

APR:

4.5% - 9.75%

 • Loan Amount:

$10,000 and more

• Loan Term: 1 year
What is BlockFi Loan?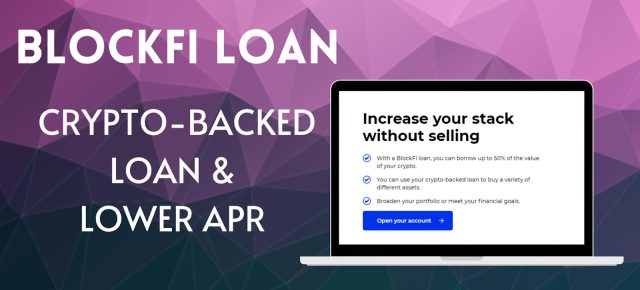 Founded in 2017, BlockFi offers several products including Bitcoin Rewards Credit Card, Trading Account, Interest Account, and Crypto-backed Loans. So, a BlockFi loan is a loan borrowed against the crypto assets to liquidate a cash or credit check.
The borrowers post their cryptocurrencies as collateral and receive the loan in USD. The BlockFi loan, however, accepts only BTC, ETH, LTC, and PAXG as collateral.
So, customers need not sell their digital assets to manage their personal expenses and debts. Instead, they can simply deposit 50% of the value of their crypto and can get the loan.
The BlockFi loan has a one-year loan term and offers a monthly statement for payment. It does not charge for prepayment so borrowers can pay off their loan as early as they want.
What are the Types of Loans Offered by BlockFi?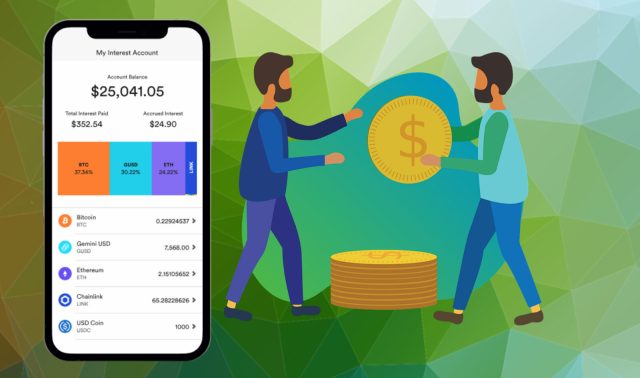 Unlike traditional online lenders, BlockFi has crypto-backed loans for individuals, institutions, and corporations. Borrowers can apply for BlockFi loans starting from $10,000.
BlockFi loans accept four cryptocurrencies including Bitcoin, Ether, Litecoin, PAX Gold as collateral. You need to deposit at least crypto assets equal to a 50% Loan to Value (LTV) to qualify for the loan.
BlockFi loans charge 4.5%-9.75% APR depending on how much crypto you have added as collateral. The loan extends for 12 months but borrowers need to wait for maturity; they can prepay the loan without any penalties.
How does BlockFi Loan work?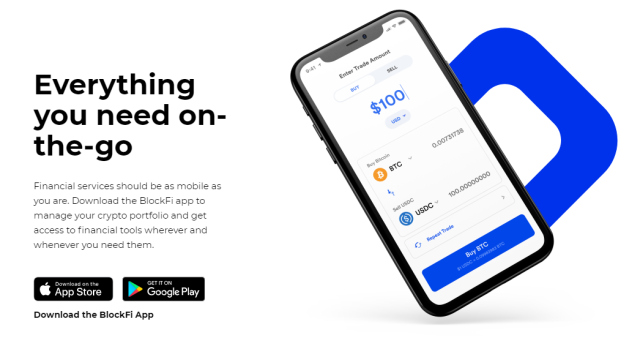 After the loan approval, you need to post at least crypto assets equal to 50% LTV you have chosen for collateral. BlockFi loan accepts four cryptocurrencies as collateral; BTC, ETH, LTC, and PAXG.
However, APR may vary based on the LTV rates and they have designed each tire of LTV rates for US and International borrowers.
If you are a US borrower and need to loan $10,000, the following structures of the cost you need incur:
50% LTV : 9.75% APR for $20,000 in crypto as collateral
35% LTV : 7.9% APR for $29,000 in crypto as collateral
20% LTV: 4.5% APR $50,000 in crypto as collateral
But if you are an International borrower, you need to adhere to the following cost for $10,000 fund:
50% LTV : 12.5% APR $20,000 in crypto as collateral
35% LTV : 10.44% APR $29,000 in crypto as collateral
20% LTV : 6.73% APR $29,000 in crypto as collateral
The international clients need to endure a bit high APR as there is a 2% origination fee attached.
Once you finish loading the collateral, you can receive the loan fund in US dollars or stablecoins such USDC, GUSD, PAX. After that, you can repay the loan in 12 months term.
However, you can also pay off the loan as early as possible as there is no prepayment penalty.
Click Here to Get Started With BlockFi CryptoLoans.
What are the Features of BlockFi Loans?

Without selling, the borrowers can get the loan via BlockFi Loans. Let's know more about the lucrative features of BlockFi Loans.
Crypto as Collateral
BlockFi Loans asks borrowers to post their crypto assets as collateral based on a 50% Loan to Value (LTV). Once they repay the loan, they can get their collateral back in their wallet.
BlockFi accepts the cryptocurrencies such as Bitcoin, Ether, Litecoin, and PAX Gold as collateral. However, the LTV varies depending on the crypto type for example if you have Bitcoin, you need 0.43 BTC for the S10,000 fund.
Easy And Quick Application Process
Borrowers need to apply for BlockFi loans via an online application. But this application does not take more time than 2 minutes.
The application does not have more requirements so that borrowers can easily qualify for the loans. Also, it will not harm the credit score.
Same Day Fund Transfer
Once approved, you can receive the loan fund on the same day of application in 24 hours. But it may take 2 to 3 business days if the collateral deposit delays so it depends on the collateral depositing method.
No Prepayment Fee
Unlike other lenders, BlockFi doesn't include a prepayment fee for the loan. Borrowers have no obligation to wait for the maturity period to pay off.
They can repay their loan as early as they plan. This can relax the headache for borrowers who want to get their crypto assets back and trade again.
No Taxable Event
BlockFi has some tax benefits as it does not impose capital gains taxes in your crypto balance. Besides, the interest charged on BlockFi loans can be tax deductible against the net investment income based on the returns of the loan.
Easy Online Access
BlockFi has online access via a mobile app and a website. So, customers can manage their loan account from anywhere.
BlockFi Loans Requirement?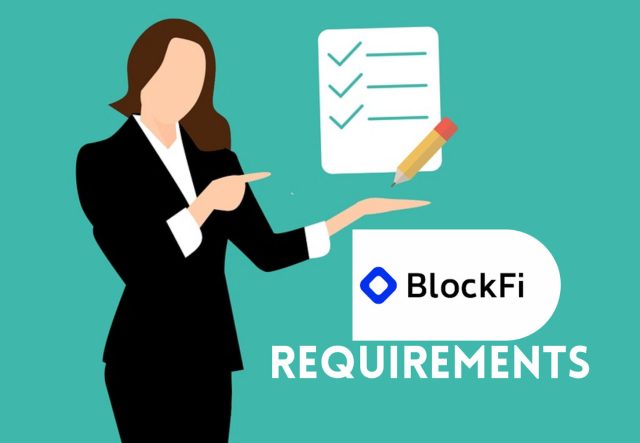 Unlike traditional loan lenders, BlockFi loans are quite simple and easy to quality. Look at the following requirements:
Email ID
Email-id is necessary for online presence so you will need it to apply for BlockFi loans. This helps you log in BlockFi and receive notifications from the lender.
Supported Digital Assets
Borrowers need to have some crypto assets at least the amount equal to 50% LTV. BlockFi will accept the cryptocurrencies such as Bitcoin, Ether, Litecoin, and PAX Gold as collateral.
If you do not have the supported cryptos, you can exchange or trade on BlockFi or other platforms. Once you manage the acceptable cryptos, you will be eligible to qualify for a BlockFi loan.
KYC Information
KYC information will also be added to the application to verify the borrowers. This will include name, address, DOB, phone number, Social Security Number SSN, and wallet key.
Besides, they can also loan applicants to disclose the source of your crypto being used as collateral and the reason for the loan.
BlockFi Account, Bank Accounts, or Trusted Wallets
You will also need a BlockFi account, bank account, or trusted wallets or payment getaway for depositing collateral and payment. If you lack a BlockFi account, you can use a US bank account or wallets such as Wire or ACH.
How to Apply for BlockFi Loans?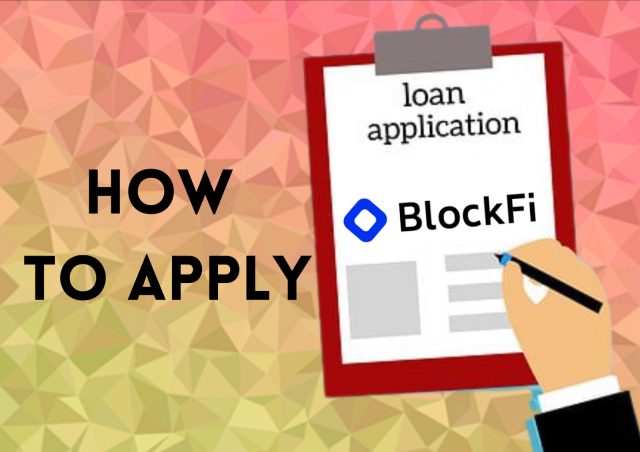 If you're 18 or above, you can apply for BlockFi Loans in the following process:
Step 1: Choose the Collateral Cryptoasset
You can have four cryptocurrencies to choose from for collateral; BTC, ETH, LTC, and PAXG. You will also have an option to put the loan amount.
But before you choose the collateral crypto, make sure you notice the total amount of crypto you will need based on 50% LTV.
Step 2: Enter Your Personal Information
They will ask for your name, address, DOB, phone number, SSN, and wallet public key to verify you. Besides, you will also need to disclose the source of your crypto being used as collateral, the reason for the loan, and bank information.
Step 3: Review and Submit Application
Once you finish the application, you can review and submit it. This process will only take minutes and you will get the result in 24 hours.
Step 4: E-sign the Loan Agreement
After the application approval, they will send a list of loan offers and terms. If you feel the terms are acceptable for your loan requirement, you can e-sign the agreement.
Step 5: Receive the Fund
After the loan agreement, you will receive the fund in USD, GUSD, or USDC in 24 hours. If not, the fund will be deposited into your bank account with 1-2 business days.
How much does BlockFi Loans Cost?

The borrowers can qualify for BlockFi loans that start from $10,000 at 4.5%-9.75% APR depending on LTV. If your loan has 20% LTV, you will be charged 4.5% APR, while 35% LTV ends with 7.9% and 50% with 9.75%.
BlockFi loan has a healthy 50% LTV that can fluctuate with the increase and decrease the value of collateral cryptos.
If the price of the collateral crypto drops, you need to add more collateral or repay the loan to balance the LTV rate. The cost of collateral also depends on the crypto types you have chosen, for example, if you want to loan $25000, you will 1.9 BTC.
Besides, BlockFi loans have a 2% origination fee in all tires of LTV but they do not charge for prepayment.
Click Here to Get Started With BlockFi CryptoLoans.
Who is BlockFi Loans Best For?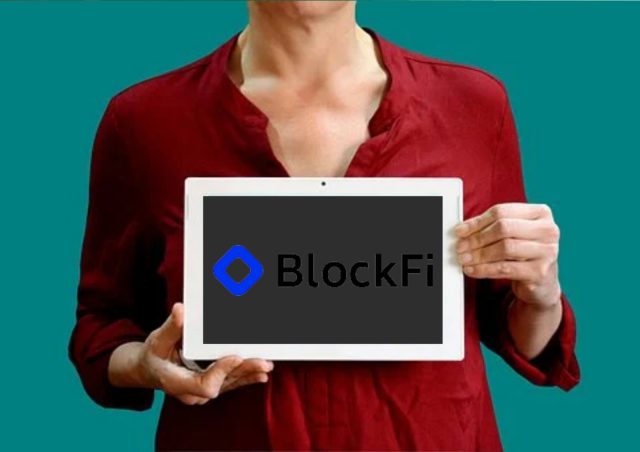 BlockFi loans are best for customers who do not want to sell their crypto assets yet need to manage their finance. Borrowers can end up purchasing residence, investing in real estate, making home renovations, consolidating high-interest debt, and funding a small business.
Besides, investors who want to expand and diversify their portfolios by investing in other crypto-assets can use BlockFi loans. Considering the returns may outweigh the interest of the loan, so this can be a smart strategy to build wealth.
Also, borrowers who need to loan more than $10,000 and want to repay in a year, can apply for BlockFi loans.
BlockFi Loans Pros and Cons
Both individuals and corporations can leverage BlockFi loans for various purposes.
👍 PROS
► Easy to Apply and Qualify: Applying for a BlockFi loan doesn't take even two minutes to finish. It is online so you can apply for this loan from anywhere.
Also, you can easily meet the required qualifications so each applicant has an equal chance to qualify.


► Crypto as Collateral: Unlike traditional loans, BlockFi loan does not require physical assets as collateral. They need crypto assets so once you pay back the loan, you can get your digital assets back to your account.


► No Prepayment Fee: BlockFi does not charge if you make a prepayment for your loan. This helps you pay off early and feel relaxed to return trading crypto assets again.
👎 CONS
► Not Comfortable for Small-Sized Loan: BlockFi loans start from $10,000 so those who need big loan amounts can leverage this. But customers who need an amount below $10,000 for their small personal loan can not benefit from it.


► Volatile Interest Rate: Cryptoassets remain unstable by increasing and decreasing in a short period. As the cost of a loan heavily depends on collateral, the LTV rate drifts quite often. That's how your interest rate can be volatile to pay.


► Limited Deposit and Payment Methods: BlockFi has only two digital wallets such as Wire Transfer and ACH to deposit collateral and make payment for domestic clients. On the other hand, Wire Transfer is the only option for international borrowers.
BlockFi Loans Compare to other Lenders
| Lender | Est. APR | Loan Amount | Loan Term | Min. Credit Score |
| --- | --- | --- | --- | --- |
| BlockFi | 4.5% - 9.75% | More than $10,000 | 1 year | Not Specified |
| BadCreditLoans.com | 5.99% - 35.99% | $500 - $10,000 | 3 months to 7 yrs | Not specified |
| Fast Capital 360 | 6.25% - 10% | Up to 5 million | 3 months - 25 years | 500 |
| ZocaLoans | 7.95% | $200 - $1500 | 6 - 12 months | Not specified |
Click Here to Get Started With BlockFi CryptoLoans.
BadCreditLoans offers personal loans anywhere from $500 to $10,000, which is best for spending on bills and unexpected expenses. However, it charges a higher interest rate from 5.99% to 35.99% which can be oppressive for small personal loan borrowers.
Besides, BadCreditLoans is not an actual lender; rather it works like an agency that offers a network of lenders. These lenders have their own loan terms and offers and borrowers need to adhere to them.
Unlike BadCreditLoans, BlockFi has relatively a lower APR; 4.5%-9.75 depending on the LTV rate. Besides individuals, institutional and corporate borrowers also can leverage the BlockFi loan.
>> Full Article Review: BadCreditLoans.com Reviews • Personal Loan For Low-Credit
Fast Capital 360 is known for business loans in three categories Business Term Loans, Short-Term Loans, and SBA Loans. Borrowers can apply for up to 5 million for their business.
However, Fast Capital 360 is not designed for personal finance. Also, borrowers need to have 500 FICO and $10,000 monthly revenue in business to qualify for loans.
Unlike Fast Capital 360, BlockFi is easy to qualify for loans via crypto collateral. Also, BlockFi does not require any specific credit score to qualify for the loan.
ZocaLoans is the perfect lender for small personal loans ranging from $200 to $1500. However, it has a high APR for example if you borrow $300 for 1 year, you will need to repay a total of 1,188 with a 795% APR.
Besides, ZocaLoans is only available in 37 states across the US, and the history of service remains complaining. Also, it doe not offer sufficient fund for a large amount of loan, eligible for institutions and corporations.
On the other hand, the BlockFi loan is quite affordable with a 4.5%-9.75% APR. The borrowers can request as much money as they want if they have eligible crypto assets.
>> Full Article Review: ZocaLoans Review: Compare Top Lenders of 2023
Final Verdict
BlockFi loan is a safe crypto-backed loan that offers the fund starting from $10,000 at 4.5%-9.75% APR. Individuals, institutions, corporations all can leverage BlockFi loans meeting the required qualifications.
Those who need to big-sized loan by posting the crypto collateral can consider a BlockFi loan. It is easy to apply and quick to receive funds.
BlockFi FAQs
Do you need a bank account to apply for BlockFi Loan?
Yes. They will ask for a US-based bank account.
What are the interest accounts offered by BlockFi?
BlockFi has BlockFi Interest Account (BIA) that offers up to 9.5% APY with no hidden fees and minimum required balance. So, the crypto holders can earn interest based on their crypto assets.
At BlockFi has a more simple process to create Individual BlockFi Interest Account than Business BlockFi Interest Account. Also, the business account pays interest differs from an individual account.
Is BlockFi legit?
Yes, BlockFi is completely legit. It has customers and investors worldwide. The crypto holdings at BlockFi are secured by Gemini Trust company which regulates under the New York Department of Financial Services.